It is safe to say that the east side of Maui, namely the town of Pa'ia, is a vegan mecca.  What other town with a population of just over 2600 has three exclusively vegan restaurants and vegan options at almost every restaurant?  They are passionate about using local, organic ingredients and you won't find big chain, tourist trap style restaurants over here.  Couple that with an untouched, insanely gorgeous landscape and you have a yourself a vegan paradise.
115 Baldwin Ave., Paia, HI 96779
The trek to Pa'ia from Ka'anapali is not short.  It's a good 45-60 minutes away, but it is a very scenic, peaceful drive (as it is pretty much everywhere on the island).  Our first trek was to try Fresh Mint for dinner.  It has been touted by many vegans as the best vegan restaurant on the island, so of course we needed to try it.  It is vegan Vietnamese food, which historically has not been my favorite cuisine.  Fresh Mint gave me a whole new outlook on Vietnamese food.  The menu was packed with tempting items, which made it pretty hard to choose.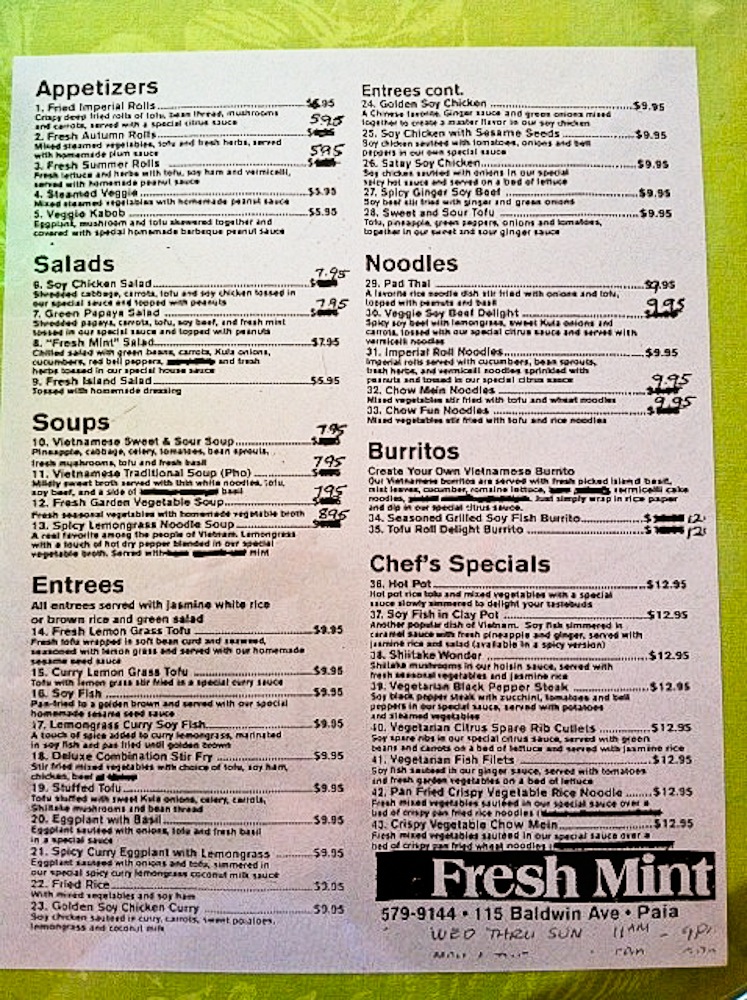 We started with the Green Papaya Salad, which had little pieces of soy beef in it, and it was absolutely spectacular.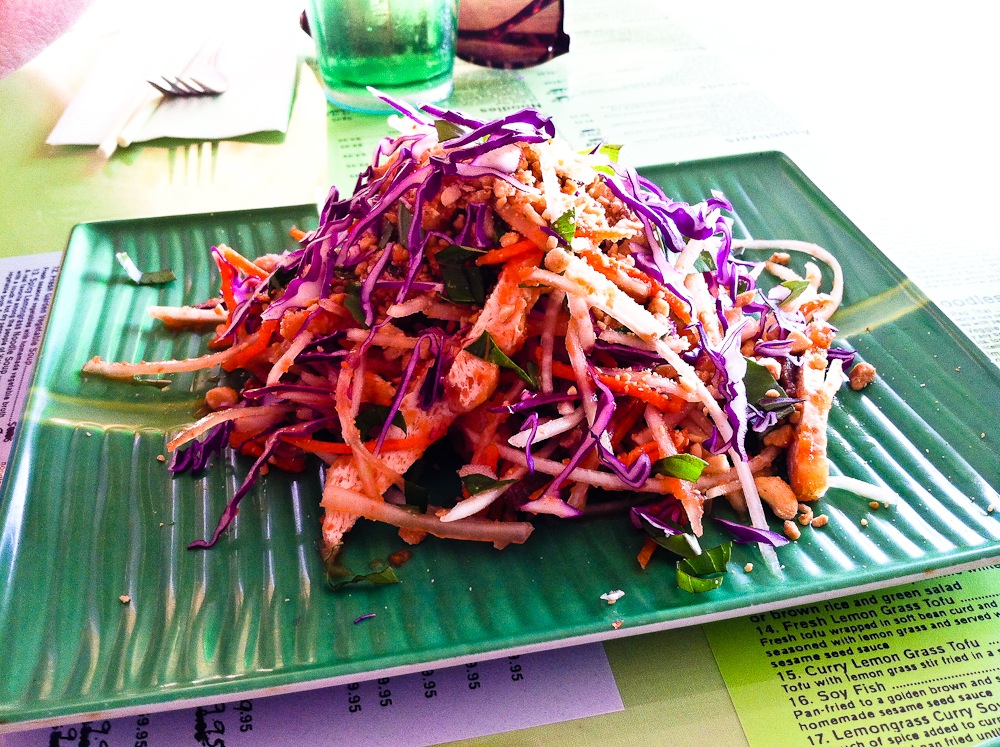 For one of our main courses, we shared the Soy Chicken Drumsticks.  There is a restaurant in my hometown that does great barbecued soy drumsticks, so I had to try Fresh Mint's version.  I was not expecting them to be fried, but they were pretty great.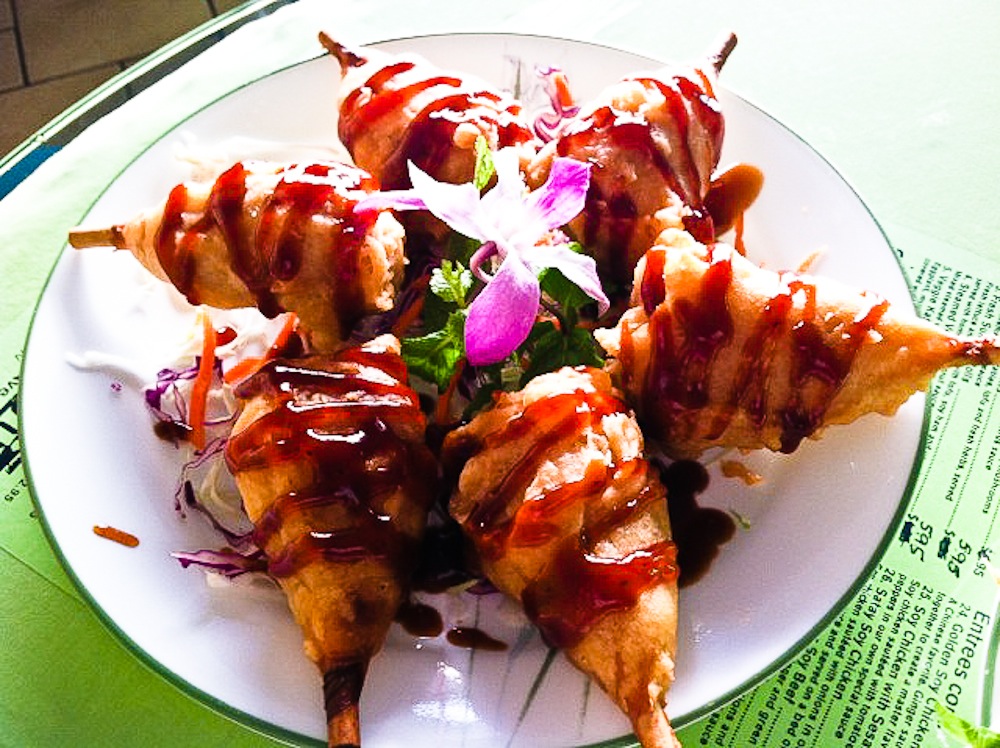 We also shared the Kung Pao Chicken, which came with some vegetables and brown rice (I didn't remember to take pictures until we were halfway through).  It was very tasty and packed the perfect amount of spice.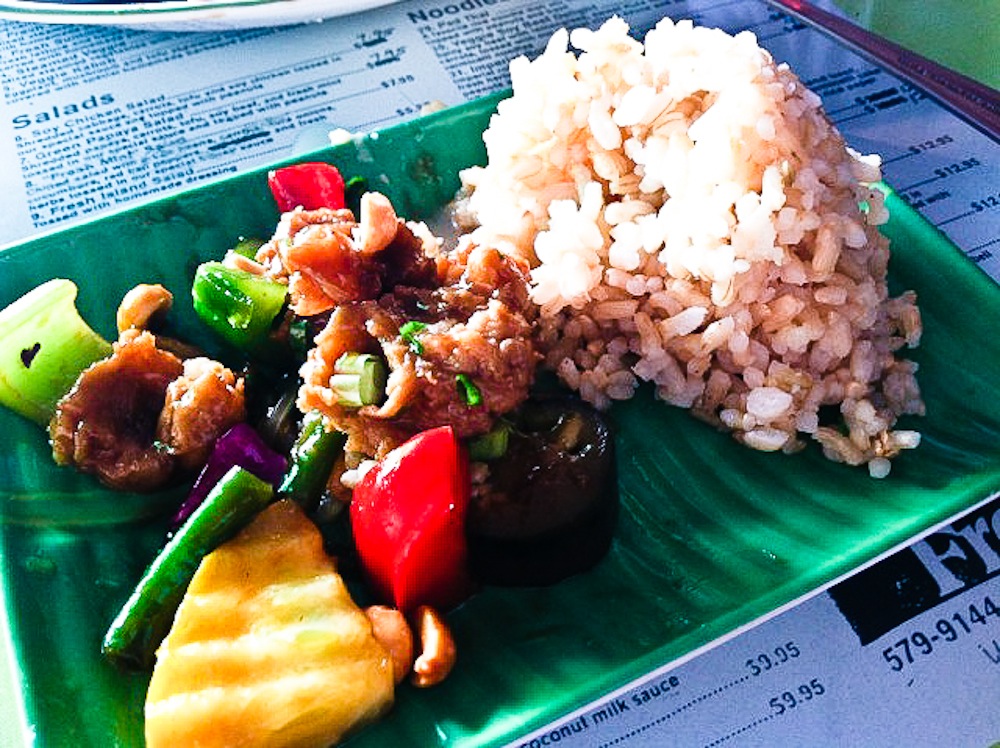 There was a lot of mock meats in this meal for someone who doesn't consume them all that often, which left me with a little bit of a "heavy" feeling afterwards, but heavens! It was delicious!  Fresh Mint is a must try for any vegan visiting Maui.
 49 Baldwin Avenue, Paia, HI 96779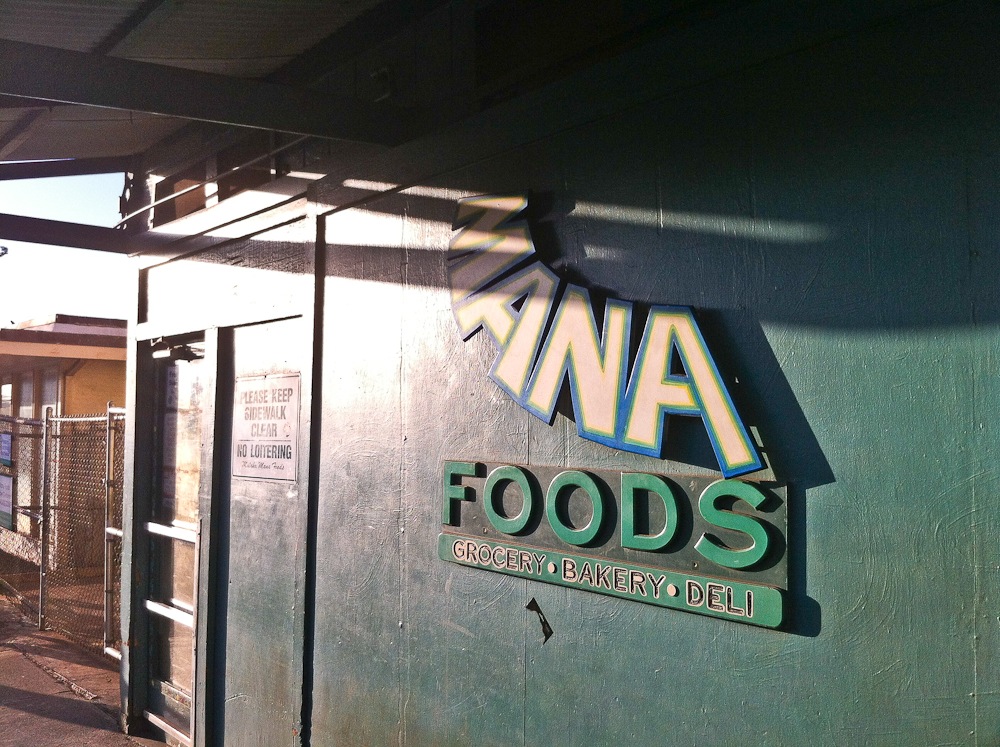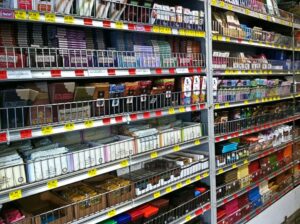 Mana Foods is a natural foods grocery store, right down the street from Fresh Mint, so we decided to check it out, even though we were completely stuffed.  Chris and I walked around this place, completely in awe.  They have an entire wall of different types of chocolate, a beautiful organic produce section, and pretty much every type of vegan milk alternative that you can think of.  They also have a deli, with an extensive raw vegan and vegan selection.  Their vegan breakfast burritos are supposed to be a huge hit.  They also have a vegan baked goods section, which of course we were all over.  There was also a soft-serve machine with one dairy flavor and one vegan flavor.  We were too stuffed to give it a try, but did grab a cookie for later, and promised to hit it up the next morning, before hitting the road to Hana.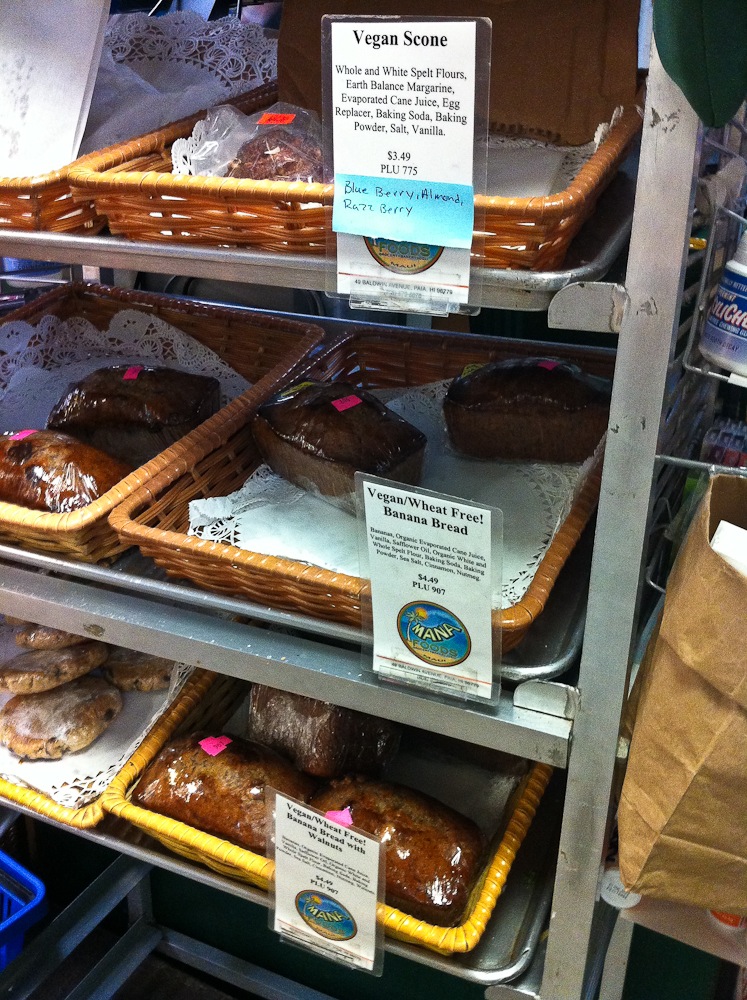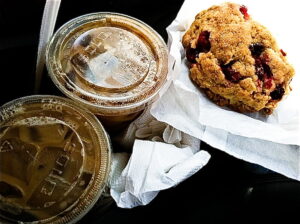 The next morning, after getting our acai bowls from Choice, we headed to Mana Foods to pick up some snacks and lunch to have once we got to Hana.  The Road to Hana is a very long, thin, and windy road with a speed limit that never goes above 15 mph.  It will take you about 2 1/2 to 3 hours to get to Hana, so we wanted to be well-prepared.  We also got a beautiful berry scone to go along with our almond milk lattes from Anthony's (around the corner from Mana Foods- did I mention they have almond milk for your coffee beverages?!?!).  The scone was pretty much the best scone I have ever had in my life, and the rest of the snacks we got from Mana Foods were equally scrumptious.  Be prepared to spend some time exploring this place and tasting all of their yummy goods.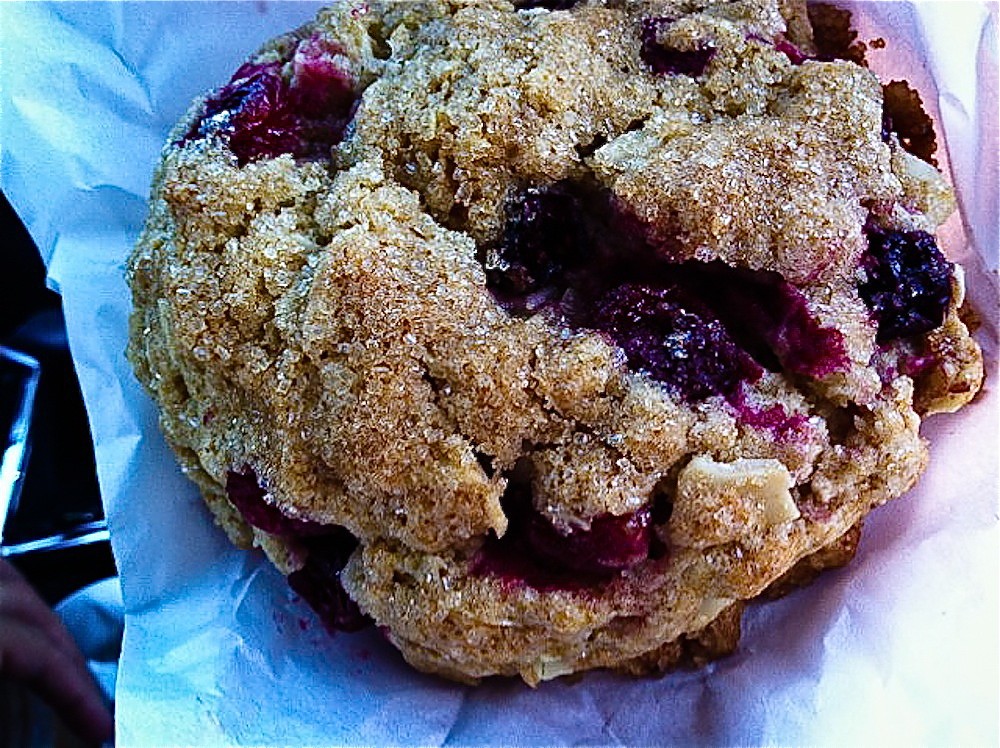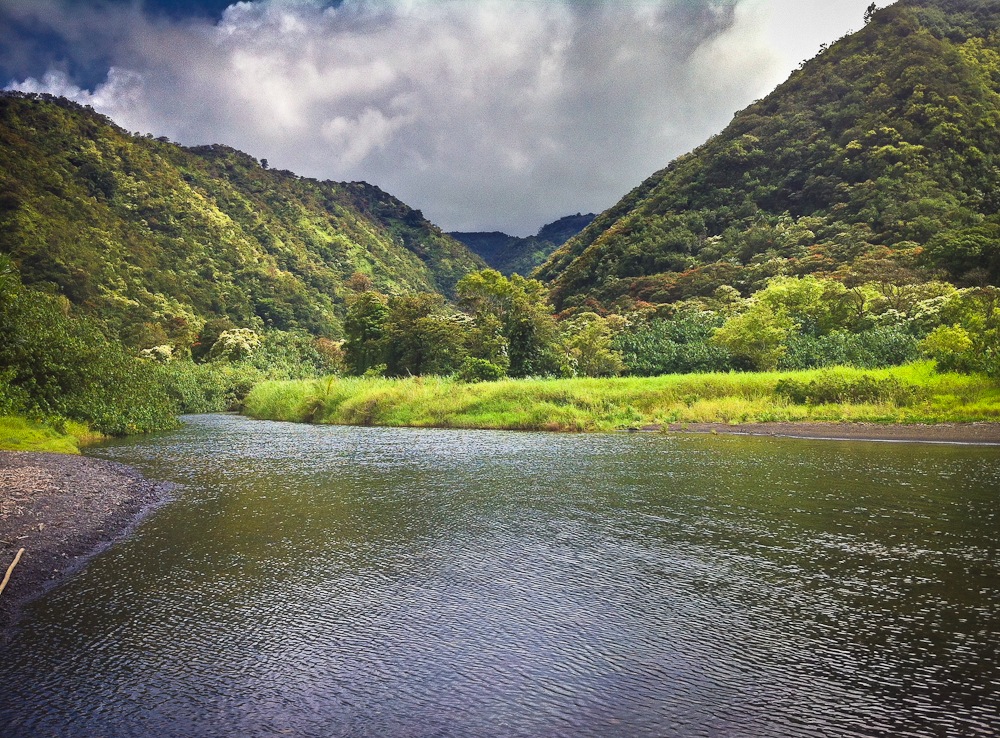 One of the most beautiful things about the Hawaiian culture is that they not only take time to recognize beauty, but they value natural beauty as sacred and treat it as so.  Very often on the mainland, especially in Los Angeles, we are very quick to say "Yeah, that's beautiful, but what can we put there?"  The Road to Hana is a great example of this.  The roads are old, and sometimes narrow down to only 1 lane, but the entire drive is so unbelievably stunning it is no wonder that the Hawaiians have chosen to not change a thing.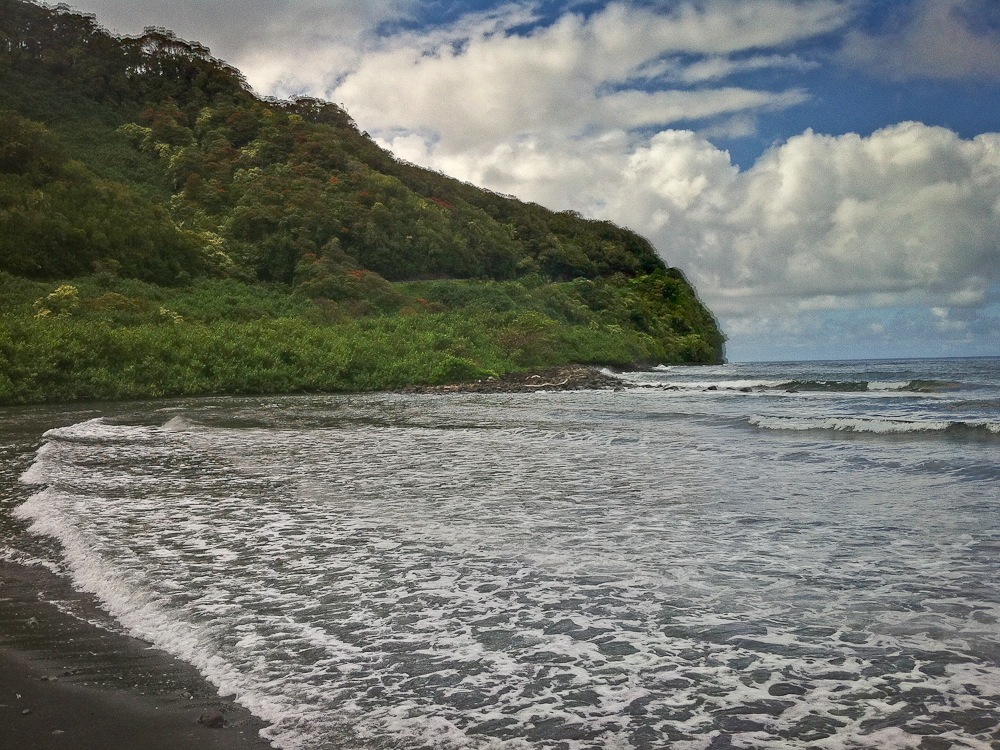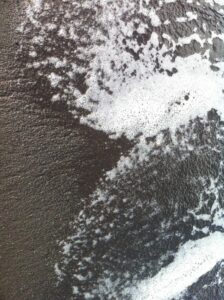 The Road to Hana is also a prime example of the journey being more important than the destination.  Along the road, there are many places to stop and explore.  There are many waterfalls, ponds, beaches, and rainforest to experience.  We chose to just enjoy the entire drive there, without any stops, and then make stops on the way back, if we chose to.  Hana Beach is a simple, but beautiful,  black sand beach, but pales in comparison to the drive there.  We had our picnic, took a quick nap on the sand (until it began to sprinkle), and then got back on the road.  We made two stops on the way back, one of them being a small, deserted, black sand beach.  The turn-off is on the west side of the road somewhere between the 15 and 18 mile mark.  I wish I could tell you more specifically how to get there, because it was a very special place to behold.
Mile Marker 27 1/2 on the Hana Highway, Maui, HI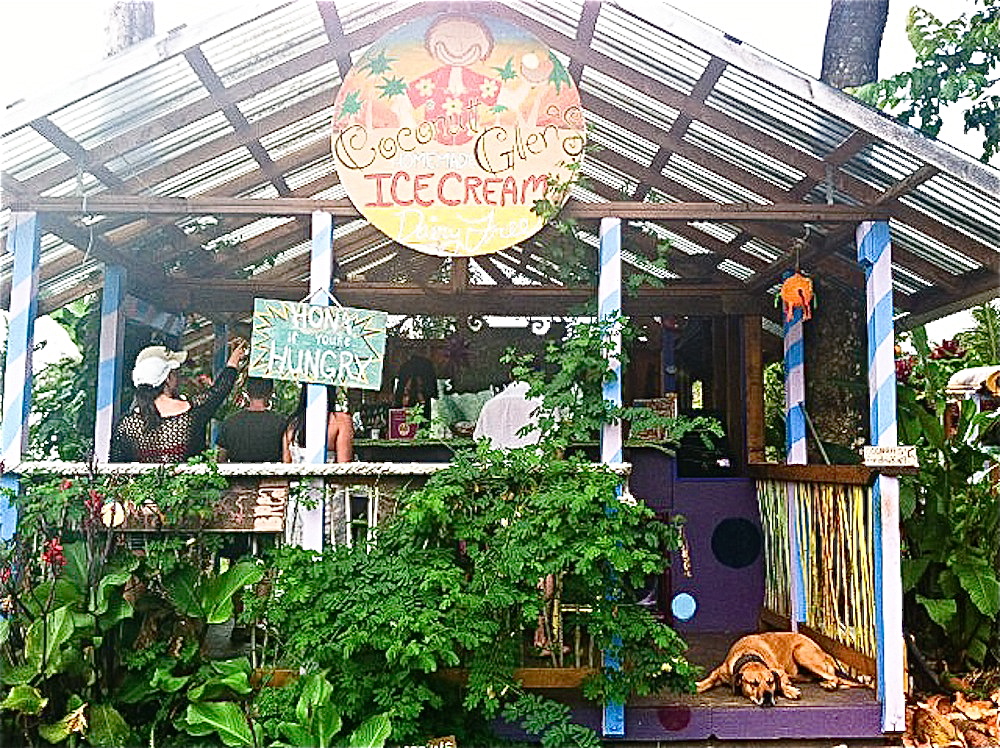 Coconut Glen's was the other stop we made on our way back from Hana.  The sign from the road read "Coconut Glen's vegan ice cream" and we made a sharp turn into the driveway.  Rain had begun pouring since we left the beach, so ice cream didn't sound like the most appetizing thing at the moment, but by golly, we had to check it out.  Coconut Glen's is a little shack made of scavenged materials, and cost no more than $250 to build.  There is a motorcycle in a bush out front (they just found it there when they started cutting down the overgrown bush and left it there) and an old dog sleeping in the main entrance to the shack.  There were two young couple already inside, and when we entered the shack, we felt like we were walking into a huge party.  The girl behind the counter welcomed us and offered us some coconut candy and we listened to her as she finished explaining to the other couple how Coconut Glen's came to be.  Apparently, Glen was a highly appraised gourmet chef in the mainland, but after a short trip to Maui, he quit it all and moved there to live off the land.  He eventually began harvesting coconuts from the beach and selling them, and from that success, he began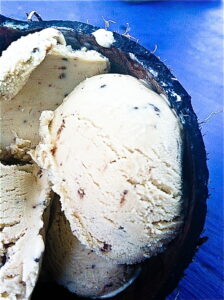 making vegan ice cream in his little hand-made shack.  After hearing the story, we were quite excited to give the ice cream a try.  There were several mouth-watering flavors including Ginger Lemongrass and Banana Rum Raisin, but Chris ordered the plain original coconut ice cream.  I was a little more adventurous and chose the Chili Chocolate Chipotle.  Unbelievable!  The only word to describe this wonderful concoction was Unbelievable.  And it's served in a coconut bowl,  and you get to use a piece coconut shell as a spoon!  We stayed there, enjoying our ice cream and chatting with the friendly girl behind the counter until the rain stopped and the sun returned.    If Coconut Glen's was in a closer proximity to our hotel, we would have been there daily.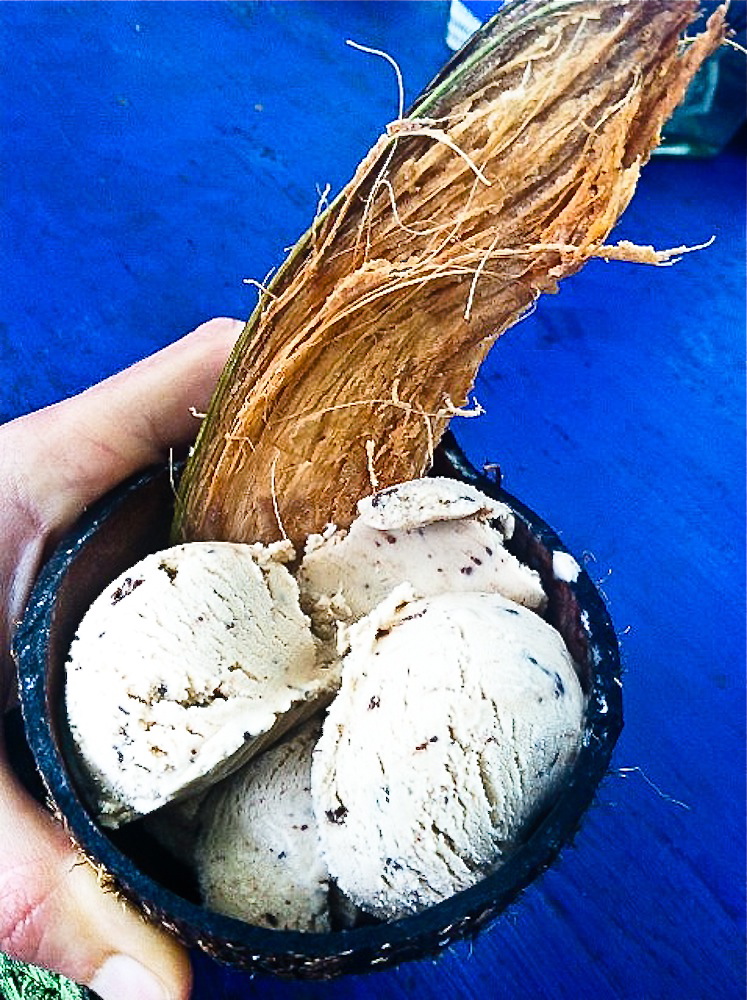 89 Hana Highway, Paia, HI 96779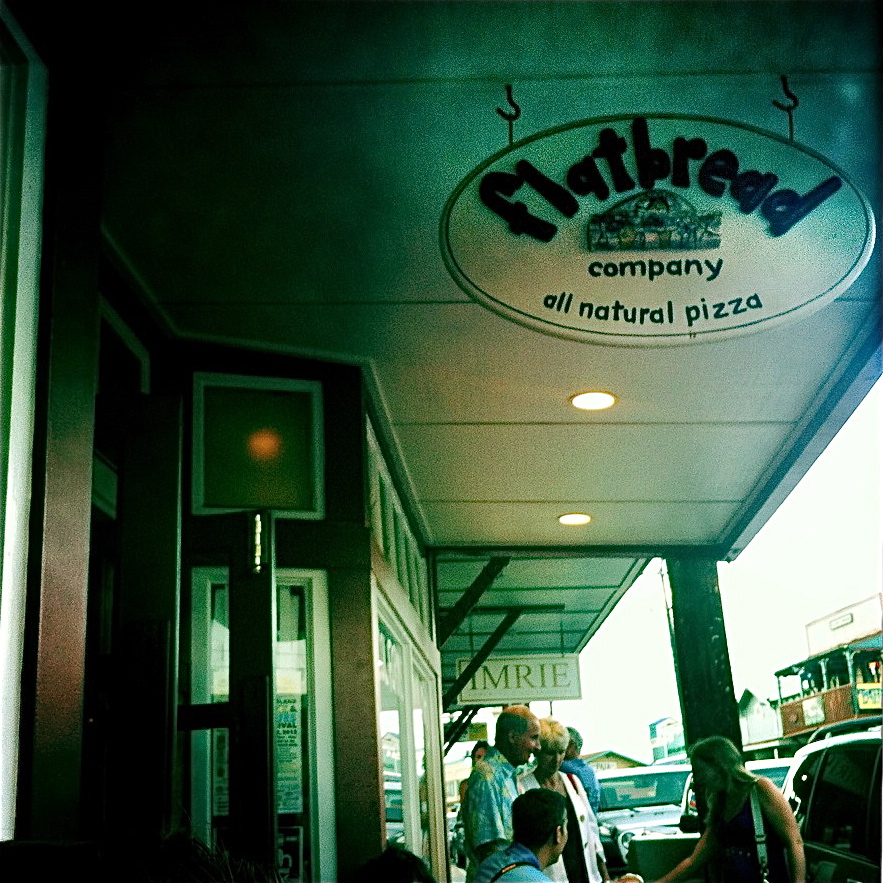 On our last full day in Maui, after a long relaxing day by the pool, we decided to head into Pa'ia for a proper dinner.  There were several mentions of the vegan pizza at The Flatbread Company, so we made that our destination.  As we drove by, we saw that there was a huge line, so figured it must be good.  We got our names on the list and patiently waited outside (great place for people watching- I highly recommend it).  Once we were seated, we placed our order: The Organic Salad and the Vegan Flatbread Pizza.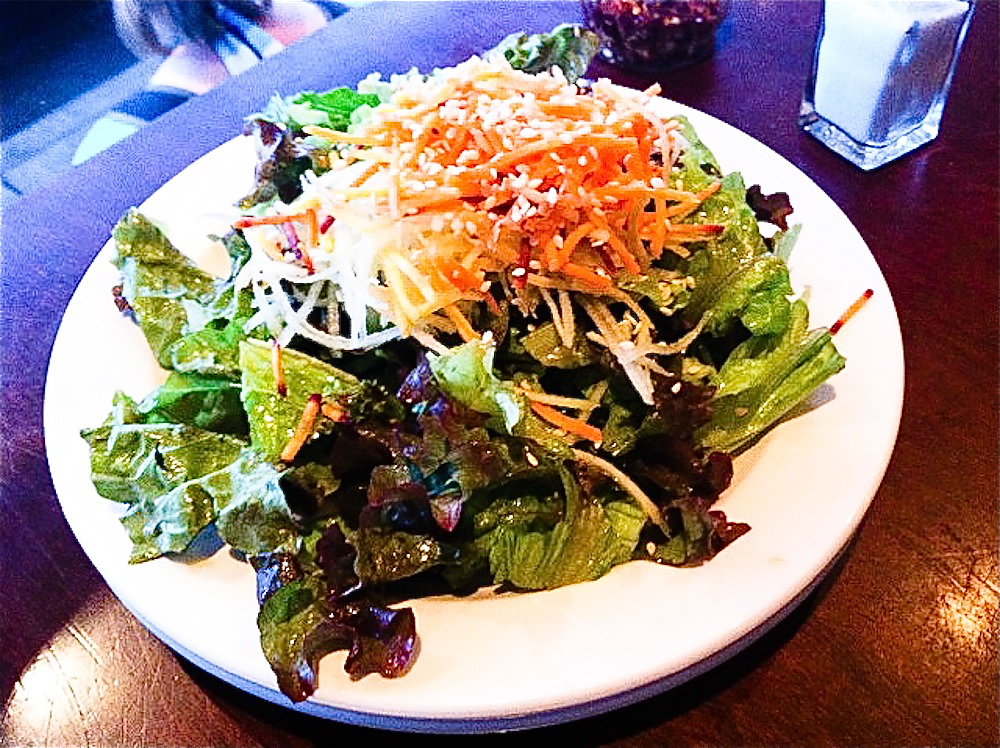 Both were made with all organic, local ingredients and tasted amazing.  The salad was very refreshing and the perfect appetizer for our HUGE pizza.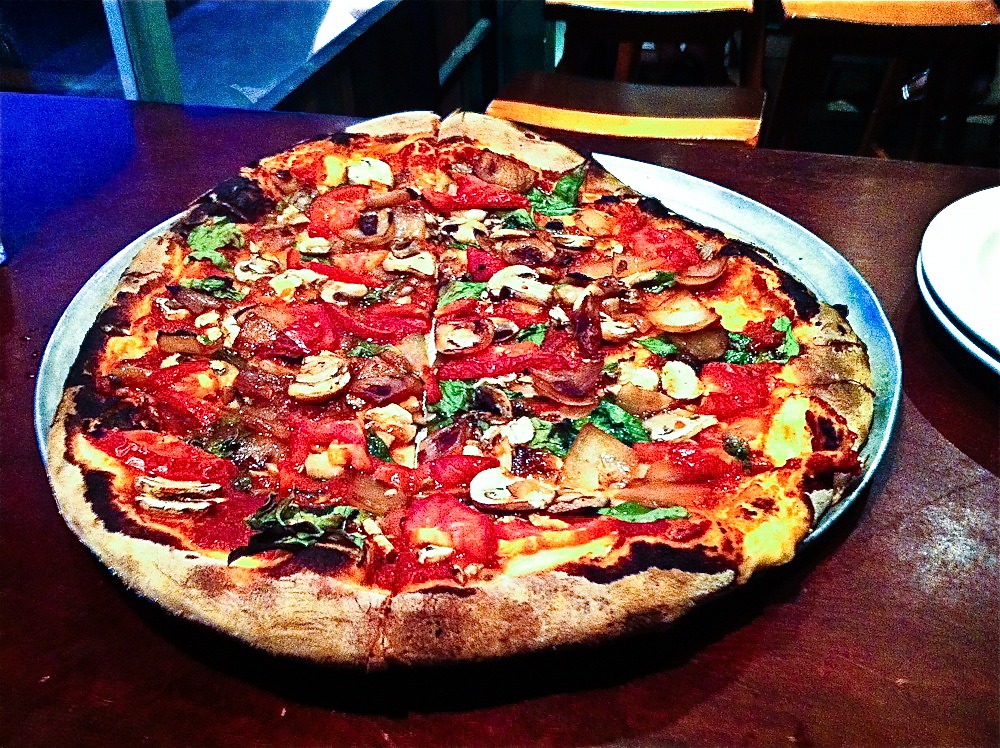 I thought for a moment that we should have ordered the smaller size, but no.  We devoured the whole thing and felt pretty great about it.  We craved that pizza for days after.  Definitely plan to hit this place up for their vegan pizza- it will not disappoint.
115 unit d Hana Hwy. Paia, HI 96779
Yes, you read that right.  Gelato.
As we were walking to Flatbread, we passed by Ono Gelato, a gelato chain on the island.  We had seen them around, but never gave them a second thought because, really?  Gelato?  As we were passing by the open doors, I heard the girl behind the counter explain to two customers "Here we have 12 dairy flavors, and here we have 12 vegan flavors."  I stopped in my tracks and turned around.  "I need to see something," I told Chris.
"Excuse me, miss, did I hear you tell those two people that you have 12 vegan flavors?" I asked.
"Yes, we do.  These 12 are all vegan, and made with organic ingredients," she replied.
Angels began to sing.  I looked more closely at the signs for the flavors, and each sign explained which farm on the island the primary ingredient came from.  This was too good to be true.  I asked about the sugar, because surely, there must have been a catch and perhaps it was in the type of sugar, but no.  They use organic raw sugar from a local farm.  I looked at Chris and he said "Oh yes, we are coming here after dinner."  He knows me so well.
We did go back and after tasting several of the flavors (the pineapple was pretty killer), we both had to get the dark chocolate sorbet, and it was so incredible, I had to ask her again- "This is really vegan?".  It was.  And we were in heaven.  A perfect close to a perfect trip (unfortunately, my phone's interpretation of a photograph of said gelato were crap so you will have to use your imagination).
I don't know if the other locations have vegan flavors, but the Pa'ia location does, so by all means, go there and get your gelato on.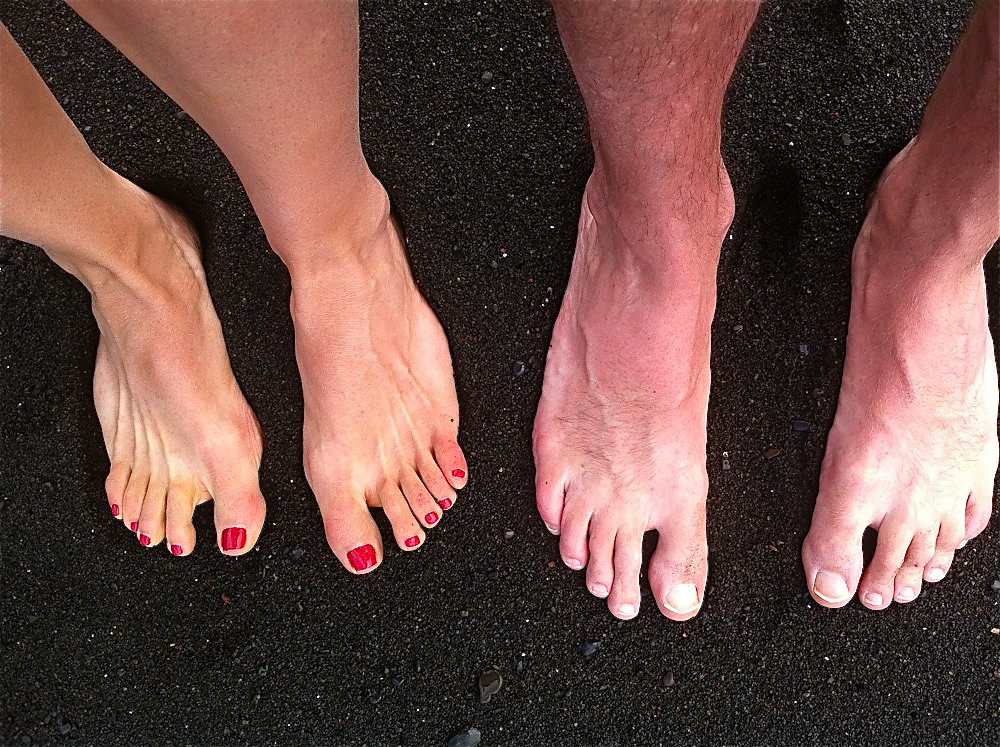 I highly recommend Maui to anyone looking to take a break from it all.  The pace is slower, no one is in a hurry, and everyone is savoring the journey.   The collective energy on this island is so positive, so accepting, and so contagious that you can't not adopt the same attitude.  This trip taught me how to truly vacation.  How to enjoy all the little stops along the way, and not have any one "ending spot" or only look forward to a few sites or attractions.  This trip was all about the journey.
For more info on vegan travel in Maui, see my prior post: Maui, The West Side