This is part 2 of our trip in Northern California. You can read, be sure to also check out part 1 about Oakland, California.
After grabbing breakfast in Oakland, we hit the road to Mendocino. Our main reason for going there was to visit the Stanford Inn By The Sea, an all vegan, eco-friendly resort nestled in the hills of Mendocino, overlooking the Pacific Ocean. We'd been aching to go there for quite awhile and since our anniversary fell during this little road trip, it seemed like the perfect excuse to treat ourselves.
It was about a three hour drive to Mendocino from Oakland, even though it's just over 150 miles. The roads get very windy and you must drive on the slower side, making the trip seem pretty long. The scenery is really beautiful, though, and the destination is absolutely worth it.
We got a little hungry along the way and stopped at Boont Berry Farm in Boonville. They have an old country store with a small deli and restaurant, with several vegan options. We shared a plate of BBQ tofu, rice, and potatoes and although it provided the sustenance we needed to continue, it was nothing to write home about.
10051 S Big River Rd, Mendocino, CA 95460  •  (707) 937-5615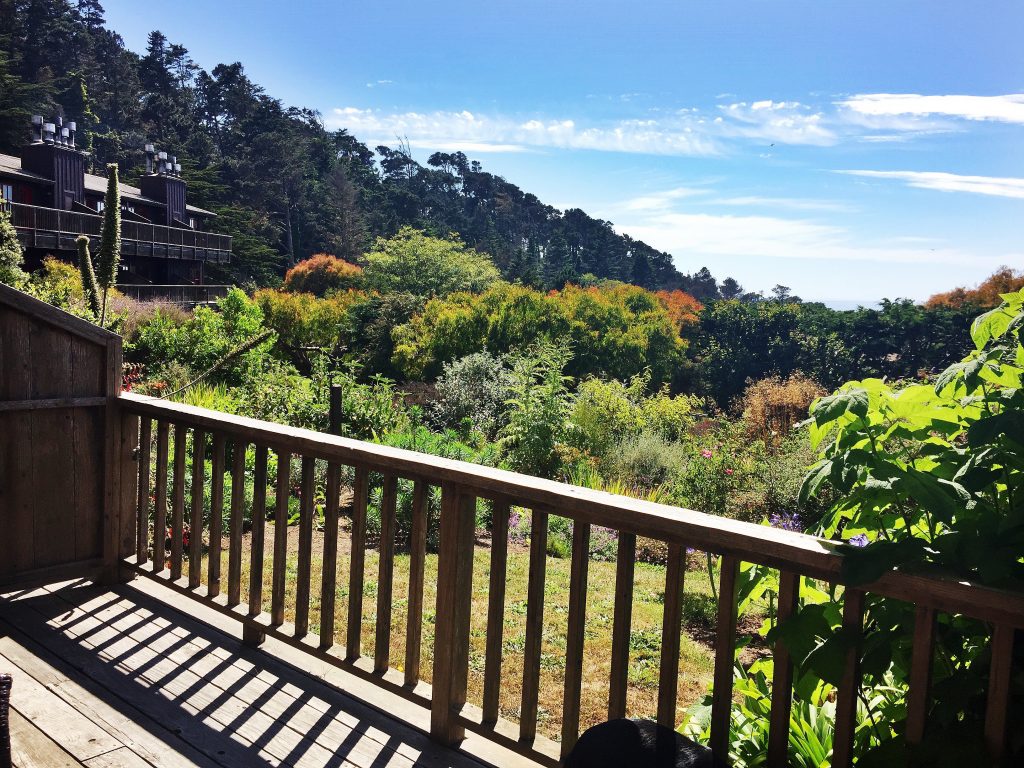 I could give you the full story of our time at The Stanford Inn but my memory is fuzzy. Instead, I'll give you a few of the details and then share our time there by way of photos.
Here are the highlights: We loved our room. Every detail was accounted for- they even provided blankets to put on the couch for Samantha. We made use of the fireplace each night. The deck was gorgeous and overlooked their vast farm and gardens. Speaking of which, the on-site restaurant, The Ravens, gets a lot of their ingredients from their own organic farm. The rest of their ingredients are also locally sourced by whatever is in season. We ate two dinners there and two breakfasts. We also had tea each afternoon. Their menu clearly states what is gluten-free and the staff is very helpful if you have a special diet as well. All of the food we had there was incredible. Every meal was outstanding. They have a pool, jacuzzi, and sauna, which are in a greenhouse type building so it stays pretty warm in there. You can rent bikes and canoes there if you'd like (we didn't). There's also spa services that we did not partake in. Just outside our room, and throughout the resort, there are water bottle fill-up stations, which I love. You can bring your dog with you to dinner or happy hour as long as he or she is well-behaved. Also, the owner's dog was sometimes just hanging out in the lobby.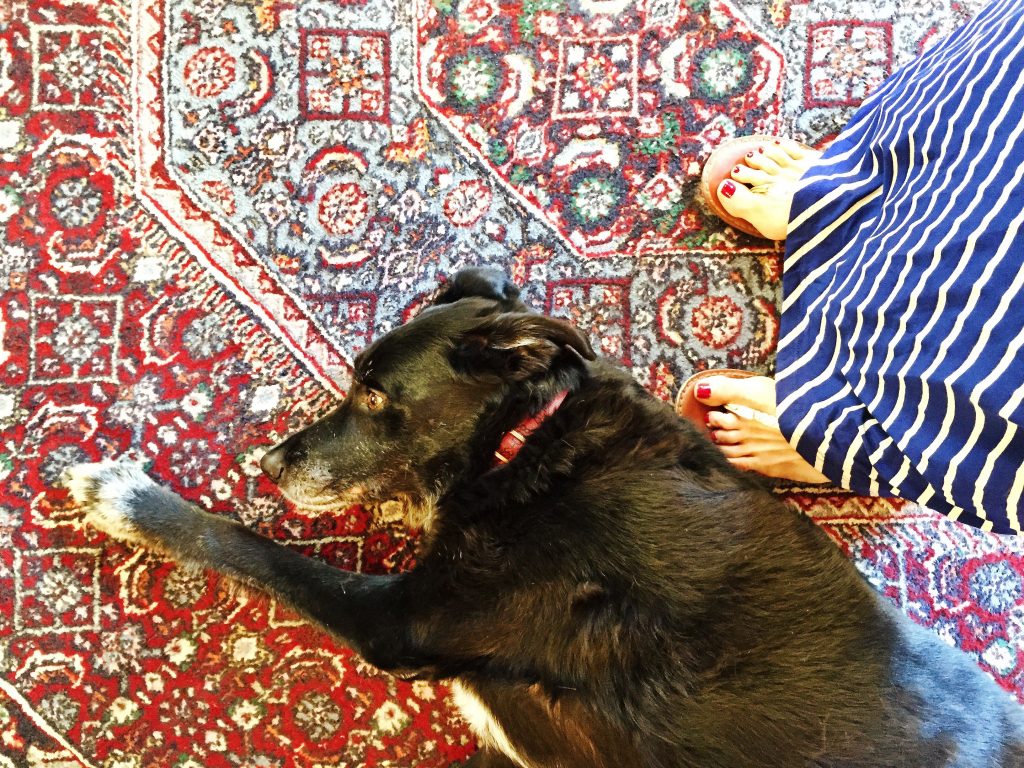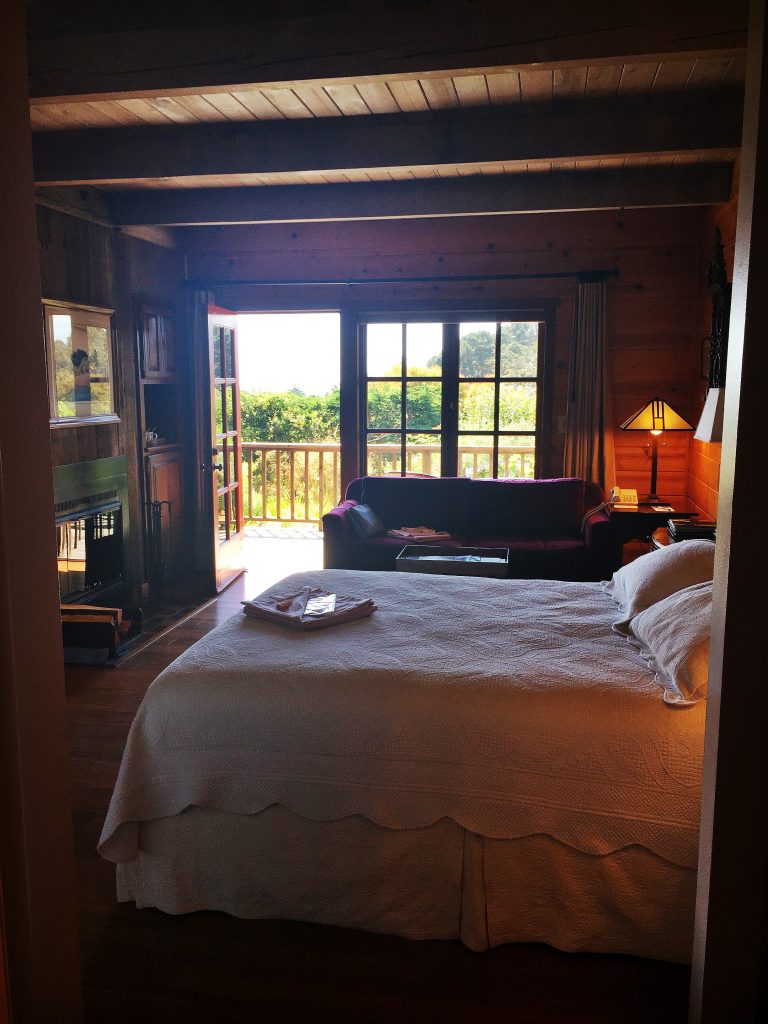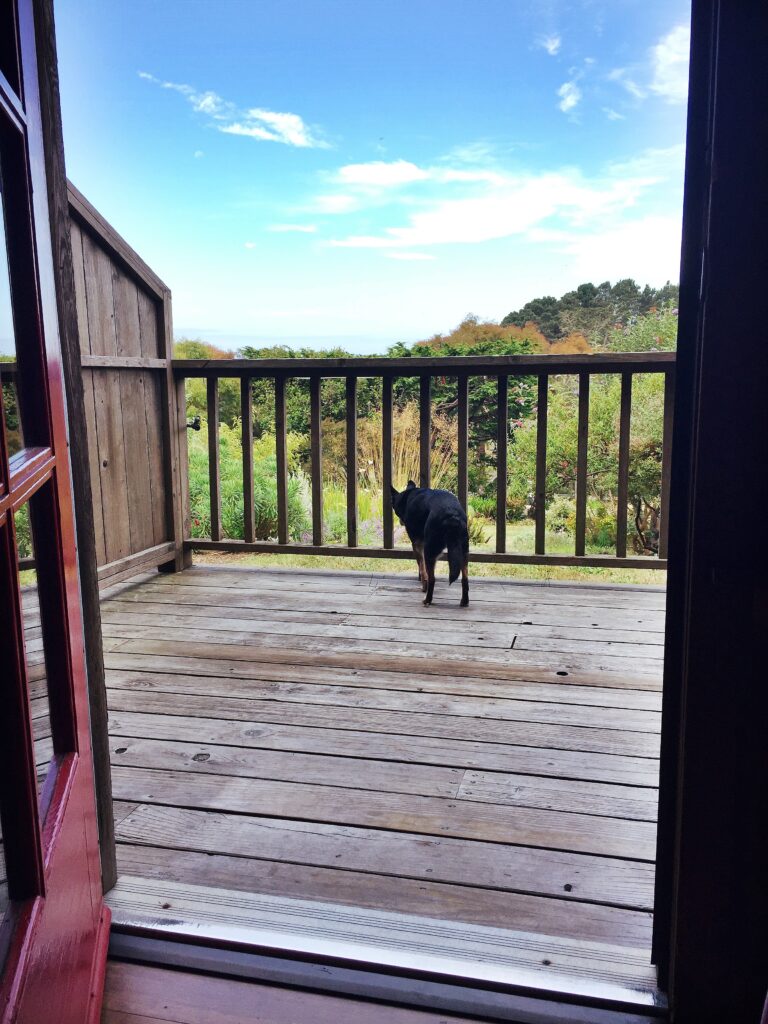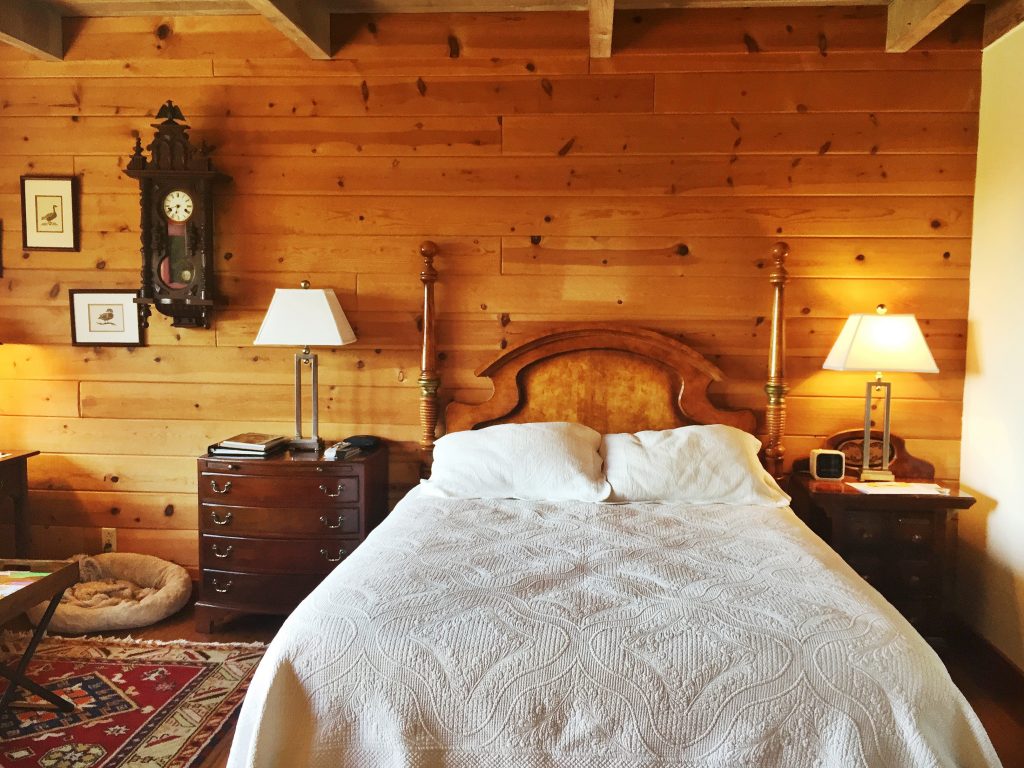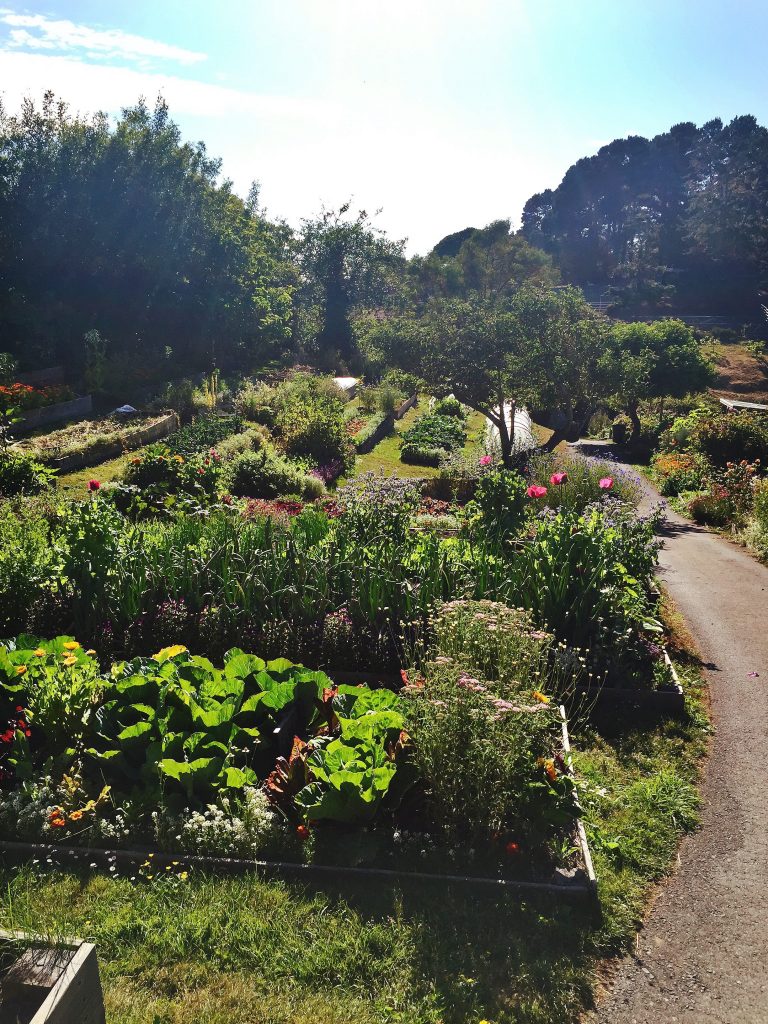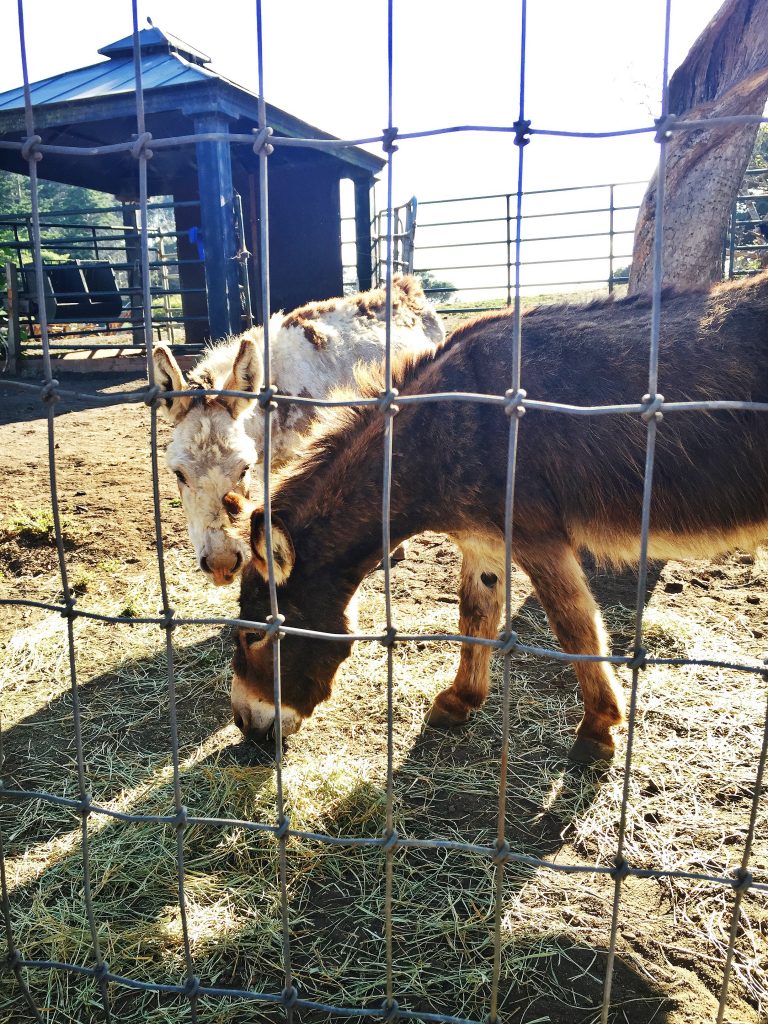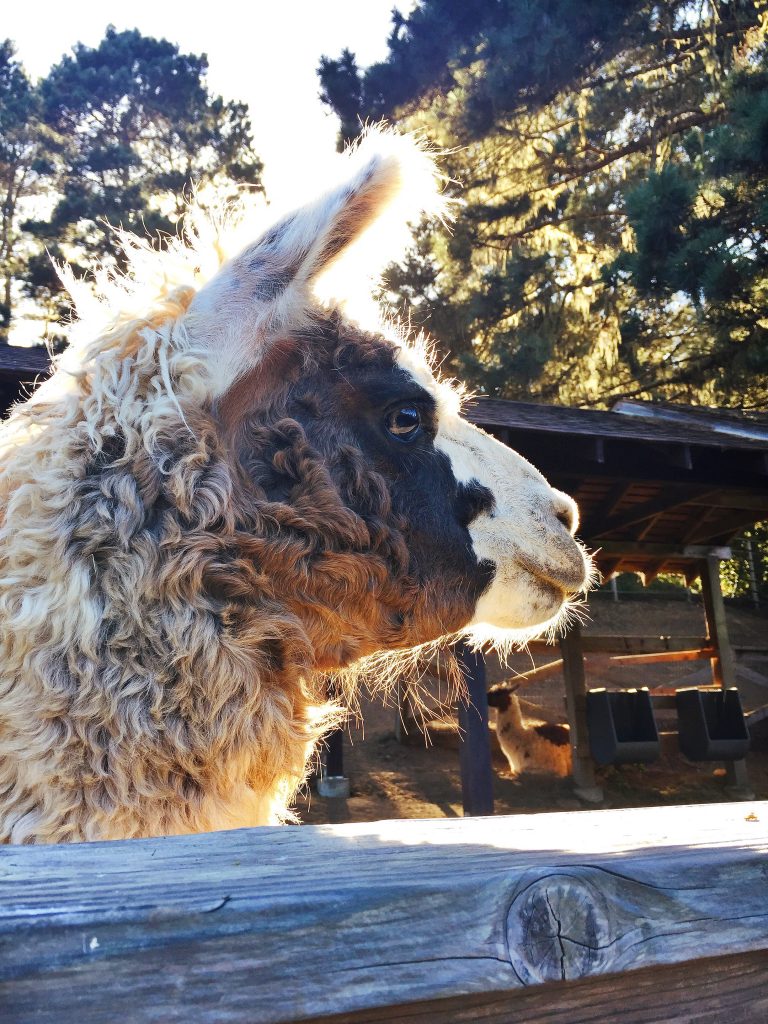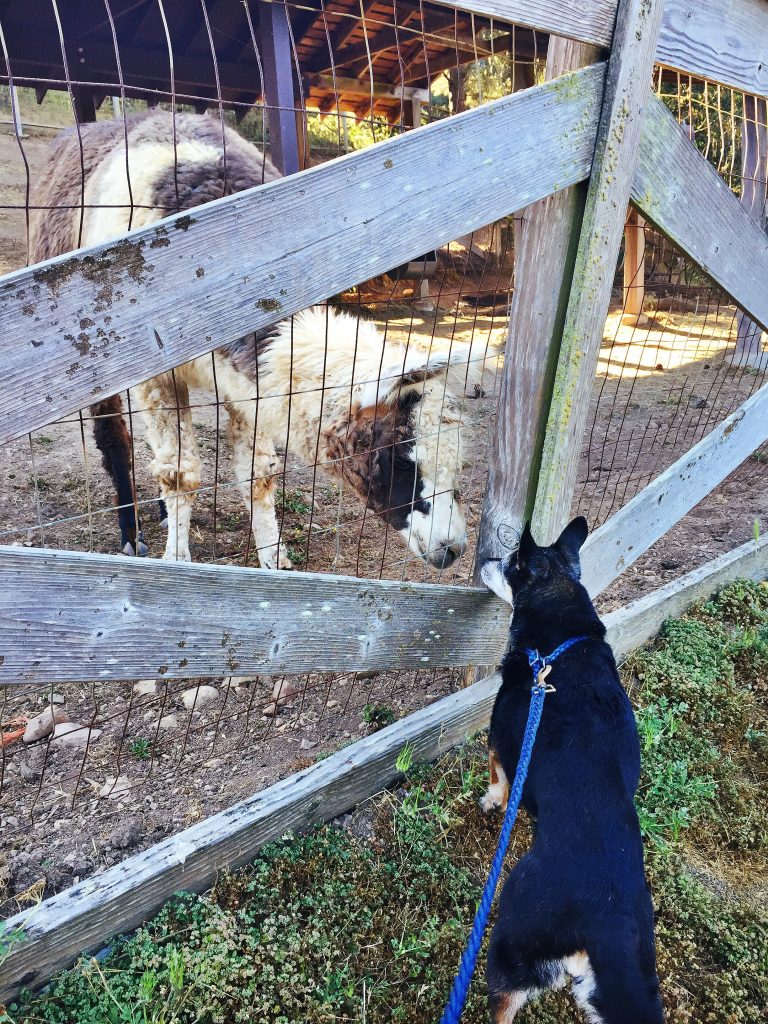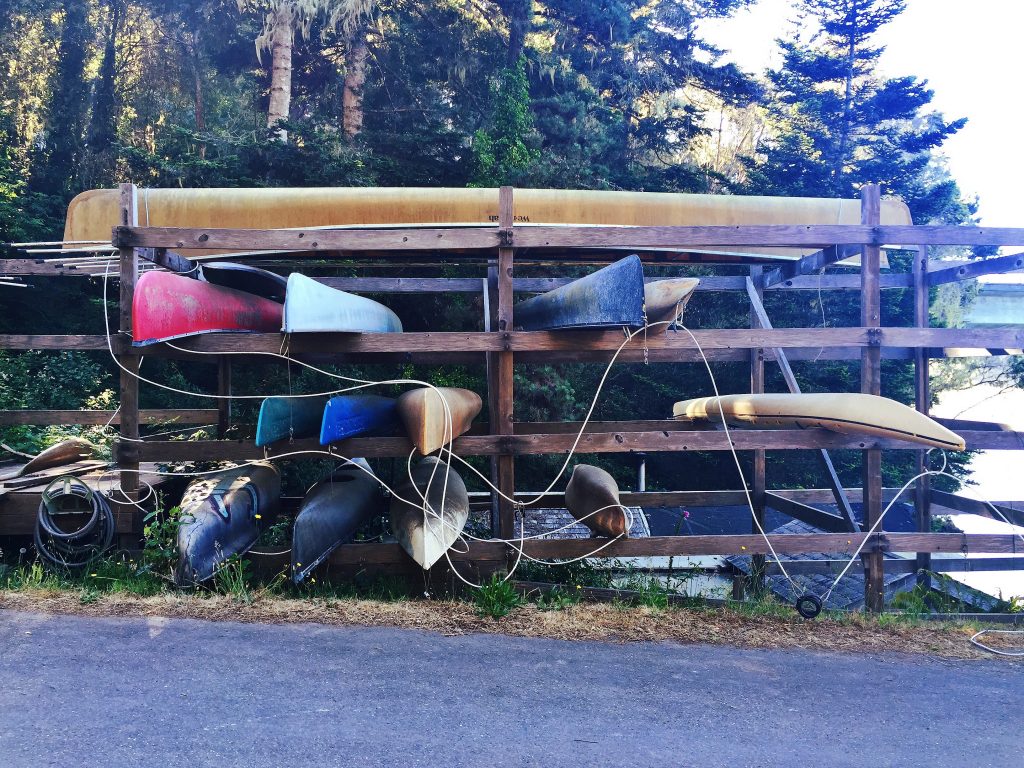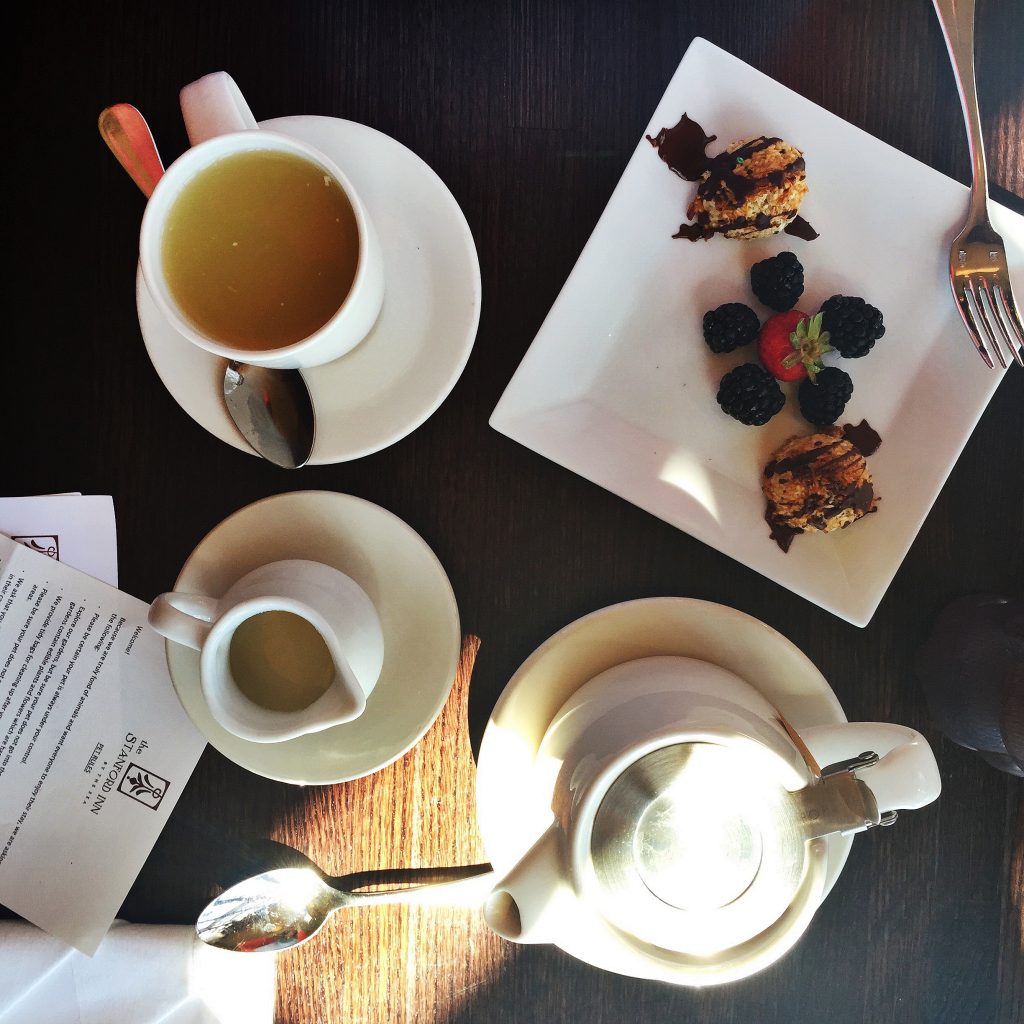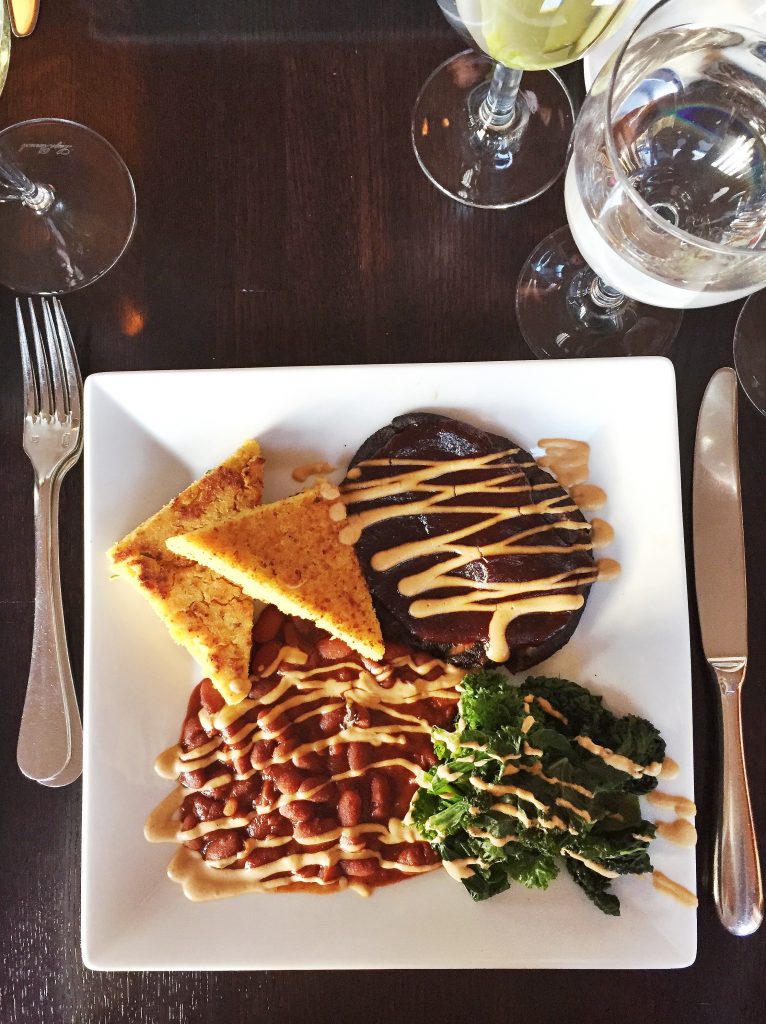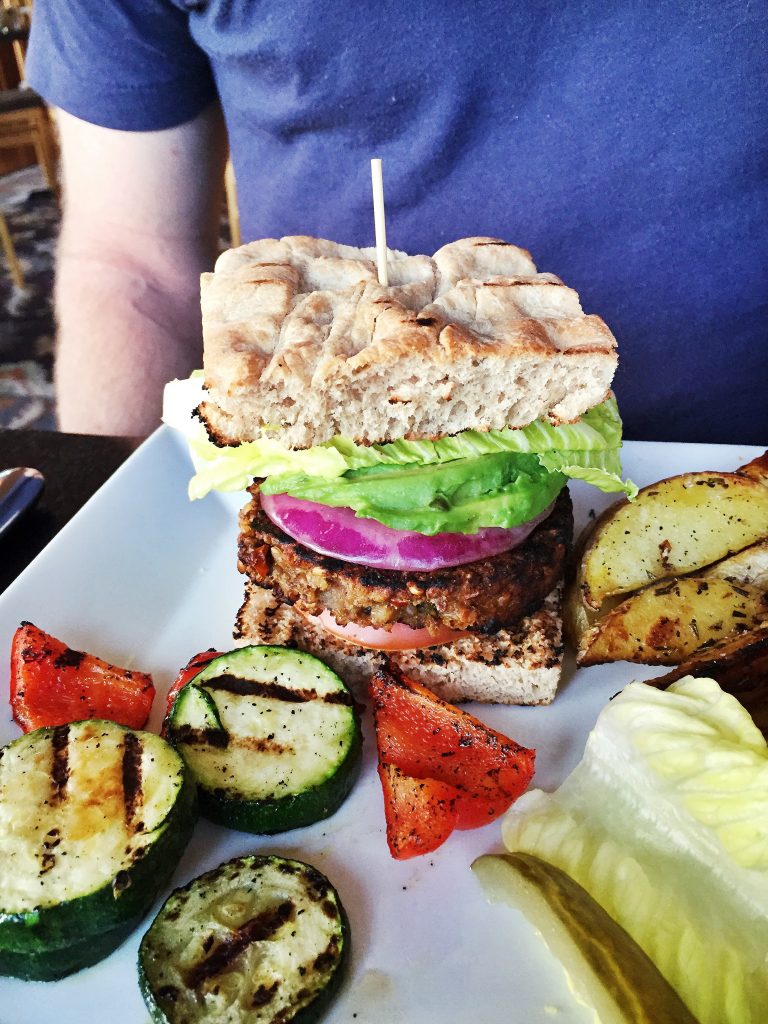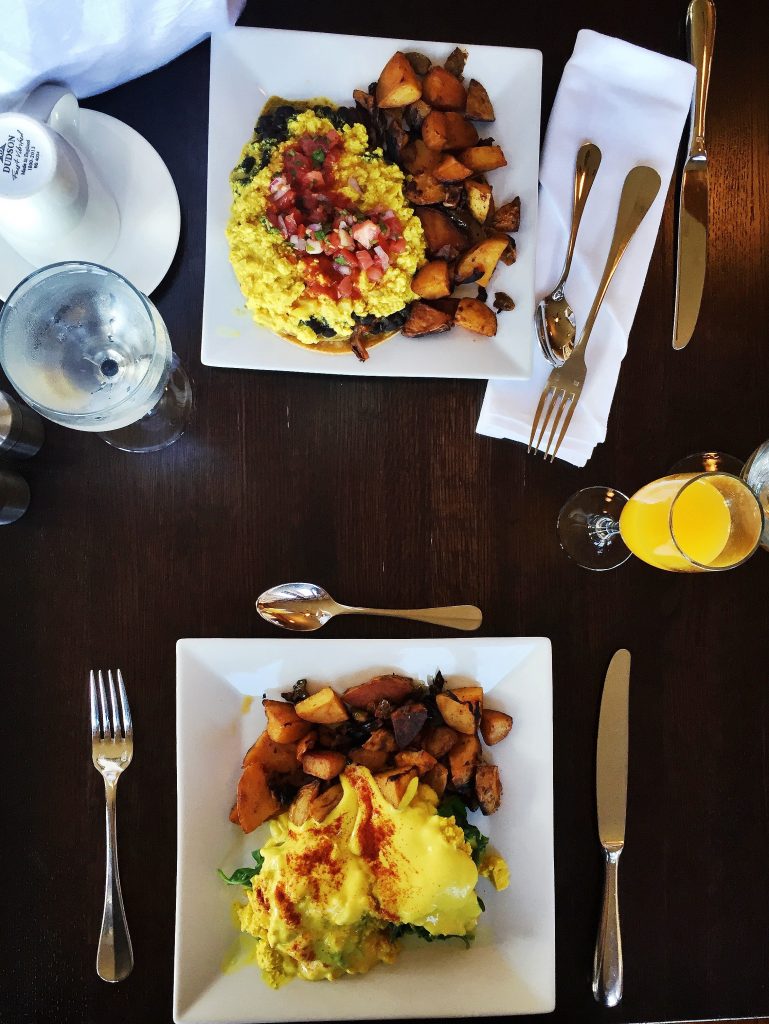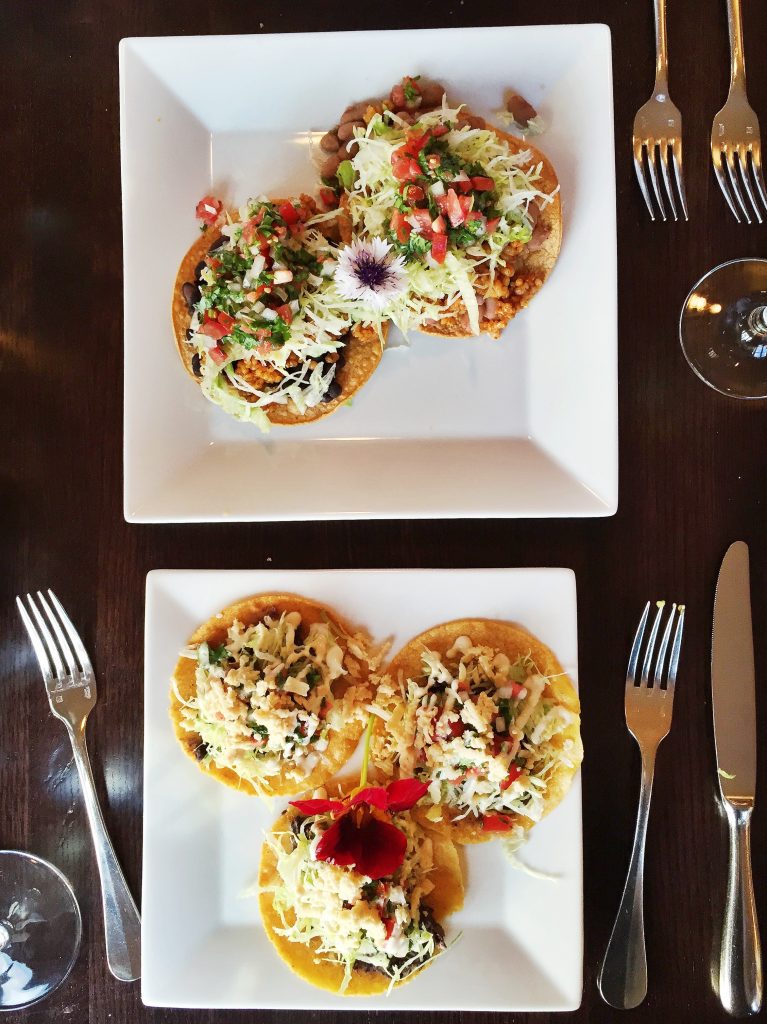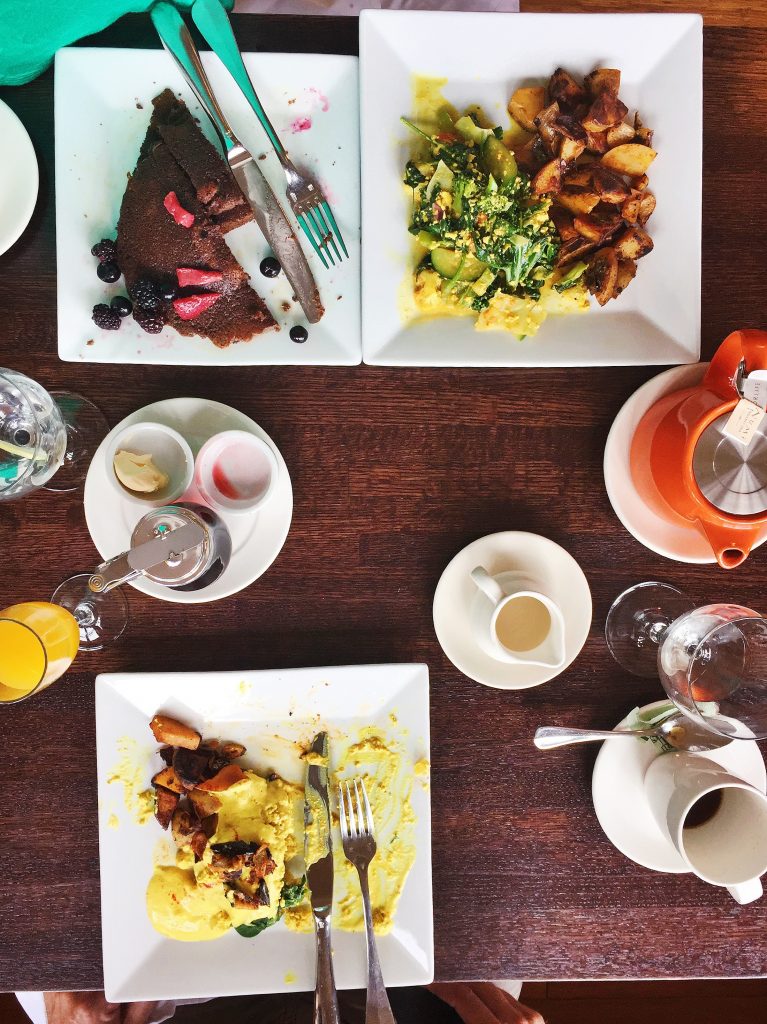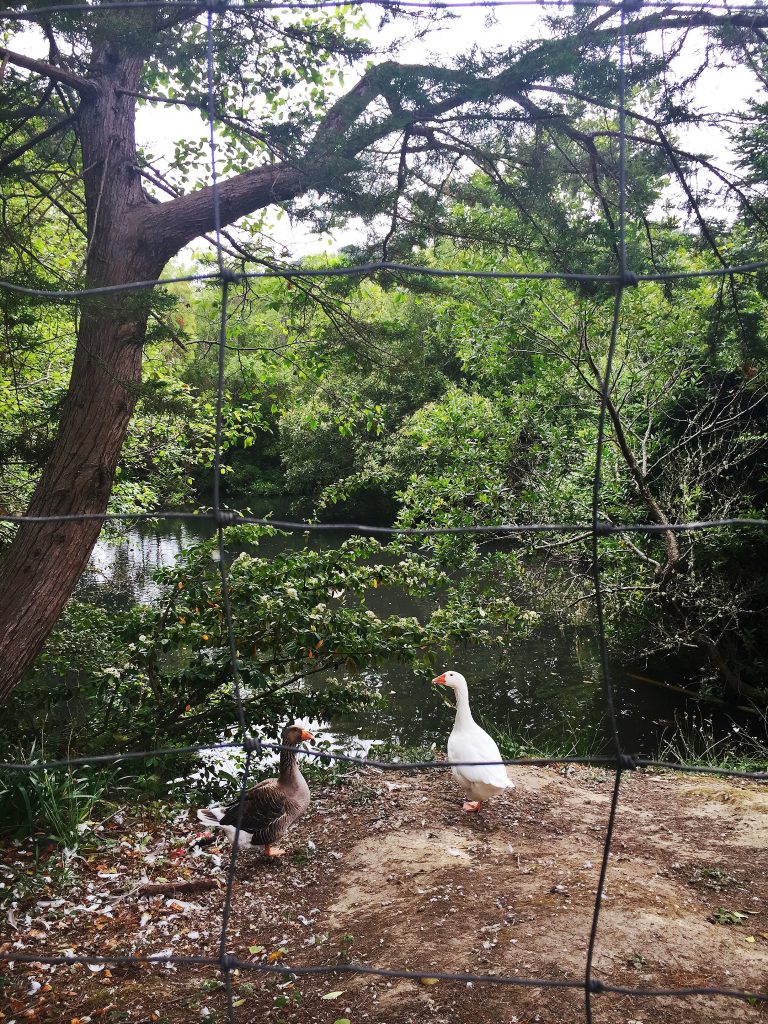 We had one day to explore Mendocino so we drove into town and did some exploring. The downtown area of Mendocino is so quaint and picturesque so it's definitely worth the time spent to walk around and check it out.
10501 Lansing St, Mendocino, CA 95460  •  (707) 937-5879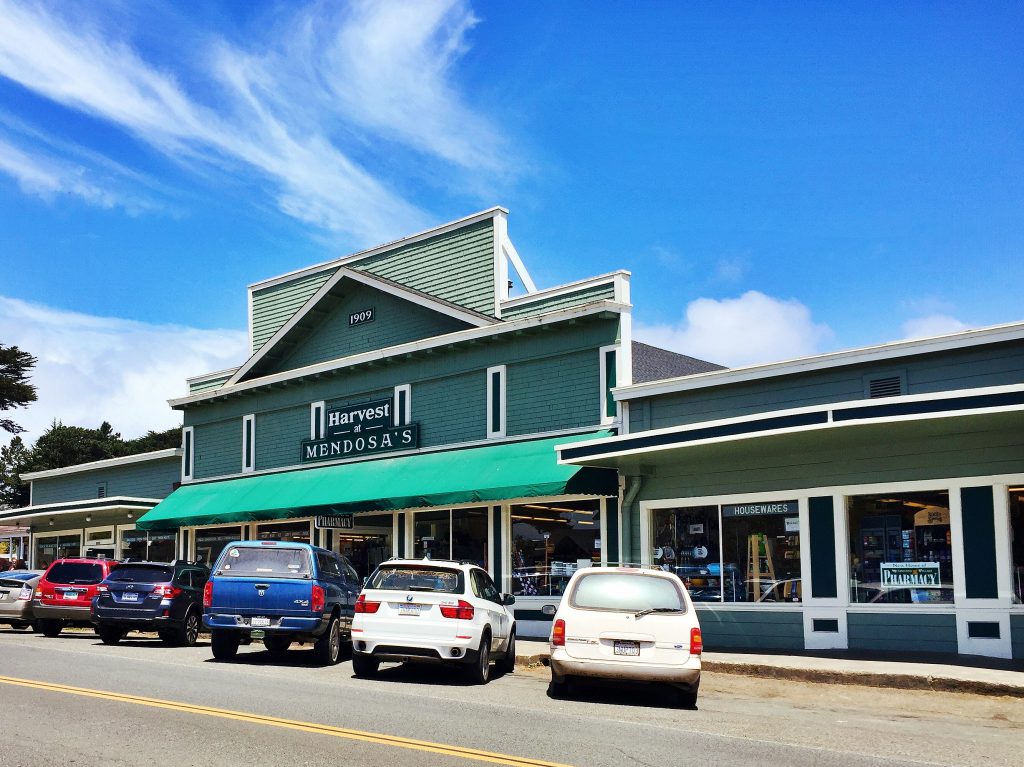 The Harvest Market is a great stop for any vegans visiting Mendocino, wanting to stock up on vegan items. They had a fantastic selection for such a small town!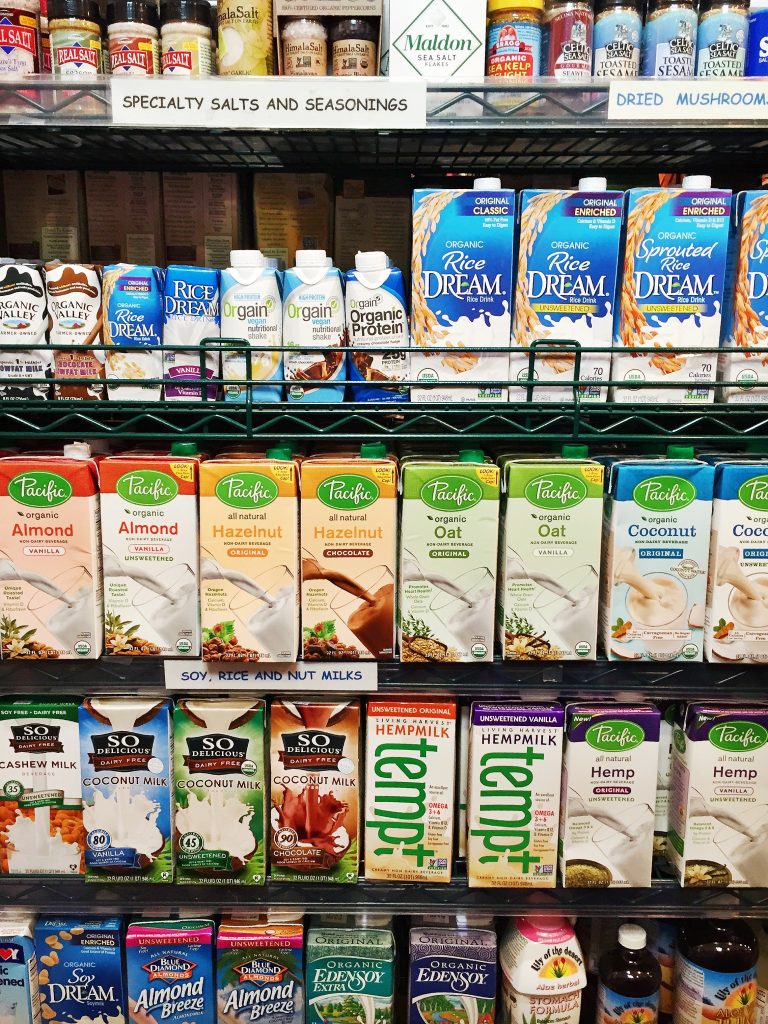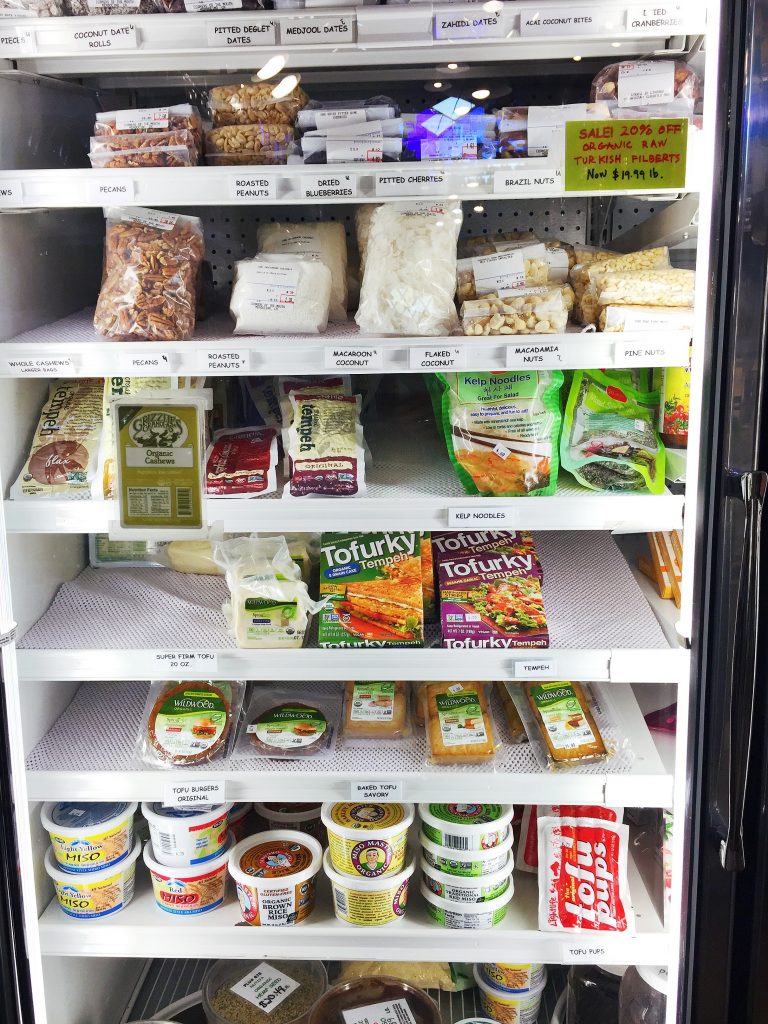 There was also another natural foods grocer, that looks as though it's in an old church. Corners of The Mouth is much smaller than Harvest but it also had a good selection of vegan items.
After walking through town, we headed to Glass Beach just north of Mendocino in Fort Bragg. Looking at pictures of this place, I was expecting the beach to be nothing but shiny gems of broken glass, smoothed by water over the years. This was not the case. We were not very impressed, but the beach itself was beautiful and Samantha had fun walking around and exploring with us.
After the beach, we were hungry but it was a few hours too early for dinner at the resort. We needed something to tide us over for dinner so we stopped in at a place we'd seen right next to the Harvest Market.
10483 Lansing St, Mendocino, CA 95460  •  (707) 937-0836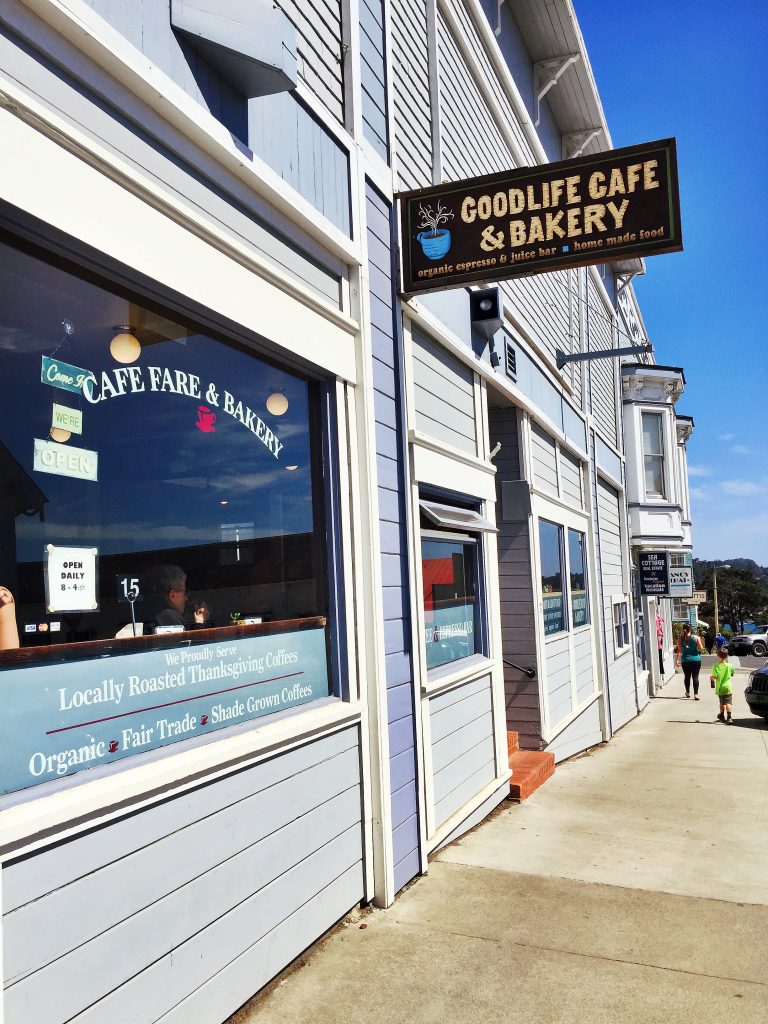 Goodlife Cafe and Bakery has a number of vegan and gluten-free items on their menu and their all clearly marked. They several bowls and entrees as well as a number of deli salads. Chris, being pretty ravenous, ordered the enchilada plate. I didn't want to spoil my dinner, but I was also pretty hungry, so I ordered a plate of rice and beans and a green juice.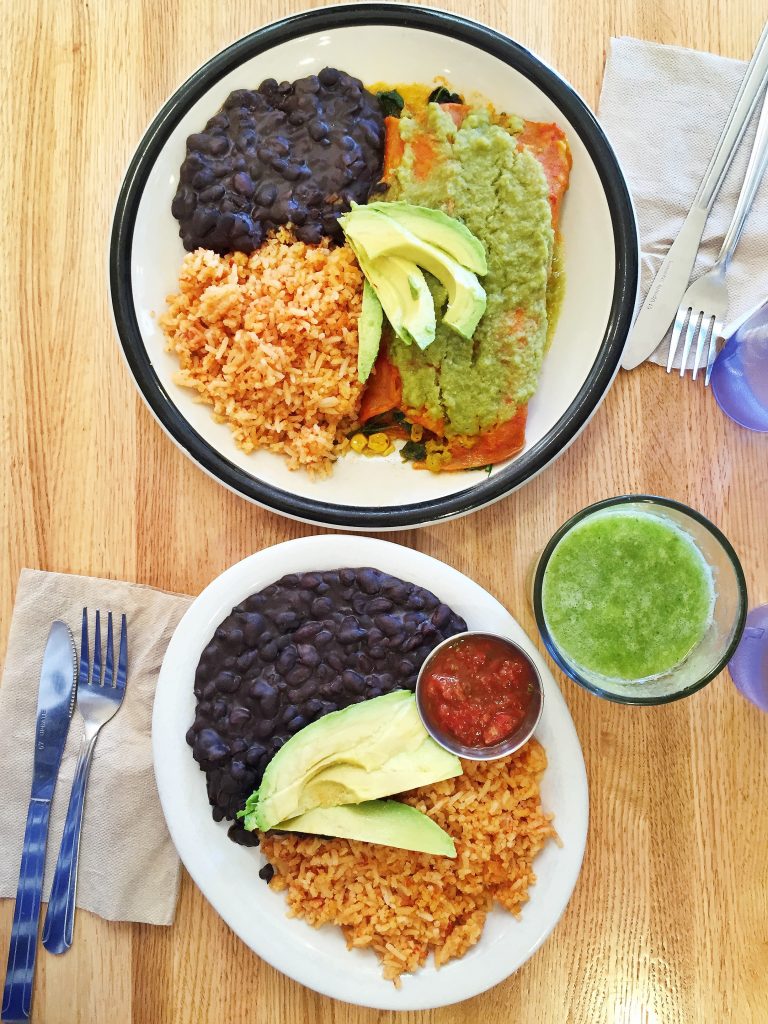 Both dishes were good but compared to the food we were eating at The Ravens, it was a tad underwhelming. I also ordered something very basic but I'm sure that some of their other more adventurous menu items are much better. I'd definitely be open to going back and trying more of the menu.
Mendocino, and especially the Stanford Inn By The Sea, is definitely a wonderful destination for vegans and I can't wait to go back and spend more time in this gorgeous, tranquil place.