The first week of July in 2015, Chris and I went on a road trip with our canine companion, Samantha. She was the best road trip dog. She loved to stand with her back paws on the edge of the backseat with her front paws on the center console in the front seat, between the two of us, watching the road. Sometimes, she would take breaks from supervising the drive to stick her head out the window and enjoy the breeze. She was well-behaved in hotels and could go pretty much anywhere with us, provided that she didn't have to walk for too long. She had congestive heart failure and too much exercise was rough on her little body. But it was a great road trip and a much needed mini-escape from our nightmare of a kitchen renovation and the grief we were dealing with at the time.
We didn't know that it was going to be the last road trip we ever took with Samantha. We didn't know that she only had a few weeks left to live. I haven't felt okay enough to write this post until now. I still feel emotional and weepy a year later, but I can look back on the trip much more fondly. We had a really good time and it was probably the last time that Samantha seemed healthy and active despite her disease.  The trip is no longer, in my mind, "the last time she did this" or "the last time she did that." It's now, finally, "that wonderful trip we had with her."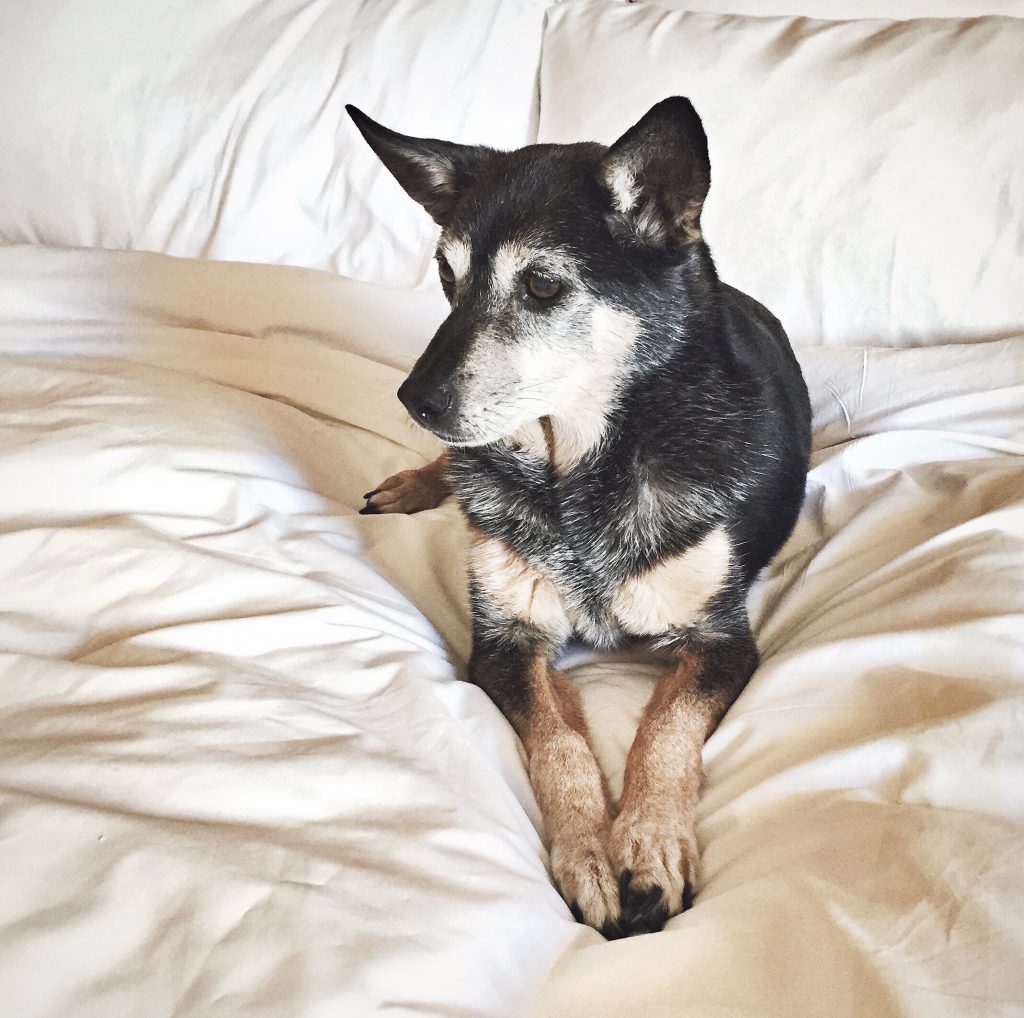 Samantha, chilling on the hotel bed
The trip started off with a couple of days in San Jose (my hometown), visiting my friends and family. Then we headed up and spent the 4th of July with all of my cousins at my aunt's house in Atwater. After a later morning of talking over coffee with my aunt, uncle, and cousin, we got on the road on what we thought would be a quick 2 hour drive (tops) to Oakland and have a late brunch. Turns out, everyone had the same plans so the trip took quite a bit longer than that. When we got to Oakland and checked into our hotel, we were pretty hungry. Turns out that when July 5th falls on a Sunday, not a lot of places are open for dinner. We actually walked from our hotel to one restaurant only to find that it wasn't open for the holiday weekend. So we did some quick research and headed to the only place that was open.
5912 College Ave, Oakland, CA 94618  •  (510) 735-9459
Millennium would've been our first choice because we were dying to try it ever since their San Francisco location closed and this new location opened, but we were hoping to save it for when some friends would be visiting later that year. But seeing as it was the only place open and we were hungry, we had no other choice. Poor us.
I wish I had more pictures of the restaurant but for some reason, I didn't take any. We were seated outdoors and it was such a gorgeous, relaxing atmosphere. I did take pictures of the food, though. I wish I could remember what these things were (I'm a bad blogger), but unfortunately the only thing I'm sure of is that we got the Coriander & Arborio Crusted King Trumpet Mushrooms because that's our favorite dish and we always order it. Everything else- your guess is as good as mine. One thing I do remember is that it was all phenomenal. I mean, really stellar. Enjoy these pictures.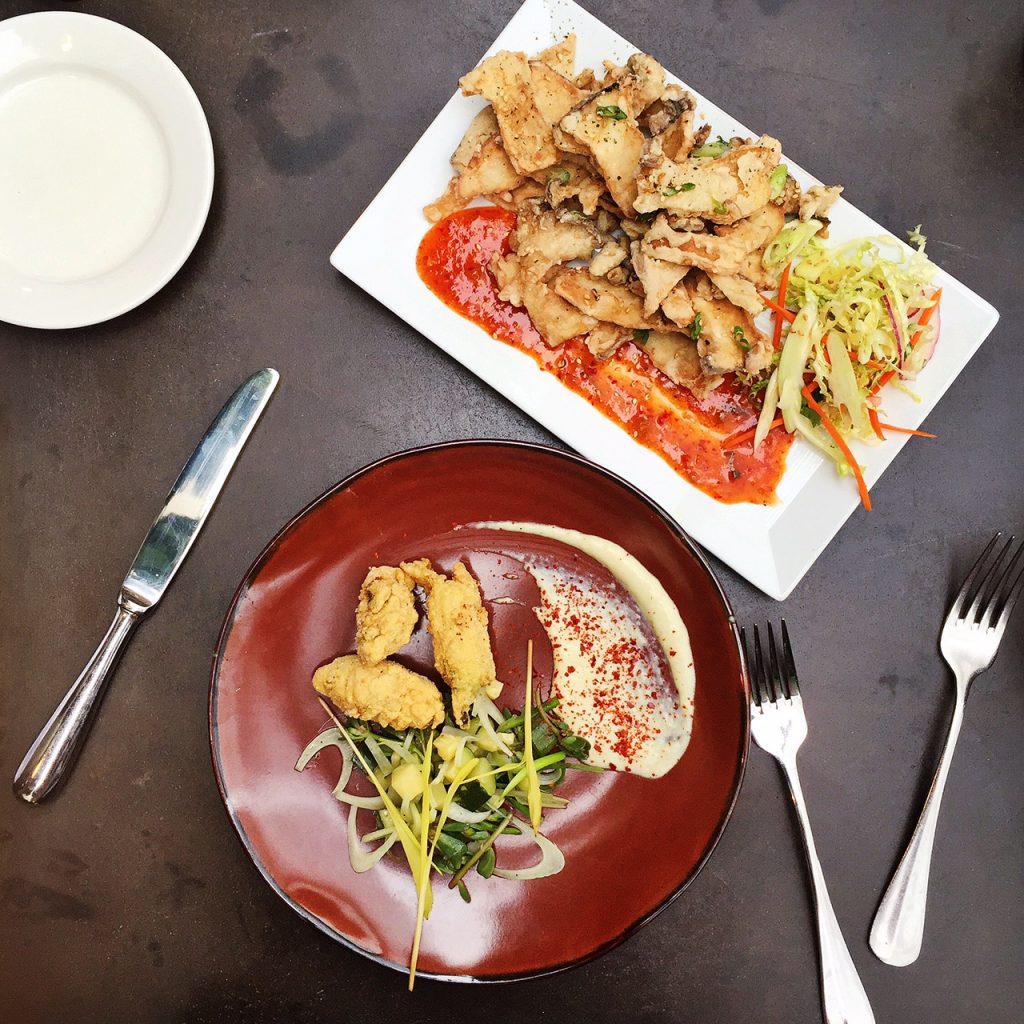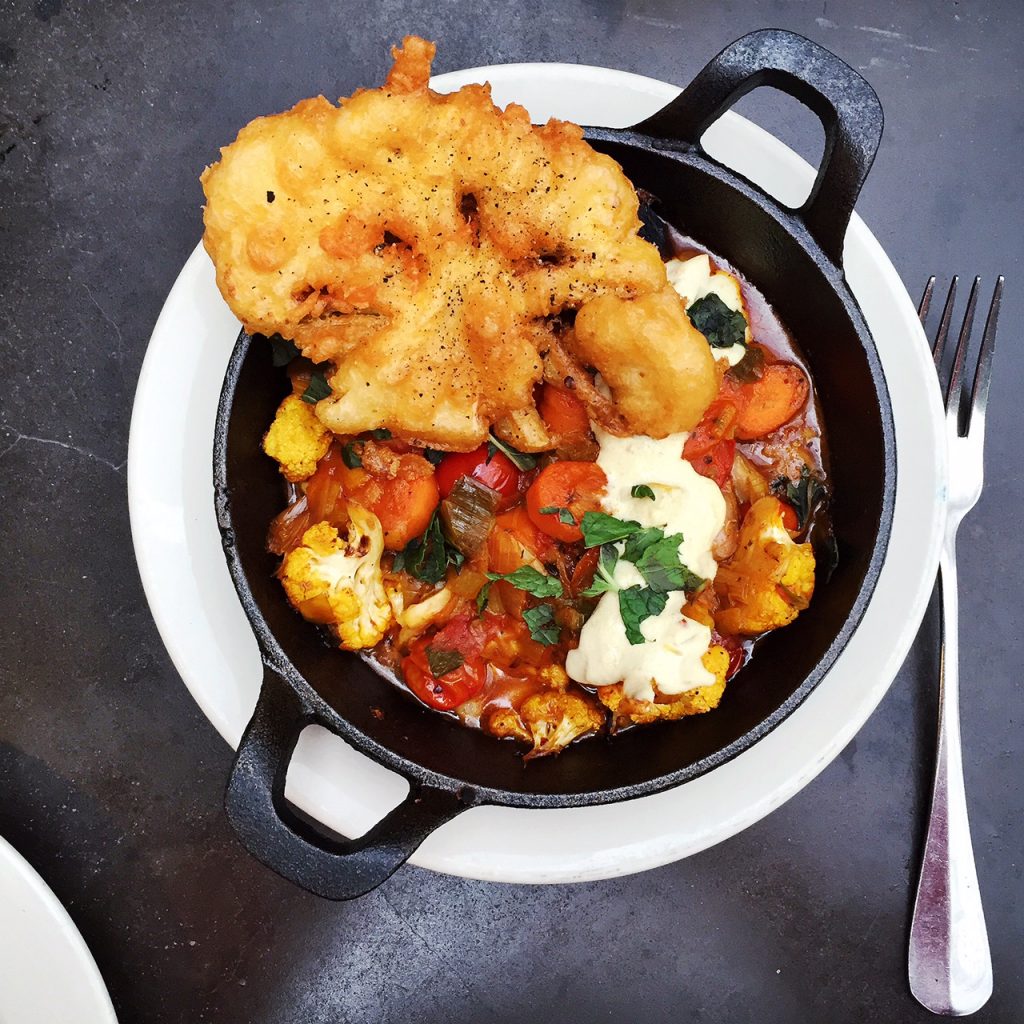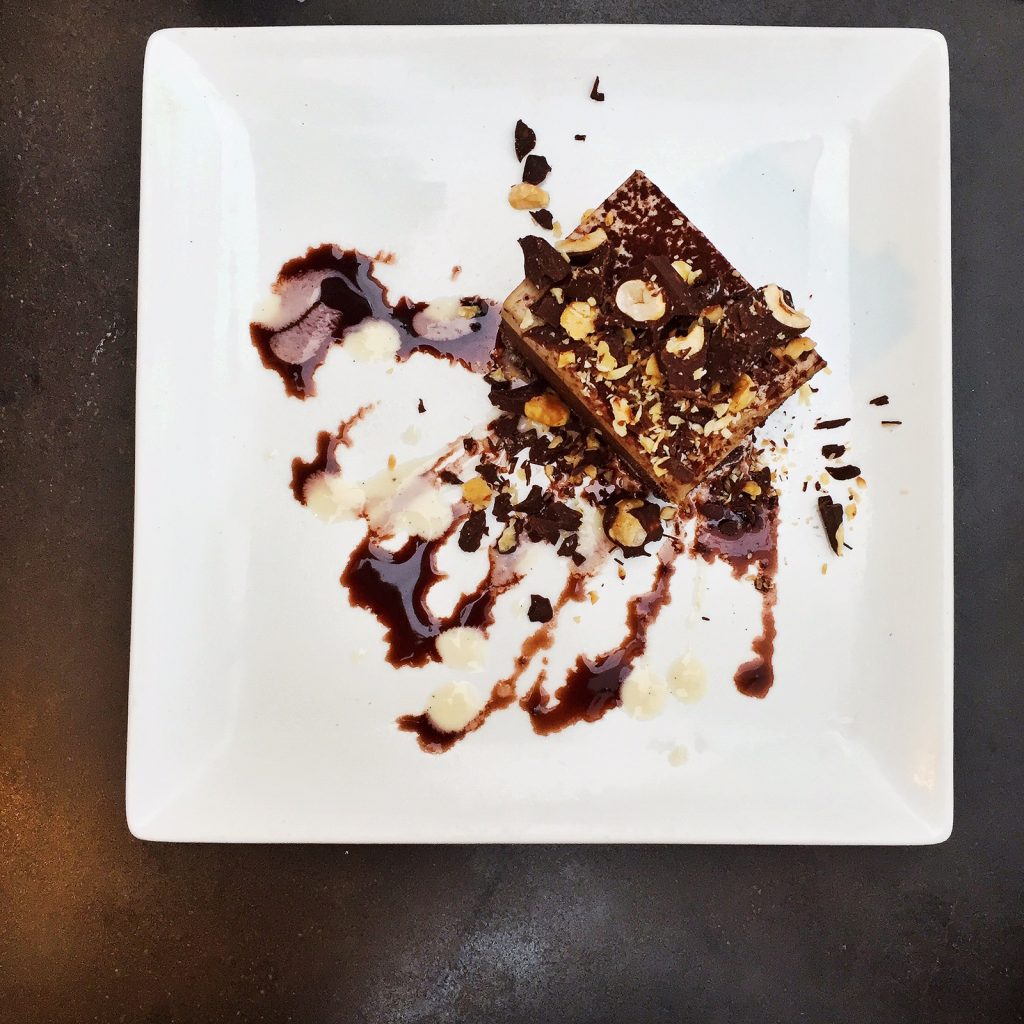 If you are in Oakland, you must visit Millennium. It's definitely on my list of top 5 favorite eateries.
After dinner, we headed back to our hotel and crashed. The next morning, before we headed out of town, we stopped at one of the places I'd been dying to try ever since it opened.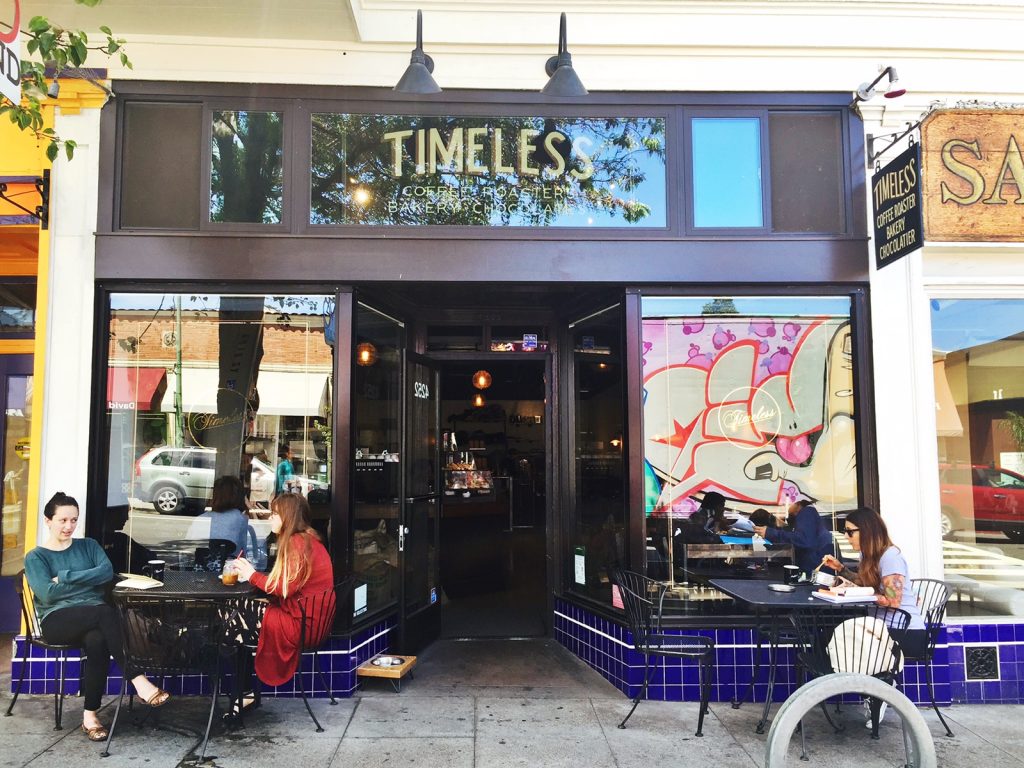 4252 Piedmont Ave, Oakland, CA 94611  •  (510) 985-1360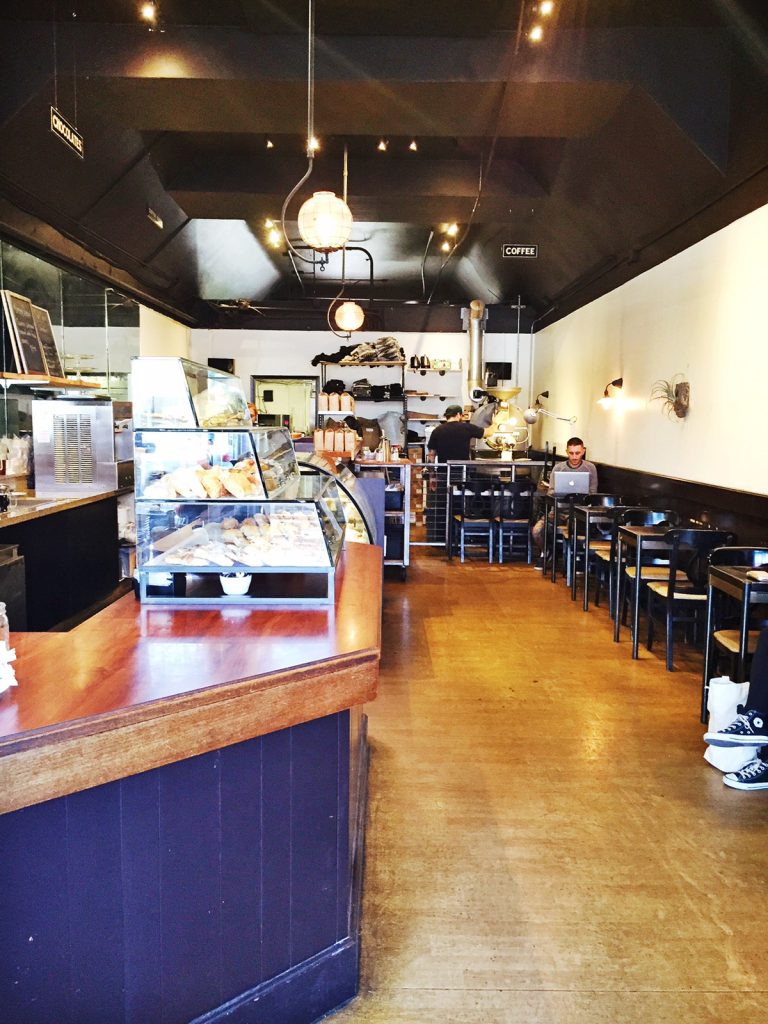 When it opened, Timeless Coffee was one of the only vegan coffee shops I'd ever heard of. It might still be the only all vegan coffee shop. I don't know. But I loved the sound of all the vegan baked goods they were serving up, the idea of several vegan milk options and I don't know, AN ALL VEGAN COFFEE SHOP. And since we were there, they've actually expanded into the space next door so it's and even bigger ALL VEGAN COFFEE SHOP.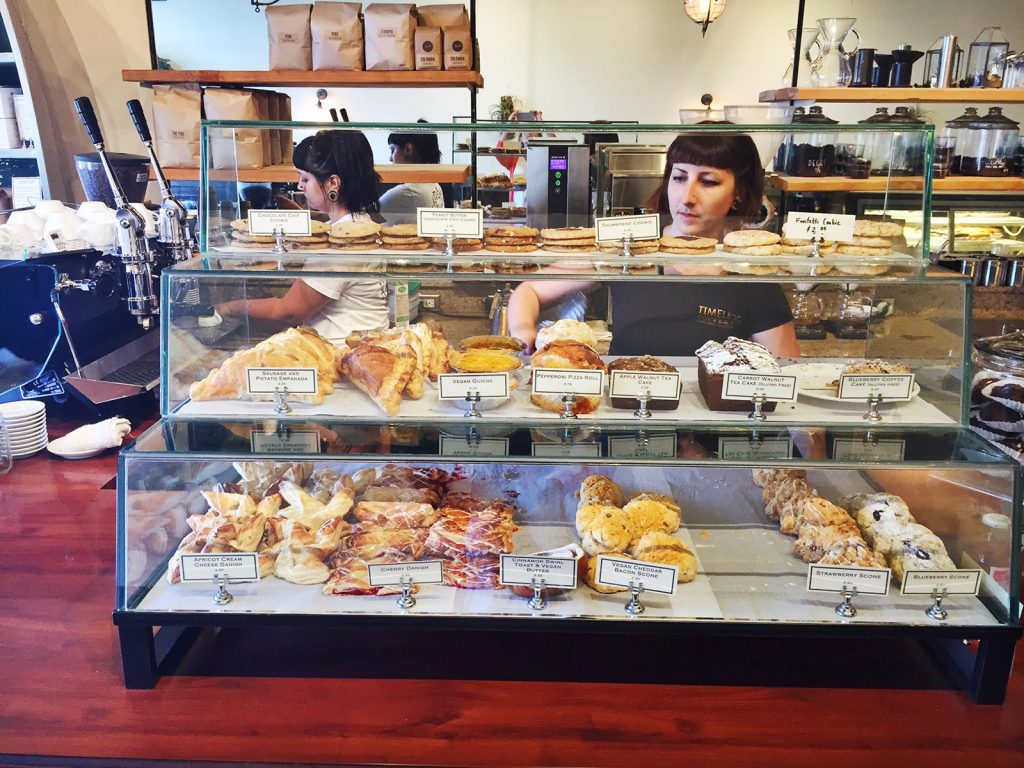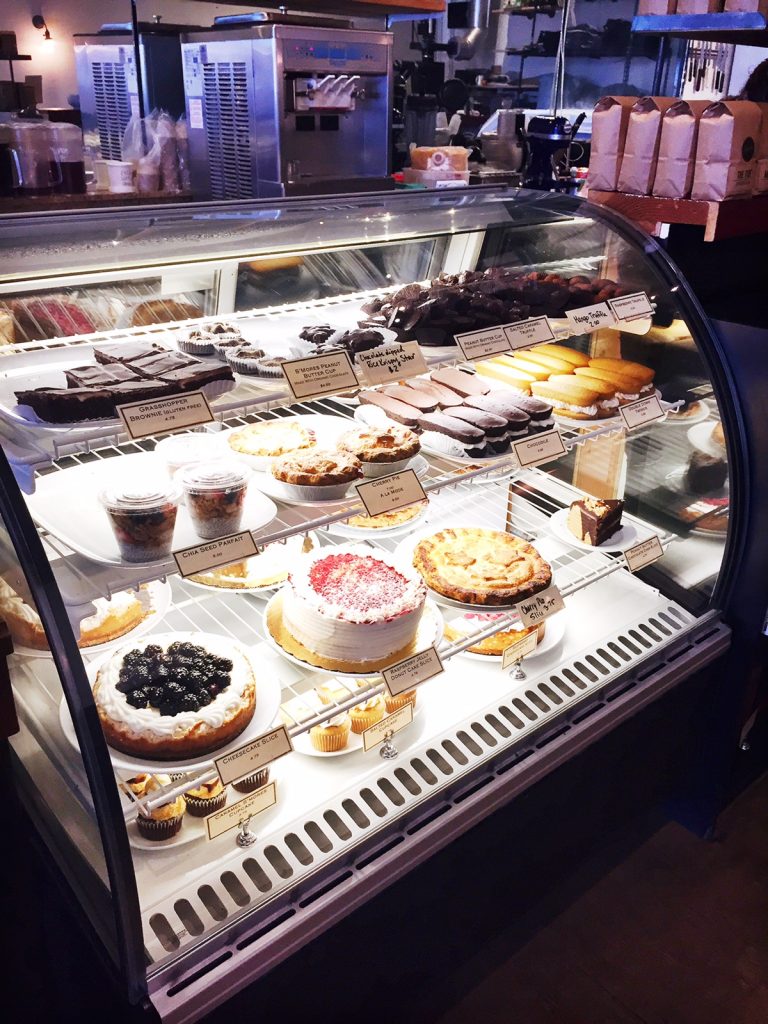 We each ordered beverages, and I got a gluten-free blueberry coffee cake and Chris got some cinnamon swirl bread. I also ordered oatmeal because back then, I was super hungry in the mornings (since having my thyroid removed, my appetite has changed). All of it was wonderful.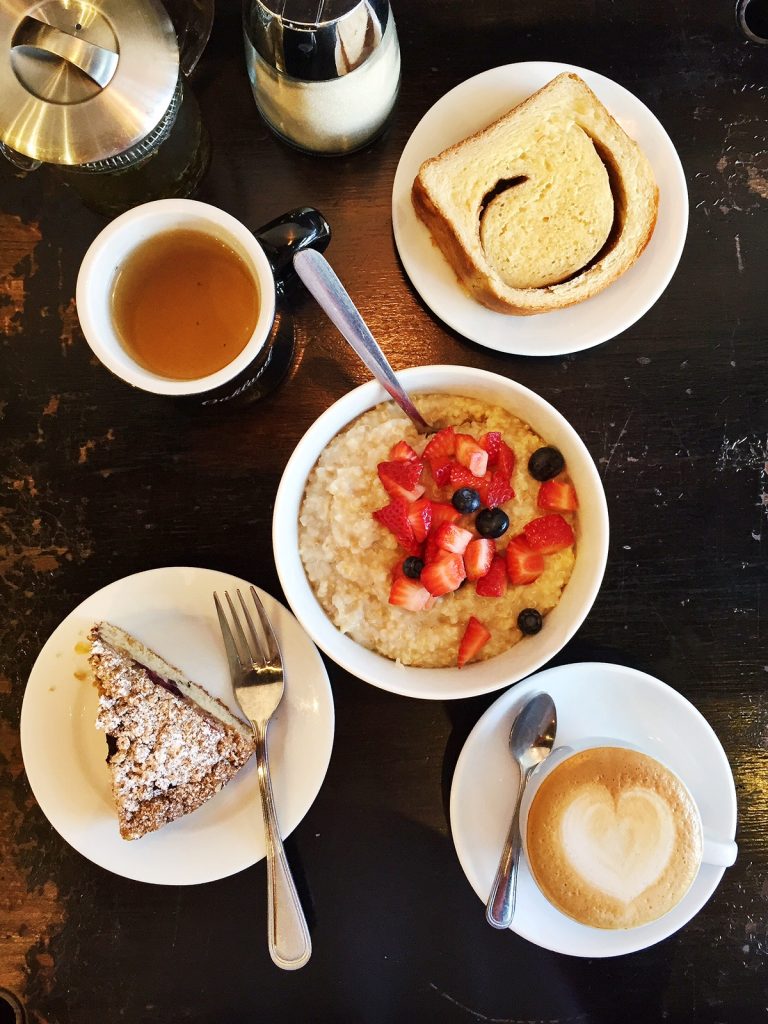 Then I got one of these dreamy things for the road. It was a dream.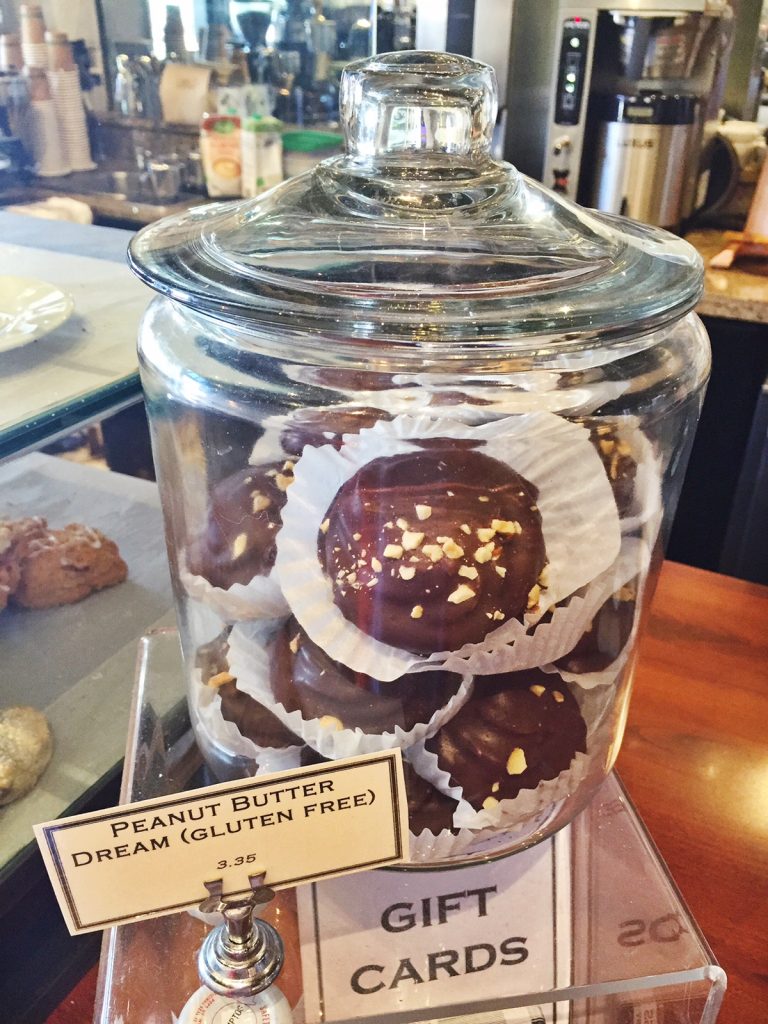 The next time I'm in Oakland, I will definitely be paying another visit or two to Timeless Coffee. Yessiree.
After breakfast, we got on the road to our next destination. But we had to stop at Oakland on our way back home, because we gots to eat, so we got to cross another restaurant off of our vegan restaurant bucket list.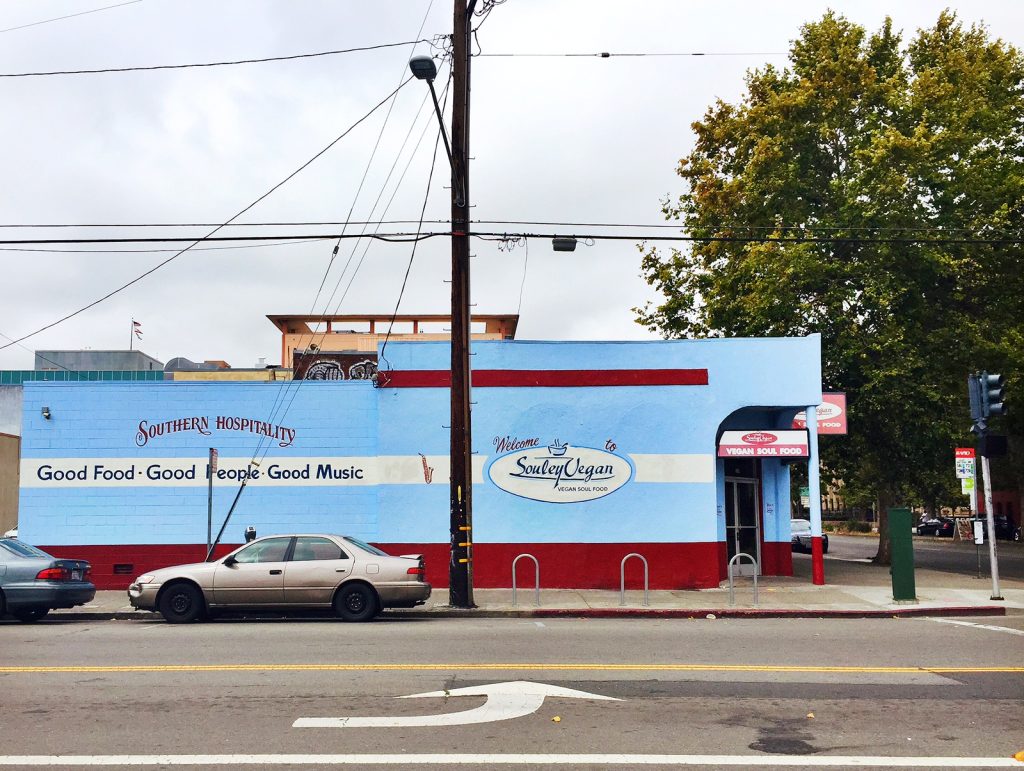 301 Broadway, Oakland, CA 94607  •  (510) 922-1615
I've been wanting to go to Souley Vegan for I don't know how long. A really long time. Years. So I was pretty excited to be able to stop in for a quick lunch. The place itself is pretty unassuming, but the service couldn't be nicer and when I asked what their gluten-free options were, they were extremely knowledgable and helpful.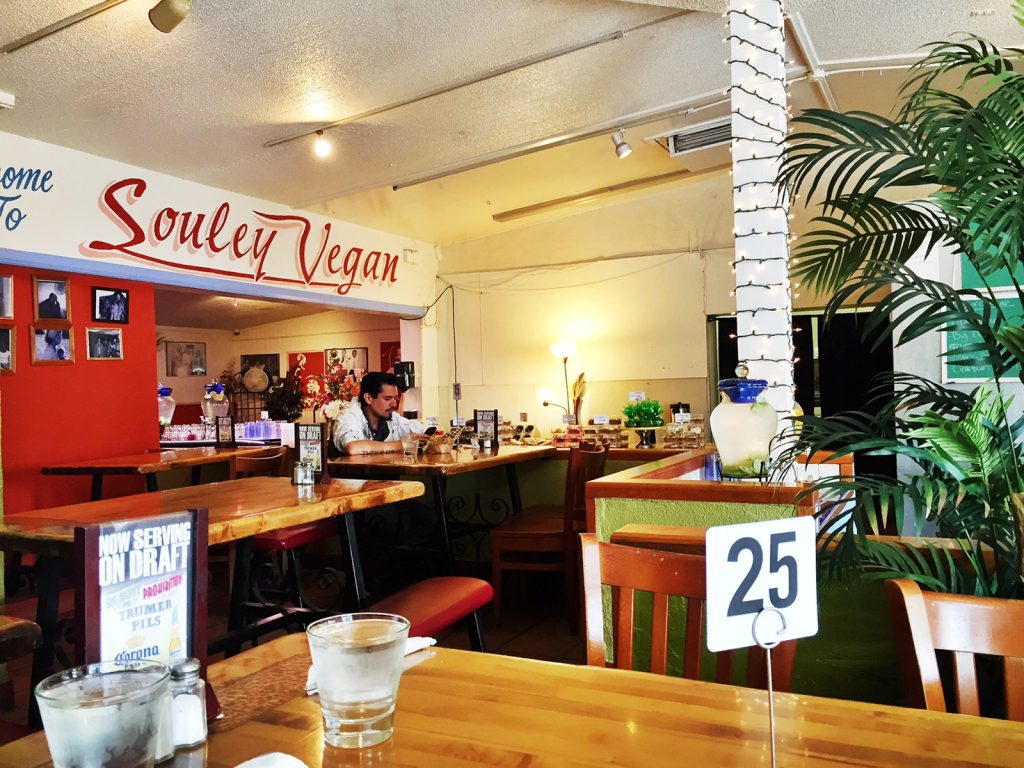 I got a combo plate with collard greens, yams, and bbq tofu. I didn't swear after every bite but I was very impressed. Everything was so flavorful and had a great texture. I remember wishing I had more room in my stomach for seconds.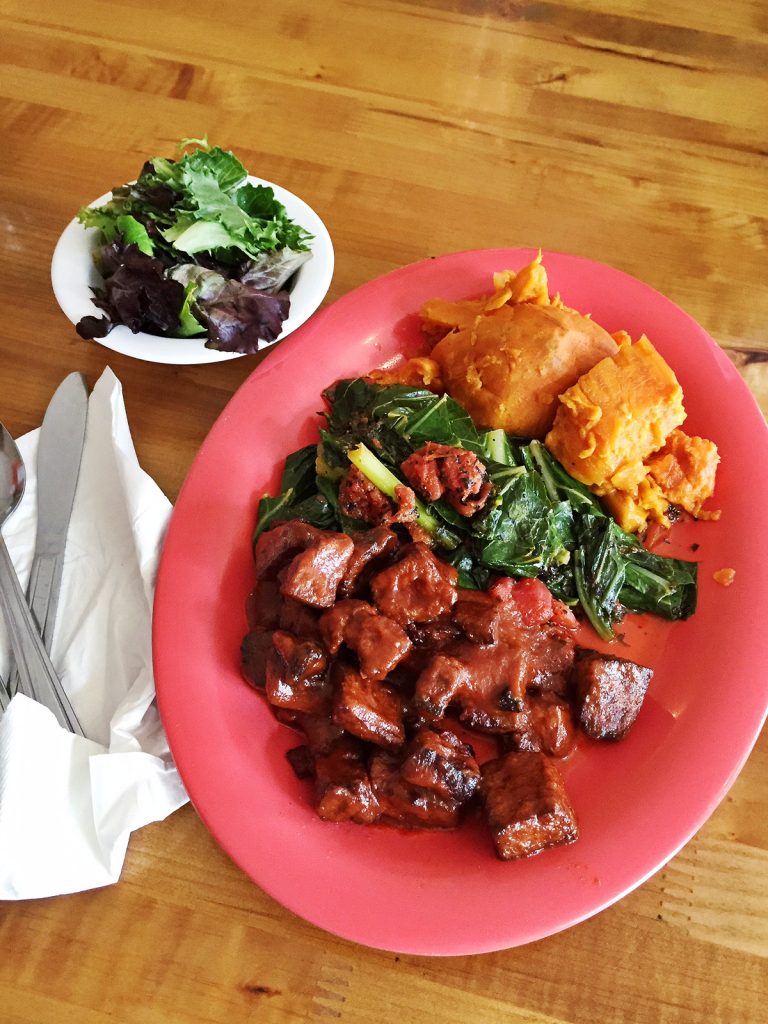 Chris got the Seitan "Shrimp" Po Boy. He cursed after every. single. bite. so that's usually a sign that he's a fan. Then he raved about it for the first 30 minutes after we got back on the road. My memory is foggy, but I'm pretty sure he loved it. A lot.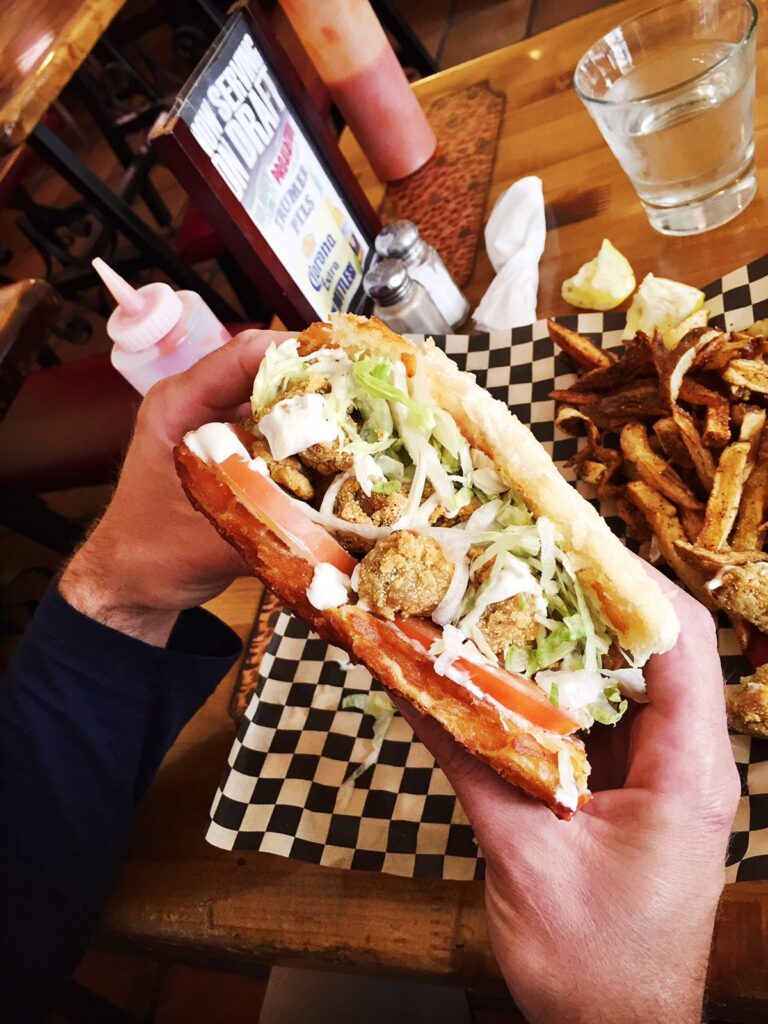 After our meal, we got back on the road for our long drive back to LA. I can't wait to go back to Oakland and try more of their vegan eateries and revisit these new faves!
Stay tuned for a post on the other half of our 2015 road trip, including Mendocino and The Stanford Inn!