I grew up about 45 minutes south of San Francisco so going to the city was something I did fairly regularly.  All the women in my family used to do a "Ladies Weekend" there every year and we would always ride the cable cars, go to the pier, and see a play.  My grandmother used to take me and two of my female cousins there right before Christmas every year so we could see the window displays.  As an adult, I had friends who lived there so I was always going up to visit them, meet them for a meal, or to go out dancing.  I've been to San Francisco a lot, but not since Chris and I became vegan.  I mentioned before that we'd had a good time in the city before so we decided that our anniversary weekend would be the perfect opportunity to go an explore San Francisco as vegans.
Our flight to San Francisco was delayed twice so we actually spent a good portion of the day just hanging out at LAX.  I'd packed a couple snacks and there were little pretzel/hummus packages being sold at the airport so we had plenty to keep our hunger at bay.  By the time we got to the city, BART (Bay Area Rapid Transit) had just started running again (it had been on strike) so we were able to take BART from the airport to the city and lucky us- the BART station let us out right in front of our hotel.  We freshened up and headed back out for dinner.
2211 Mission Street, San Francisco, CA 94110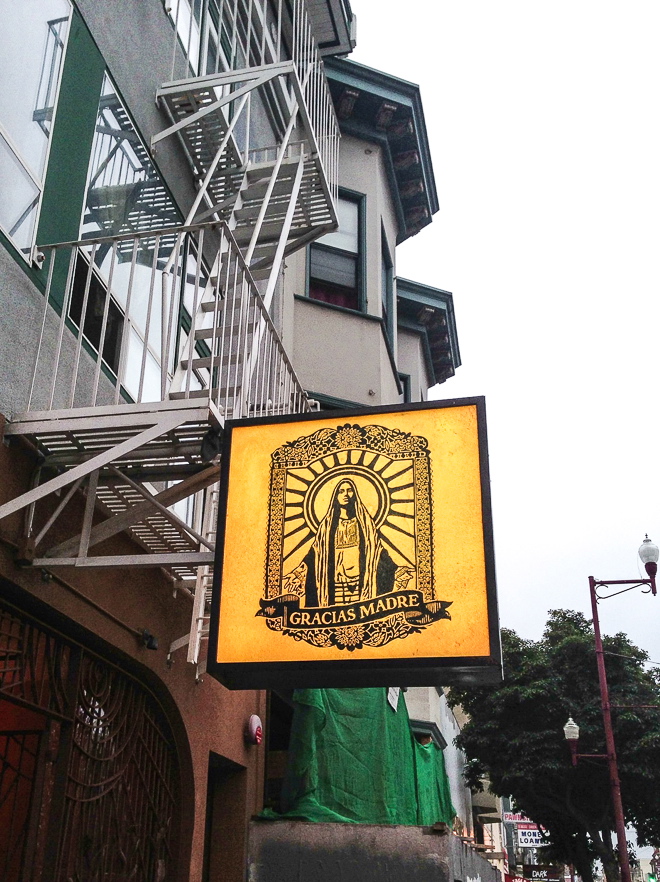 Since we were pretty famished, we thought a nice big Mexican meal would be perfect and luckily, the Mission District has the best Mexican food of pretty much anywhere outside of Mexico.  Gracias Madre, owned by Cafe Gratitude, is located in the Mission District and I'd heard rumors that their vegan Mexican food was the best.  We were able to take BART there in no time at all.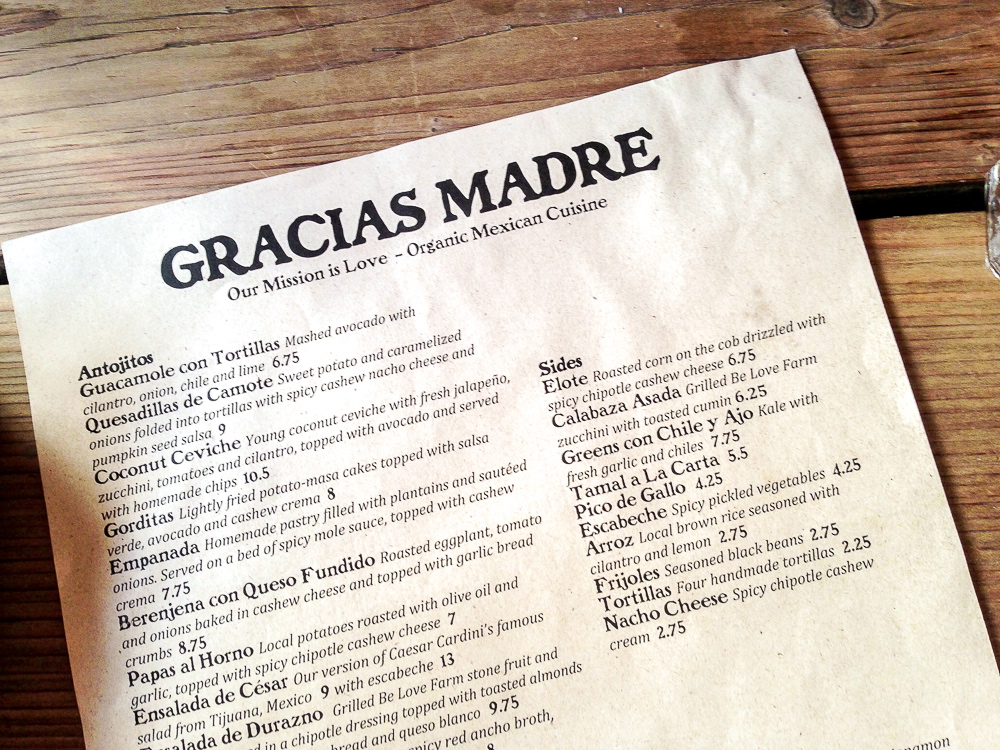 We sat outside at one of the communal tables and after perusing the menu we knew two things:  We both wanted chips and guacamole and we both wanted tacos.  We ordered the "Guacamole Con Tortillas" expecting to get a nice basket of tortilla chips and guac.  What we got was so much better- warm, freshly-made corn tortillas with a bowl of guacamole.  It was not what we were expecting, but we enjoyed it just the same.  The salsas sitting at the table were the perfect accompaniment to each torn-off piece of tortilla, slathered in chunky guacamole.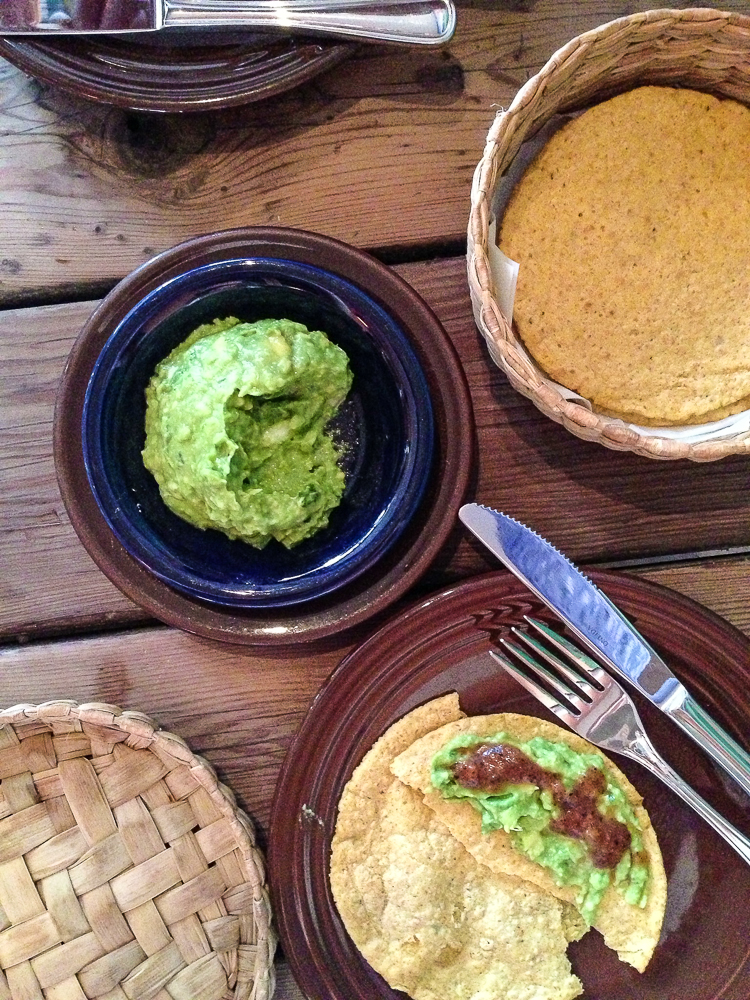 The menu offers a plate of three tacos, filled with seasonal vegetables of your choosing and cashew cheese with a side of  beans.  Chris and I each ordered this plate, but we got different fillings.  I got one with mushrooms, one with kale, and one with zucchini.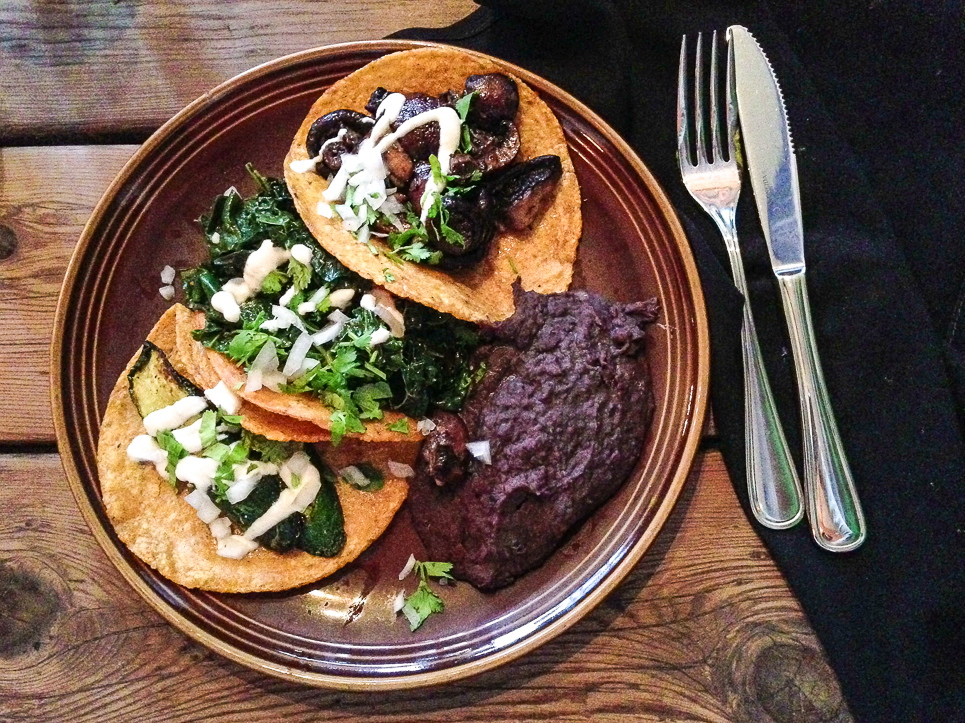 Chris got one with mushrooms, one with green beans, and the third one is a mystery (we forgot to take a picture of the menu and this is the only picture and it's pretty blurry).  We both really enjoyed the tacos and were completely stuffed by the end of the meal.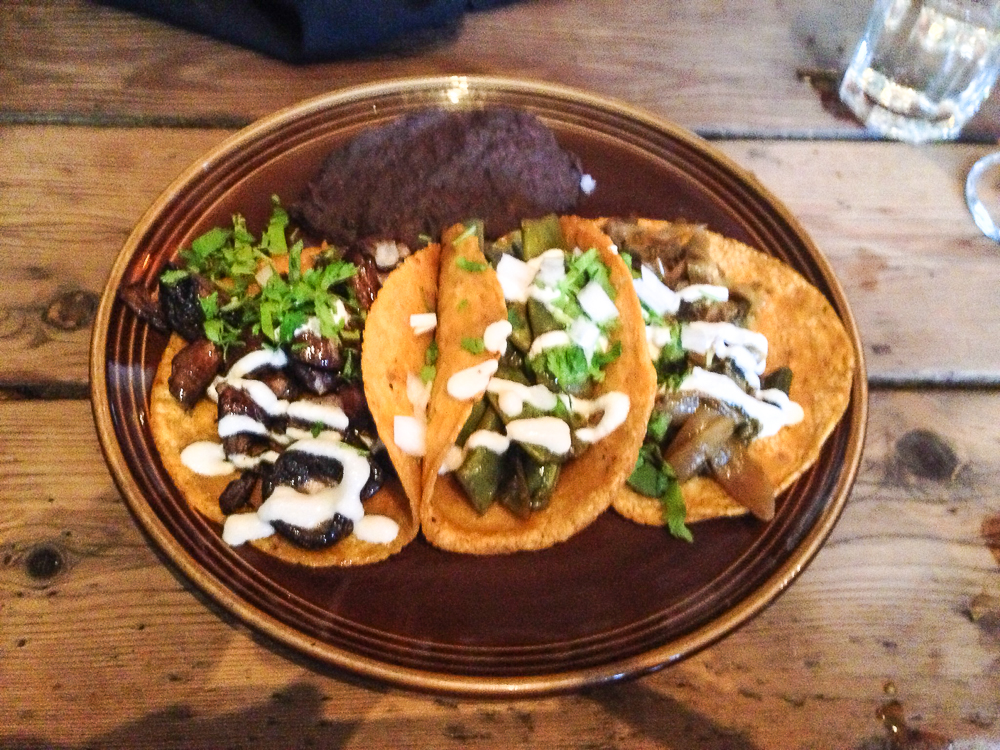 One Ferry Building, San Francisco, California 94111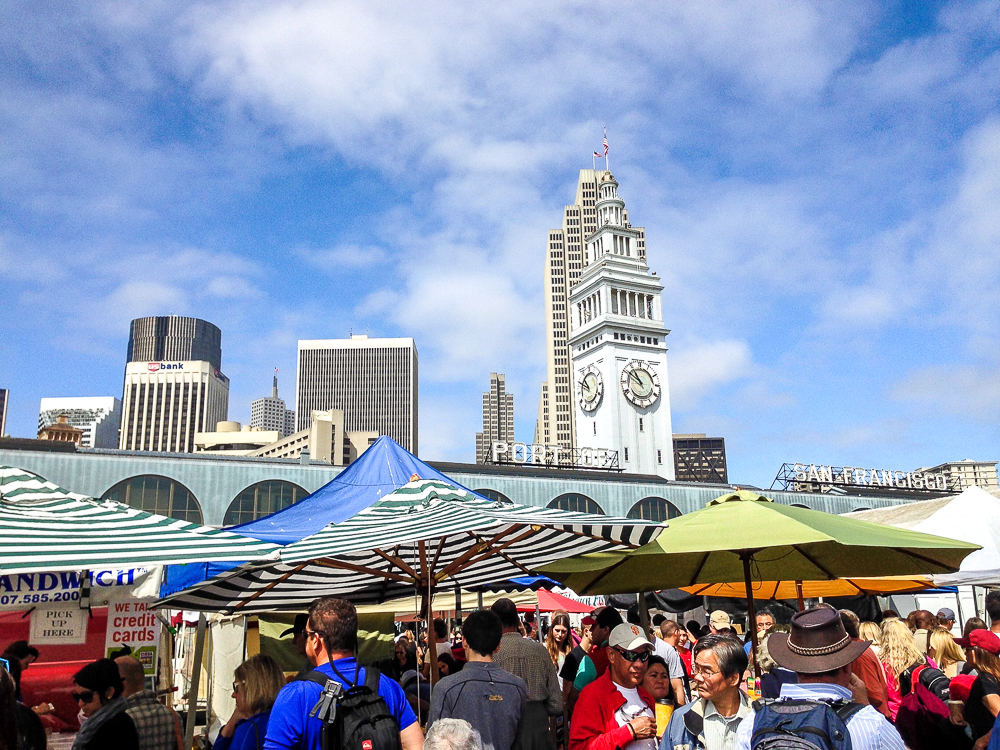 The next day was Saturday.  On Saturdays, there is a huge farmer's market at the ferry building and it is one of my favorites.  I never miss a chance to go to this farmer's market.  Since we knew we were spending the afternoon in Berkeley, we decided to drop by the farmer's market and grab a light breakfast to tide us over until we got to Berkeley.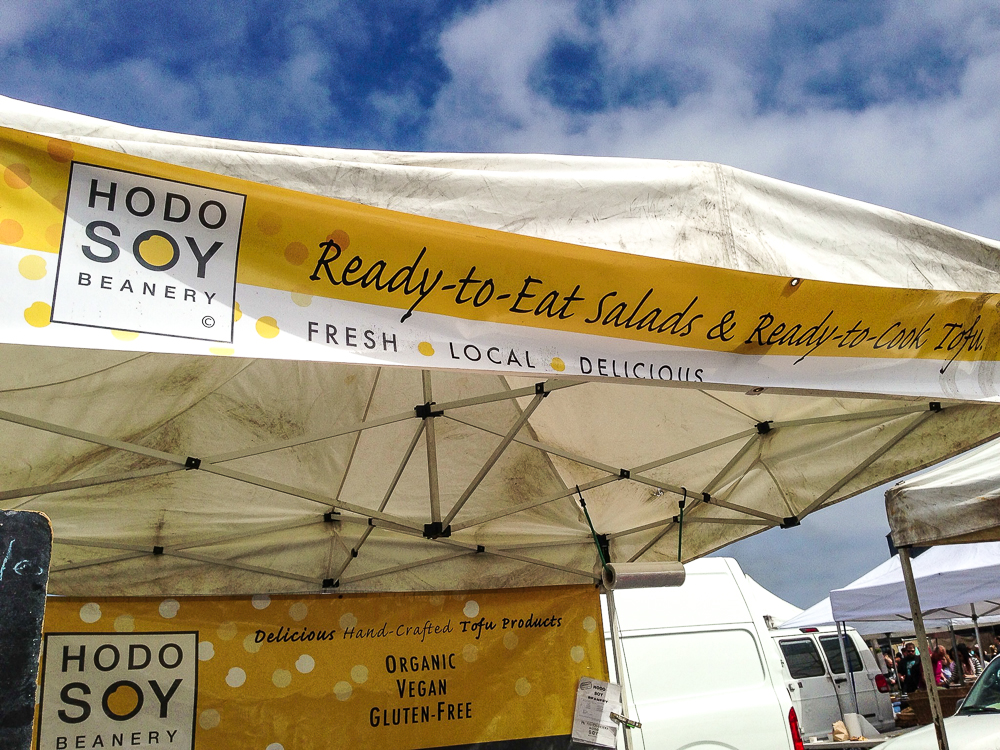 Once we got there, Chris got coffee, I got tea and we walked around, perusing the goods at the various shops and stalls.  We were extremely excited to come across the Hodo Soy Beanery's booth.  I've only ever heard wonderful things about them but I've never been able to try any of their goods.  They have a variety of soy products including tofu, soy milk, yuba (which I'd never heard of before), as well as a number of ready-to-eat/cook items.  We were allowed to sample the Sesame Yuba Strips, Spicy Yuba Strips, Five Spice Tofu Nuggets, Curry Tofu Nuggets, and the "v-EGG-an Salad."  All of them were really good, especially the yuba strips, but Chris and I were quite take with the v-EGG-an salad.  We bought a tub and went in search of some fresh bread to make little sandwiches for breakfast.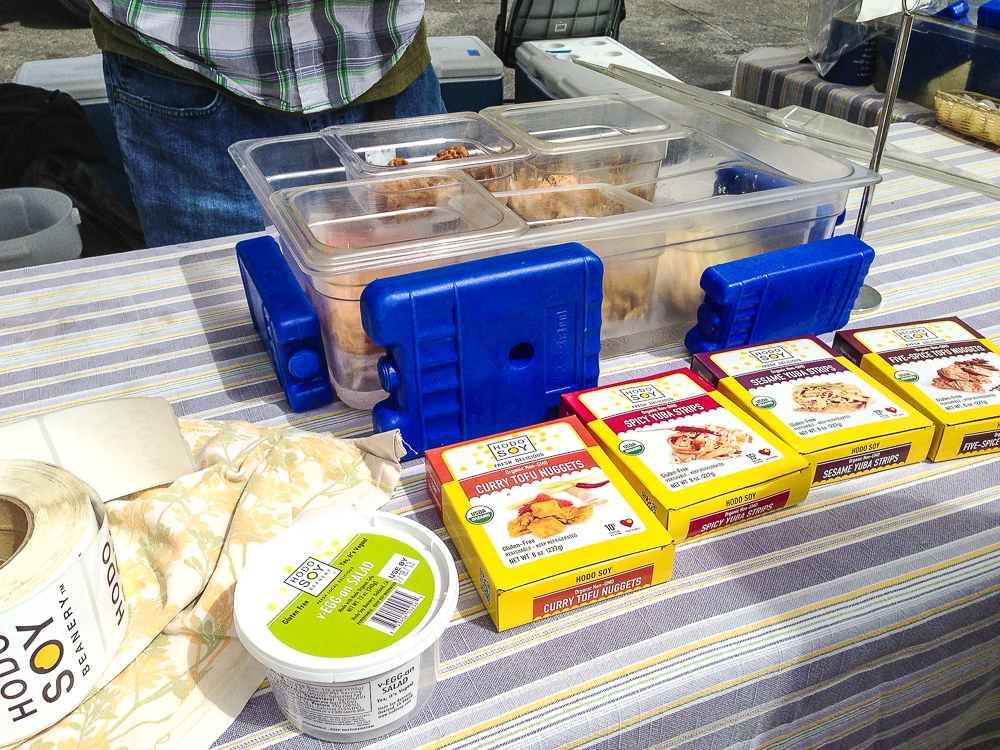 We bought a baguette at ACME Bread Company and found a bench near the water to have our little breakfast.  It was glorious.  We ate just enough to satisfy our hunger, but I'd heard that there were vegan donuts at the Ferry Building and we couldn't very well leave without checking them out.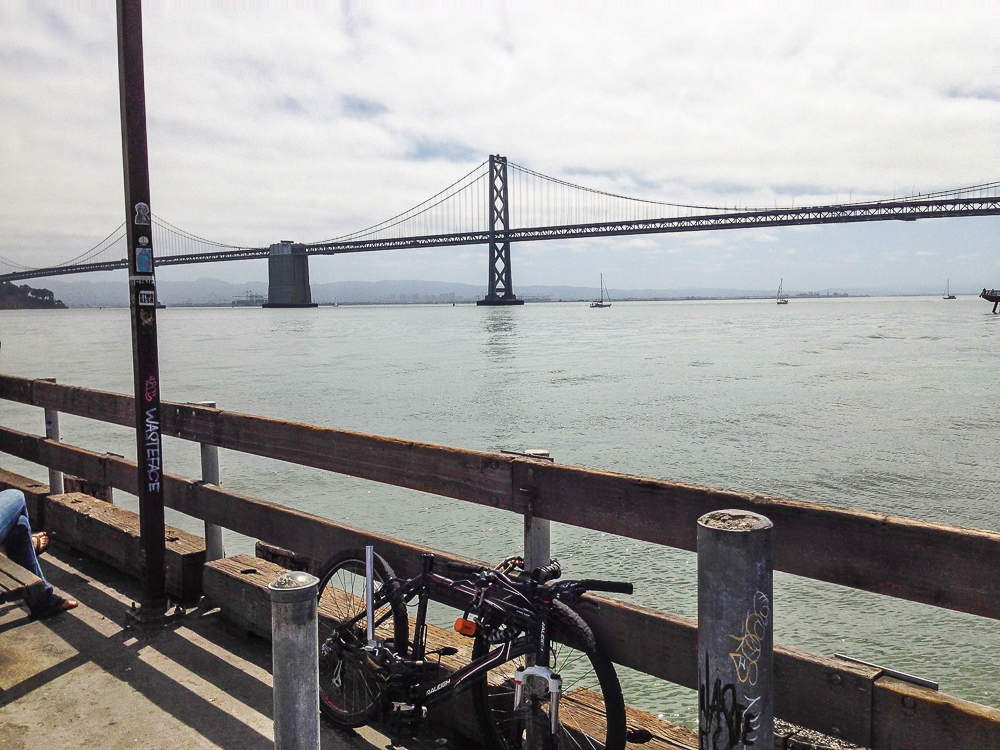 One Ferry Building, San Francisco, California 94111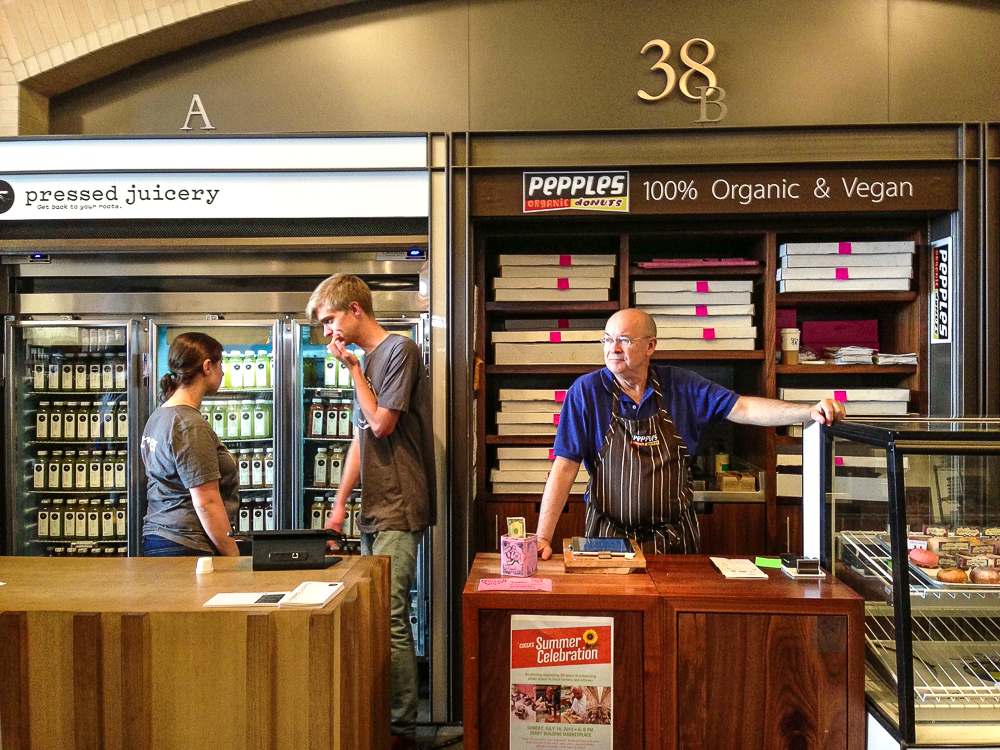 Pepple's Donuts is actually a shop in Oakland but they have a kiosk in the San Francisco Ferry Building.  It's a tiny shop conveniently located next to one of my favorite juiceries, Pressed Juicery.  Their donuts are small (not mini, but not as large as a raised donut) and they're baked.  I'd heard that the salted caramel donut was not to be missed so we got one to munch on later.  When we did finally have it, we were both pretty happy with it.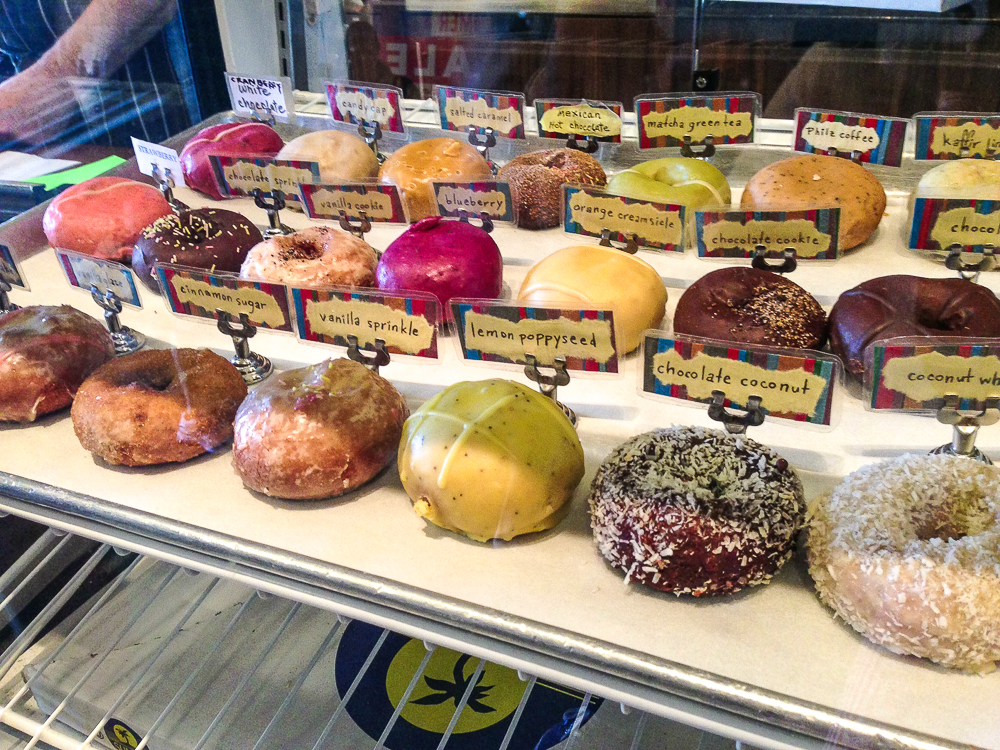 We then went to Berkeley for the rest of the afternoon and when we got back to the hotel, we were pretty full.  We rested for awhile (I'd come down with a not-so-pleasant cough the day before so I was craving a good little rest) and then we went out for a drink and possibly a light snack or two.
1666 Market St., San Francisco, CA 94102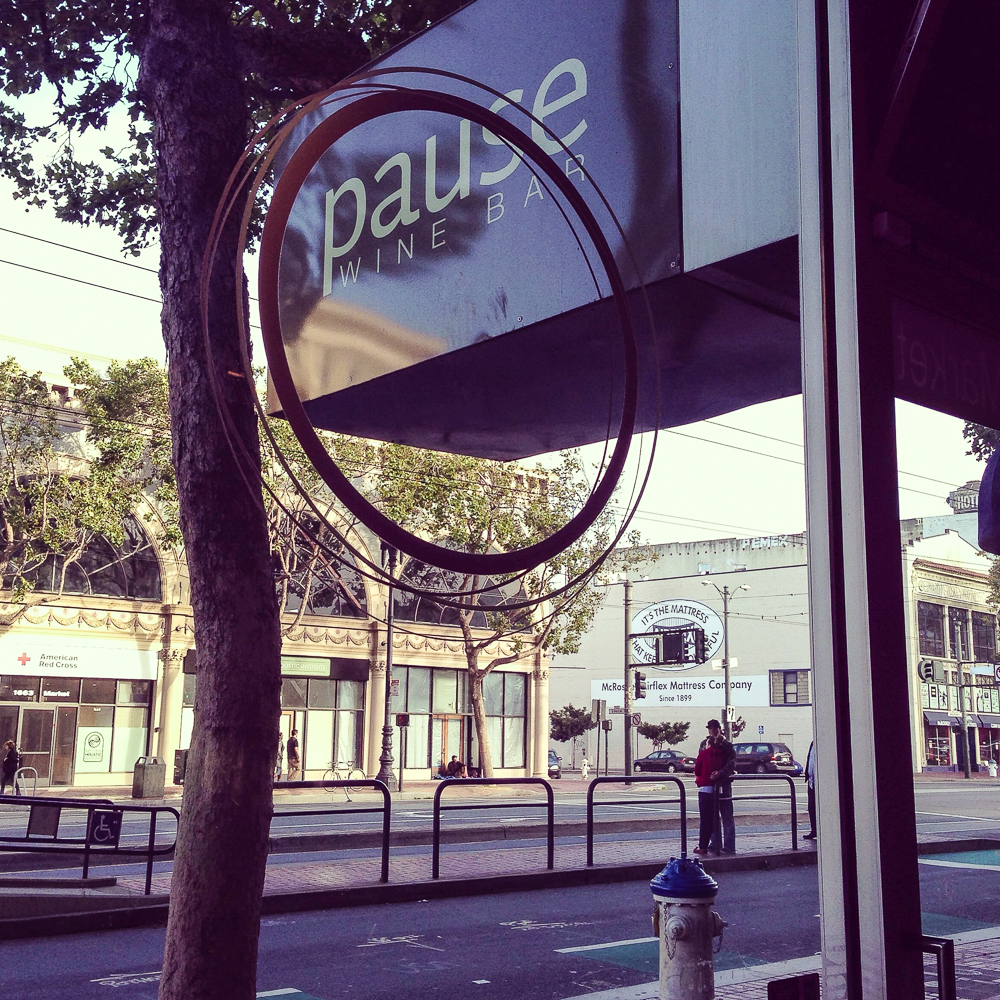 I'd asked my friends on Instagram if anyone knew where we could get some vegan wine in the city and Jen said she'd had some vegan wine at Pause Wine Bar that was pretty good.  She also told us that the owner was the former wine director at Millennium so there were sure to be a few vegan options.
We walked there from our hotel near Union Square and it took us about 20 minutes.  We had no problem getting a table and our server quickly brought us menus.  I was happy to see that there were several food items on the menu that were vegan.  Our server wasn't sure which wines were vegan but the first wine we looked up on Barnivore.com was vegan so we went with that one- a very nice Viognier.
Pause has a very mellow vibe and we must've sat there for a couple hours just relaxing and talking.  We did share a couple of dishes.  The first was a bowl of house-marinated olives.  In my opinion, you can never go wrong with olives.  They were great.
Later on, we shared a grilled flatbread pizza.  They have two vegan pizzas on the menu, both clearly marked.  We got the Seasonal Vegan which came with cashew creme, roasted potatoes, roasted red peppers, garlic, fried leeks and mixed greens.  It was small and light and totally perfect for us to share as a light meal.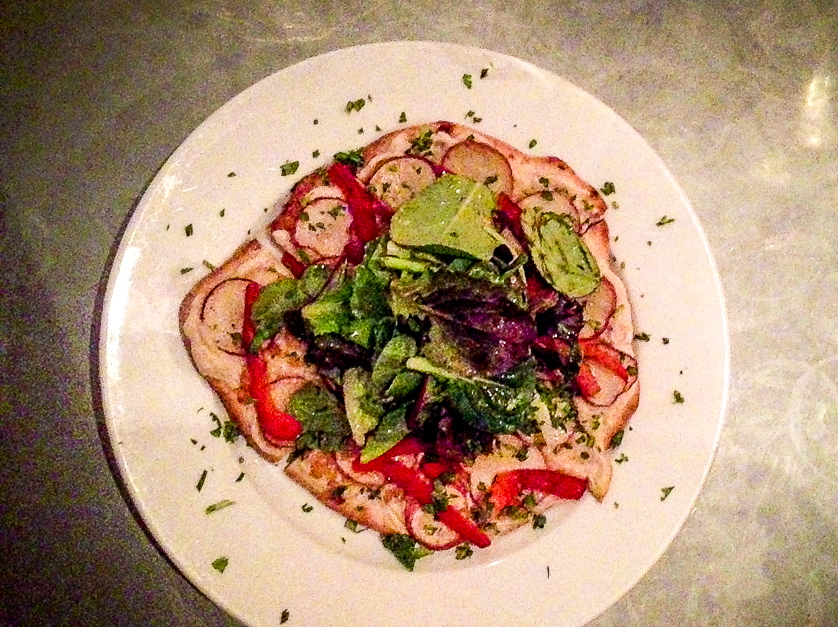 After awhile, we were the last people there and we could tell that they wanted to close-up early so we decided to head back to the hotel.  This time, we didn't walk but took MUNI (the metro/subway) instead.  There is no need to rent a car when traveling in San Francisco- BART and MUNI (as well as buses and cable cars) can take you pretty much everywhere much more quickly than it would take you to drive.  And you won't have to spend a ton of time or spend a fortune just to park (Before deciding to move to LA, I considered San Francisco as well, but ultimately, I'd much rather spend an hour sitting in traffic than trying to find parking.  So I moved to LA.  True story.).
Stay tuned for Part 2 in our Vegan Travel In San Francisco series!