Last month, Chris and I surprised the twins with a day at Disneyland to celebrate their last day of school and their upcoming thirteenth birthday (Yes.  We have teenage twins on our hands.  How did this happen?).  We told them we were going to "another hippie vegan convention" at the Anaheim convention center so when we walked up to the ticket booth, they were surprised to say the least.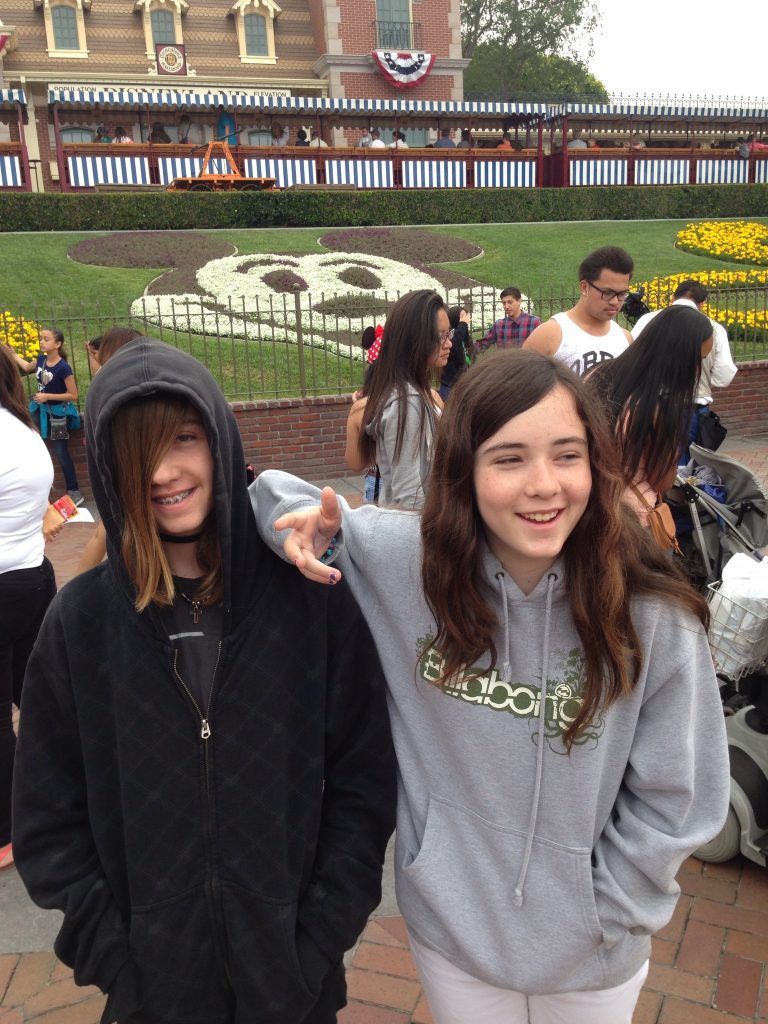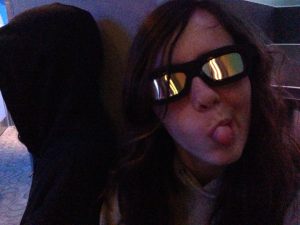 Our first order of business was Space Mountain which the twins had never been on and Chris hadn't been on probably since the time he was arrested at Disneyland.  We got fast passes for Star Tours then got in line for Space Mountain.  The wait was long and by the time we got off, we were a little hungry.  I had done a little research prior to coming and learned that the plain (with or without salt) Mickey Mouse soft pretzels (not the cheese-filled ones) were vegan so we stopped at the first pretzel stand we found.  Having a snack like soft pretzels definitely made us feel even more in the mood for amusement park fun so we high-tailed it to Fronteirland.
After Pirates of the Carribean and The Haunted Mansion, it was after noon and we were hungry for lunch.  We checked out this great stand in Adventureland that had fresh fruit, juices, and even hummus and pretzel packages, but we were hungry for an actual meal.
Chris and I grabbed vegan gumbo in a bread bowl (just ask for no oyster crackers) in New Orleans Square (right near Pirates of the Carribean.  They can be found at the Royal Street Veranda- There's a big sign that says "Gumbo"- you can't miss it) and then carried our bread bowls to Fantasy Land to get some lunch for the twins.
We got the twins veggie burgers and fries at Village Haus in Fantasyland.  They both liked the burgers but loved the fries.  Chris and I tried the burgers and it was pretty tasty for amusement park food.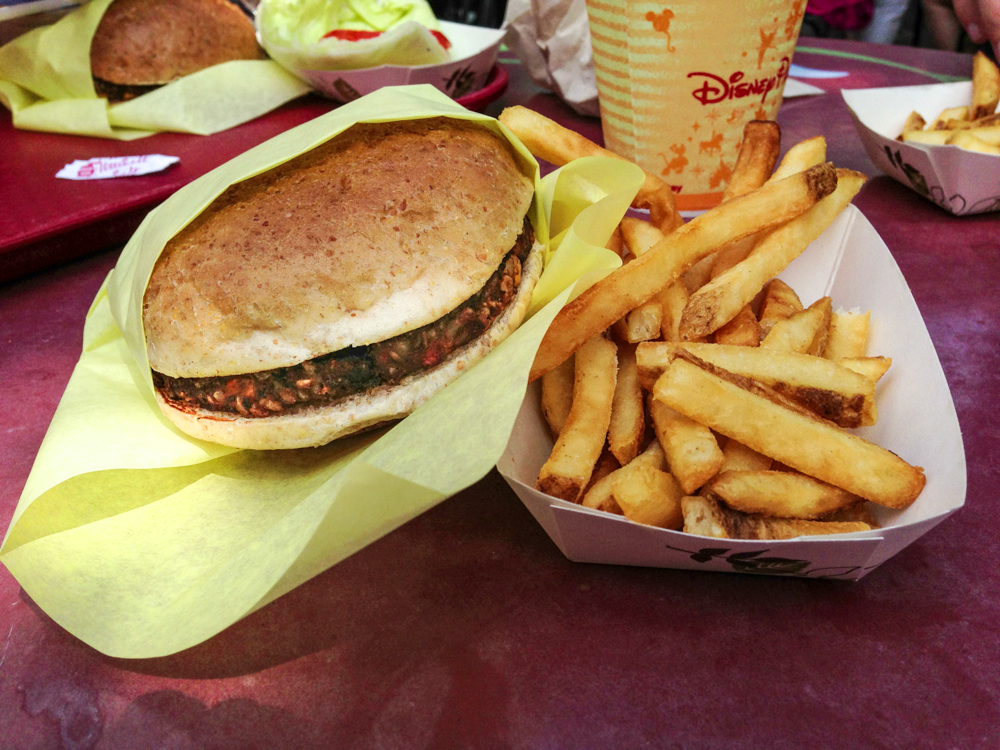 Our gumbo bowls, on the other hand, were absolutely incredible.  I would go back again just for these bowls (Well, only if it was my birthday and the admission to the park was free).  It was packed with rice, onion, okra and tomatoes and the sourdough bread bowl was super fresh.  I couldn't get enough.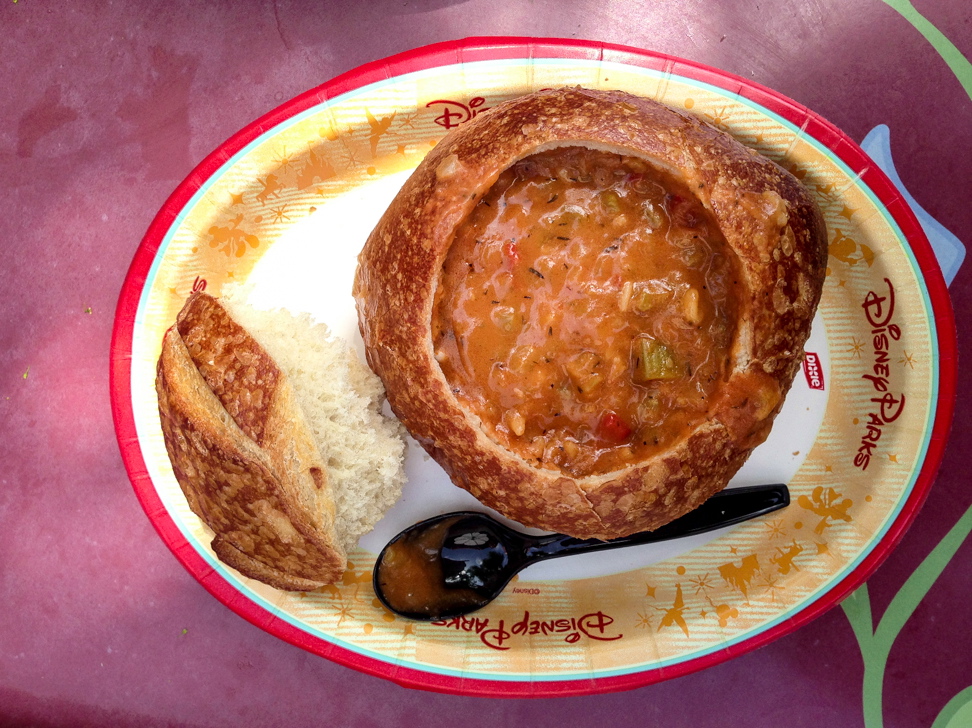 After lunch, we were all in the mood for a little something sweet.  Lucky for us, we happened upon a cart that was selling kettlecorn and due to prior research, I had learned that the prepackaged kettlecorn was vegan!  The twins shared one bag and Chris and I shared another.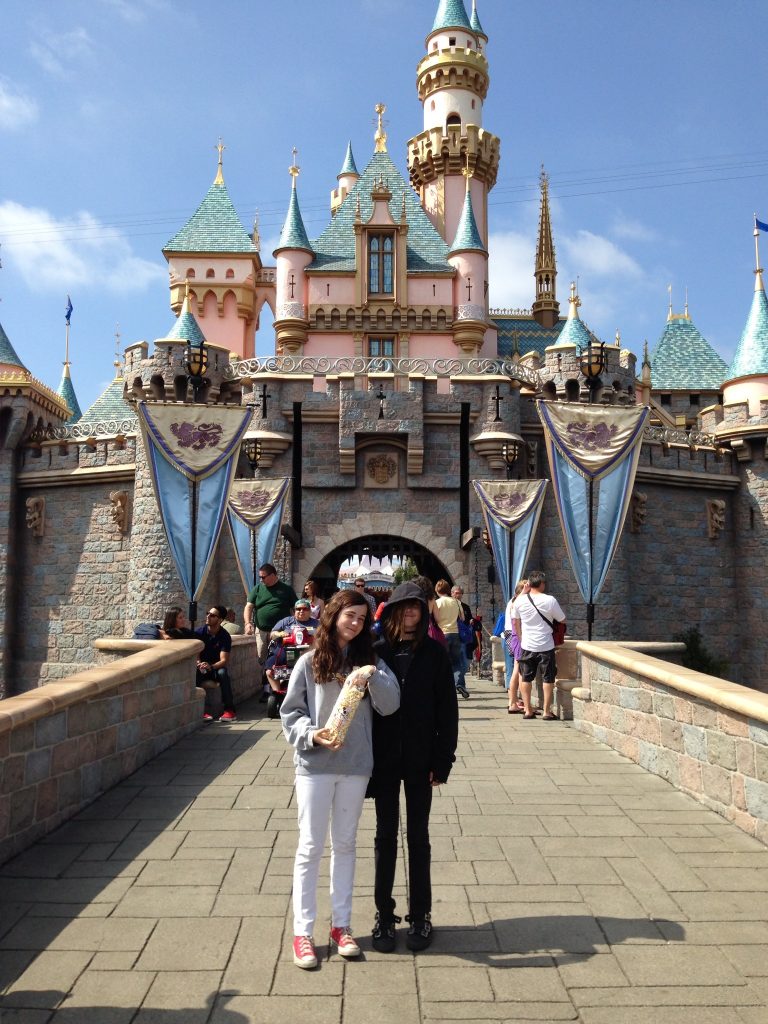 We rode a few more rides and then made our way to California Adventure.  We did some serious screaming at the Tower of Terror and then on California Screamin' (we actually went on this one twice!).  After that the twins wanted to go on a ferris wheel ride so we let them go on that while we hunted down a Starbucks (at the entrance to California Adventure) so Chris could get a coffee with soy milk (finding coffee with soy milk is not easy at Disneyland so thank goodness for Starbucks!).  We met up with the twins again, did some more walking around until the twins told us they were tired and wanted to go home (just for the record: the teenagers tired out before we did!).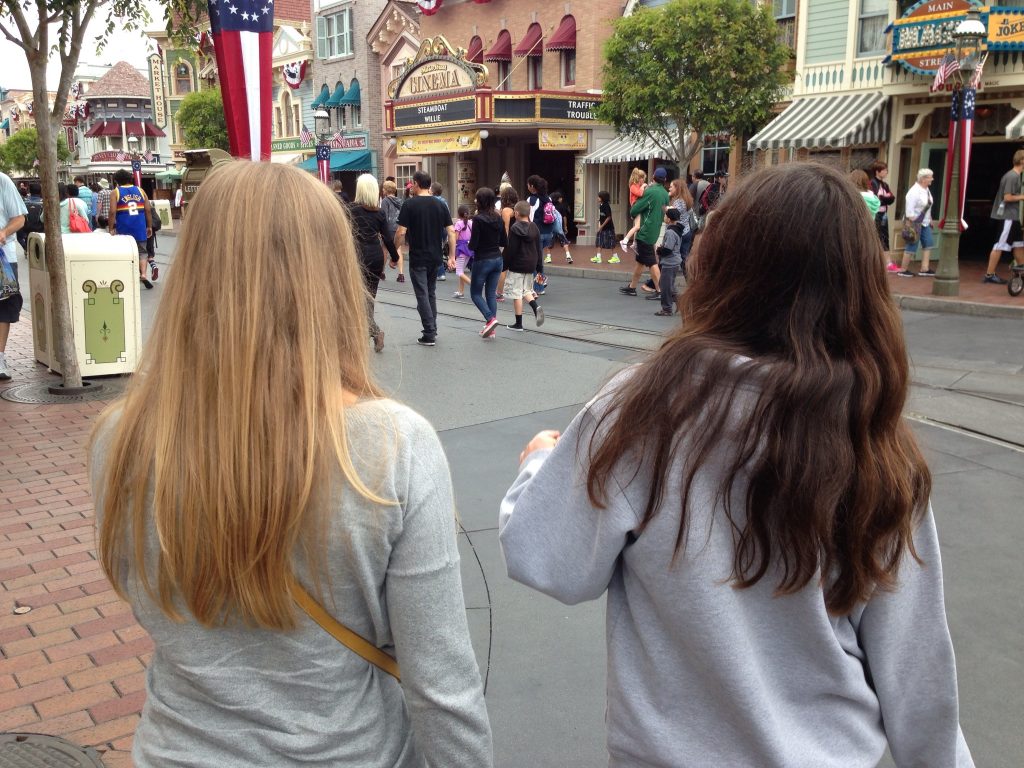 We had such a fantastic time and a large part of it was not having to worry about where to eat.  Because of the research I did prior to our visit, I had found a ton of other vegan options throughout both parks.  For more information on being vegan at Disneyland, you should visit Cadry's Kitchen and The Very New Vegan.
Have you eaten as a vegan at Disneyland?  Tell us about it!
Just a side note: Although we had a fantastic time, there were a few things that made ma little sad.  Disneyland is not the happiest place on earth for animals (and not just the dead ones that were being served as "food".)  There were ducks in the ponds that could not fly (their wings had likely been clipped in order to keep them in the park) and were forced to spend their days in a loud park surrounded by thousands of people.  I'm sure this is a far more stressful environment for them than the quiet lake or pond they would normally be living.  We also saw a horse, who had been pulling a carriage (on a track), completely freak out.  It was "neighing" and jumping up.  The handler couldn't even approach him.  He just had to keep patrons away while this animal attempted to run away.  It even tried to kick its back legs up but kept kicking the carriage itself.  The horse was so scared and unhappy- it truly broke my heart to see.  Disney, if you're reading this, I'm sure it's possible to run your park without the exploitation of animals.