When I became vegan, I began cooking a lot more.  Not only did I start cooking more, but I started experimenting with new concepts in the kitchen.  I spent hours scouring the internet, reading customer reviews and doing my research for the best products.  These are tools I use in my kitchen and absolutely love.  If you're a kitchen gadget-junkie (like me) or just interested in building up your vegan kitchen arsenal, hopefully this list will be of assistance to you!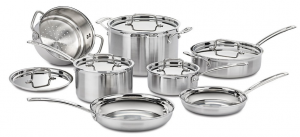 Chris gave this set to me as a gift when I started cooking all the time and our cheap, non-stick cookware was just not going to cut it any more.  I absolutely love this heavy-duty set- they heat quickly, everything cooks evenly, and they're very easy to clean.  They're pricy but totally worth the investment if you're going to be doing a lot of cooking.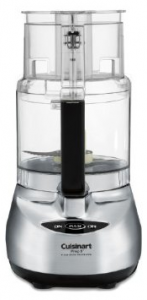 I use this probably more than any other appliance in my kitchen (except maybe my stove, but even that's debatable).

Creamy soups are the best soups in my book.  This handy little dude makes it possible to make super creamy soups right in the pot instead of having to transfer everything to a blender.  It's also good for whipping up quick dressings and sauces in the little cup it comes with.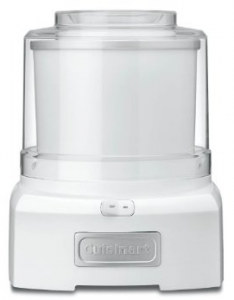 This is one of my newest "toys."  Knowing that I can make my own vegan ice cream, exactly how I want it, and not having to pick and choose at the grocery store makes this appliance a great investment.
The key to making pretty zucchini pasta (and other raw vegetable-based pastas, ribbons, and curls) is this little contraption right here.  It's easy to use and easy to clean and I'm always pleased with the results.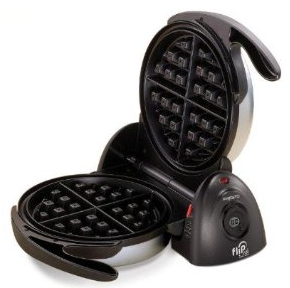 Waffles are an all-around favorite in our household so I make them a lot.  After our old belgian waffle maker died, we replaced it with this one and couldn't be happier.  Just pour in the batter, set the timer and you're set.  This waffle iron also takes up very little cabinet space because it stores in an upright position, making it a blessing for my teeny tiny kitchen.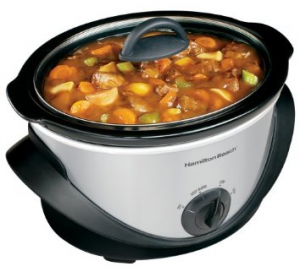 Throw the ingredients in and leave.  Come back hours later and have a wonderful meal prepared and your house smells great.  It's just magic.
You may think that you're doing fine with that regular old blender you have on your counter, but let me tell you- once you try a high-speed blender like a Vitamix, your life will change forever.  Luckily, that's how long these guys last so they're totally worth the little bit of extra money.  Trust me- make the investment.  I love mine and it was worth every penny.  If you want to purchase one, get free shipping by using this code: 06-008977.
This page contains affiliate links.