This Part 2 of our trip to Capri.  If you're just tuning in, be sure to check out Part 1!
For our second day in Capri, after breakfast at the hotel, we went for a walk.  We followed Via Krup, a beautifully built path that zig-zags down the side of the mountain.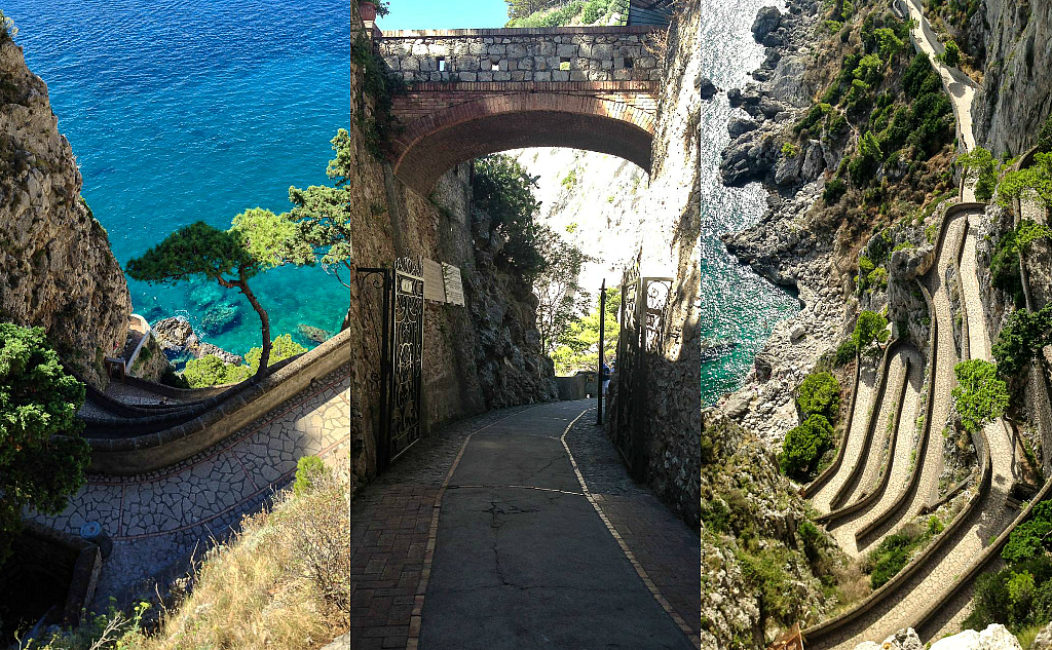 It led it us to Marina Piccola, the smaller marina on the island.  We sat and shared a lemon granita (not pictured) while watching the people swim in the ocean below.  To go to this beach, you would have to pay for a lounge-chair/umbrella which is usually the case with most beaches on the island.  There is one free beach, which is next to Marina Grande on the other side of the island.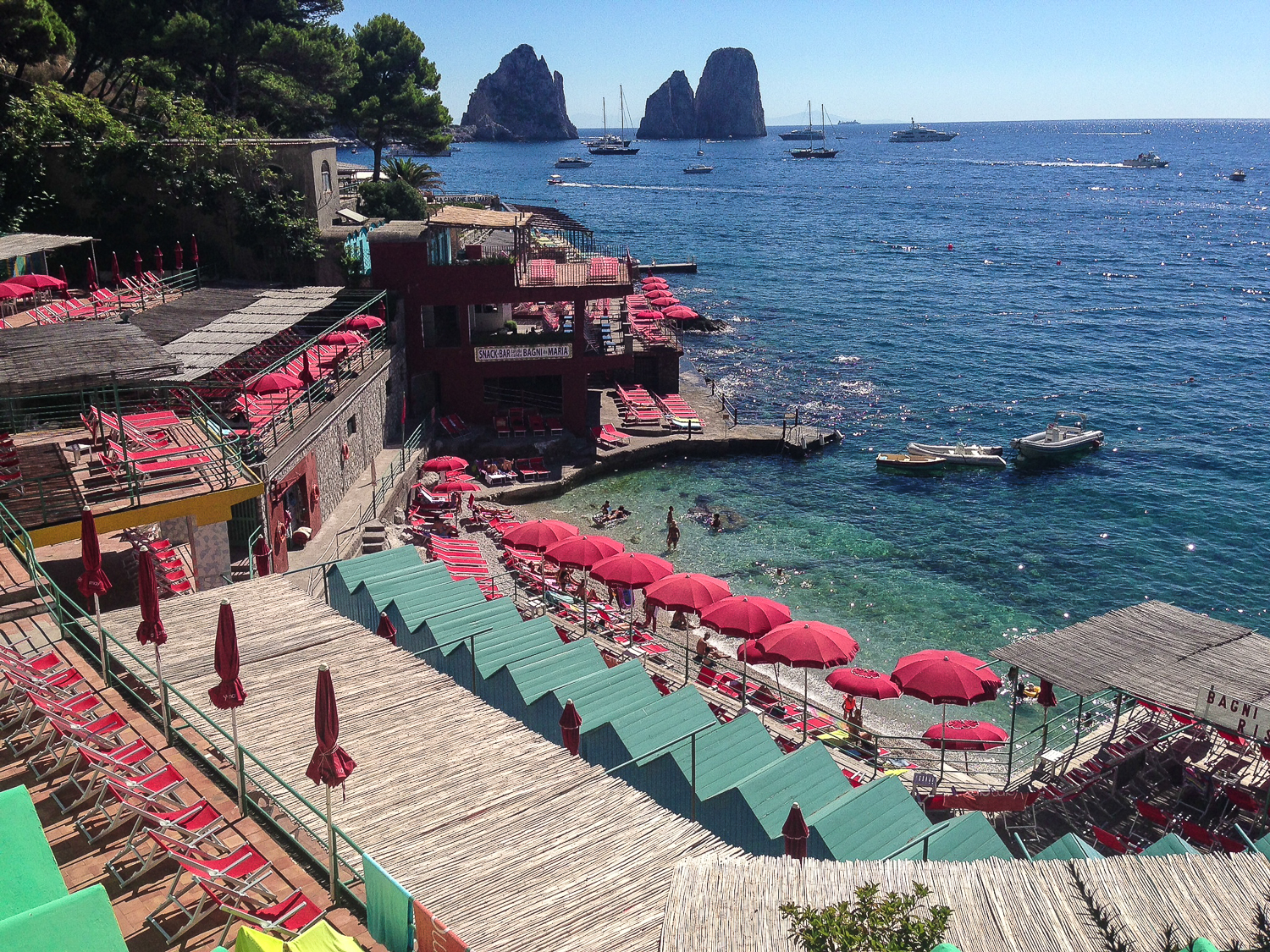 See those rocks in the distance?  The residents of Capri claim that those rocks are where Odysseus met the Sirens in Homer's The Odyssey.
After our granita, we walked to the bus stop (it's pretty hard to miss) and waited for a bus to take us back to the town square (Just 1.80€ each).  Once back in town, we wondered around, looking at the little shops in the little alleyways until we got hungry for lunch.
Gradoni Sopramonte 6/8, 80073 Capri • Ph. +39 081 8379054
We settled on this place because I was enticed by the orange fennel salad on the menu.  We were seated in a very blue room with a variety of musical instruments on the wall.  We took the table by the little window with the goldfish swimming in a little plastic container.  If my legs weren't so thankful that I was sitting, I probably would've left and gone elsewhere.  We ordered the Pizza Vegetariana (without cheese) and the Orange Fennel Salad.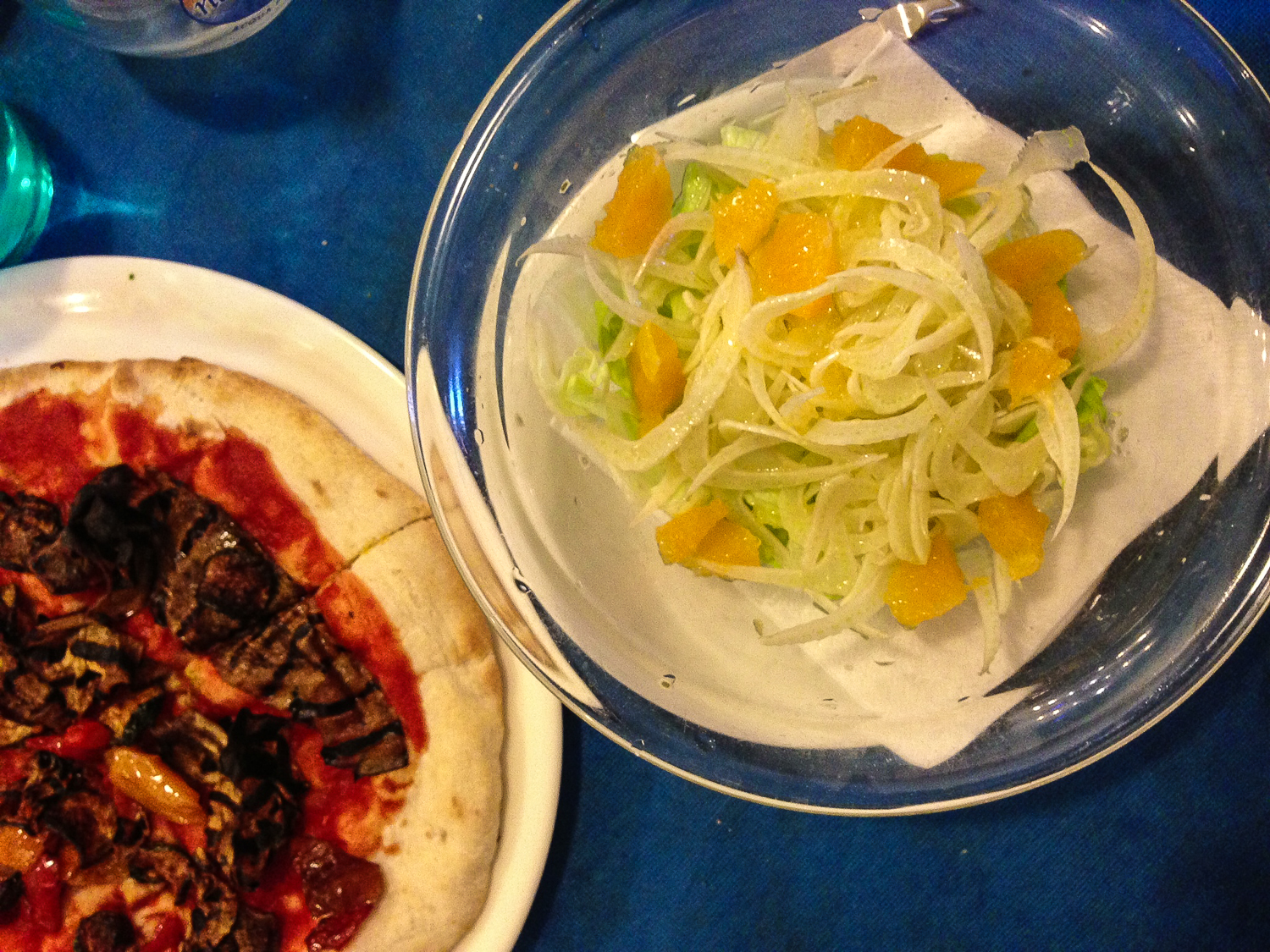 They were both alright.  The salad was light and refreshing and the pizza was good.  They were both enjoyable but nothing I would write home about.  It's good to know that they're there, just in case you're in the area and your hungry and you want an inexpensive meal.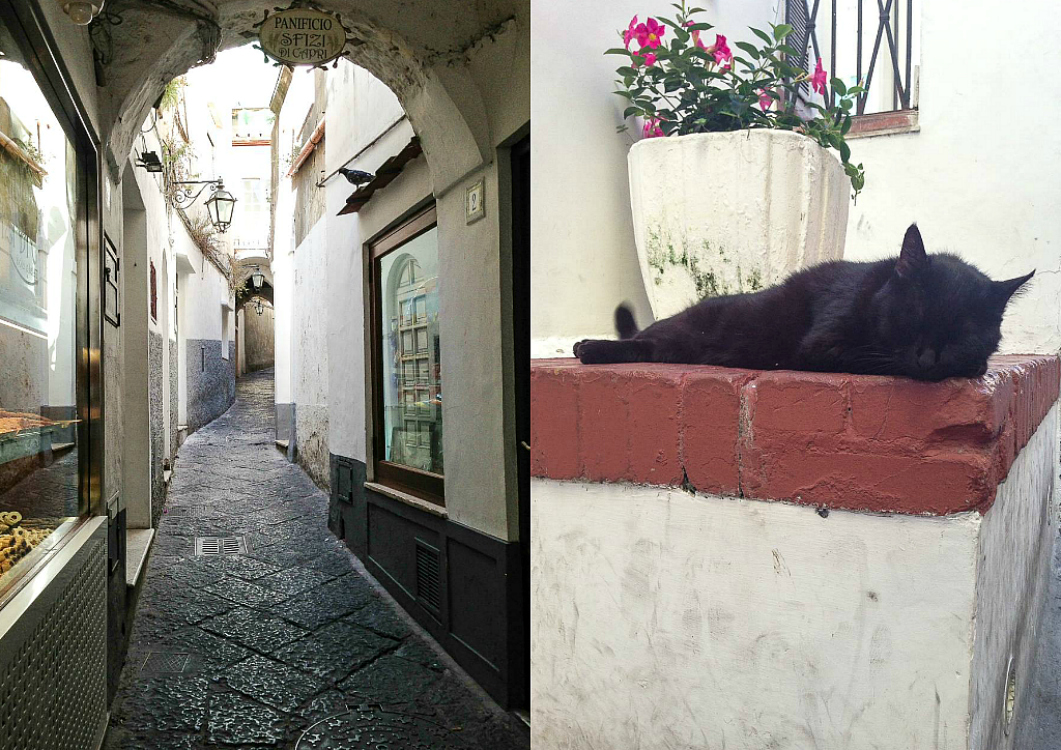 After lunch we wandered around some more and since Chris was having some issues with allergies, we decided to stop into a Farmacia.
FARMACIA INTERNAZIONALE
Via Roma 45, 80073 Capri • Ph. +39 081 8370485
Out of all the Farmacias we visited while in Europe (and we visited A LOT.  Chris had allergies, we both got a tiny cold, I had a terrible eczema breakout, and with all the walking we did, my feet got all blistered up even while wearing the comfiest of shoes), this Farmacia was the best in terms of carrying health food/vegan/gluten-free items.  There were jars of tofu and seitan, different types of non-dairy milk, stevia, and some packaged snacks/pastries.  There were several types of chips, crackers, and we even found vegan croissants!  We didn't try it because we needed more bread like we needed a hole in the head, but it looked good!

After we got our goods at the Farmacia, the rest of the day was spent by the pool and then dinner was at the hotel.  The next day, after breakfast, we decided to walk all the way down to Marina Grande (rather than take the Funiculare).  It was a very long beautiful walk.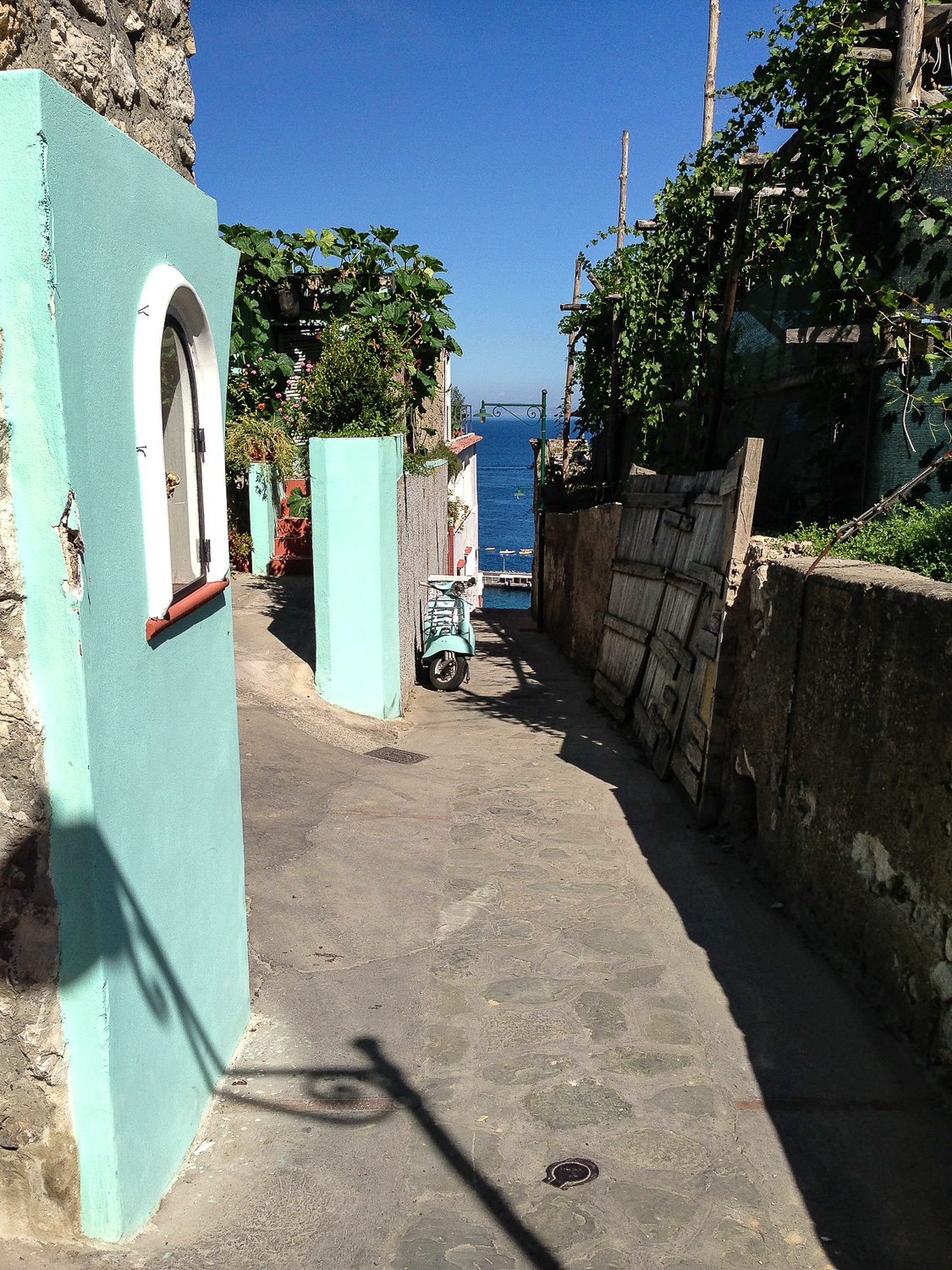 At the Marina, we purchased tickets to take a boat to the Blue Grotto.  The Blue Grotto is a cave with a very tiny opening that is only accessible by water.  During the morning light (up until about 2pm), the water inside the very dark cave seems to be a glowing electric blue.  It's just the way the light reflects on it, but still it's pretty amazing.  You will pay about €13 to take a boat with a group out to the cave.  Then little canoes come out to the boats and take a few people at a time inside the cave (the entrance fee for the cave is another €12).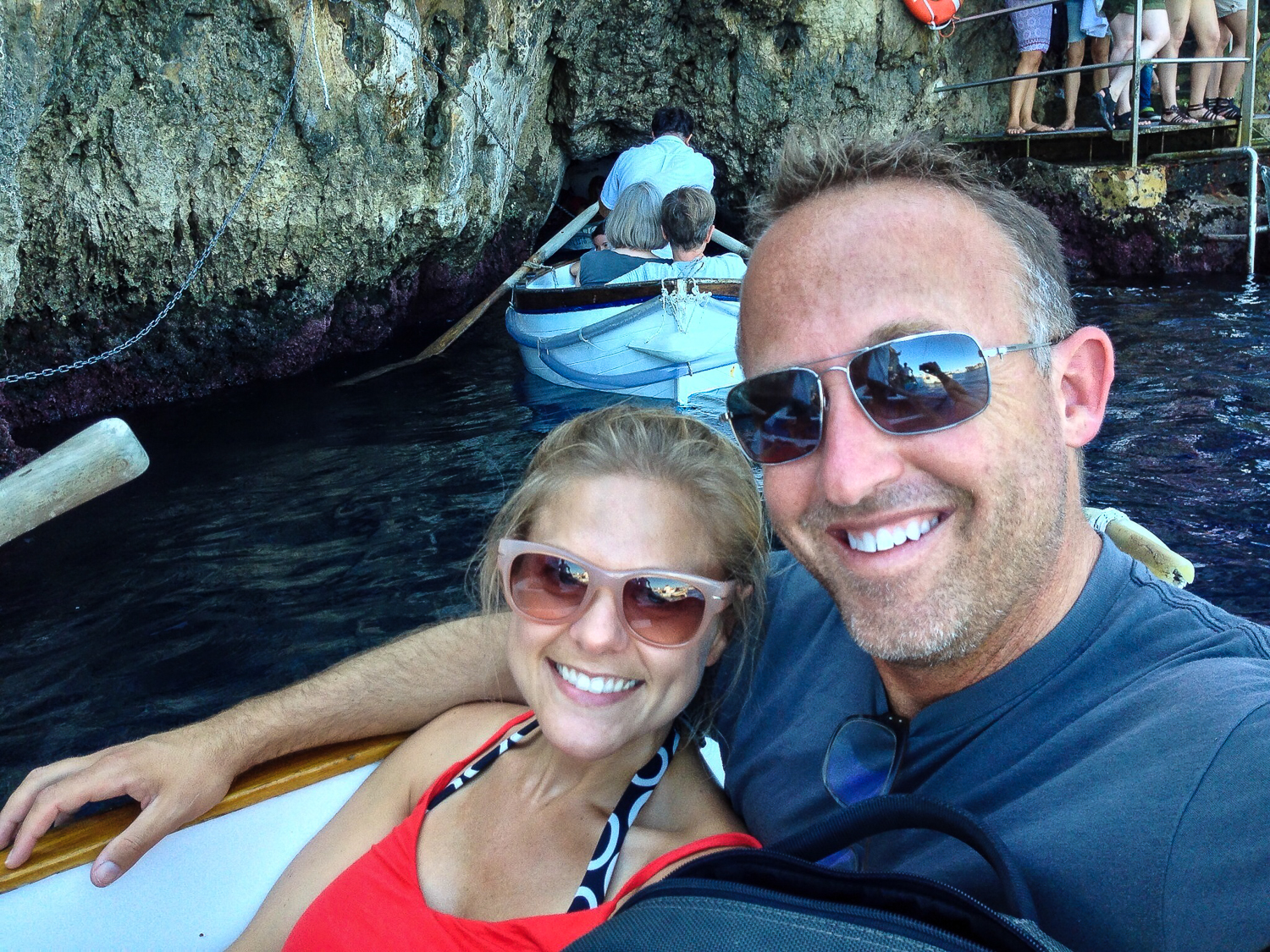 You have to lay down in the canoe to enter the cave, but once you're in, you can sit back up.  It's really breathtaking.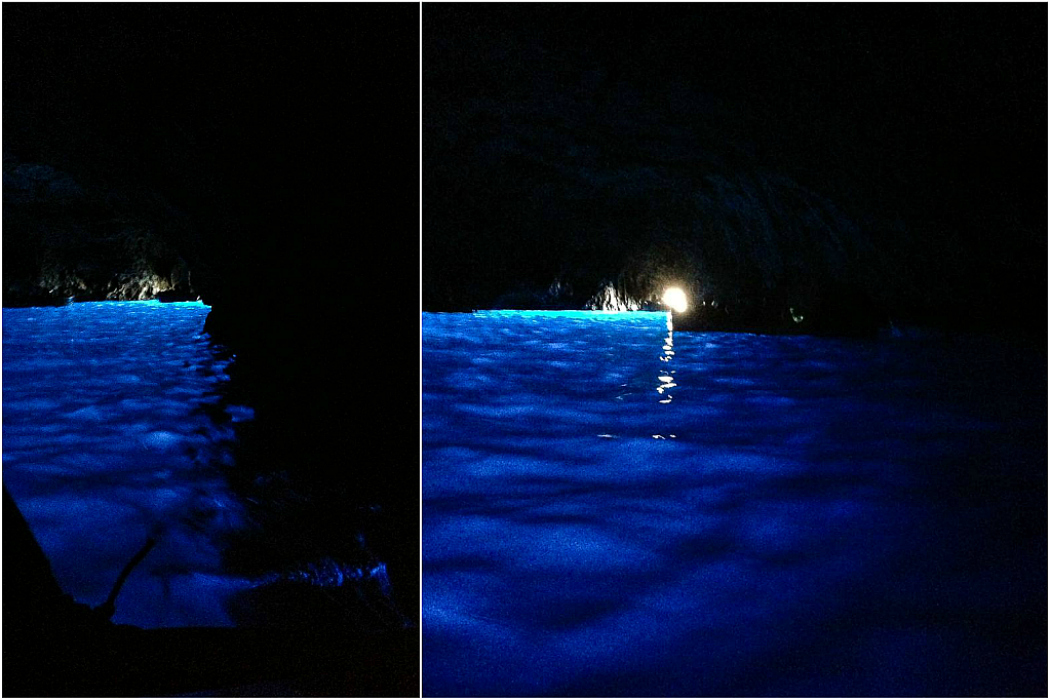 After we got back from the Blue Grotto, we were hot and sweaty and decided we needed a swim in the ocean.  We walked over to the free beach and did some swimming.  After swimming, we were famished and did not feel like waiting to get all the way up to the main town to eat so I broke rule #3 of my Top 10 Tips for Traveling Vegan in Italy: We ate near a tourist attraction (the Marina Grande) and there were even waiters luring us in.  It was the only restaurant that came up on Happy Cow for the entire island so we decided to give it a shot.
Via Cristoforo Colombo, 20, 80073 Capri • Ph. +39 081 8370559
We were immediately taken by the idea of a mushroom pizza and ordered one without mozzarella.  The wait took a little while, but soon I saw a server walking towards us with a pizza.  Our server intercepted him and in very quick Italian, informed him that it was supposed to be "senza mozzarella."  They took it back to the kitchen and made us another one.  By the time it got to our table, I was so ravenous that I was only able to snap a few quick pics before we dug in.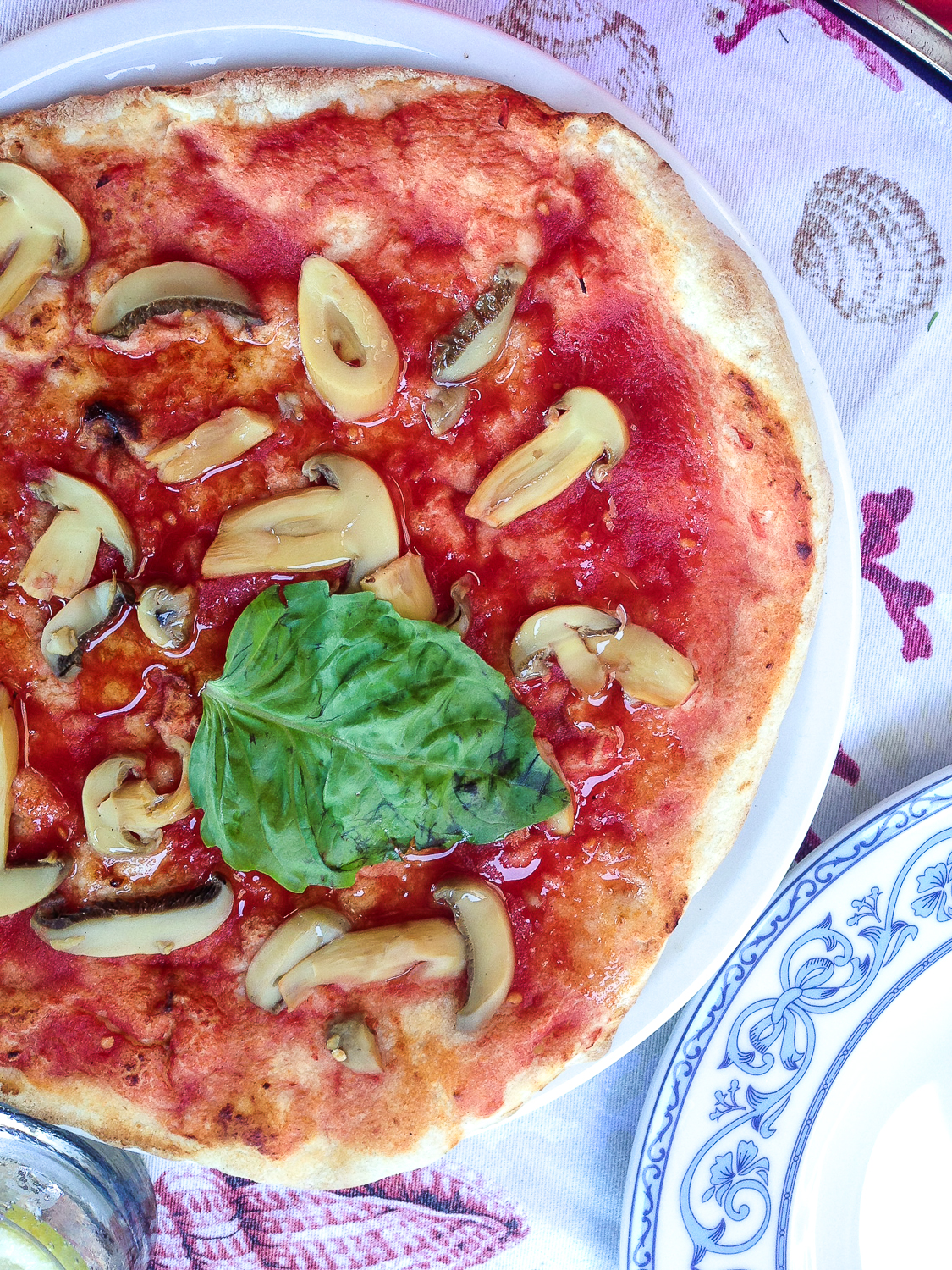 It was not terrible, but probably our least favorite pizza on Capri.  After we ate, we went inside because Chris needed to use the restroom and I wanted to check out their gelato selection.  I asked which flavors were "senza latte" and he showed me all of the sorbets.  He even had a chocolate sorbet but informed me that it's made right after the regular chocolate gelato is made, in the same container, so there are likely traces of milk in it.  I was grateful for the information and we ordered some sorbet.  Peach and Kiwi for me, and Strawberry for Chris.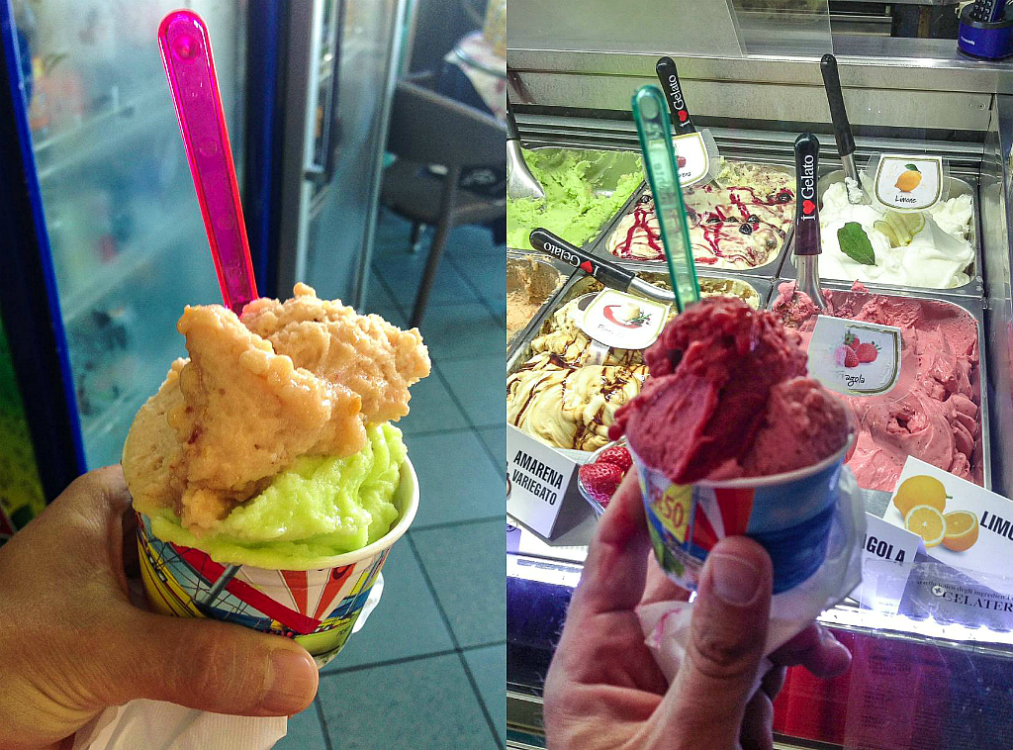 Just a note: There are other gelatarias on the island that have vegan sorbet.  We went to them, but for some reason, I don't have pictures of them.  You'll see them- just ask if they have any gelato "senza latte."
After gelato, we took the Funiculare back up to the main square.  We wandered around for a little while and we made a new friend, a scruffy terrier-looking pup wearing a collar and tag that read "Buzz."  I don't normally make a habit of petting stray dogs, but Buzz looked clean and was wearing a collar so I couldn't help myself.  He was such a sweetie.  After we gave him some love, he followed us for a little while.  When we decided to check out a little garden on the opposite side of the island (right before Via Krupp), we said our good-byes and Buzz went right along his merry way.  The garden was very small but it had some amazing views.  It only costs €1 so there's no reason not to check it out.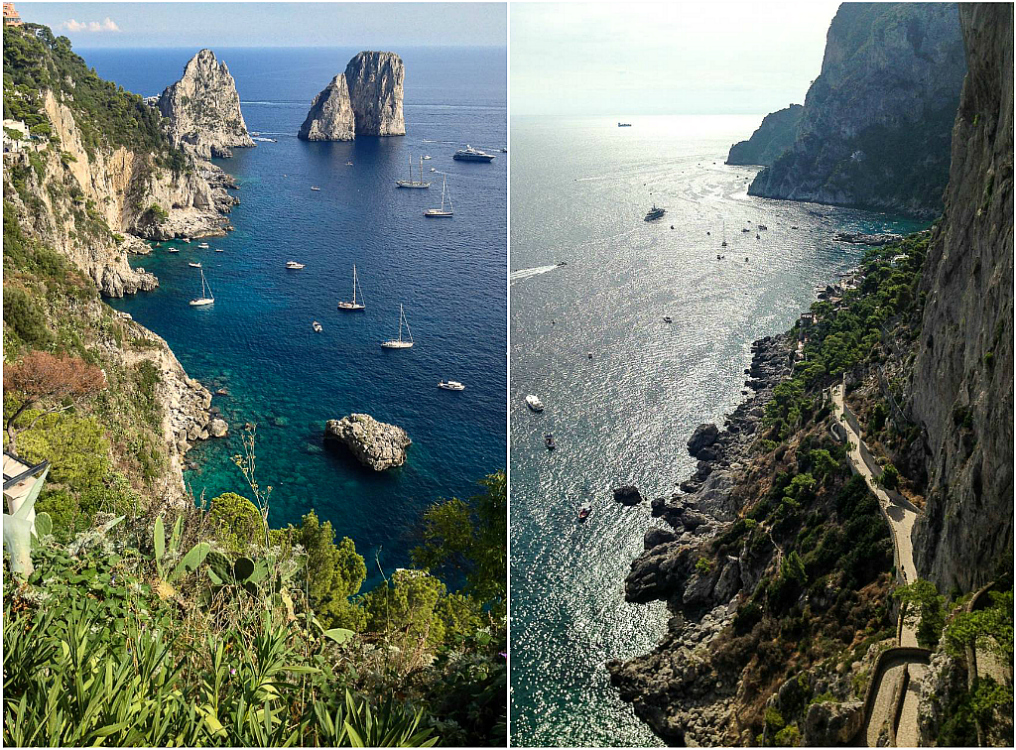 After that, we were pretty exhausted so we went back to the hotel to crash by the pool until it was time for dinner (which we also had at the hotel).  The next day, we had to check out because it was time to venture to our next destination.  This time, we declined the offer of the porter and walked with our bags down to the taxi/bus station.  Yes, we could've taken a bus, but we decided to try one of Capri's open-top taxis because it just seemed like something we should do at least once.  On our way there, though, we ran in to our friend, Buzz.  It looked like he was crying because he was sad to see us go (but it was probably just eye crap).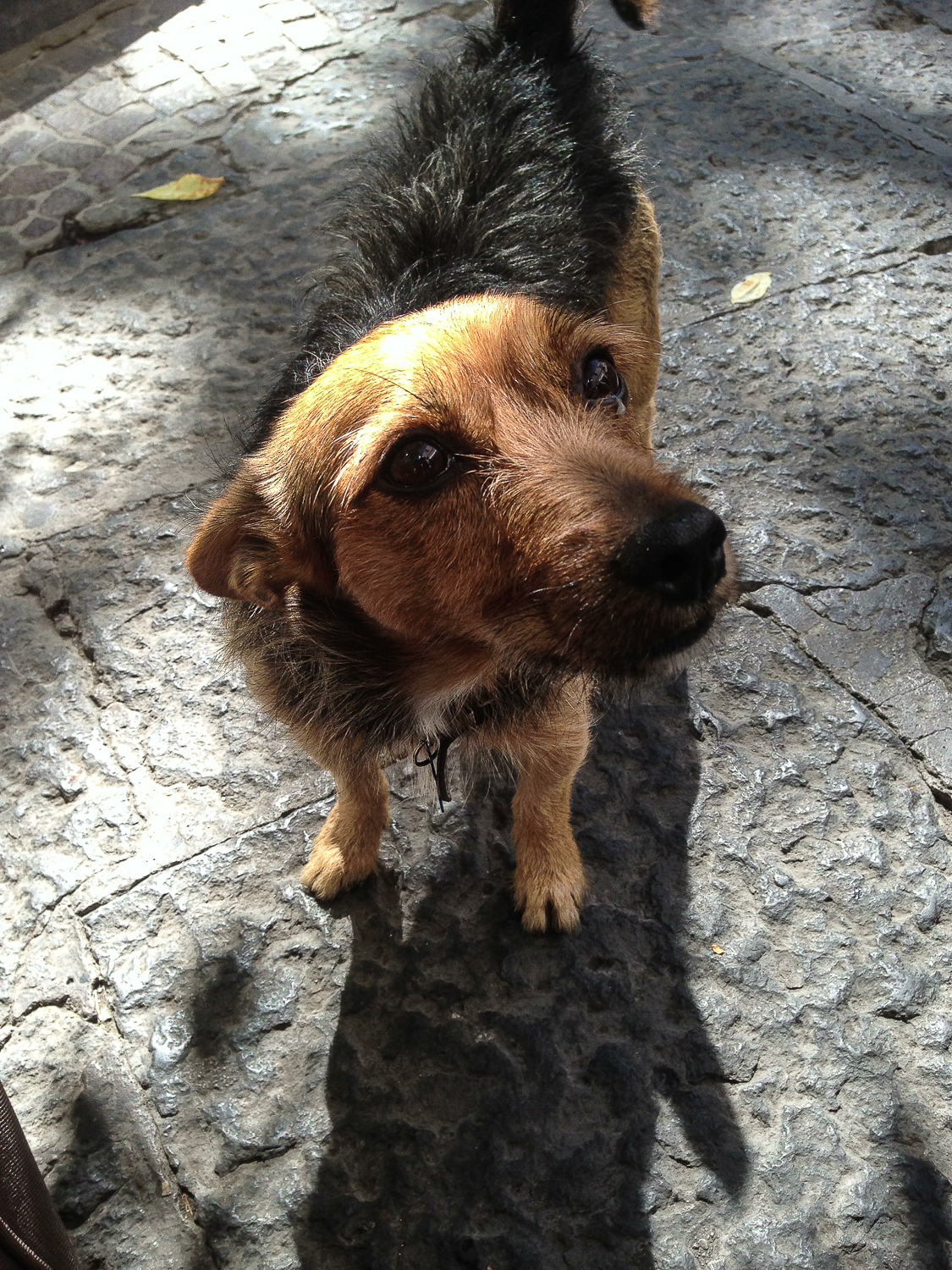 Once we got down to the Marina Grande (via taxi), we bought our tickets and boarded our ferry.  We'd checked out ferry times the day prior so we knew exactly which one we were taking.  Pretty soon we were waving good-bye to Capri and were on our way to Positano.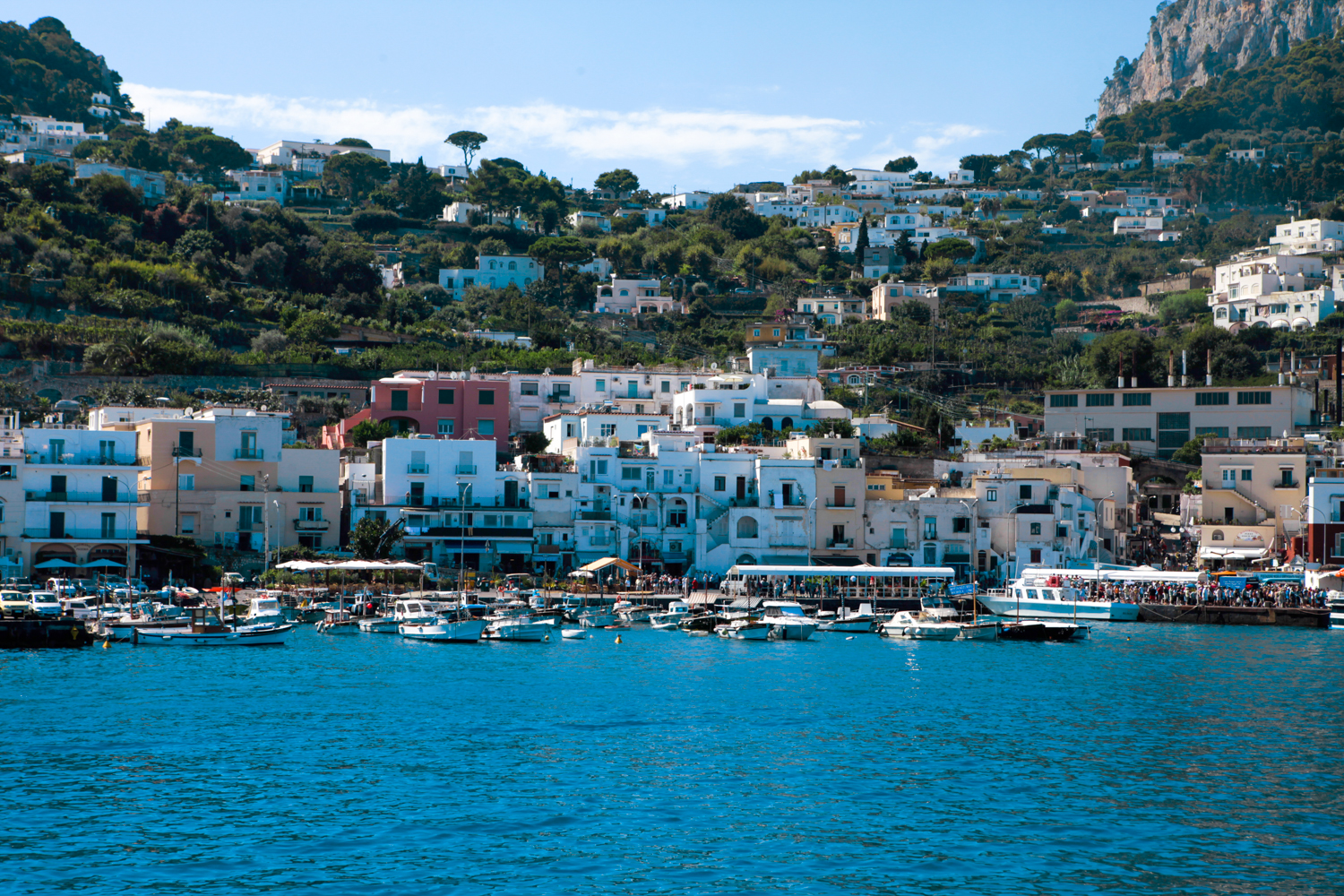 Being vegan in Capri was a snap.  I highly recommend staying at La Rezidenza if you can (just be sure to let them know ahead of time which meals you'll be wanting vegan options for).  Stick to pizza and side dishes when you're out and about and you'll be golden!