Once upon a time, I spent a day wondering the island of Capri all by myself.  I was so taken with the beauty of the island that I vowed to come back again.  But the next time I came back, I wanted to come back with a lover, or if I was ever to get married again, a husband because as much fun as I had on my own, I imagined that Capri would be even more fun as a romantic getaway.
Six years later, I found myself back on the island, this time as a vegan with my vegan husband by my side.  My intuition had been correct (though it didn't see the vegan bit coming).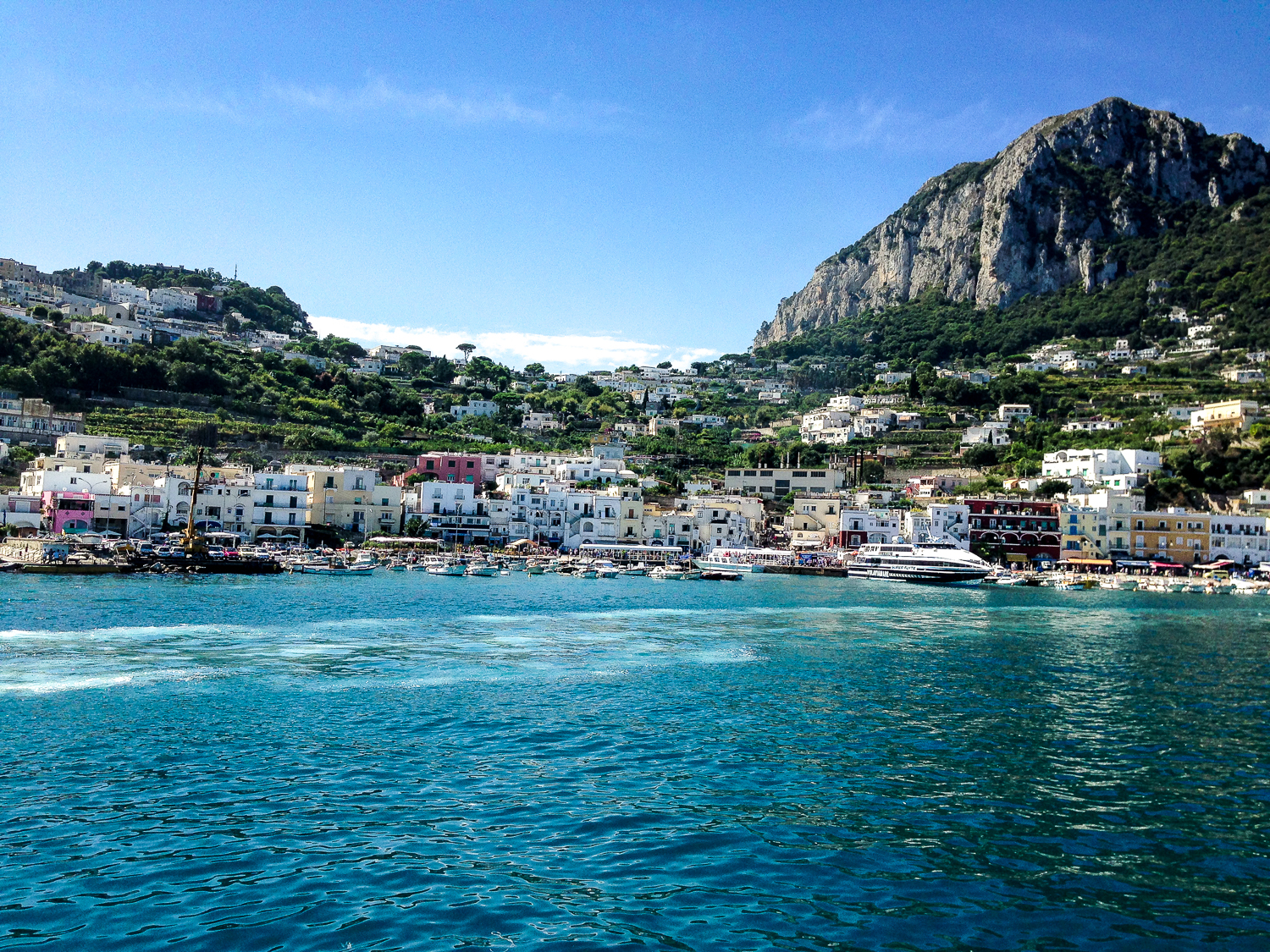 When we arrived on the island, we where extremely exhausted.  We'd been traveling for about 24 hours- a flight from LA to I-don't-even-remember-where, then to Munich, and then finally to Naples.  Since one can only reach Capri by boat (or helicopter), we took a cab to the port (and were overcharged- be sure to clarify a price before leaving the airport!  It should cost no more than €25.) and then a ferry to the island.  The only food we had in our bodies was a Pure Fit bar that we'd shared and a soft pretzel we'd shared at the Munich airport.  We were hungry, and when we normally would've gotten irritable because of our hunger, we were patient because we were too tired to be anything but.
As we got off the boat at Marina Grande, we were greeted by several porters asking where we were staying.  I saw that they had lists and thought maybe our hotel had sent a porter to help us with our luggage.  The main area of Capri is actually high upon the mountain and it takes some work to get up there.  Carrying your luggage the entire way would've likely put us both over the edge.  I told the porter the name of our hotel, he called over to another porter and told him, he checked his list and sure enough, we were on it (Spoiler Alert: We found out later that we were charged for this service.  In my tired exhausted stupor, I believed that it was complimentary to all guests.  It was only €11 per bag and we only had two bags so it wasn't that big of a deal.  If you're staying up in the main town, however, you should take this into consideration)!  He took our luggage and he told us to buy tickets to take the Funiculare to the main square.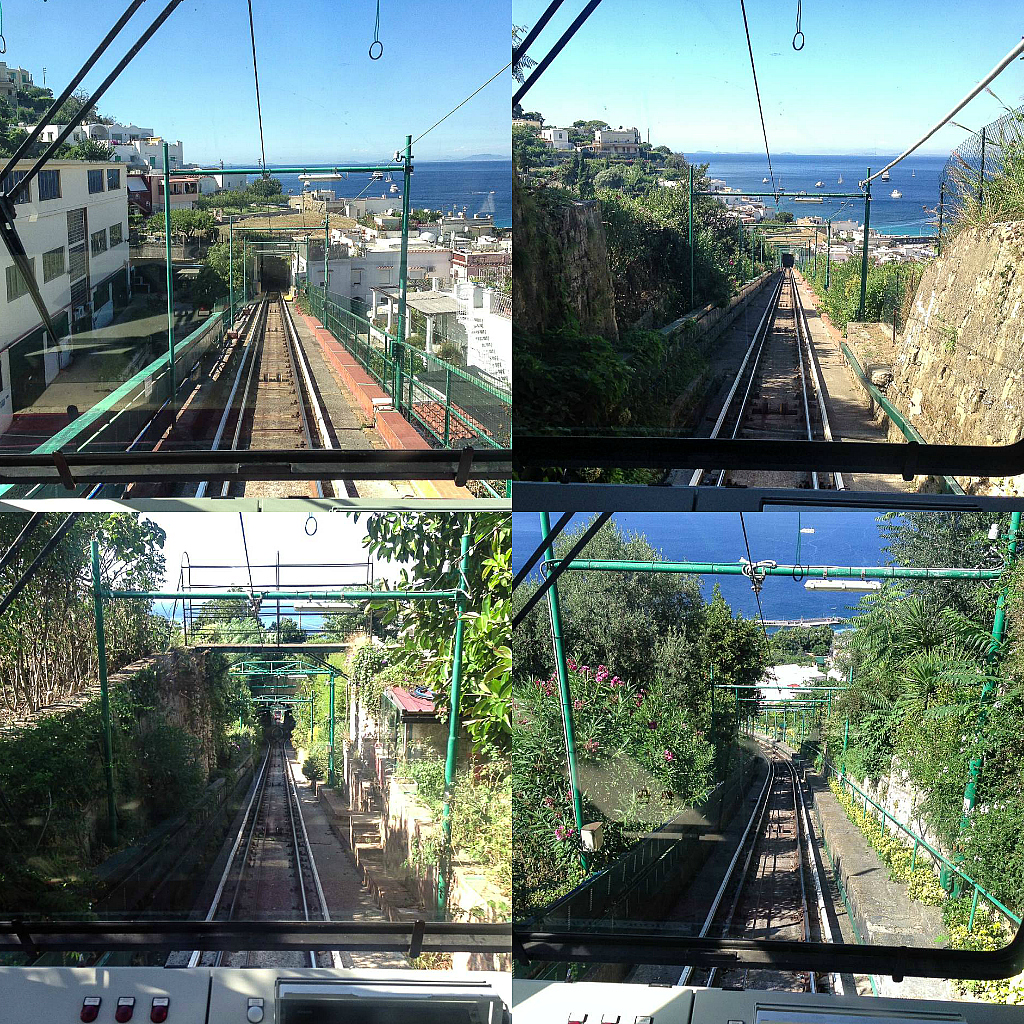 The Funiculare is an uphill cable-railway with trams that carry people up the very steep mountain.  The alternative is walking (harsh) or taxi (expensive).  Tickets run at €1.80 each and it's pretty quick once you get on, so it's kind of a no-brainer.  The tickets are sold at the Bigliaterria to the right of the port (walk up the port to the sidewalk and turn right.  Get in line where you see the "Biglieterria" sign.) and the Funiculare is facing the port.  We bought tickets and made our way to the town square.  A quick look at Google Map helped us find our hotel, which was just minutes away.
Via F.Serena, 22, 80073 Capri  • Ph. +39 081.8370833
When I was doing my research for the trip, I'd searched "Vegan in Capri" and this hotel came up.  Under their restaurant description, it mentioned a separate vegan menu.  Sold.
La Rezidenza is a beautiful hotel, located less than five minutes from the main square.  It has a pool that overlooks the other side of the island and the ocean.  Every afternoon, we would take a dip in the pool then fall asleep under the sun, overlooking the ocean.  We would awake after the sun had passed and the winds had swooped in to cool everything down for the evening.  It was so incredible.  The rooms are comfortable as well and ours had one terrace overlooking the neighboring hotel's pool area and one full balcony with table and chairs, overlooking a tiny little street.  One evening, we shared a bottle of wine out there under the stars, listening to live music being played in the town square.  It was so dreamy.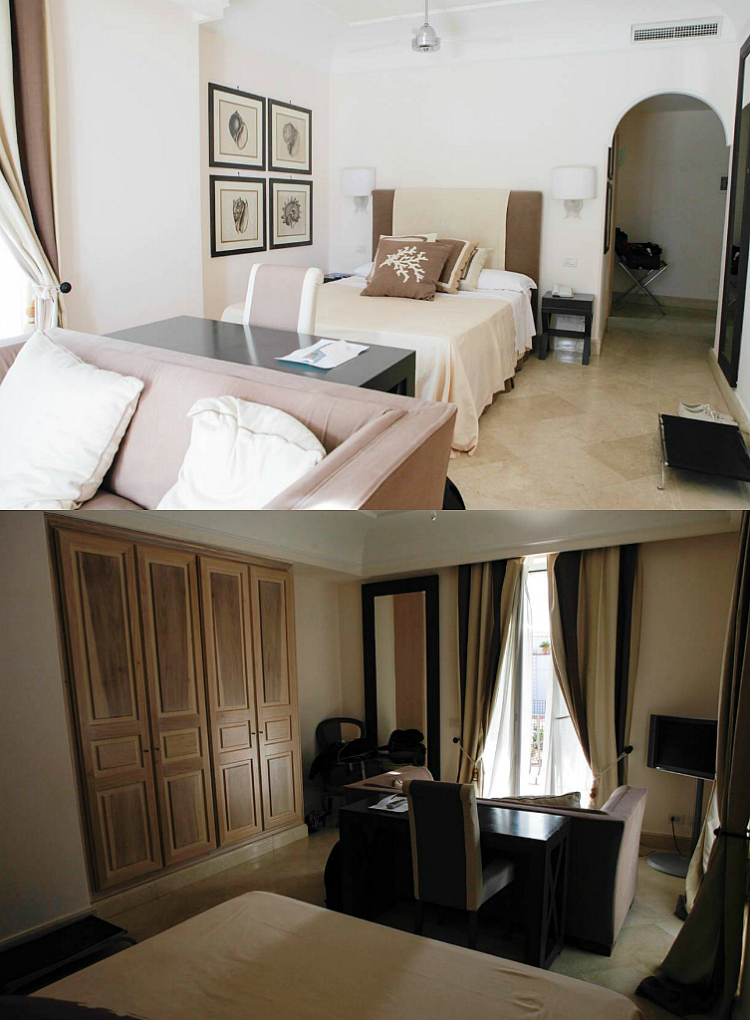 Since we were starving, and our bags hadn't arrived yet, we marched straight to the hotel's restaurant after checking in.  I couldn't wait to see what their vegan menu had in store for us!  When we asked our server, however, for the vegan menu, he had no clue what we were talking about.  We marched back down to the front desk, fully ready to have a tantrum (or at least I was), and we asked about their supposed vegan menu.  He assured us that it was available with advance notice.  They had arranged for us to have vegan breakfasts while we were there (breakfasts were included in the price and I'd made a special note specifying that we'd like vegan breakfasts during our stay) but if we wanted vegan meals at other times, we would have to tell them in advance.  So we told them we'd like to have dinner there the next day and left to find ourselves some food.
I was absolutely thrilled about our meals at La Rezidenza.  For breakfast, we each had a fresh sliced tomato, drizzled in a little olive oil, along with some fresh fruit.  Along with some bread from the main breakfast buffet (that and some jam were about the only vegan things we found), we had quite the breakfast each morning.  They also have soy milk if you want some for your coffee or if you want a bowl of cereal.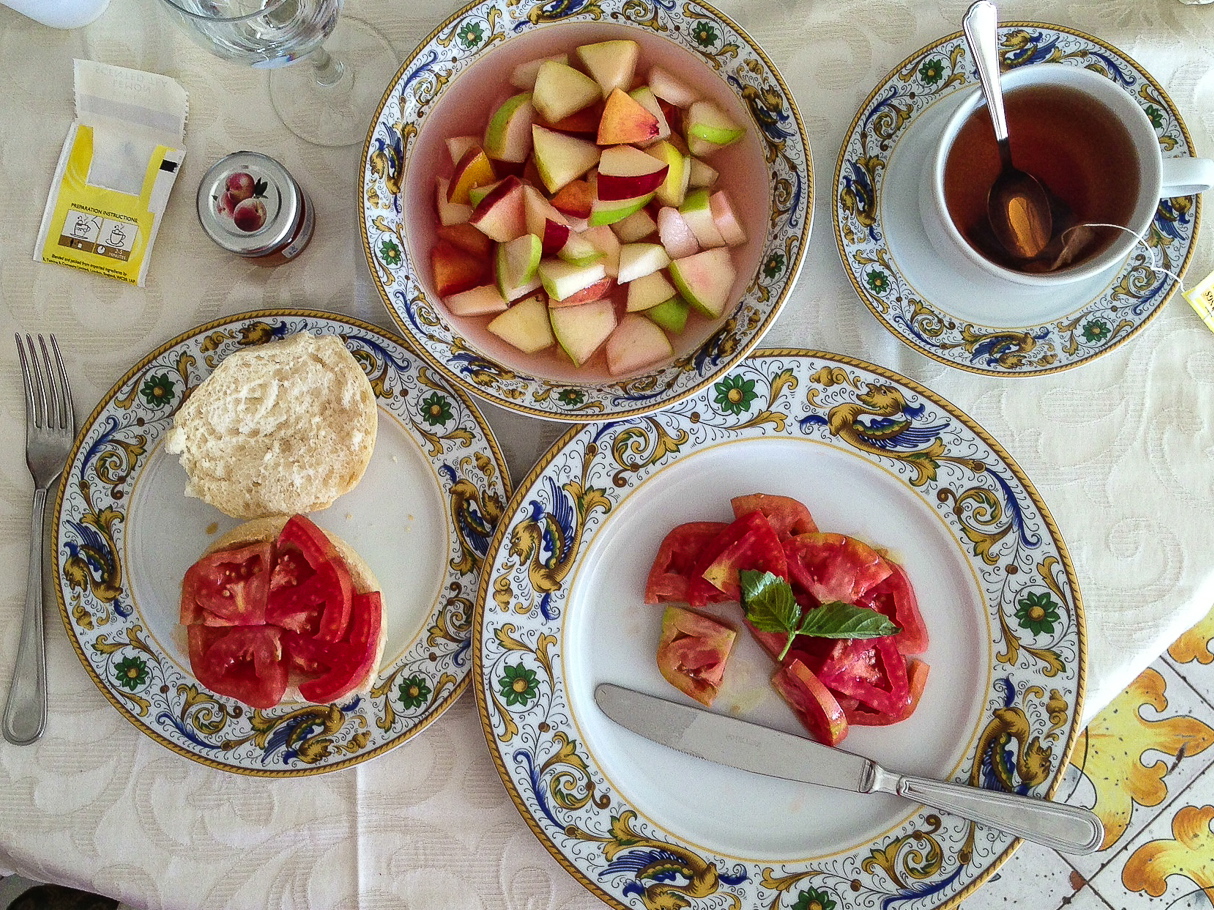 We ended up going there for dinner the next two nights.  They formed a full menu just for us based on seasonal, local produce, with options for each course.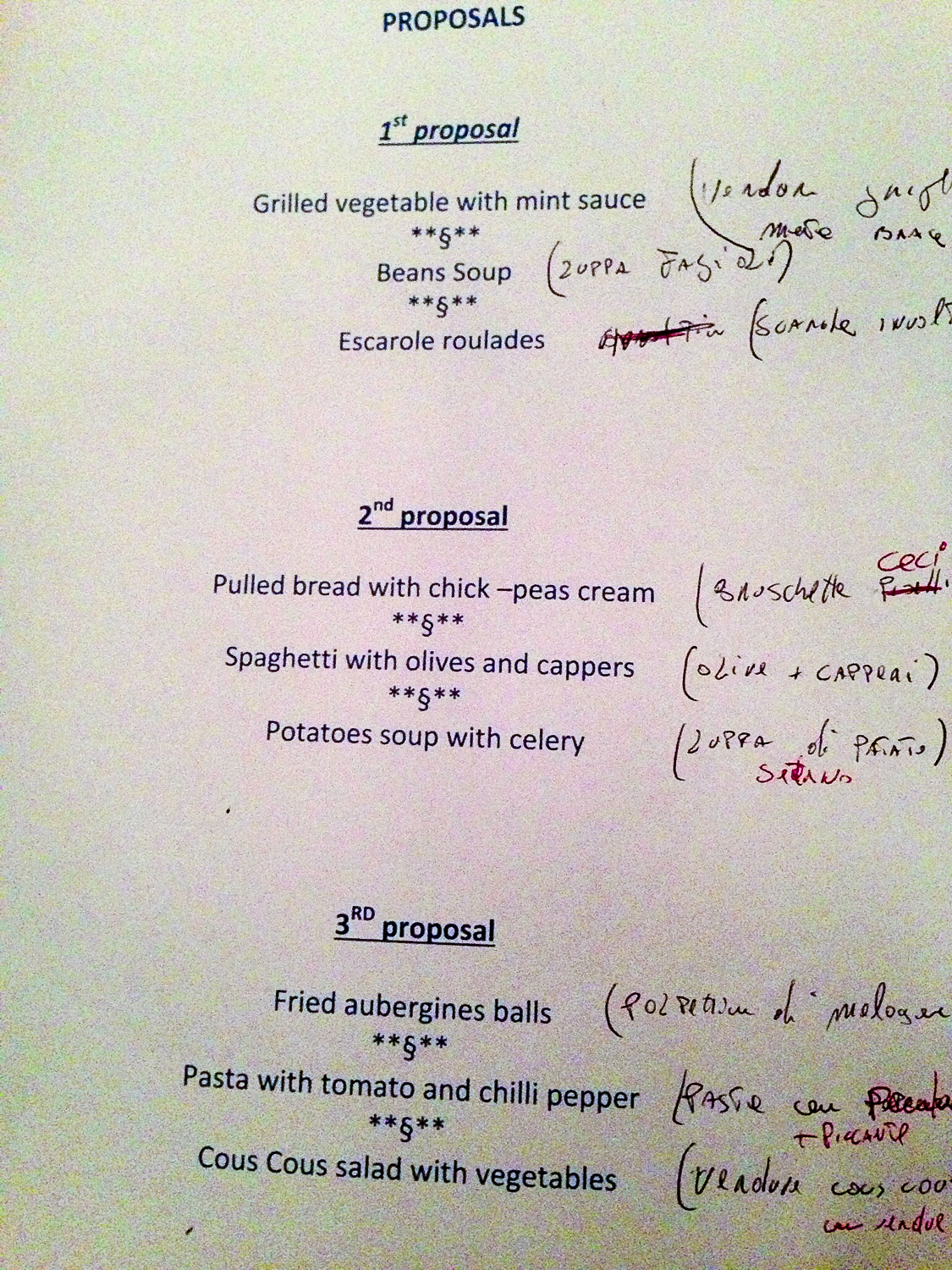 The first night, we ordered three dishes, intending to share all three.  The server asked us how many of each dish we wanted, I said two, thinking they would provide slightly larger portions for each dish.  I was wrong and they each brought us our own dish, a mistake that ended up being a little costly, but the meal was so good, we didn't mind.  For our first course, we had the Escarole Roulades, which were awesome.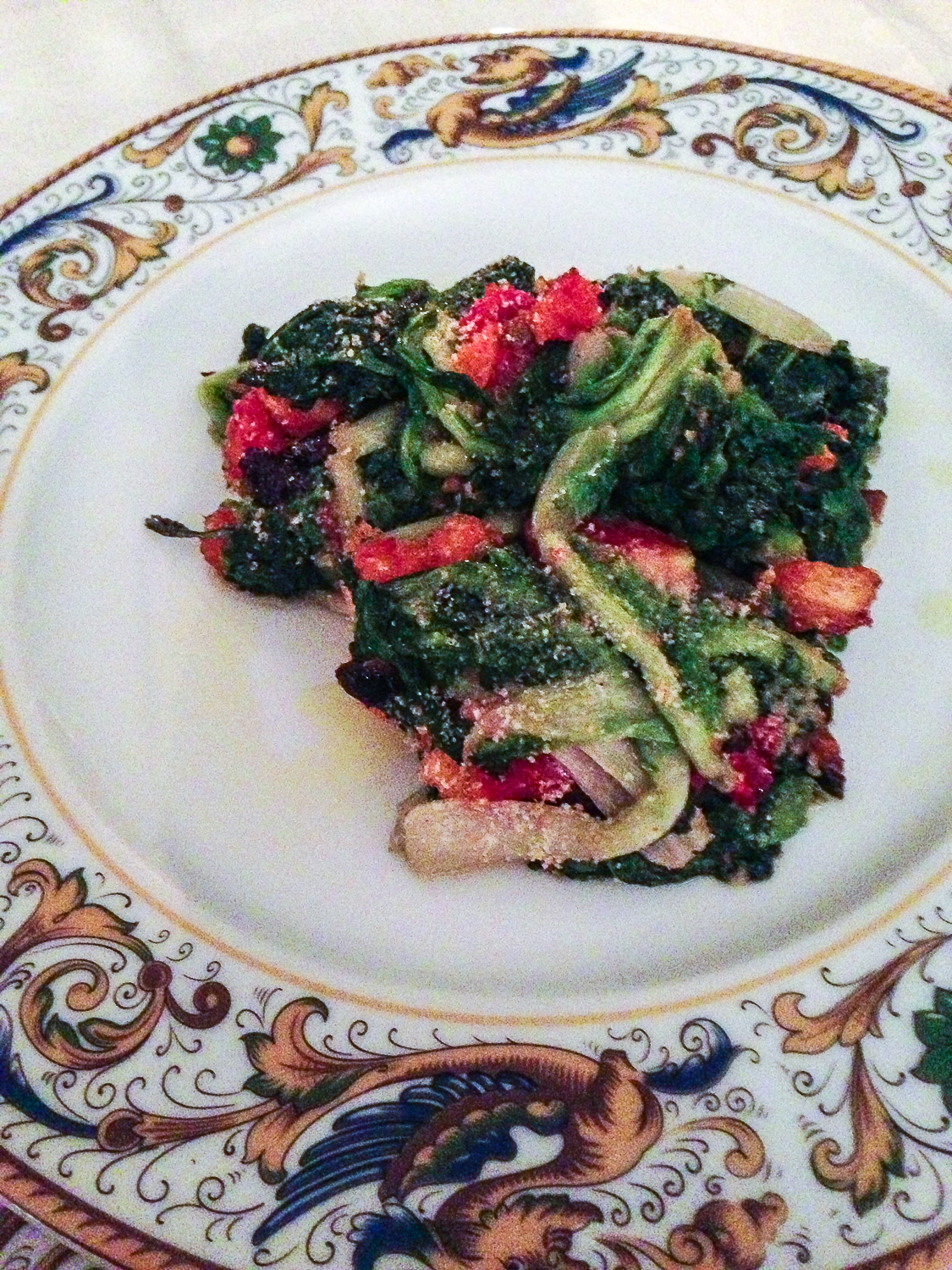 For our second course, we had the "Pulled Bread with Chick-Peas Cream," which turned out to be bruschetta with pureed chickpeas.  This was also pretty tasty.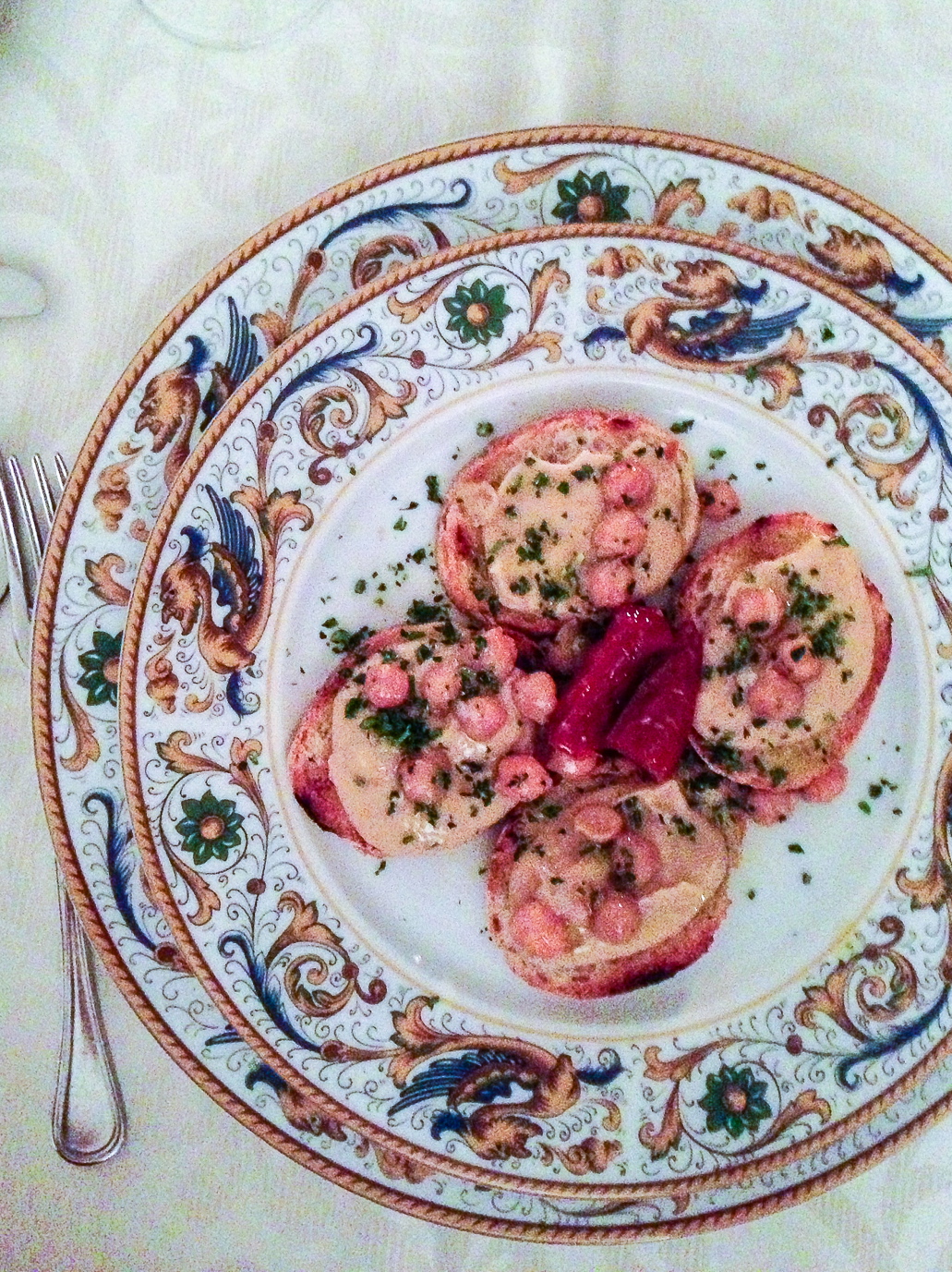 Our favorite was the main course, the Fried Aubergine (Eggplant) Balls.  I'm not sure what was in these, but I was so happy to have my own plate of them!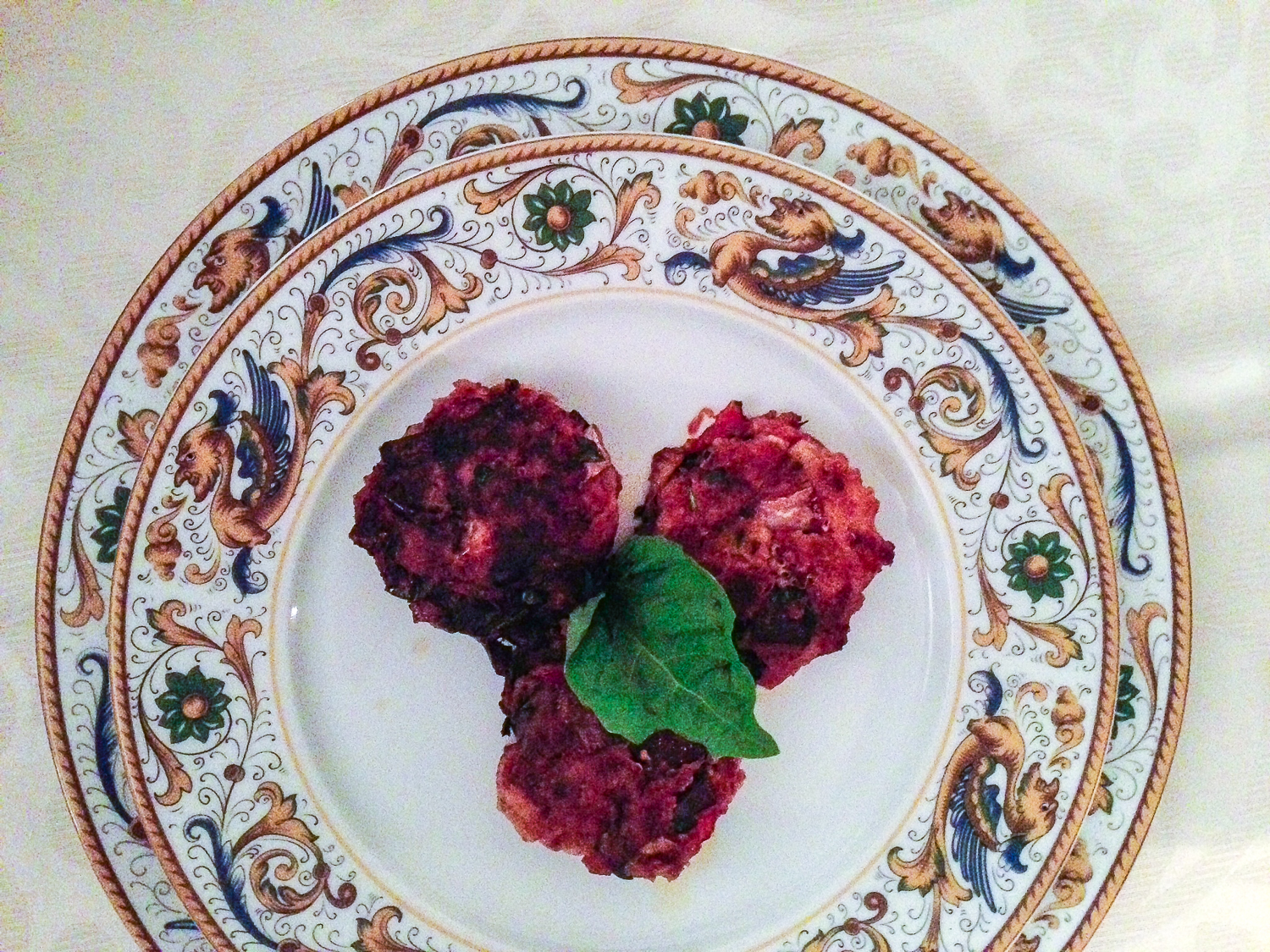 The next night, we went back and we ordered different dishes for the first and second course, but this time we shared everything.  For the first course, we got Grilled Vegetables with Mint Sauce which was good but not extraordinary.  For the second course, we got a spicy spaghetti dish.  I'm not a pasta person, but this dish rocked my world.  We shared the Fried Aubergine Balls for the third course again.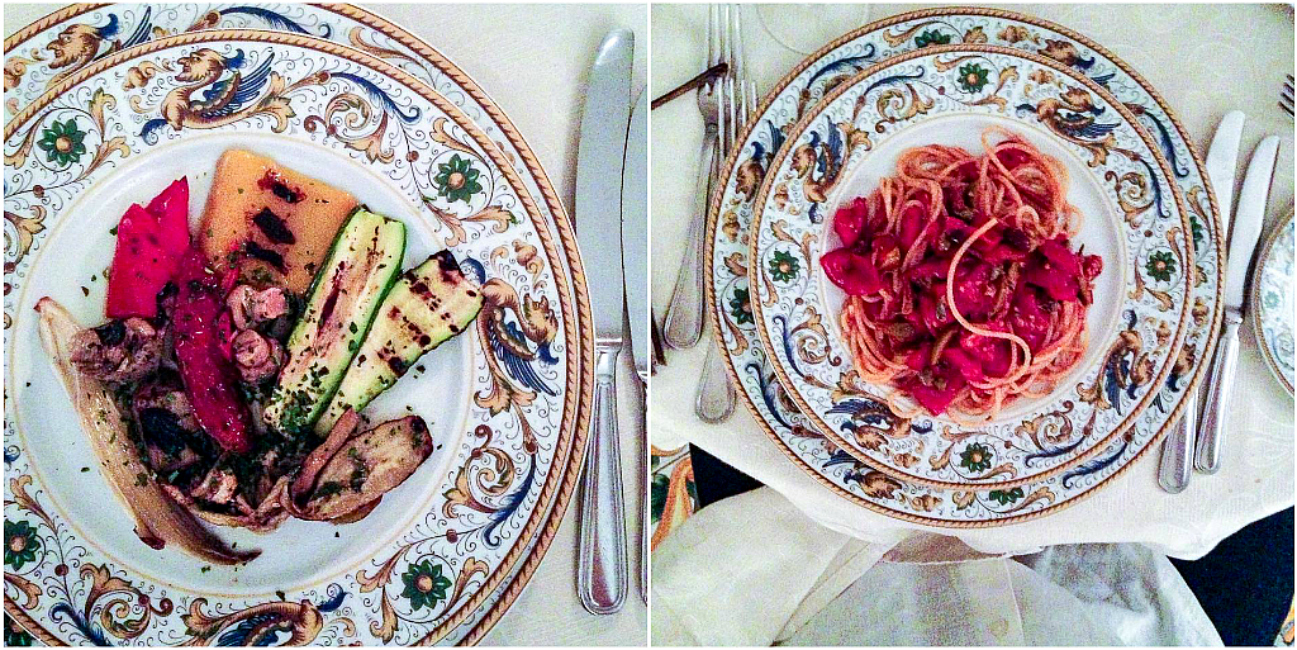 I cannot recommend this hotel highly enough.  The staff was so helpful with our every question and every request and they always had a smile with each answer.  The hotel is gorgeous, perfectly located, and has a vegan menu!
 Via V. Emanuele 39, 80073 Capri • Ph. +39 081 8370133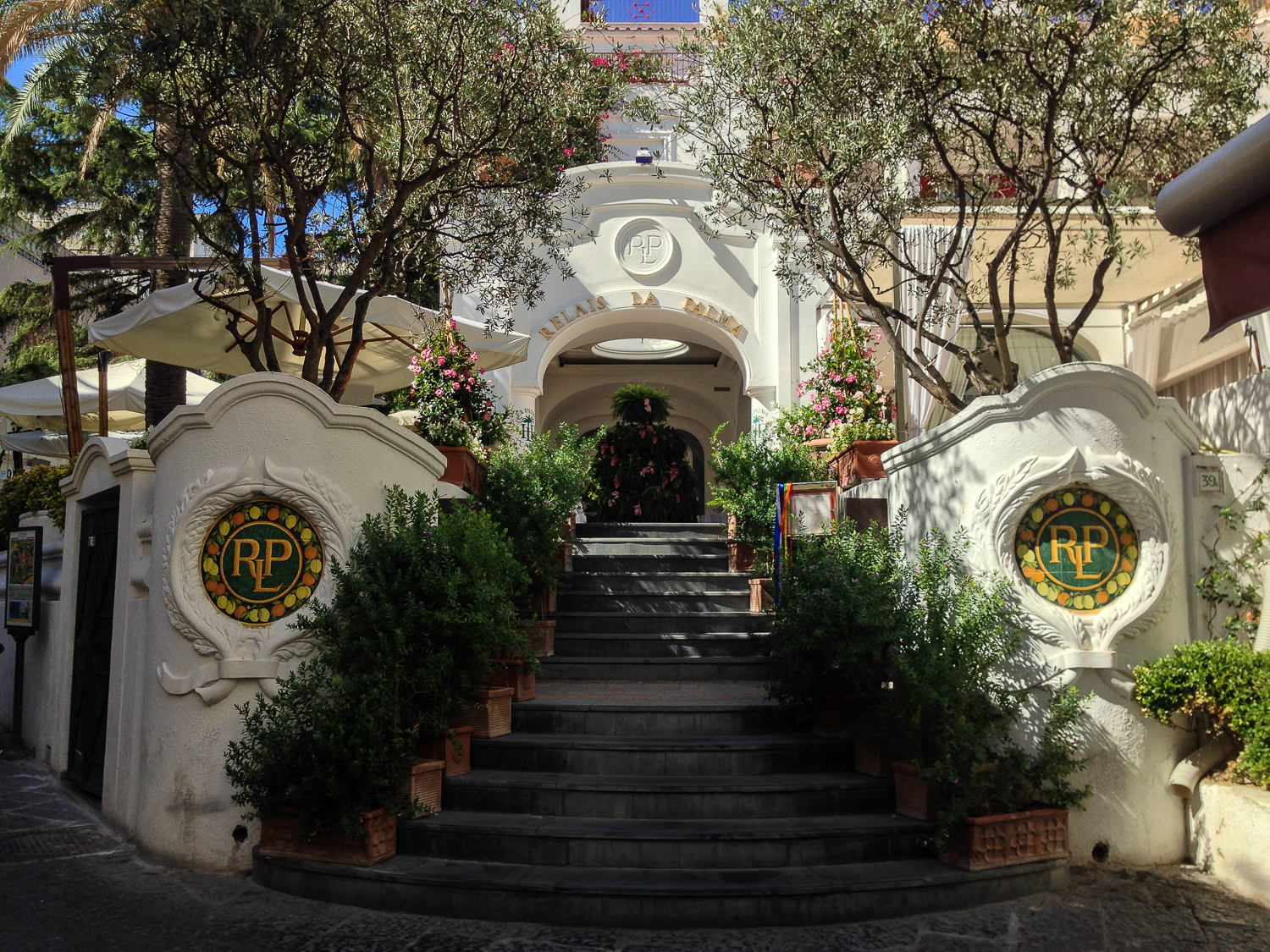 After we checked in (and found we couldn't eat at the hotel), we wondered to the first restaurant that had a reasonable priced menu posted out front, which happened to be the restaurant of another hotel, Relais La Palma.  We ordered the Insalata Greca (Greek Salad), without the feta, but for some reason we don't have a picture of this.  I blame the exhaustion.  We also ordered the Pizza Vegetariana without mozzarella.  This pizza, though kind of plain-looking, was quite the feast for us.  It had a soft, chewy crust that we loved and though we were to have many more good pizza crusts on this trip, we never encountered one as lusciously soft as this one.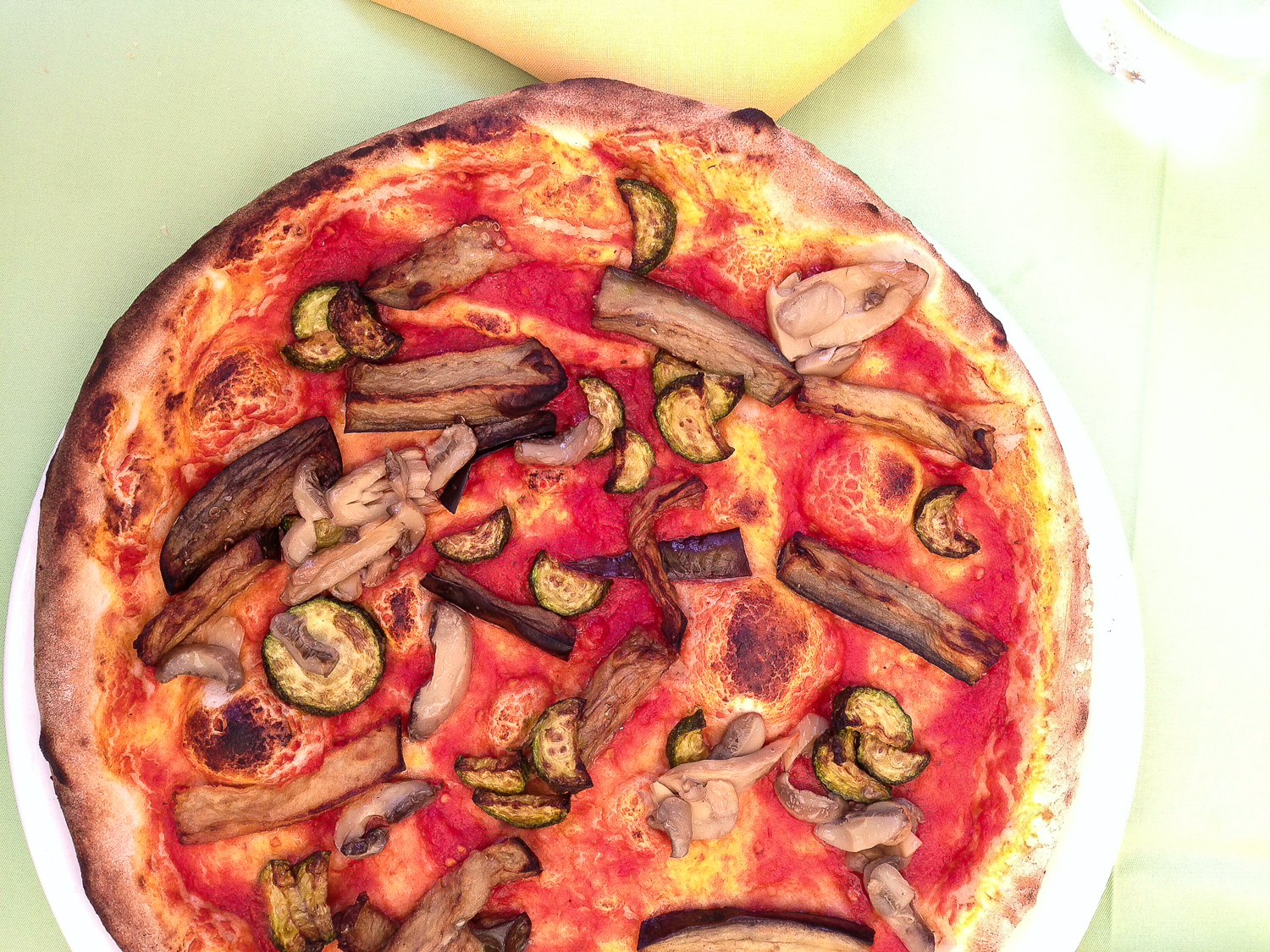 After our pizza, we went back to the hotel, changed into our swim suits and passed out by the pool.  It felt damn good.  Once we awoke from our light naps, we got cleaned up and dressed and headed into town to find dinner.  After walking around, checking menus, we settled on a restaurant that had a reasonably priced pizza and overlooked the water and the port we'd arrived at earlier that day.
Via Roma, 34 - 80073 Capri • Ph. +39 081 8375777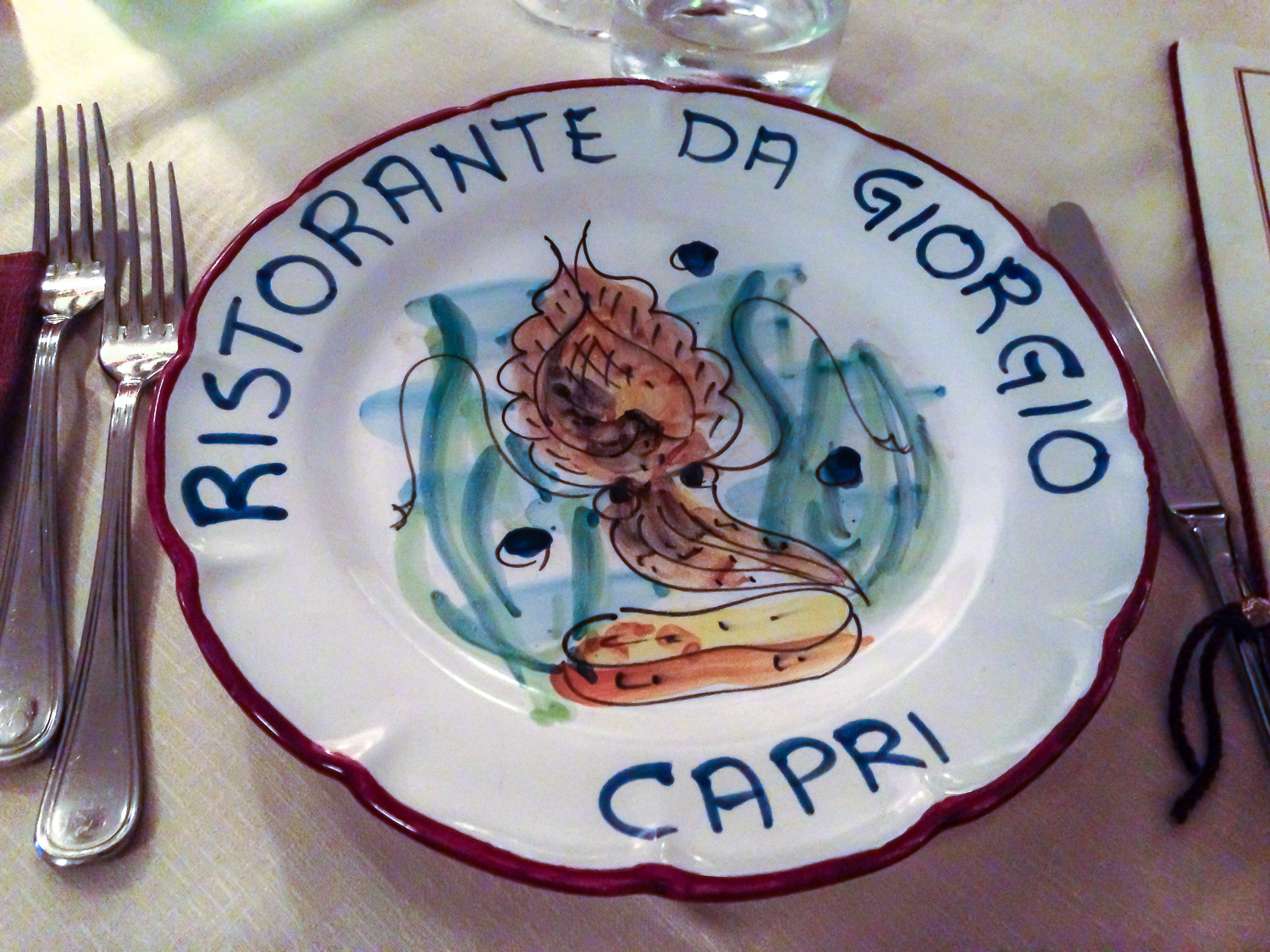 We entered the building and walked up the narrow stairs leading us to the restaurant.  It was dimly lit, with windows all around, overlooking the ocean.  This place was packed, mostly with Italians, so I knew that it would probably be good.  They told us there would be a bit of a wait and we entertained ourselves with all of the wonderful people-watching until we were seated.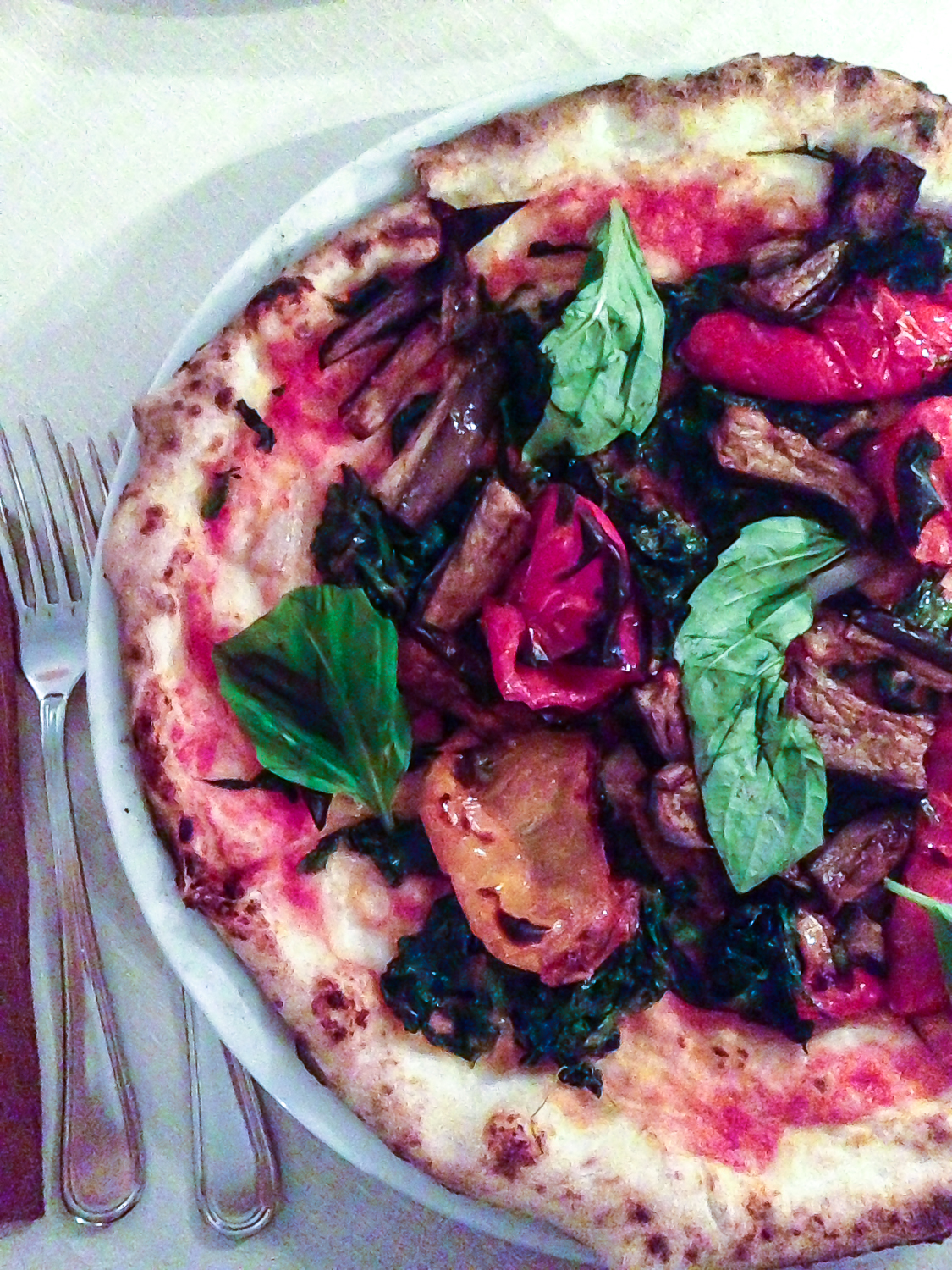 We already knew what we wanted so we placed our order pretty quickly: The Pizza Vegetariana with a side of marinated mushrooms.  All of it, the food, the ambiance, the view, the company- all of it was wonderful.