This is Part 2 in our series about Vegan Travel in San Francisco.  Read more in Part 1 and in our review of Millennium.
We woke up a little late on Sunday morning.  On Friday, the day we arrived, I came down with a nasty little cough.  During the day, it only made an appearance here and there and they were only minor coughs.  The beast had been rearing its ugly head at night, usually around 1 am.  I would have coughing fits akin to that of an eighty year-old man with emphysema.  I easily lost about two hours of sleep each night just from coughing so I was more than happy to sleep in and get some much needed rest.
With that said, we both woke with a strong craving for a big breakfast but at noon, we weren't really sure who would still be serving breakfast.  We did a bit of research and found that Herbivore serves breakfast until 2pm every day so we got on Muni and made our way to their Divisidero location.
531 Divisadero, San Francisco, CA 
When we arrived, we could tell they were very busy (vegan brunch on a Sunday morning?  Busy was to be expected.), but we were seated after only waiting five minutes.  We both ordered the same thing: the Combo Plate with French Toast.  Chris also ordered a side of tempeh bacon and a glass of freshly squeezed orange juice.  I ordered a glass of their green juice, made from celery, apple, spinach, parsley, mint, kale, ginger and lime.  Both juices were really good.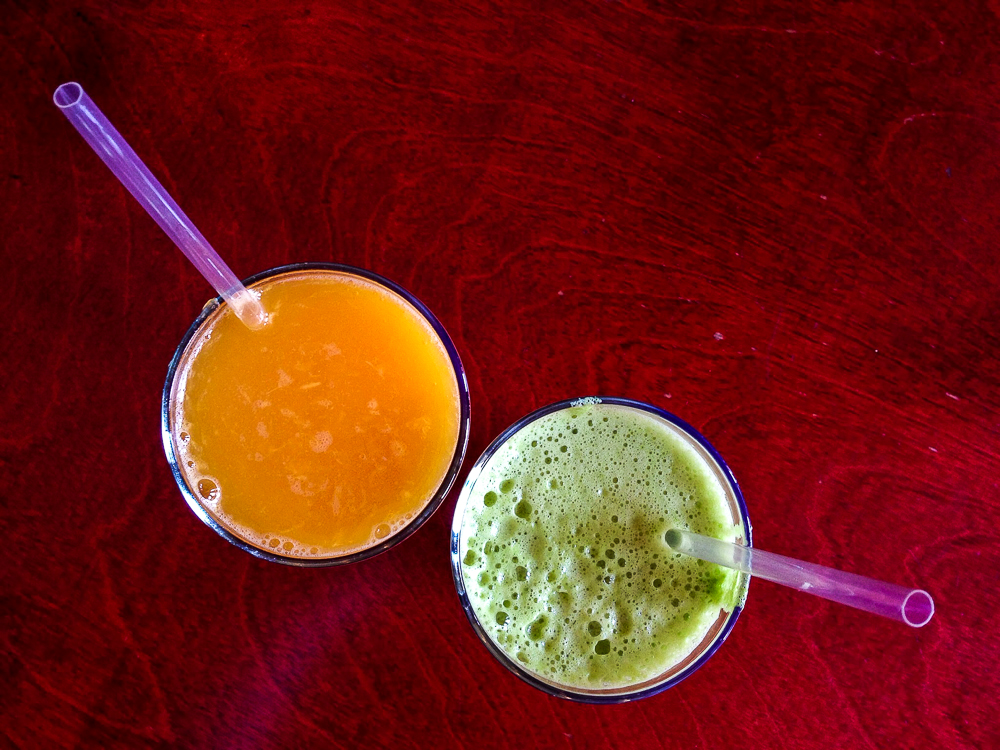 Our meals took quite awhile to arrive but our waiter informed us that he had a party of 20 in the back and he had underestimated how long it was going to take for us to get our meals so he comped it for us!  We told him it was unnecessary as we were enjoying ourselves but he insisted.  Our meals came with french toast, topped with a banana, tofu scramble with vegetables (they get bonus points for bringing us sriracha sauce before we even got our plates), and house potatoes.  Everything was really great and very satisfying.  The tempeh bacon was a little on the sweet side but I had no problem with it.  It was wonderful broken up and mixed with my tofu scramble and even better with maple syrup on my french toast.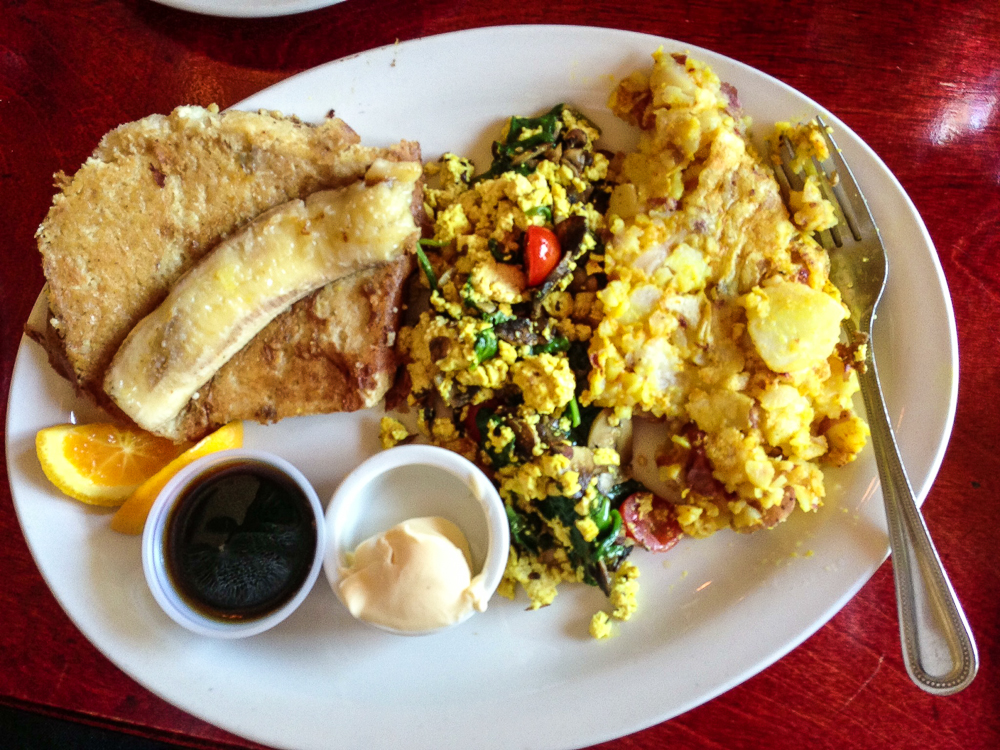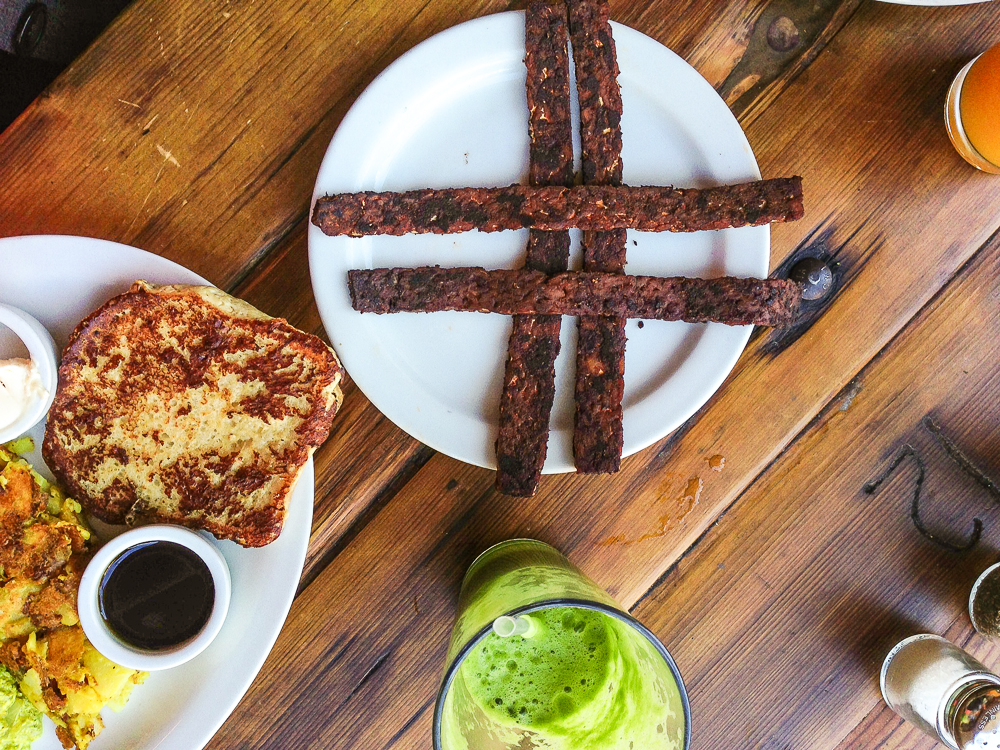 550 Divisadero St., San Francisco, CA
After breakfast, we walked across the street to the Bi-Rite Market.  They have an ice cream shop in the market and they do have one vegan flavor- the chocolate coconut.  We didn't try any because, well, did you see the size of our breakfast?  We wandered around the market where I found squash blossoms, fiddle heads, and even fresh garbanzo beans (things I can never seem to find in stores or at farmer's markets in LA).  It was pretty neat.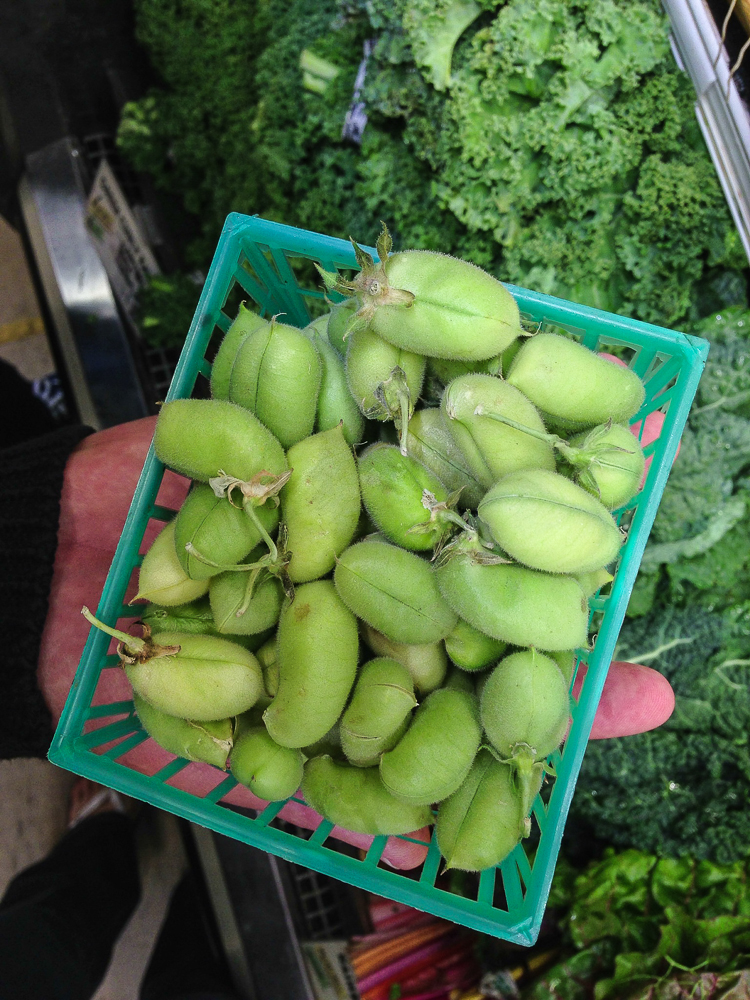 After that we walked.  We walked for a few hours.  We walked through the beautiful Alamo Square Park.  We walked up Fillmore Street and found ourselves in the middle of the San Francisco Jazz Festival.  We walked through Japantown and Lower Pacific Heights.  We walked down California Street until we found Polk.  We found a coffee shop where Chris got some coffee and I got tea.  Then we walked down through Little Saignon and the Tenderloin.  We walked until we got to Union Square, very near our hotel.  Chris had forgotten to pack any nice clothes for dinner at Millennium that night so we stopped into Macy's so he could get himself something to wear.  Then we did a little more window shopping until we needed to get ready for dinner.
845 Market Street, Westfield San Francisco Centre, Food Emporium #12, San Francisco, CA 
After all of this walking and with our dinner reservation two hours away, we decided to get a little snack.  Yelp showed that there was a Loving Hut int he Westfield shopping center (practically next door to our hotel).  Despite how much we don't care for malls, we ventured in for vegan snackage (by the way, how great is it that there is a vegan restaurant in the mall's food court?!).
I had never been to a Loving Hut before so it was neat to finally see one.  Since we just wanted a snack, we decided to share one of their steamed buns.  It was filled with some sort of bean mixture and it was pretty good.  Not the best steamed bun I've ever had (that title would go to the Golden Era Vegetarian Restaurant, located in San Francisco.  I'd had it years ago but we didn't go on this trip), but tasty and satisfying.  We then headed back to the hotel to get glammed up for dinner at Millennium.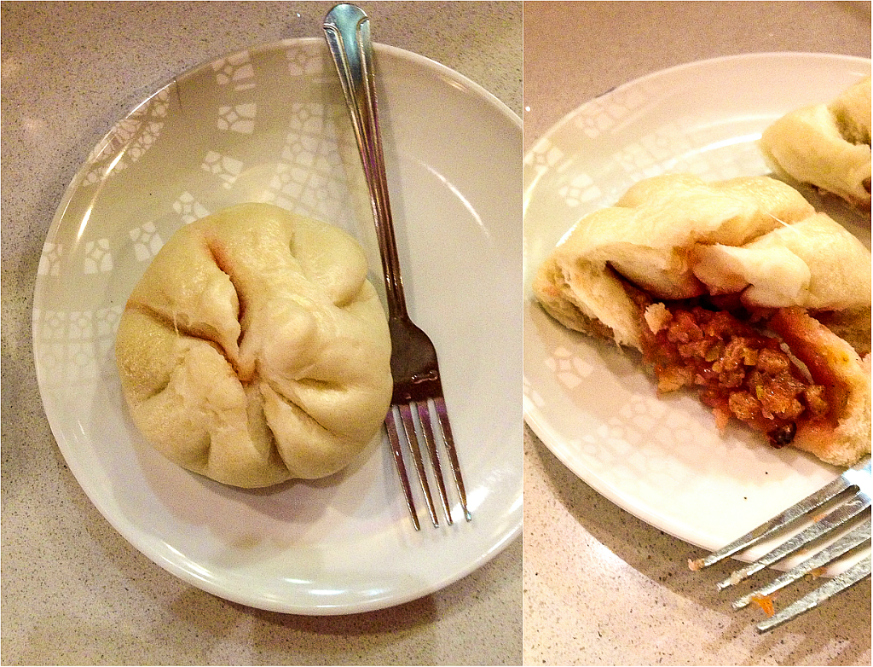 I already did a review on Millennium so I'll spare you the details.  I'll just say it was nothing short of amazing.
983 Valencia St., San Francisco, CA
The next morning, we packed up and checked out of the hotel.  We had a little time to get some breakfast on the way to the airport and there just so happened to be another Herbivore in the Mission district on the way.  We took BART to the 24th street exit and walked the few blocks to the restaurant.  I ordered the same thing as the day before, but I have to say, it was better at the other location.  Chris ordered the Savory Crepes.  The crepes are filled with tofu scramble, spinach, cheese, mushrooms, onions, artichoke hearts and capers and you have a choice of sauce to top them with.  Chris ordered two sauces- the basil pesto and the roasted red pepper.  The crepes are also served with house potatoes.  Chris really liked them, but when I tasted them, I thought they were just okay.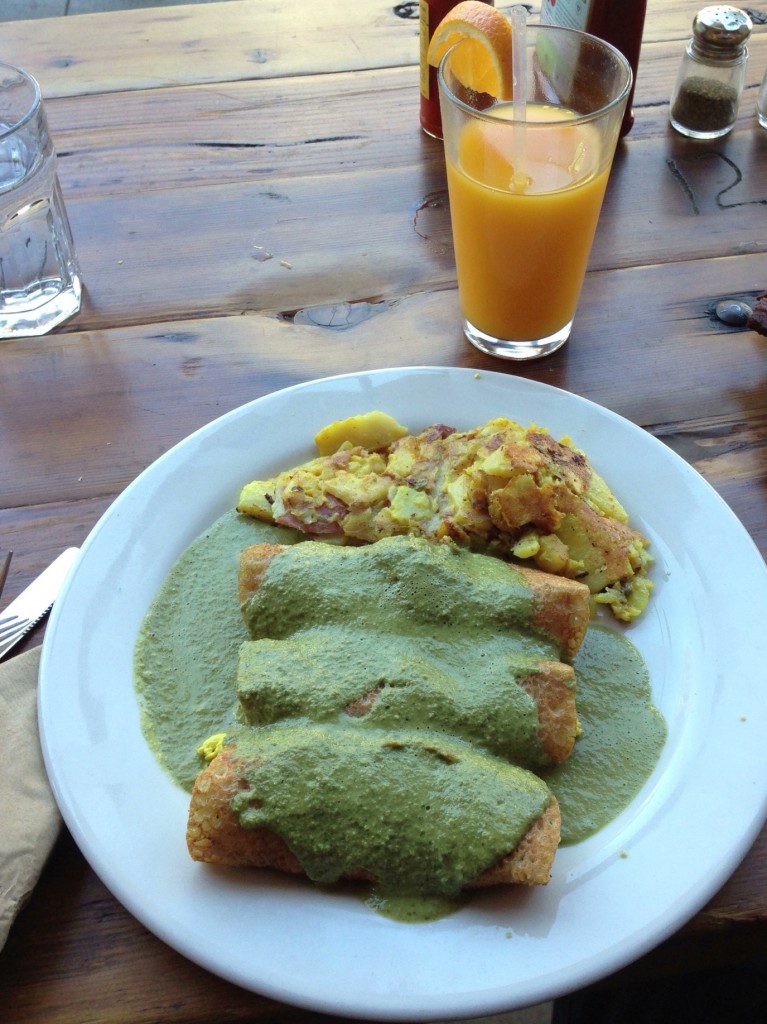 In my post on our afternoon in Berkeley, many of you mentioned that you had tried Herbivore and had not enjoyed it as much as Chris and I had.  We've only tried their breakfasts (except for the garden salad I had in Berkeley), but I can say they were pretty good.  I have to admit, though, when we entered the Herbivore in the Mission District, I realized that I had been there before many years ago for a friend's birthday.  I remembered being not that impressed with it then, so perhaps their lunch and dinner menu isn't as good as their breakfasts?  If you've had both, I would love to hear your thoughts.
When we got to the airport and after we'd gone through security and got our coffee and tea bought and we sat to wait for our flight, we could see very clearly through the windows the plane that had crashed there just two days earlier.  It was still there and there were many people there, seeming to be cleaning or investigating.  It was very, very sobering.  When our flight was delayed, I really didn't mind waiting a little longer to get on a plane.
SFO, Terminal 2 (there are other locations as well)
Because our flight was delayed, we did get a little hungry.  Luckily, there was restaurant called The Plant.
The Plant had many vegan options, all clearly labeled, and about 95% of their desserts were vegan.  They even had vegan smoothies!  We each got an acai berry smoothie (not pictured) and a chocolate chip cookie.  For airport food, it was all pretty good.  It made me interested to try some of their other vegan options but our flight was finally ready.  And home we went.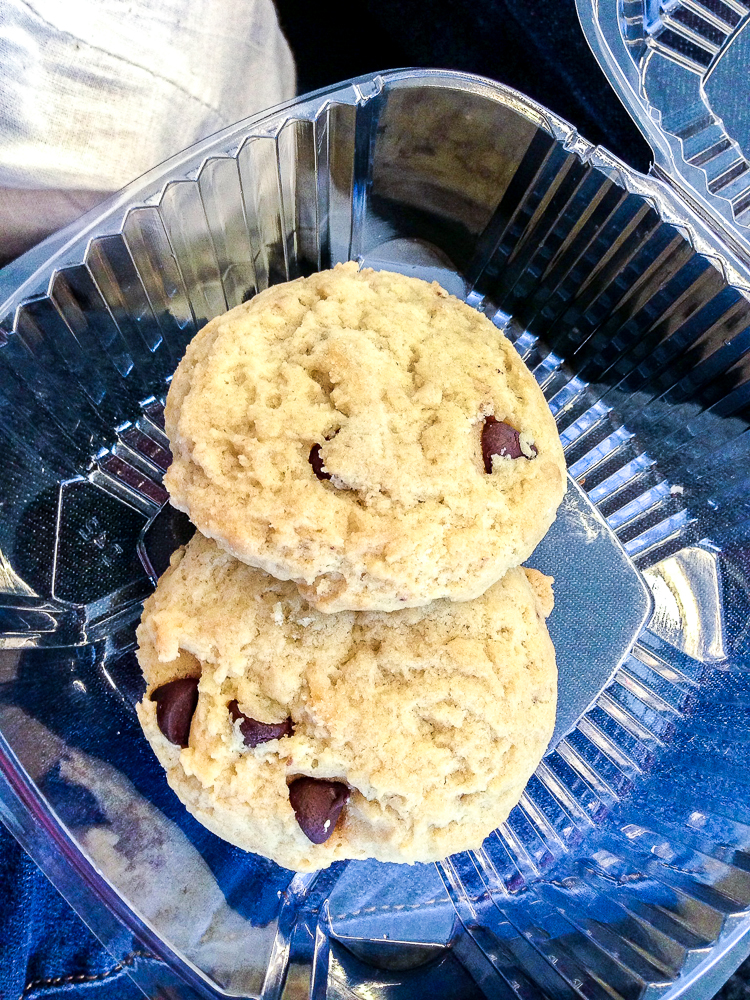 I was bummed that we never got to try Source (I've heard such good things, especially about their desserts) and I'm sure there are plenty of other vegan options to try in San Francisco.  Those will have to wait until next time.
What are your favorite places to eat at in San Francisco?