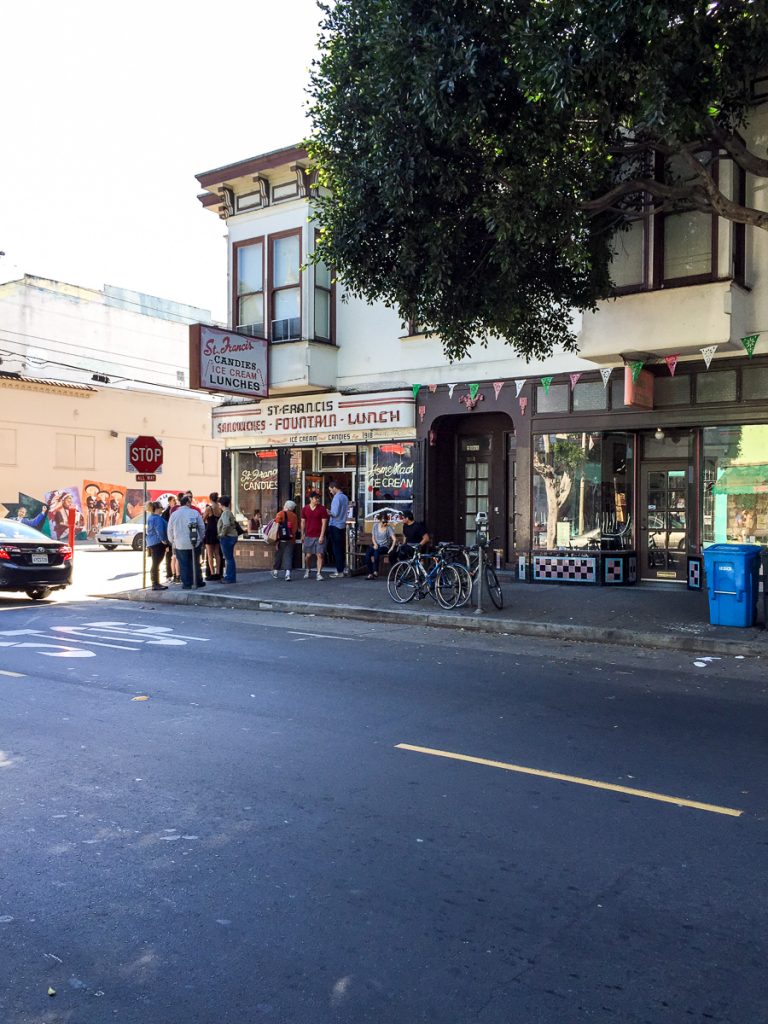 As vegans, it is pretty rare for Chris and I to just stumble into our local diner or fancy brunch restaurant on a Sunday morning for a satisfying breakfast. It's even less likely while we're on vacation. Sure, we may find breakfast at the closest vegan restaurant, but at a non-vegan restaurant? Not likely. Your average restaurants don't generally offer a hearty vegan breakfast option, let alone several from which you can choose.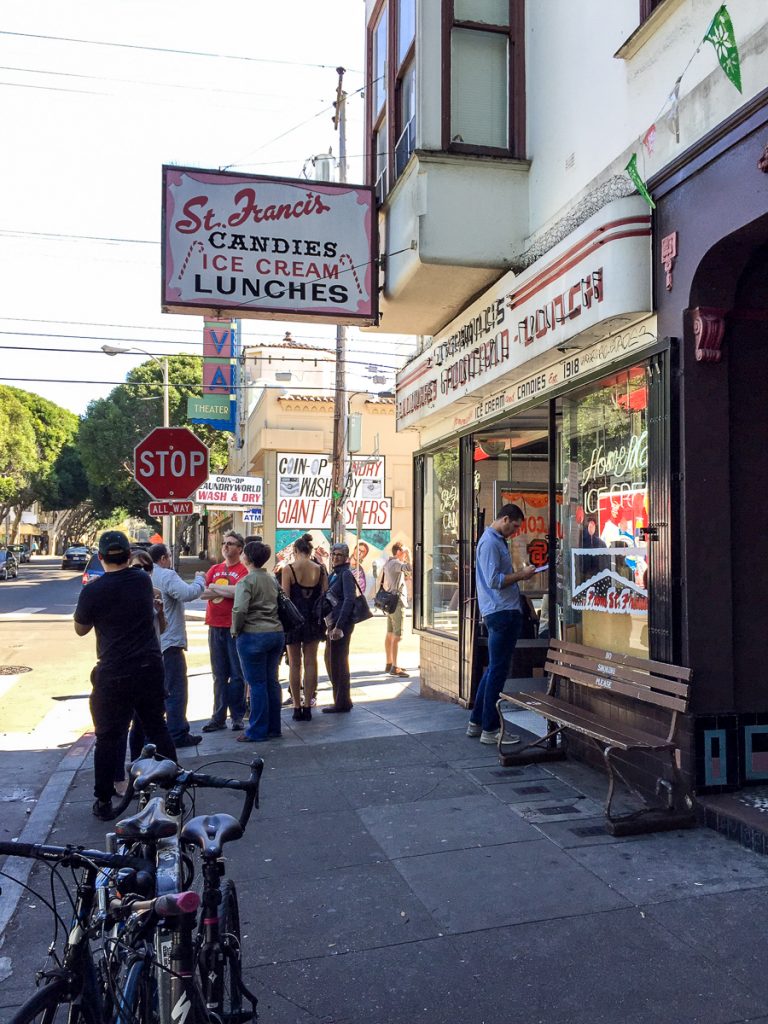 That is why St. Francis Fountain in San Francisco is such a special place. Open since 1918, this old school ice cream parlor and soda fountain (that looks probably almost identical to the way it did the day it was opened) serves up classic diner food: burgers, sandwiches, and good old fashioned, greasy spoon breakfasts. The best part? The menu is filled with vegan options and many of the non-vegan items can be made vegan.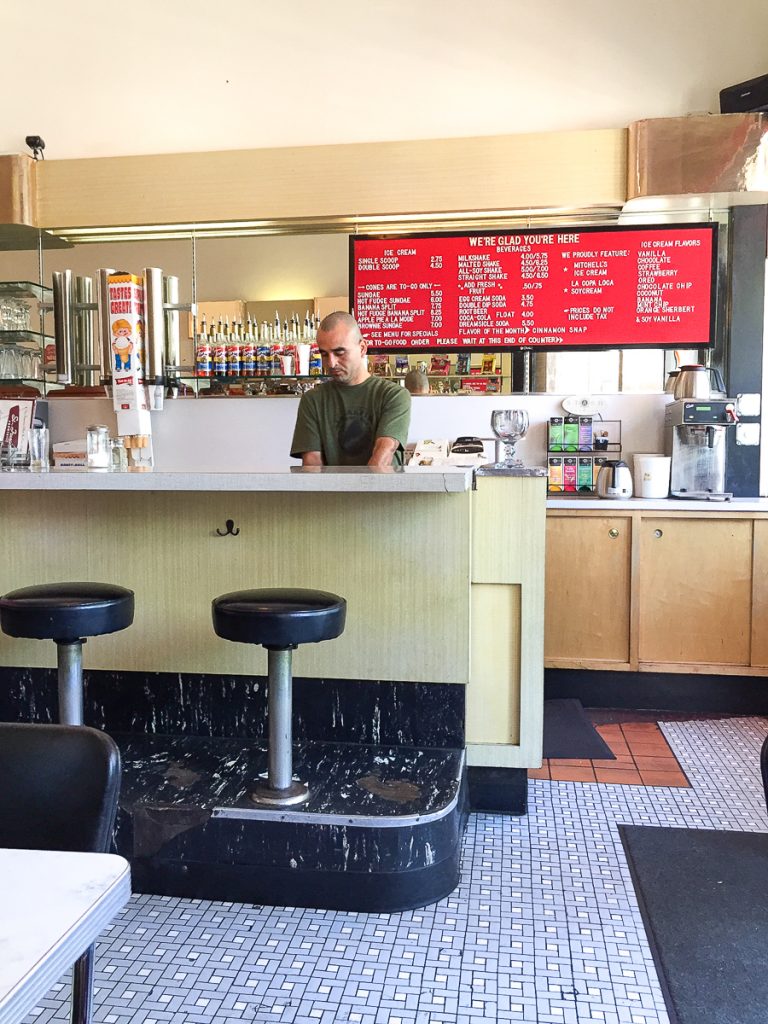 We got there at about 10:30 on a Sunday morning (the day after my book signing) and wanted a filling breakfast that would keep us satisfied for our long road trip back home to LA. Upon arrival, we noticed groups of people standing around outside so we knew there would be a wait. Since there were only 2 of us, the wait was only 20-30 minutes. A larger group of 9 or 10 showed up after us and they were given a much longer wait time.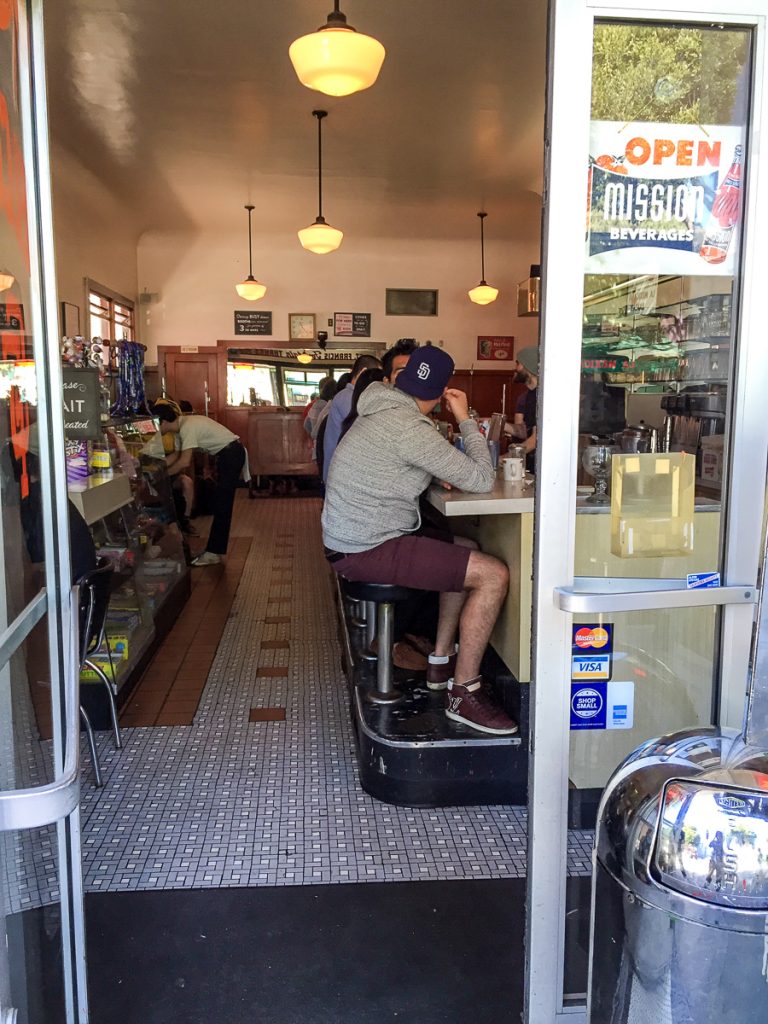 Once we were seated, Chris and I spent some time oohing and ahhing over the menu. Anything that calls for eggs can be subbed with a tofu scramble, and cheese can be replaced with vegan cheese, and they even have a vegan chorizo to replace sausage. We both wanted to get something different so we could share and try two different things. After a lot of "Ok, I'll get the blueberry pancakes and you get the vegan rancheros" sort of talk, we ended up getting the same thing: The Veggie Mess, veganized with tofu scramble and vegan cheese, atop a pile of potatoes with mushrooms, vegan chorizo, tomato, and cilantro (except they were out of vegan cheese so they did avocado instead. No complaints here!). They didn't have gluten-free toast so I ended up giving my toast to Chris. I didn't even miss it.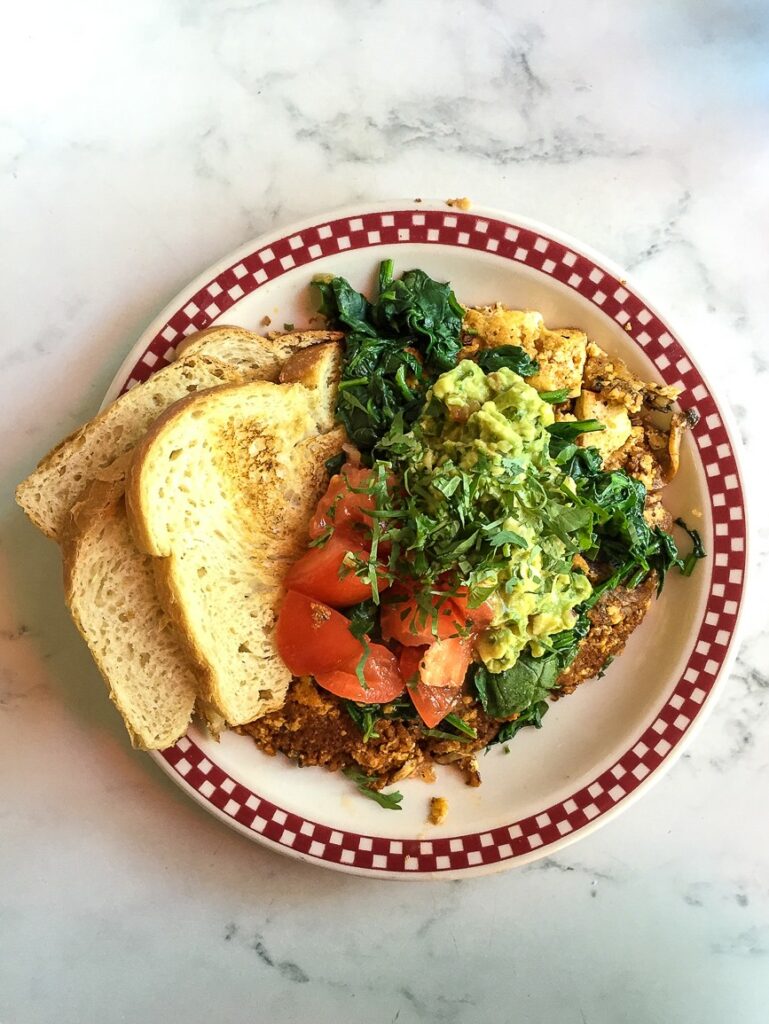 It was fantastic. I mean, there's nothing like a really well-made vegan breakfast and this dish tops my list of favorite vegan restaurant breakfasts. Now that our beloved Source is closed, I can see us making this our regular breakfast joint for when we're in the city.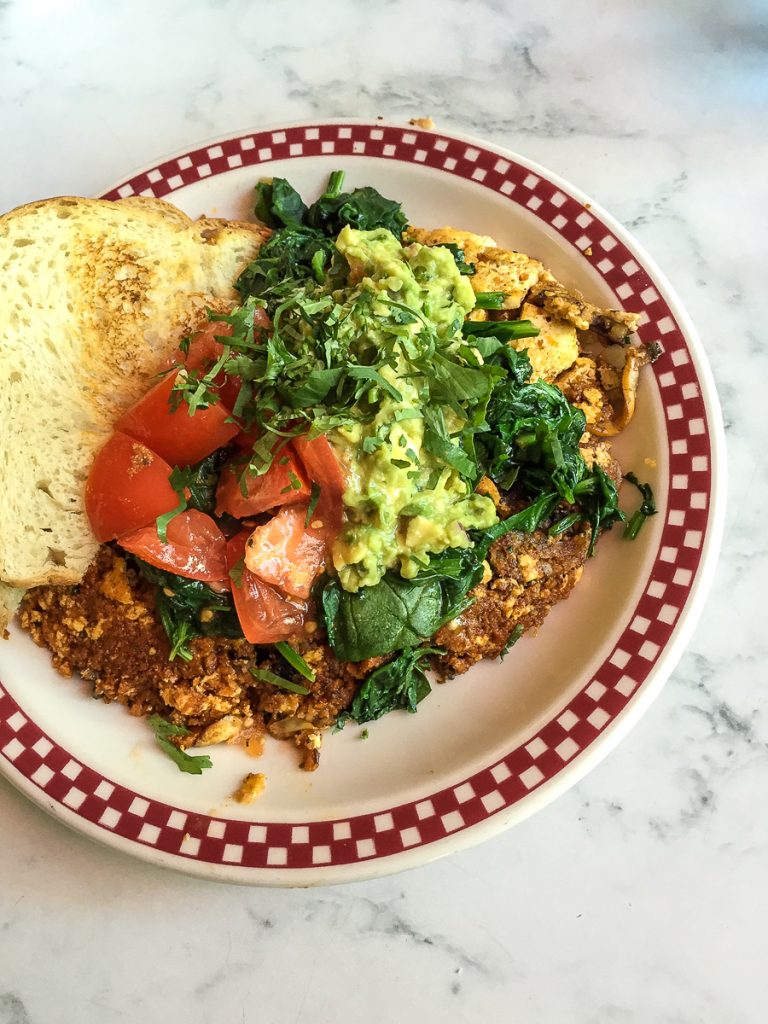 Not wanting to leave with only trying one dish, we decided that we should try the milkshake. I mean, how often do vegans get to sit in a nearly 100 year old soda fountain and share a vegan milkshake. So we had to. The only flavor they had was vanilla and it was awesome. Totally worth the brain freeze. After the milkshake, we got on the road and I have to tell you, we didn't get hungry again until we got home that night. Talk about a stick-to-your ribs meal!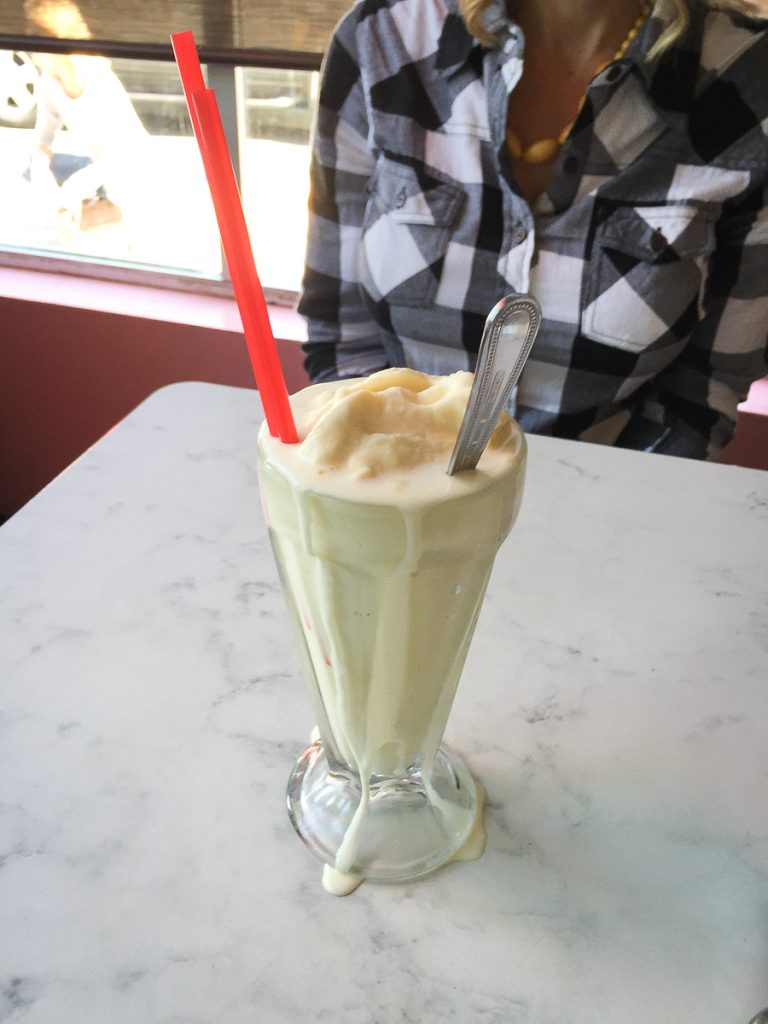 If you live in San Francisco, you are so damn lucky to live so close to this gem! I hope you're frequenting St. Francis Fountain regularly. If you don't live in San Francisco, you most definitely should make this restaurant a stop on your next trip to the city.
St. Francis Fountain   •   2801 24th St., San Francisco, CA 94110   •   415-826-4210