My mom is not a cook. All childhood memories of watching my parent in the kitchen, making a meal, are of my father. There were a couple dishes my mom would make, maybe once or twice a year. She could make a good egg salad sandwich and sometimes she would make some cookies using a roll of Pillsbury cookie dough or bake some cupcakes using a boxed cake mix, but other than that, the kitchen was not a place I could often find my mother.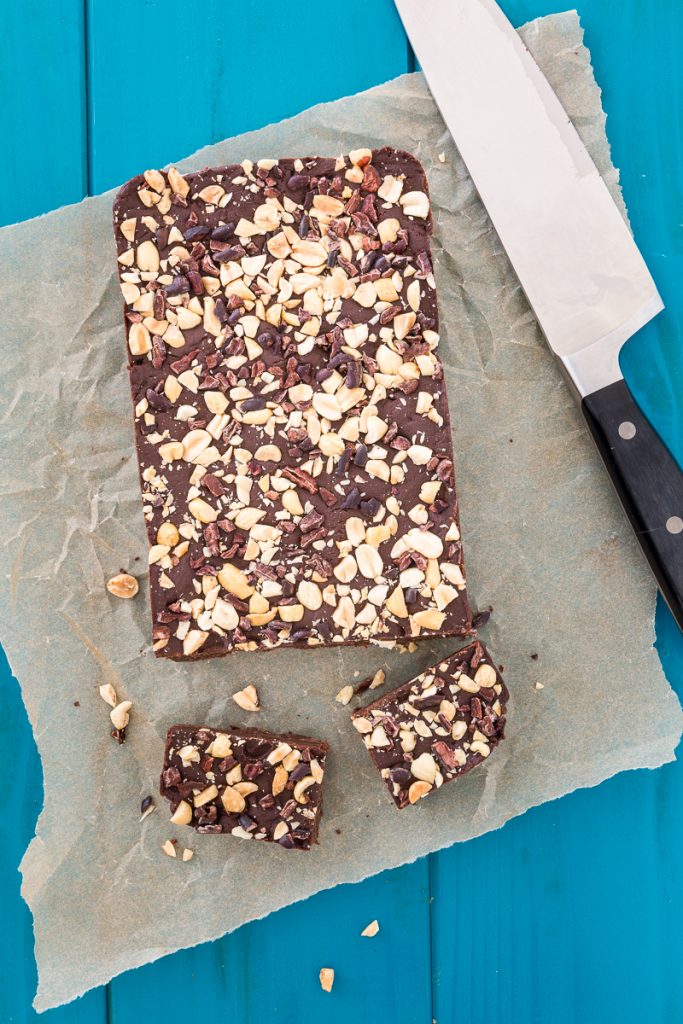 Every year, however, around the holidays, my mother would make a batch of fudge. I never knew the recipe, but I know there was marshmallow fluff, loads of powdered sugar, and some form of chocolate. And it was divine. She would always make a batch with walnuts and one without and they would travel to my grandparent's house in the orange tupperware container with the clasping handles. It was almost as if the handles were put there specifically so I couldn't quickly reach in and grab a piece, unnoticed.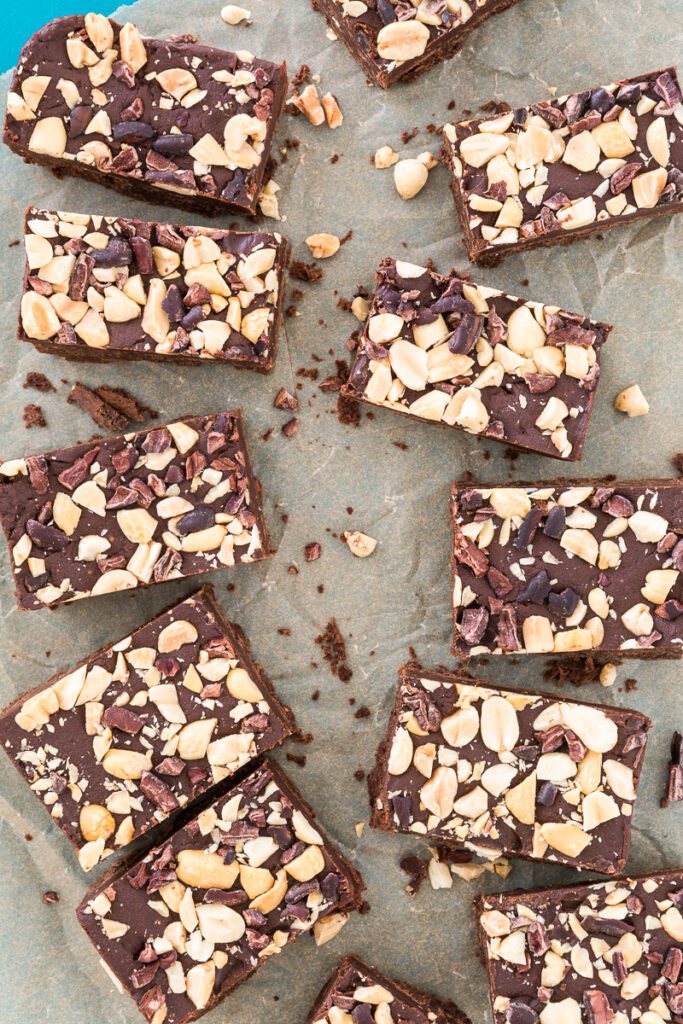 My mom hasn't made this fudge in probably 25 years so I don't remember exactly how this fudge tasted but I do remember that it was rich, luscious, and so sweet it would make your teeth hurt. But I do remember that it was worth the pain.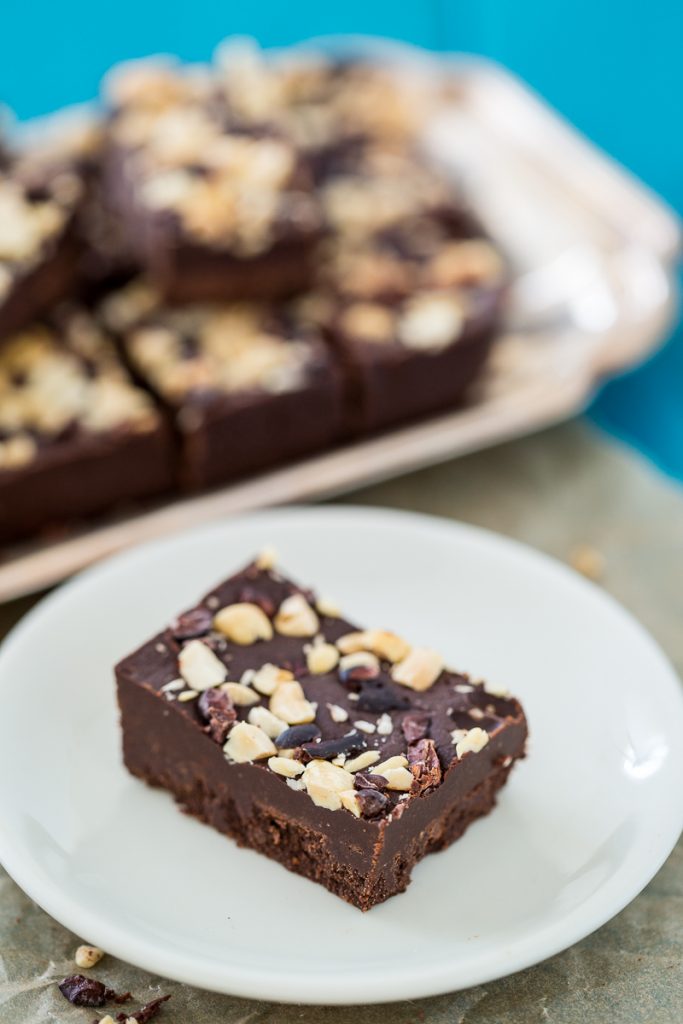 These days, the fudge wouldn't fly with me because a.) that stuff wasn't even close to being vegan, and 2.) I cannot handle sugar. Like, I barely ever eat sugar and it's certainly not from anything I make in my kitchen. But I still love fudge so of course, I had to get innovative.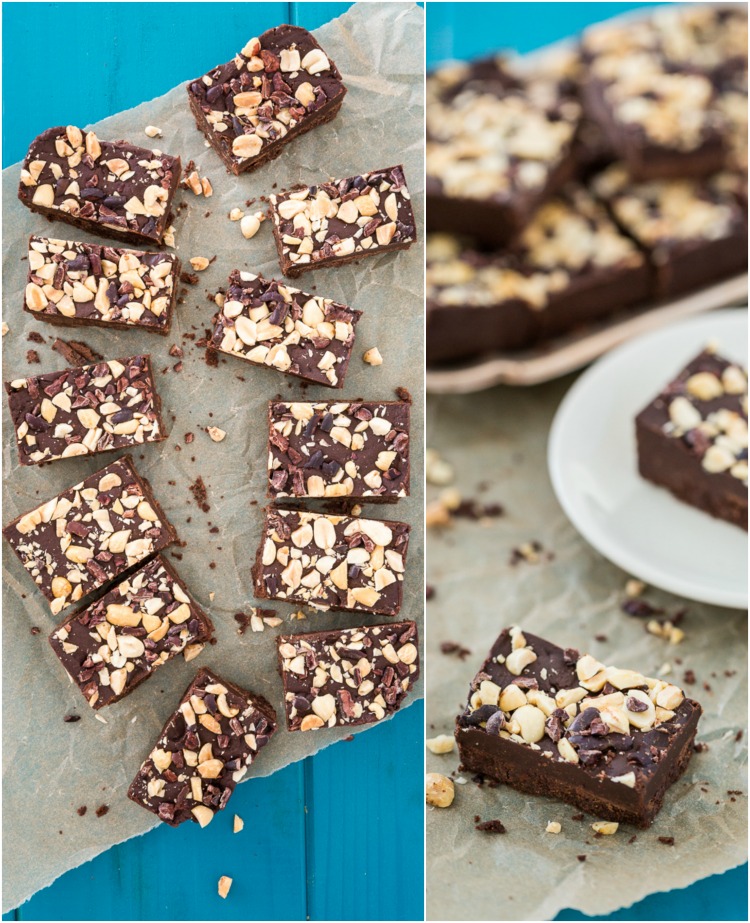 I did A LOT of fudge testing when I was writing my cookbook, But I Could Never Go Vegan!, so I have my little fudge routine down. One of the foundations of this routine is coconut butter (it's different from coconut oil or regular vegan butter). I love the firmness it brings to the fudge once it's been chilled and I love the richness it adds without adding any coconut flavor. The next important part is melted chocolate, and thirdly a nut butter. If I'm going for something super fudgy, I go with a mild-flavored nut butter like almond or cashew, but for this one, because I love all things PB + Chocolate, I opted for peanut butter. And I. Did. Not. Regret. It. Next you need a sweetener, and I like to do a combo of maple syrup and stevia (a natural, plant-based, calorie-free sweetener). The maple syrup rounds out the flavor while the stevia adds the sweetness I remember from Mom's fudge, without the toothaches. Stevia can be a tricky because some brands have a definite aftertaste, but I love using NuNaturals stevia because it is completely aftertaste-less.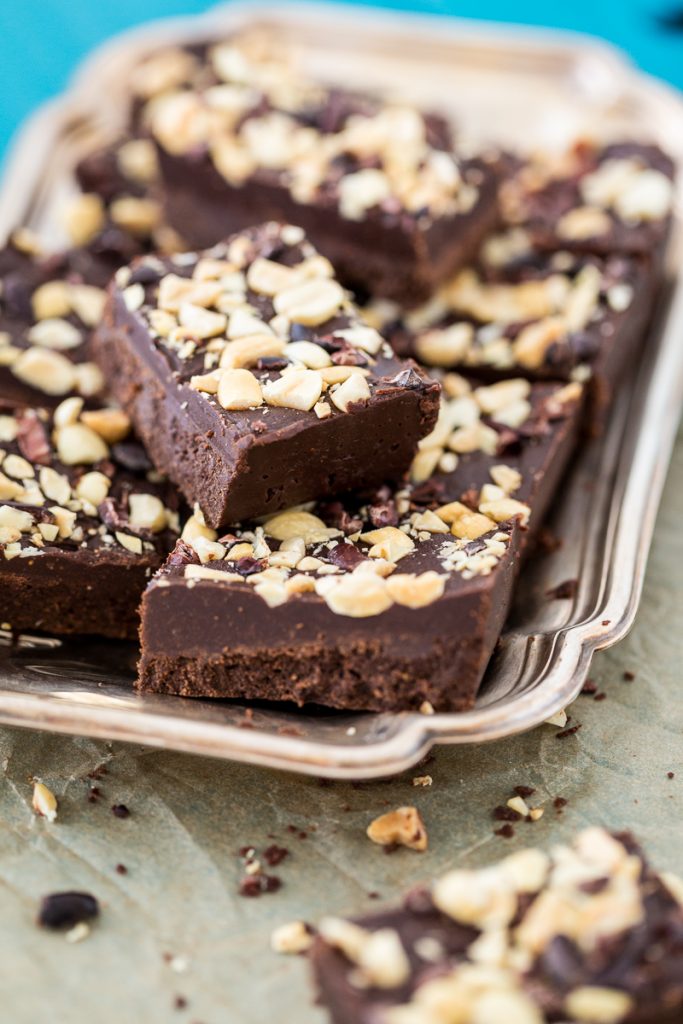 This Peanut Butter Chocolate Fudge is one of my favorite Veganized Family Favorite Desserts but you should check out the series over at Canned Time, where every month a different blogger is sharing one of their favorite family desserts that they've veganized. Thank you so much, Angela, for having me be a part of this awesome series!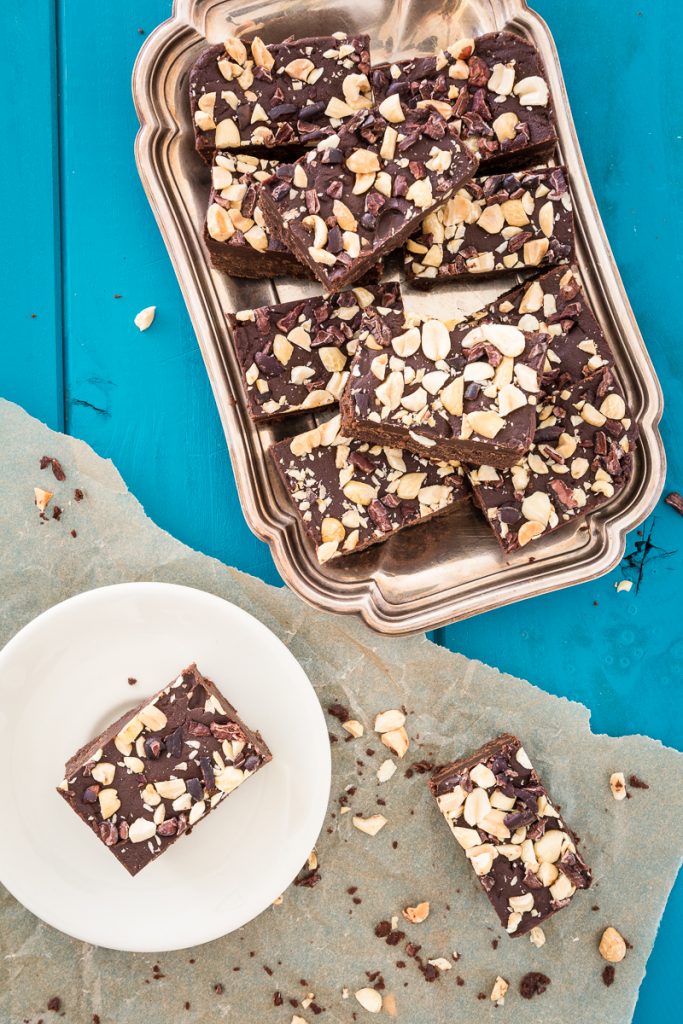 Peanut Butter Chocolate Fudge
Ingredients
1 cup chopped dark chocolate (use a sugar-free variety if needed)
½ cup coconut butter, lightly melted or softened
1/3 cup unsalted, unsweetened peanut butter
½ cup cacao or unsweetened cocoa powder
¼ cup maple syrup
1-3 packets of NuNaturals stevia (depending on how sweet you want it)
1 teaspoon vanilla extract
1/4 teaspoon salt
1/4 cup chopped peanuts for topping, optional
1-2 tablespoons cacao nibs for topping, optional
Instructions
Line a 5x9 loaf pan with parchment paper. Set aside.
In a double boiler, or a glass bowl fixed over a small pot of boiling water, melt the chocolate. Stir every minute or so to prevent sticking and encourage melting. Once completely melted, remove from the heat and set aside.
Combine the coconut butter, peanut butter, cacao/cocoa powder, maple syrup, stevia, vanilla extract, and salt in a food processor and process until smooth. Add the melted chocolate and process until smooth. Pour into the prepared loaf pan and use a rubber spatula (or your fingers) to flatten it out and spread it out evenly. If using, sprinkle the peanuts and cacao nibs over the top and use the spatula or your fingers to gently press the toppings into the top. Place the pan in the refrigerator and chill until firm, about an hour or so.
Once firm, remove from the refrigerator and let it sit for about 15 minutes. Use the parchment paper to lift the fudge out of the pan and use a sharp knife to chop it into 10-12 pieces. Transfer the pieces to an airtight container and chill until ready to serve. It will keep, chilled in an airtight container, for about 2 weeks (if you don't eat it all before then). Enjoy!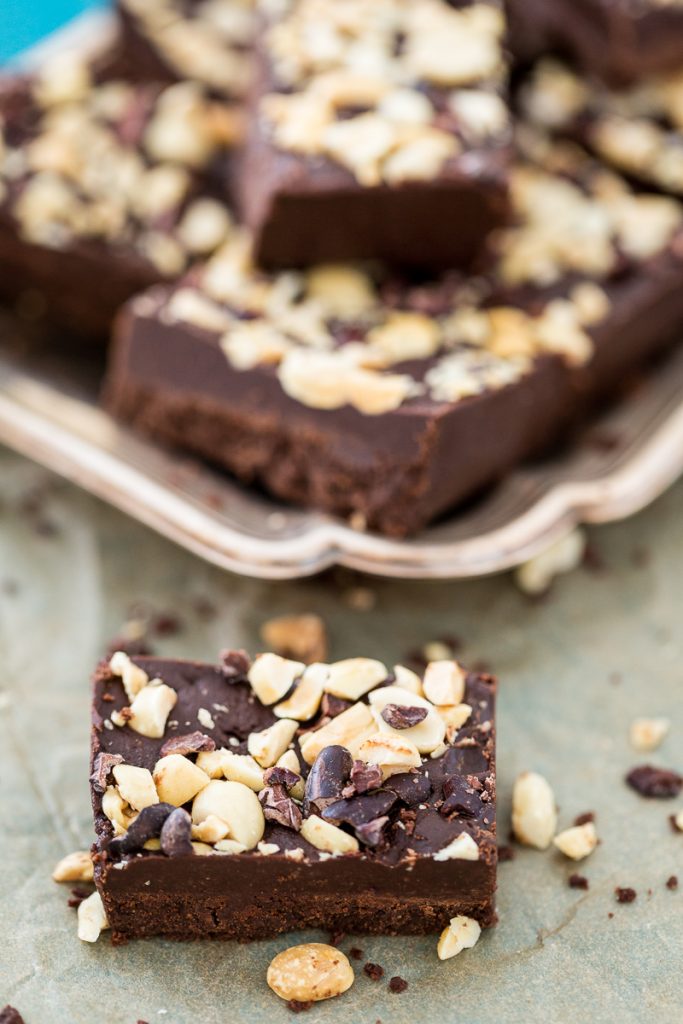 What's one of your favorite childhood desserts? How have you veganized it?
Disclaimer: I was given NuNaturals product to try but the thoughts and opinions expressed here are my own. I was not compensated for this post.
Photography by Chris Miller