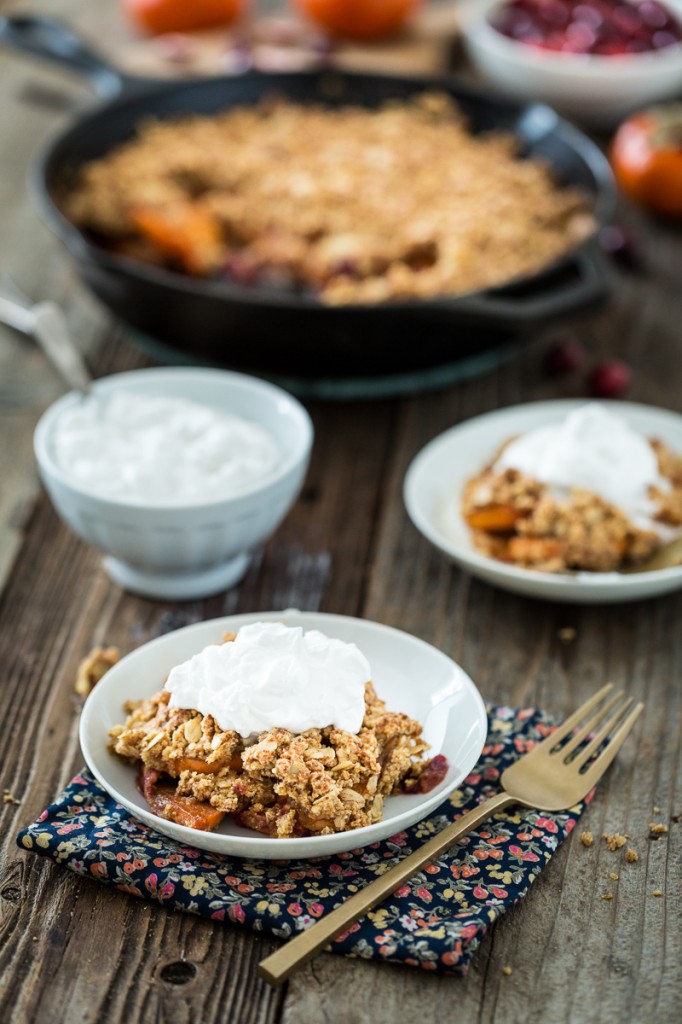 Before I tell you all bout this delicious beast of a dessert, I've got some good news. I have the first couple dates for my quasi-book tour! Eeek! I'm so excited to meet you guys! So here's the deets for the 1st Event (and it's an Event with a capital E!!!):
DATE: December 13th, 2014
TIME: 6pm to 9pm
LOCATION: Kitson at 8590 Melrose Avenue, Los Angeles, CA 90069
DETAILS: Stop by Kitson between 6 and 9pm to hang out, try some tofu chèvre and some other nibbles from But I Could Never Go Vegan!, drink some wine (being so graciously donated by The Vegan Vine!), and I'll even sign your book.  You can also knock out some Christmas shopping while you're there (and did I mention that cookbooks make great gifts?).
The next date will be at Book Soup in West Hollywood on January 11th at 3pm and I have a date set for San Francisco in February. More details on those to come. If you can make it to any of the events, I would be over-the-moon thrilled to meet you! And now for food talk.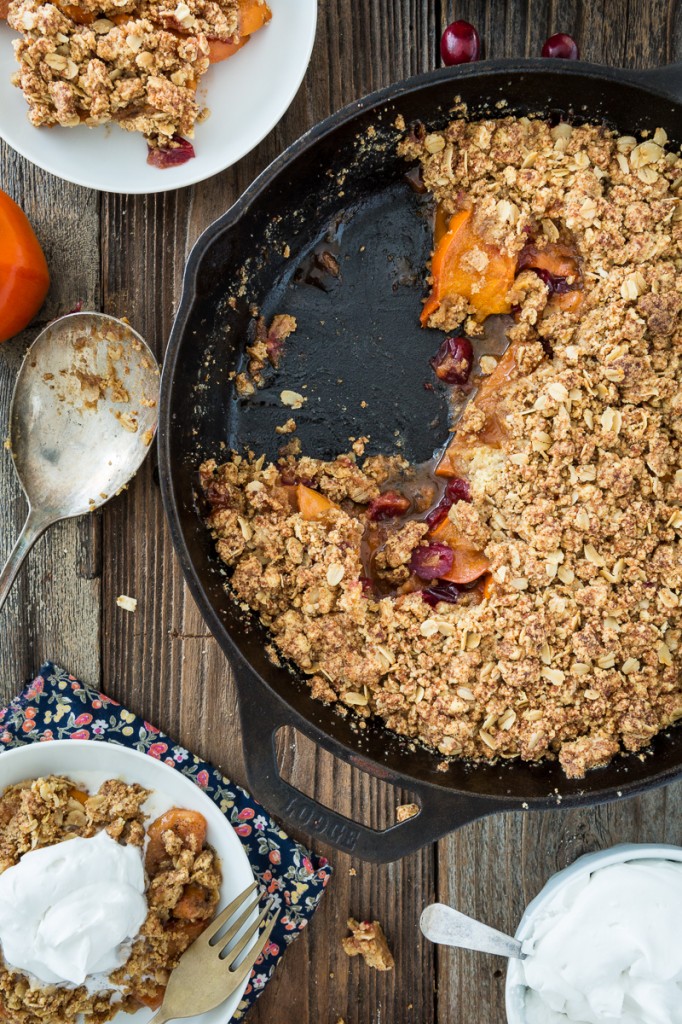 I know you can't replace pumpkin pie on Thanksgiving so I'm not even suggesting that. Don't worry- I'm not crazy.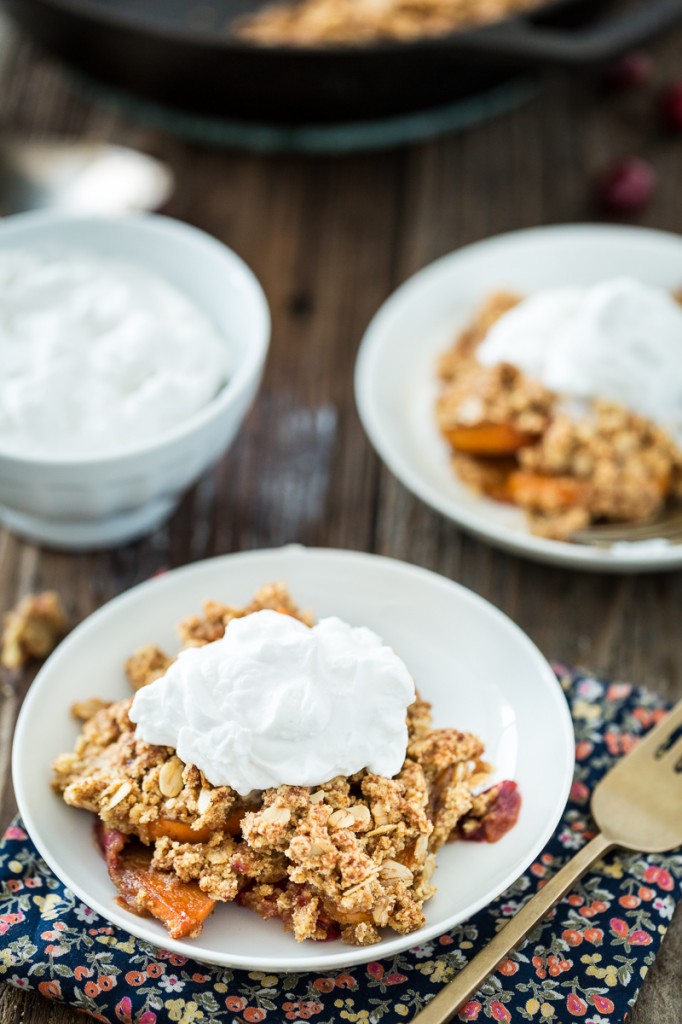 What I am suggesting is that you take advantage of all of the persimmons that have flooded farmer's markets and CSA boxes everywhere, as well as the abundance of fresh cranberries this time of year, and make a dessert that really makes these fruits shine. Again- it doesn't have to be on Thanksgiving but this could be a nice side dessert (Side dessert? Is that a thing?) or just make it today. I vote for making it today.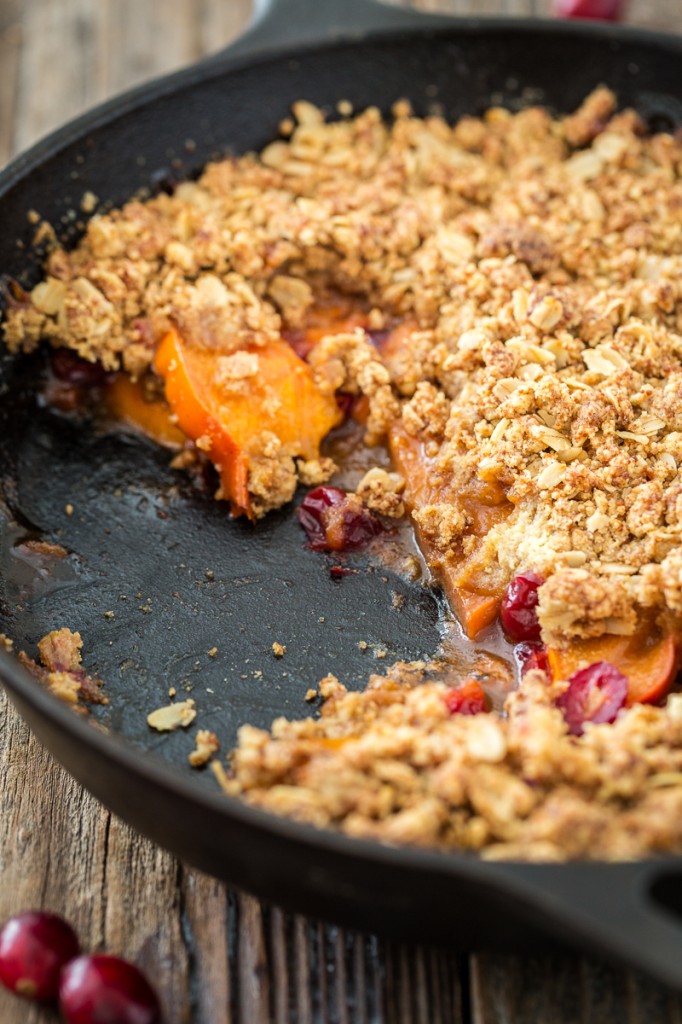 This persimmon crisp is remarkably simple. Slice up some persimmons and chop some cranberries in half. Toss them in some lemon juice, coconut sugar, fresh ginger, and a bit of arrowroot powder to thicken the sauce as it cooks. Easy peasy.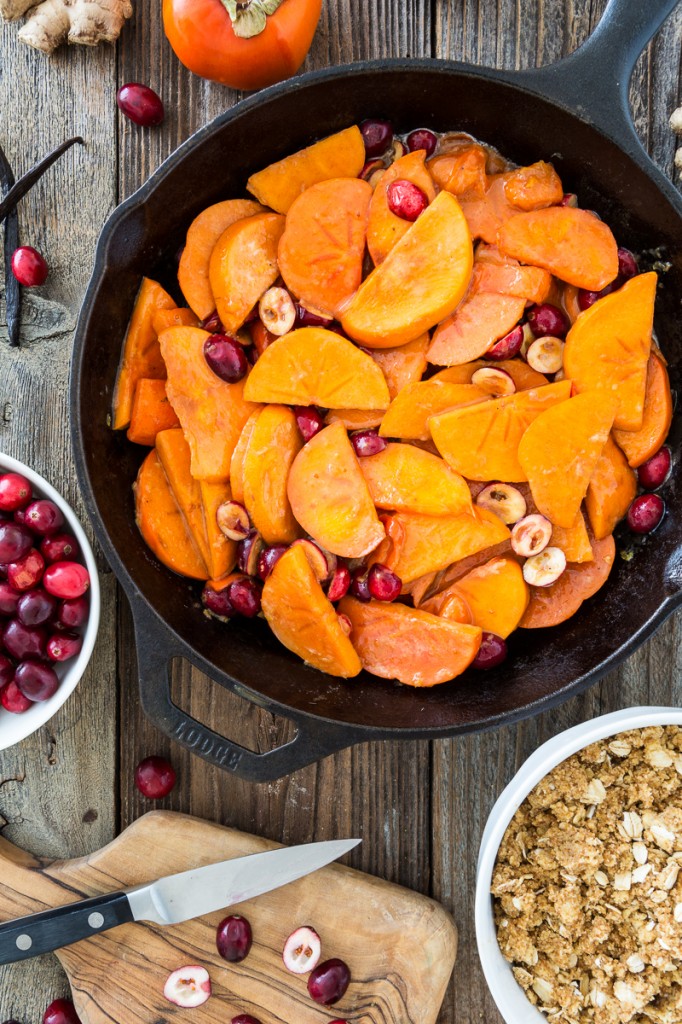 The crispy topping is where it gets really interesting. Vegan butter is cut into a gluten-free mixture of oat flour, brown rice flour, and corn flour (to give it a cornbread-reminiscent flavor) for the base. Then, oats, coconut sugar, cinnamon, and the inner scrapings of one vanilla beans are folded in to create the most aromatic, heavenly fruit crisp you've ever put in your oven.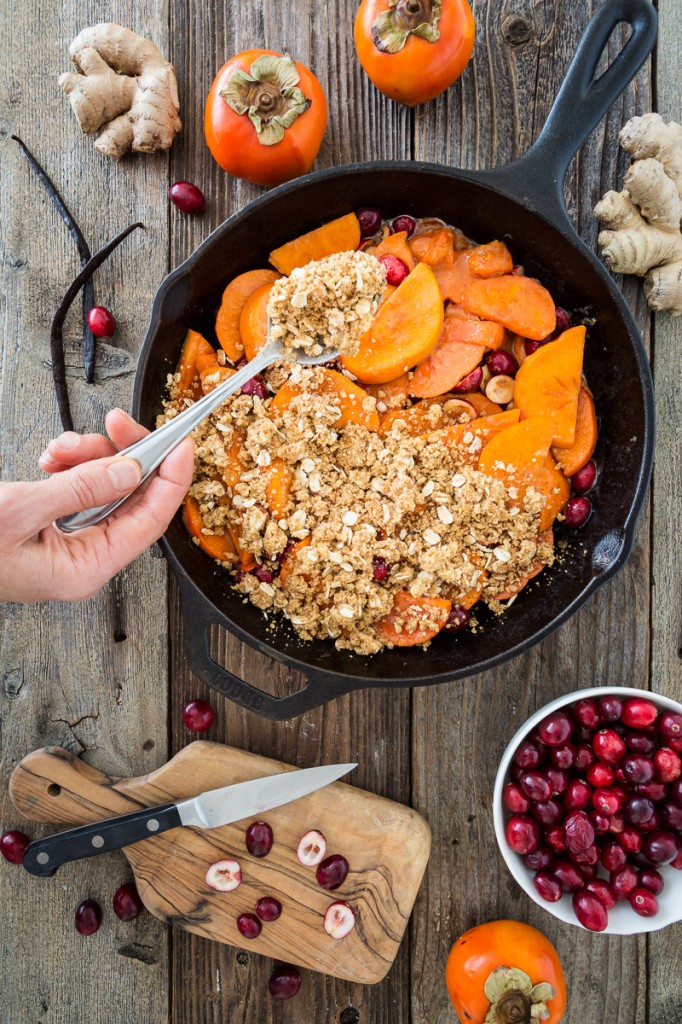 After it has baked and your house is smelling like some sort of holiday baking wonderland, you can serve yourself a hot, steamy serving fresh from the pan, with fruit juices running and those crisp, vanilla-scented crumbles perched atop the juicy persimmon and cranberries and top it with a dollop of freshly made coconut whipped cream. This is one of those times when it's not too good to be true. It's actually that good.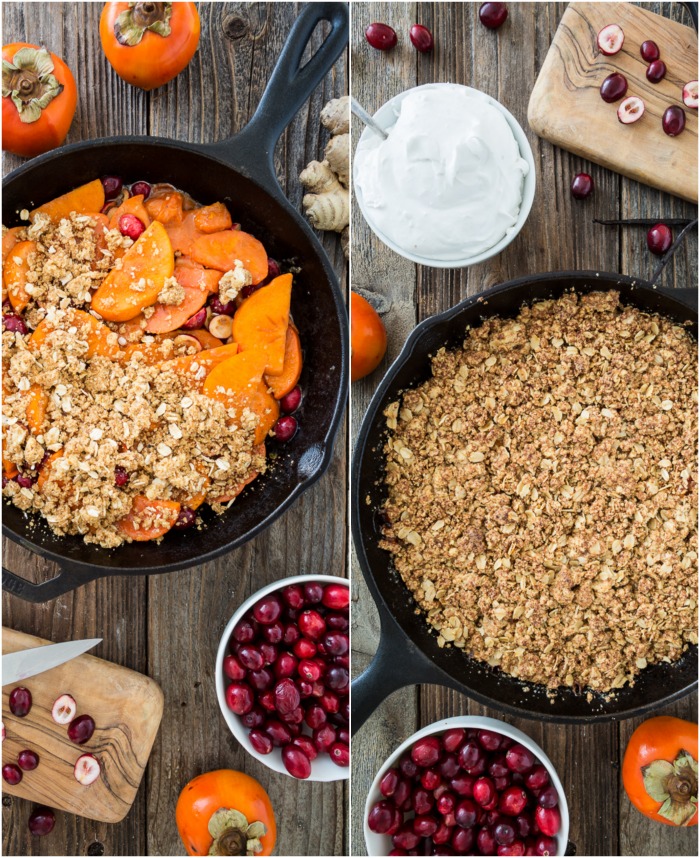 I have absolutely no self-control when it comes to this dish. One night, my eyes were bigger than my stomach and I fixed too large of a portion. Did being full stop me from finishing it? No. Did I go to bed with a tummy-ache, begging Chris to never let me eat that much again? Yes. True Story.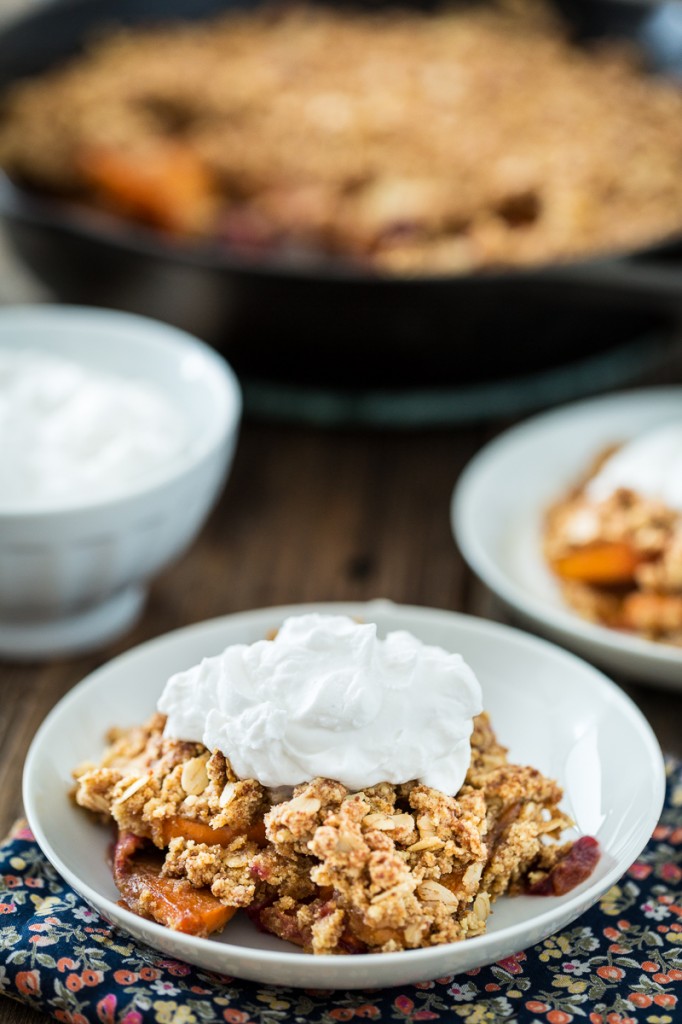 Let's talk about the flavor combinations in this mouthwatering dish. Fuyu persimmons are simply sweet and have an almost creamy-flavor to them. They're best when firm and crisp but definitely do not get them confused with Hachiya persimmons! Those are best when they are super soft and mushy. If you try to eat them before they're super soft, your tongue will hate you for it. When the subtle flavor of the Fuyu persimmon is combined with the tangy trio of cranberries, lemon, and ginger, you get a mixture that is a perfect balance of both sweet and tart. Then pair THAT with the buttery, crumbly, cinnamon, vanilla crisp topping and you've got a dessert that you will need seconds of.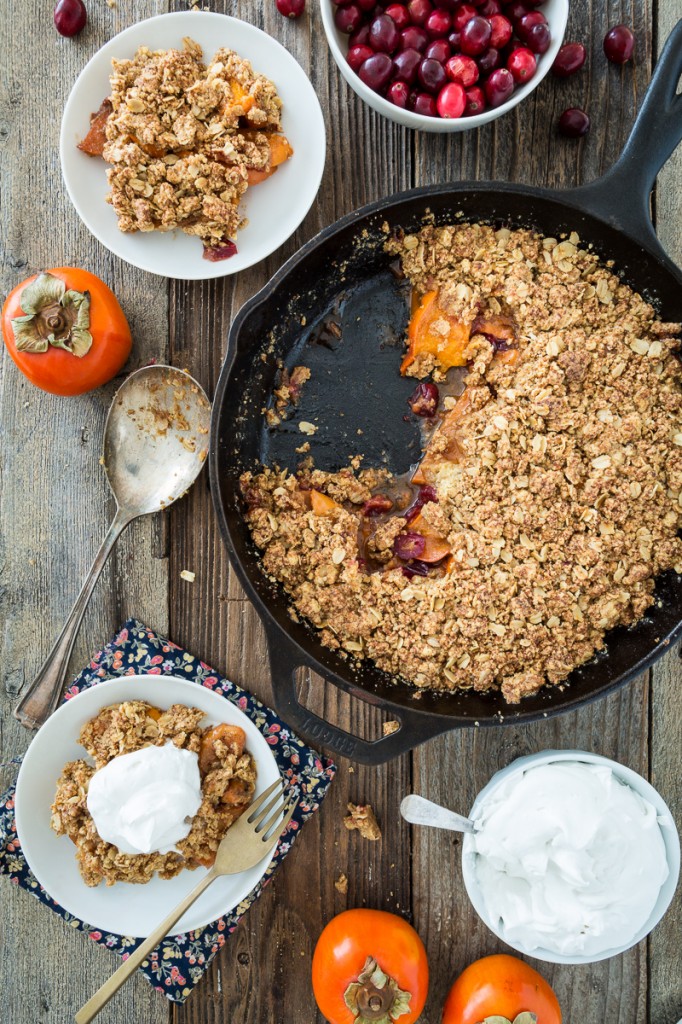 Cranberry Persimmon Crisp with Vanilla Bean Topping
Ingredients
6 persimmons, tops trimmed, sliced into half moons
1 cup fresh halved cranberries
1-inch knob of ginger, peeled and grated
3 tablespoons coconut sugar
2 tablespoons lemon juice
1 tablespoon arrowroot powder
1 teaspoon lemon zest
3/4 cup oat flour (use certified gluten-free if necessary)
1/2 cup corn flour
1/4 cup brown rice flour
8 tablespoons cold vegan butter
1/2 cup oats
1/2 cup coconut sugar
1/2 teaspoon salt
1/2 teaspoon cinnamon
scrapings from the inside of 1 vanilla bean

coconut whipped cream (optional)

one 14.5-ounce can coconut milk (I like Trader Joe's canned Coconut Cream), refrigerated overnight
1 tablespoon powdered xylitol (or powdered sugar)
1/2 teaspoon vanilla extract
Instructions
Preheat the oven to 400 F. Lightly spray a 10-inch cake pan, pie pan, or cast-iron skillet with cooking spray.
In a bowl, combine the filling ingredients and stir until combined. Pour into the prepared baking dish.
In another bowl, whisk together the oat flour, corn flour, and brown rice flour. Cut in the butter until no piece is larger than your pinkie nail and the mixture has a texture of wet sand. Stir in the oats, sugar, salt, cinnamon, and vanilla bean, taking care not to mix too much. You want it to be clumpy but evenly distributed. Pour the topping out over the fruit and spread evenly. Place in the oven and bake for 30 minutes or until the topping is crisp and golden. Remove from the oven and let rest for about 5 to 10 minutes before serving.
While the crisp is cooling, prepare the whipped cream. Remove the can from the refrigerator and use a can opener to open. Carefully spoon out all of the solid coconut cream into a large bowl, leaving the coconut water at the bottom of the can(if you're into coconut water, you can totally keep it and use it for something else). Add the powdered xylitol/sugar and vanilla extract to the bowl and use hand mixers (fitted with a whisk attachment, if possible), and mix on high speed until it has the texture of whipped cream. Transfer the bowl to the refrigerator until ready to serve.
Serve each serving of crisp topped wiht a dollop of whipped cream. Both will keep, refrigerated, for 2 to 3 days. Enjoy!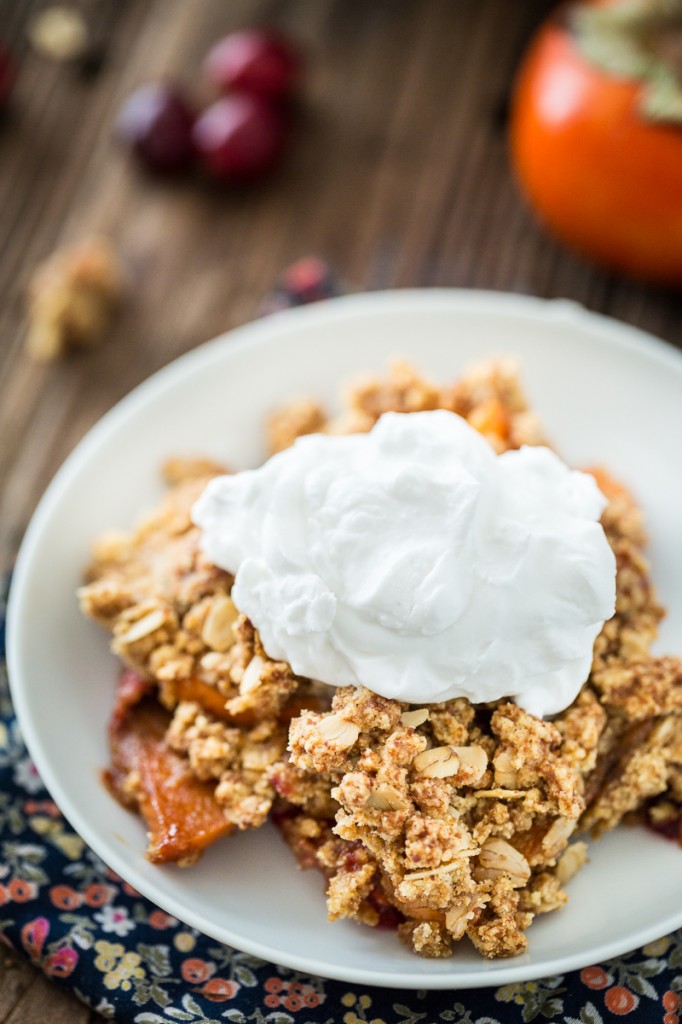 Congrats to Deanne O'Donnell, the winner of the Lily's Dark Chocolate Giveaway! Thank you to everyone who entered!
Really though- Are "side desserts" a thing? Because they totally should be...
Photography by Chris Miller