Before we went on vacation, I had this fantasy of lounging poolside with a tropical cocktail in hand, reading a book.  It just sounds like part of the classic tropical vacation, right?
The only part that actually happened was that I lounged poolside.  Our first day to lounge by the pool, we picked up the poolside menu and I remembered that I actually don't like cocktails.  My 26 year old-self would be shocked to hear me say this.  I haven't had hard alcohol in over 3 years.  I don't like the way hard alcohol, mixed with sugary concoctions, makes me feel for the twenty-four hours after drinking it.  On the very, very rare occasions that I actually do imbibe, it is just vegan wine for me.  So I just drank water.  Water, my book, and the pool.  Except that I didn't read my book.  I cannot pleasurably read for any length of time without my reading glasses, and because my sunglasses took first priority in the hot sun, the book sunbathed right alongside me.  It was absolutely perfect.
When I got home, I decided to recreate that fantasy, in a way, and make my kind of tropical drink- a healthy, green smoothie.  I used frozen pineapple, but fresh would work as well, which made the whole smoothie very citrusy sweet.  I added tahini because I felt it would pair better than peanut butter, and boy was I right!  The tahini was less nutty added a sort of richness to it that peanut butter lacks and with collard greens as part of the base, it was super nutritious.  So I got my tropical drink, some of my favorite reading material, and headed out to our front porch to lounge, my way.
TAHINI PINEAPPLE SMOOTHIE
makes 1 large smoothie
Ingredients:
1 cup almond milk (or other vegan milk)
1 frozen banana, peel removed
1 cup fresh or frozen pineapple, chopped
2 cups of loosely packed collard greens, stems/ removed, leaves chopped (or greens of your choice)
1 T tahini
1 T flaxmeal
½ tsp powdered stevia
2 ice cubes
Instructions:
Add all ingredients to blender, and puree until smooth.  Scrape sides as needed.  When it's done, there should be no little pieces of leaves floating around- it's completely smooth.  Enjoy!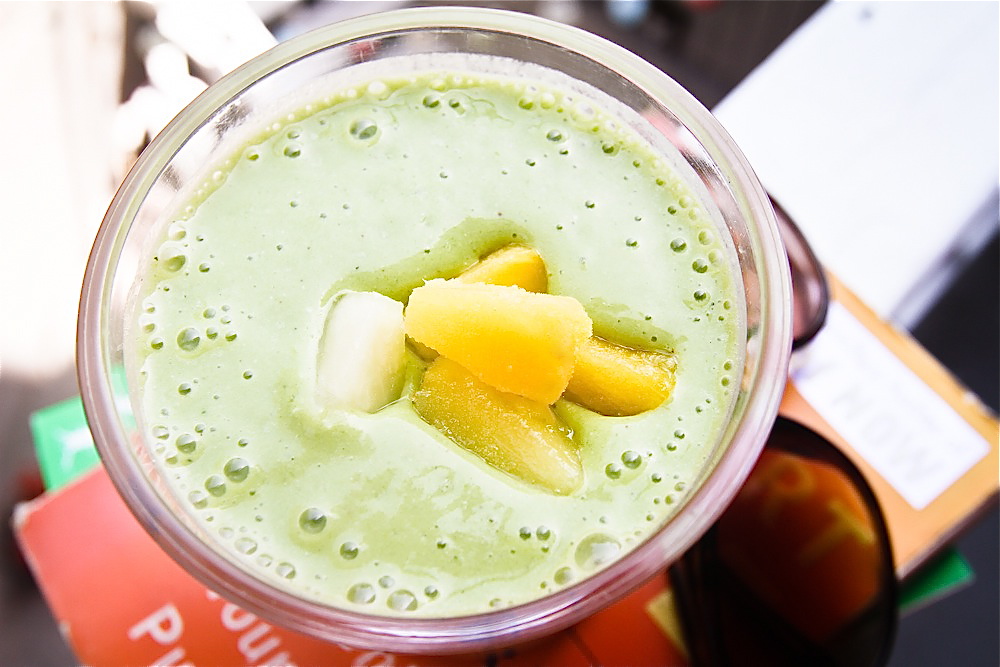 What's your favorite tropical drink?
All Photos taken by Kristy Turner

© Kristy Turner and Keepin' It Kind, 2012. Unauthorized use and/or duplication of this material (content and images) without express and written permission from this blog's author and/or owner is strictly prohibited. Excerpts and links may be used, provided that full and clear credit is given to Kristy Turner and Keepin' It Kind with appropriate and specific direction to the original content.