This part 2 of our trip to the Algarve Coast. To catch up, you can read part 1 here.
FARO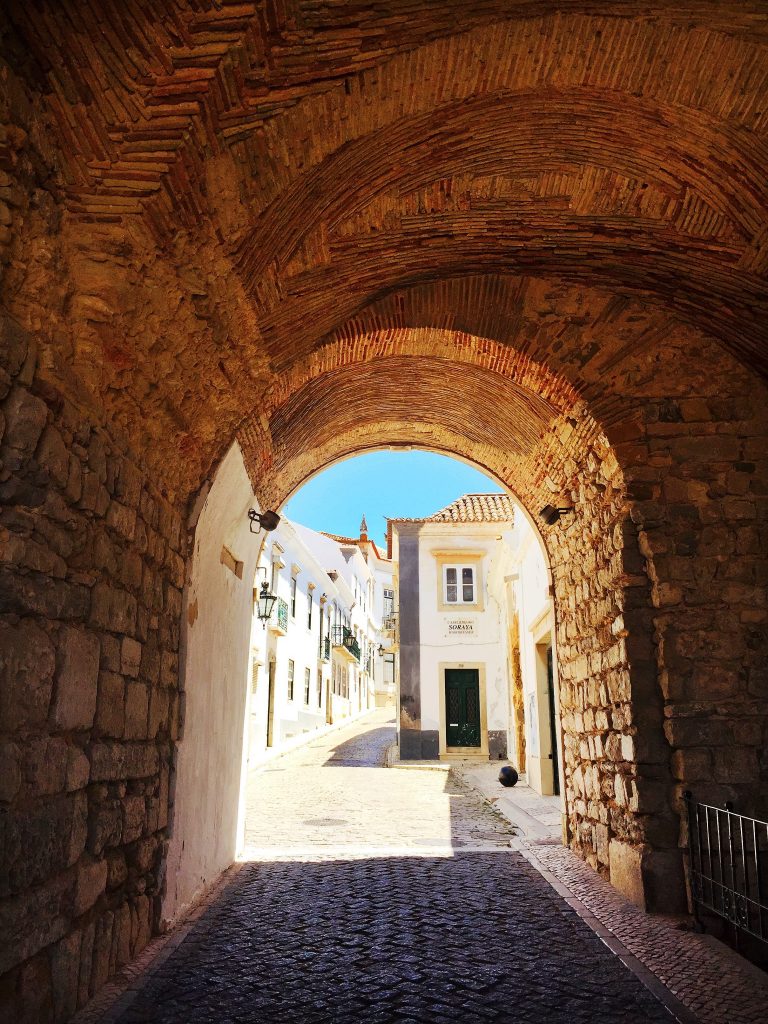 The next day, Chris was feeling even better so we decided to venture further away and check out the town of Faro. It's almost an hour away. Faro is the largest city on the coast, so I was expecting to not be too impressed by it, but I was quite surprised. Before we set out to explore, we stopped for lunch.
Travessa Da Mota, 10 (at Rua Santo Antonio), Faro  •  +351 28 988 2424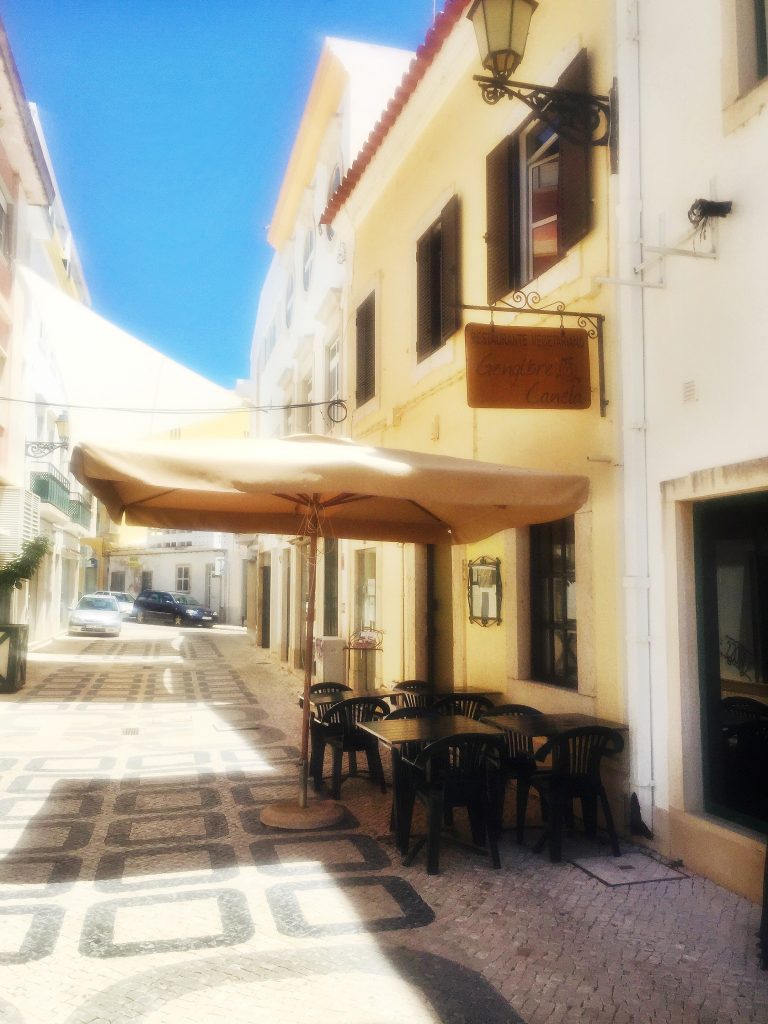 When we arrived, this restaurant was packed (always a good sign). We actually had to take a seat outside because there were no tables available inside. It's a buffet-style restaurant and everything was vegan. We went to town. I can't remember everything we filled our plates up with, but I know for certain they had vegan piri piri sauce to put on my salad. Chicken Piri Piri is a very popular dish in southern Portugal and Africa and they advertise it everywhere. I always like to try foods native to the area so I was excited to at least be able to try the sauce during my trip. It was very flavorful and just slightly spicy.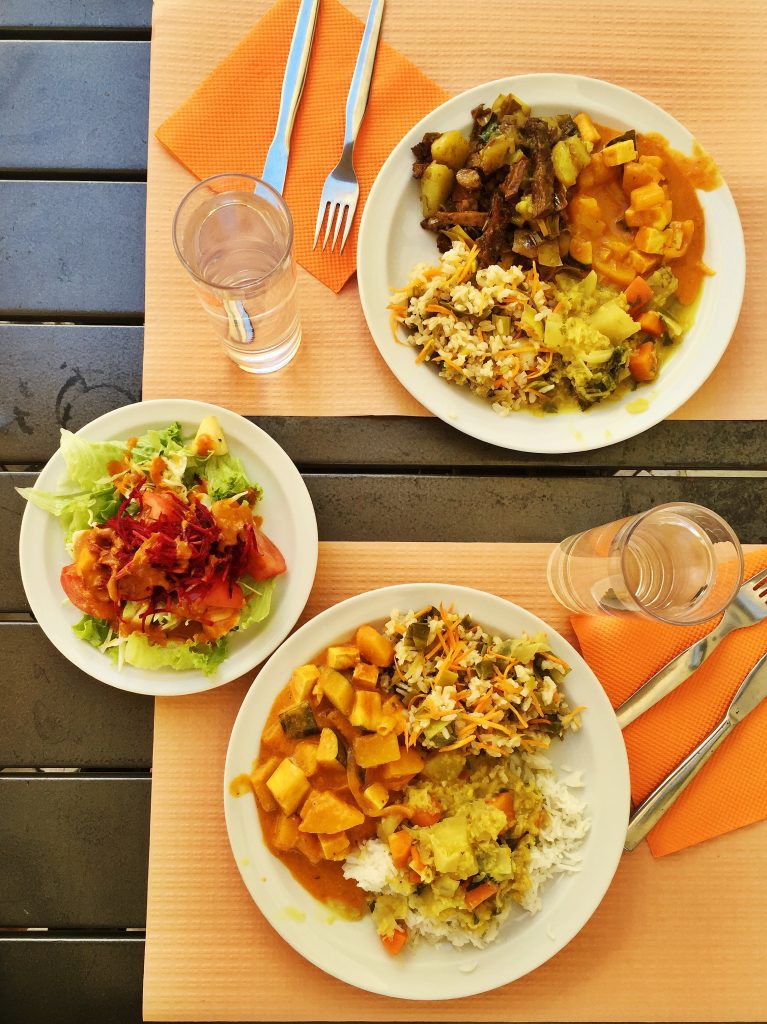 I also ordered the juice of the day, which was a pineapple, apple, mint sort deal. It was lovely.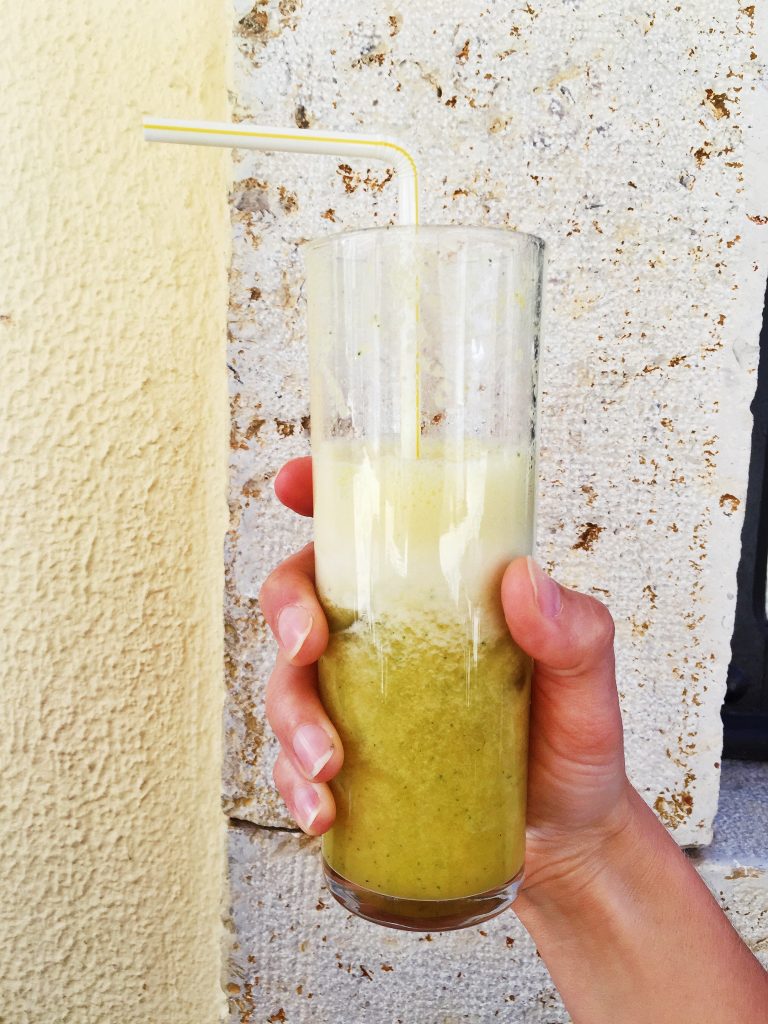 After lunch, we set out to explore the town of Faro. We walked down to the waterfront, where we noticed a grand entrance set in what seemed to be the city walls.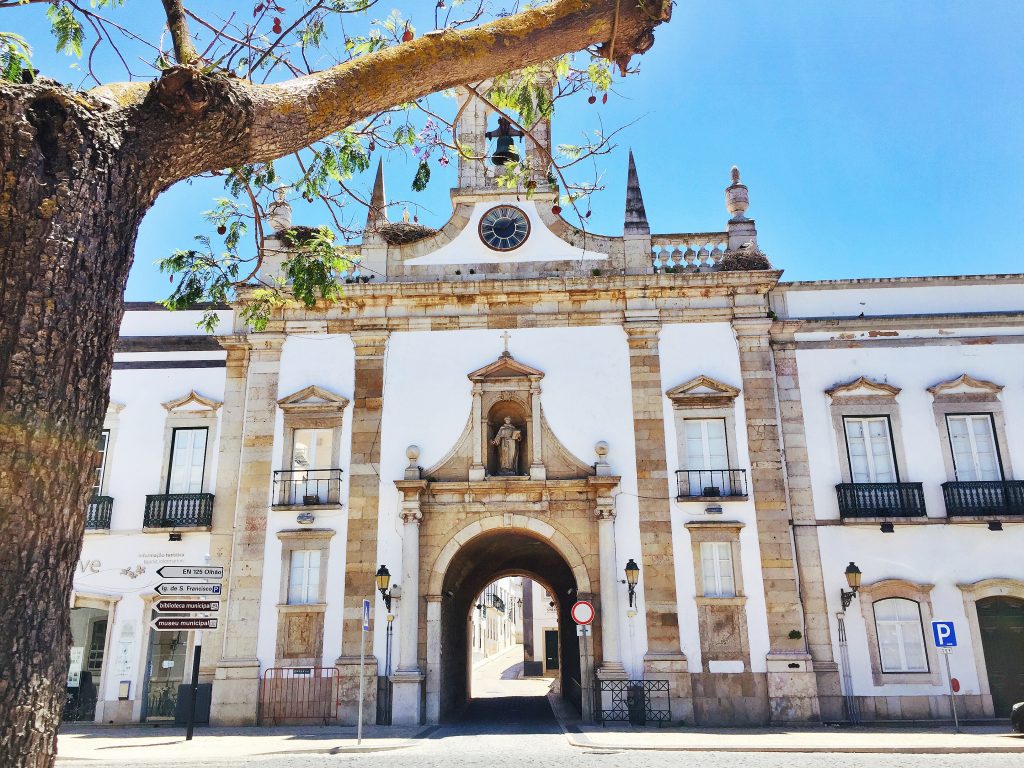 We walked through the entrance, which lead us to Faro's old-town. We spent at least an hour or so just wandering through the old town. It was amazing!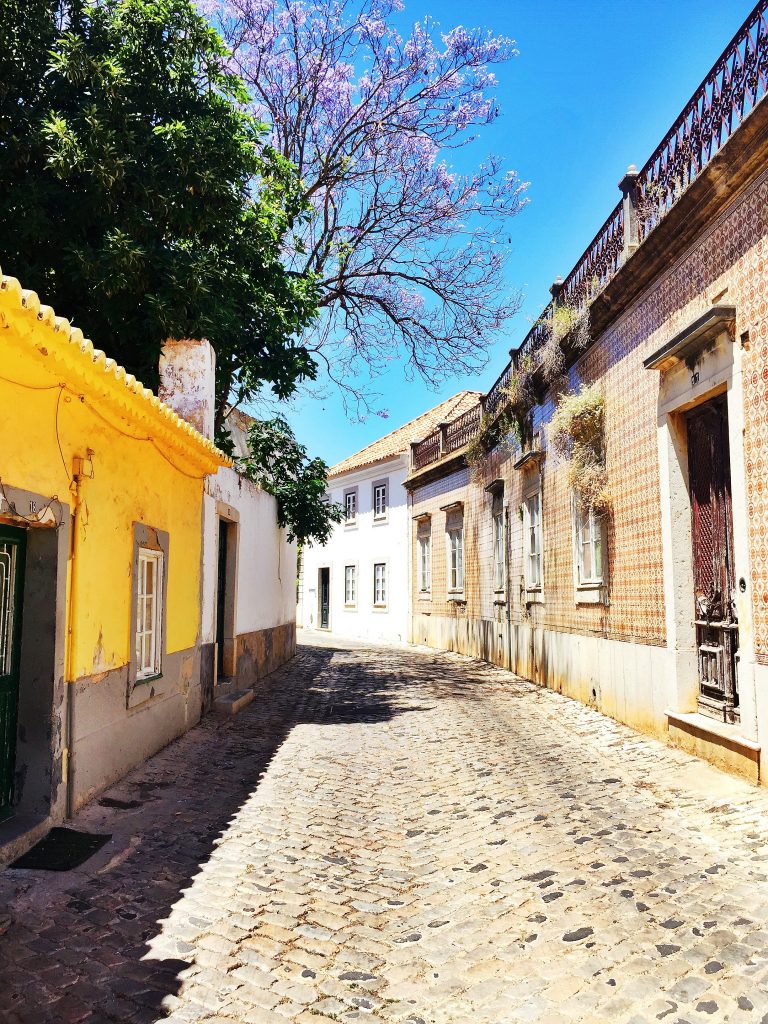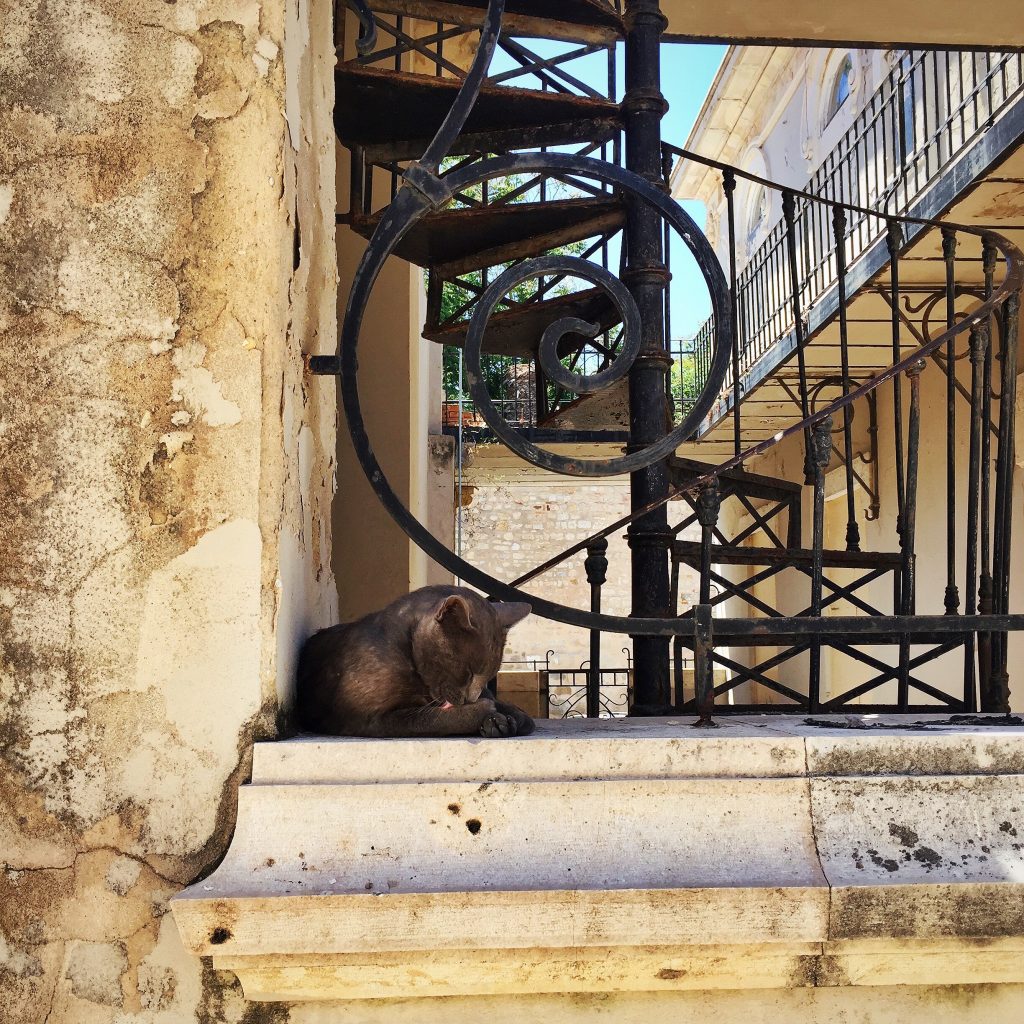 We also discovered the largest bird I've ever seen in person- the Algarve Stork. It's hard to tell in these pictures how massive and magnificent these birds were, but we were amazed. Even more amazing were the size of their nests! Holy moly! If you keep an eye out, you can see these birds with their gigantic nests perched atop many buildings in the city.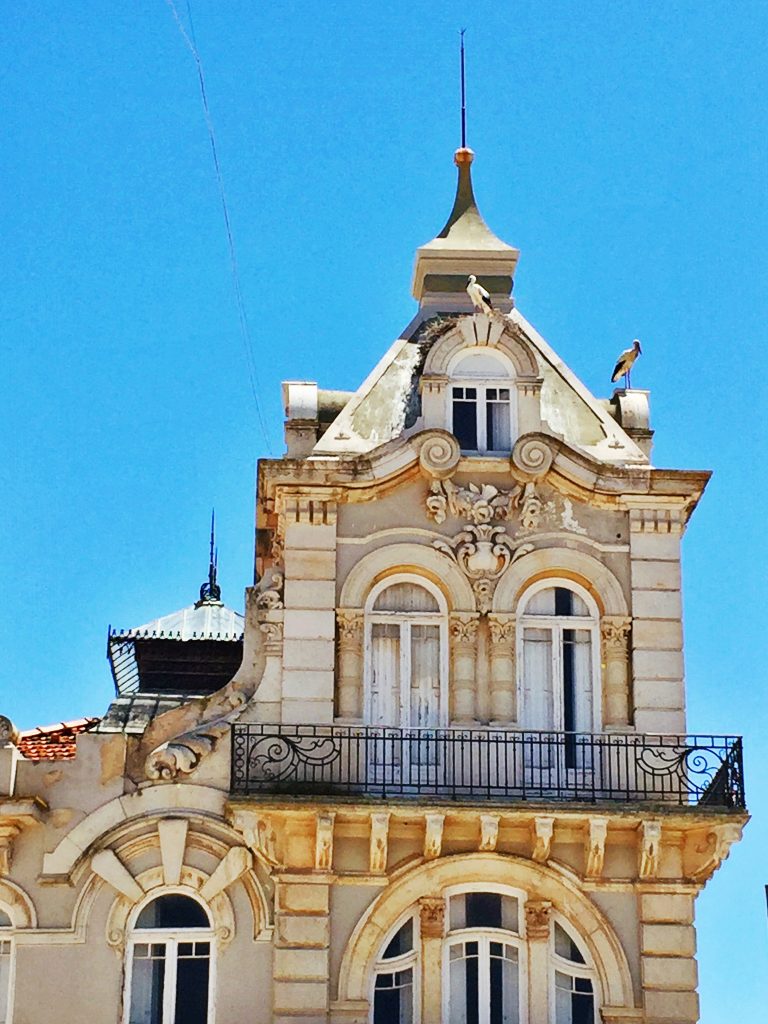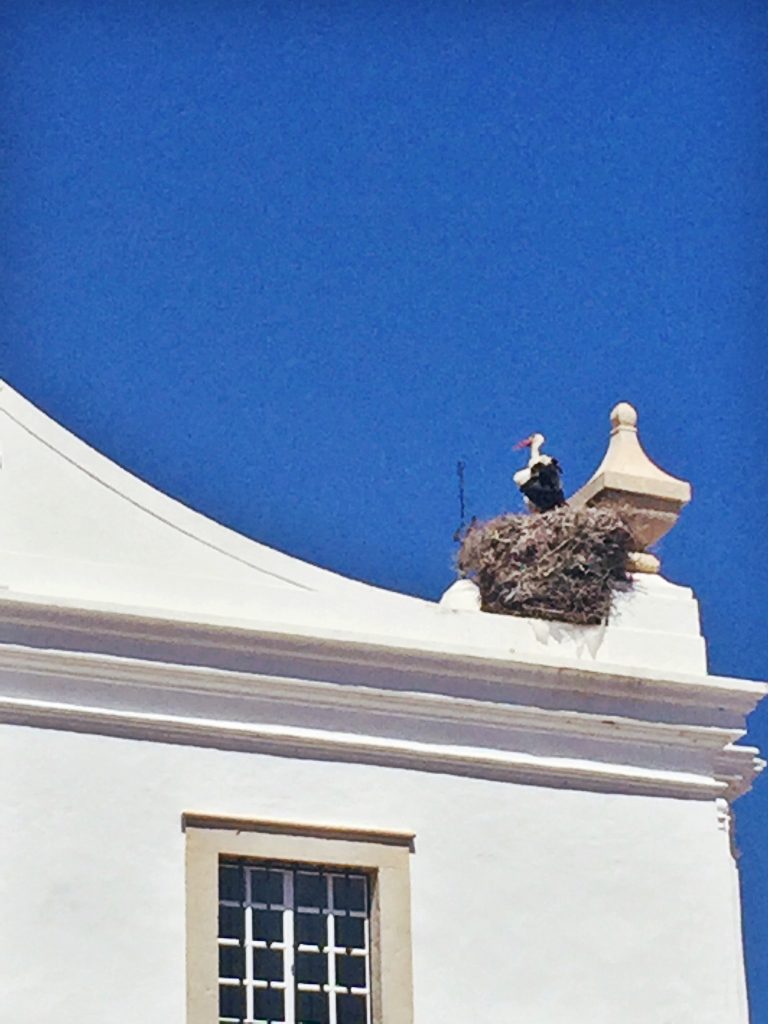 After a lot of walking, we decided we needed a little pick-me-up. I'd noticed earlier, on Happy Cow, that there was another vegetarian/vegan restaurant in town so we made our way there.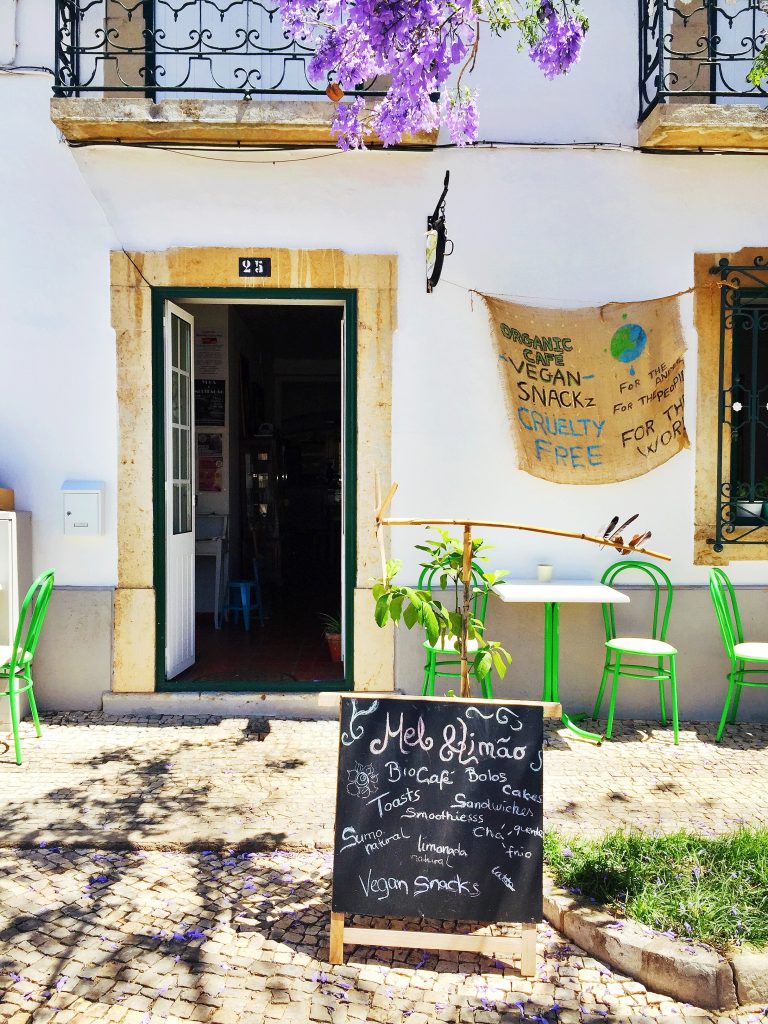 Largo pe da Cruz nr 25, Faro  •  +351 28 914 3522
Happy Cow classifies Mel & Limao as a vegetarian restaurant, but actually, it is 100% vegan! This was a lovely surprise to learn upon entering the adorable, slightly bohemian little restaurant (complete with posters of adoptable dogs!). Their menu looks wonderful and had me wishing I had enough of an appetite for a complete meal, but alas, we chose almond milk cappuccinos and chocolate mini bundt cakes. Both were divine.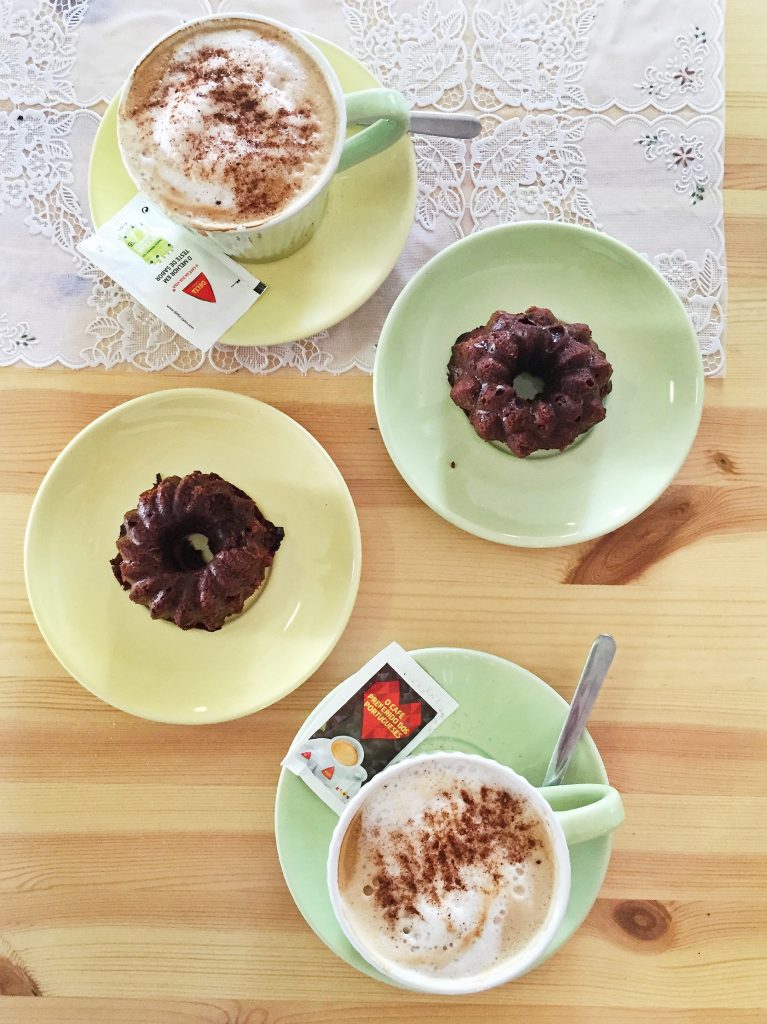 After our refreshments, we walked around Faro for just a bit more before deciding to move on to a town nearby that I'd heard was gorgeous and also had vegan gelato. But I'll get to that shortly. After our gelato, we stopped at a vegetarian grocery store to pick up a couple things for dinner that night at the compound.
QUARTEIRA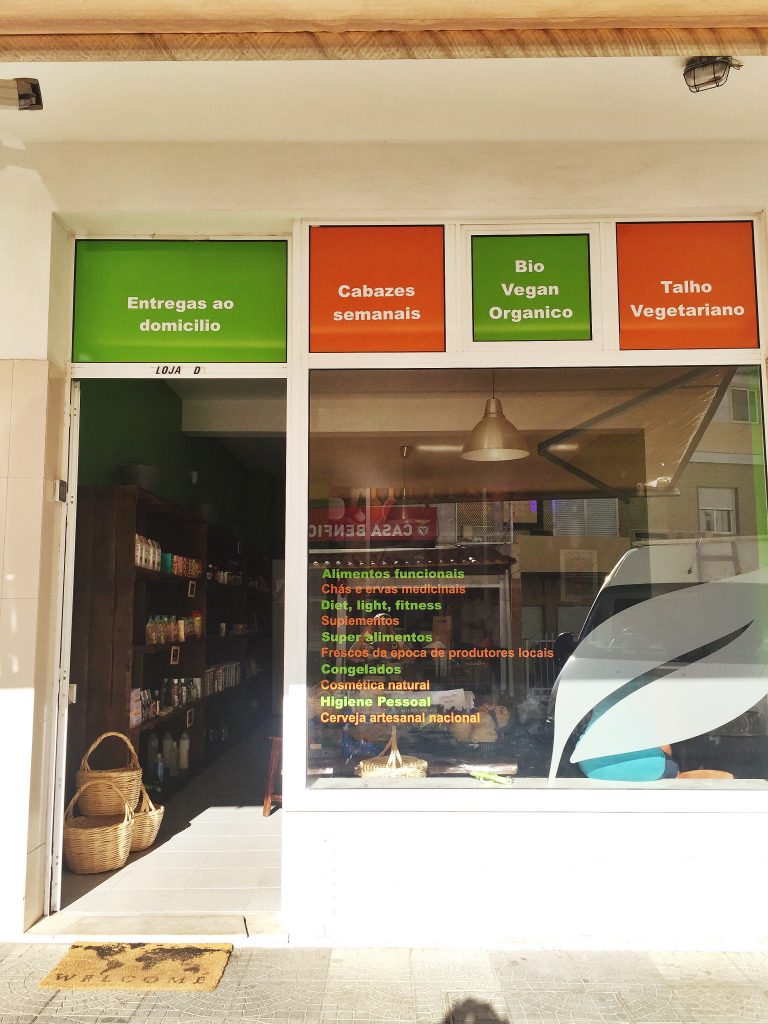 Rua da Cabine, Edificio Canoa, Bloco B loja D, Quarteira  •  +351 28 930 1144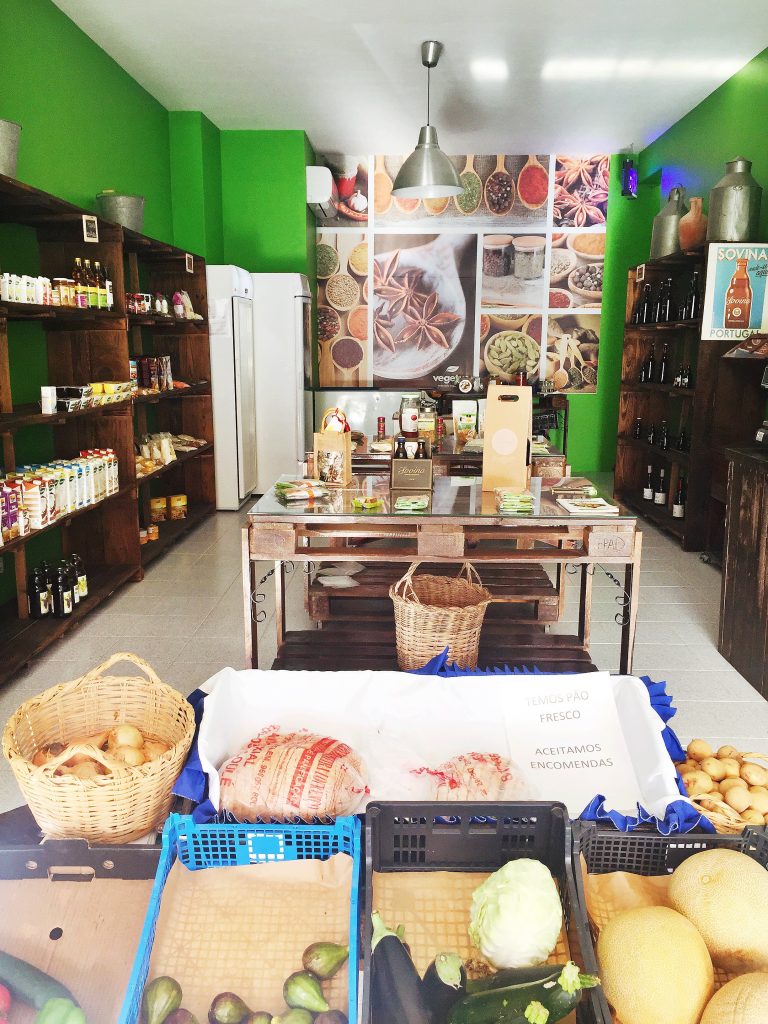 Vegetus Mercearia Vegetariana is a wonderful little vegetarian grocery store, with plenty of vegan items on offer. Although small, you could certainly put together a full meal or more with items from this store. They have fresh produce, bulk bins for beans, a petite refrigerator with many vegan goods, such as tofu, seitan, yogurt, and butter, a freezer with plenty of easy-to-prepare meal options, and plenty of shelves with other staples. The owner is very nice and though they've been open for less than a year, he has big hopes of supplying people with cruelty-free options.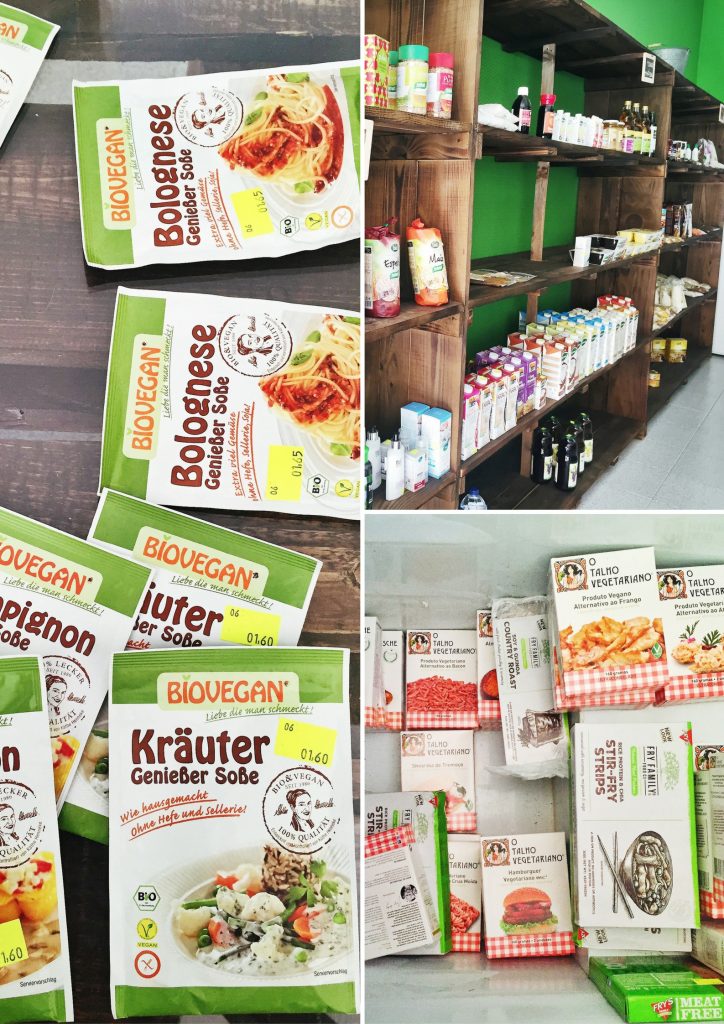 We picked up a couple things and went on our way. Quarteira is a town about halfway between Faro and Albufeira. It has a gorgeous beach with a wonderful wood-plank walkway, leading to a few small restaurant/cafes right on the beach. After our shopping excursion, in attempt to see more of Quarteira, we came across this beach and its lovely walkway and we had to explore. We settled into one of the cafes for a glass of wine and some olives, just in time to watch the sunset. I was so caught up in the moment that I forgot to take pictures.
TAVIRA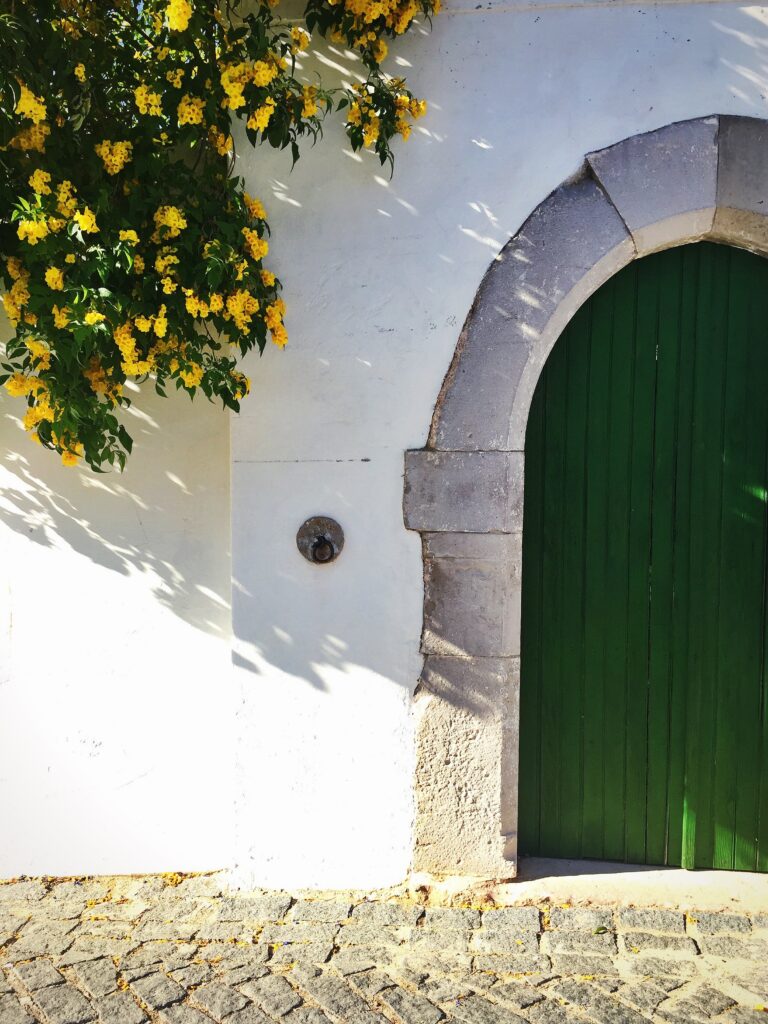 After our afternoon in Faro, we decided to make the quick drive to Tavira, a town very close to the Spanish border and remains fairly untouched by tourism. It's authentic, beautiful, and completely unassuming. As we drove through, we were in awe with every turn we took. So much beauty! Everywhere!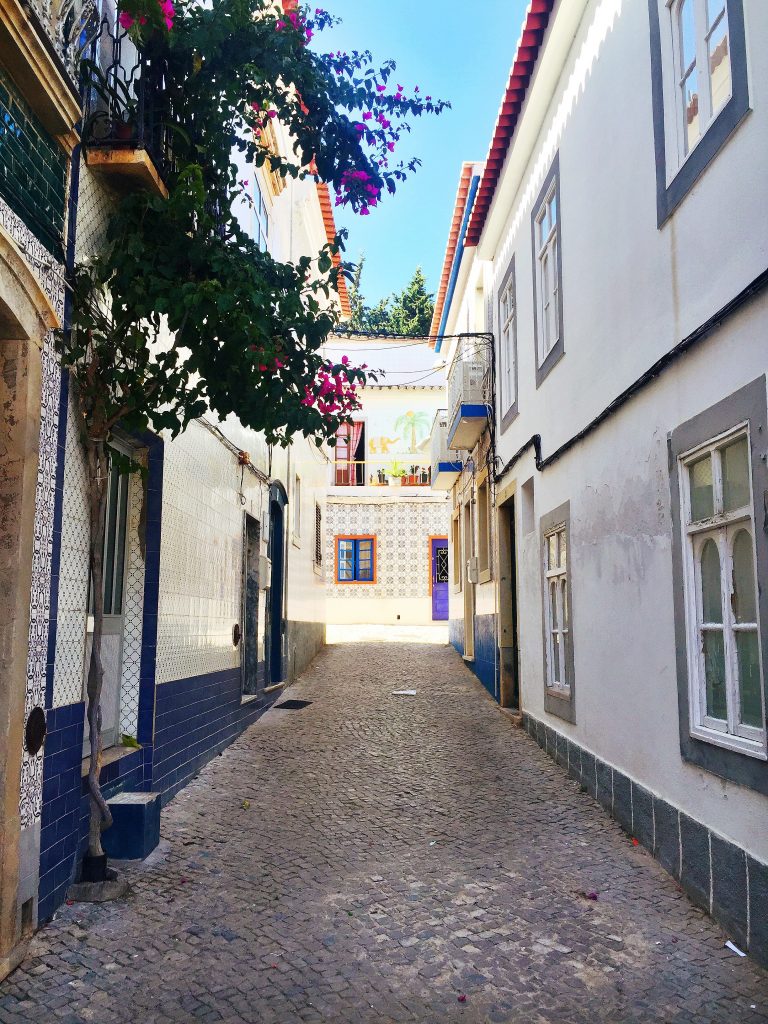 We'd seen on Happy Cow that there was vegan gelato to be had in Tavira so we made that our first order of business. It was also getting late in the afternoon and we were exhausted so we just wanted to make this a quick trip. Unfortunately, this was the one time that Happy Cow led us astray, literally. We entered the address into google maps and it led us to park on one side of the river where we could park, cross the bridge, and then arrive at our destination. Once we crossed the bridge, we were in a nice park adjacent to a strip of various shops and restaurants. The address, as shown in google maps, showed that the gelato shop was in one of these shops, but in reality, it was not.
So we resorted to using the map provided to us by Happy Cow. Which led us back over the bridge and to a location about 15 minutes (walking) past where our car was parked. During our walk, we came across a very elderly woman sitting outside of a church with her dog. Except her dog was my now-deceased dog, Samantha's twin. I mean, identical twin. I have a hard time resisting petting every dog I meet as it is, but this time I needed to pet this dog with a fiery passion I cannot explain. It was as if every fiber of my being was telling me that I could connect with Samantha just for a moment by petting this dog. I approached the woman and I asked "Posso?" (which is "pet" in  Portuguese, a phrase I learned earlier in the trip) while motioning with my hand that I wanted to pet the dog. She said "No. Ten euro" and held up all ten digits to show she meant business. I thought, surely she must not understand. "I just want to 'posso' your dog," I said while doing the motion again and pointing at Samantha's twin. She held up all ten fingers again and Chris grabbed my arm and said "Let's go." I looked at Samantha one last time before we walked away, but I waited until we'd turned the corner before I promptly burst into tears. I was exhausted, I missed my dogs at home, I missed Samantha more than ever, and we couldn't seem to find this fucking gelato place, and now I was crying like a baby in the middle of the street. Chris held me while I sobbed "I just wanted to pet that dog," blubber, blubber, blubber, "... Samantha...," more blubbering. Chris said "I know, honey. I know. I love you so much but we can't pay ten euro just to pet a dog." I knew he was right, and I was thankful that he was being the sane, logical one in the relationship, but I was still devastated. After I wiped away the last of the tears, I was more determined than ever to have some vegan gelato. So we continued towards our destination.
Except, once we arrived where the Happy Cow map indicated that it was located, we were in the middle of a newish, residential neighborhood with no storefronts in sight. So we walked back to our car. In a last ditch effort, we decided to check across the bridge again and see if we saw anything or at the very least, get something cold to drink. As soon as we stepped off the bridge and into the park, we saw it. Right there in front of us. In the middle of the friggin' park.
Largo Dr Jose Pires Padinha (at Public Garden of Tavira), Tavira  •  +351 96 552 5387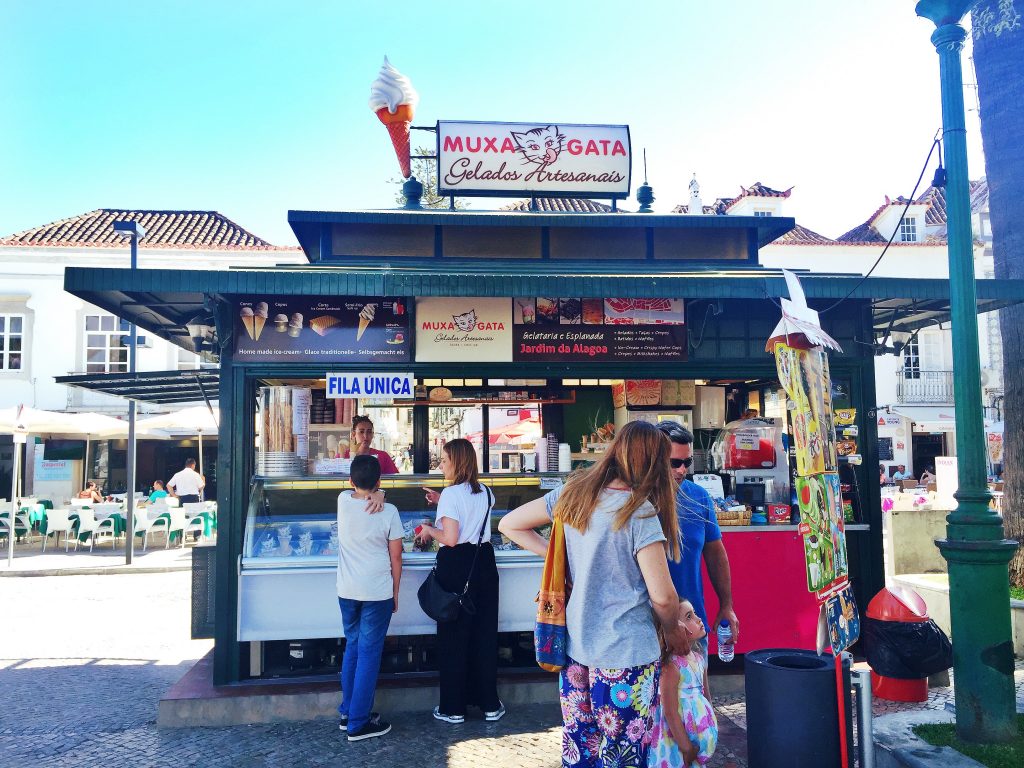 After carefully re-reading the Happy Cow description, we noticed that it does say that Muxagata Gelados is "located in the park, across from Buondi Cafe," but it doesn't mention that it is a cart-type thing and not a brick and mortar situation. So the address was correct, but the map was very wrong. But at this point, we didn't care anymore. We just wanted some vegan gelato.
Once I got to the front of the line, I asked the woman working there which flavor was their vegan flavor for the day. She pointed the a chocolate mousse-looking ice cream and said "No sugar." I said "Okay, but does it have any dairy?" She said no and proceeded to prepare two cups of gelato. As she was finishing up the second cup, just before I handed her the money, I noticed another gelato that had a sign that said "No dairy." So I asked again "Are these vegan? Do they have dairy?" She looked confused and asked the other woman working there. The other woman confirmed that that flavor was not vegan and the one I had just noticed was. So she prepared two cups of vegan chocolate gelato for us with a scowl on her face.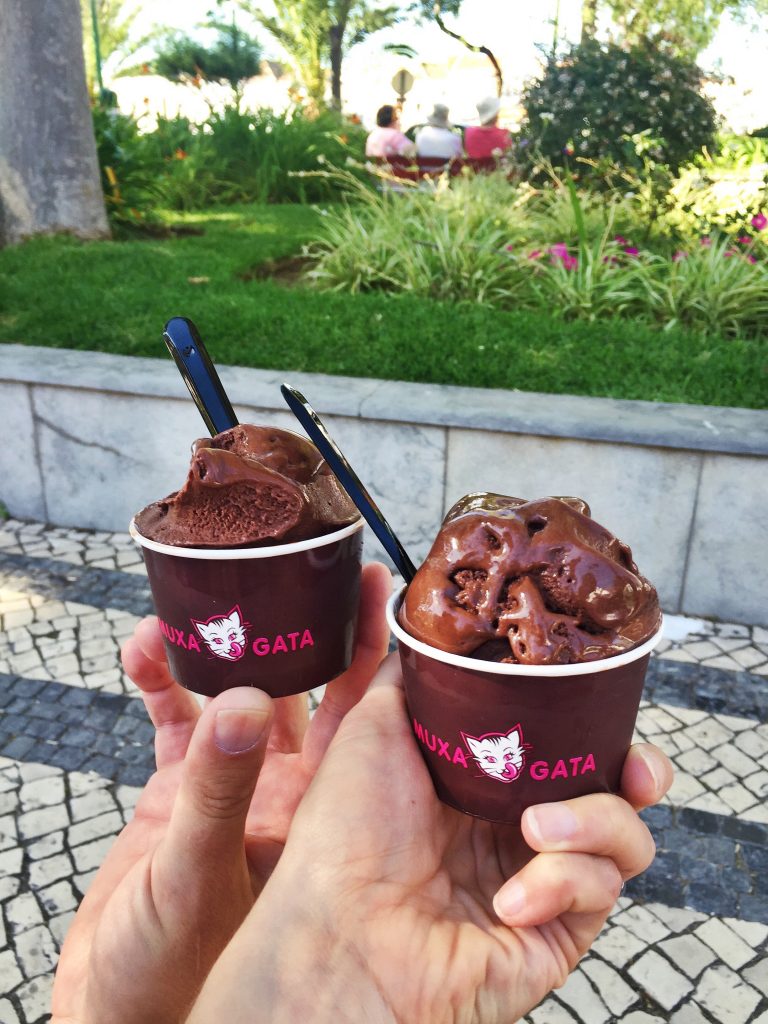 The gelato was wonderful- very rich and creamy and made with oat milk! After sitting in the park, enjoying our hard-earned gelato, we decided that we would come back the next day to explore more of this lovely town. We got gelato again the next day, but this time we were much more careful to find the vegan flavor (mango and green apple sorbets).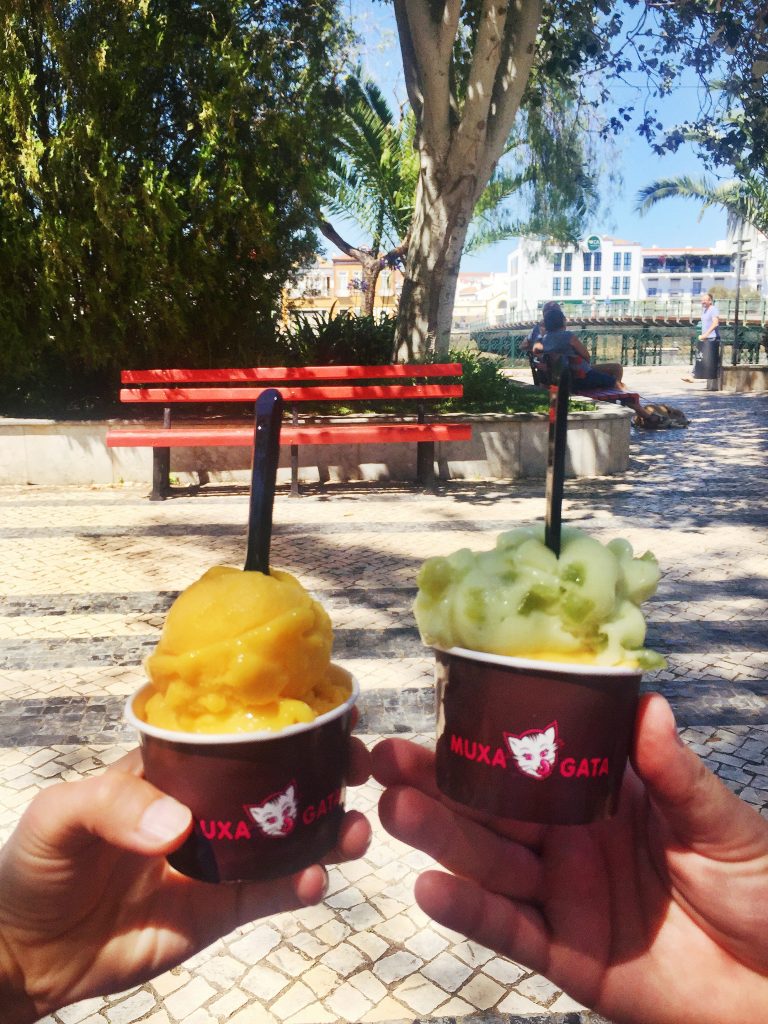 Rua Dr Jose Pires Padinha, 180, Tavira  •  +351 96 434 8856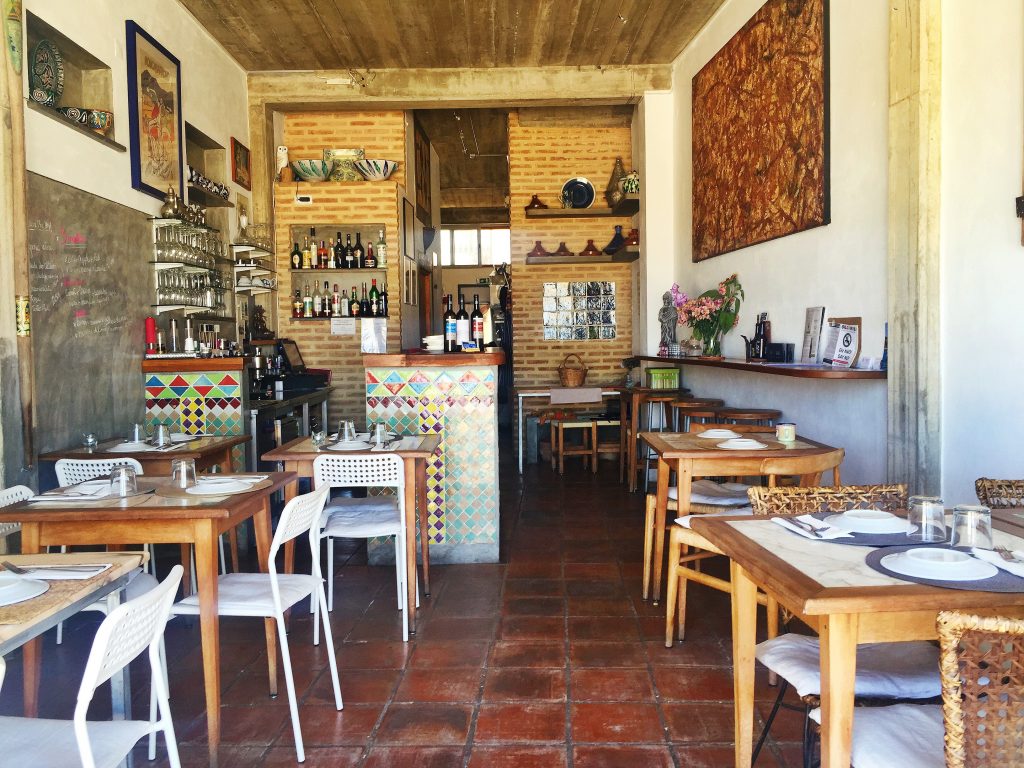 For lunch on our last day in Portugal, we went to Bistro 'O Porto, a vegetarian restaurant in the town of Tavira. It's actually located very close to the park where the gelato cart is, so this time it was very easy to find. The menu is pretty small but the waitress was very knowledgable and explained which items were vegan or could be made vegan (with the removal of cheese).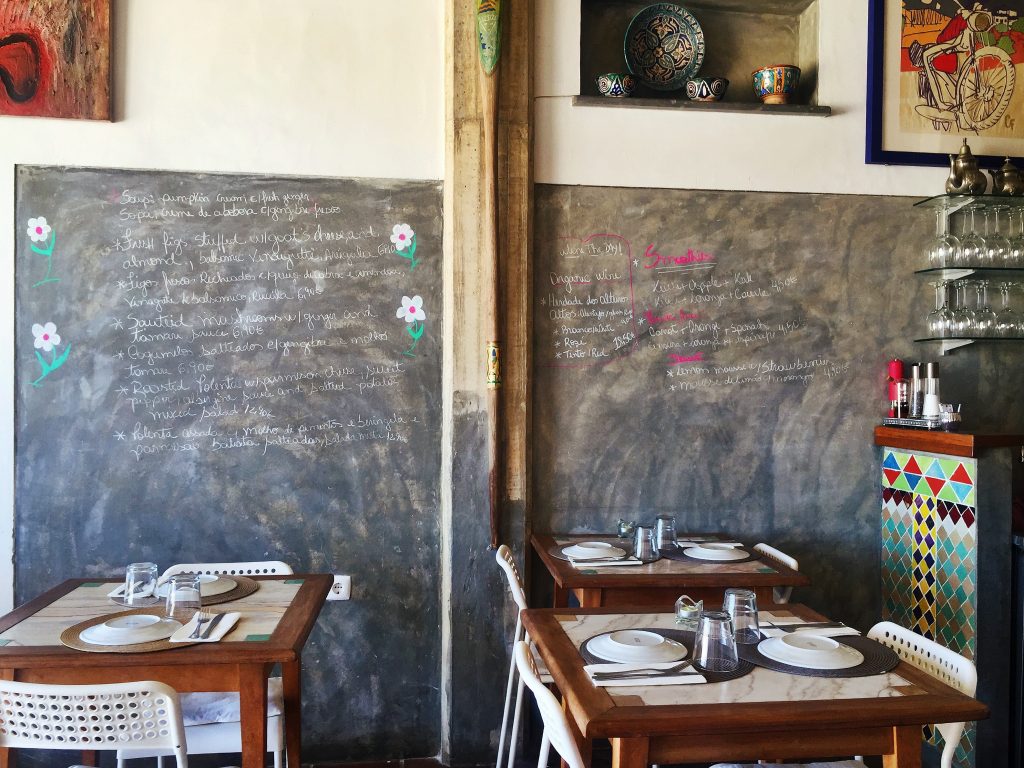 We went with the mushrooms, cooked with ginger and tamari, and roasted polenta and potatoes (without parmesan cheese).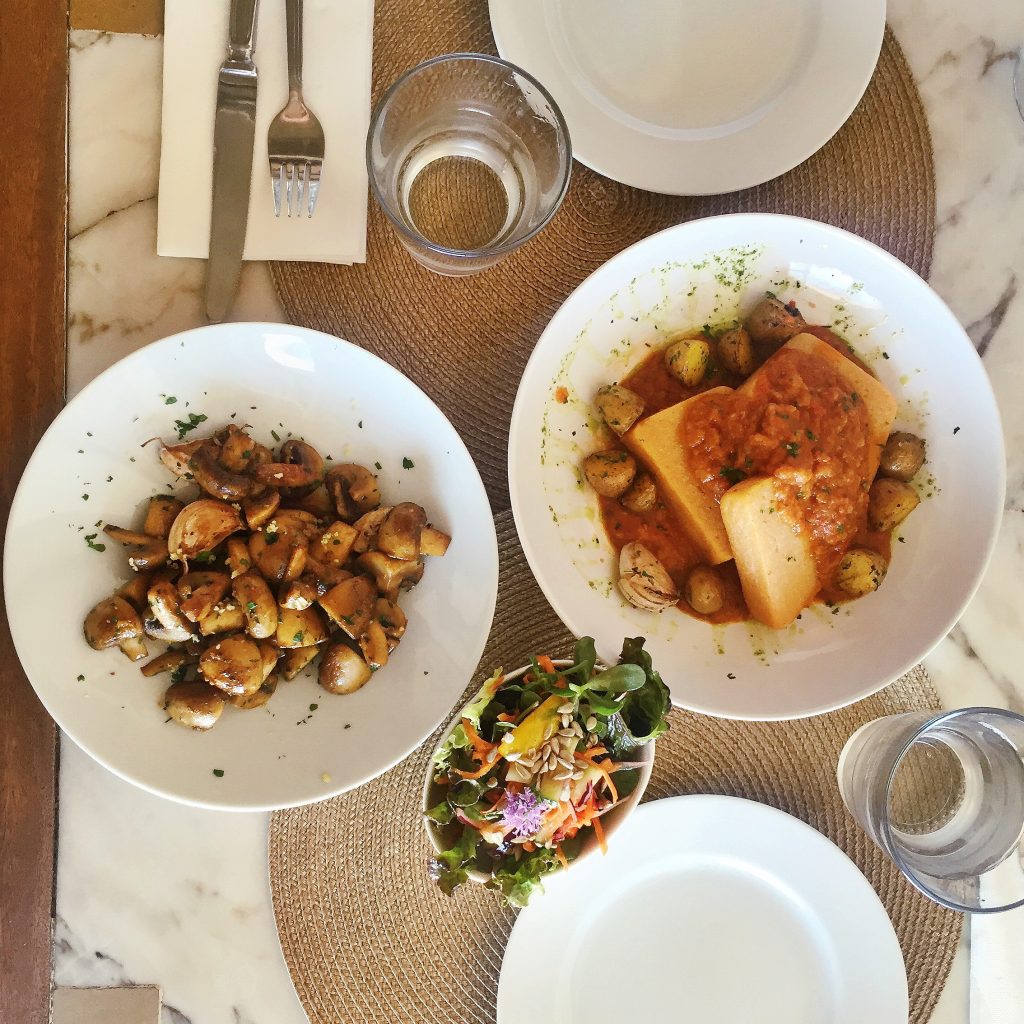 Both were pretty good but I feel like they may've been slightly overpriced. Then again, to be the only vegetarian restaurant in town, offering quality food, you can probably get away with charging higher prices. We were very satisfied with our meal and set out to explore the town of Tavira.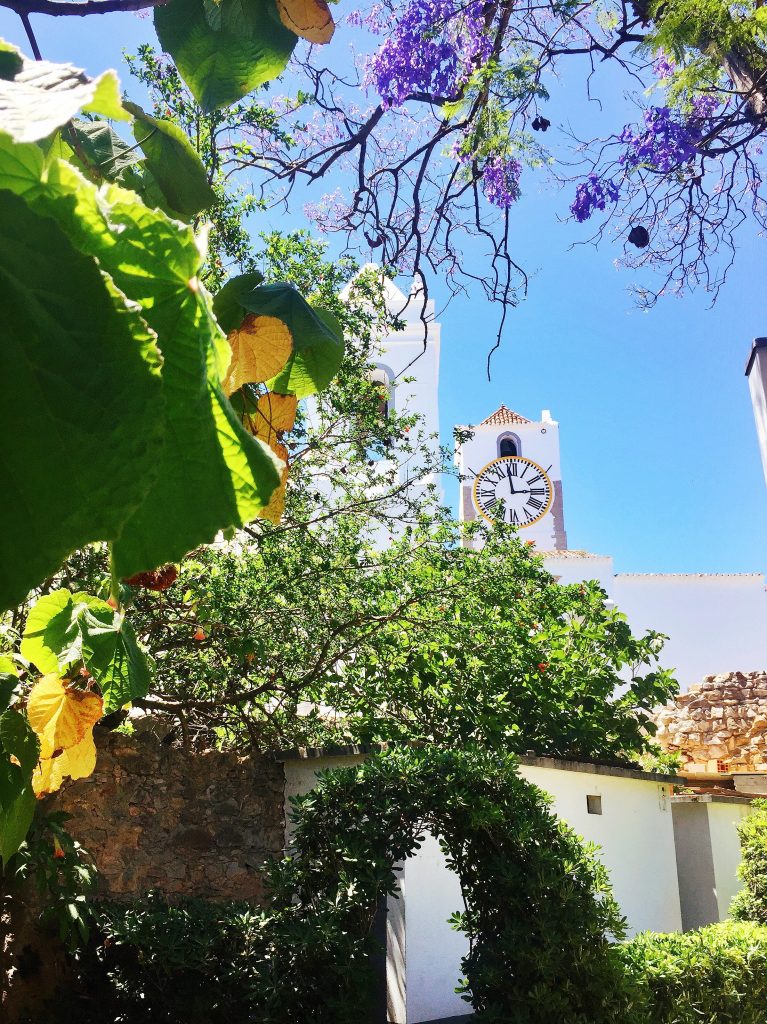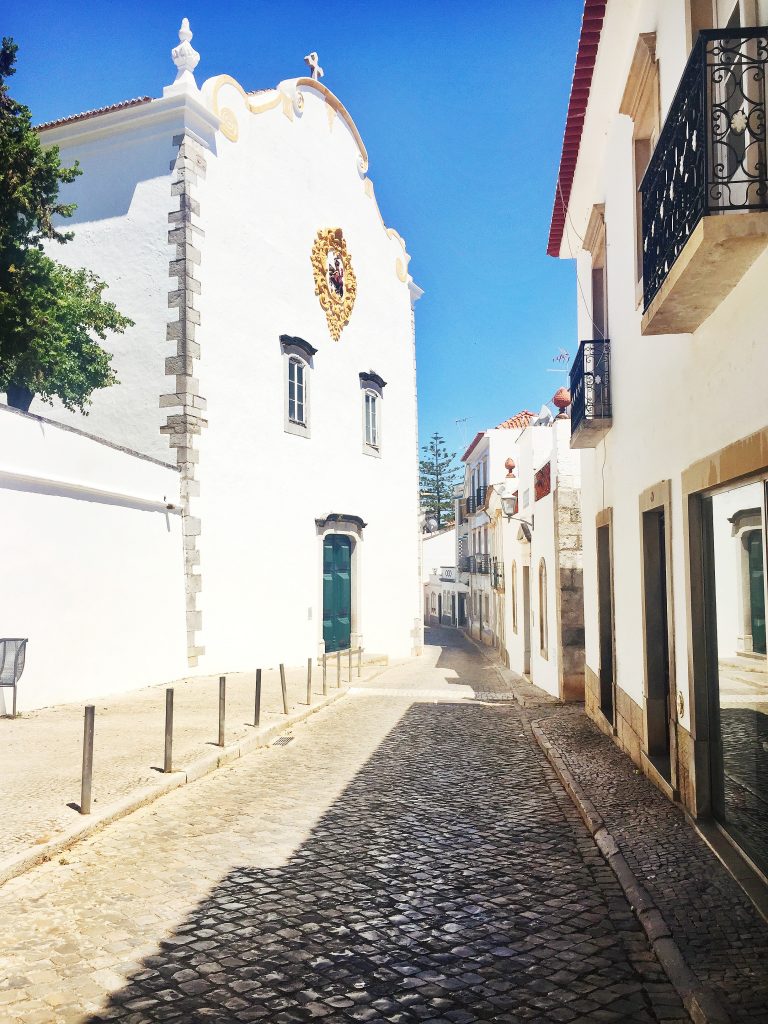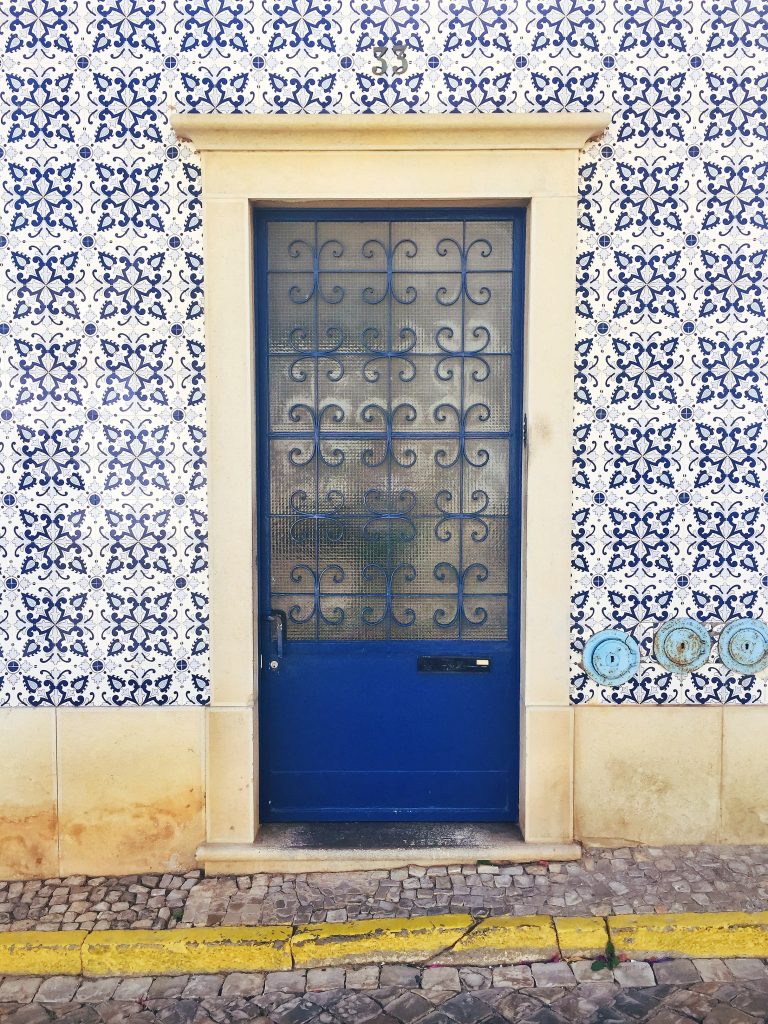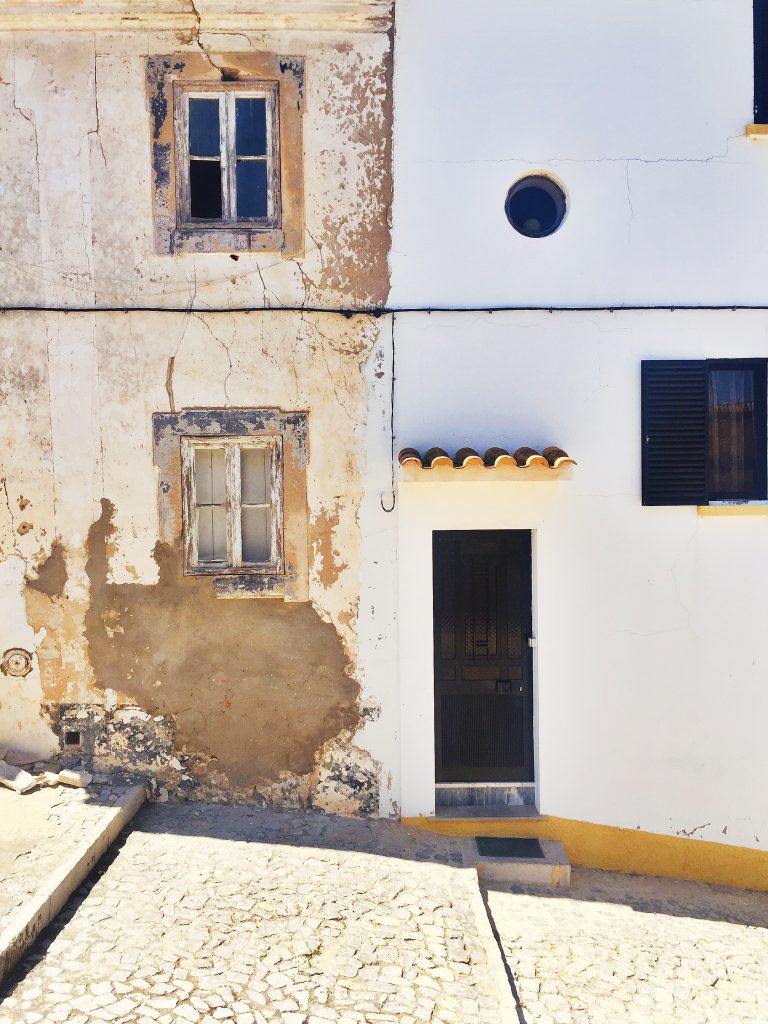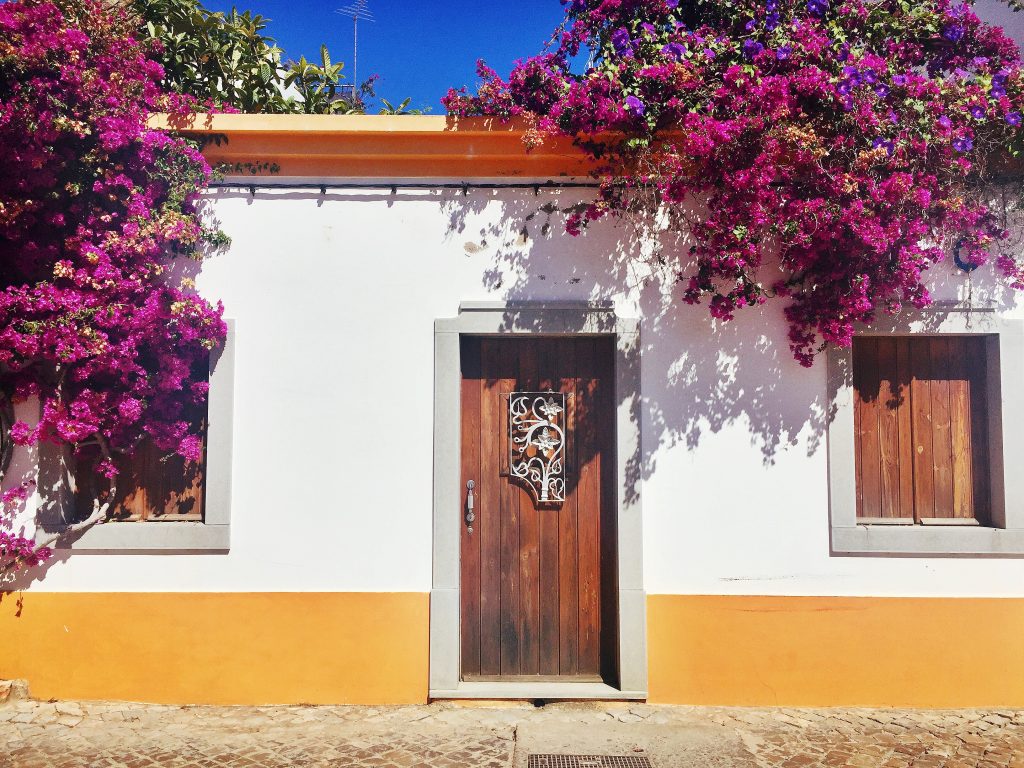 After a few hours of exploring, we made our way back to Albufeira, stopping to gaze at a beach or two along the way. We had dinner at the compound that night (an Italian restaurant on-site made cheeseless pizza for us) and the next morning, after a leisurely breakfast of toast and coffee, we made our way to Faro to catch our flight back to the states. Oh, and remember when Iberia Airlines forgot our vegan meals on the way to Portugal? They made it up to us by upgrading us to Business Class on the way back. No two people have ever looked happier on an airplane.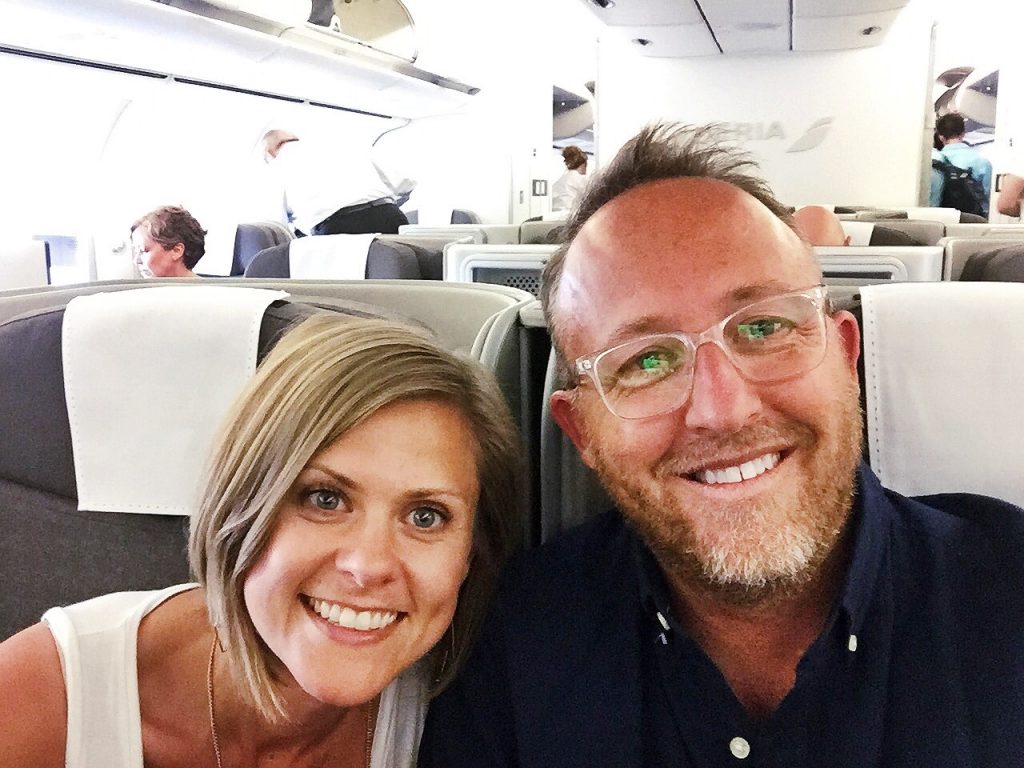 It is very easy to be vegan on the Algarve Coast and the charming towns, gorgeous beaches, and stunning landscape make it very worth it to make the trip!