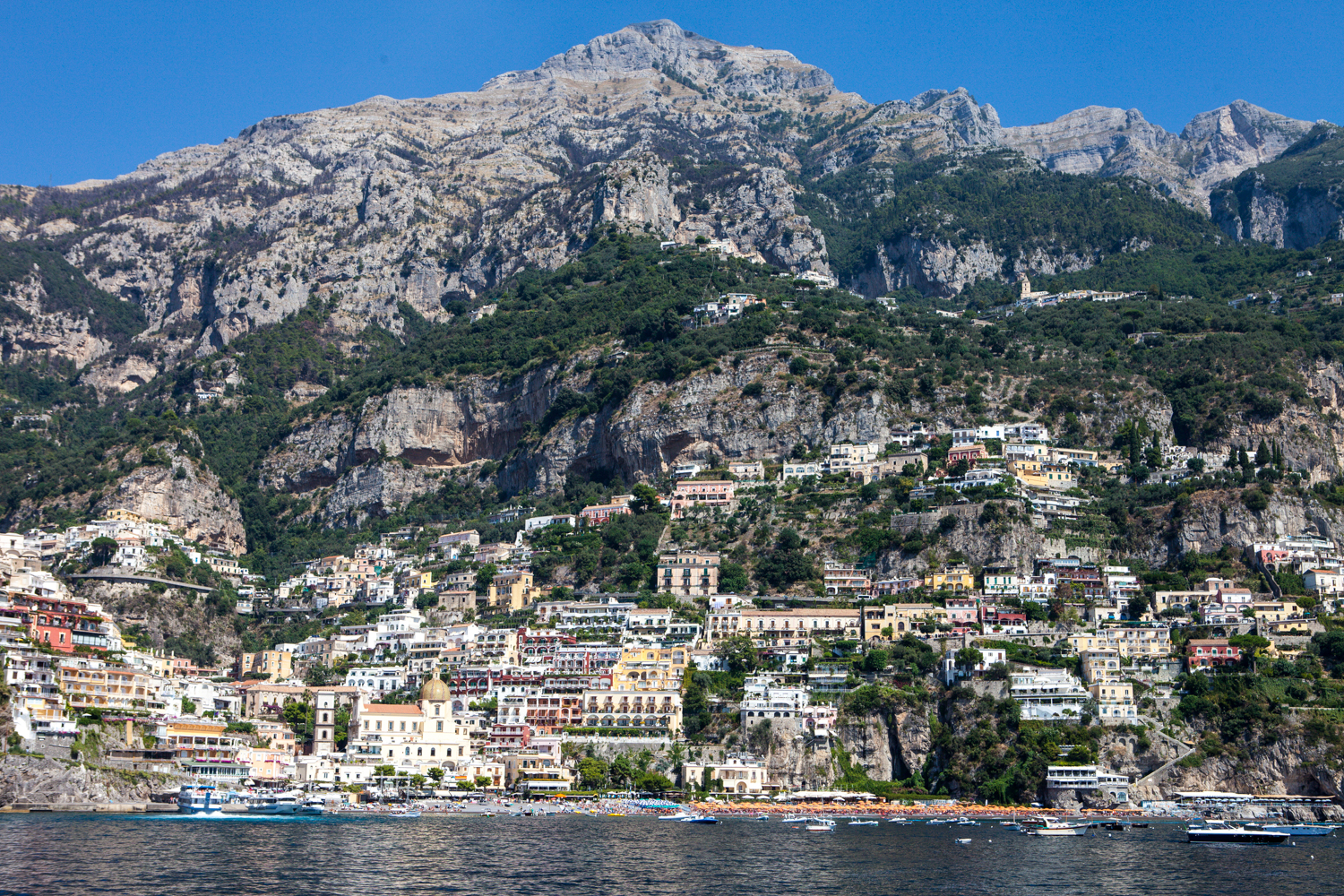 Before I tell you about how much fun we had being vegan in Positano, there are a couple of important things to consider before visiting this city yourself.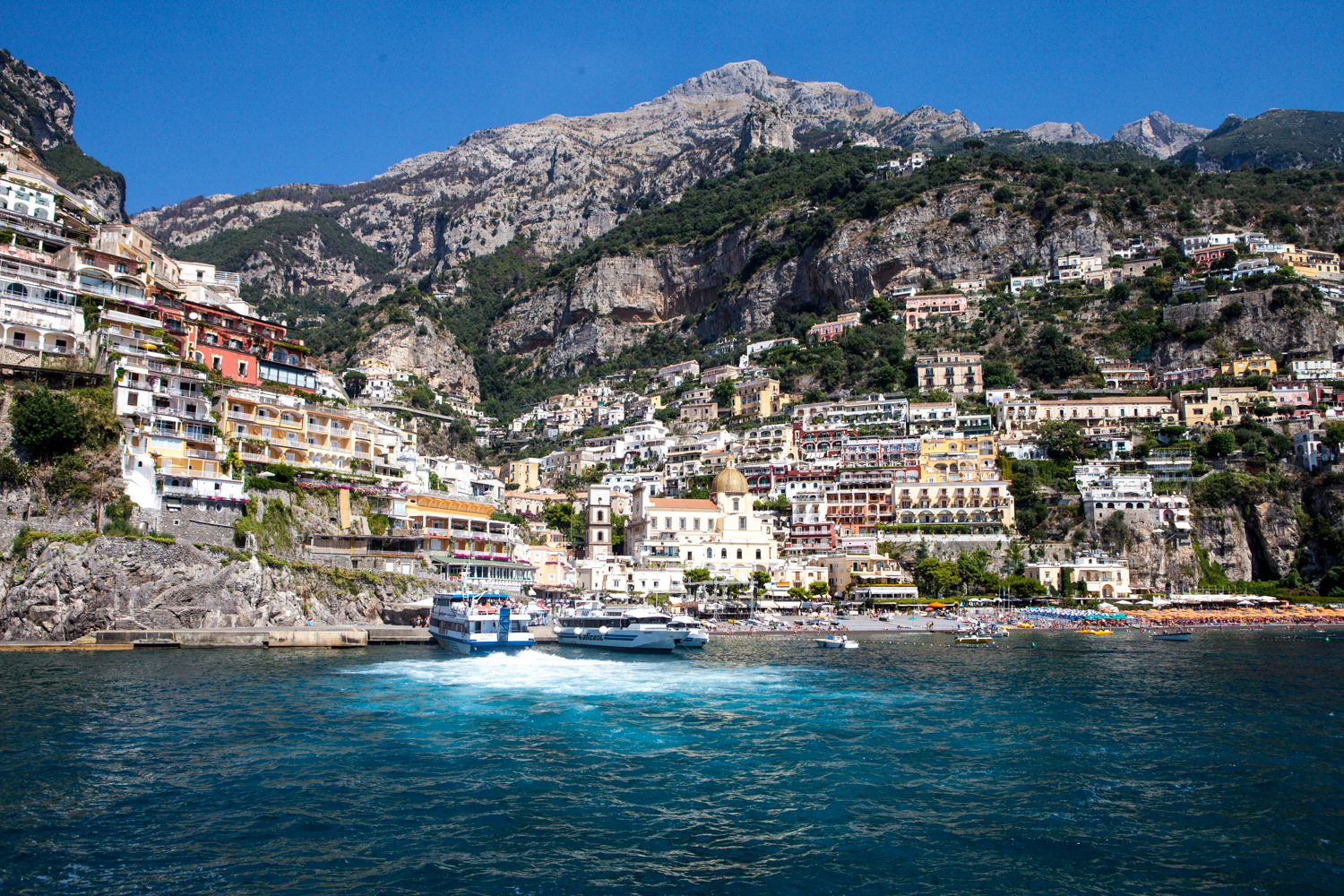 The first thing you need to consider is how you plan to get there and depart.  We arrived in Positano by boat from Capri.  This was about ten times more pleasant than the way I arrived the last time I was there, six years prior.  The typical way to get to Positano, if you've not rented a car, is by (a small, crowded) bus from Sorrento.  There is a bus that originates there and stops at each town along the Amalfi Coast.  If you're coming from Naples, you will first have to take the inter-city train to Sorrento, then the bus to the Amalfi Coast.  It drops you off at the very top of the mountain and you have to walk down a series of staircases to get into the main town area.  To leave, you have to walk back up all of those stairs.  The bus back to Sorrento was even more crowded (It had picked up travelers from each of the cities south of Positano).  I'm sure you can understand how arriving by boat, right in front of the entire city was probably much more pleasant than a bus ride.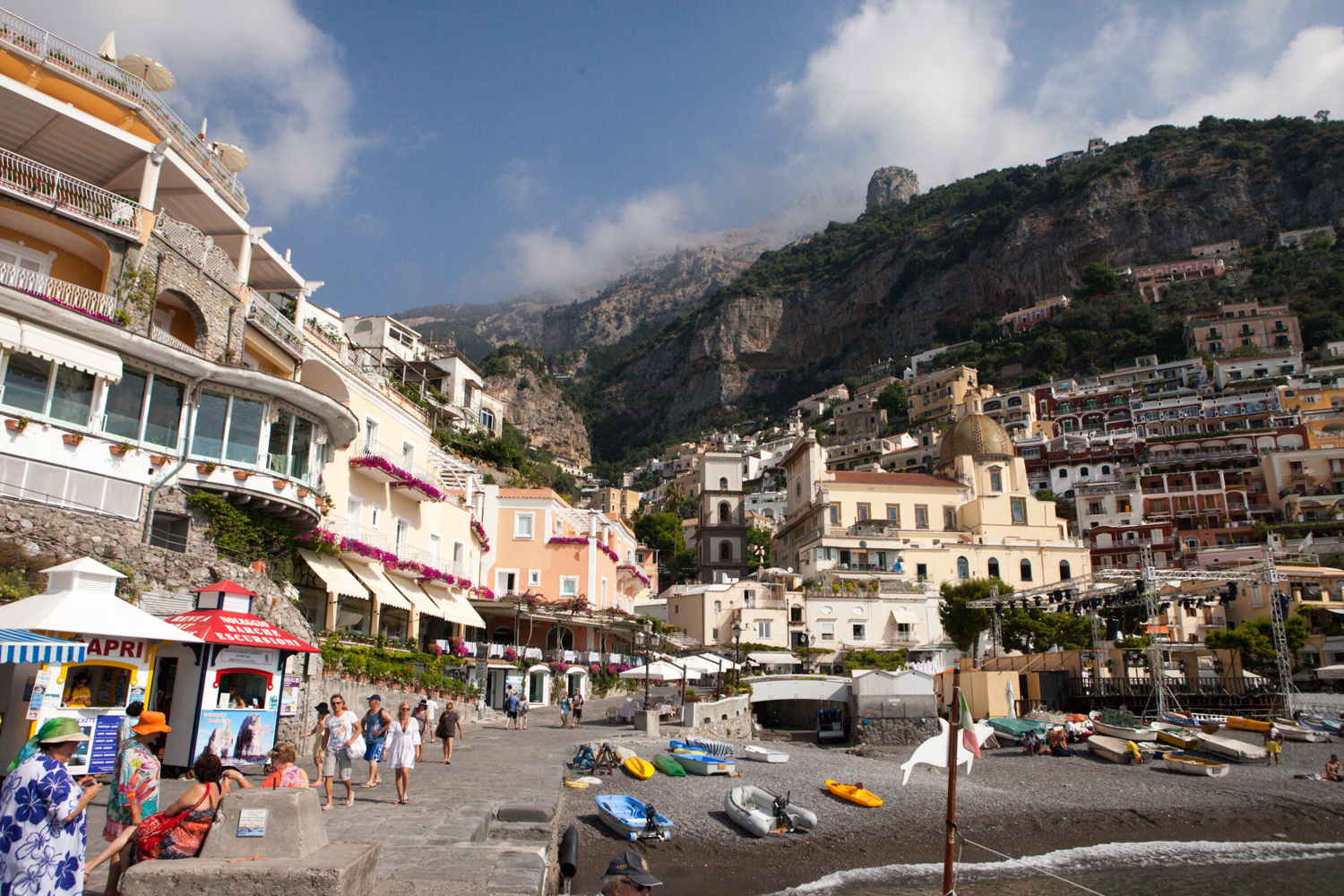 As I mentioned, Chris and I arrived by boat.  We also left by boat.  Our next destination was Rome and the idea of taking a bus to Sorrento, a train to Naples, then a different train to Rome felt like a lot of work and a private car to Naples would cost over €100.  For just €30 each, we were able to take a ferry back to Capri and catch another ferry to Naples.  Simple, inexpensive and relaxing.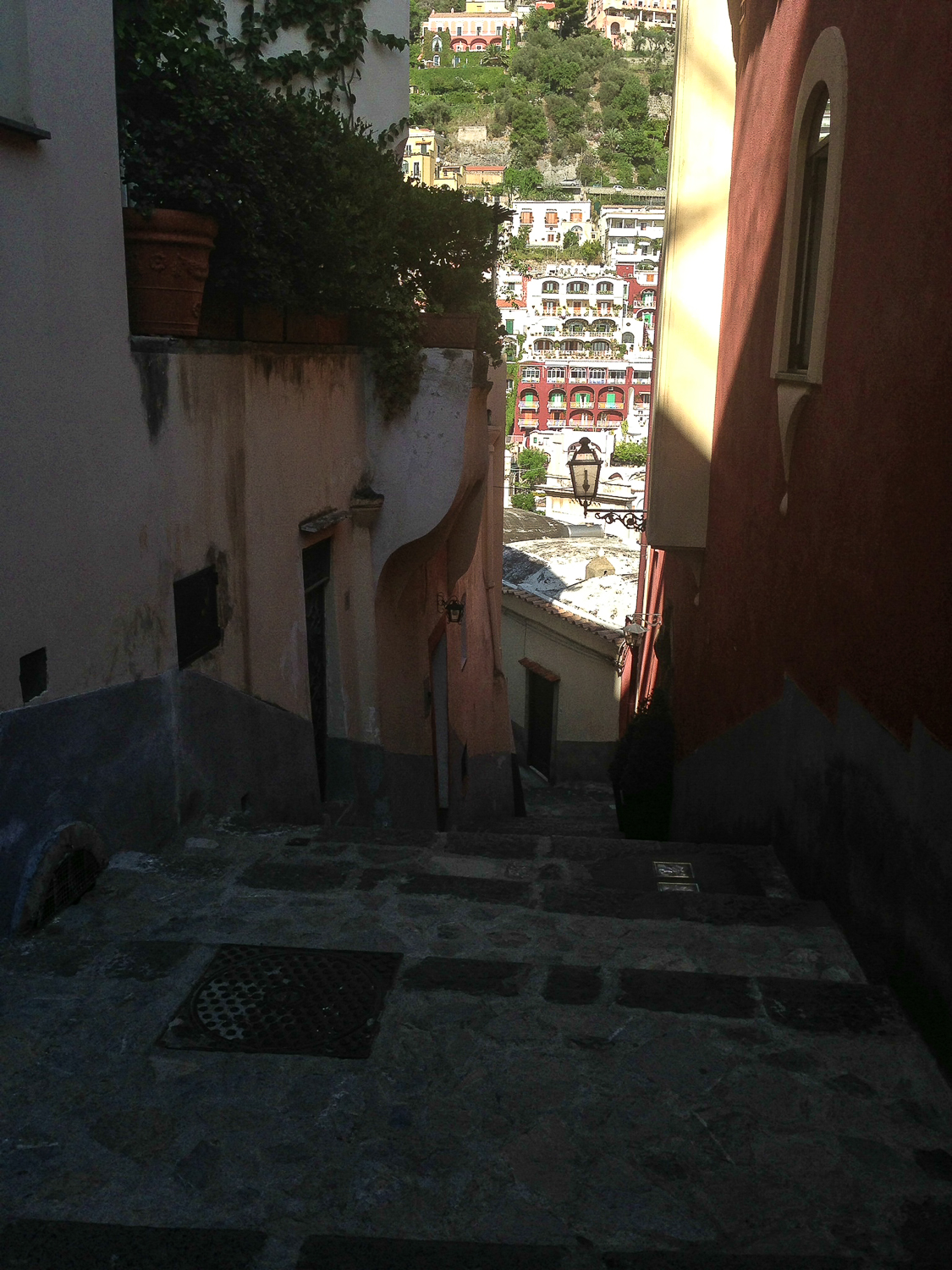 The second thing to consider when visiting Positano is that there are a lot of stairs.  Positano is built into the side of a mountain, which makes is breathtakingly beautiful to look at, but also requires a little more energy to get around.  You can stay in the center of town, down by the water, but you will pay at least double for a room than you would pay if you just stayed uphill a bit (plus, there's a better view from hotels higher up on the hill).  As I mentioned earlier, there are a lot of staircases here and walking is the best way to see this city.  There is a little bus that winds back and forth up the hill (it will pick you up in the center of town, next to the little church, NOT the big cathedral near the water front) and will even drop you off right in front of your hotel.  We used this to get to our hotel while we had our bags (there are porters at the port that will transport your luggage for you for a fee, if you prefer that) and to get back down to the port when we were leaving.  The rest of the time, we walked and climbed stairs (and I'm sure our butts loved us for it).
After we found our way to the bus (we got a little lost because we were told to go to the town square by the church to catch the bus and we were looking all around the cathedral for this square), we arrived at our hotel tired (from carrying our bags up and down windy streets and staircases looking for the town square), sweaty (for the same reason), and ravenous (also for the same reason).  Our room was not ready yet so to make up for it, the man at the front desk upgraded us to their "nicest" room.  He told us to get lunch and it would be ready by the time we got back.  He also gave us a map of the city and pointed out where the best (least touristy) restaurants were.  We went to the closest one he recommended.
Via Pasitea, 266, 84017 Positano • Ph. +39 089 811954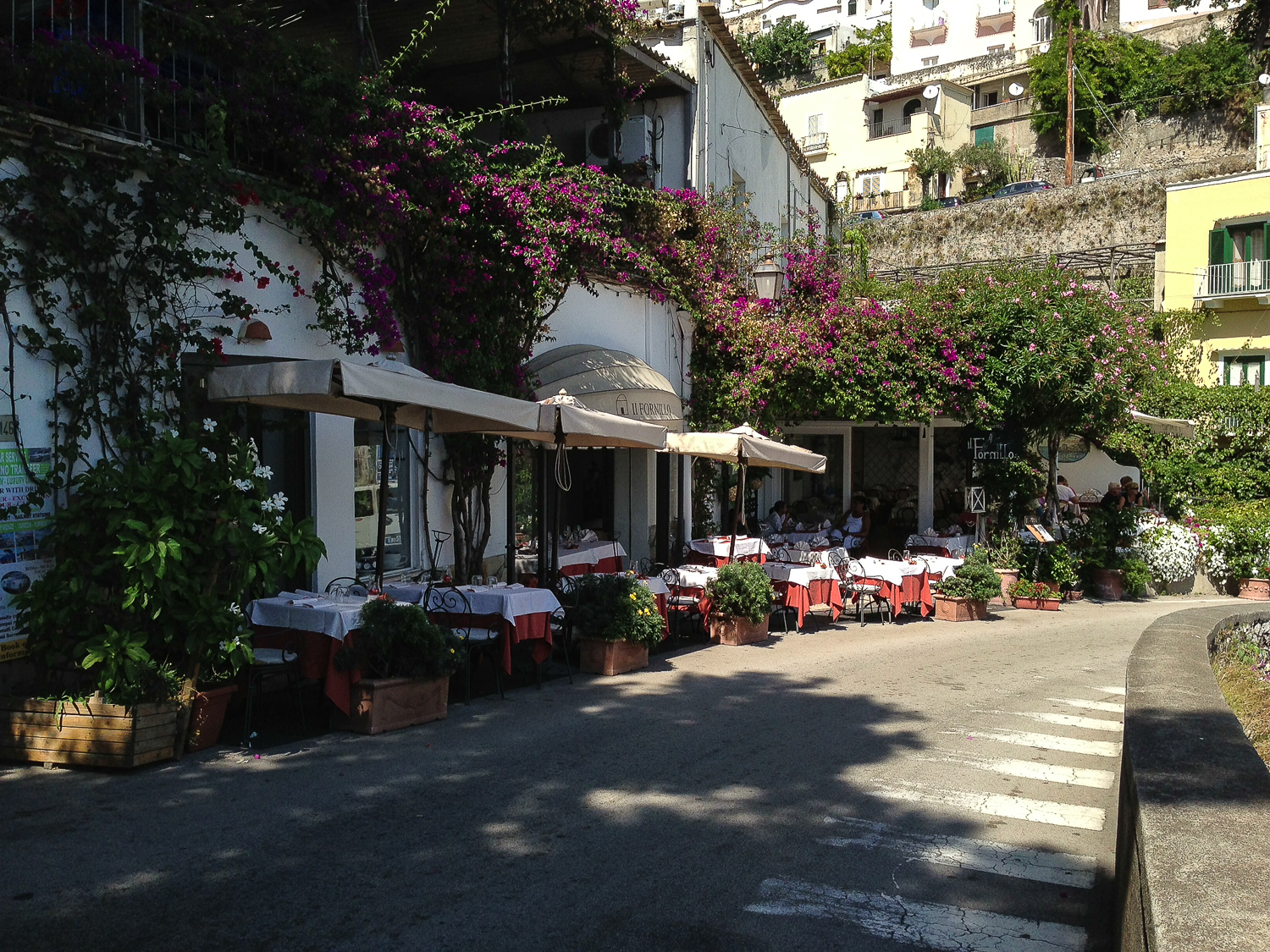 We'd come here because a.) It was less than a five minute walk from our hotel, and b.) the guy at the hotel said they served pizza.  When we were seated and given menus, we were told that they didn't have pizza at lunch.  If we weren't so hungry, we probably would've gone elsewhere after that sort of statement.
Disappointedly I looked over the menu until I saw something that made any hesitation I had about eating at this restaurant go away.  Fried Squash Blossoms.  I had been wanting to try squash blossoms for forever and a day so I actually squealed when I saw this.  We asked our waiter, just to make sure, that there was no cheese or meat stuffed inside and we were assured that they did not.  We ordered them as well as some mushrooms and bruschetta.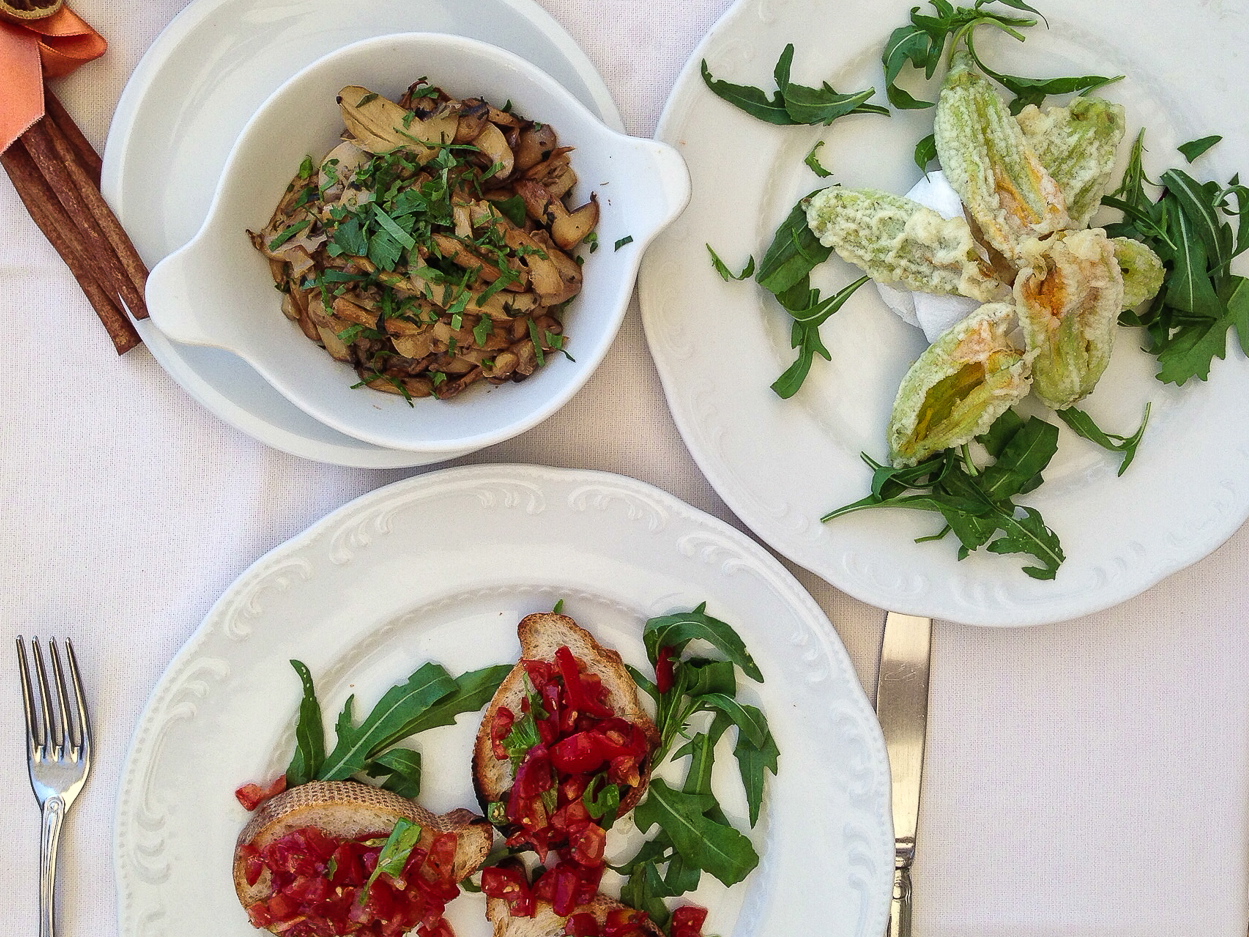 The squash blossoms were divine.  They totally lived up to my expectations and now I am even more determined to make some myself the next time they are in season.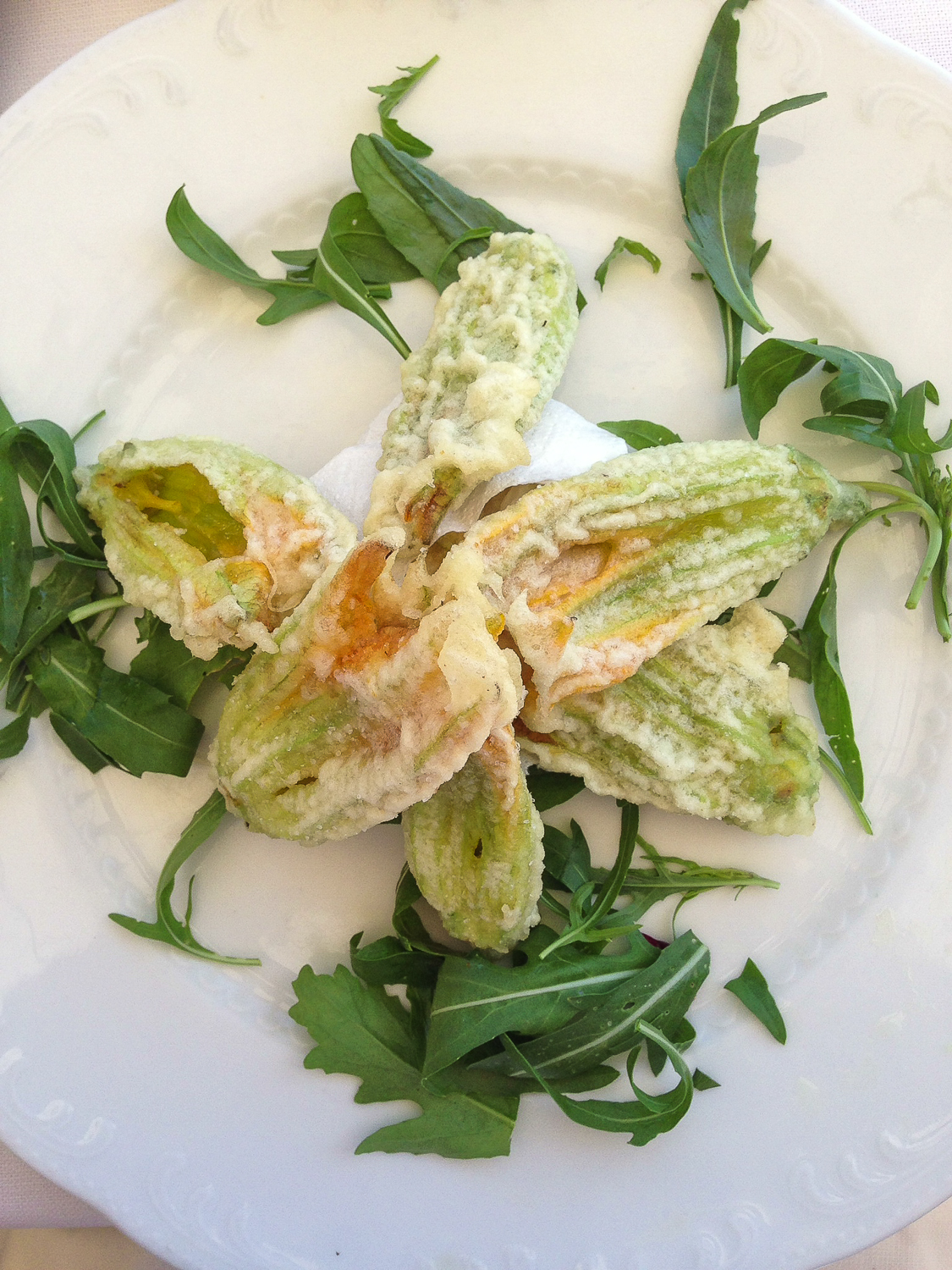 The mushrooms and bruschetta were good as well.  The bruschetta was very tasty, although they were a tad oily (like, oil-dripping-on-my-hands oily).  We liked them a lot, though, and since we were still hungry at the end of our meal, we ordered another serving of them.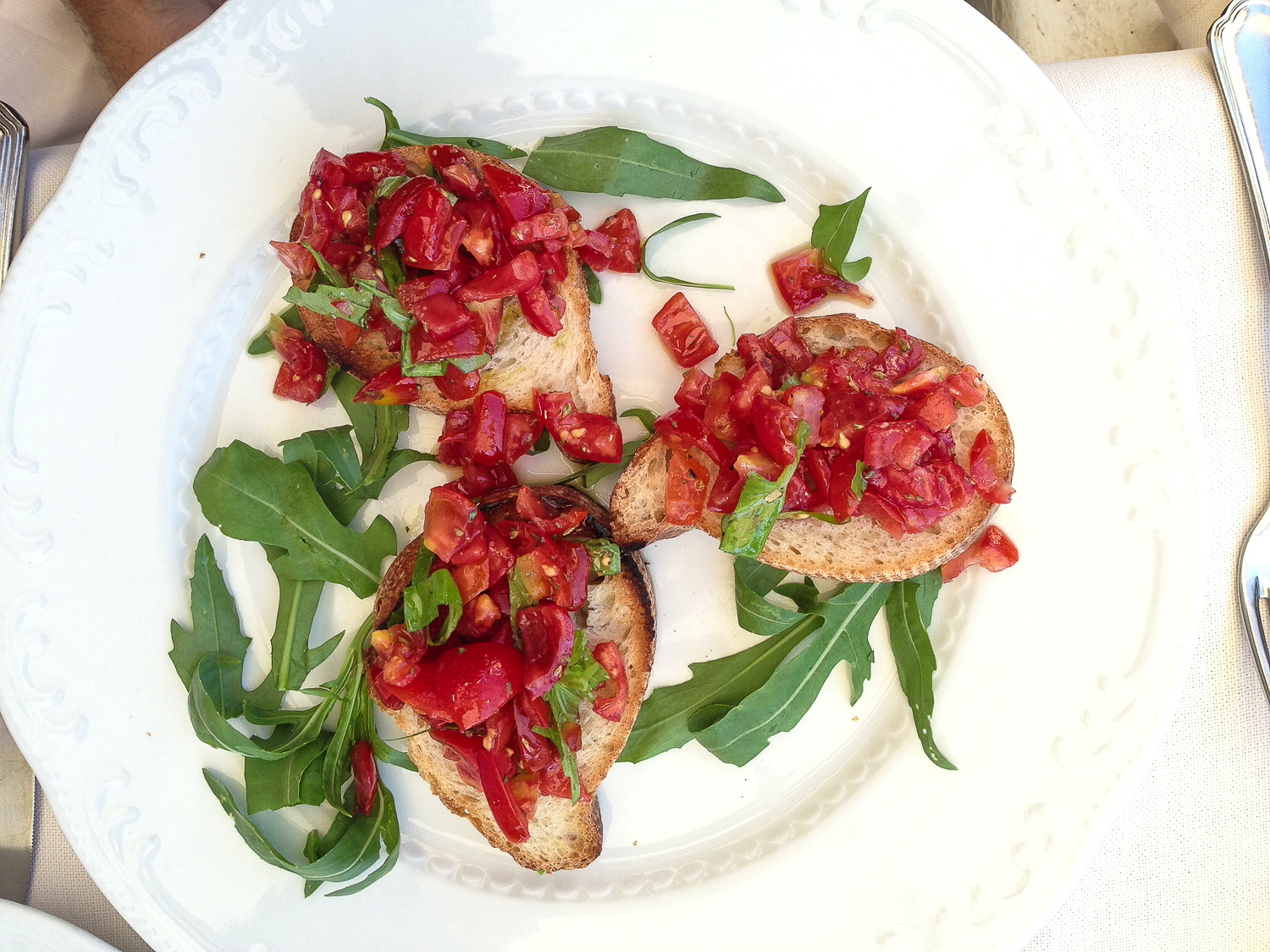 Via Pasitea 207, 84017 Positano • Ph. +39 089 875500
After our lunch, we made our way back to our hotel and were shown to our room.  When they said they were giving us the nicest room, they weren't lying!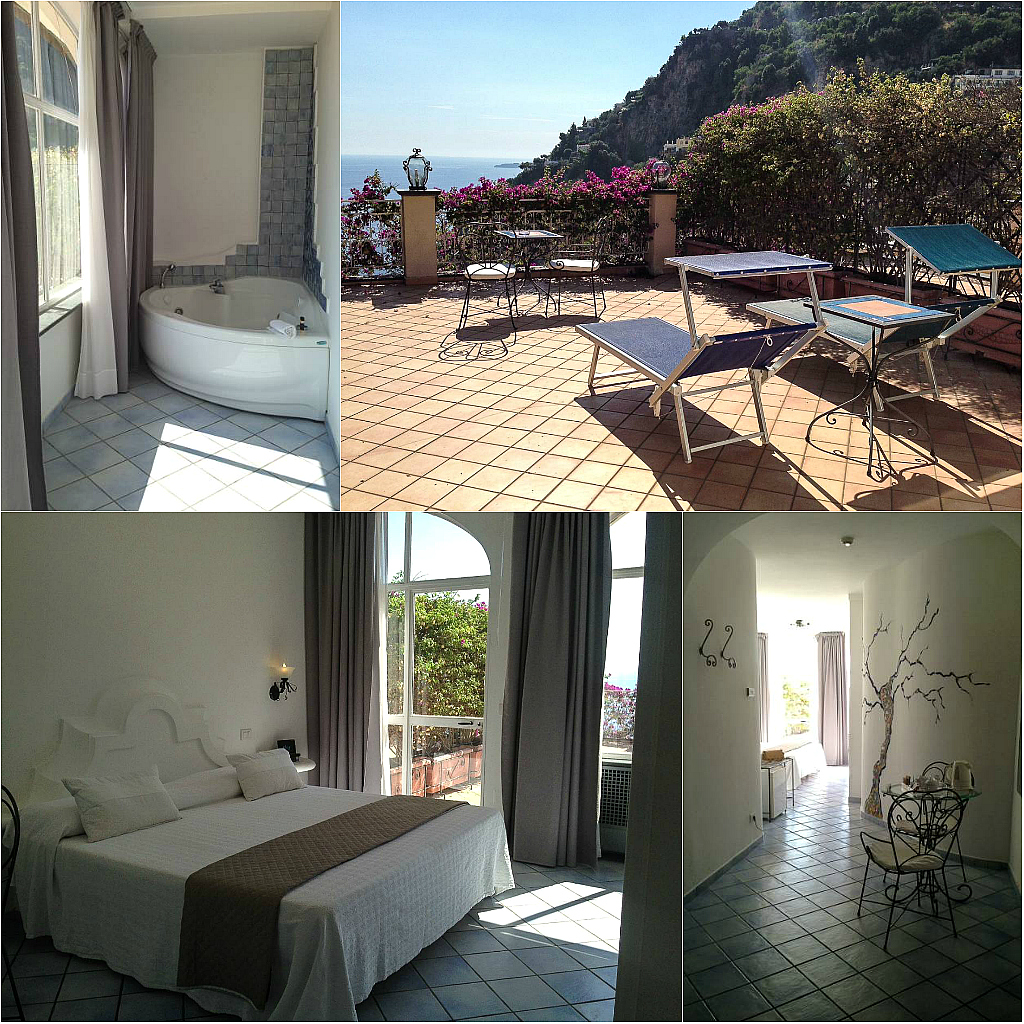 There was a huge balcony with a table and chairs, plus two lounge chairs for sunbathing.  The view of the ocean and the city below was pretty amazing as well.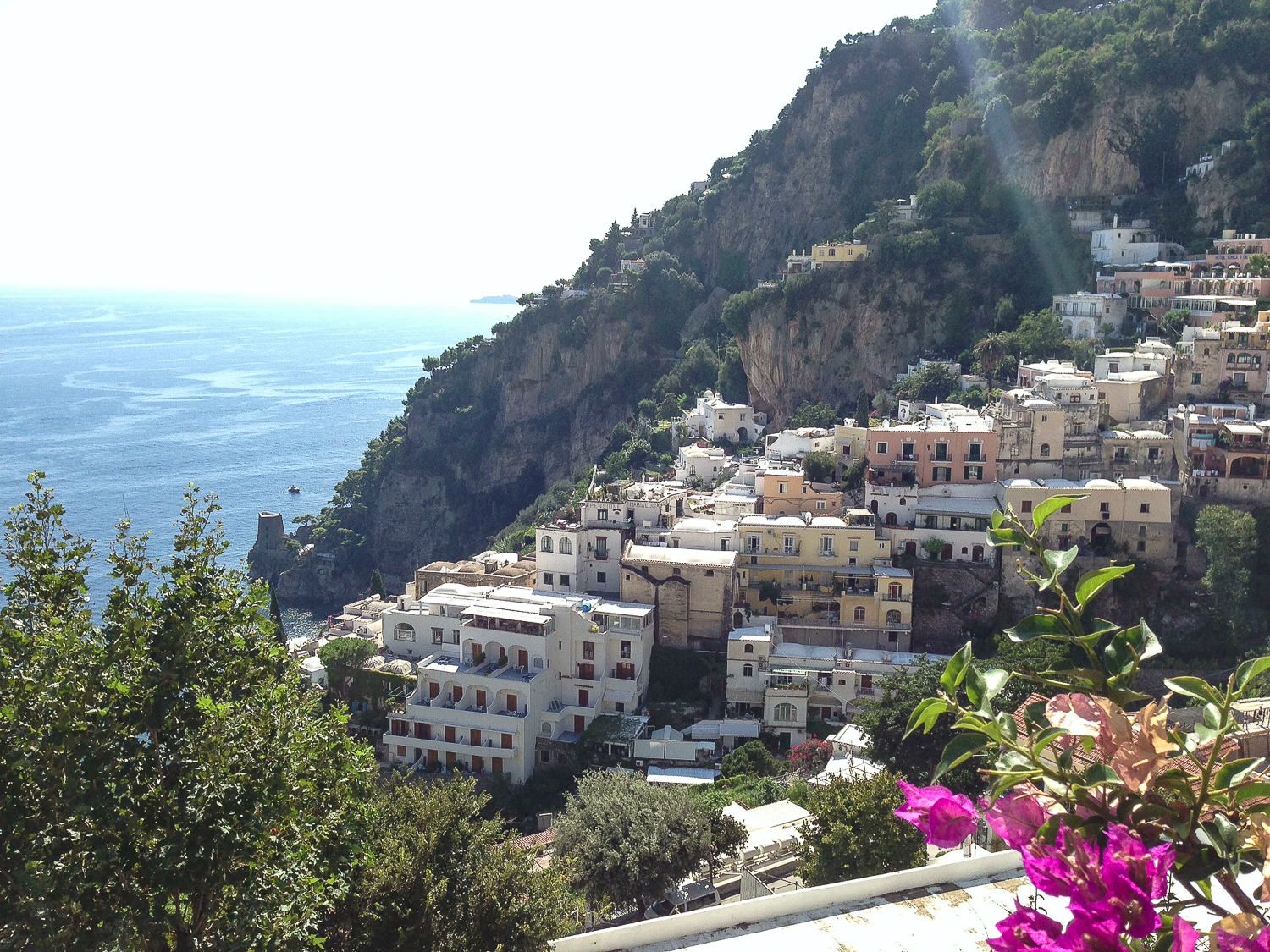 There was an indoor jacuzzi next to the windows and though we vowed to use it at least once during our stay, sadly we never got around to it.  The room itself was pretty large with a walk-in closet, separate seating area with a sofa-bed, plus the sleeping area with the bed next to the windows with the gorgeous view.  It was pretty dang amazing to wake up with the light pouring in over us and be able to walk out on the balcony to greet the day.
The breakfast was also included but it was pretty basic.  For all of our hotels in Italy, where the breakfasts were included, I had mentioned that we were vegan and if possible would love to have some vegan options for breakfast.  This was the only hotel that did not acknowledge that note.  There were vegan options: fruit, tomato, cucumber, bread, jam but nothing different than what was offered to everyone else.  It was the only hotel we stayed at that didn't have soy milk.  We still managed to eat pretty well, though.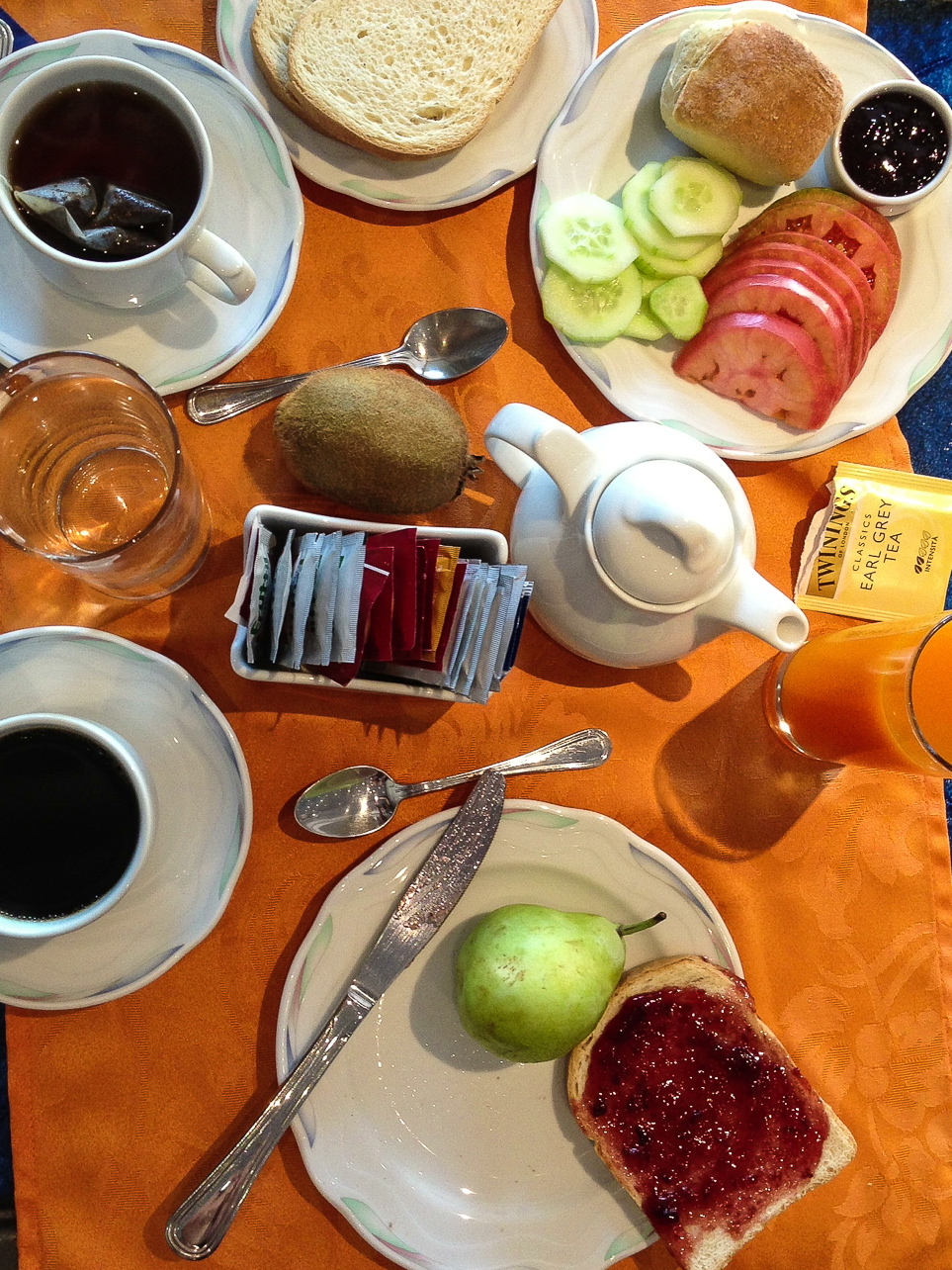 The hotel staff here was pretty amazing and not only pointed out great restaurants to us, they gave us information on the beaches in Positano and other things to do while we were there.  They showed us on the map the easiest route to get into town by foot and when we wanted to go to one of the private beaches he had mentioned, he made the reservations for us.  I would definitely stay here again.
After we had been shown to our room, we showered and headed into town.  It was a pretty hot and humid day, so by the time we got into town, we were ready for some gelato.  Thus, the Great Search For Vegan Gelato in Positano began.
POSITANO PARADISE
We must've went into every gelataria in the center of Positano and asked if they had any gelato "senza latte," and we were told no almost every time.  And by "almost," I mean "except for one time."  Time and time again we were told that either both the sorbets and the gelatos were made in the same machines or the recipes includes traces of lactose.  While we were looking, we got really hot and had to take a break.  We had lemon granitas (or lemon "slushies" as everyone was referring to them- you can find them everywhere) and then continued looking.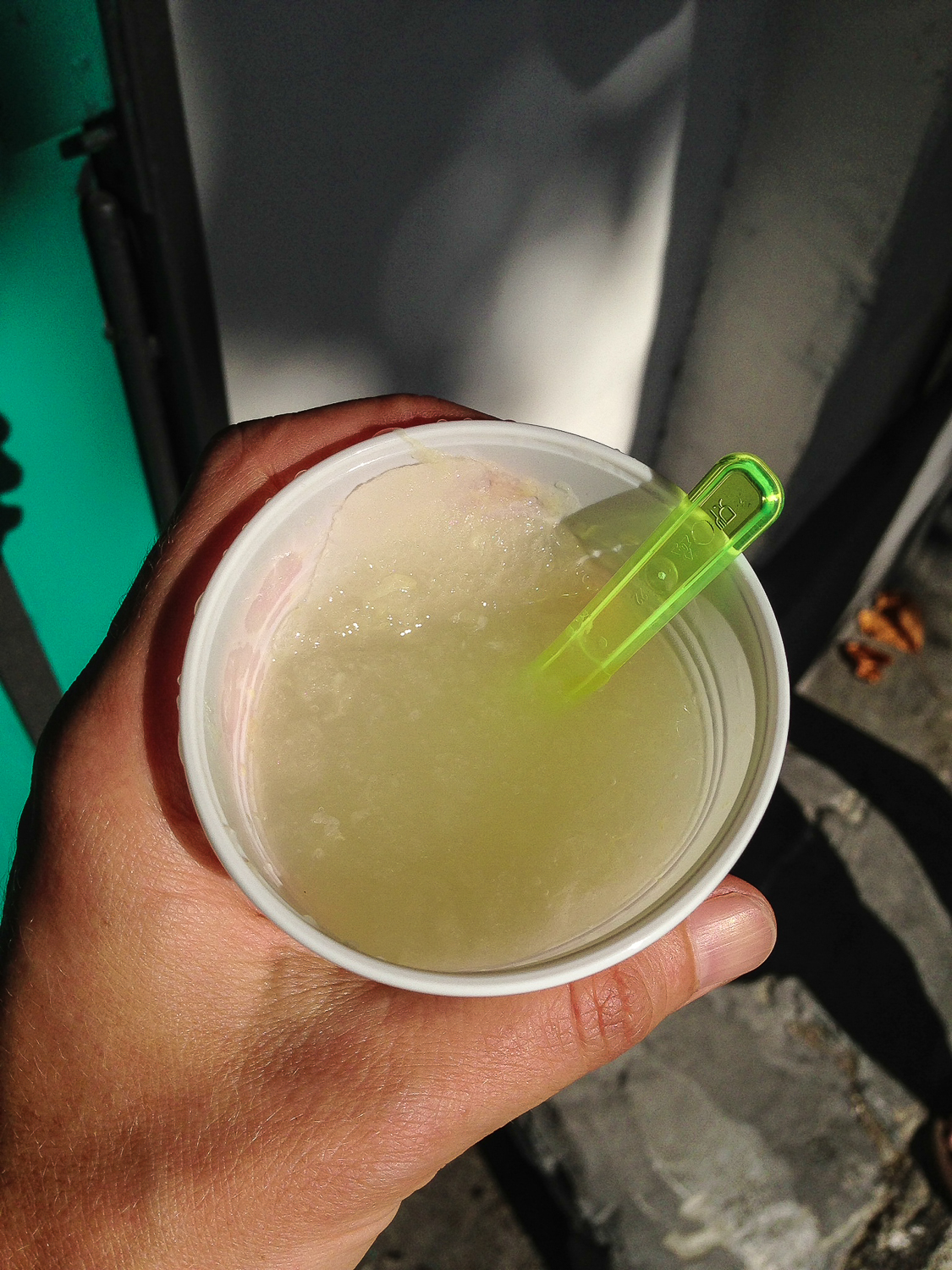 We finally found one place that claimed to have two vegan sorbets- strawberry and lemon.  The lady working there assured us that both were "senza latte."  We enjoyed our gelatos and went on our merry way.  The next day, we returned and there was a man working there.  For some reason, I felt like confirming that neither had milk in them and he told us "Oh no.  Only the lemon has no milk."  There were fruit-based popsicles in a case and he told us that those had no milk either.  Chris had a strawberry popsicle and I had lemon sorbet.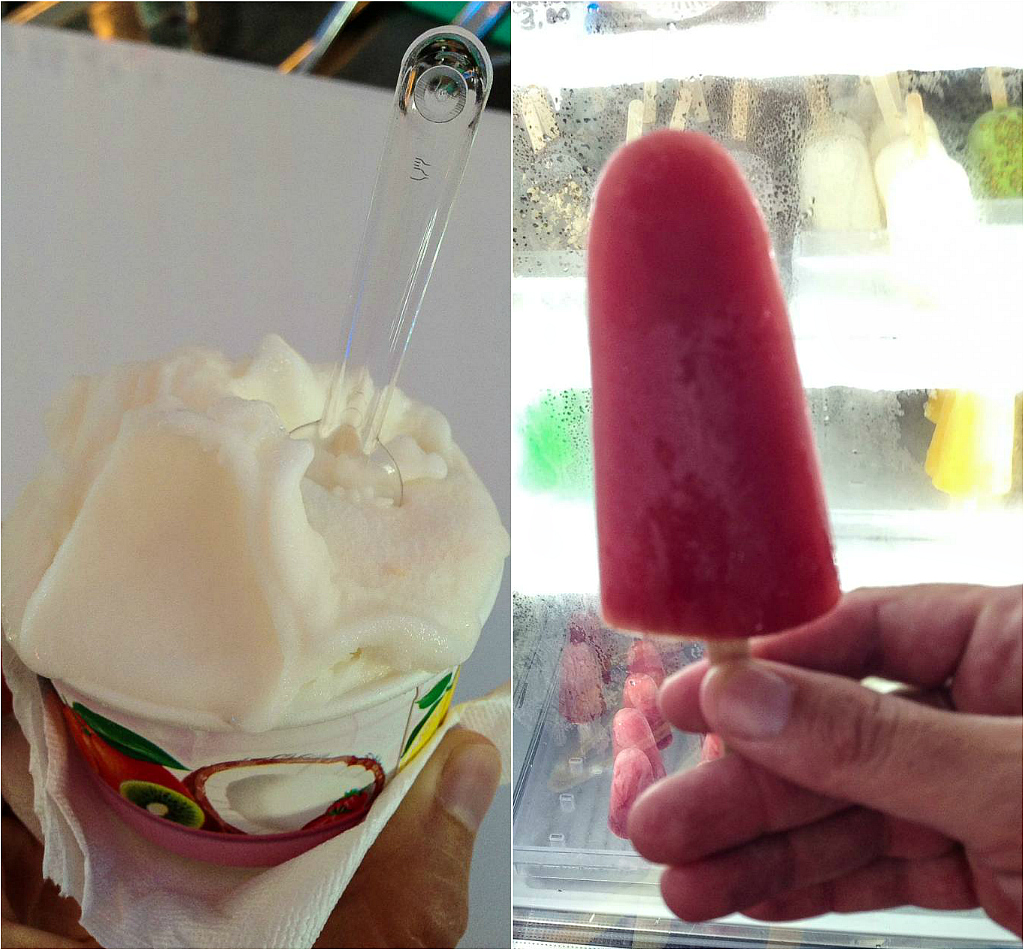 I wish I had an address for this place, but unfortunately I just wrote down the name of the place and figured I would find them online later.  I was unable to locate them, however.  I can tell you that, if you are facing the mountain (away from the water), it is located more on the left side, closer to the shore, in part of a white building.  There is a balcony overlooking the beach and there is a silver sign hanging over the balcony that says "Positano Paradise."  I hope that helps if you are in dire need of a vegan sorbet while in Positano.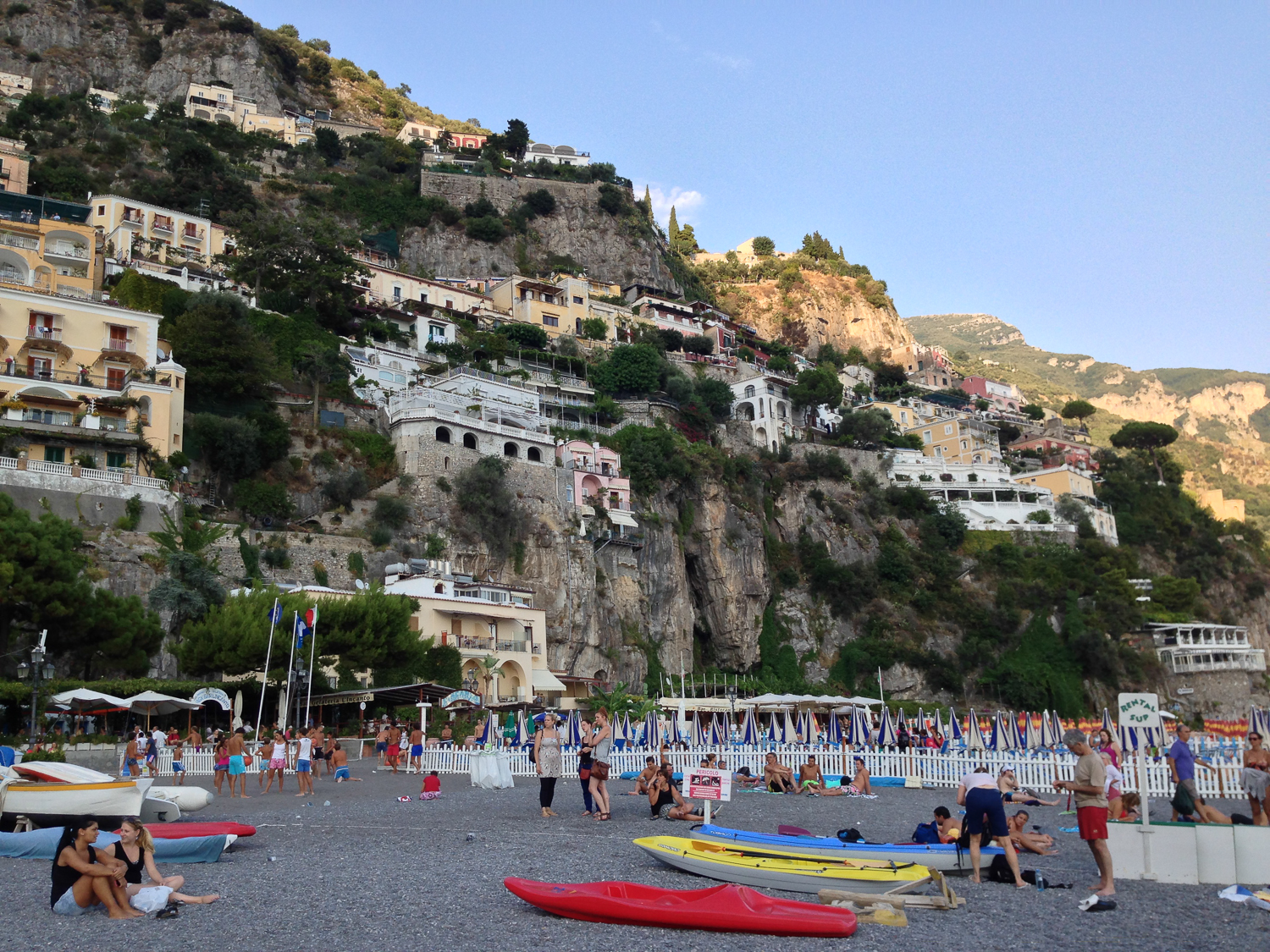 After getting gelato, we felt much more relaxed.  We wandered around for awhile before sitting on the (free) beach, watching a young bride and groom take pictures by the shore.  After the sun set, we decided to check out a staircase over on the left (if you are facing the mountain) side of the harbor.  It led up the side of the mountain and then around the front, towards the sea.  It was a beautiful little path and when we came upon a little restaurant located on the side of the mountain, overlooking the water, we decided it was time for dinner.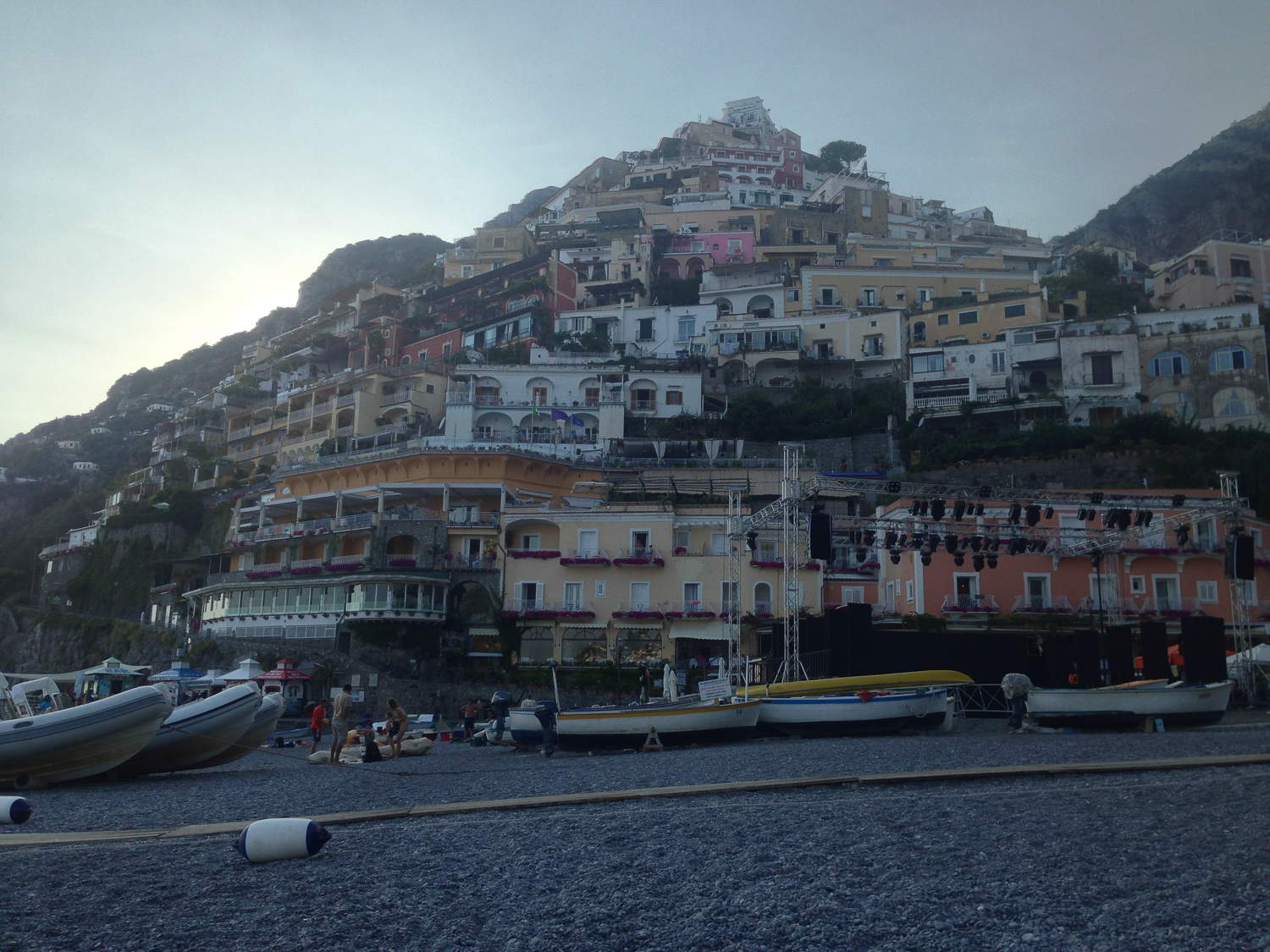 Via Positanesi d'America 12, 84017 Positano • Ph. +39 089 875 794 / +39 089 875 488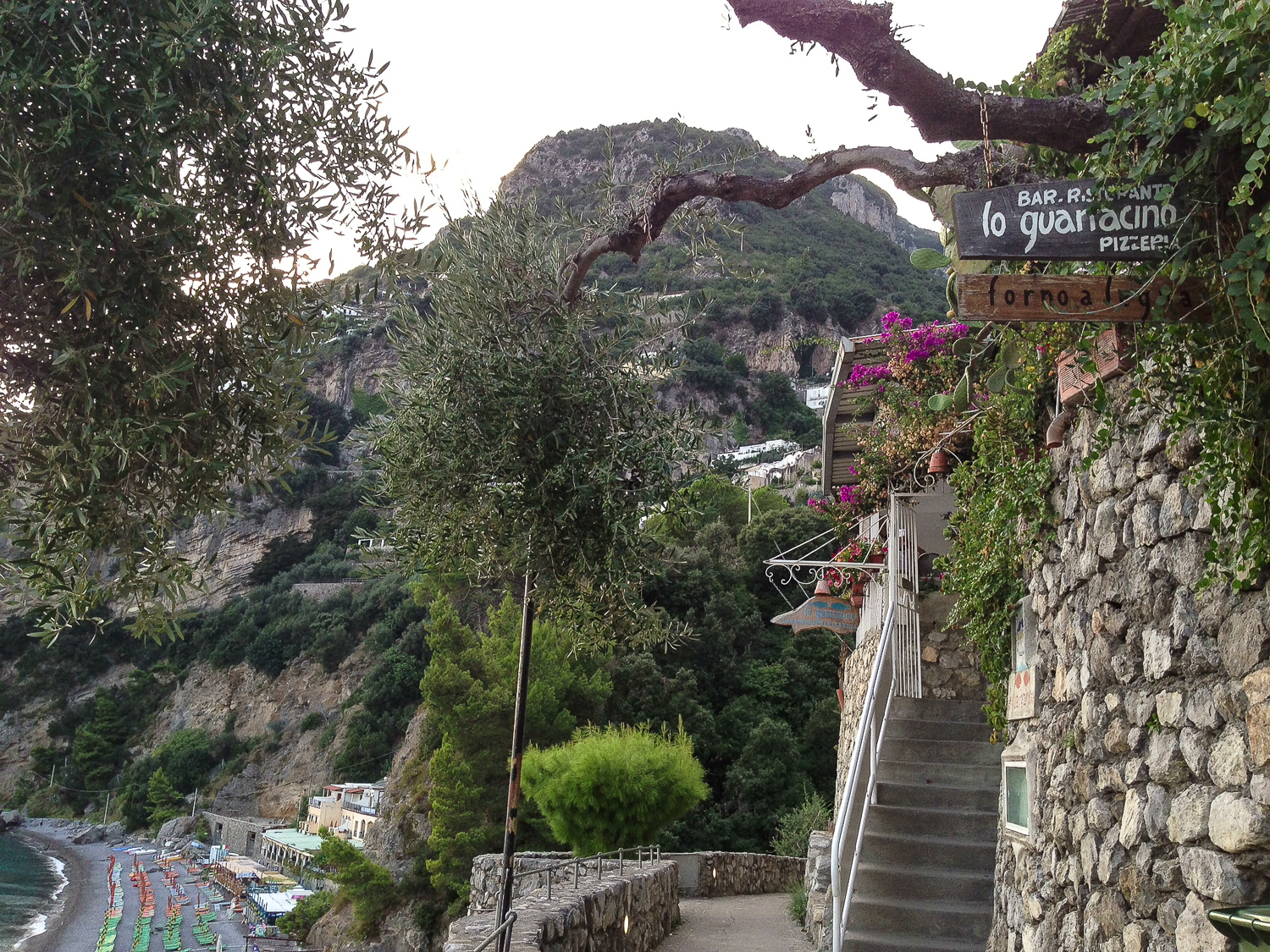 We were their first guest for the night and upon entering we were asked if we had a reservation.  We told them that we did not.  They said we could have any table in the main room, but the little room off to the side had already caught our eye.  It was a very rustic, romantic seating area, centered around this tree that was growing out of the mountain.  The room resembled a treehouse and it overlooked the ocean.  We asked if we could sit there (it was completely empty).  The waiter working there was a man in his mid-fifties who looked like he had just woken up (at 7pm) and was not about to pretend that he was happy to have customers.  We were met with a dismayed shrug and then told we could sit wherever we wanted.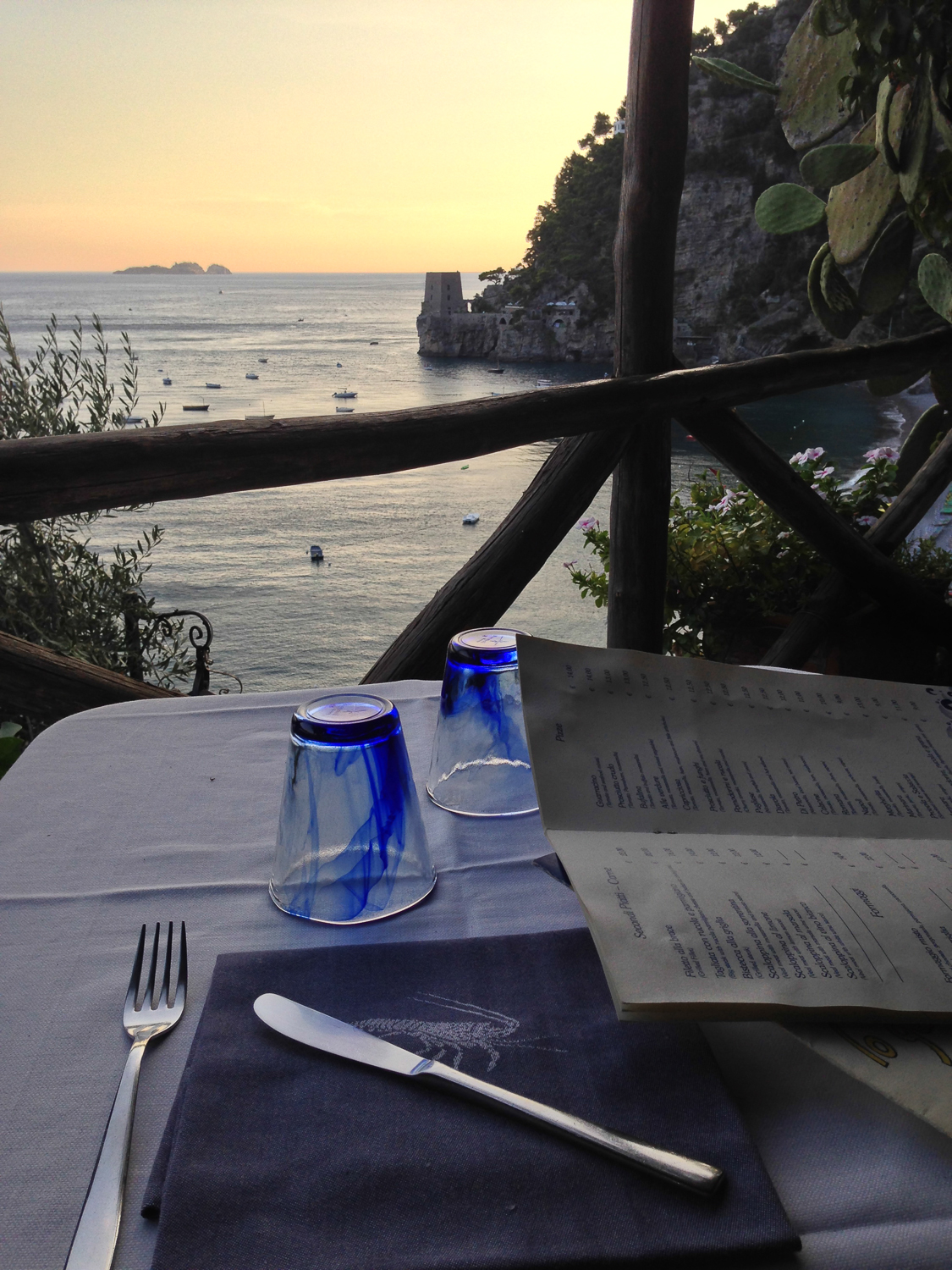 We chose a table in the treehouse room and began perusing the menu.  We thought the Pizza Capricciosa would be great without the mozzarella and the ham (Tomato, mushroom, and baby artichoke?  Yes, please!) and we chose a cherry tomato and spinach salad to go with it.  When grumpy waiter came to take our order, we explained that we wanted the "pizza capricciosa senza mozzarella e prosciutto."  He looked at us, stunned, for about a second before giving us his dismayed shrug again.  We loved this guy.  To this day, imitating his look and his shrug is one of mine and Chris's favorite things.
We were totally right on the pizza- it was incredible!  Definitely one of the best pizzas we had on the entire trip and they cut it in half for us!  The salad was basic, but a good side dish.  That pizza, though... Wow!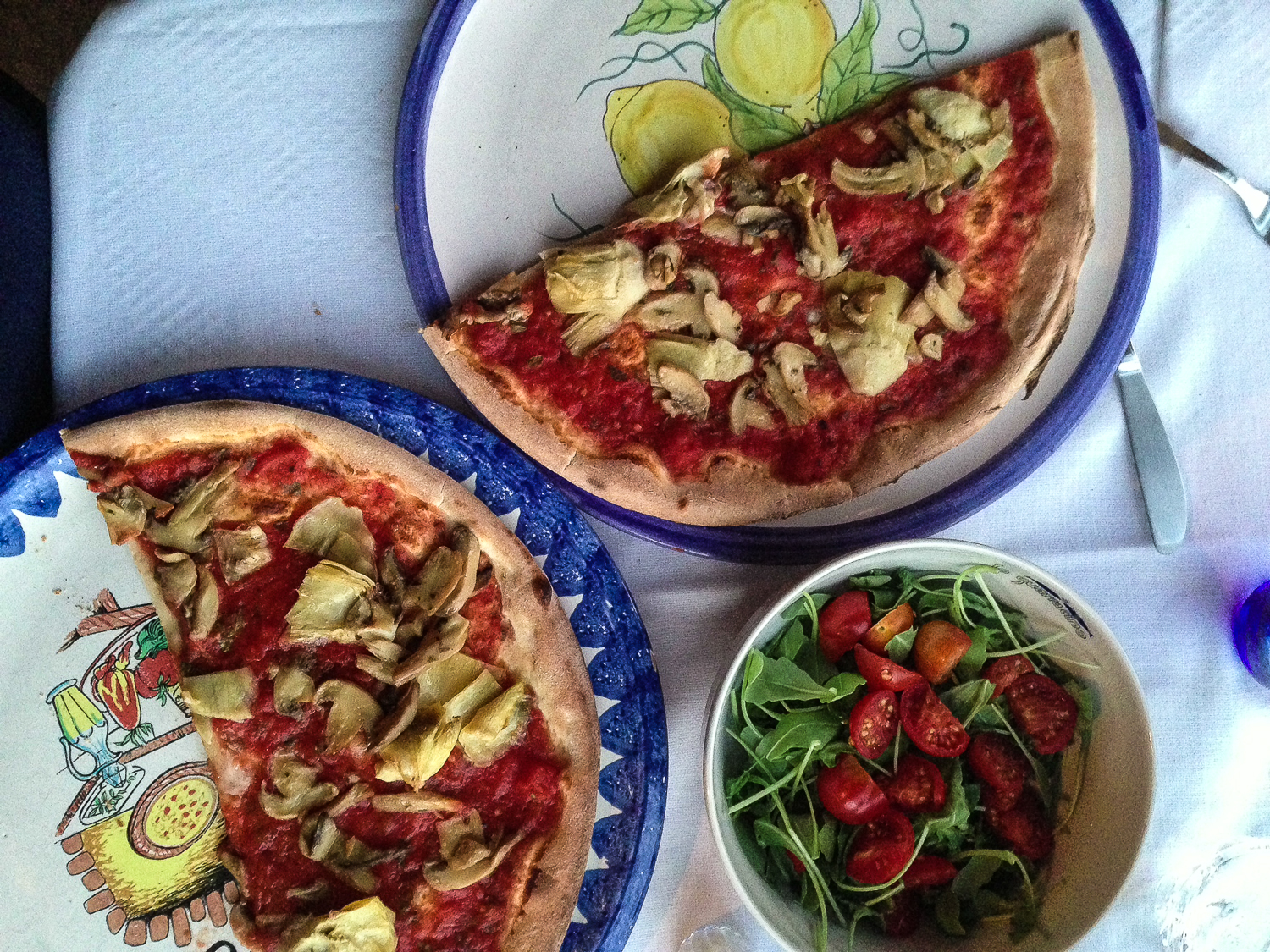 After dinner, we stopped in a wine shop and bought a bottle of vegan wine (Villa Antinori Toscana- Tesco's website lists it as "vegetarian" and that was good enough for us) and walked up the 1,700 stairs to our hotel.  We spent the rest of the evening our balcony, sipping wine, talking, and looking out over the ocean.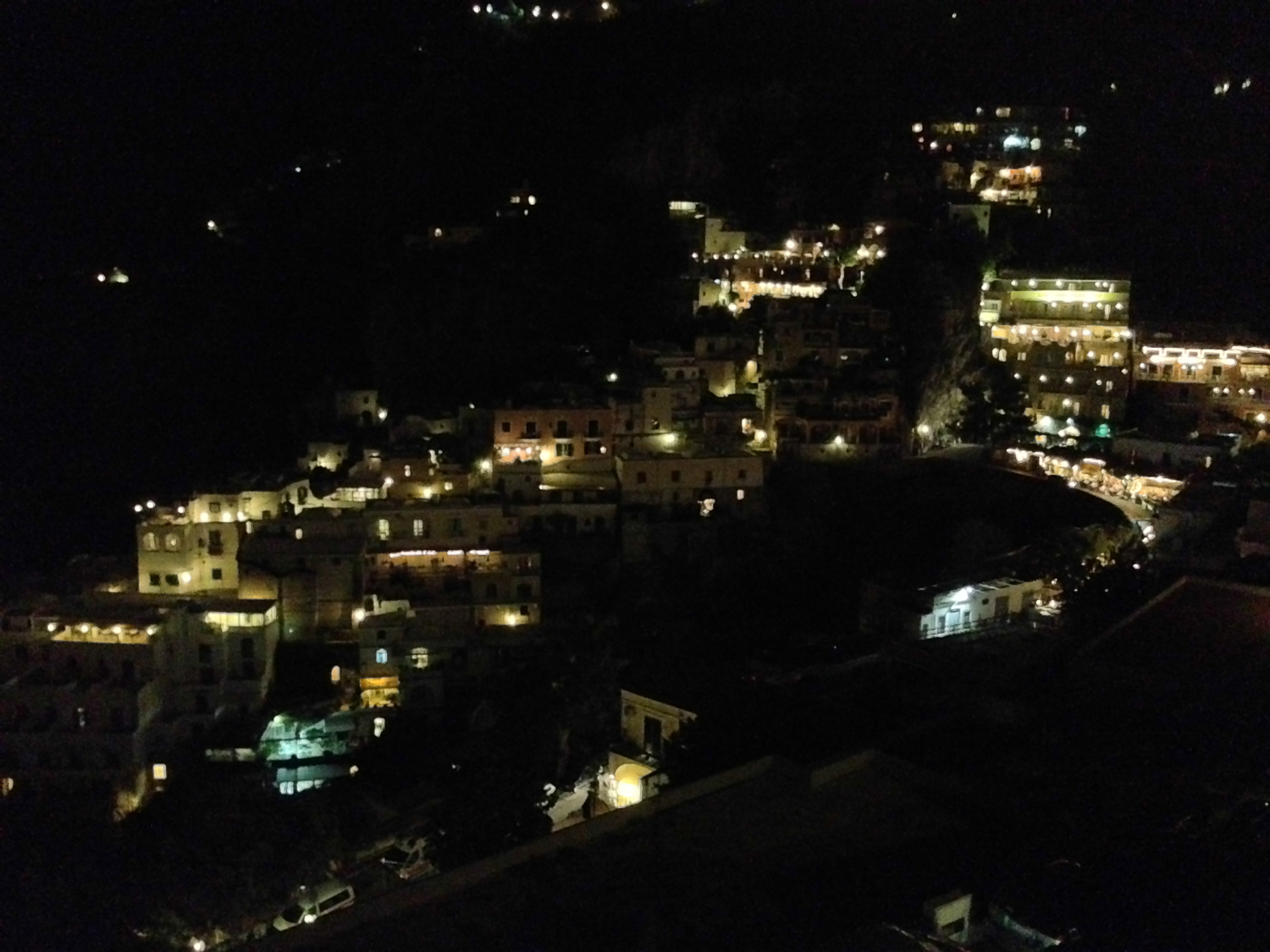 The next day, after breakfast, we decided to try out one of Positano's private beaches.  Our hotel made reservations for us and told us where to catch the boat at the harbor.  They gave us beach towels and we made our way down to the harbor.  Before getting on the boat, however, we picked up some fruit and nuts at a little market because we weren't sure what we would be able to find in the way of vegan food where we were going.  That's where I saw these beauties: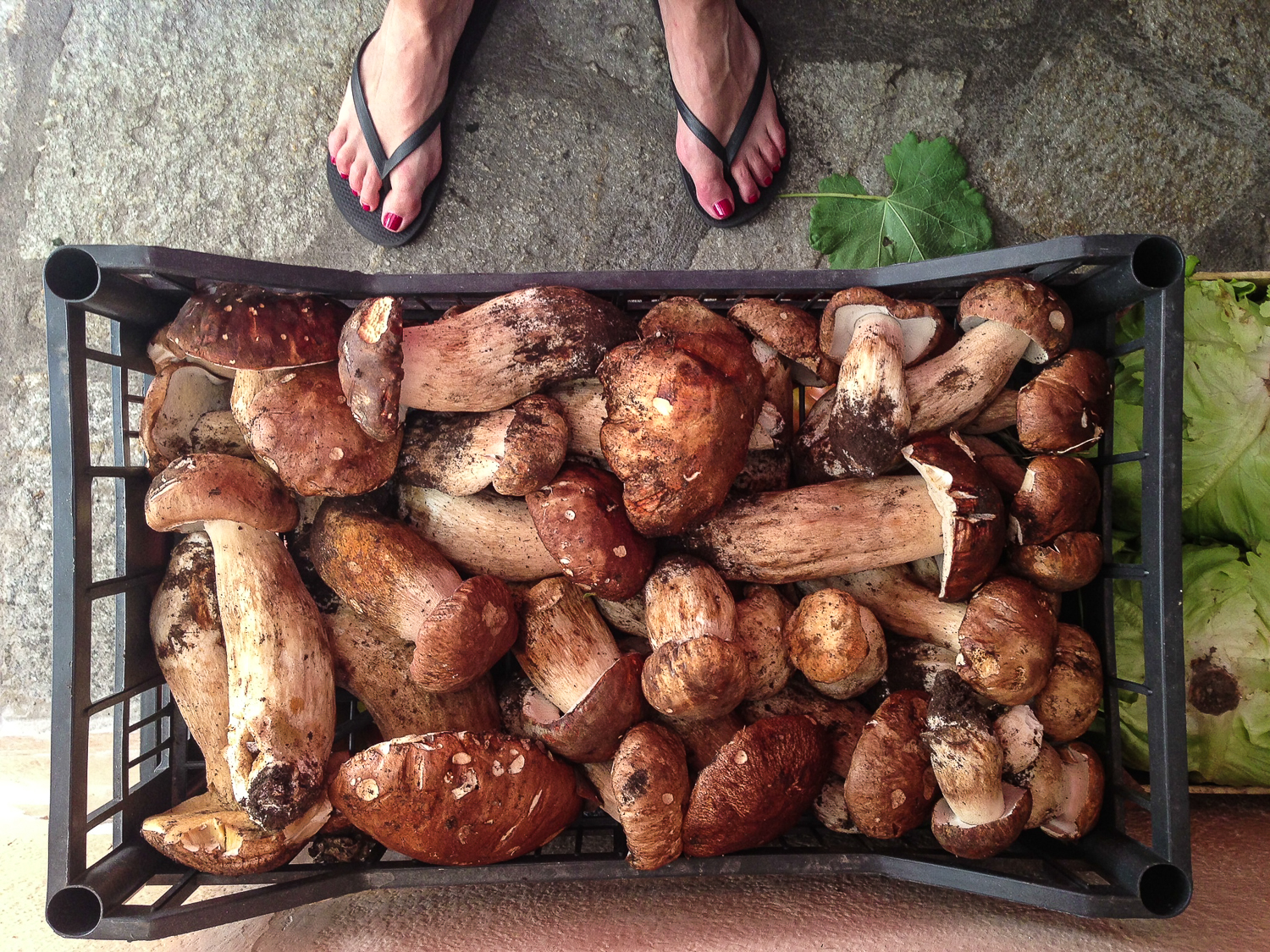 Spiagga Laurito 24, 84017, Positano • Ph. +39 089 875 490/ +39 333 742 5057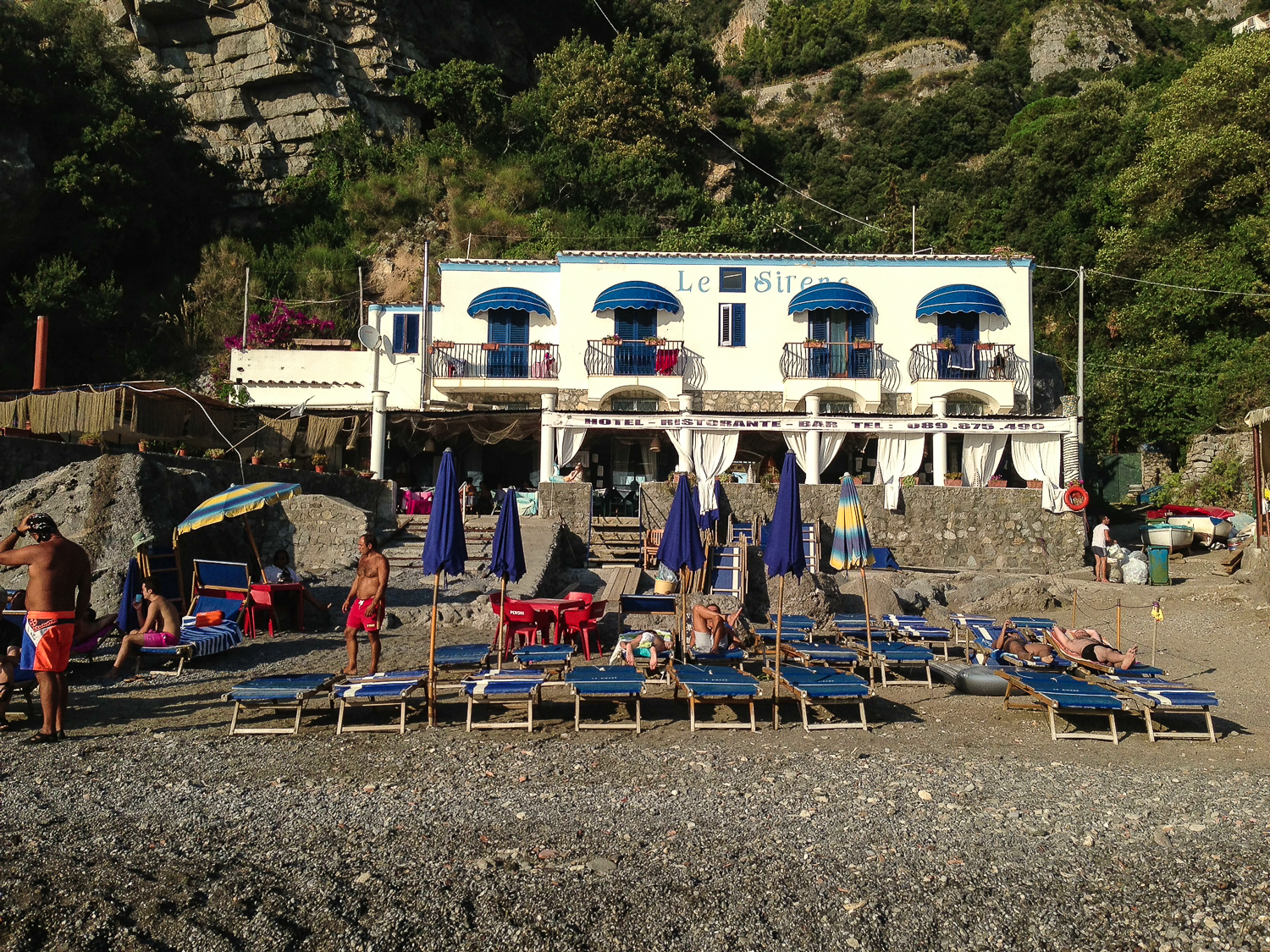 The boat to Le Sirene is free and leaves from the main Positano harbor at 10am, 11am, 12pm, 1pm, and 1:30pm.  It returns at 4pm, 5pm, 6pm, 7pm, and 8pm.  You can see in the picture below where you catch the boat, but I would ask your hotel for the exact location at the harbor to catch it.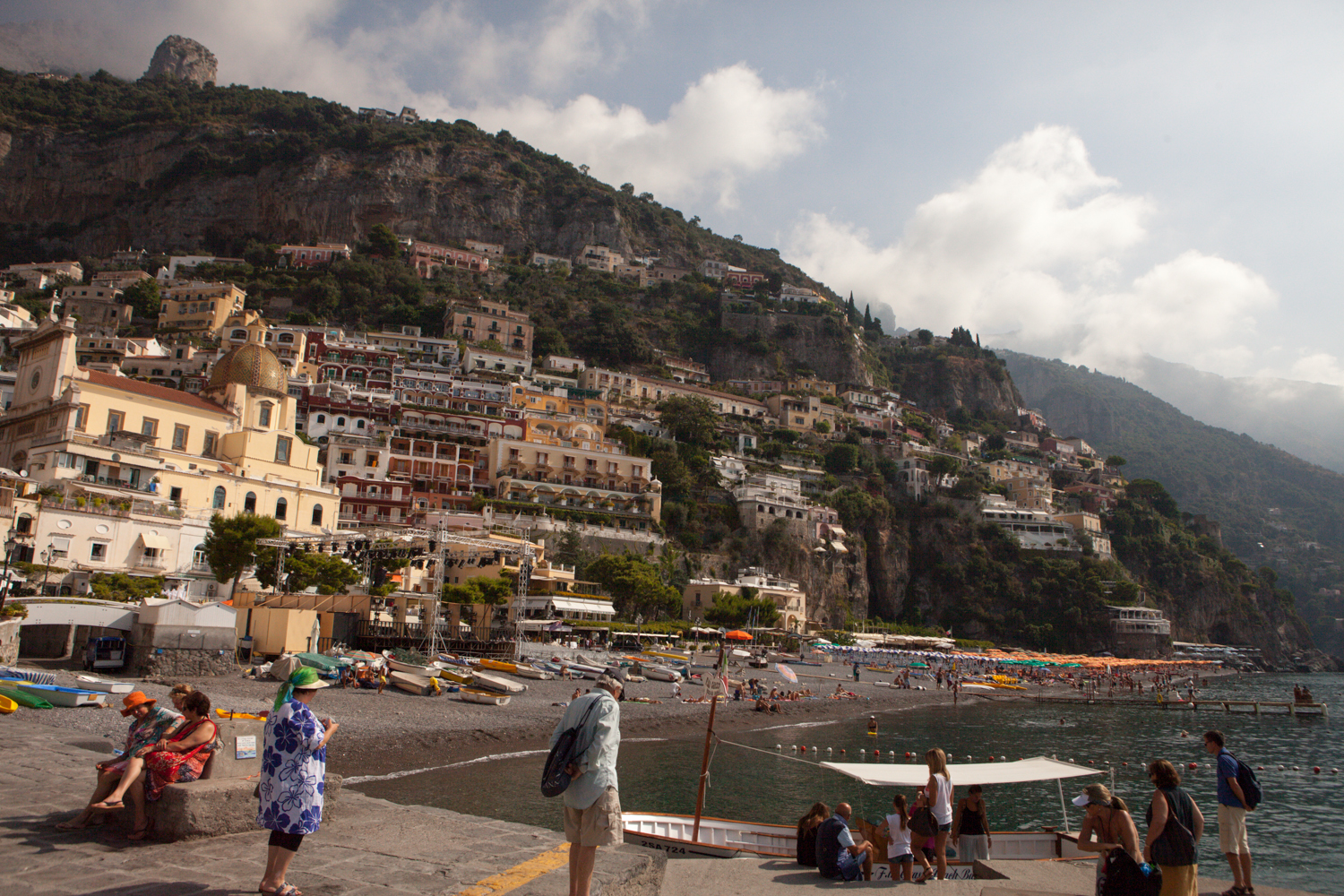 The ride takes less than 10 minutes and before you know it, you are pulling up to a dock in front of Le Sirene, a hotel and restaurant with a private beach.  You pay €10 for 2 lounge chairs and one umbrella.  There is another restaurant next to it, which seemed to be pretty busy, but Le Sirene seemed cleaner and a little more peaceful.  Just as Capri claims that the rocks where the Sirens from Homer's Odyssey existed, so does Positano.  Le Sirene overlooks a small trio of islands (which we had actually passed on the ferry from Capri to Positano) where it is believed that the Sirens lived.  If you ask me, the Positano location looks much more plausible.  I could totally see a ship being lured into the center of these islands and getting attacked by surprise.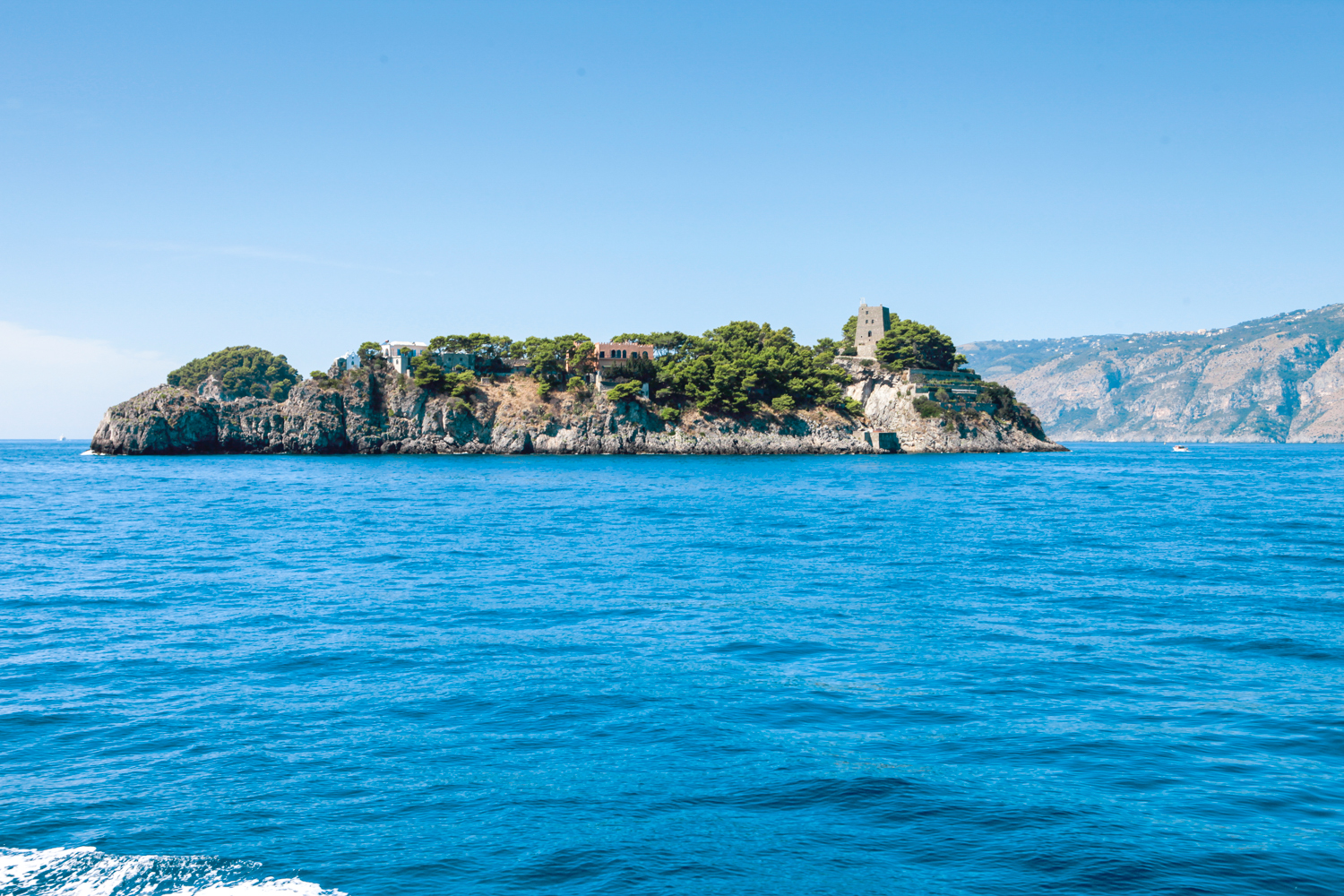 We spent the day swimming and napping then napping and swimming.  We did take one break for lunch.  The menu at Le Sirene is very basic but we were able to find some decent food.  We shared a big vegetable salad, grilled vegetables, and some french fries.  Along with a basket of bread, we were quite satisfied.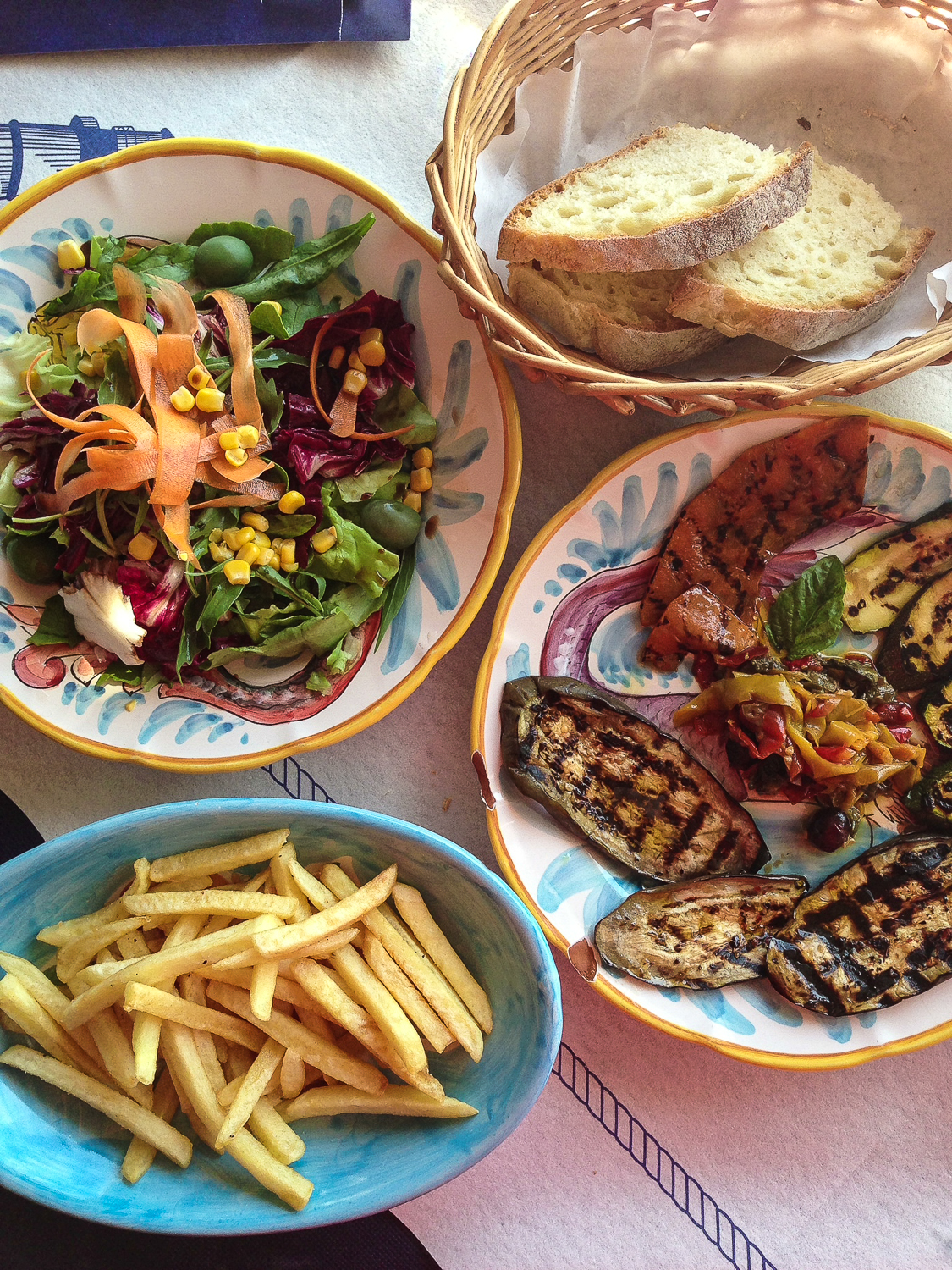 After napping and swimming a little more, we took the boat back to main town and made our way back up the mountain to our hotel (though we did stop for a sorbet and a popsicle on the way).  Earlier that morning, we had scouted out a beautiful spot for dinner near our hotel with some interesting menu items so after showering and getting dressed up we headed over to the the restaurant.
Via Pasitea 119, 84017 Positano • Ph. +39 089 875 010
When we walked by that morning, we fell in love with the covered veranda overlooking the ocean.  It had reminded us of our honeymoon in Greece and thought with the warm evening breeze and stars reflecting off of the water, it would be the perfect place for a romantic dinner.  We realized upon arriving, however, that a lot of other people had the same idea.  The place was packed!  We were told that if we wanted one of the romantic tables we'd imagined we'd have to wait an hour.  Since we were hungry, we decided to take the one available table they had which was off to the side, the only view being of the area we had hoped to be sitting.  It did make for some excellent people-watching, though!
After perusing the menu, we decided to order one of their "specialty" pizzas.  After removing the sausage and mozzarella, we we ordered a tomato and mushroom pizza with a spinach stuffed crust.  We also ordered a side of roasted bell peppers and a cherry tomato and arugula salad.  We'd expected the pizza to have a stuffed crust similar to what we have here in America, but in fact, part of the pizza was just folded over like a calzone.  It was very interesting and we really enjoyed it.  The order of roasted red bell peppers was great too and we ended up adding them to our pizza and our salad.  It was a pretty great meal.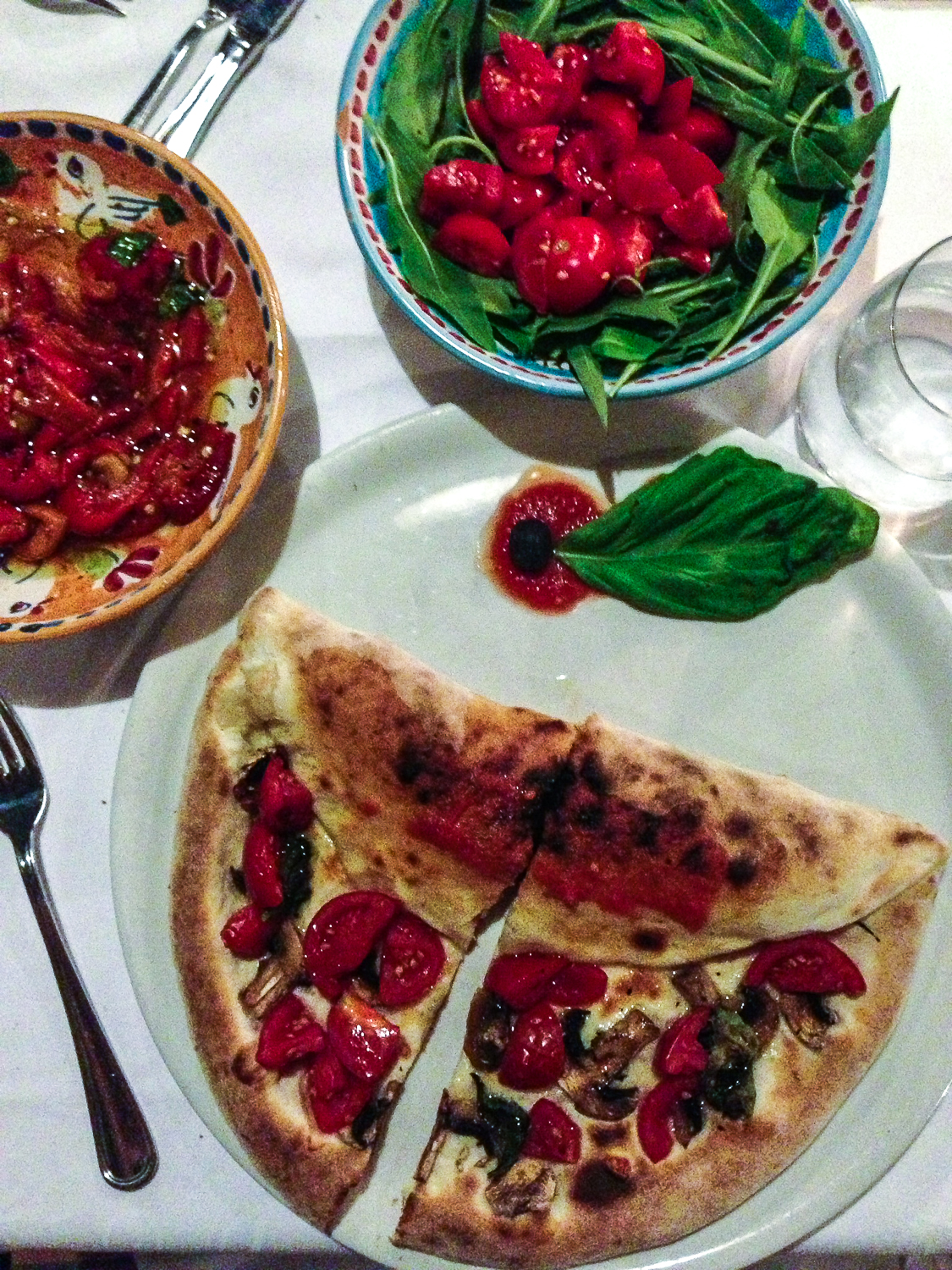 After dinner, we headed back to the hotel and since I had a bit of a head cold, we went to bed early in hopes that I could "sleep it off."  The next morning, after breakfast, we took the bus back down to town.  We then waited eagerly at the port for our boat to Capri (and then to Naples) so the next leg of our adventure could begin!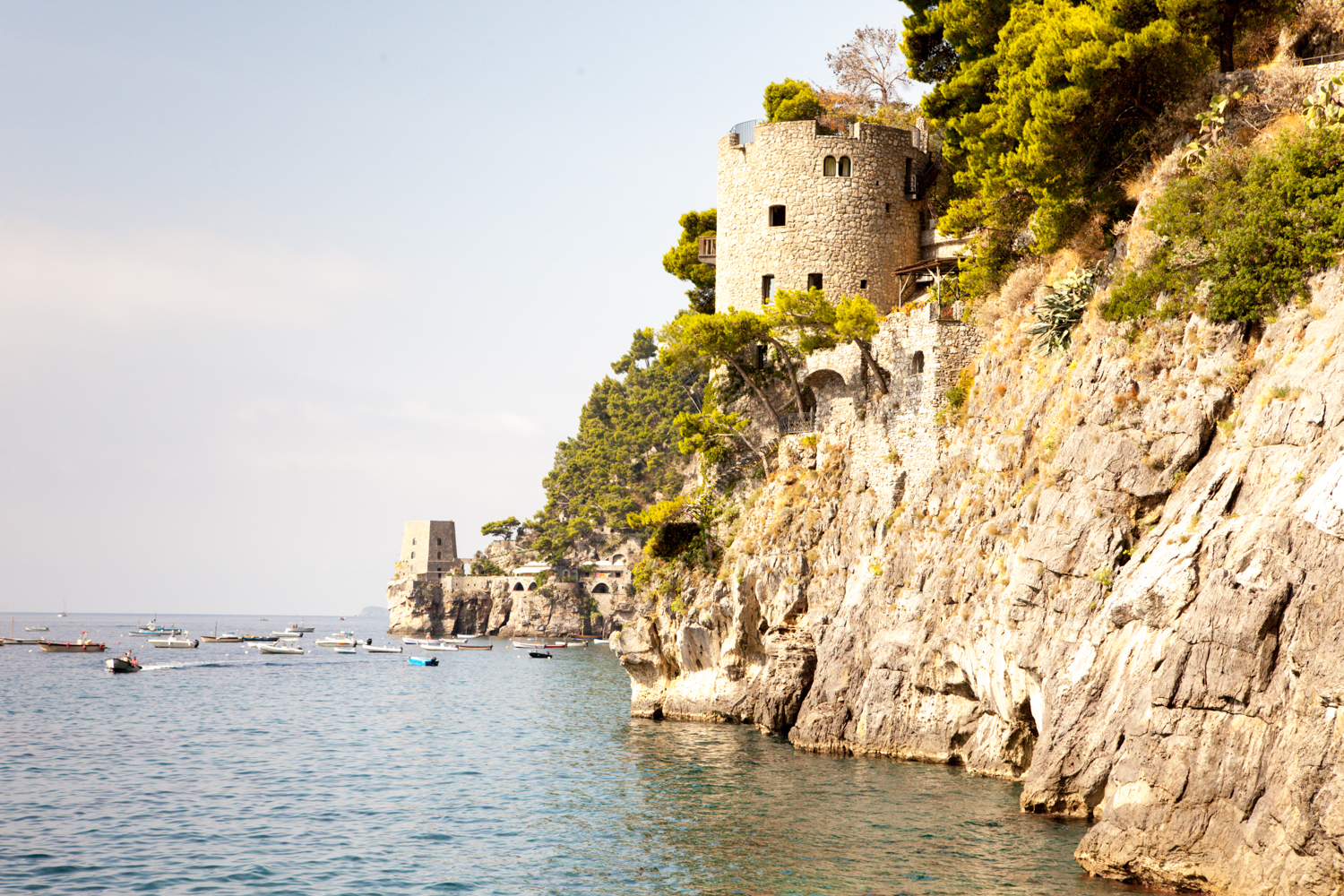 Be sure to tune in next week for Vegan Travel: Rome.  Check out our Italian travels in Capri (part 1 and 2) and don't miss my Top 10 Tips for Traveling Vegan in Italy!