Back in my pre-vegan days, I used to love a good cookie swap party. Now that I'm vegan and don't have many vegan friends close-by, I'm bringing the cookie swap party to Keepin' It Kind! Each day, for 25 days, one of my favorite bloggers will visit and share one of their favorite holiday cookies! That's 25 Days of Cookies, my friends! Happy Holidays!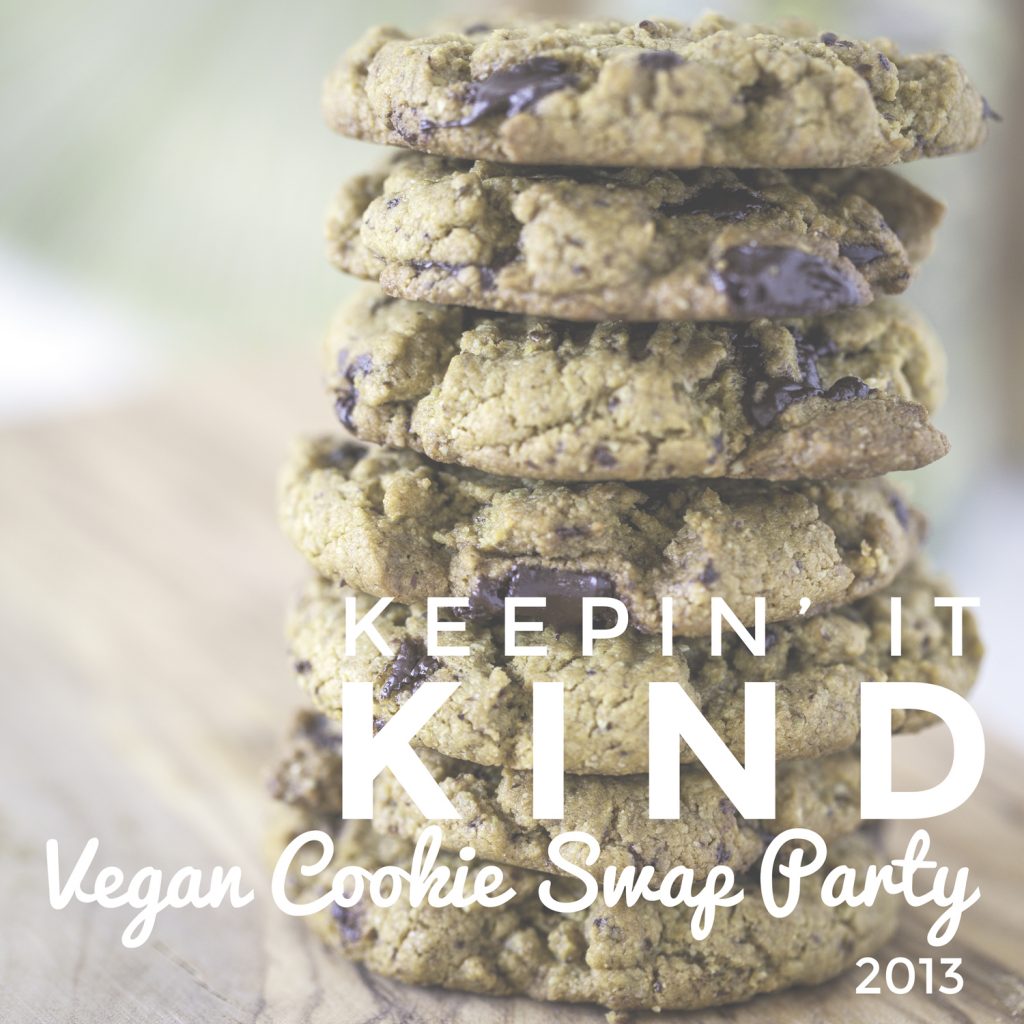 I don't know how I discovered An Unrefined Vegan, but it was shortly after I started Keepin' It Kind.  I was immediately taken with Annie's writing style, her delicious recipes (dear Lord- her breads!!!), and her easy-going and kind personality. When she started showing up and commenting on my blog, I was so touched that someone I so admired liked what I was doing too. I still admire her just as much, if not more, today and I am so happy to have her sharing a version of one of my favorite holiday cookies!
Would You Like A Cookie?
Like most of us Americans, I'm a mutt made up of various ethnicities, some more diluted than others. 50% of me, however, is Italian-Sicilian and I believe that gives me the bona fides and yes, the right to assert the following: Italian cookies suck. Anyone who has spent any time at all in an authentic Italian bakery in the U.S. has witnessed the trays upon trays of stingy-sized, hard little cookies in piles - piles that have been there since dinosaurs walked the earth. It is the rare Italian or Sicilian cookie that tempts my taste buds. I'll stick with the tiramisu, thank you very much. But if you're still not convinced, let my dad describe his experience with Sicilian cookies:
As a young boy, when visiting my Sicilian grandmother, she would remove from under her bed, a tattered box containing jaw-breaking biscotti and would proudly offer the selection with a smile saying, "Have a cookie!" With horror, my siblings and I would look at each other and hold out our hands and sheepishly - out of respect - say yes. Of course, we did all we could do to secretly jettison them as soon possible.

Many years later your mom and I went to see the wonderful mob movie written by Richard Condon, "Prizzi's Honor" where the old don (William Hickey) directs his granddaughter (Anjelica Huston) to bump off her lover, Charley (Jack Nicholson). Sadly, she acquiesces to his demand. Later, at the garden table where they are seated sits a plate of biscotti. At the conversation's end he shoves it in her direction and says, "Have a cookie!" She looks at the plate with a familiar expression of horror - at which point I was the only person in the silent theater to burst out laughing. How did Condon know!
(What my dad didn't add was that his grandmother, tiny, mustachioed and garlicky, struck fear in the hearts of all.) But. The Sicilian cookies I am sharing today do not suck. They are not "jaw-breaking" or ancient. They are soft and moist and filled with sweet fruit and chocolate. Hey, everyone gets it right sometimes.
Thank you, Kristy, for inviting me to once again to bring some goodies to your annual cookie exchange! It's a literal and figurative sweet tradition and I'm honored to be a part of it.
Annie's Sicilian Fig Cookies
Ingredients
1 cup figs, roughly chopped
1 cup dried tart cherries (or use the more traditional raisins; apricots are nice, too)
1/2 cup dates, roughly chopped
1 tsp. fresh ginger, grated
1/2 cup pecans, chopped
zest of 1 orange
1/2 cup orange juice
1/4 cup vegan semi-sweet mini chocolate chips
1 cup whole wheat pastry flour
1 1/2 cups all-purpose flour
1/4 tsp. baking soda
1 1/2 tsp. anise seed, ground
pinch salt
1/4 cup coconut oil
3/4 cup xylitol (or use regular white sugar)
1 tbsp. chia seeds mixed with 3 tbsp. water (let sit for a few minutes to thicken)
4 oz. unsweetened applesauce
4-5 tbsp. non-dairy milk
2 tsp. vanilla extract
non-dairy milk, for brushing cookies prior to baking
colored sugar crystals, for sprinkling on cookies prior to baking
Instructions
In a small saucepan, combine the figs, cherries, dates, fresh ginger, orange zest, and orange juice. Bring to a boil, then turn down the heat and simmer for about 10 minutes. The mixture will thicken. Set aside to cool. Stir in the nuts and the chocolate chips. Cover and refrigerate until ready to use. The mixture will continue to thicken - this is a good thing.
In a bowl, whisk together the flours, baking soda, anise seed, and salt. In another bowl, cream together the coconut oil and xylitol/sugar. Add the chia seed mixture, coconut butter, applesauce, non-dairy milk, and vanilla extract and mix until a soft dough forms.
Form the dough into a thick rectangle. Cover the dough in plastic wrap and chill for several hours or overnight.

(Below is a short video demonstrating how to form the cookies.)

Line three baking sheets with parchment paper and preheat the oven to 400F.
Remove the dough and filling from the refrigerator. The dough remains fairly soft so should not need to come to room temperature before rolling.
Lightly flour your work surface and divid the dough into four pieces. Work with one piece at a time and keep the other pieces covered. Roll one piece of the dough into a rectangle that's about 8" wide and 1/4" thick. Now cut this piece into two. You'll have 2, 4" wide strips.
Brush the strips with cool water. Take about 1/8 of the filling and spread it along the whole length of one of the 4" strips. Fold one long edge of the dough over the filling and gently press the edge to seal. Crimp the edge with a fork. Cut the roll into 8 small pieces and place on one of the prepared baking sheets. Proceed with the remaining pieces of dough.
Brush the cookies with non-dairy milk and sprinkle lightly with sparkling sugar. (You can forgo the crystals and instead drizzle the cookies - post-baking - with a mixture of confectioner's sugar and non-dairy milk, if you prefer). Bake the cookies for 10-12 minutes, rotating baking sheets halfway through to ensure even browning.
Let the cookies cool in pans for a few minutes before transferring to wire racks to cool completely.
Annie:
Optimist.
Skeptic.
Sister.
Daughter.
Partner.
Numerophobe.
Taurus.
Homebody.
Libertarian.
Midwesterner.
Neat-freak.
Carb-junkie.
Runner.
Blogger.