Back in my pre-vegan days, I used to love a good cookie swap party. Now that I'm vegan and don't have many vegan friends close-by, I'm bringing the cookie swap party to Keepin' It Kind! Each day, for 25 days, one of my favorite bloggers will visit and share one of their favorite holiday cookies! That's 25 Days of Cookies, my friends! Happy Holidays!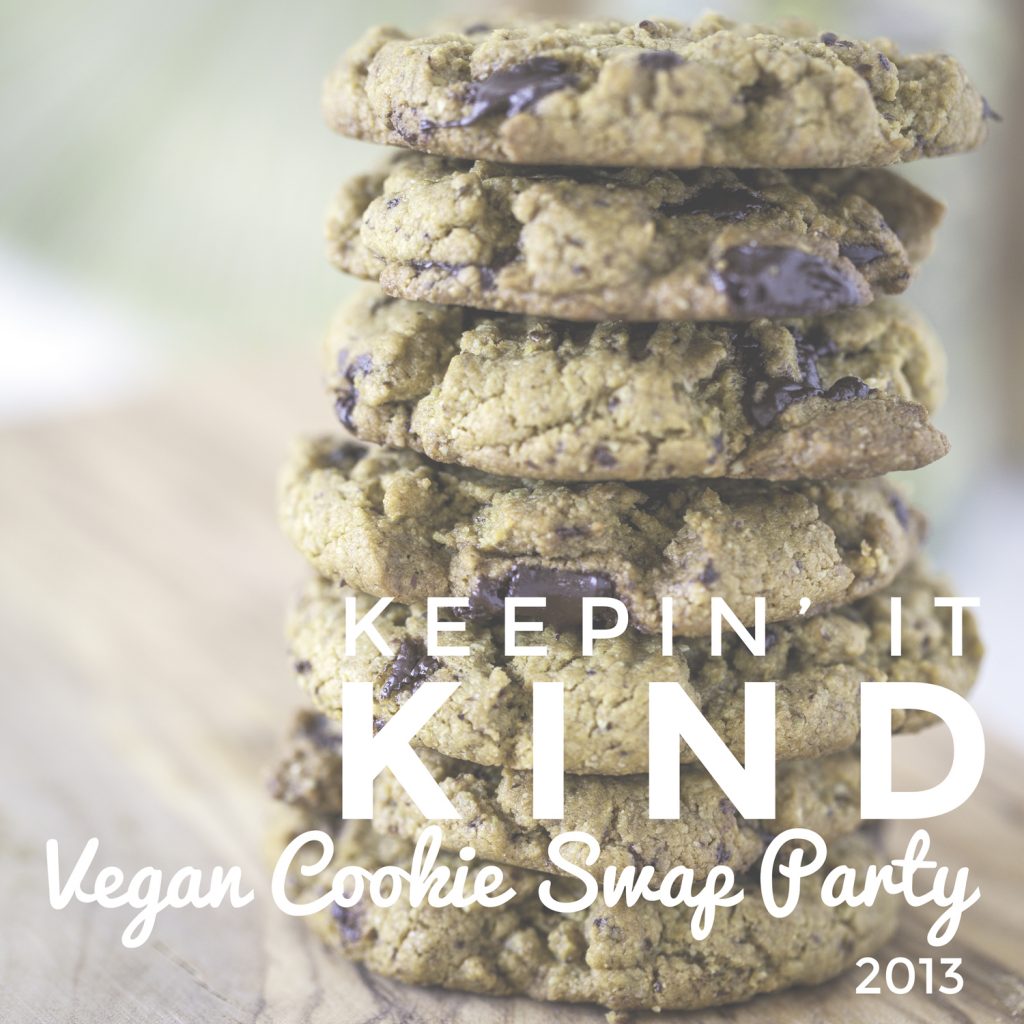 I found Bobbie during Vegan MoFo 2012 and she instantly became one of my new favorite blogs.  Her recipes make my stomach growl and her insightful posts have a way of making me see things in a new light.  I was delighted when Bobbie agreed to join the Party this year and I am so excited to see what she brings!
Hello, everyone! I am so so excited to be hanging out on Keepin' it Kind today and to share a recipe with you all! I first discovered Keepin' it Kind during Vegan MoFo 2012, when Kristy chronicled her love affair with the humble chickpea. Any friend of the chickpea is a friend of mine, so I stuck around and soon I was hooked on Kristy's storytelling, the beautiful photography and the tasty recipes.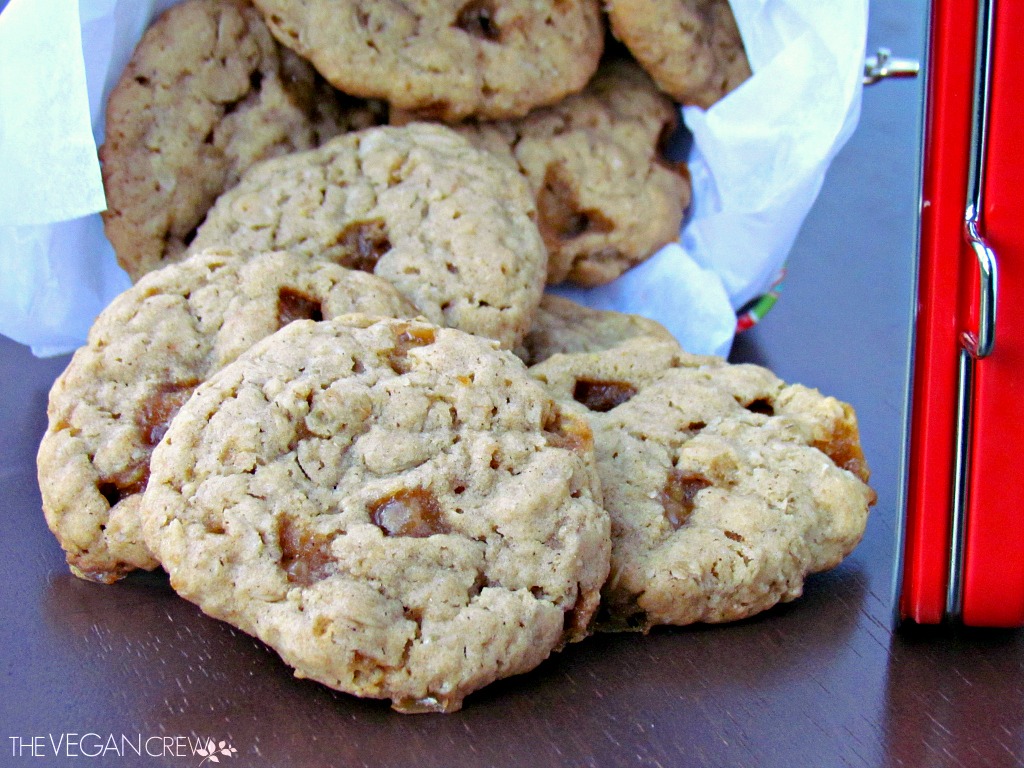 When Kristy asked me if I'd like to participate in this year's cookie swap, I jumped at the chance. It didn't take long to hone in on the perfect cookie to bring: oatmeal toffee cookies! I'd been dreaming about this combination for months, but Kristy's invite provided the nudge I needed to finally pickup a candy thermometer at the store and give toffee-making a whirl.
It's so easy! Ten minutes of work provides you with a ton of glossy, crunchy, buttery toffee perfect alone for satisfying a sweet tooth or for mixing into vegan ice cream...or, because it is the season, for adding to cookies.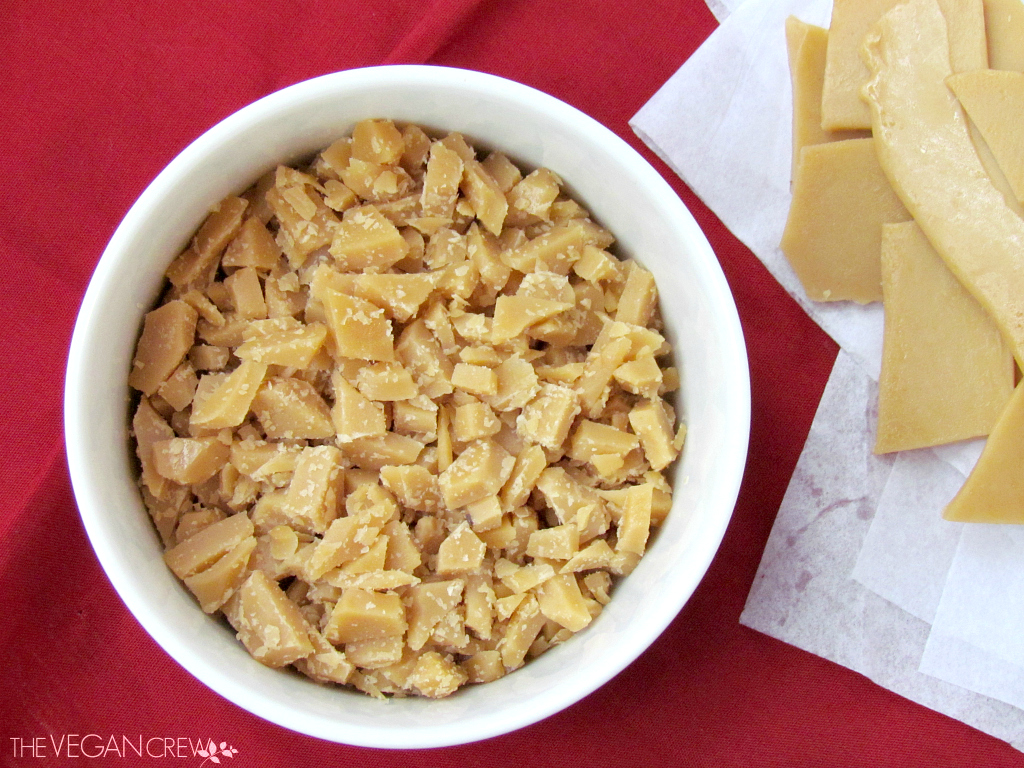 Chewy oatmeal cookies with a hint of cinnamon and nutmeg are complimented with slightly crunchy toffee, to provide lots of cozy in each bite!
Enjoy, and happy holidays!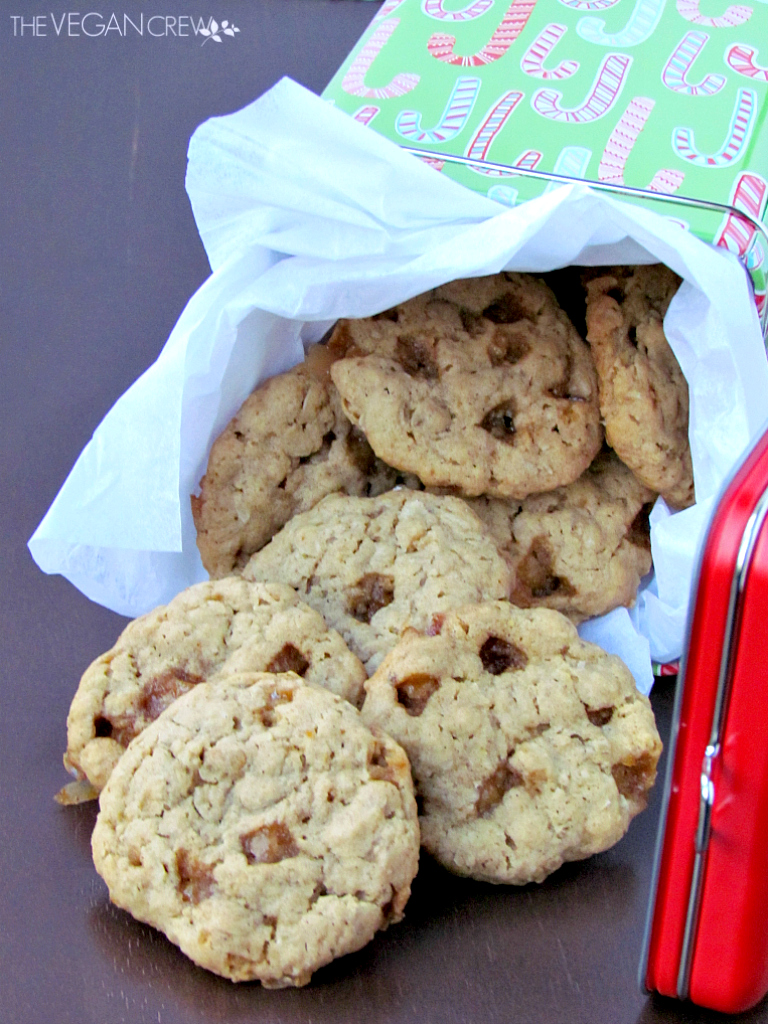 Bobbie's Oatmeal Toffee Cookies
Ingredients
1 cup Earth Balance
1 cup sugar
1 tbsp water
Pinch of salt
½ tsp vanilla extract

*You'll have lots of toffee leftover for other uses.

1 tbsp ground flax seed
3 tbsp non-dairy milk (I used almond)
½ cup Earth Balance
½ cup non-hydrogenated vegetable shortening
2/3 cups packed light brown sugar
1 tsp vanilla extract
1¼ cup all-purpose flour
¾ tsp baking soda
¼ tsp baking powder
¼ tsp cinnamon
Pinch or two of ground nutmeg
¼ tsp salt
1½ cups old fashioned oats
½ cup finely chopped toffee
raisins, walnuts, chocolate chips
Instructions
Line a baking sheet with a non-stick baking mat (such as Silpat) or parchment paper. Attach a candy thermometer to the side of a medium/large pot.
Add all ingredients except for the vanilla extract to the pot and bring everything to a boil over medium heat, stirring constantly. Continue stirring until the color begins to turn a darker amber color and the temperature reaches 300º (it should reach this temp right after the color darkens and the aroma intensifies). Immediately remove from heat and mix in the vanilla extract.
Pour the mixture onto your prepared baking sheet and smooth with a spatula. Let sit for at least a couple of hours, until hardened. Break it into small pieces.
Heat oven to 350º. Line a baking sheet with parchment paper or a baking mat.
In a small bowl, whisk together the flax seed and milk. Sit aside for a few minutes, until gelatinous.
In a large mixing bowl, add the Earth Balance, shortening, sugar, vanilla and flax seed mixture and mix with an electric mixture until smooth.
Add in all remaining ingredients, except the toffee pieces, and mix until well combined. Fold in the toffee pieces.
Roll 1 tbsp scoops of the dough into balls and place them on the prepared baking sheet. Lightly press each ball to flatten into a small disk. Bake for 10-11 minutes, until the cookies start to brown slightly. Remove from oven and let cool for a few minutes before transferring them to a cooling rack.
Notes
(1) Chop the toffee fairly small, no larger than the size of a chocolate chip. The toffee pieces will melt in the oven and, if they are too large, the cookies will spread too much. (2) Store the dough in the refrigerator between batches, to keep it cool.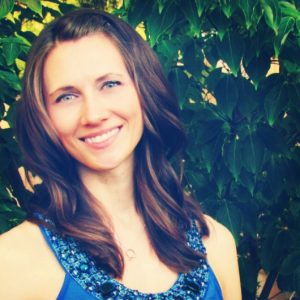 Bobbie Crew runs the Kansas City-based vegan lifestyle blog The Vegan Crew, where she shares her experiences, discoveries and tips (mostly in the form of recipes) and demonstrates just how joyful -- and delicious -- living compassionately can be. She enjoys spending time with her husband, Erik, and an orange tabby named Reagan, cycling, a good book, good food & good company. You can connect with her on Twitter, Instagram and Pinterest.