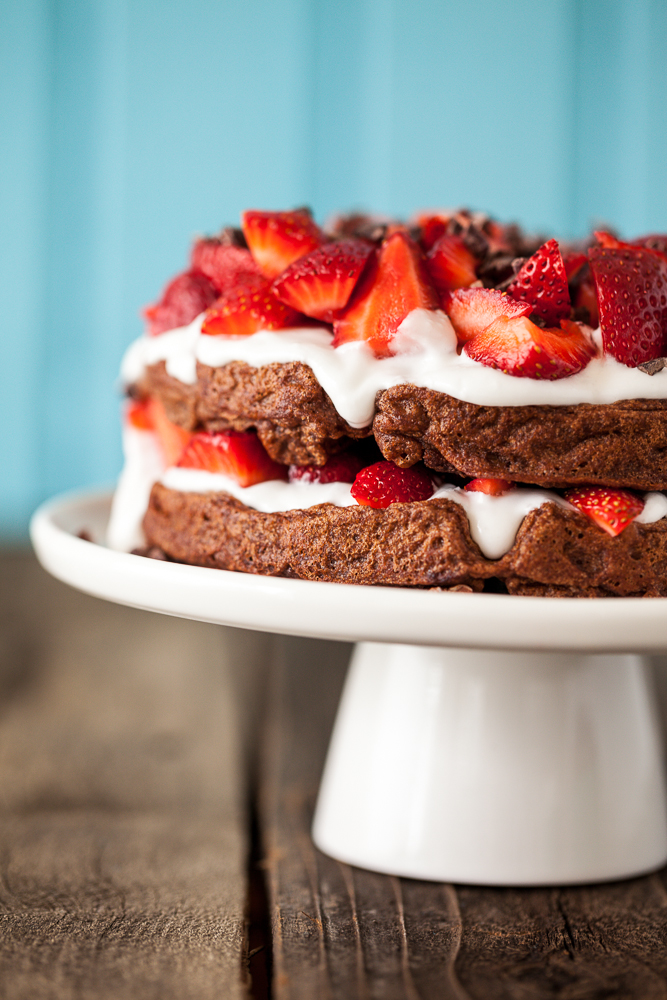 Look at those waffles.  They look absolutely decadent, do they not?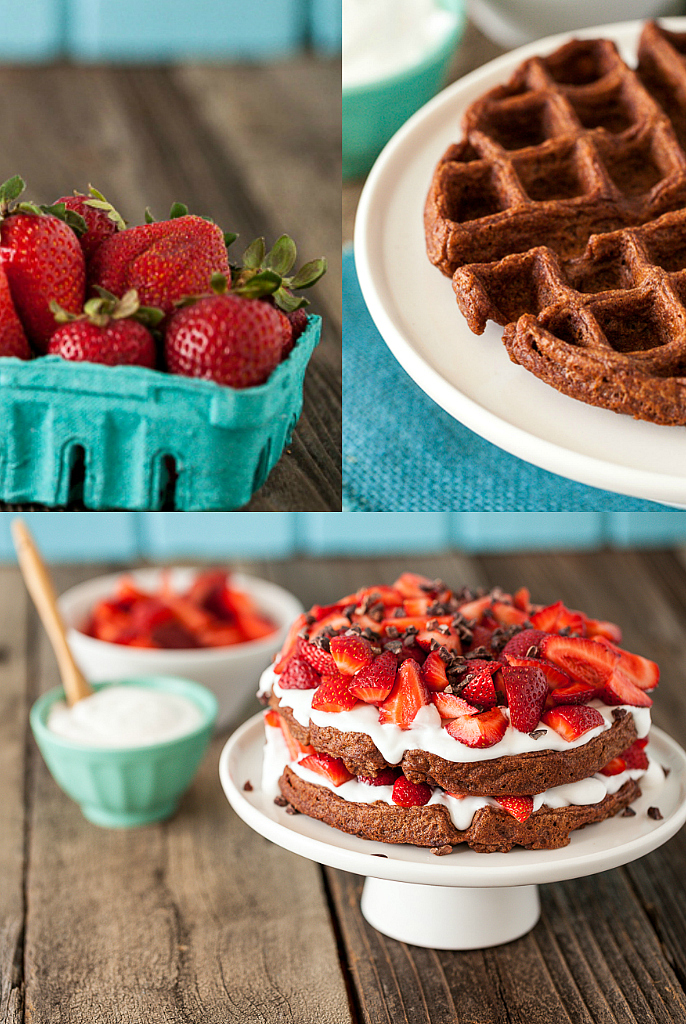 As Chris was photographing them, he kept saying "I'm going to gain 100 pounds with this breakfast, aren't I?"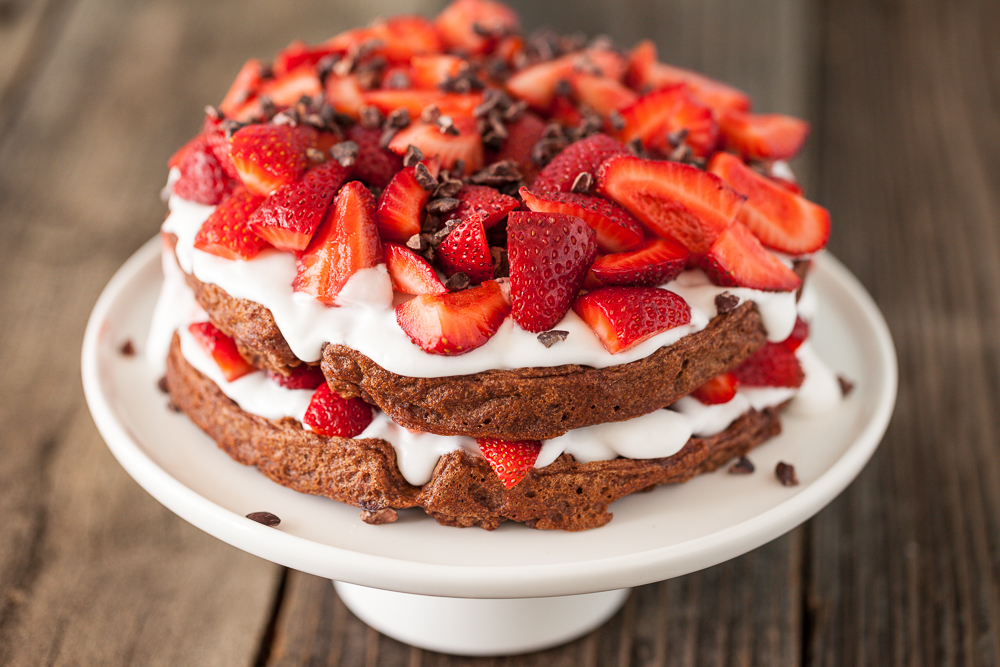 If I didn't know better, I would probably think that too.  These waffles are absolutely incredible!  The waffles are like a cross between brownies and chocolate cake.  Every bite of the cake waffle mixed with rich cream, juicy strawberries, and the little crunch from the cacao nibs sprinkled on top was so enthralling it was almost indecent.  With all of that whipped cream nestled into the nooks and crannies of those sumptuous waffles, I would think that a meal this indulgent would be better suited for a special occasion rather than just some ordinary Sunday.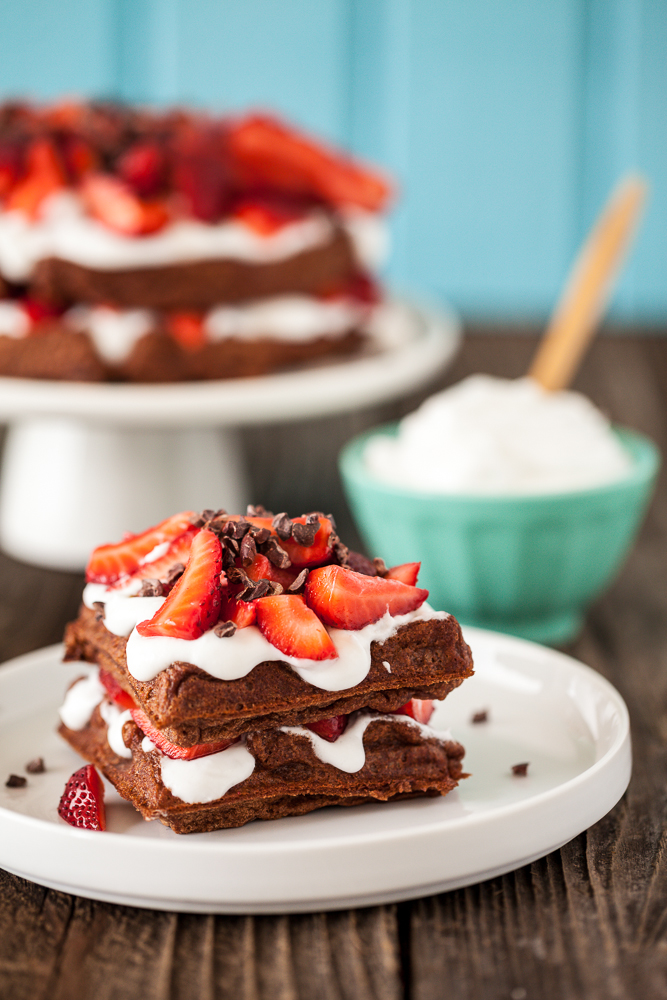 The truth is, however, that these chocolate strawberry shortcake waffles are not terrible for you.  They're not something I would eat on a daily basis, but for a dessert-like breakfast, these are pretty healthy.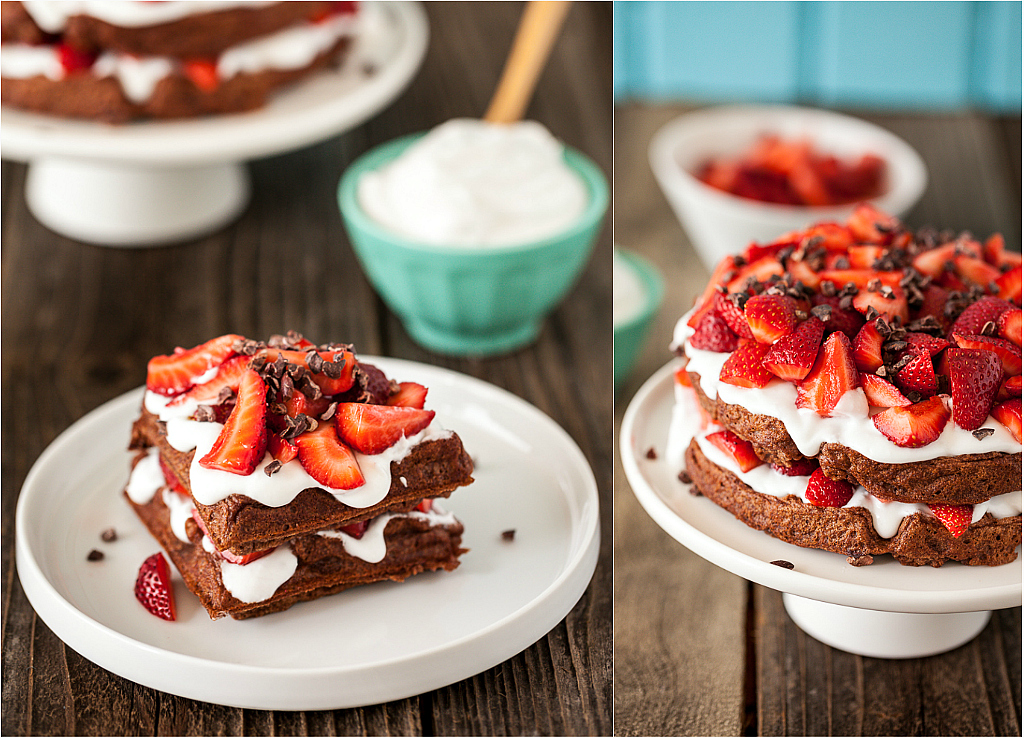 The waffles have redeeming health benefits from the cacao powder (though cocoa powder could be used in place of the cacao).  There is just a minimal amount of coconut oil (though that can easily be subbed with applesauce) and they are sweetened by NuNaturals Pure Liquid Lo Han Supreme sweetener.  This is one of the products that NuNaturals gave to me to try and I have to say- so far I'm loving it!  I kept trying to taste it with every bite of my waffles and wasn't able to distinguish the difference at all.  I also used a little bit of the powdered version, the LoSweet Pure Extract to sweeten my coconut whipped cream!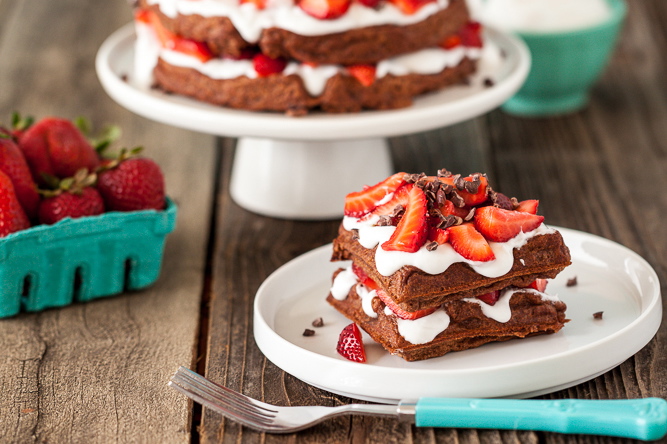 Lo Sweet is a natural plant-based, non-caloric sweetener that rates as a zero on the glycemic index so it will not affect your blood sugar.  According to NuNaturals, "This pleasant tasting fruit extract is perfect for dieters & anyone concerned about the effects of sugar on their health. These all-natural products are made from the fruit Lo Han Guo (also known as monk fruit.) The Monk Fruit is notable for its sweetness, which can be concentrated from its juice. It has been used as a food, beverage, and a traditional medicine to treat diabetes & obesity for centuries in Asia."  Because I am hypoglycemic and have issues with my blood sugar, I try to always use low-glycemic sugar alternatives like stevia, coconut sugar, coconut nectar, and now the NuNaturals Lo Han products.  These types of products are a lifesaver for me but they're also great for those just wanting to enjoy a sweet (and healthy) indulgence.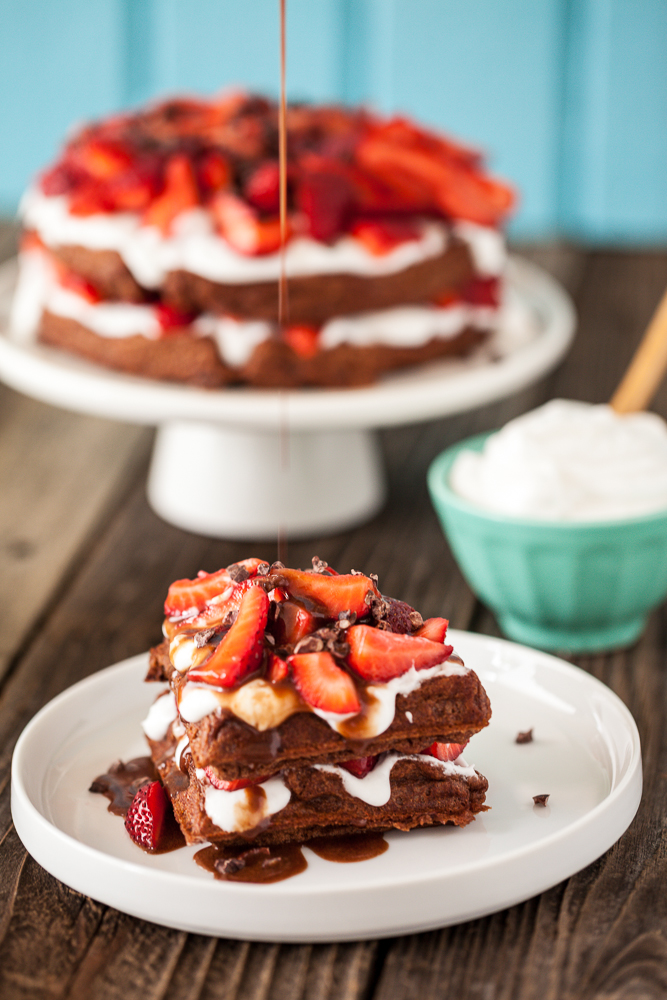 NuNaturals has been kind enough to let me be a part of a very generous and amazing giveaway, which I will tell you all about in a moment.  First, I'll let you fantasize about these waffles a little while longer.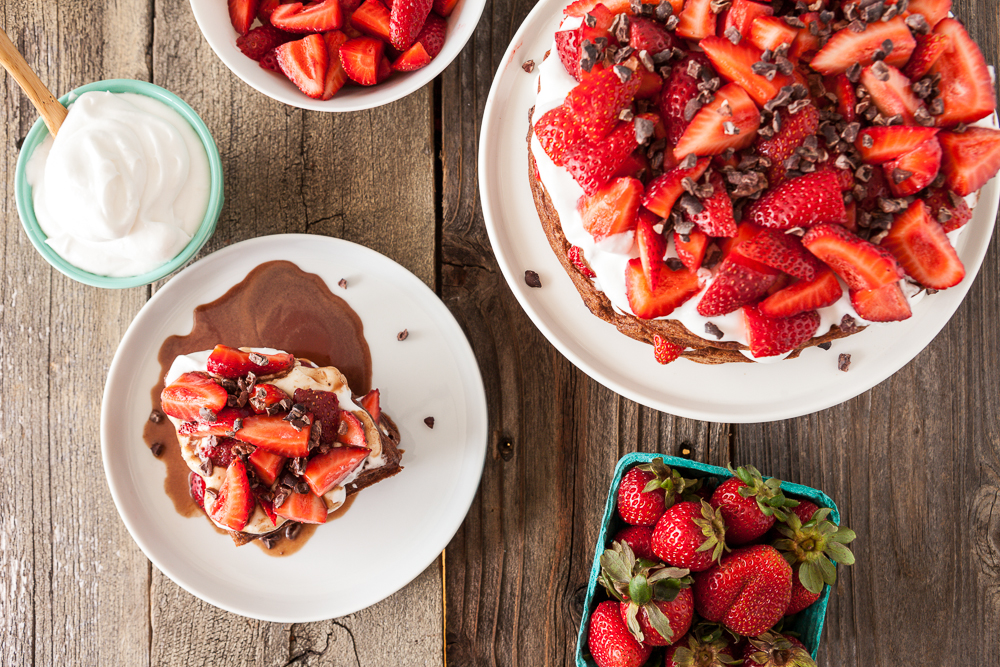 Chocolate Strawberry Shortcake Waffles & a NuNaturals Giveaway!
Ingredients
1 1/2 cups whole wheat pastry flour
1/3 cup cacao or cocoa powder
1 tablespoon baking powder
1/2 teaspoon salt
1 cup almond milk (or other nondairy milk)
2/3 cup plain coconut milk yogurt
1/4 cup coconut oil, melted
50-60 drops of NuNaturals Pure Liquid Lo Han Supreme Sweetener ( or 3 tablespoons coconut sugar)
vegan oil spray (for spraying the waffle iron)
1 can of coconut milk, refrigerated overnight
1/4 teaspoon NuNaturals LoSweet Pure Extract Sweetener (or 1 teaspoon powdered sugar/xylitol)
1/2 teaspoon vanilla extract
3 cups hulled and quartered strawberries
cacao nibs for sprinkling (optional)
1/2 cup maple syrup
1-2 tablespoons cacao or cocoa powder
Instructions
Preheat waffle maker according to machine instructions.
Make the waffle batter. In a large bowl, whisk together the dry ingredients. In a small bowl, mix together the wet ingredients. Add the wet ingredients to the dry, combine and let sit for about 10 minutes.
While the batter is resting, make your whipped cream. I followed Angela's instructions, though I used 1/4 teaspoon of LoSweet Pure Extract. Freezing the bowl prior is key, though. Just follow Angela's instructions.
Once your whipped cream is made, your strawberries prepared, and your batter has rested, begin making your waffles. Make your waffles using your machine's instructions, making sure to spray the waffle iron with a little oil in between each waffle.
Once the waffles are made, you can serve them one of three ways: 1.) Top one waffle with whipped cream and strawberries, top with cacao nibs and serve; 2.) Top one waffle with whipped cream and strawberries, then top with another waffle and repeat. Slice as you would a cake and serve; 3.) Cut a waffle into quarters. Top one quarter with coconut cream and strawberries, top with another quarter, repeat and serve. Repeat with the other two quarters. You can serve it as is, or top with some of the chocolate maple syrup, but we thought it was fine without it. Enjoy!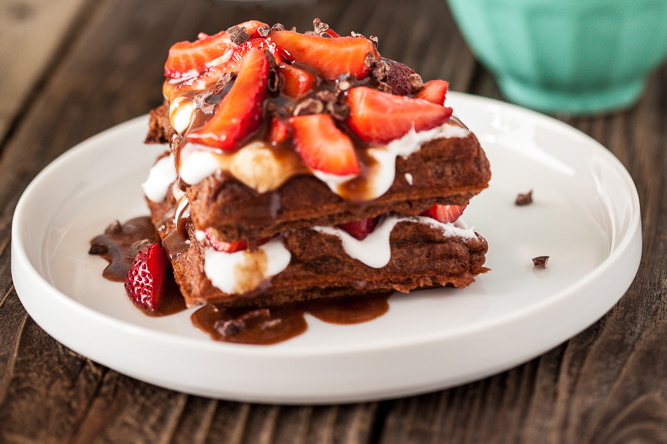 Now, onto the Giveaway!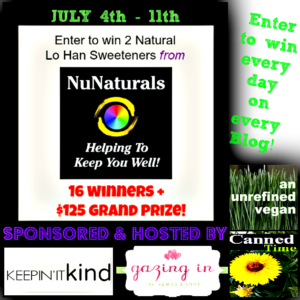 As I said, NuNaturals is hosting a very generous giveaway.  I, along with Angela at Canned Time, Annie at An Unrefined Vegan, and Sarah at Gazing In will each be giving away two NuNatural's Lo Han Products to four lucky readers.  That means there will be a total of sixteen winners!  You can enter on all of our blogs to increase your chances and this giveaway is open to all readers worldwide!  Then, as if that wasn't awesome enough, one of those sixteen winners will win a selection of NuNaturals wellness products with a retail value of $125!  This contest will close on July 11th so hurry up and get your entries in!  There are many ways to enter, so please follow the instructions in the box below.  I encourage you to enter at Canned Time, An Unrefined Vegan, and Gazing In as well!

Good luck in the contest, eat some of these waffles and for my American readers, have a very sweet Independence Day!
Disclaimer: NuNaturals provided me with product for this review although I was under no obligation to do so.  Thoughts and opinions are my own.
 Photography by Chris Miller