Back in my pre-vegan days, I used to love a good cookie swap party. Now that I'm vegan and don't have many vegan friends close-by, I'm bringing the cookie swap party to Keepin' It Kind! Each day, for 25 days, one of my favorite bloggers will visit and share one of their favorite holiday cookies! That's 25 Days of Cookies, my friends! Happy Holidays!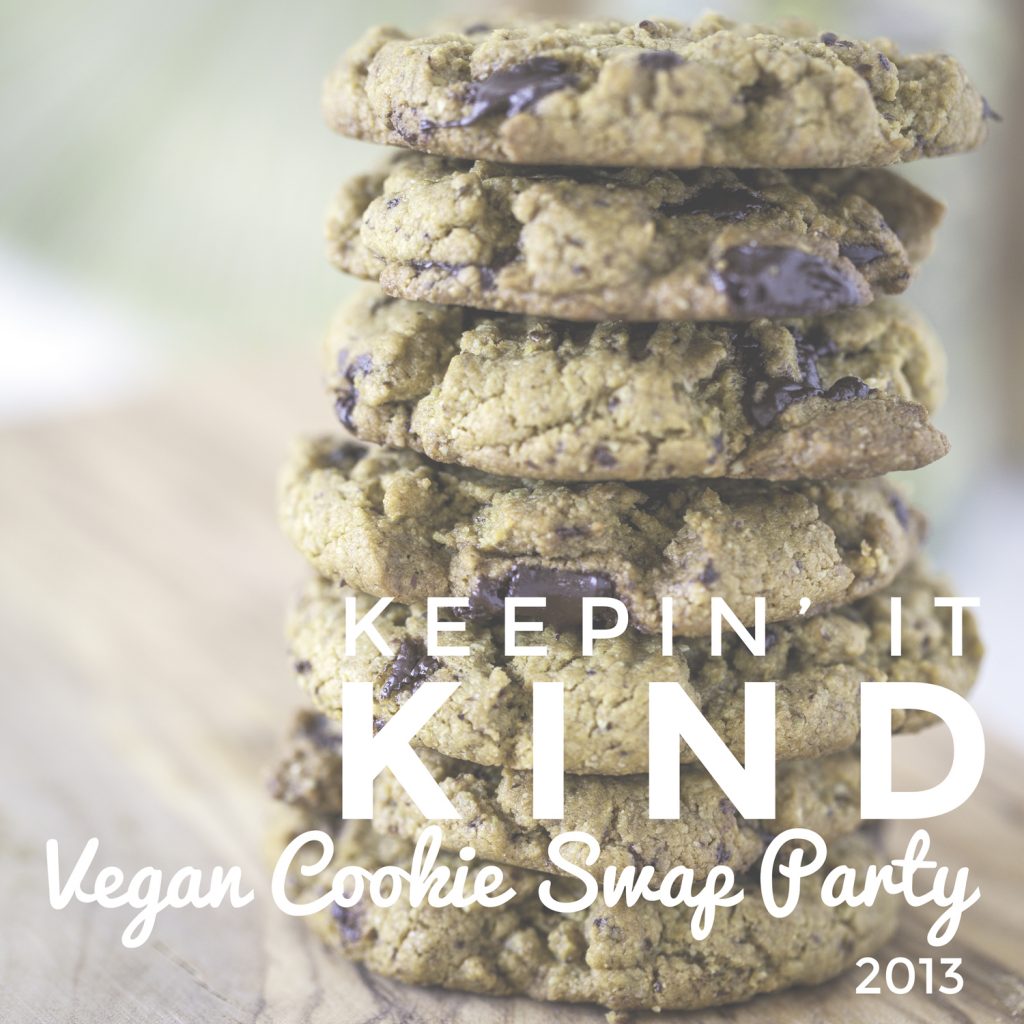 Since this is a Vegan Cookie Swap Party, I thought it only appropriate that the Vegan Cookie Fairy join us. Being the cookie monster that I am, I immediately loved Clemence's blog's name, but as I started following her, I became more and more in awe of this young blogger. Maybe it's because I love all things Belgian (it's one of my most favorite countries) or maybe it's because Clemence is wildly talented, whipping up some of the tastiest desserts I've seen, but I love her blog and I am so thrilled to have her here today!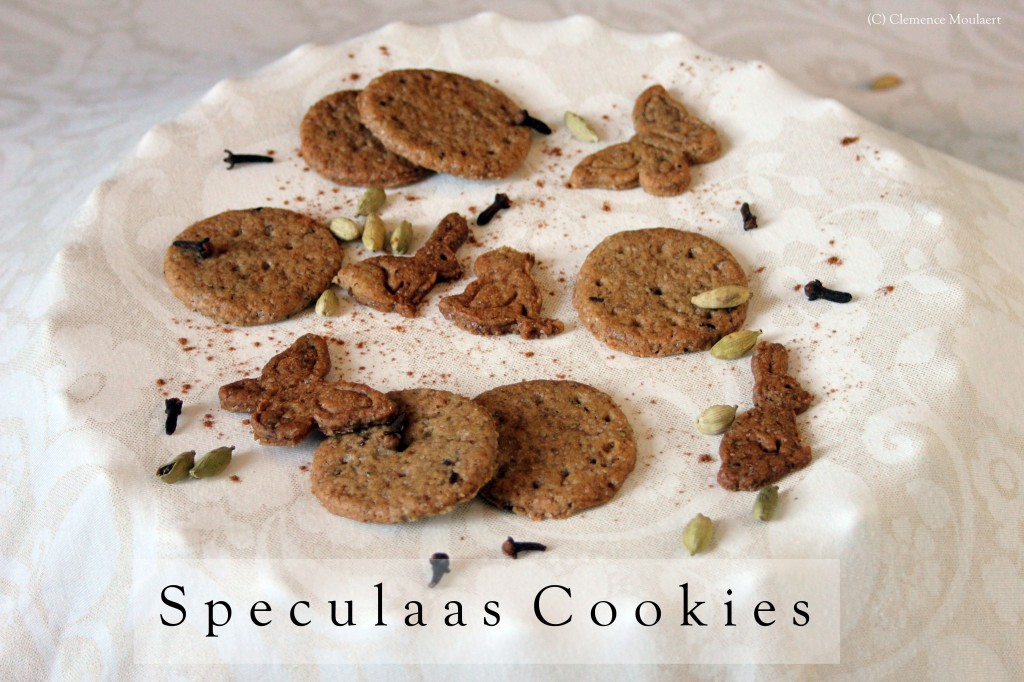 The 6th of December is a magical day in the Low Countries. On the eve of this day, children all over Belgium and the Netherlands place a pair of shoes in front of the hearth. If they have been naughty children, they will wake up to find their shoes filled with coal. But if they have behaved all year, in the morning they will find their shoes filled with sweets.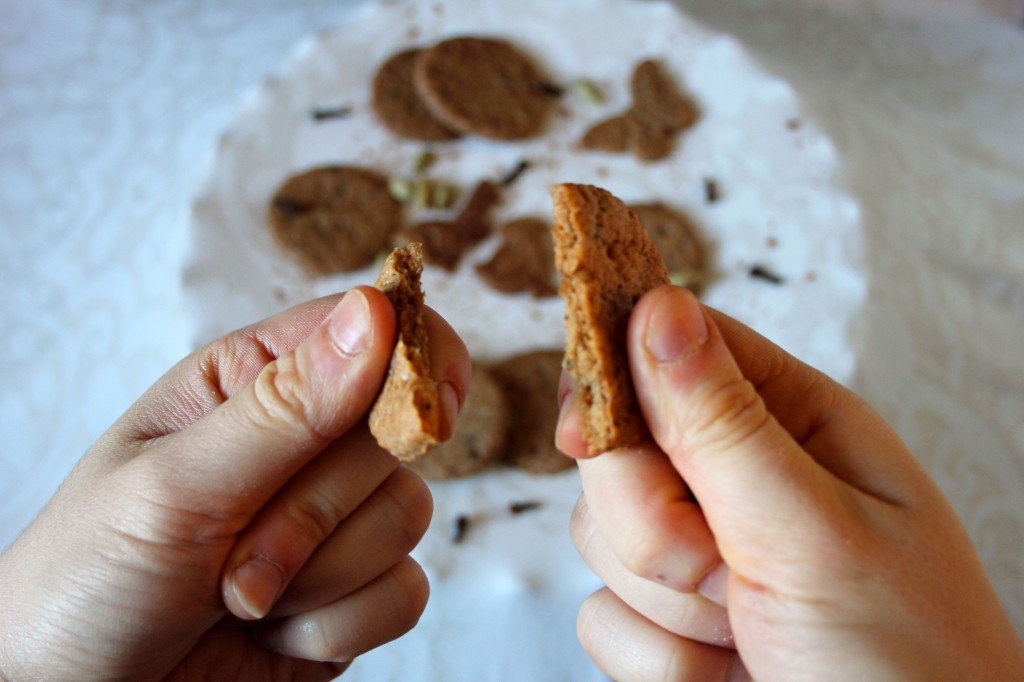 This day is known as Saint Nicholas' Day. It is probably our favourite holiday after Christmas; even when I was a teenager, I still received sweets. St Nicholas' Day always fell in the middle of exams time in Belgium, but much to every pupil's delight, there would be a clementine, a piece of chocolate and a huge slab of Speculaas waiting for us on our exam tables. We were even allowed to eat our sweets whilst sitting our exams.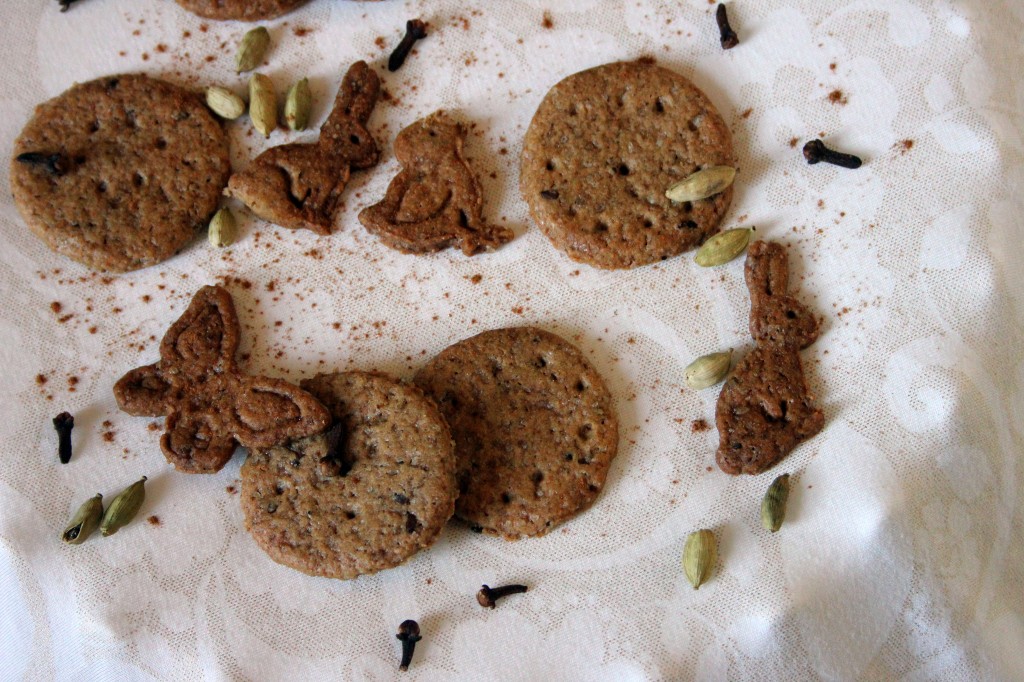 The story goes that Sinterklaas, or St Nicholas, the patron saint of children, travelled to Spain and returned to the Low Countries on a steamship laden with mandarins, which he offered to all the children. I presume his ship was also laden with spices — ginger, cardamom, nutmeg, cloves, and the key ingredient in these cookies, cinnamon — and that that is how these cookies were born.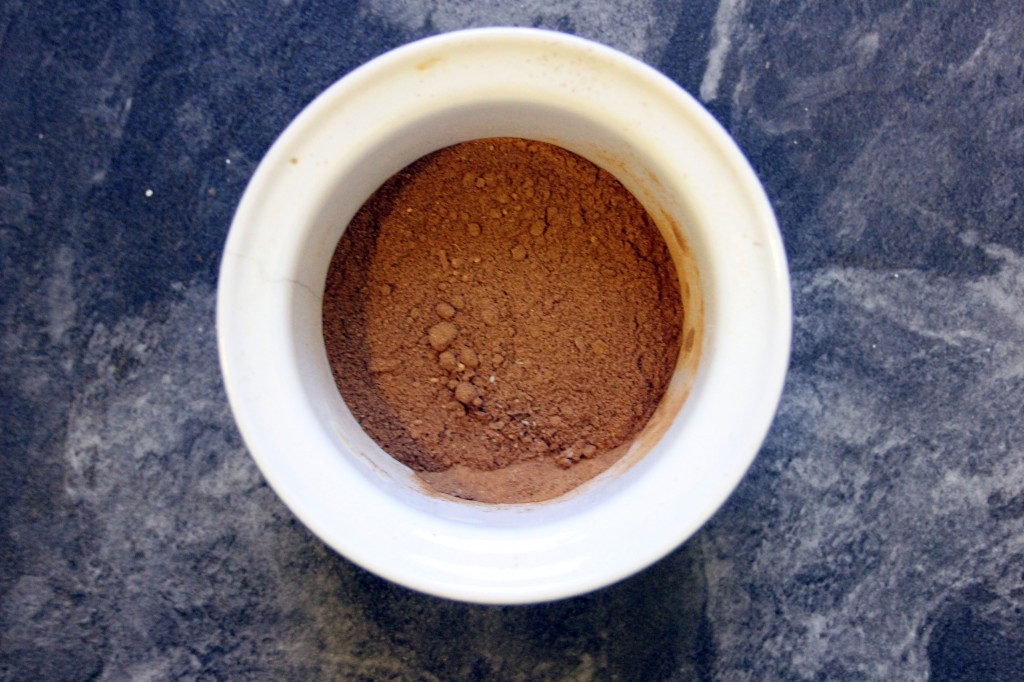 Speculaas cookies are so popular that they are available year-round in a multitude of shapes. They have even been transformed into a spreadable paste, which is often called 'cookie butter' in the USA. I call these cookies, but they're not chewy at all; Speculaas are meant to be so crunchy they will snap under pressure. They are delightful dipped in tea or hot chocolate.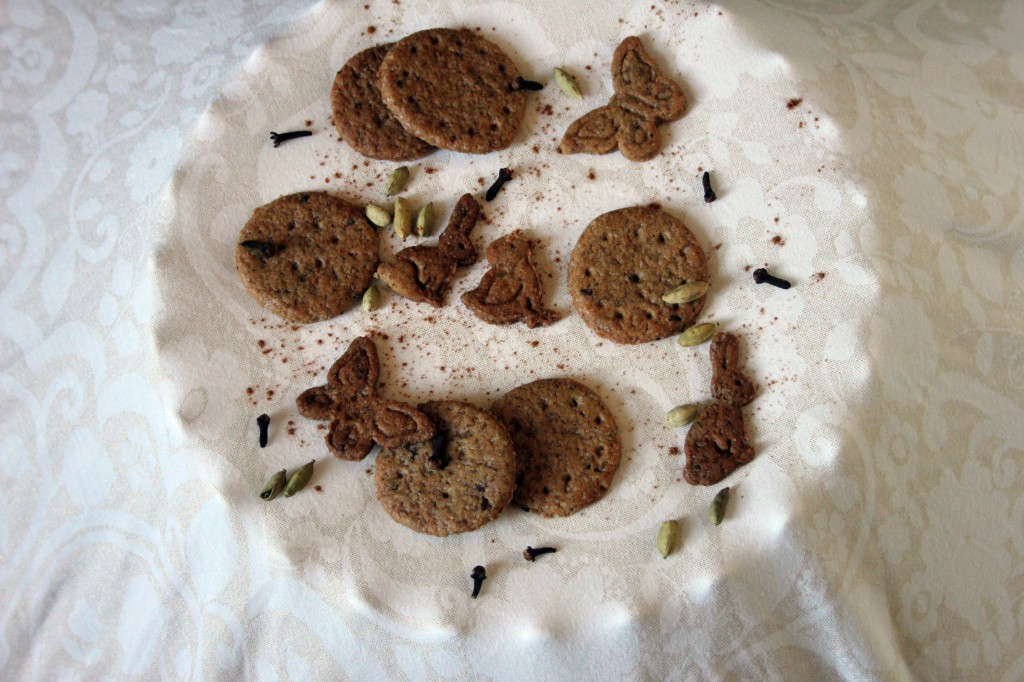 Clemence's Speculaas Cookies
Ingredients
8 parts ground cinnamon
2 parts ground nutmeg
2 parts ground cloves
1 part ground ginger
1 part ground cardamom

For this recipe you will need 2 tbsp of Speculaas spice mix; therefore you will need 4 tsp ground cinnamon + 1 tsp ground nutmeg + 1 tsp ground cloves + ½ tsp ground ginger + ½ tsp ground cardamom.

200g (⅞cup, or ¾ cup + half of ¼ cup) vegan butter
200g (2 scant cups) plain flour + extra
200g (1 + ¼ cup) soft brown sugar
2 tbsp Speculaas spice mix
1 tbsp ground flaxseed
Instructions
Pre-heat the oven to 180° C (356° F). Line two baking trays with baking parchment (cookie sheets).
By hand or with a standing mixer, cream together the vegan butter and soft brown sugar. Add the vanilla paste, ground flaxseed, baking soda, and finally, the plain flour. Mix until the dough starts to look quite uniform.
Lightly flour a clean surface. Turn over the dough onto the floured surface and knead by hand for a few minutes, or until the dough is pliable, smooth and even.
With a rolling pin, roll out the dough to 3-4 mm (0.12 inches) thick. Cut the dough into shapes and place your cookie shapes onto the lined baking trays. Knead the leftover dough strands into a ball, as before, and roll out thinly once again. Cut the cookie shapes; repeat the process until the dough is exhausted.
Bake the cookies for 16-18 minutes, depending on the size of your cookies. Keep a watchful eye on your oven; you don't want to take out the cookies too soon, or they'll be chewy, but leave them too long and they will burn to a crisp.
Cool on a wire rack for at least 15 minutes. The cookies should be nice and crisp, and a deep nutty brown colour.
Notes
* Speculaas cookies are traditionally baked in a carved wooden mold. I do not possess one so I simply cut the dough with a cookie cutter and baked the cookies on baking parchment (a cookie sheet). The result is almost exactly the same.
* I learned the original recipe for the spice mix from The Dutch Baker's Daughter. However I omitted the white pepper; to me, the cookies still taste exactly as I remember them from my childhood.
* The cookies need to be 3-4mm thick; in inches, this is 0.12, which I realise is a bizarre number. Suffice to say that these cookies need to be quite thin, though not wafer-thin.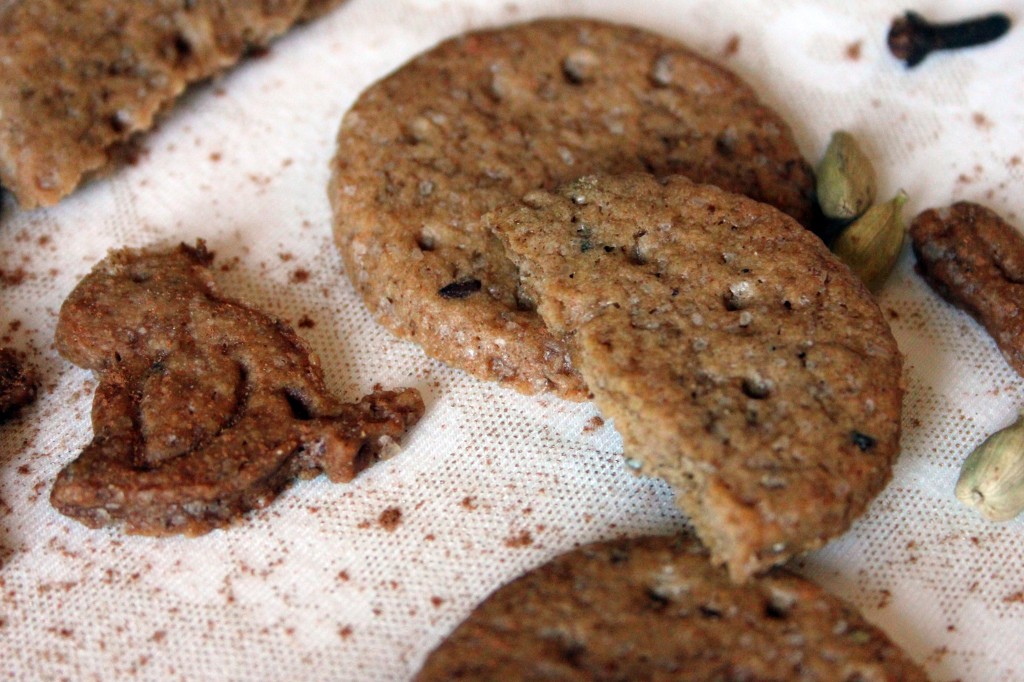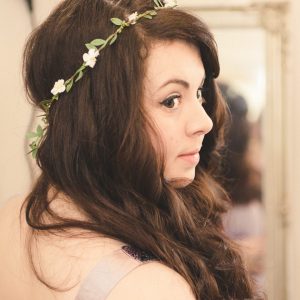 Clémence Moulaert (Clem) is the vegan baker and cook behind The Vegan Cookie Fairy. She became a vegan in March 2011, and soon after began experimenting with vegan baking to satisfy her sweet tooth. She tested her recipes on her friends, who started calling her the vegan cookie fairy—and so the blog was born. It reunites Clem's greatest passions—food and writing. Clem is currently studying a postgraduate degree in Stirling, Scotland, where she lives with her cat