For those of you not familiar with Los Angeles, I should tell you that it is very spread out. Plus, there's traffic at pretty much all times of the day (When I first moved here, I got stuck in a traffic jam on the 10 at 2:30 am. True Story.). Because of this, I tend to stick to my little Venice/Marina del Rey neighborhood (unless I'm working/commuting), occasionally venturing out to Culver City or Santa Monica. The twins live in the valley so I venture out there once a week and there's the infrequent visit to my doctor in West LA. I love to explore but unless there's a specific reason that takes me to another part of the city, I stick to my local favorites when it comes to eating out.
Recently, Chris let me come along with him while he did some work/scouting in Topanga Canyon. Sure, I had work to do and I should've stayed home but I jumped at the chance to hang with my husband and get a little adventurous. Plus, I knew he would be picking the twins up after he was done so I knew we would be driving through Canoga Park in the early afternoon. Just in time for a late lunch. And one of my favorite cafes, Follow Your Heart Cafe, just so happens to be located in Canoga Park. Ok, I may have had more than one reason for accompanying Chris while he worked that day.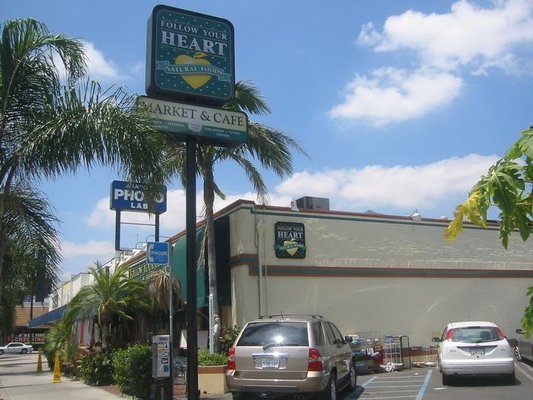 You may recognize the name, Follow Your Heart, as being the brand behind Vegenaise, my favorite Gourmet Vegan Cheese Shreds, and many more vegan and vegetarian products. That's because this is the cafe that started it all. This vegetarian cafe has been open since 1970 and is well-loved for it's home-style comfort food (a good portion of which is vegan or can be made vegan).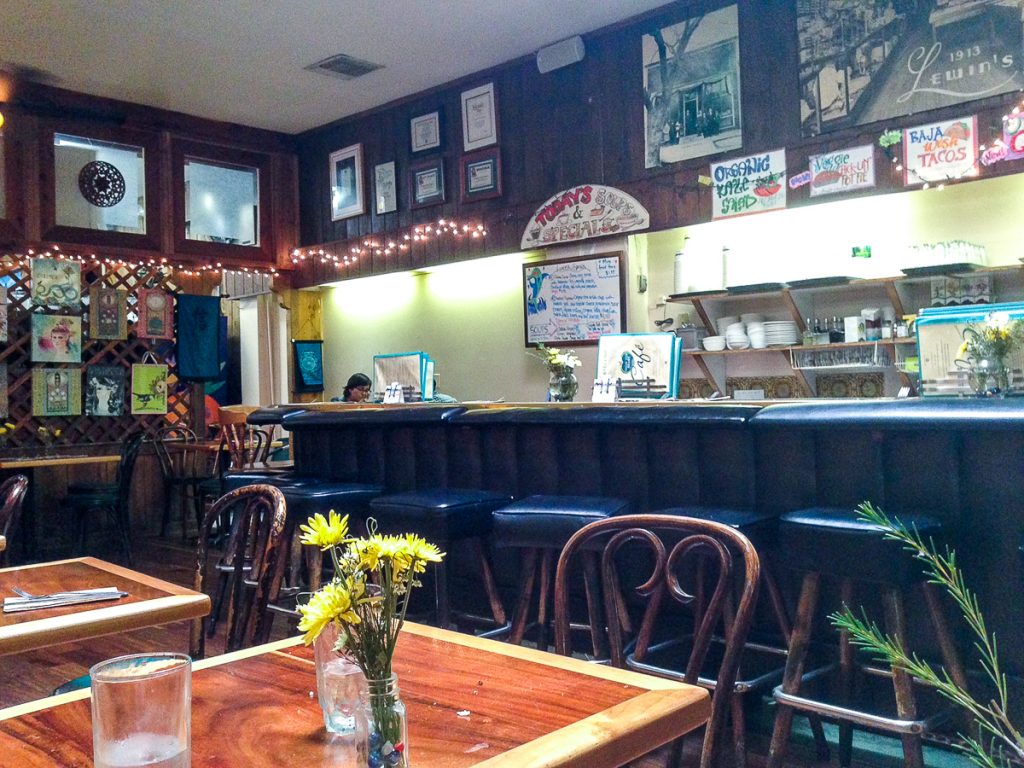 The cafe is actually located in the back corner of the Follow Your Heart Natural Foods Market, and when you step in, it's like taking a step into a 70's Ma & Pa-style diner. They have an outdoor patio where you can eat, but I actually like sitting inside and enjoying the nostalgic decor. It's the sort of place where I can imagine my grandpa eating a big breakfast at the counter, sipping his black coffee and flirting with the waitresses. I kind of love it.
The first time Chris and I came here, it was about a year before we went vegan and I remember loving the generous portions and the delicious meal, though I cannot remember what we ordered (I just remember needing to take home leftovers). After becoming vegan, Chris and I became big fans of the Vegan Reuben sandwich there. It's one of our favorites in LA. It's so huge that we usually share it and a side of fries or salad. If you go, you should definitely try the Reuben. Trust me. This time, though, we felt like branching out and trying something new.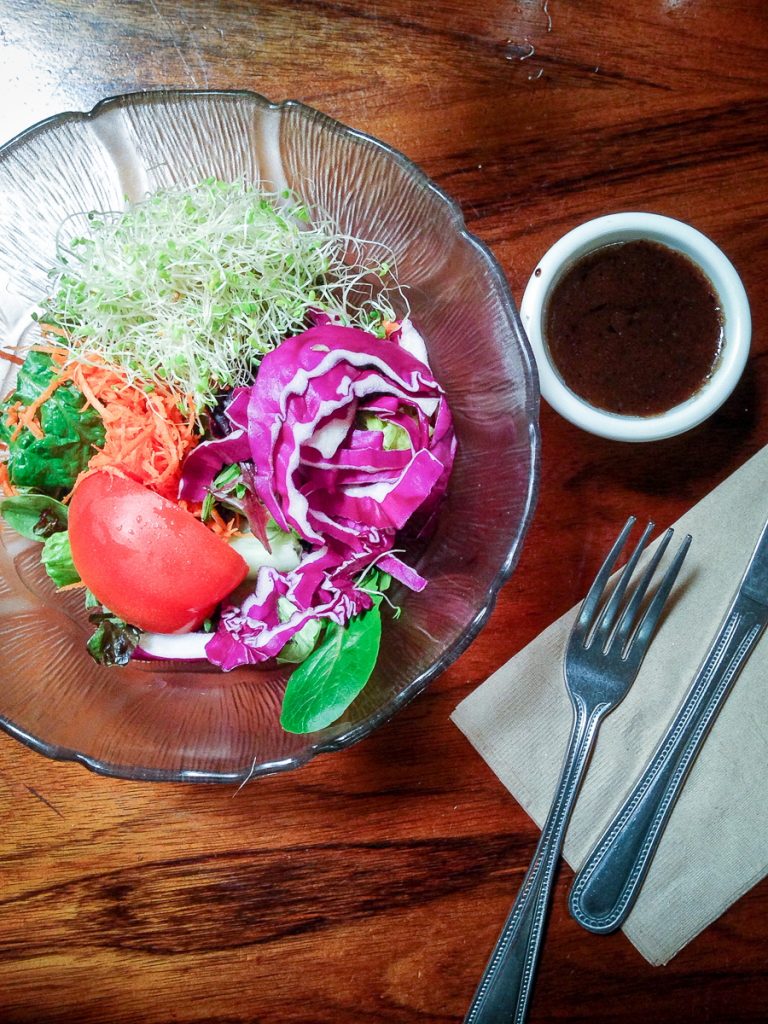 I was pretty hungry so I ordered an entree which automatically comes with a salad or soup. I chose the salad. It was pretty basic but nice and fresh and the balsamic vinaigrette was really tasty.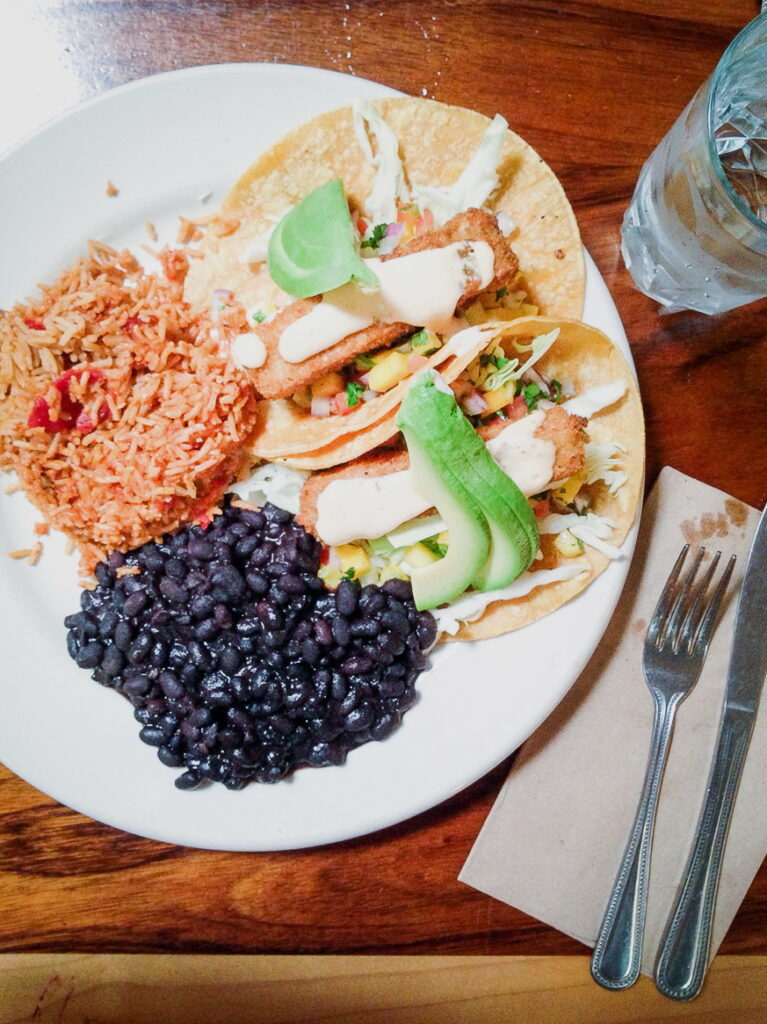 As my entree, I got the Baja Wish Tacos. Along with a side of black beans and spanish rice, I got 2 tacos, filled with breaded tofu filets, mango salsa, avocado, and chipotle vegenaise. The tofu was a tiny bit bland, but overall, the tacos were very good.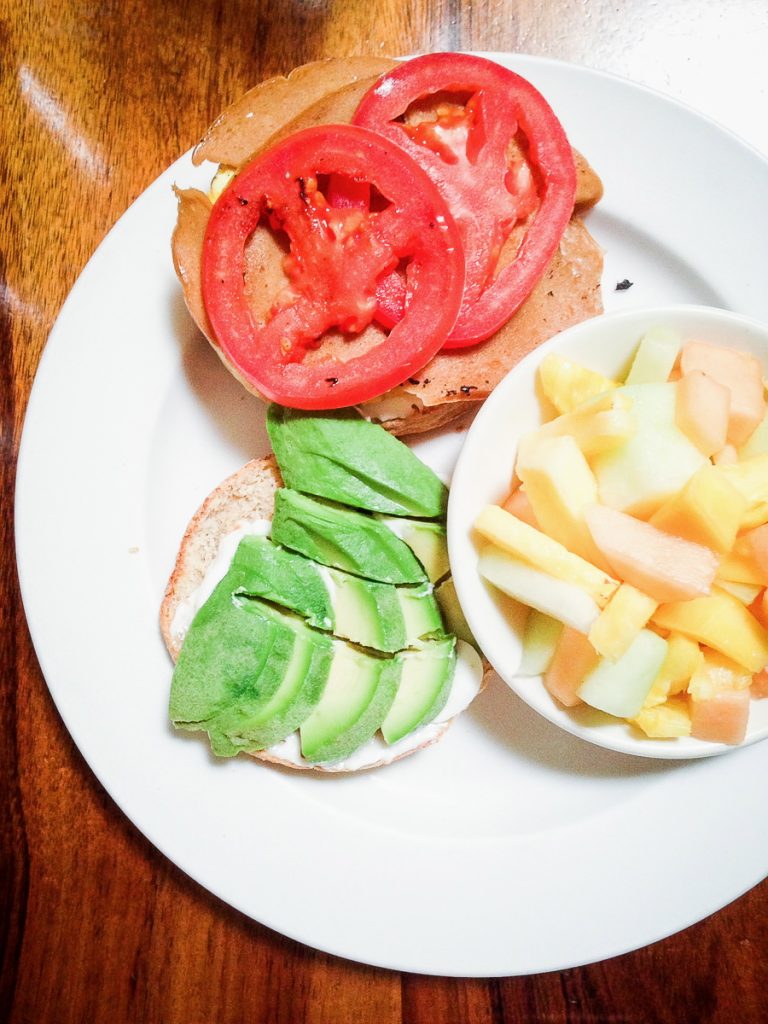 Chris ordered Lorenzo's Eggwhich, a vegan sandwich consisting of scrambled tofu, vegan pastrami, grilled tomato, avocado, and vegenaise in an english muffin. He wasn't feeling too hungry so he ordered the side of fruit instead of french fries. I could only snap a quick pic before he started eating. He rather liked the sandwich (he proclaimed this several times while he was eating it) and when he was done, he went as far as to say it might be his new favorite there!
After our late lunch, we got back on the road and slowly made our way (traffic) to the twins house to pick them up. And then the long drive back home. All of the traveling was worth it, though, to be able to stop in at Follow Your Heart Cafe!