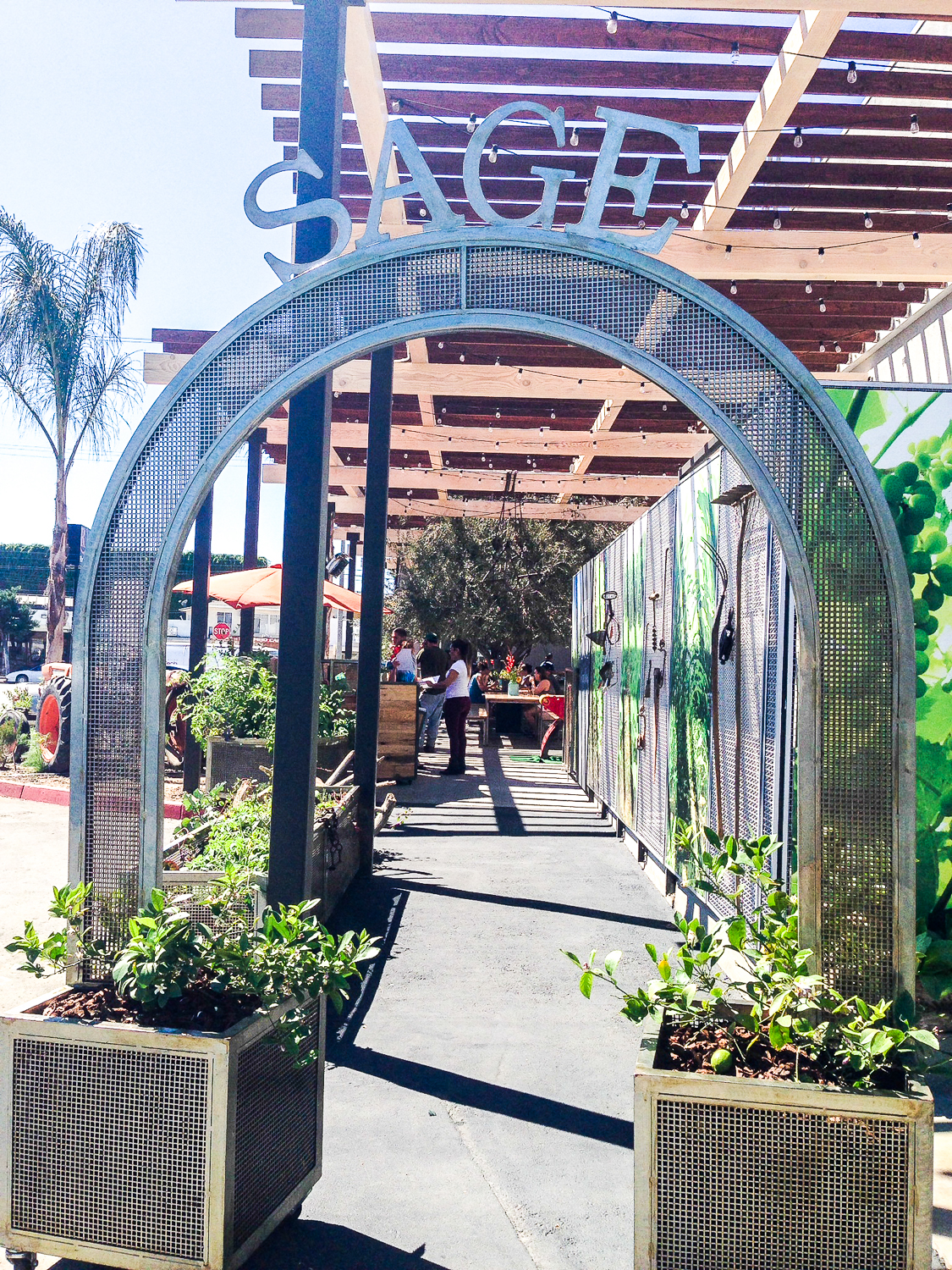 In the months preceding our trip, I eagerly awaited the opening of the new Culver City location of Sage Vegan Bistro.  I'd never been to the Echo Park location but Chris had brought me home enough of his leftovers for me to know that I would love it.  I followed them on instagram where they documented all of their progress in building their second location and I got more and more excited with each picture.  Every time I drove down Sepulveda Boulevard, I slowed down in front of their location to see if they had opened yet.  However, just like Viva La Vegan, Sage Vegan Bistro waited until I was out of the country to open their doors.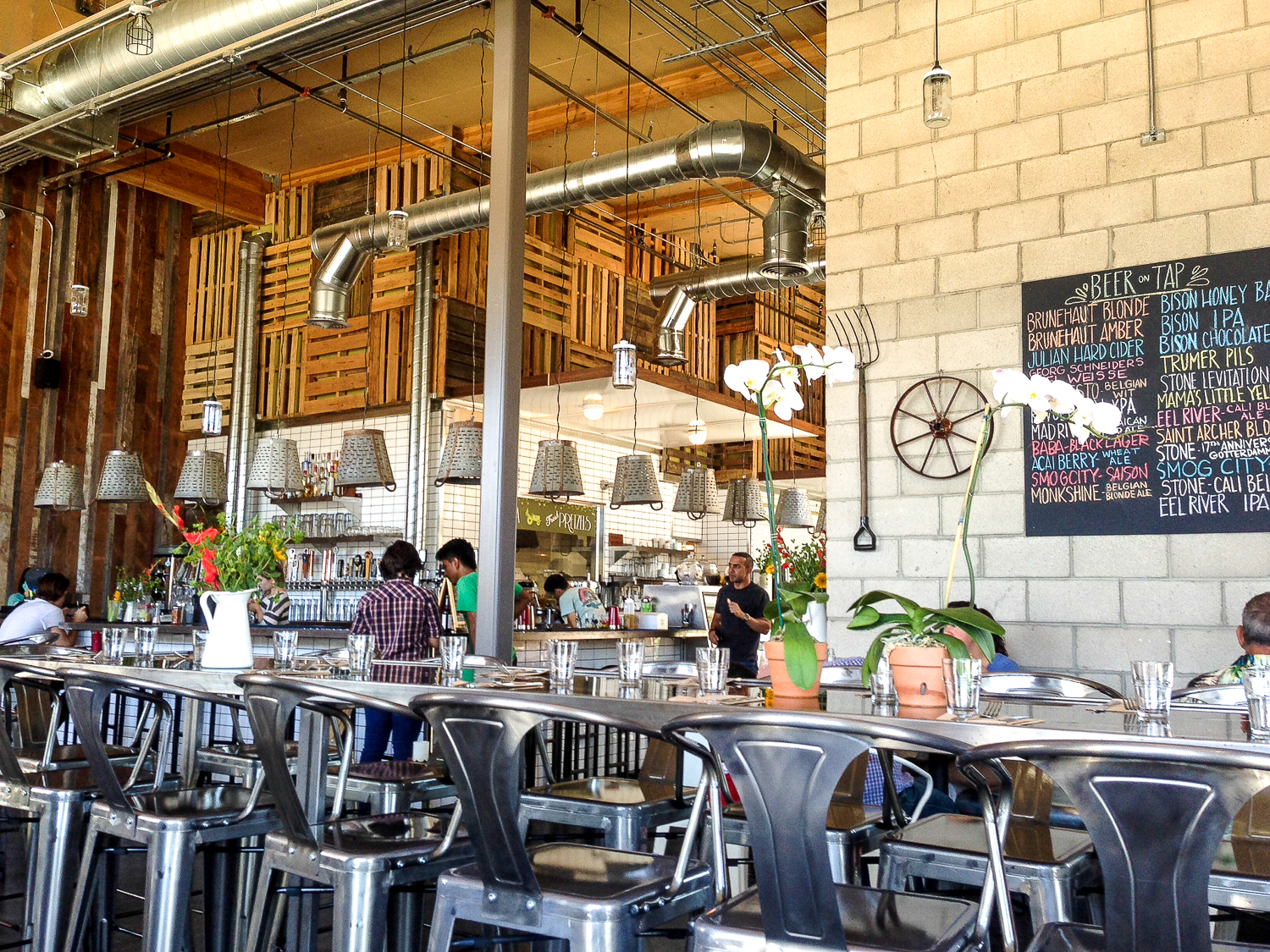 When we returned and had discovered that they had opened, we made plans to go there for brunch as soon as possible because it had been a loooooooooong time since we had a good vegan brunch in LA.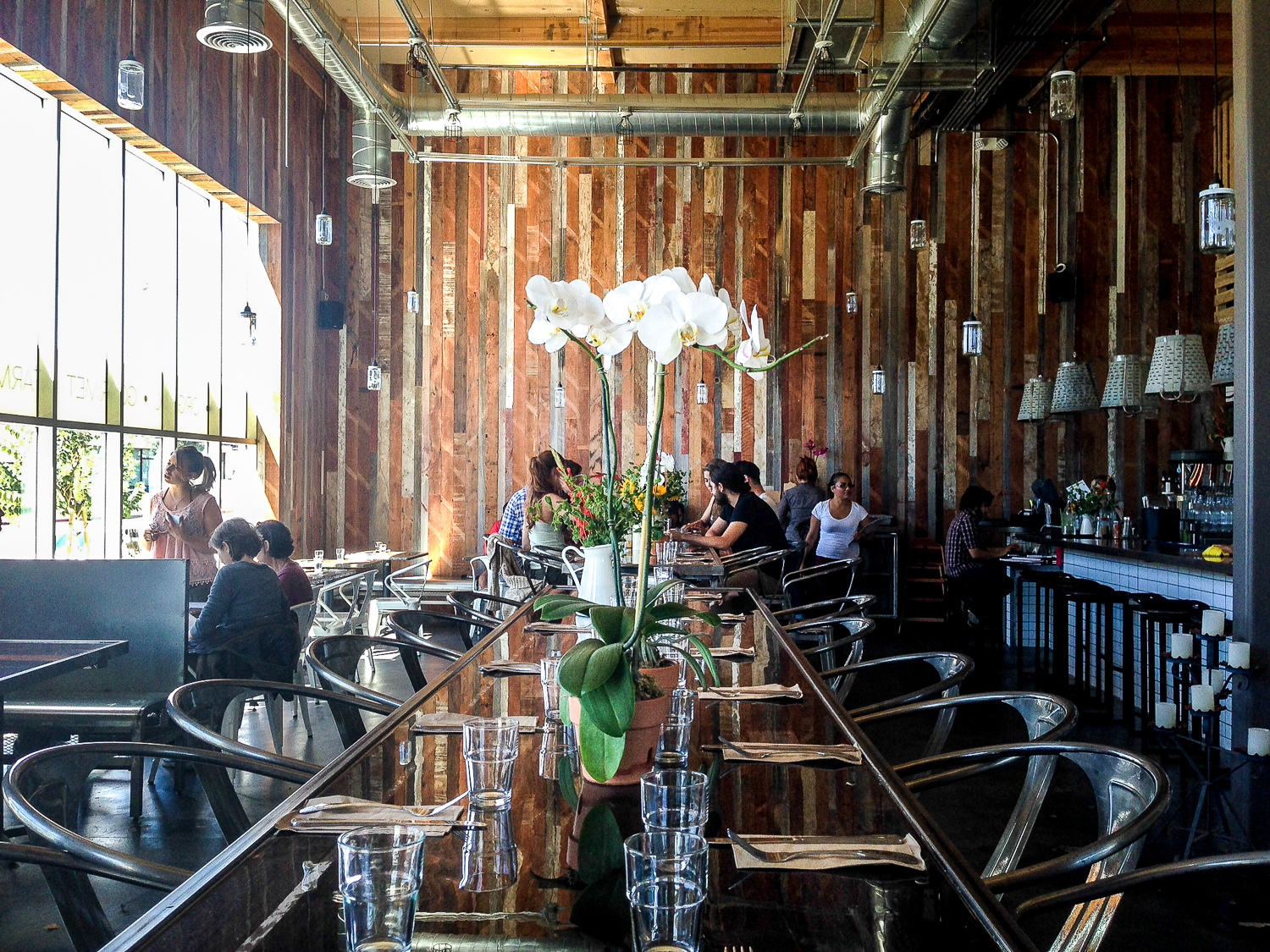 The interior of their second location is absolutely beautiful.  Plus, there's a bar, dessert case, a KindKreme ice cream counter and a beer garden (complete with foosball table).  I could totally get used to being a regular at this place!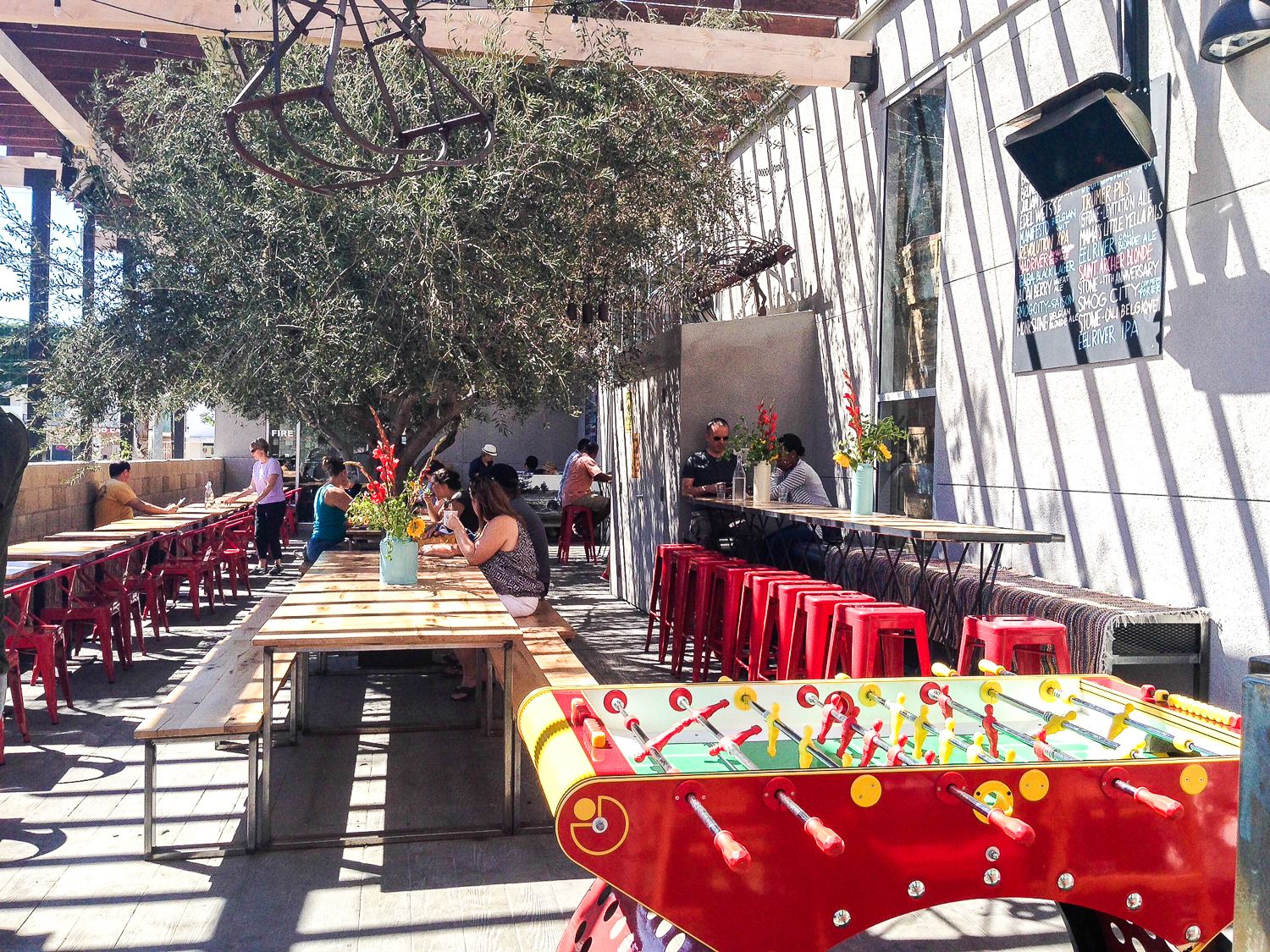 After we looked over the menu, our server took our order.  We were shocked when Sophia ordered the biscuits and gravy along with the strawberry/orange/banana smoothie.  She'd always been a waffles or french toast kind of girl and had never shown much interest in smoothies so this order took us by surprise.  The smoothie was not a thick smoothie like we're normally accustomed to, but she said it was still good.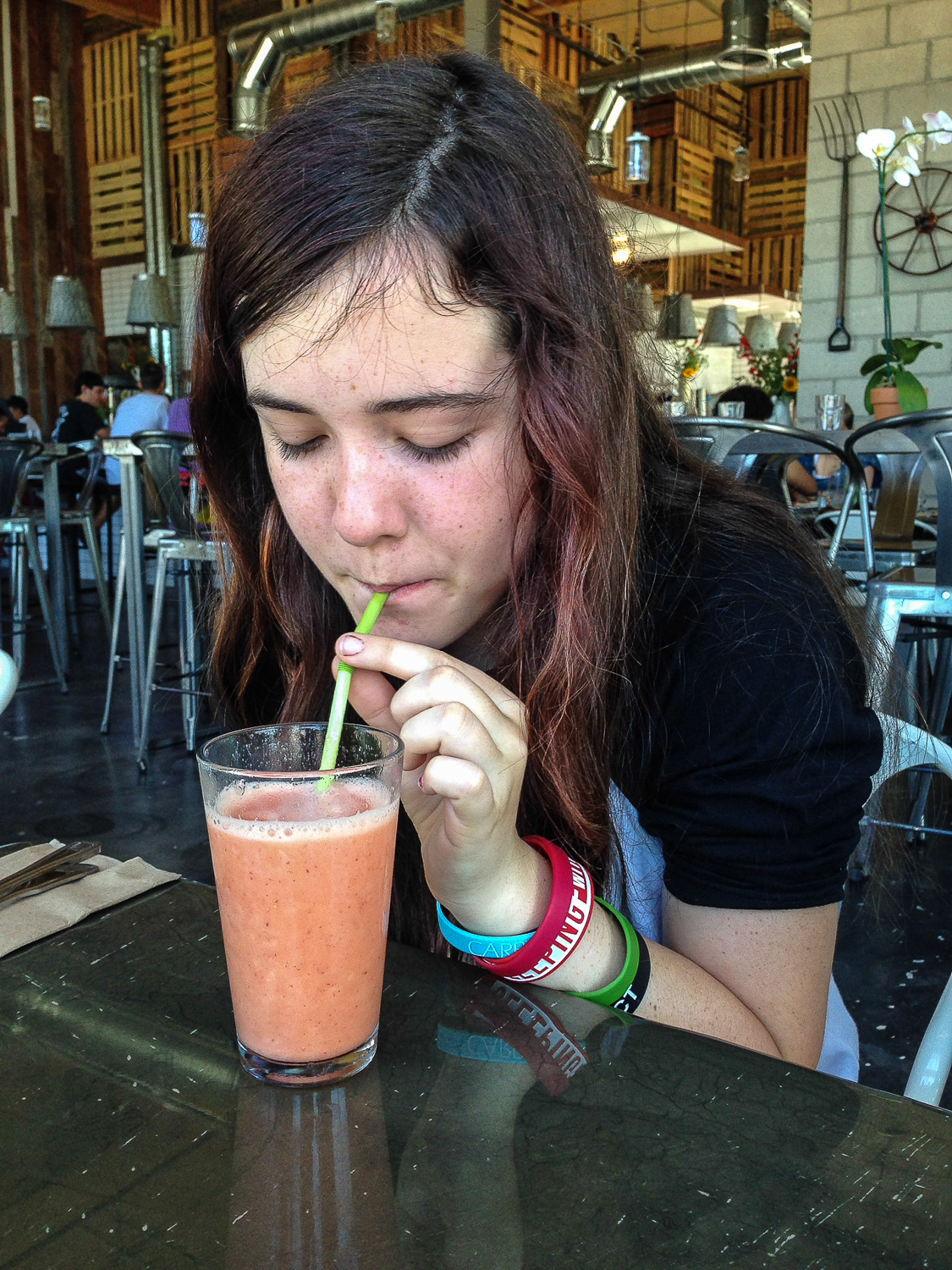 She also liked her Gluten-Free Biscuits & Gravy, which came with walnut sausage.
Chris and I each ordered the Spinach Avocado Florentine with Walnut Sausage.  We both thought it was incredible.  Seriously.  I'm going to have a rough time ever ordering anything else for breakfast here!
Max ordered the Gluten-Free Waffles, however, when our food was brought, Max's was not.  We waited and waited and finally after about five minutes, a woman (the owner, Mollie Engelhart) came over and asked us if everything was okay since none of has had touched our food (we were waiting for Max's meal).  She went back to check with the kitchen and what had happened was that because the waffles are made at the ice cream station up front, the kitchen had forgotten to tell them when they got the order.  They were very apologetic and Max's waffles were brought out about five minutes later.  He really liked them too.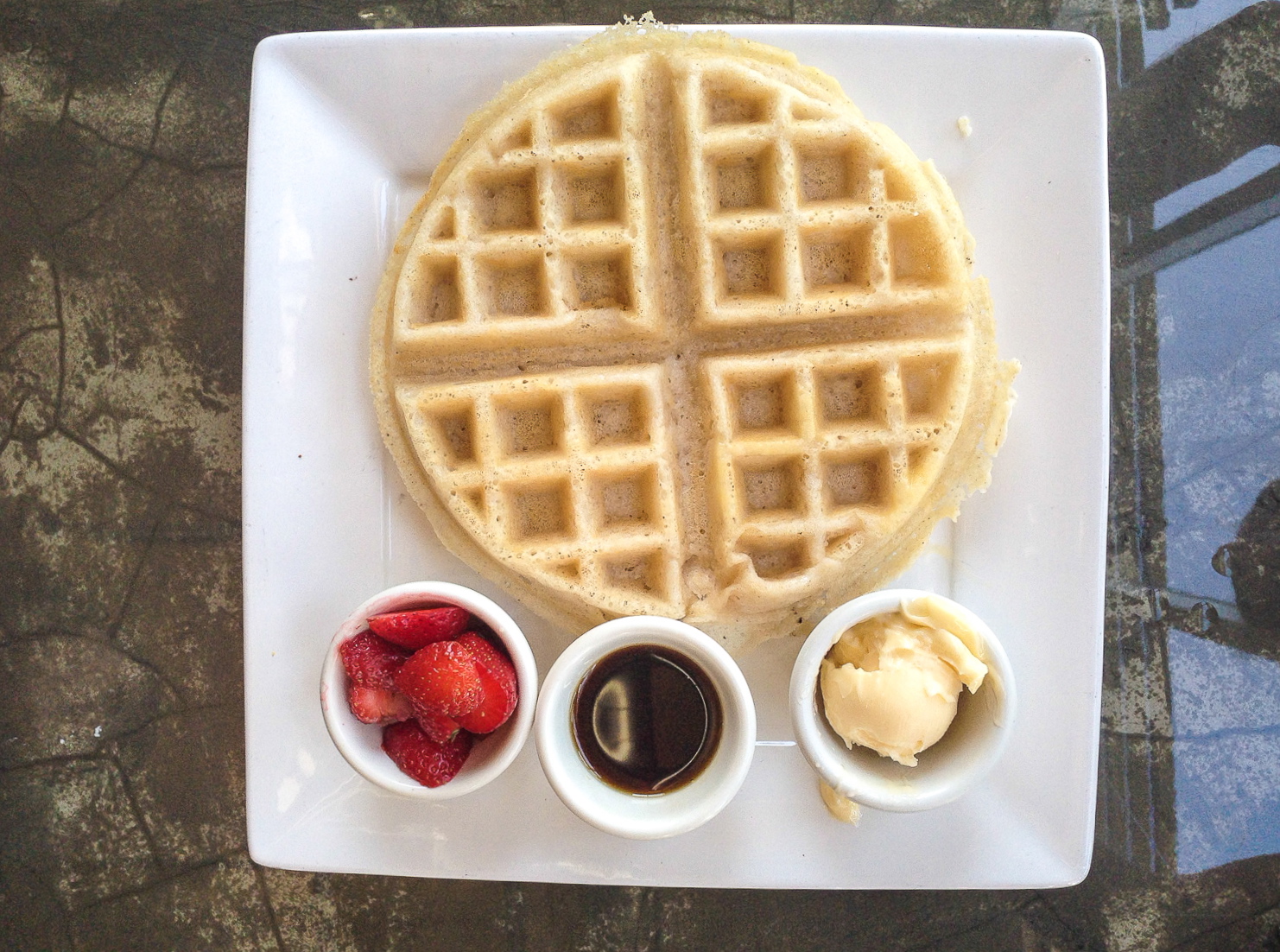 Before we left, Chris and I each ordered a latte (his was soy and mine was almond milk).  I didn't love mine (too much milk, not enough espresso), but Chris liked his.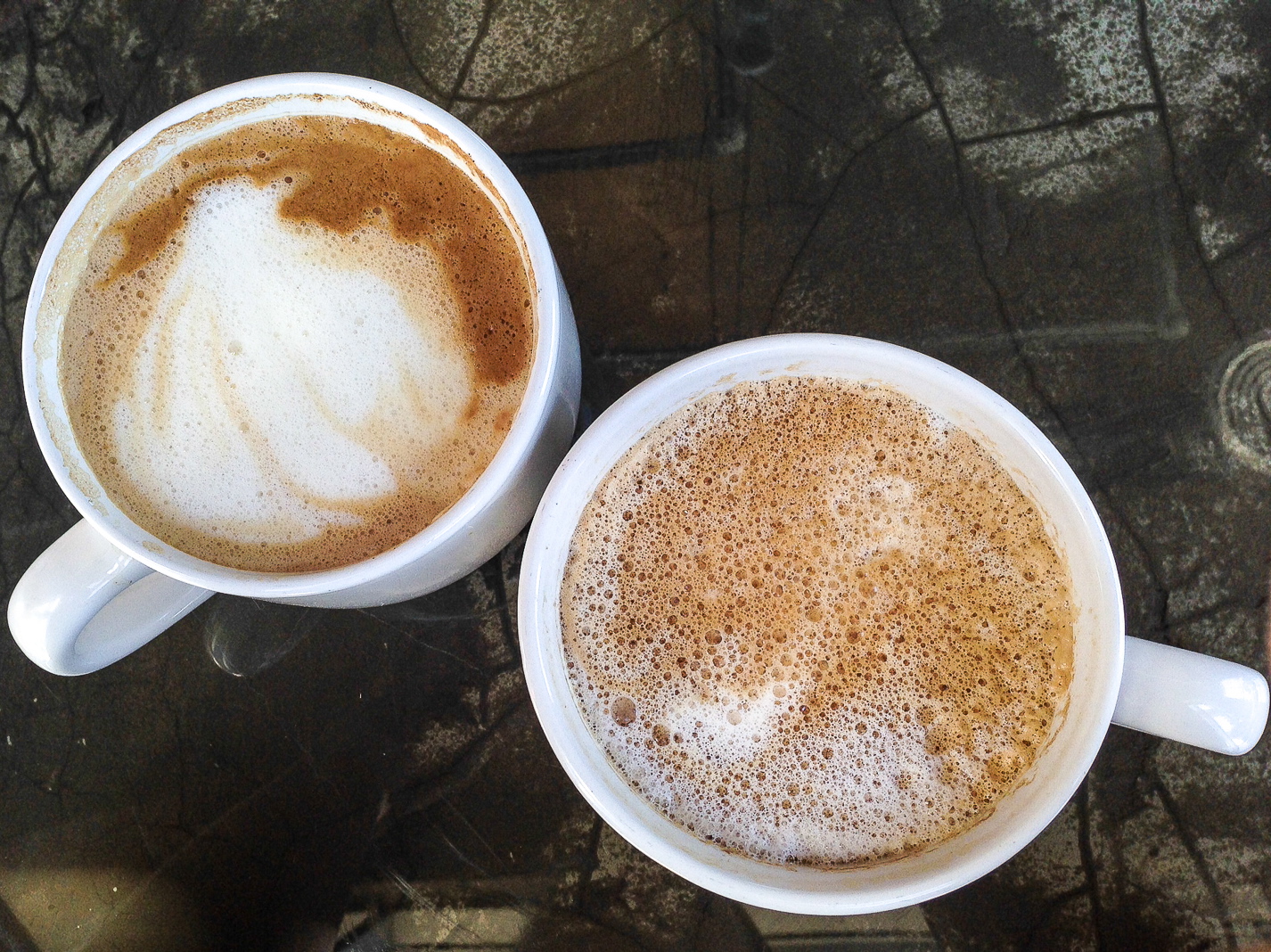 The bill was pretty high, but I would say it was comparable to having brunch at Real Food Daily.  I was a little surprised that they didn't comp us for the waffle we had to wait so long for, but whatever.  It was the cheapest thing we ordered.
Several days later, Chris and I went back for a little bit of a celebratory dinner (more on the reason for celebration to come!) and we had a wonderful meal out in the beer garden.  We started with the pretzels from the pizza menu and they came with three different sauces: Habanero Cream Cheese, Nacho Cheese, and Maple Mustard.  They were so wonderful and they also have gluten-free pretzels (and pizza dough) for my gluten-free friends out there!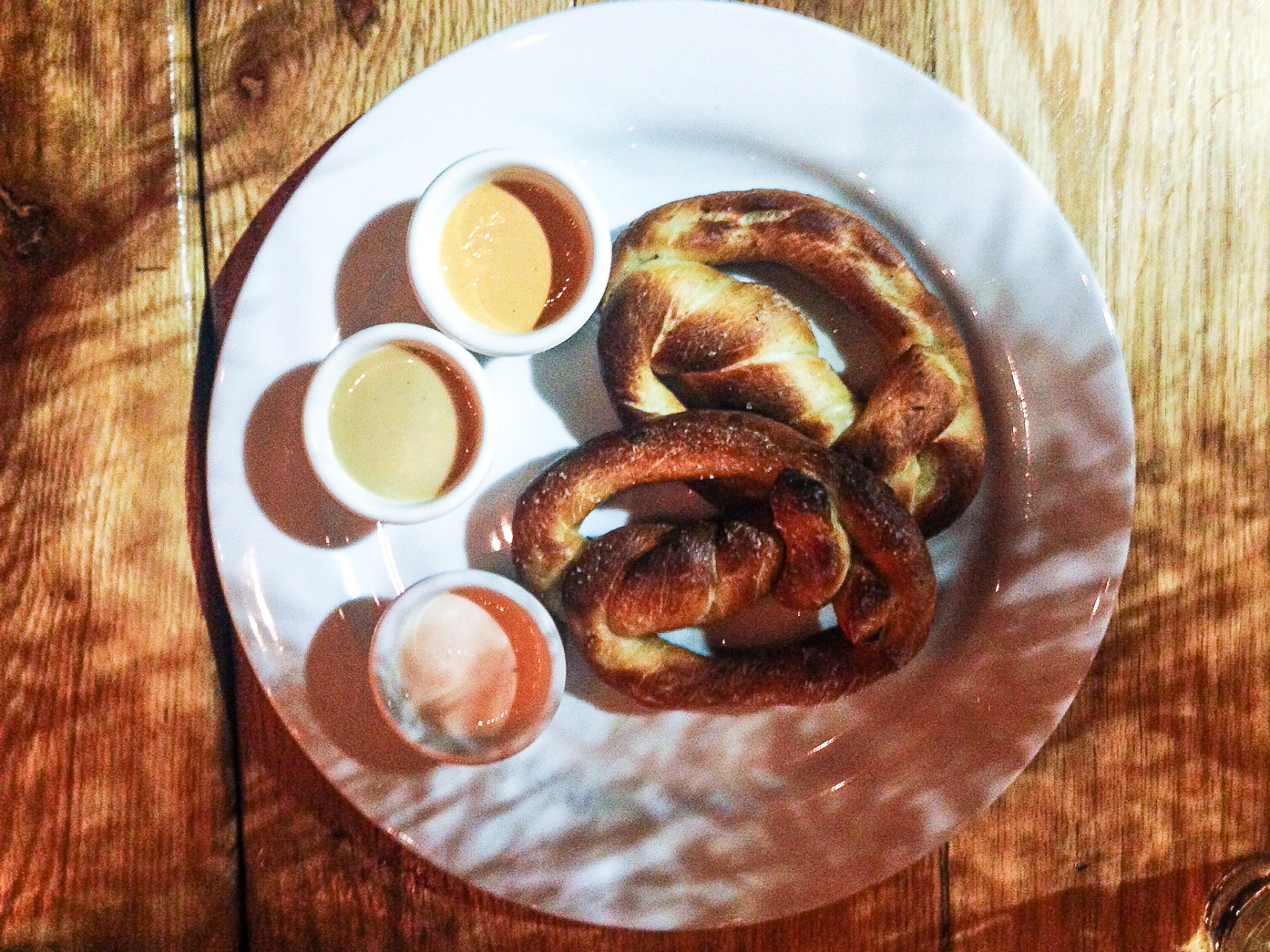 Chris ordered the Tuna Melt which had a jackfruit tuna salad combined with spicy cashew cheese.  It was pretty good, but the potato salad it came with was the bomb (and I DO NOT use that term EVER lightly!).
I ordered the Heart of Palm Salad which I was surprised to find was a salad with some Heart of Palm spears on the side.  I was fine with it because I love heart of palm so much, but what was really great about the salad were the little beet and cashew cheese sandwiches.  It was all pretty great.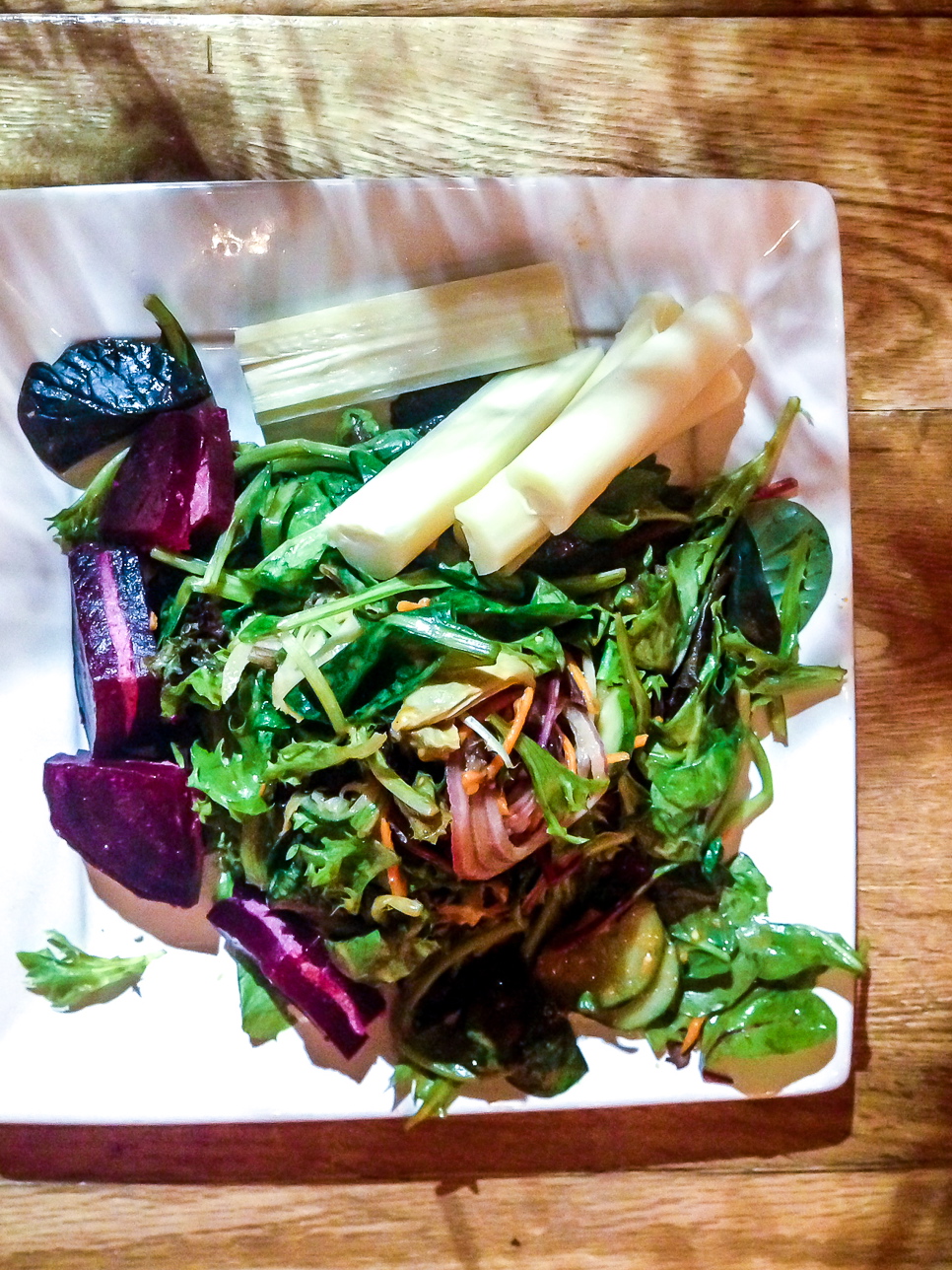 We were told that for dessert, we could go in and sample some ice cream and make our order there then come back out and eat it.  I've had KindKreme ice cream several times before and I've always liked it.  In fact, I'd sampled a couple of flavors the last time I was there, and if I hadn't been so full, I would've gotten some.  This time, however, there seemed to be a iciness to the ones I sampled so I chose a wonderful chocolate chip cookie for dessert instead (not pictured).  Chris, however, got some ice cream (also not pictured) and really liked it.
We went one more time, just last night and this was probably our best visit so far.  Though we hadn't discussed it, once we ordered it became apparent that we were both in the mood for some comfort food.  Chris ordered the Portobello Bacon Chili Cheeseburger.  It came with portobello, tempeh bacon, black bean chili, and sun-dried tomato cashew cheese but what really made this sandwich rock was the homemade pickles.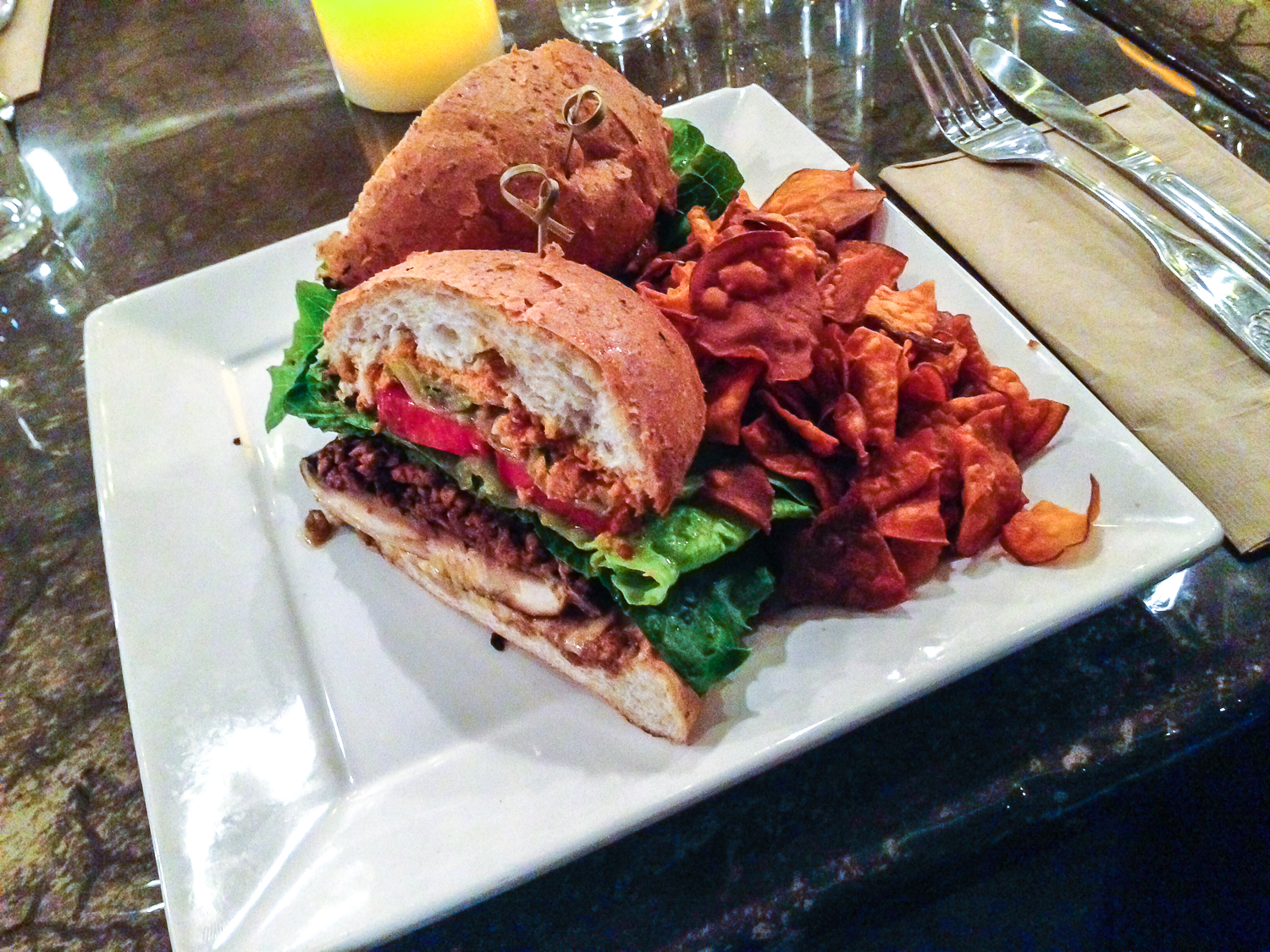 I ordered the Gluten-Free Bowl of Soul and a bowl of soul it was!  Quinoa, black beans, kale, pickled cabbage, fried okra, baby corn, sweet potato, a gluten-free biscuit, and a spicy gluten-free ball of mac n' cheese.  This was just ridiculous.  And I ate almost every last bite.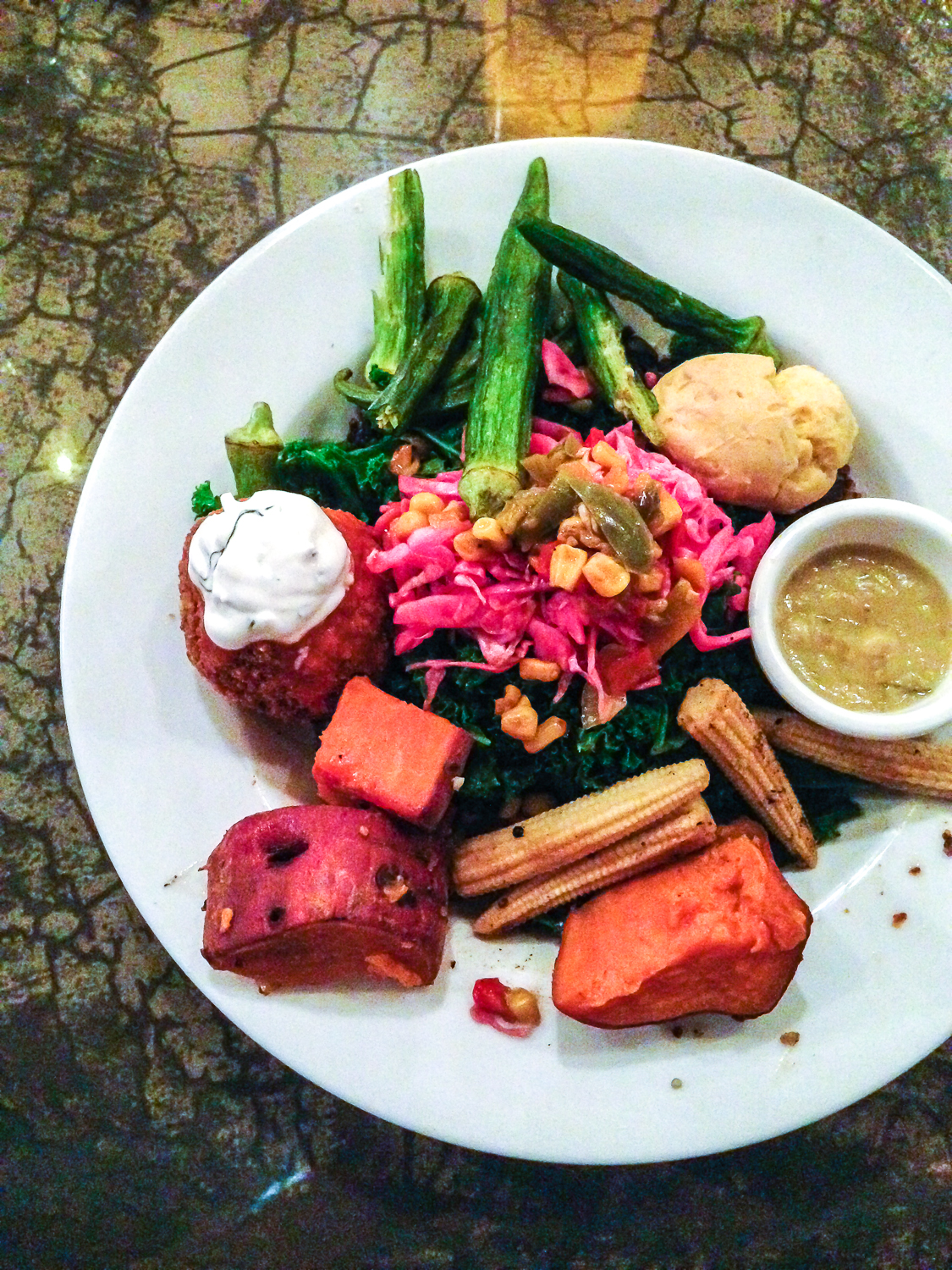 Sage Vegan Bistro has definitely brought Culver City up one more notch and is giving East LA a run for it's money in the "Vegan Mecca" department.  Just in the short time it's been here, it's already become one of our go-to's.  What's that?  You want to come to LA?  Call me- we'll do lunch at Sage.
Sage Vegan Bistro • 4130 Sepulveda Blvd, Culver City, CA 90230 • (424) 228-5835