Did you know that on Pico, right off of Crenshaw, there's a great little hole-in-the-wall, organic, vegan restaurant called The Grain Cafe?  Chris was working downtown one day and I had the twins so we decided to meet halfway for linner (lunch/dinner).  A quick Yelp search showed that The Grain Cafe was right between us and 100% vegan.  Perfect!
The location itself is very unassuming, being in a strip mall next to a Mexican restaurant.  When we entered, it seemed very basic- a counter that you order at, paper menus, and a few tables and chairs.  When we went to the counter to grab a menu, we were told to have a seat and they would come check on us in a moment.  Apparently the counter is just for take-out.
Max ordered the plain Quesadilla, filled with daiya cheese, from the appetizer menu because he likes to keep it simple.  He was surprised to find that the tortilla was green, but he liked it anyway.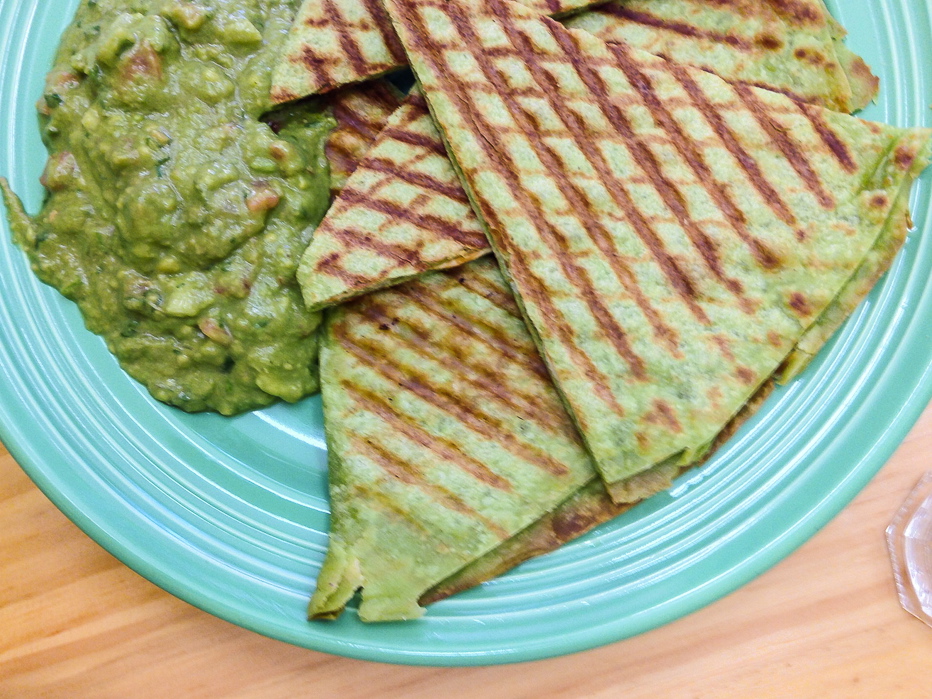 Sophia was a tad more adventurous and ordered the plain Cheese Pizza.  It came with a side of potatoes which she ate a few of but Chris helped her finish them off.  He also helped her with her pizza and they were both pretty enthusiastic about it.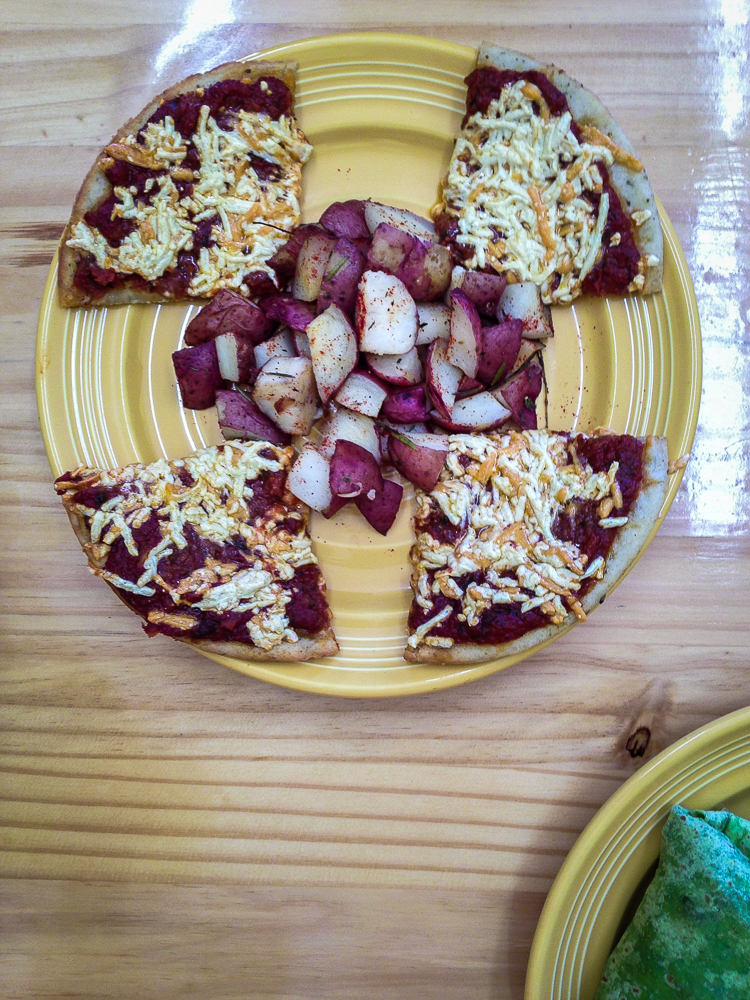 Chris ordered the Tempeh Reuben.  Between two pieces of sourdough bread, it was filled with marinated tempeh, thousand island dressing, sauerkraut, tomato slices, and daiya cheese.  He said it wasn't the best reuben he's ever had (It's pretty hard to top Flore) but it was "pretty decent."  I tasted it and I liked the dressing and the sauerkraut but I would have to agree with Chris- it's not the best.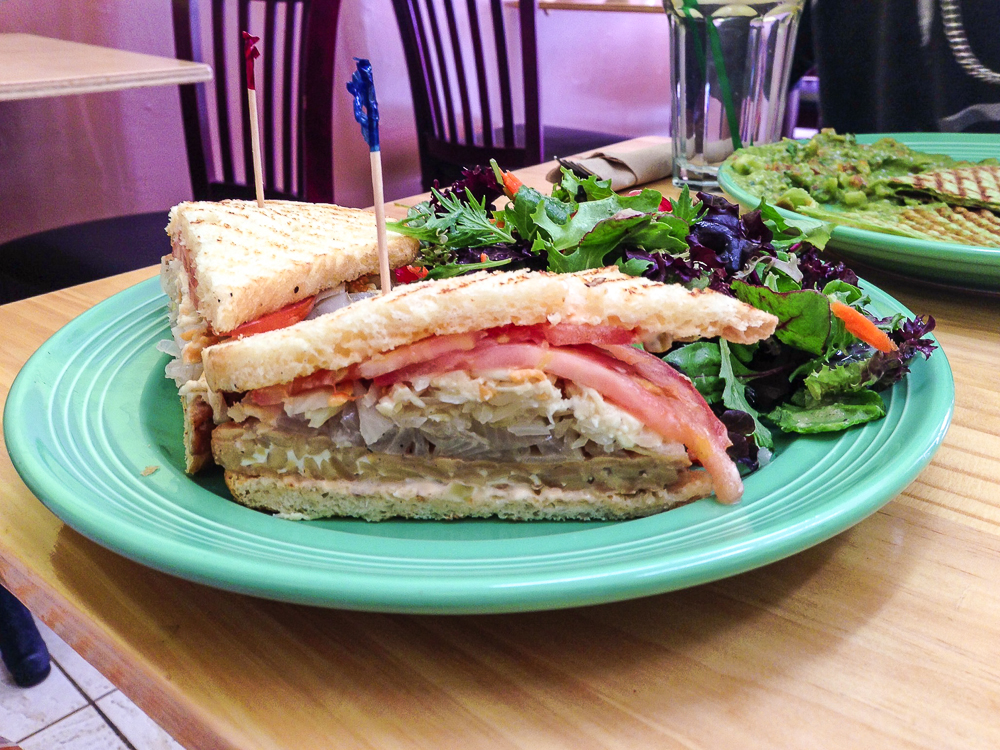 I ordered the falafel wrap because I have a hard time saying no to falafel.  It was pretty great.  Both mine and Chris's meals came with side salads.  The salads were very fresh, topped with organic cherry tomatoes, quinoa, and a pretty terrific house dressing.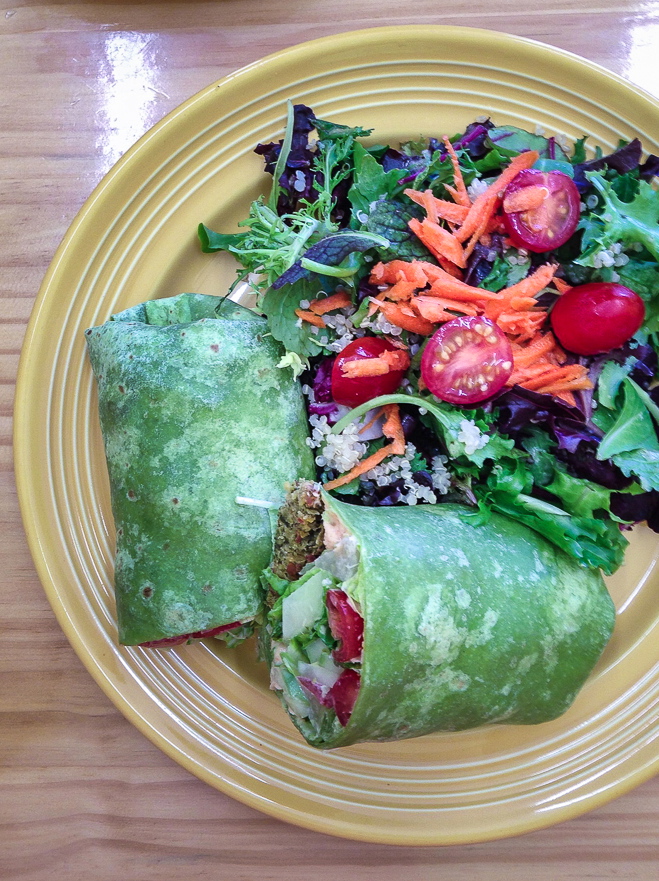 Afterwards, as we were getting ready to leave, I noticed on their extensive drink menu (coffee, tea, boba, smoothies, shakes, etc.), hanging above their counter, the words "vegan ice cream."  Of course we had to try it out, you know for research (and I think Sophia may have exploded if we didn't).  I don't know what brand they use, but it was pretty wonderful.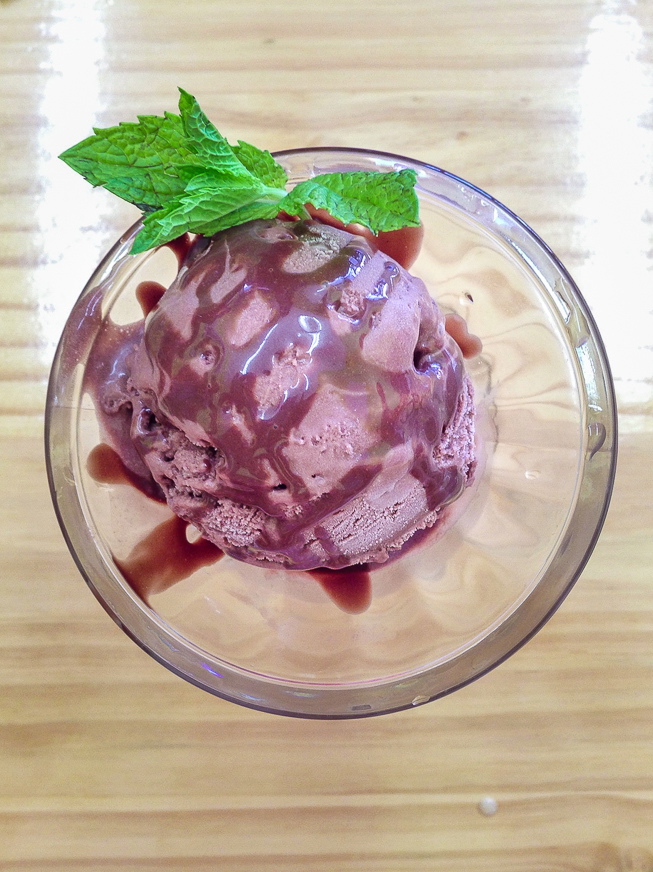 After linner we parted ways again.  I made a mental note to go back to The Grain Cafe someday and try their breakfast menu (they even have crepes!).  The Grain Cafe is not really in my neck of the woods at all, but it's good to know that it's there and I will definitely make the drive to try more of their menu.
The Grain Cafe · 4222 West Pico Blvd., Los Angeles, CA 90019 · Tel: 323-931-4034