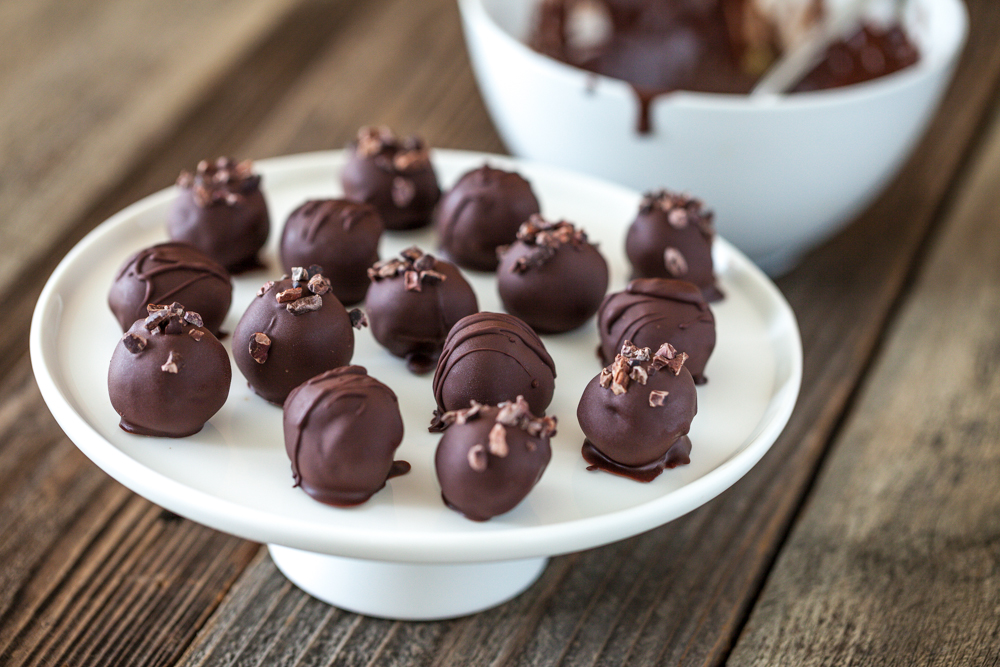 Sometimes, simplest is best.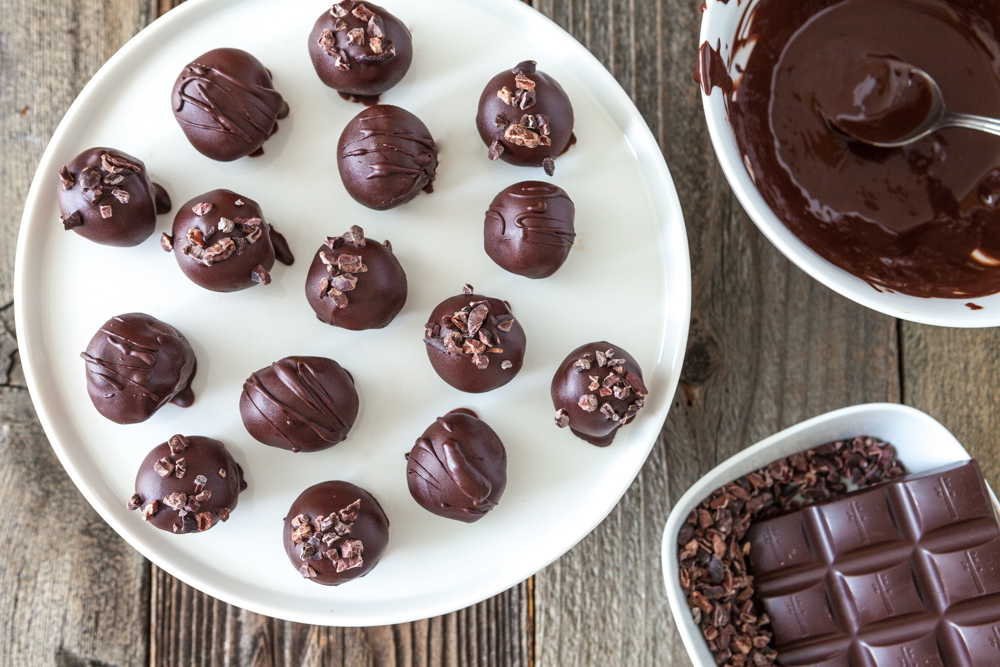 I often forget this, though.  Being the perfectionist that my mother brought me up to be, I often find myself trying to get every detail perfect on whatever it is that I'm working on.  I lose sleep over my to-do list.  I get overwhelmed by deadlines for projects I'm not even close to finishing.  I get grouchy because I've left no free time to just relax and let my mind rest.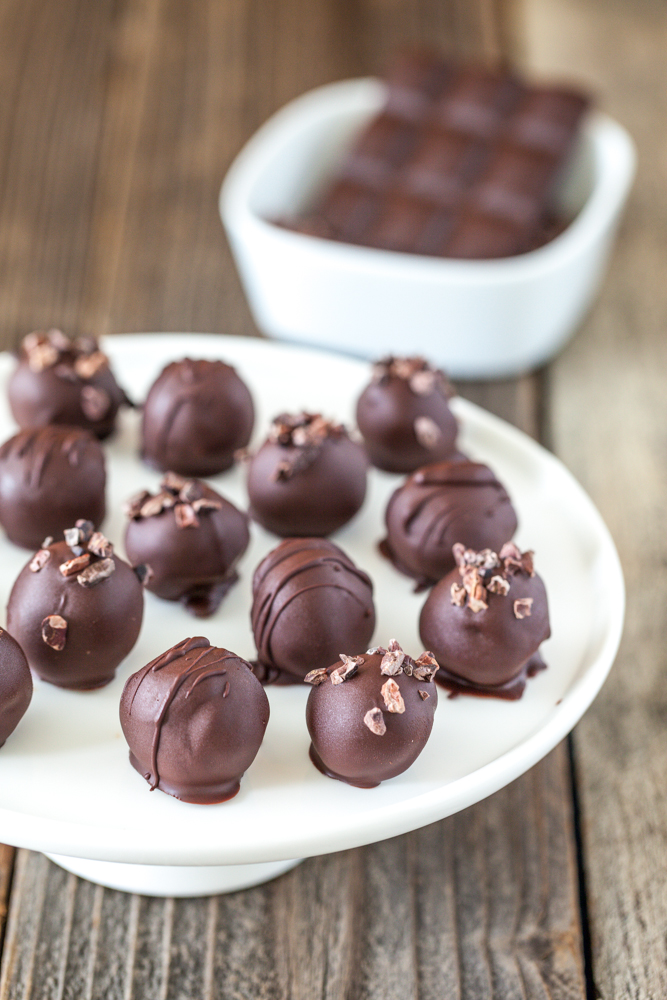 It's not that these things are all that complicated.  At their core, they're pretty simple.  I've just made them much more complicated than they need to be in my efforts to make everything perfect.  That wrap report for whatever show I'm working on?  My boss probably doesn't care if the project logo is on the top of the page, yet I will spend an hour trying to fit it in there.  My to-do list?  I don't need to go to both Trader Joe's and Whole Foods in addition to the dry-cleaners all today, but I'll bust my ass to get the lowest priced organic strawberries, the BPA-free cans of organic beans (only at Whole Foods), and my husband's shirts picked up from the dry-cleaners in time to get dinner on the table when I get home.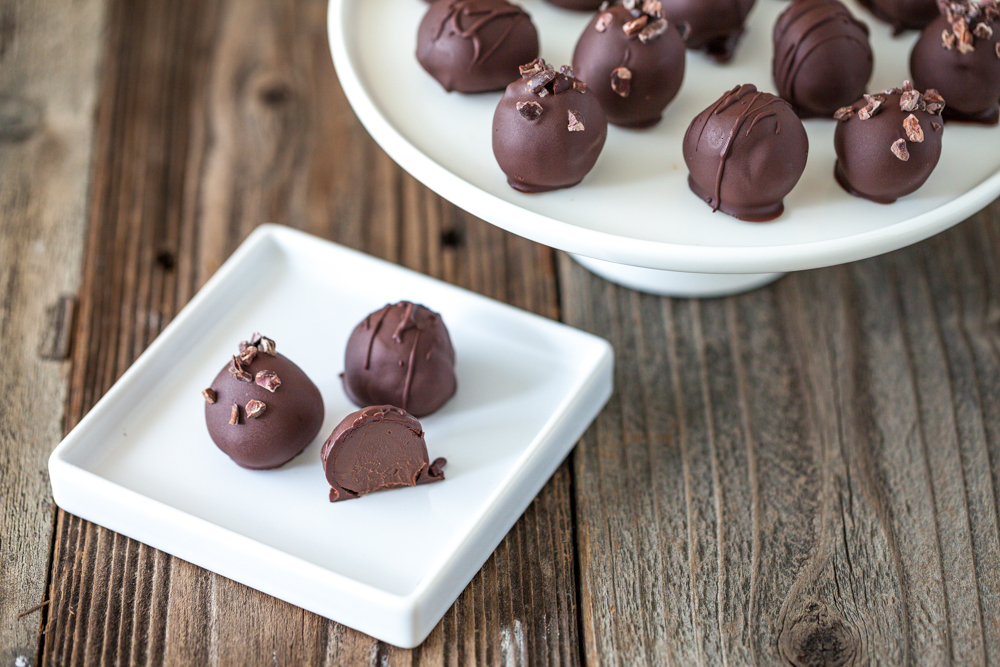 Sometimes I'll find myself standing in the middle of my kitchen with three things I need to prepare in the next hour- Get ice cream started so that it will be ready for when the twins get there the next day, that new recipe needs to get prepared so Chris can photograph it because he won't have time in the next few days, and make dinner.  Then I start to get panicky/grouchy.  It's times like this that I realize that I've made things far more complicated than they need to be.
This is when I take a deep breath and simplify.  Ice cream can wait- Sophia can help me make it tomorrow when she gets here.  I'll make the recipe right now so Chris can photograph it, then we'll go out to dinner.  Simple.  My to-do list?  I'll suck it up and pay the extra $1.99 for strawberries at Whole Foods and Chris can wait one more day for his dry-cleaning.  The wrap report?  No one will know the difference if the logo is there or not so I'll focus my energy on getting other things done.  The result?  The subsequent deep breaths come much more easily.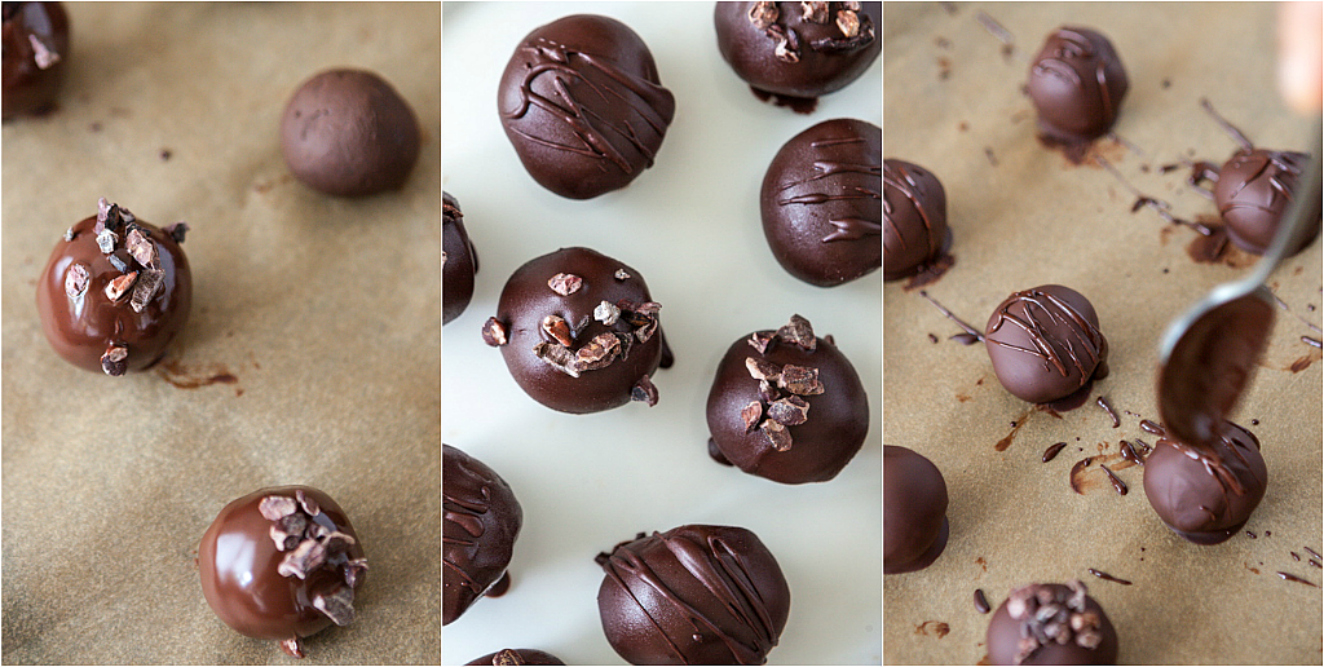 I found myself in a similar situation with these truffles.  I kept racking my brain on how to make them fancier, more creative, more different than all of the other chocolate truffles out there.  "I could make them this way" and "I could top them with that" ran through my head as I tried desperately to fall asleep.  When I finally decided to just keep it simple and make plain chocolate truffles, I was finally able to sleep.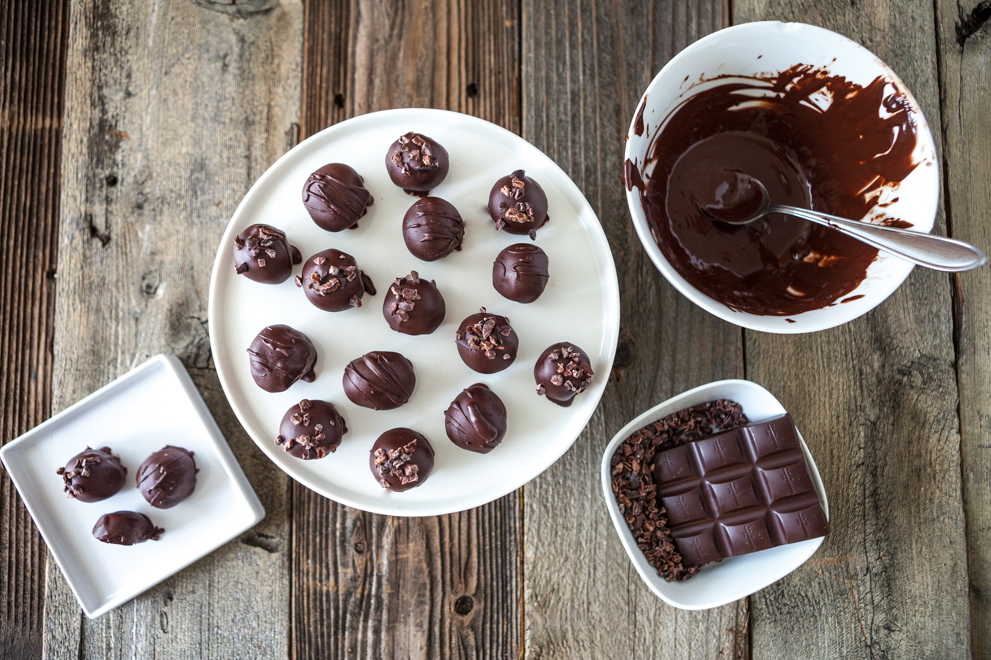 The result was the best chocolate truffles I've ever tasted.  Simple dark chocolate ganache enrobed in a layer of silky dark chocolate.  I topped some with cacao nibs and the rest I just drizzled a little bit more of that melted dark chocolate.  Nothing too fancy.  Beautifully simple and absolutely decadent-  just how chocolate truffles are meant to be.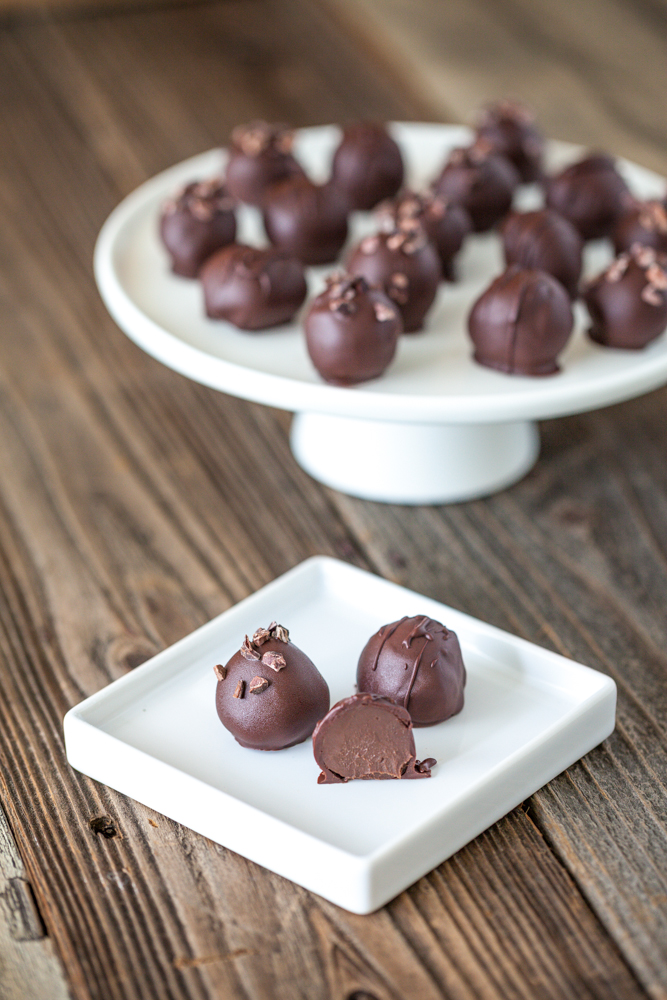 They're the perfect reminder that things will be absolutely perfect if you leave them as simple as they already are.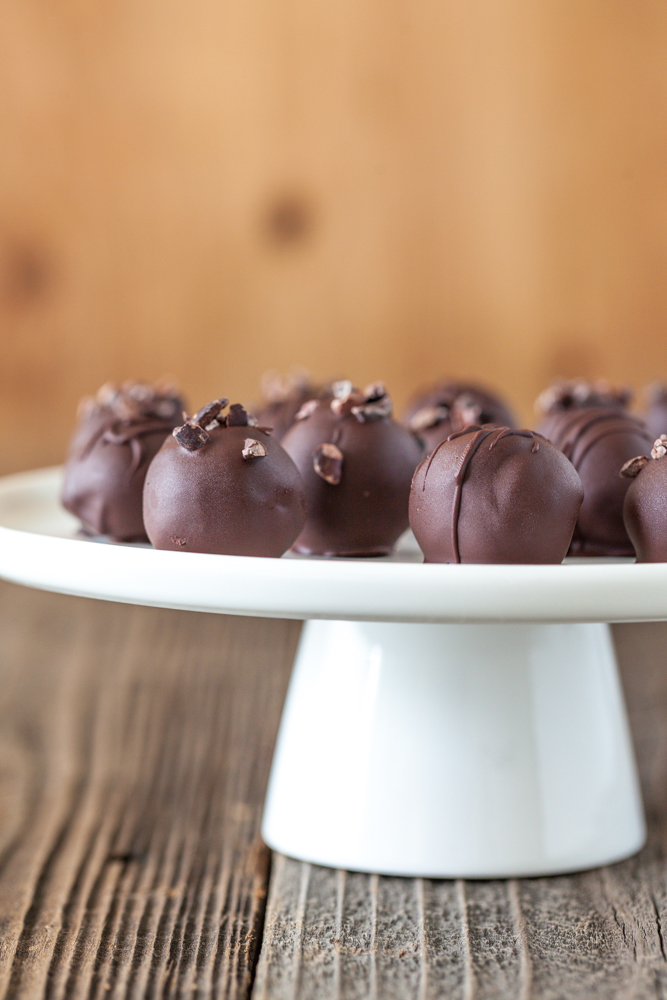 Double Chocolate Truffles
Ingredients
1 cup dark vegan chocolate chips
1/2 cup coconut milk
1/2 tablespoon melted vegan butter

for the chocolate coating

3/4 cup chopped dark chocolate
1 teaspoon coconut oil
cacao nibs or vegan mini chocolate chips (enough for sprinkling)
Instructions
Make the ganache first. Place the chocolate chips in a bowl. Set aside.
Pour the coconut milk into a small pot on the stove and bring to a boil. Once it is boiling, remove it from heat and pour it over the chocolate chips. Let it sit for about 1-2 minutes and then stir until it is completely combined and smooth. Add the melted butter, stir and let it cool at room temperature. Once it has completely cooled, cover and refrigerate overnight.
After the ganache has chilled overnight, line a baking sheet with waxed paper. Use a 1/2 tablespoon to scoop heaping spoonfuls and use your hands to roll the scoops into balls. Your hands WILL get messy but you'll be okay with it because they're covered in chocolate. It's okay if the balls are misshapen- just form ball-like shapes and then place the sheet in the refrigerator for 10-15 minutes. Once they've chilled, you can re-roll the balls into (mostly) perfect spheres. Return to the refrigerator for another 10-15 minutes.
Now it's time to melt your chocolate. In a double boiler or in a glass dish on top of a pot of boiling water, melt the chocolate with the coconut oil. Stirring until it's completely smooth. Remove from heat.
One by one, use a spoon to dip each ball of ganache into the chocolate and then carefully place it back on the lined baking sheet. Top each truffle with cacao nibs or mini chocolate chips (or nuts if you swing that way). Alternatively, you can not put a topping on them, let them cool completely, then drizzle more melted chocolate over them. Your choice.
Keep chilled until ready to serve. Enjoy!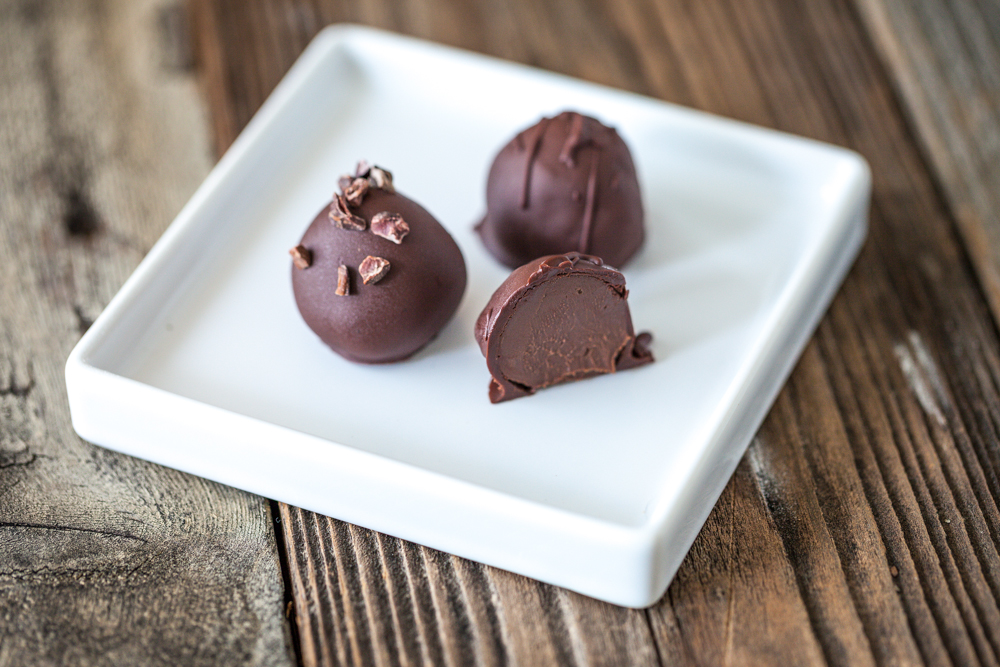 What can you simplify in your life?
Photography by Chris Miller