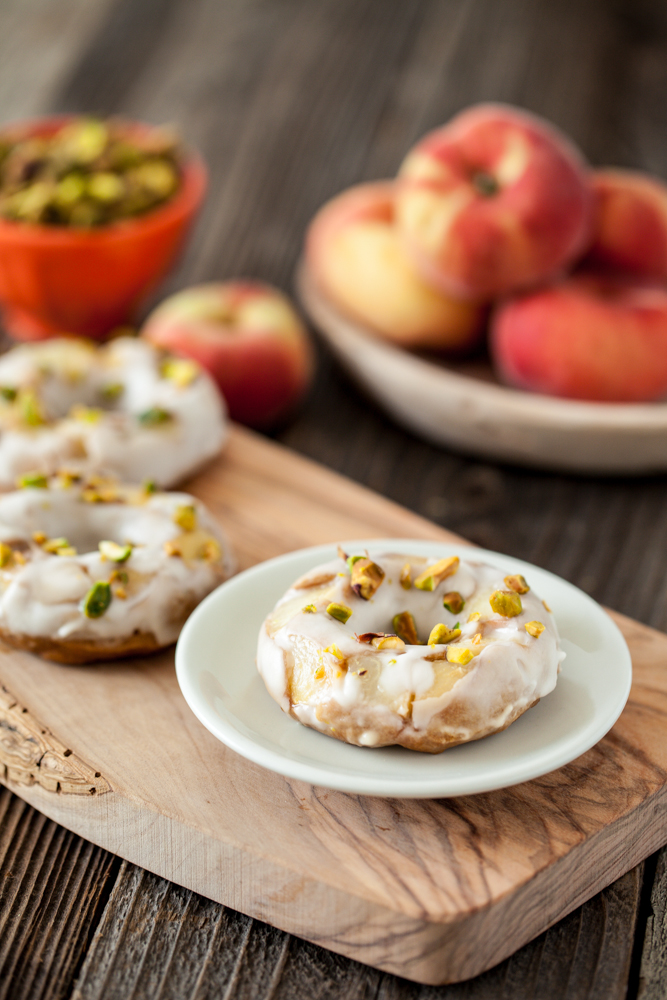 I am overwhelmed by readers' responses to last week's post about celebrating being alive.  Thank you so much for all of your kind words. My heart was so incredibly warmed.  I loved that some of you shared your own stories of your personal brushes with death.  It was so inspiring and so beautiful to hear others' stories of learning to love their lives.  It really makes you realize that all of those "huge" things we worry about on a daily basis are in actuality so minuscule and insignificant.  They're not even worth the energy that we spend on them.  I am far from innocent in this matter.  Every time I do realize that I've built something up to be bigger than it actually is, however, I try to focus on one of the little awesome things that I take for granted and celebrate them.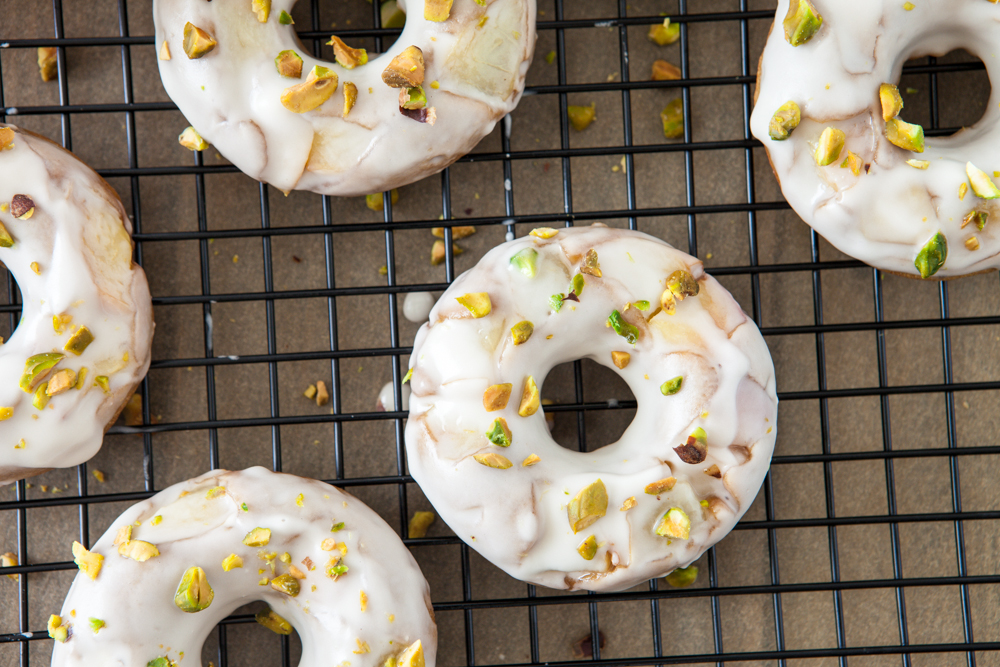 One of the things that I absolutely love about my life is just to be able to share a little treat with my husband over cups of tea or coffee.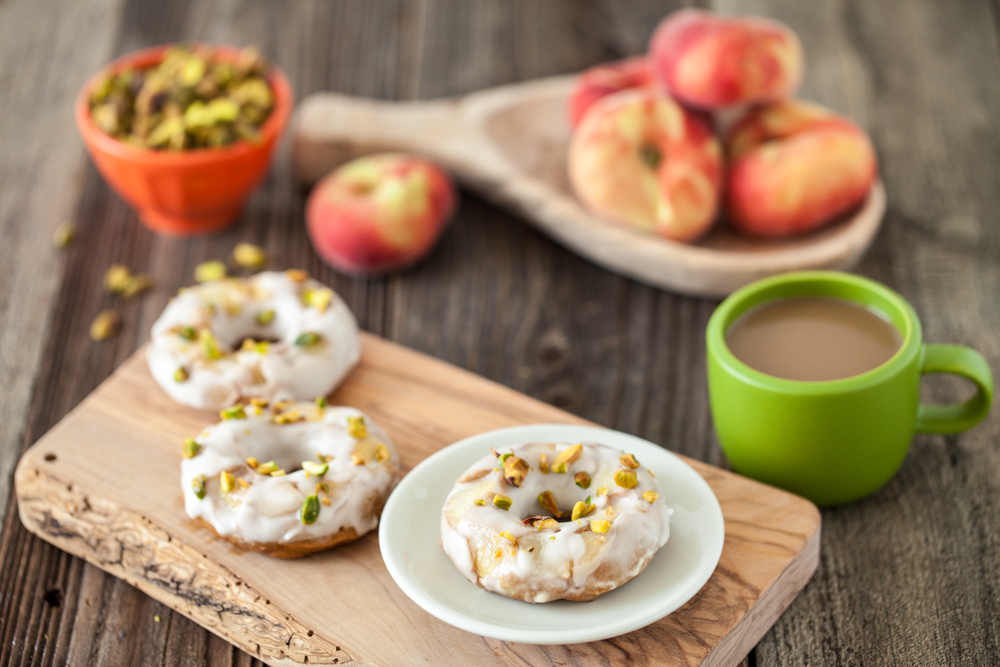 This is a little ritual that Chris got me into.  Before Chris, I would almost never have a treat with my coffee.  Chris, however, loves to have a little coffee cake/muffin/scone/doughnut/cookie/etc. with his coffee.  Anything sweet, really.  In fact, he used to have coffee with his dessert in the evening just because he likes this ritual so much.  So I started having a little bite of whatever treat he was having while we had our coffee.  One bite soon grew to multiple bites until we were sharing the whole thing.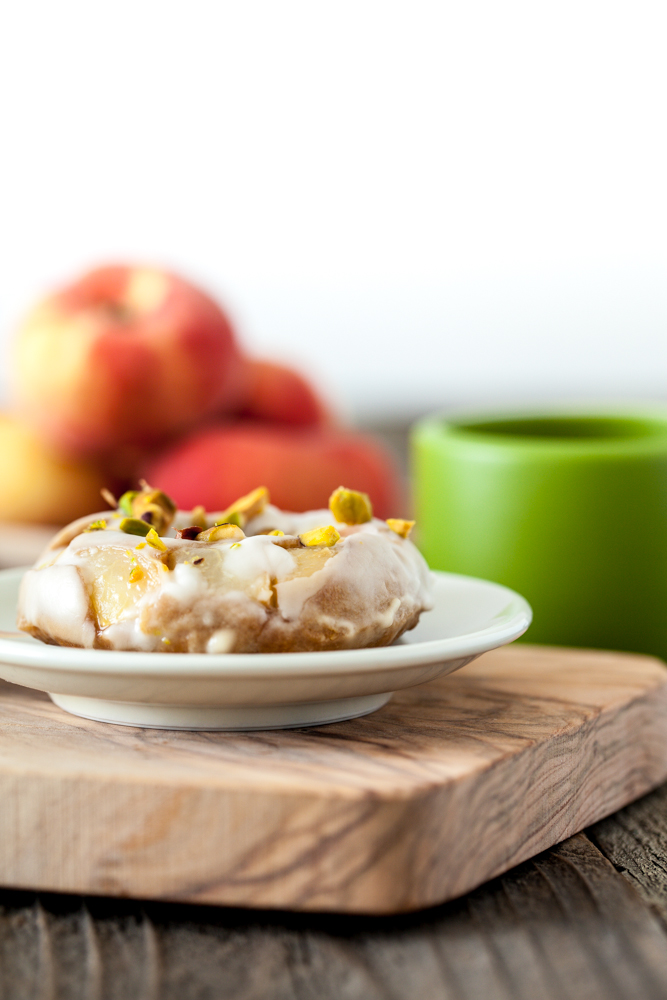 I now drink tea instead of coffee, but I still enjoy a little something sweet.  If I'm alone, it might be something as simple as a rice cake with some jam on it.  If Chris is around, though, I'm more likely to indulge.  That's how these doughnuts came to be.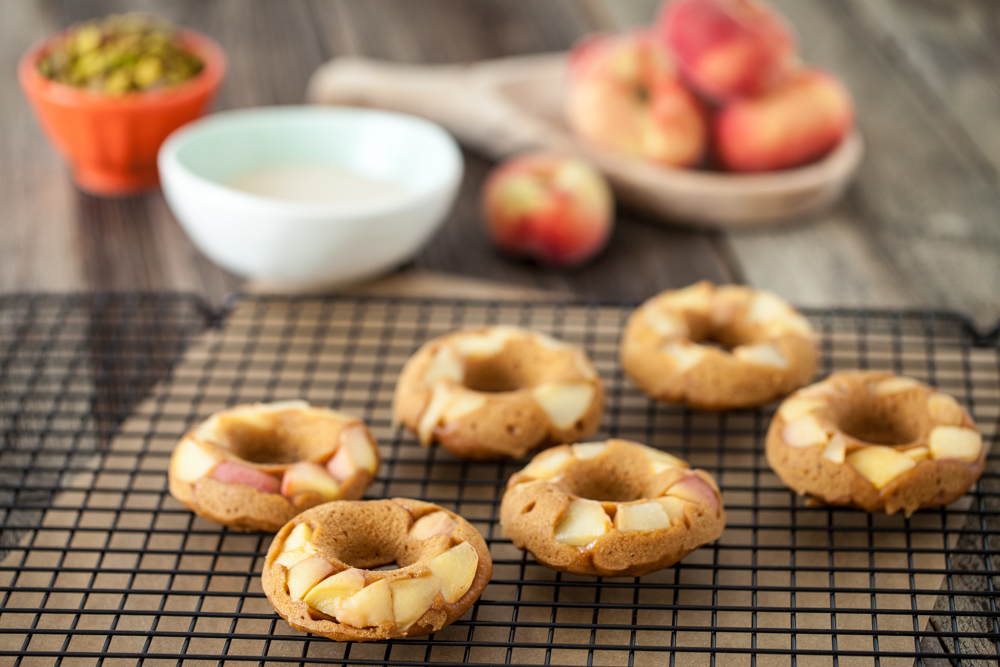 I felt like having something nice and light with my tea and I had several peaches in my refrigerator so the peaches and cream doughnut was born.  It came together remarkably fast.  I just chopped up a couple tiny peaches and placed them in the wells of my donut pan, covered the juicy peach bits with a very simple vanilla batter, and popped the pan into the oven for just over ten minutes.  The creamy vanilla glaze comes together in about 3 seconds so you can ice them right when they come out of the oven or let them cool a bit first.  By the time the water for tea was done boiling, I had beautiful little doughnuts waiting to be devoured.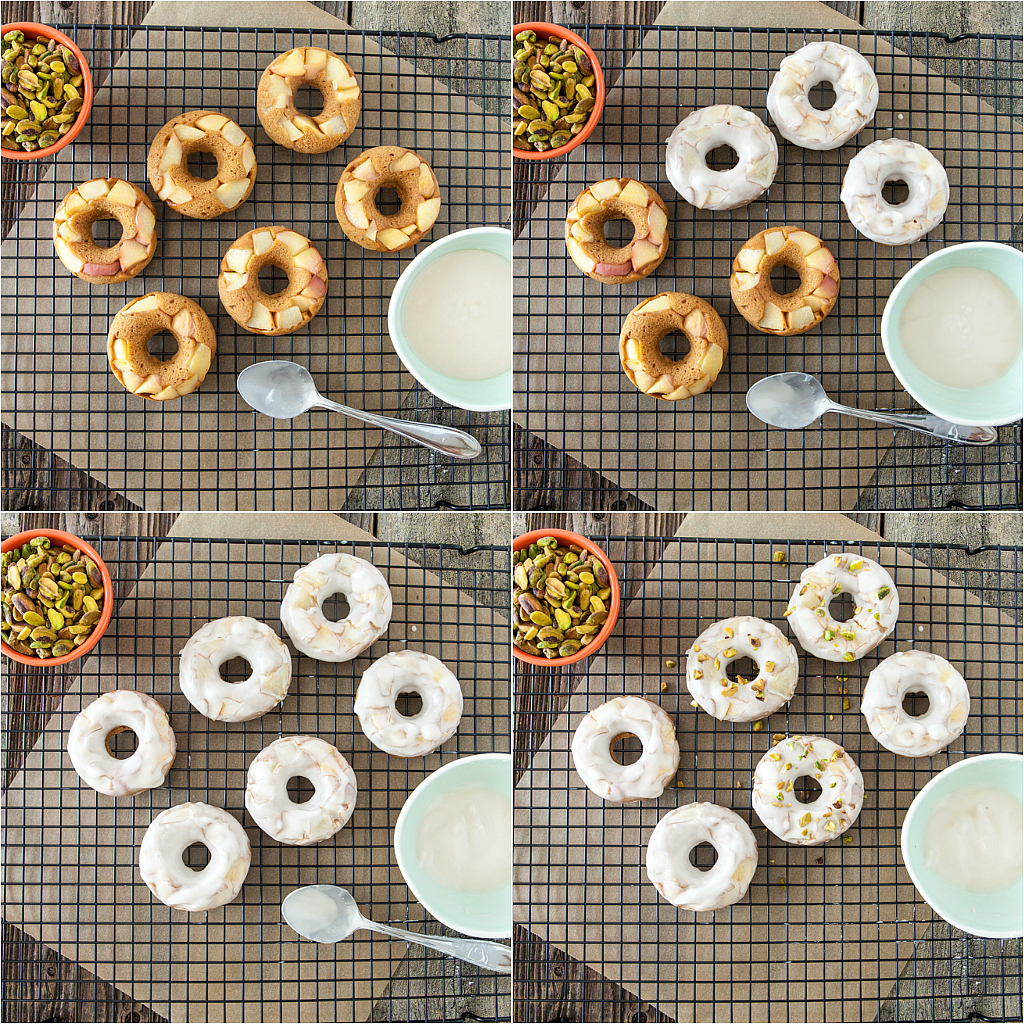 We sat down at the table with our tea and our creamy, peachy doughnuts and while I was waiting for my tea to cool, I took a little nibble of my doughnut.  It was so moist and cakey and delicious, I forgot I had a cup of tea waiting there for me and quickly took another bite!  Every bite was filled with bright and sweet peach chunks mixed with vanilla cake and creamy glaze.  We each had had our own doughnut but we had to split another one before we finished our tea.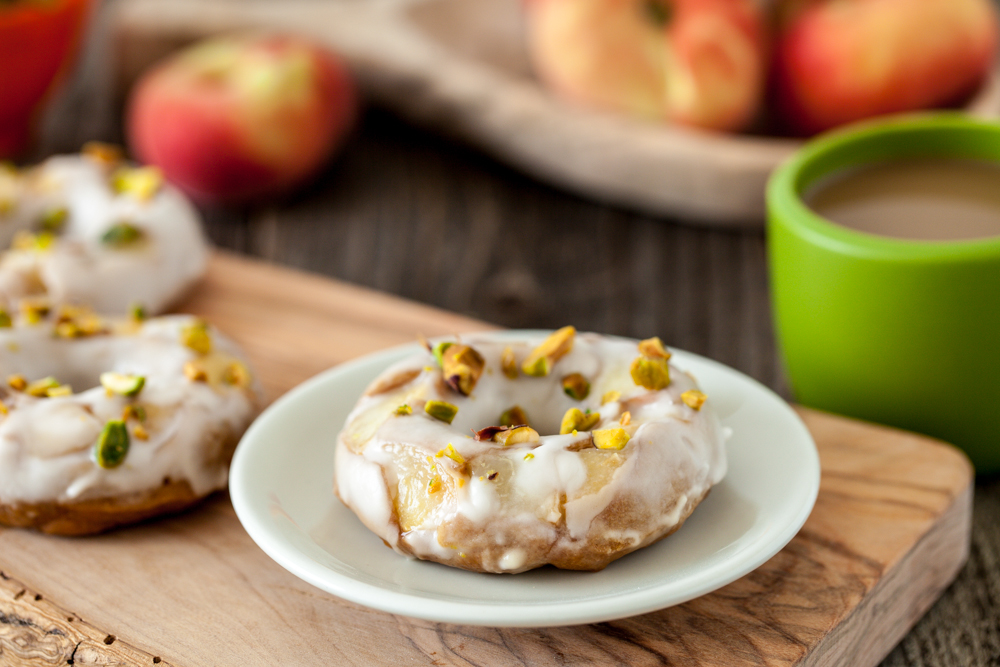 It's little moments like these that we enjoy as they're happening, but are quickly forgotten.  We take for granted how blessed we are to actually be there doing something that we love.  We forget that these moments are actually little gifts that we've been given.  They are not promised to us.  Let's celebrate them every chance we can!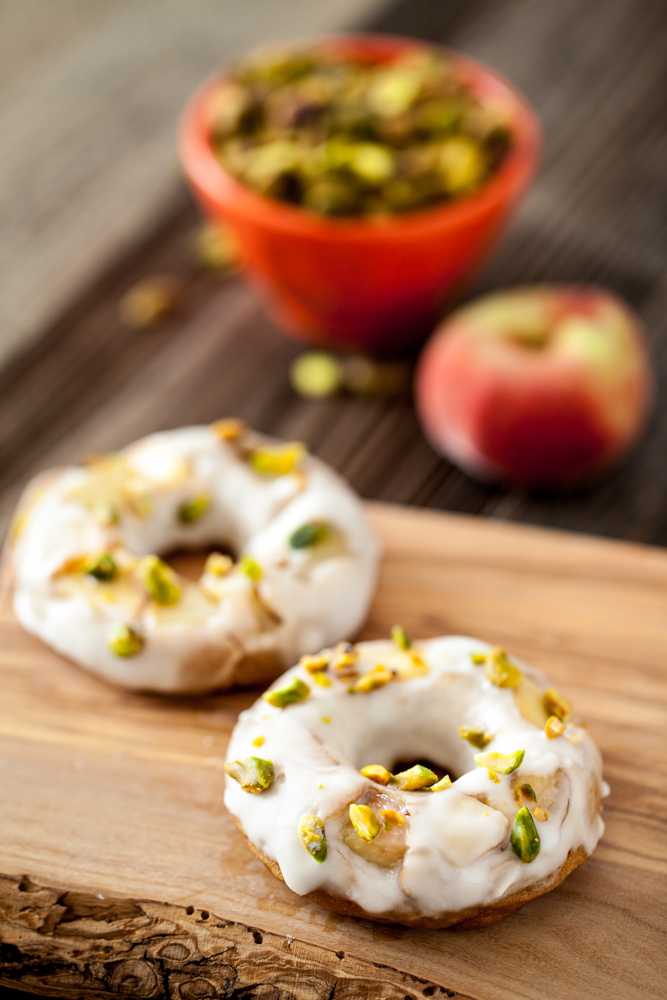 Peaches and Cream Doughnuts
Ingredients
1 cup whole wheat pastry flour (or gluten-free flour blend)
1/3 cup coconut sugar
1 1/2 teaspoons Ener-G Egg Replacer
1 teaspoon baking powder
1/4 teaspoon cinnamon
1/2 teaspoon salt
3/4 cup almond milk
1 teaspoon apple cider vinegar
1 tablespoon butter, melted
1 teaspoon vanilla extract
1 large peach or 2 donut peaches, diced small
for the glaze
1/2 cup powdered xylitol or sugar
1/2 teaspoon vanilla extract
1-3 tablespoons almond milk
Instructions
Preheat the oven to 350. Lightly grease or spray a donut pan with oil.
Mix the almond milk and apple cider vinegar together and let curdle for about 10 minutes.
In a large bowl, whisk together the dry ingredients. In a medium bowl, mix together the curdled almond milk with the other wet ingredients. Add the wet mixture to the dry and mix until just combined.
Evenly sprinkle the diced peach bits in the wells of the donut pan. Transfer the batter to a pastry bag fixed with a wide tip or a large plastic bag with the corner cut off. Squeeze the batter into each of the donut forms, covering the peach pieces. Fill each form to about 2/3 of the way full.
There will be leftover batter. You can either use it on a second pan (I made mini donuts with the leftover batter), save it and reuse the first pan, or mix in more diced peaches and pour into a muffin tin and bake as muffins. Your choice.
Bake the donuts in the preheated oven for 10-14 minutes (depending on your oven) or until they are a light golden brown while still soft and springy. Let them rest in the donut pan for about 3-5 minutes before transferring to a cooling rack.
While the donuts are cooling, make your glaze. Mix together the powdered xylitol/sugar with the vanilla in a bowl. Add the almond milk in 1/2 tablespoon increments until your desired consistency is reached. Once the donuts are cool, dip the tops (the part with the donut chunks) lightly into the glaze, one by one.
Alternatively, you can drizzle the glaze over the tops. Sprinkle pistachio pieces over the tops, if you'd like. Serve and enjoy!

What are your favorite life moments?