This week, in celebration of the upcoming, very long-awaited, premier of the 4th season of Arrested Development (my most favorite TV show of all time) on Netflix, I am doing a week of Arrested Development-themed recipes.  It's sort of a week-long Arrested Development premier celebration, if you will ("Oh, sure, I will.  Look, I have...").  To answer your questions: Yes, I am a huge Arrested Development fan and yes, I am also kind of a dork.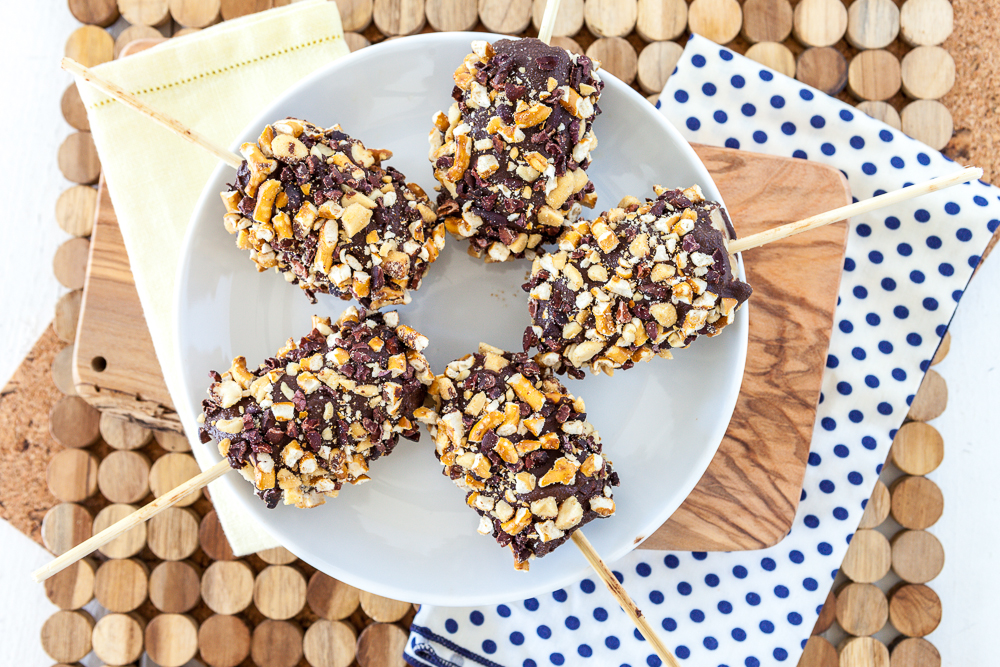 "There's always money in the banana stand."
The Bluth family owns a banana stand on the orange county boardwalk, Balboa Island, where they sell chocolate covered frozen bananas.  Many of the story lines revolve around the banana stand and it has become a symbol of the show itself.  No Arrested Development-themed celebration would be complete without some form of chocolate-covered frozen bananas.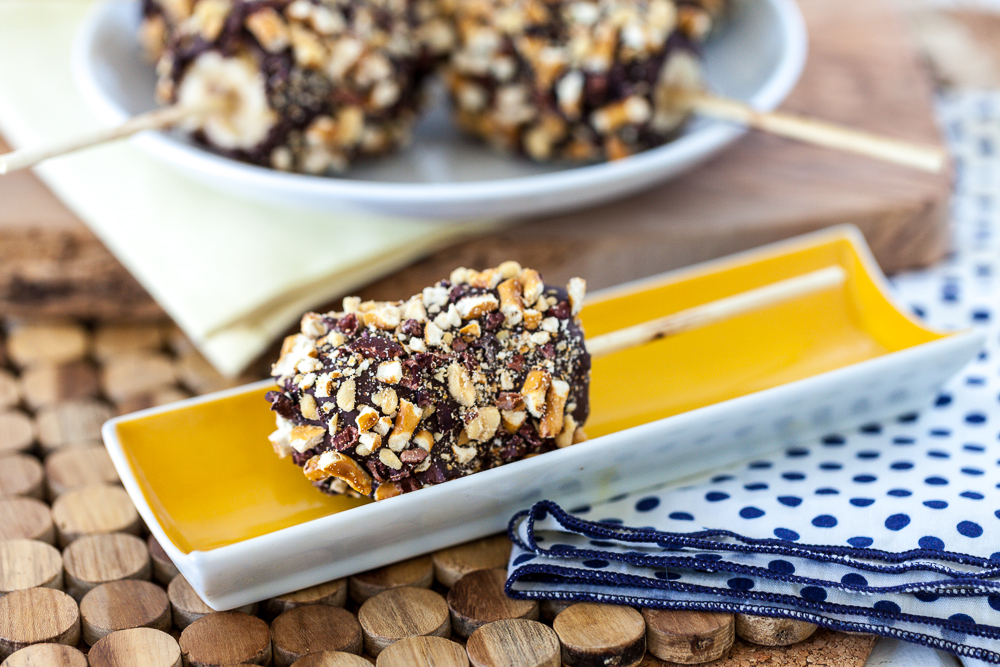 Gob: Give me a "Gob."

George Michael: Gob!

Gob: No, I didn't mean for you to yell my name at me. It's what I call a double-dipped banana with everything on it.
Today, I'm bringing you my version of the "Gob": a double-dipped frozen banana with everything on it.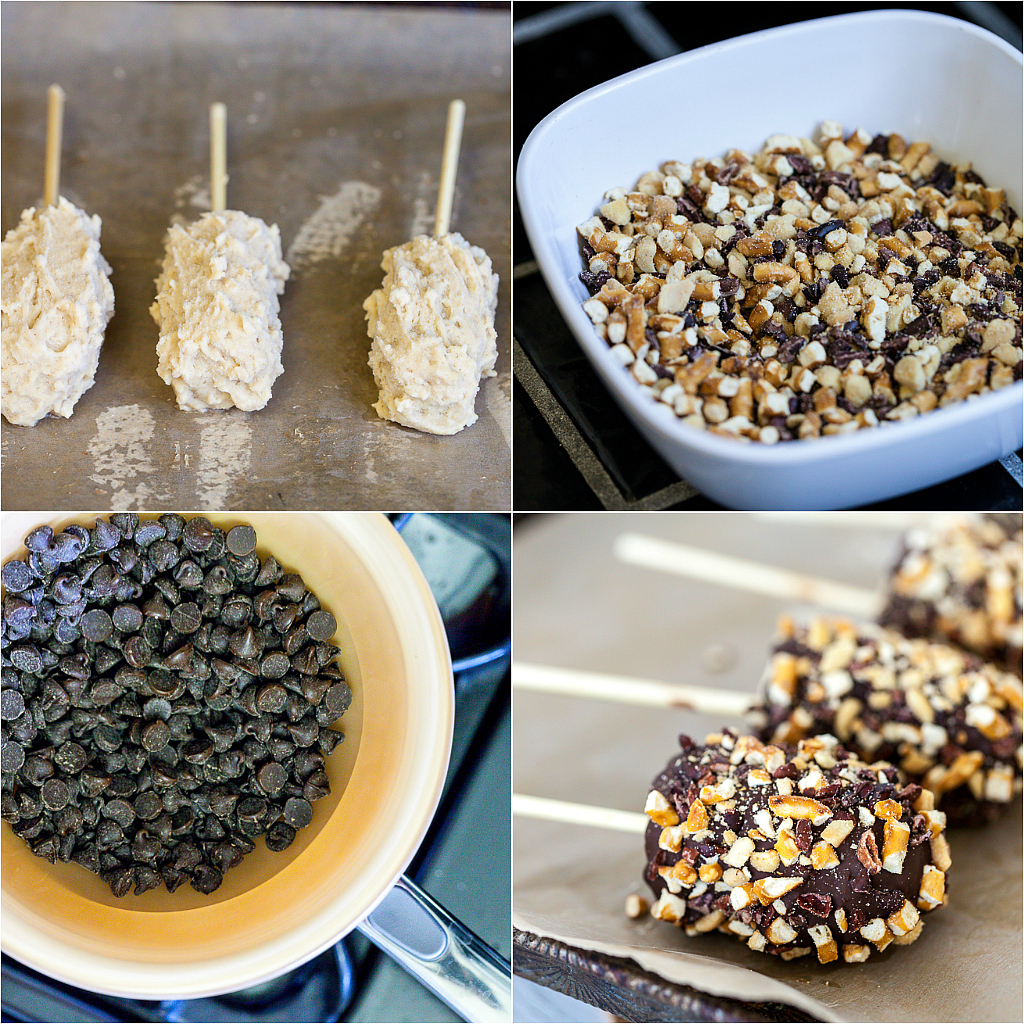 For my version, I've double-dipped the banana, alright, but instead of dipping it twice in chocolate, I first spread it with a peanut butter dip and then dipped it in chocolate. I've also cut the bananas in half to make smaller portions (and because mini food is always cuter).  As for "the everything on it," I've coated these treats with chopped nuts, pretzel bits, and cacao nibs.  In all honestly, these are one of the best treats I've ever made in my life- I adore them!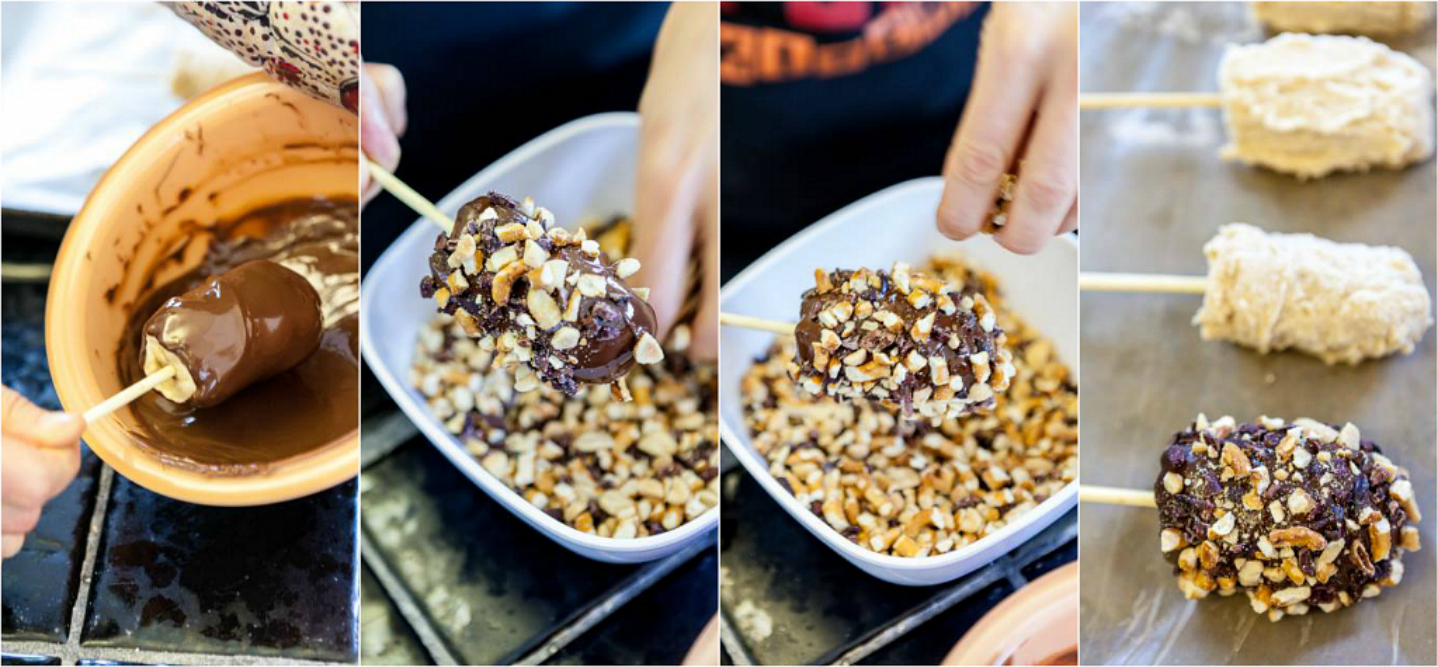 These treats are awesome for any occasion but are perfect for my your upcoming Arrested Development premier party.  Just be sure to make enough for everyone so no one is denied these delicious Bluth Bananas!
"You're the one who charged his own brother for a Bluth frozen banana. I mean, it's one banana, Michael. What could it cost, ten dollars?"

Double-Dipped Chocolate-Covered Bananas
Ingredients
6 wooden skewers
3 ripe bananas
½ cup creamy peanut butter
1/2 cup plain coconut yogurt (or other non-dairy yogurt)
2 packets of stevia, separated (or two 1/2 teaspoons of vegan sugar)
1 cup vegan chocolate chips/chunks
1 teaspoon coconut oil
¼ cup chopped nut of choice (I used peanuts)
¼ cup crushed pretzels
¼ cup cacao nibs
Instructions
Peel the bananas. Trim the ends and cut in half to make 6 mostly straight segments. Stick short skewers into one end of each banana. Line a baking sheet with wax or parchment paper. Lay the bananas on the baking sheet and freeze for at least one hour.
Meanwhile, mix together the peanut butter, yogurt and one packet of stevia in a shallow bowl.
Once the bananas are frozen, remove them from the freezer. Roll each banana segment in the peanut butter mixture and return to the baking sheet. You may have to use a spoon or butter knife to help spread the peanut butter dip on the banana. Once all bananas have been coated, return to the freezer and freeze for another 30-60 minutes, until the peanut butter coating is hard.
Mix the chopped nuts, pretzel bits, cacao nibs, and the other packet of stevia together on a plate or shallow bowl. Set aside.
Melt the chocolate and coconut oil in a double broiler (or in a glass bowl sitting on top of a small pot of boiling water). Remove the bananas from the freezer. One by one, dip each banana into the chocolate, coating it as evenly as possible. Hold the banana over the plate with the toppings and sprinkle toppings onto the banana until all sides are coated. Lightly place the coated banana on the baking sheet. Once all are done, return the bananas to the freezer. Freeze until set, about 10-20 minutes, or store in an airtight container to save for later. Serve and enjoy!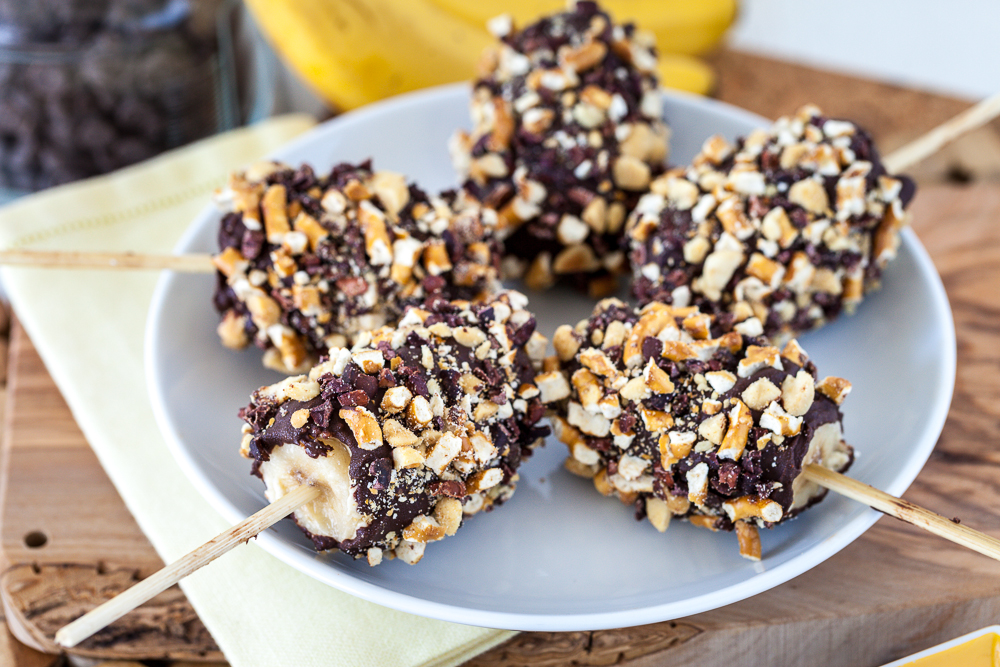 How excited are you for the Arrested Development season 4 release this weekend?
Photography by Chris Miller