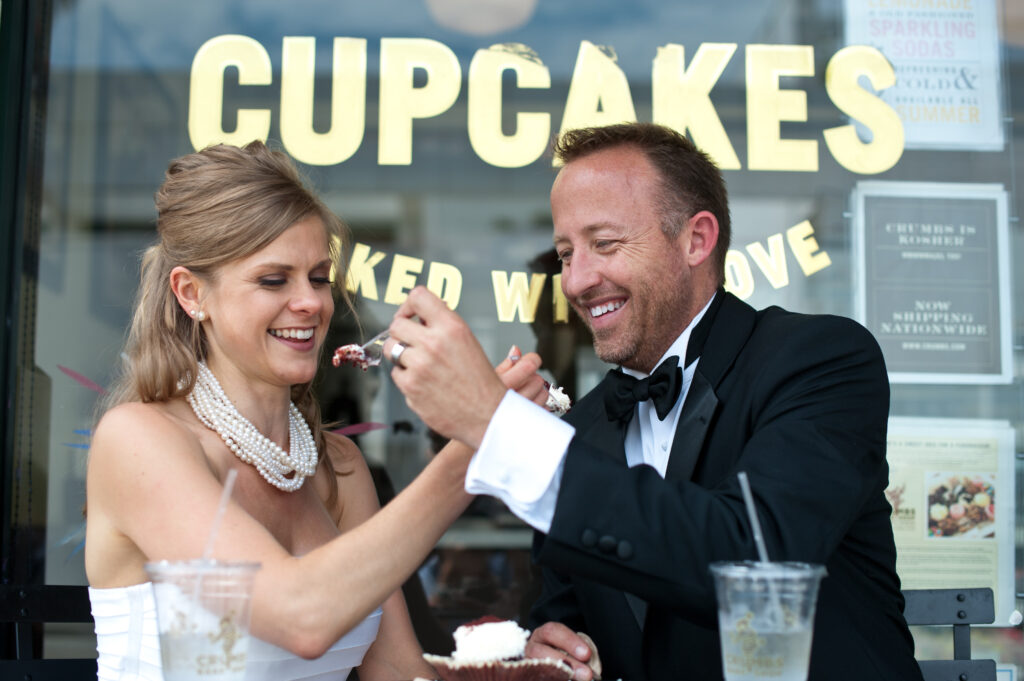 www.samlimstudio.com
This last Saturday was mine and Chris's first wedding anniversary.  A year ago, we went to Beverly Hills City Hall and eloped, then walked to a local cupcake shop for our "wedding cake."  We chose the red velvet as our cake because we're both quite fond of those brightly-hued beauties.  Since we had so much fun, and our cake was so delicious, we vowed to come back again on our anniversary and enjoy another one.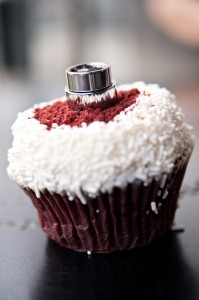 www.samlimstudio.com
Life intervened, however, and about six weeks into our marriage, we decided to become vegan.  Since our "wedding cake" was not vegan, our plans of going back to this shop were discarded.  Not wanting to break our promise, I decided to recreate our little wedding cake.  I not only wanted our little cake to be vegan, I wanted it to be lower in sugar and made of natural flavors, rather than artificial coloring.  On my first try, I used beets as the obvious source of natural color, and I was disappointed to find that my little cakes were far from red, but brownish- a dull pink at best.  They were crazy-delicious, but I was not satisfied with the coloring.  Dull coloring was not appropriate for our anniversary cake at all.  That simply would not do.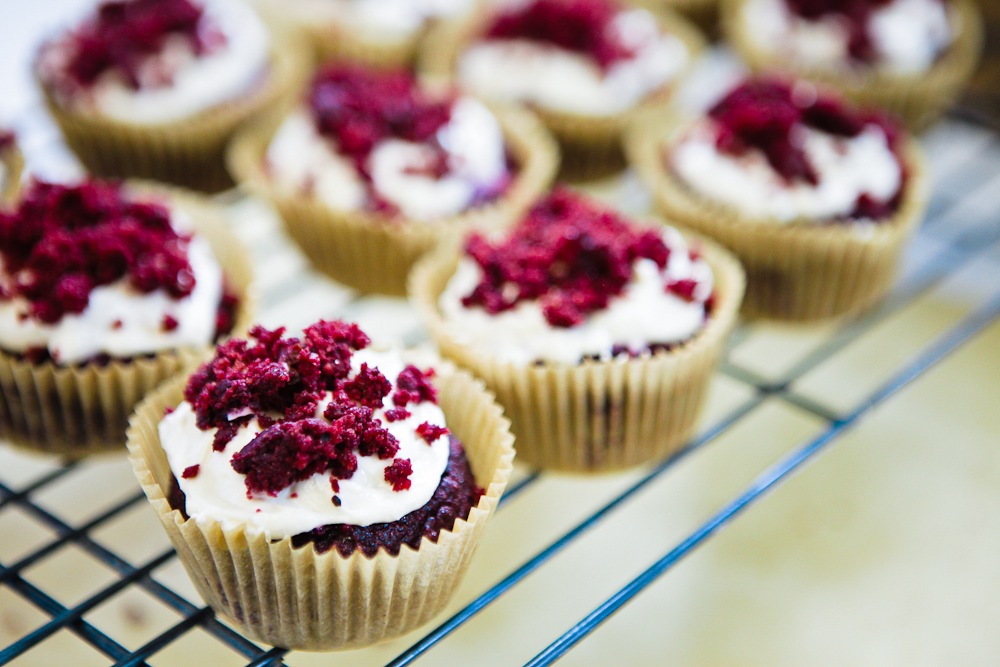 I decided to do a little research, and who should turn up in my search results, but one of my favorite bloggers, creator of some of the most stunning vegan desserts known to mankind, Hannah at Bittersweet.  Hannah had a similar problem, and in her post, she explains that the baking soda reacts with the  beets, causing the color to dull.  She omitted the baking soda, and added some lemon juice, and Viola!  Bright Red Cupcakes!  I decided to build a recipe, based on hers, but make it lower in sugar, like my previous trial cakes.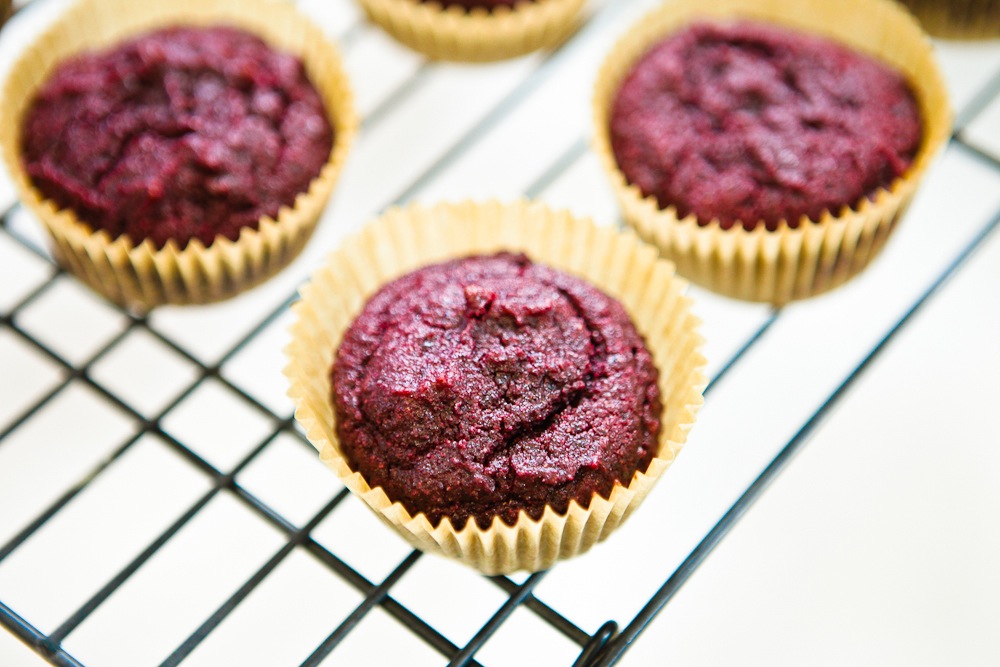 I cannot tell you how gratifying it was to pull these bright ruby-hued cakes out of the oven.  I was so thankful for Hannah at that very moment, and so excited to go through with our initial anniversary plans.  Not only were these cakes bright red, but they were insanely good (probably the best red velvet cake I've ever had, and I don't throw superlatives around that often when it comes to red velvet cake).  As we shared our little anniversary cake (and then had seconds, as well), we recreated the photos of our first "wedding cake" and started a new tradition.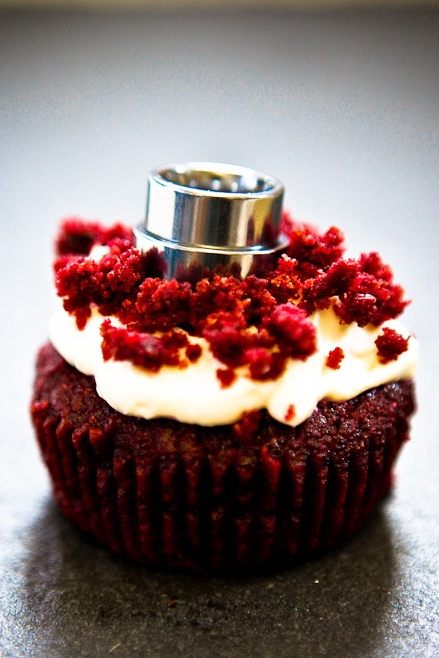 RED VELVET CUPCAKES, adapted from this recipe at Bittersweet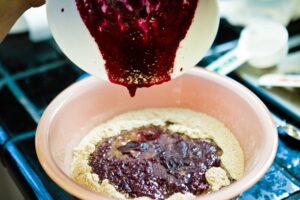 Ingredients:
1 1/4 cups whole wheat pastry flour (or all-purpose flour)
1/4 cup coconut sugar
2 Tablespoons natural cocoa powder (not dutch processed)
1 Teaspoon Baking Powder
1/4 Teaspoon Salt
1 cup steamed (but cooled) beets (about 2-3 large beets), pureéd until smooth
½ cup agave syrup
1/3 cup coconut oil, melted at room temperature
2 T lemon juice
1 tsp vanilla extract
Instructions:
Preheat your oven to 350 degrees and line a 12-muffin tin with liners.
In a large bowl, whisk together the dry ingredients.  Set aside.
In the bowl of a food processor, process the beet pureé, agave syrup, coconut oil, lemon juice, and vanilla and chocolate extracts. Process until completely smooth.
Add the wet mixture to the dry ingredients and mix until just combined. Equally distribute the batter between your prepared tins, and bake for 18 – 22 minutes, until a toothpick inserted into the center comes out clean.  Let cool completely before applying the cream cheese frosting.
If you want to have the crumbles on top of your frosting, reserve one cupcake and do not apply frosting to it.  Instead, crumble it up into a bowl, and once you are done frosting the other cupcakes, sprinkle the crumbs on top.  Enjoy!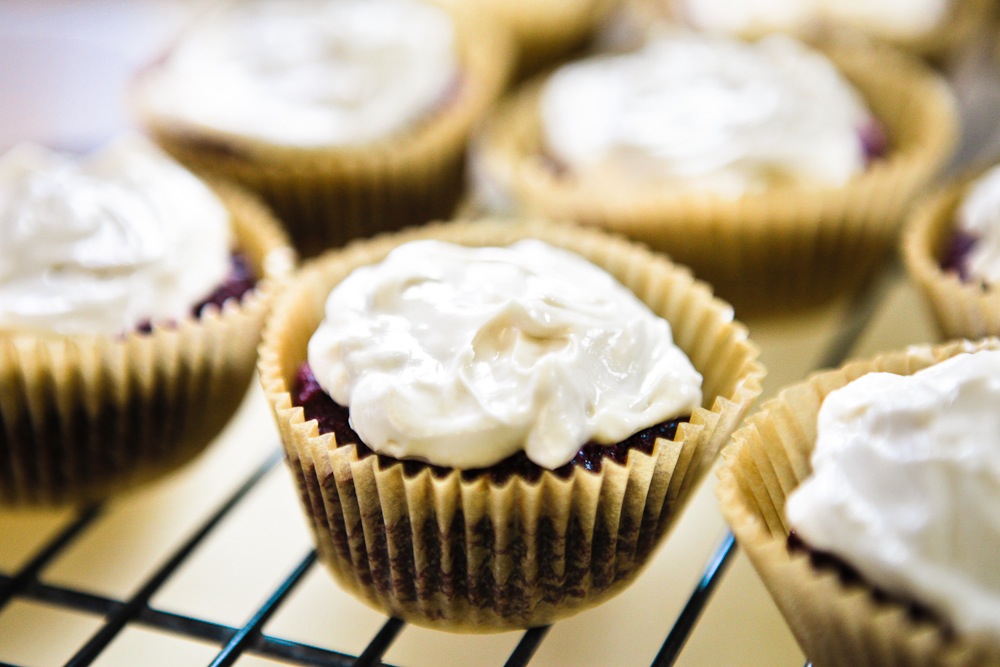 SUGAR-FREE VANILLA CREAM CHEESE FROSTING
Ingredients:
2/3 cup vegan cream cheese (non-hydrogenated)
1 T agave syrup
1 tsp lemon juice
1 tsp vanilla extract
1-2 stevia packets (about ½ - 1 tsp powdered stevia)
Instructions:
Combine all ingredients in a medium bowl.  Use a hand mixer to fully combine.  Mix until smooth.
If using a pastry bag, pour the frosting into the bag, apply the tip of choice, and place in the refrigerator to chill.  You can also use a large sealable plastic bag, and clip one corner, in place of a pastry bag.  Whatever you choose, use your bag to squeeze frosting out onto each of the cupcakes.
Alternatively, you can just use a rubber spatula or frosting spreader to apply the frosting.  Just chill the frosting until ready to use.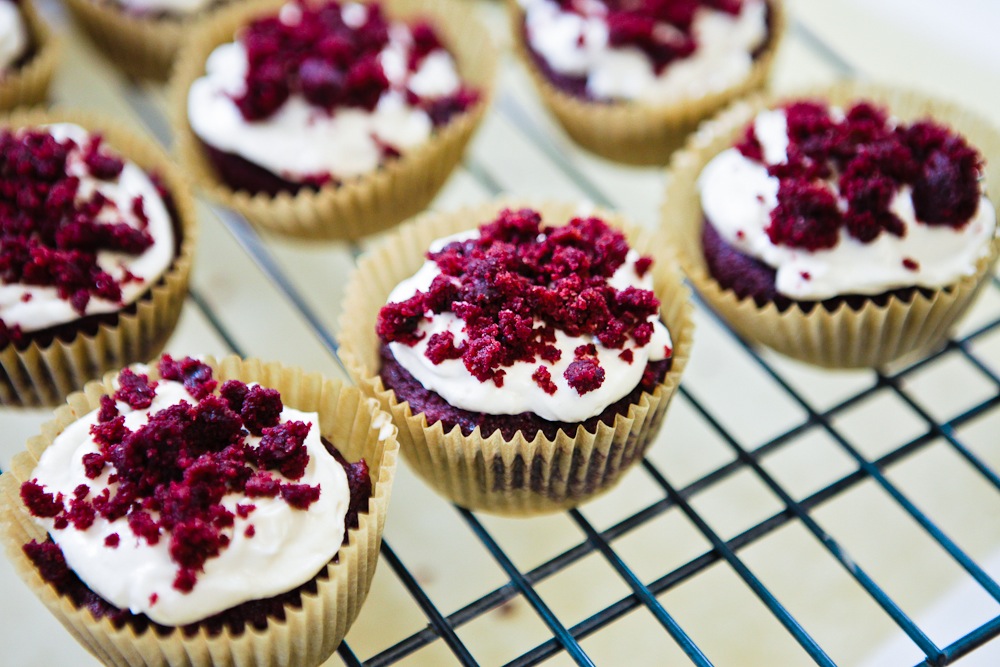 Unless otherwise noted, all photos taken by Chris Miller

© Kristy Turner and Keepin' It Kind, 2012. Unauthorized use and/or duplication of this material (content and images) without express and written permission from this blog's author and/or owner is strictly prohibited. Excerpts and links may be used, provided that full and clear credit is given to Kristy Turner and Keepin' It Kind with appropriate and specific direction to the original content.