Back in my pre-vegan days, I used to love a good cookie swap party. Now that I'm vegan and don't have many vegan friends close-by, I'm bringing the cookie swap party to Keepin' It Kind! Each day, for 25 days, one of my favorite bloggers will visit and share one of their favorite holiday cookies! That's 25 Days of Cookies, my friends! Happy Holidays!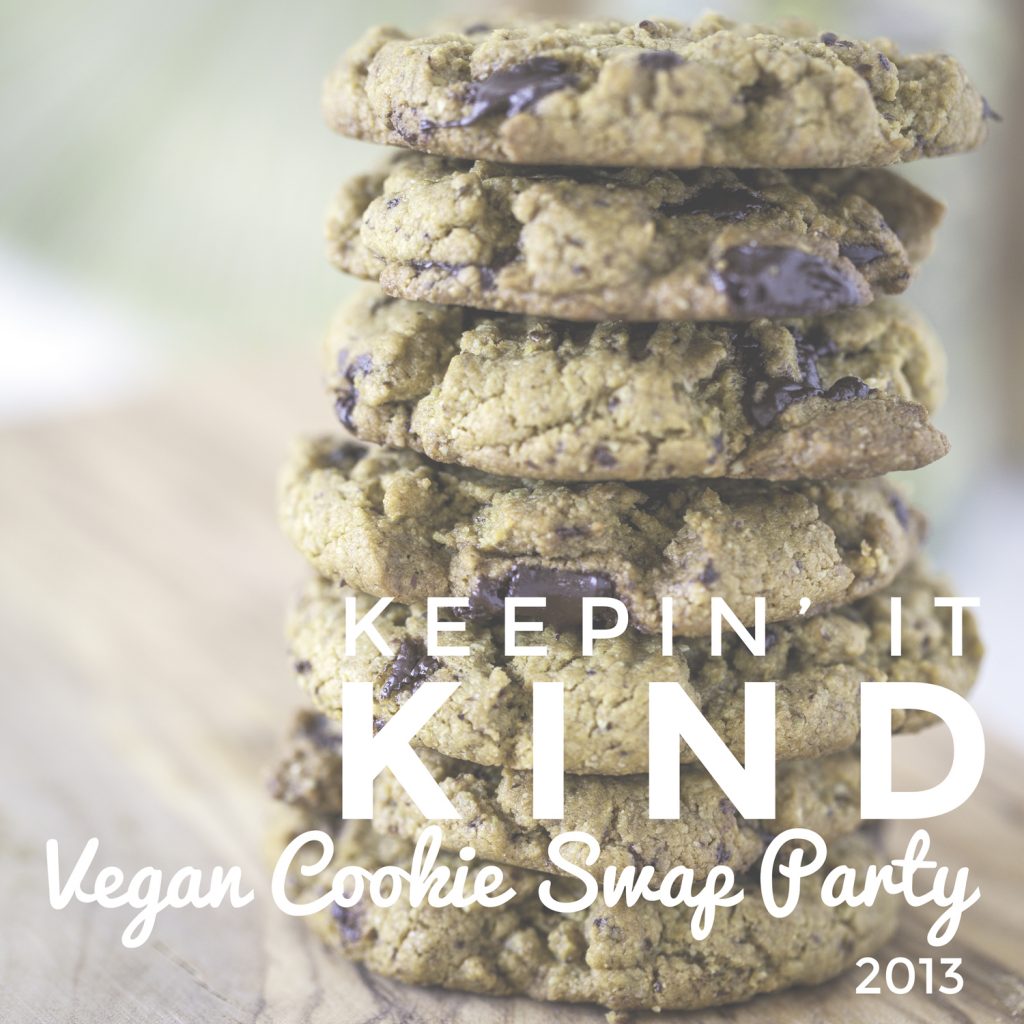 I'm truly not the jealous type and I love my life just the way it is and wouldn't trade it for anything, but I would be lying if I said I never wondered how Rika and Doni, from Vegan Miam, manage to spend their lives traveling all around the globe. I wander what occupation allows them to live for a month or two in one country, trying all the vegan eats that particular city has to offer before picking up and traveling to another country to start it all over again. Rika's posts seriously give me the itch for travel (an itch that's always alive and well to begin with!) and her recipes and their stunning photography have me drooling all over my keypad. Rika is one talented (and lucky) lady and I am so pleased to have her here today, sharing another one of her beautiful creations!
Bonjour, my name is Rika, I run a vegan food and travel blog, vegan miam with my photographer and partner Doni, covering vegan food, products, recipes, air travel, and eateries around the world. I've long been a fan of Kristy and Chris' Keepin' It Kind blog and I'm thrilled to be participating in Kristy's Fabulous Vegan Cookie Swap Party!
 I was traveling in Buenos Aires with my partner Doni, when the lovely Kristy contacted me to join her in this year's Vegan Cookie Swap on Keepin' It Kind! I didn't know what to think because as much as I love eating cookies, I couldn't recall the last time I actually made my own cookies! So given the popularity of a certain cookie in Argentina, I had to make my own vegan version of the Argentinian alfajores (pronounced "Al-fah-hoar" according to a local, the "j" has an "h" sound). These soft, round, delicate biscuits are a huge part of the Argentinian culture, traditionally filled with dulce de leche, which is a rich and thick caramel-looking sauce made by a combination of condensed milk and sugar. In Argentina, they are usually coated with black or white chocolate, or simply covered with powdered sugar.
 Instead of making a vegan version of the traditional Argentinian alfajores, I wanted to go beyond. Thanks to Frieda's Inc, I just happen to have non-GMO Stokes Purple Sweet Potatoes
 in my kitchen that inspired me to make purple alfajores, using the vibrant potatoes in my vegan cookie dough. This seasonal Stokes Purple Sweet Potatoes has been a big hit this winter, I also used them in my Mediterranean Harissa Stew (view recipe here). My exotic take on an Argentinian classic is the vegan purple sweet potato alfajores with coconut dulce le leche, dusted with vegan powdered sugar.
Rika's Sweet Potato Alfajores
Ingredients
1/2 cup mashed sweet purple potatoes
1 1/4 cups all-purpose flour 
1/4 cup corn starch, organic
1/4 teaspoon ground cinnamon  
1/8 teaspoon baking powder 
1/4 cup vegan margarine, softened 
1/4 cup coconut oil, softened 
1/4 cup vegan powdered sugar
1 teaspoon natural vanilla extract

Coconut Dulce de Leche (makes about 3/4 cup)

400ml or 1 (13.5-ounce) can coconut milk (fresh, box or can) *
110g raw Turbinado sugar (scant 2/3 cup)
1/4 teaspoon himalayan salt
1/4 teaspoon vanilla extract
Instructions
In a small saucepan over medium heat, combine all ingredients and stir gently until sugar dissolves and slightly bubbling. Do not let it come to boil. Reduce heat to low, stirring occasionally until mixture is smooth for 1 1/2 to 2 hours. Remove from the stove and let cool at room temperature for 1/2 hour. Store the sauce in an air-tight jar or container. Chill in refrigerator overnight or about 4 to 6 hours.
Bring water to boil in a medium pot, add potatoes and cook at a brisk simmer until potatoes are tender, about 15 minutes. Drain potatoes and mash them until no lumps are visible. Set aside.
Preheat oven to 350 degrees F. In a medium bowl, sift the flour through corn starch. Mix in the ground cinnamon and baking powder; this will be your "flour mixture." Set aside. In another medium bowl, use an electric mixer (or whisk) at medium speed to combine the margarine and coconut oil until creamy. Add the powdered sugar and whisk until smooth. Reduce to low, add the vanilla extract and mashed purple sweet potatoes, then the "flour mixture." Mix until all are incorporated.
Flatten dough into a disk to about 1/4-inch thickness. Chill rolled dough for about 1 hour. Using a 2 1/2-inch cookie cutter, try to cut 16 circles and place on baking sheet with parchment paper or Silpat mat. Bake for 12 to 14 minutes, until lightly golden around edges. Let the cookies cool on the baking sheet for about 10 minutes, then transfer the cookies to a wire rack and let them cool completely. Repeat with the remaining dough.
To assemble alfajores, spread a generous amount of coconut dulce de leche on the cookies (or biscuits). Dust cookies with sifted vegan powdered sugar if desired.
Notes
* I used Natural Value Coconut Milk (13.5-ounce, 400mL) for the coconut milk. It's BPA-free, organic, gluten-free and vegan. I also like the Aroy-D brands.
For the coconut dulce de leche, store them in an airtight container in the refrigerator for up to two weeks. To use, set it out to soften to room temperature after refrigeration, if desired.
Kristy, thank you for all of your work organizing the beautiful Vegan Cookie Swap, it's a pleasure to be part of it! Happy Christmas to Keepin' It Kind readers and stay warm!!! xxx
Rika + Doni are a couple, photographers, global travelers and vegan foodies based in Oregon, but living elsewhere as often as possible. The term "miam" is just a way of saying yummy in French and represents their desire to discover decadent vegan cuisine and recipes around the world together. They run a vegan food and travel blog covering vegan food, products, recipes, air travel, and eateries around the world.
connect with vegan miam: Blog + Bloglovin + Facebook + Google+ + Instagram + Pinterest + Tumblr + Twitter
Disclaimer: This post contains Amazon affiliate links.