Back in my pre-vegan days, I used to love a good cookie swap party. Now that I'm vegan and don't have many vegan friends close-by, I'm bringing the cookie swap party to Keepin' It Kind! Each day, for 25 days, one of my favorite bloggers will visit and share one of their favorite holiday cookies! That's 25 Days of Cookies, my friends! Happy Holidays!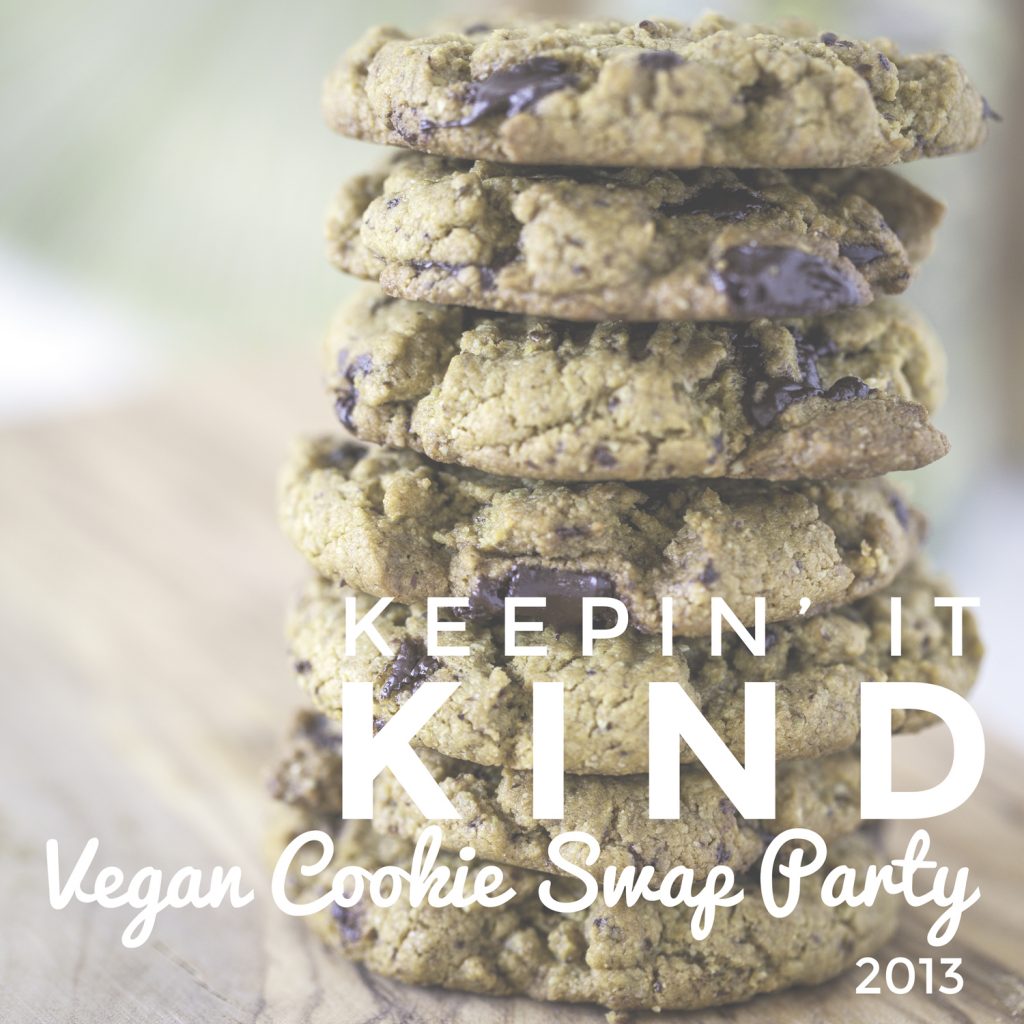 When I started using instagram about a year and a half ago (has it been that long? Geez!), I started discovering all these other vegan bloggers that I didn't even know about. One of my favorite discoveries, by far, has been Stephanie at Trans-Planted. She's a vegan southern California girl who currently lives in Malaysia. Her recipes are as delicious as her photography is beautiful. And she has an adorable cat named Maeby (after one of our mutual favorite television show characters). What is there not to love? Welcome Stephanie to the cookie party!
I was so thrilled when Kristy invited me to take part in her vegan cookie swap party. I'm an expat living in Malaysia and this will be my second Christmas overseas. Living in Malaysia in December has its pros and cons. Some of the downsides of living on a tropical island in winter are obvious: it doesn't feel like Christmas, it never cools down (it's currently 88° F), there are no Christmas lights, and hardest of all, we're away from all of our loved ones. But thanks to Kristy and all of your wonderful cookie recipes, I feel like I'm back home! I'm thankful to be part of such a wonderful vegan community, even out here in Asia!
I'm an elementary teacher so things are always busy. We had our class Christmas party this week and I brought these cookies to give to the kids. My students loved them! They didn't have a clue that these were healthy or vegan! I've found that kids can be harsh critics so these are sure to please at your holiday party.
I wanted to bring a healthier cookie to the swap because it can be extremely hard (some say impossible) to keep on a healthy track during the holiday season. I've been trying to eat my best this month so I thought I would update one of my favorite cookie recipes and make it a bit more healthy. These cookies can be made with oil or without, your choice! They are delicious either way.
Stephanie's Vegan Oil-Free Double Chocolate Oatmeal Cookies
Ingredients
2 cups quick-cooking oats
1 2/3 cups all-purpose flour
2/3 cup unsweetened cocoa powder
1/2 teaspoon baking soda
1/2 teaspoon baking powder
3/4 teaspoon salt
1 1/4 cup white sugar
2 tablespoons ground flax seeds*
2/3 cup nondairy milk
2/3 cups apple sauce (plus 1-2 tablespoons water) or 2/3 cup canola oil
1 1/2 teaspoon pure vanilla extract
3/4 cup vegan chocolate chips

*Flax seeds can be easily ground in a coffee grinder!
Instructions
Preheat oven to 350° F and line two baking sheets with parchment paper.
In a medium-size bowl, stir together oats, flour, cocoa powder, baking soda, baking powder, and salt. Set aside.
In a large bowl, beat together sugar, flax seeds, and non-dairy milk until smooth. Add the apple sauce or oil and vanilla extracts and beat until well mixed. Fold in half of the flour mixture and stir, then fold in the remaining half. Just before the mixture is completely combined, add in the chocolate chips. If your dough seems too dry, add in an extra 1-2 tablespoons of water or non-dairy milk.
For each cookie, drop 2 tablespoons of dough onto the cookie sheet, leaving about two inches of space in between each cookie. You can leave the dough unflattened for a more chewy cookie or flatten with slightly moistened fingers for a bit firmer texture. Bake for 10-12 minutes until the cookies are firm and risen. Let the cookies rest on the baking sheet for 5 minutes before transferring to a wire rack to cool completely. Store in a tightly sealed container. Enjoy!
Stephanie is originally from Orange County, CA but now resides in Penang, Malaysia with her husband and crazy cat. She loves to eat, cook, explore, and live a cruelty-free life. You can follow her adventures at trans-planted.com