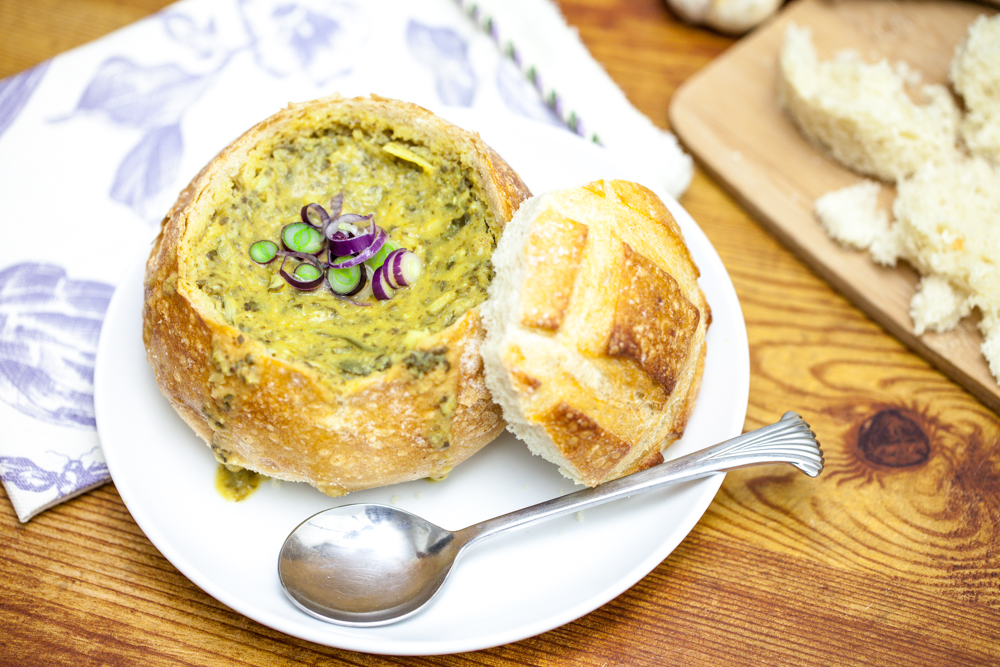 How awesome is spinach artichoke dip?  Right?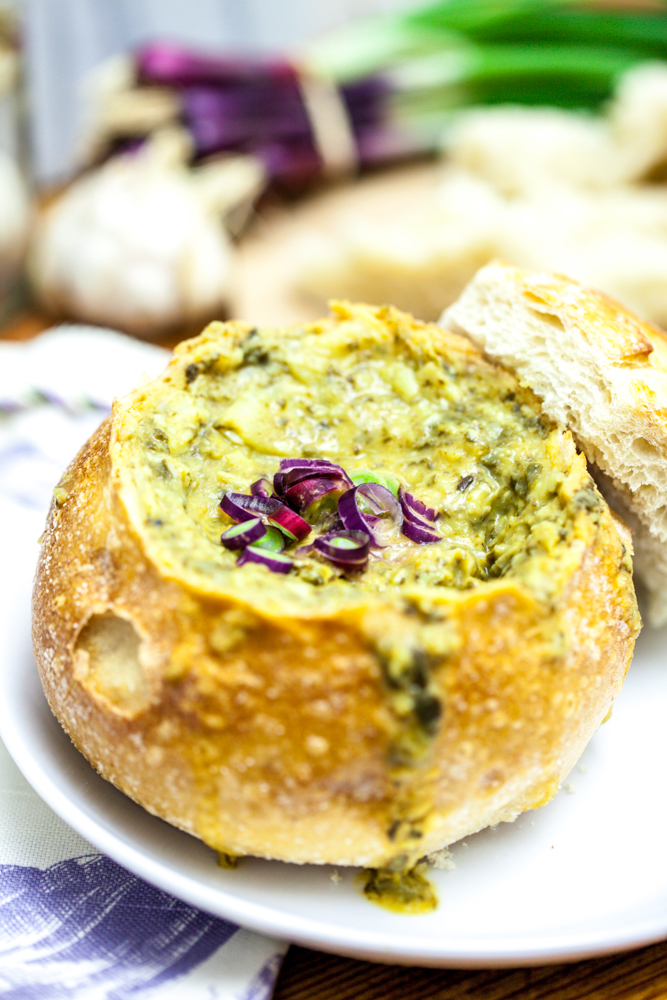 Back in the day, my best friend and I used to make a spinach artichoke dip in a bread bowl for every party we threw, so we spent many a night in our early twenties staying up all night, talking and eating the dip leftover from the party.  I was thinking about those parties a few days ago, and how my hair was the same color as Gwen Stefani's and how much we loved listening to Outkast and how she had pictures of Adrien Brody on her refrigerator.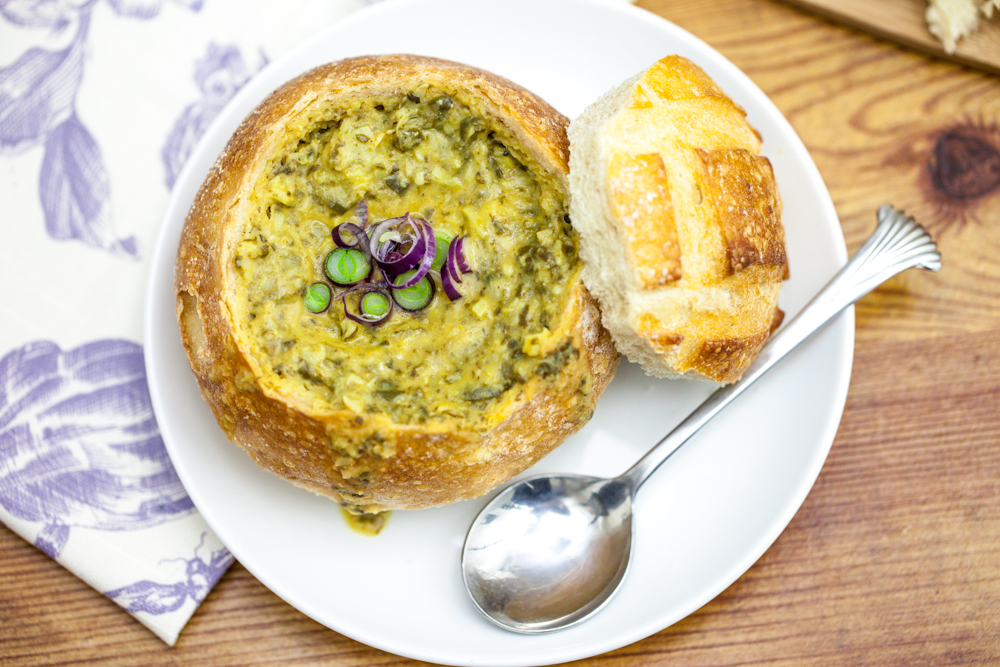 It's been quite awhile since I've thrown a party and even longer since I've had spinach artichoke dip.  For me, food cravings are intensely tied to memories, and thinking about those parties had me craving spinach artichoke dip pretty badly.  Now, I realize I could have just made a bowl of vegan spinach artichoke dip, but on that chilly afternoon when I was reminiscing, soup with some fresh bread to dip in it sounded way more appetizing than a cold dip.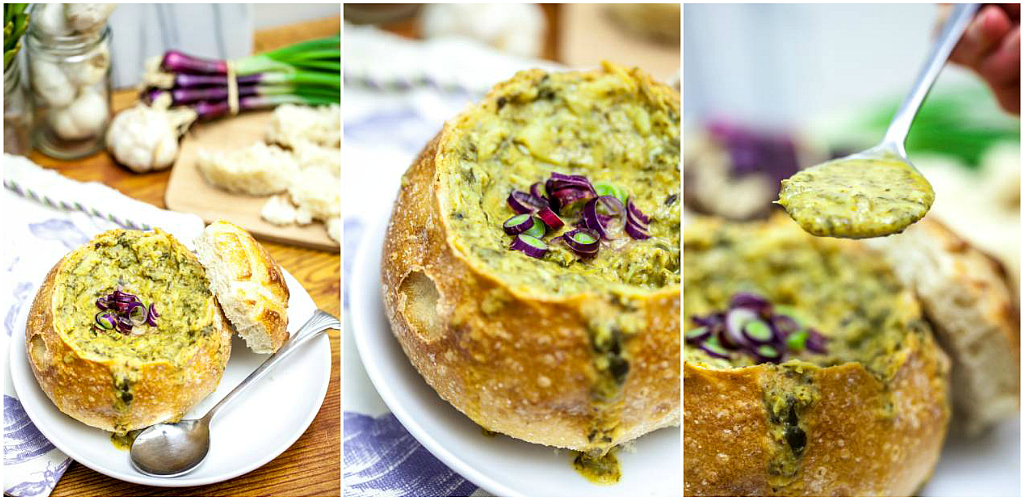 This soup came together very quickly with some basic ingredients I had in my pantry and fridge.  And the beauty of this soup is that it's way healthier than the dip it's adapted from.  Instead of tons of sour cream and cheese and other high-calorie, terribly unhealthy things, it get's its creaminess from white beans and almond milk and it's tangy cheesiness from nutritional yeast, lemon juice, white miso, and mustard powder.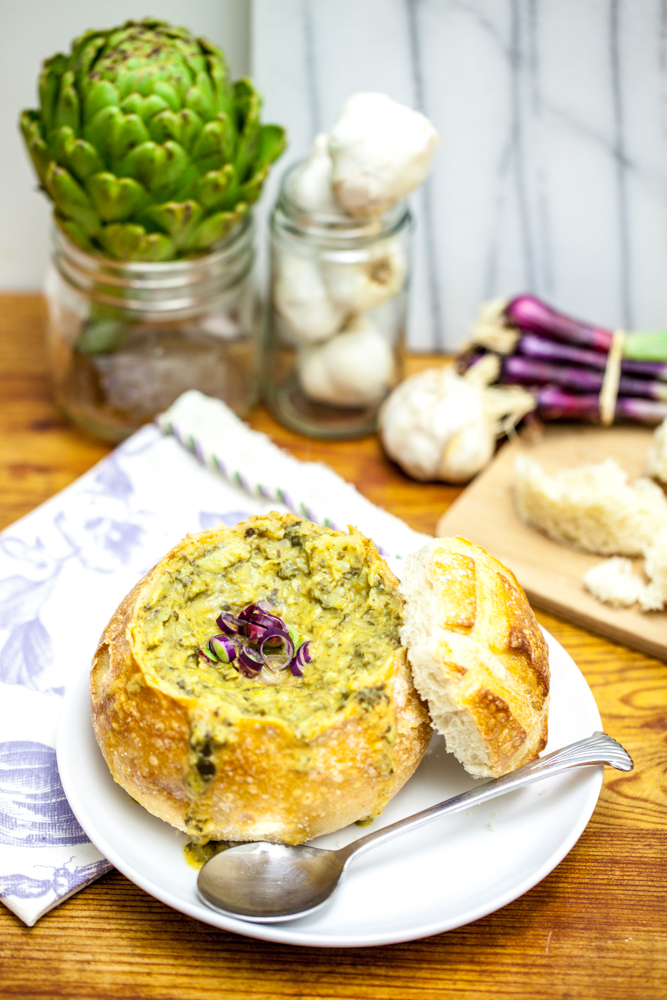 This soup is ridiculously, addictively delicious.  With every scoop of soup you take with a piece of fresh sourdough bread*, you'll forget that you're not overdoing it with an unhealthy dip but instead you're eating a balanced, nutritious soup for dinner.  And it's still perfect for sharing with your best friend.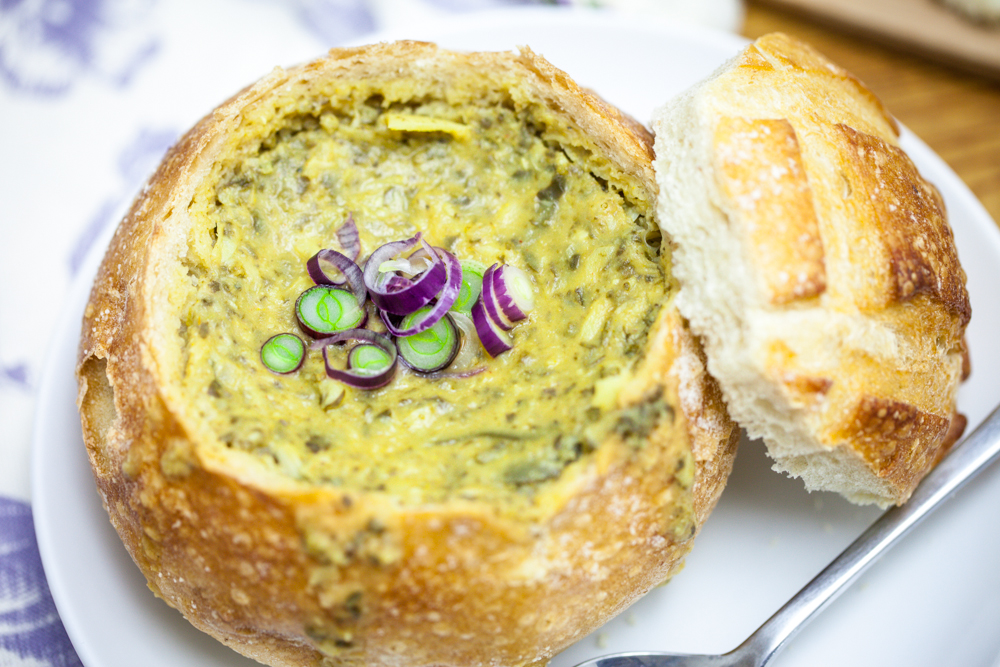 Ingredients
1 can of great northern white beans, rinsed and drained
1 cup unsweetened almond milk
4 tablespoons freshly squeezed lemon juice
2 1/2 tablespoons nutritional yeast
1 1/2 teaspoons white miso
½ tsp mustard powder
1 teaspoon olive oil
2 shallots, chopped
1-2 medium-large cloves garlic, minced
2 cups canned or frozen (thawed) artichoke hearts
2 cups spinach leaves
2 teaspoons dried basil
1 teaspoon dried oregano
3 cups vegetable broth
1 cups water
salt and pepper to taste
Instructions
In a high speed blender or food processor, combine the ingredients for the cream and blend until smooth. Set aside until ready to use.
In a large pot, heat the olive oil over medium heat for 1 minute. Add the shallots and garlic and sauté until fragrant and the shallots become slightly translucent. Add the artichokes, basil, and oregano, and sauté for 2-3 minutes. Add the spinach, vegetable broth, and water and mix well. Put the lid on the pot and bring to a boil. You will need to stir it a few times until the spinach cooks down. Once it is boiling, crack the lid and lower to a simmer. Let it simmer for about 10 minutes.
After 10 minutes, remove the soup from heat. Use and immersion blender to pulse the soup until it has a chunky consistency, not smooth. Pour in the cream and mix until combined. Add salt and pepper to taste.
Return to a simmer for about 5-10 minutes. Remove from heat again and serve. Enjoy!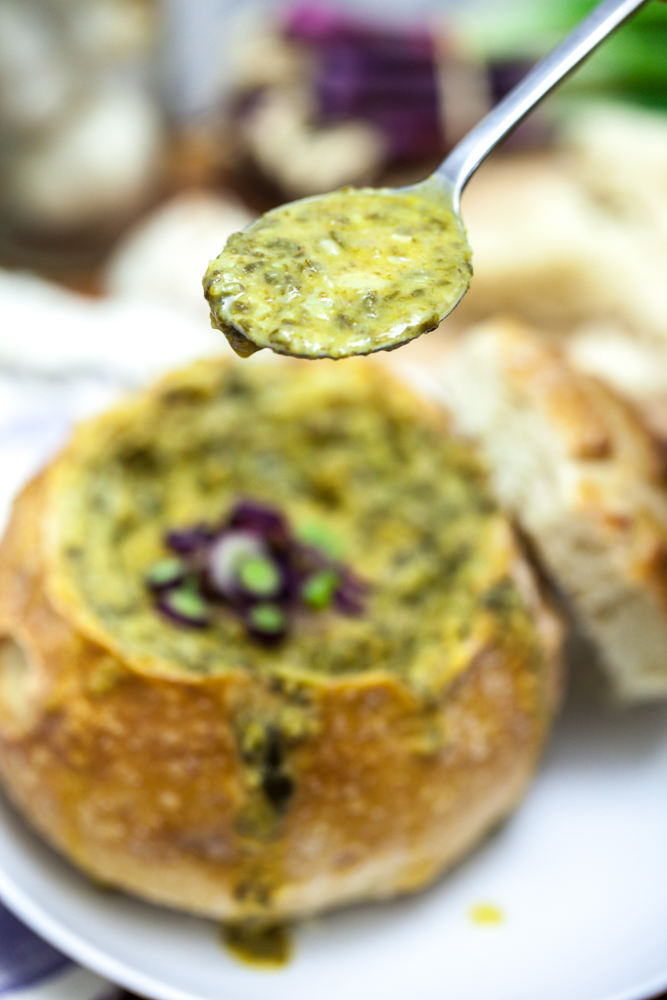 What are your favorite foods to share with friends?
*if you plan on photographing this soup, I don't recommend using a bread bowl as the serving piece.  The bread soaks up all the liquid, leaving you with a not-very-soup-like looking soup. Doh.
Photography by Chris Miller