Some of you may already know, but a former career of mine was as a cheesemonger. I spent my days selling cheese in a fancy cheese shop. I would give the customer a little taste of whatever cheese they were interested in and give them the backstory on that cheese: the type of animal milk it was, what country it was made in, and the time of year it was made. I am not proud of this past career in the dairy industry but I loved the whole process of being able to tell the story behind the product and share this passion with like-minded people. Even after I left that job, I loved to go to cheese stores and take part in this ritual as a customer.
When I went vegan, I truly thought my cheese shop days were over. At the time I went vegan, there weren't even any really good artisinal cheeses on the market! I thought my cheese repertoire was going to be limited to homemade cheeses and store-bought shreds. Now, there are plenty of great artisinal cheeses on the market and it isn't hard to find them in stores or even have them shipped to you! All of this is wonderful but even so, I never thought I was going to be able to hear a cheesemonger tell the story behind my cheese of choice again. That is, until a vegan cheese shop opened in Los Angeles.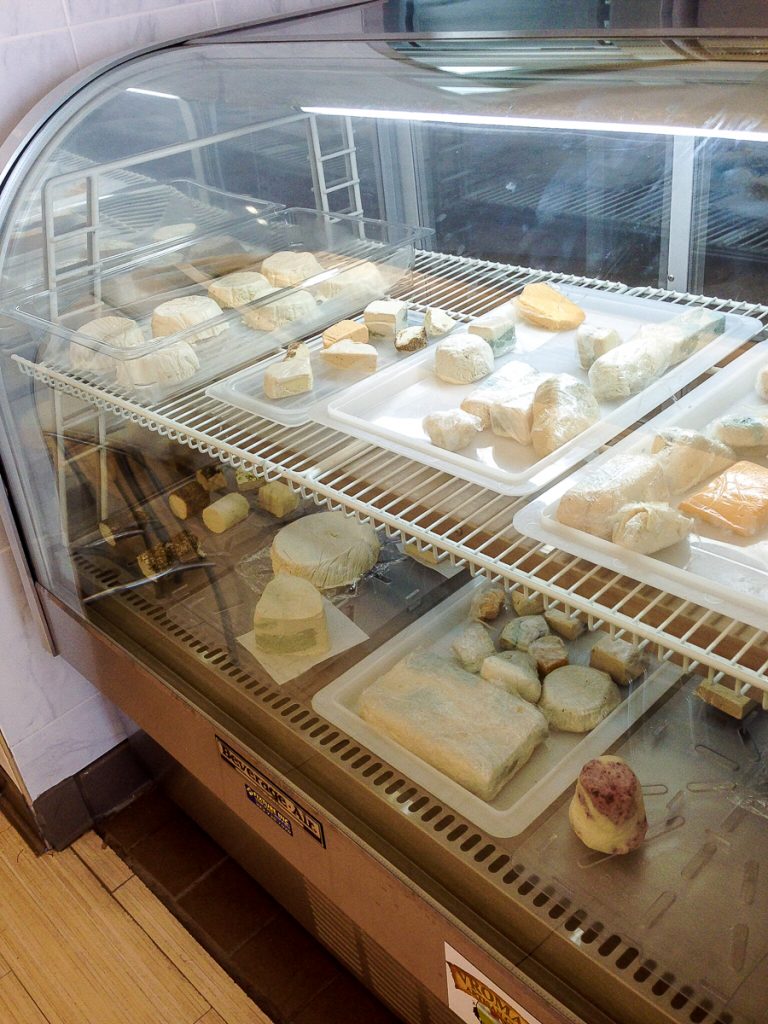 A trip to West Hollywood is a bit out of our way. One day, when I realized that an errand that we had to run was actually not far from West Hollywood, I begged Chris to make an extra stop at Vromage, this vegan cheese shop that I'd heard about. He didn't need much convincing.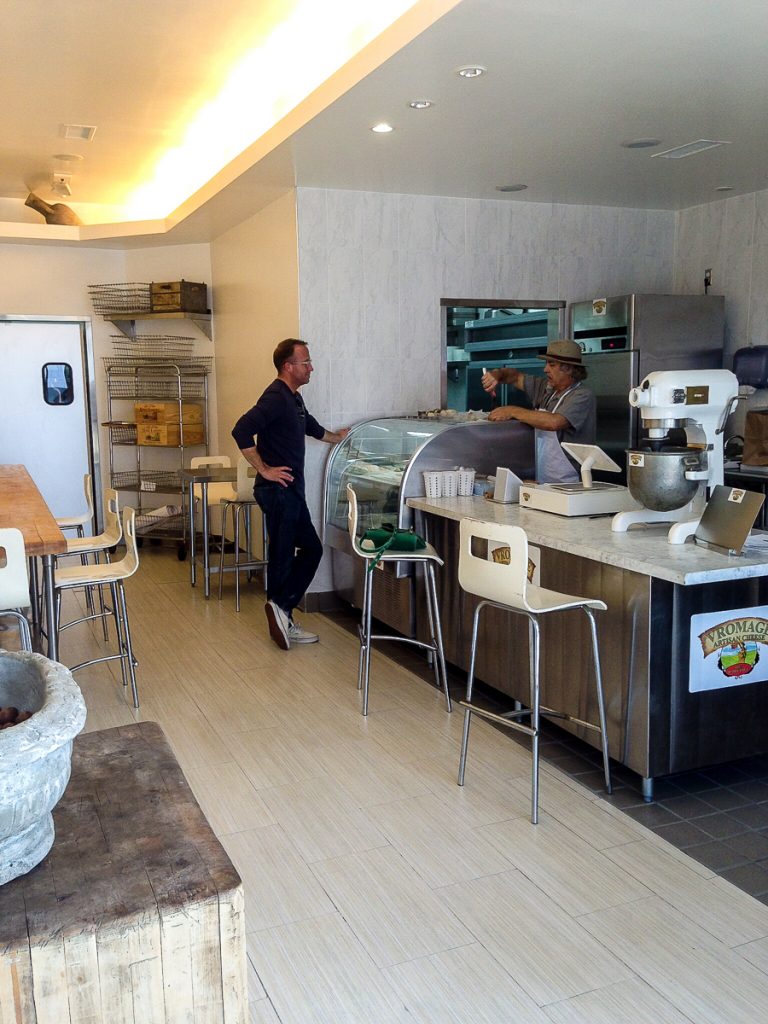 I was in love the minute I walked in. I loved the open, airiness of the space, the peaceful atmosphere. The simple decor and marble countertops made me feel like I'd just walked into a high-end cheese shop.
And then there was the glorious cheese case.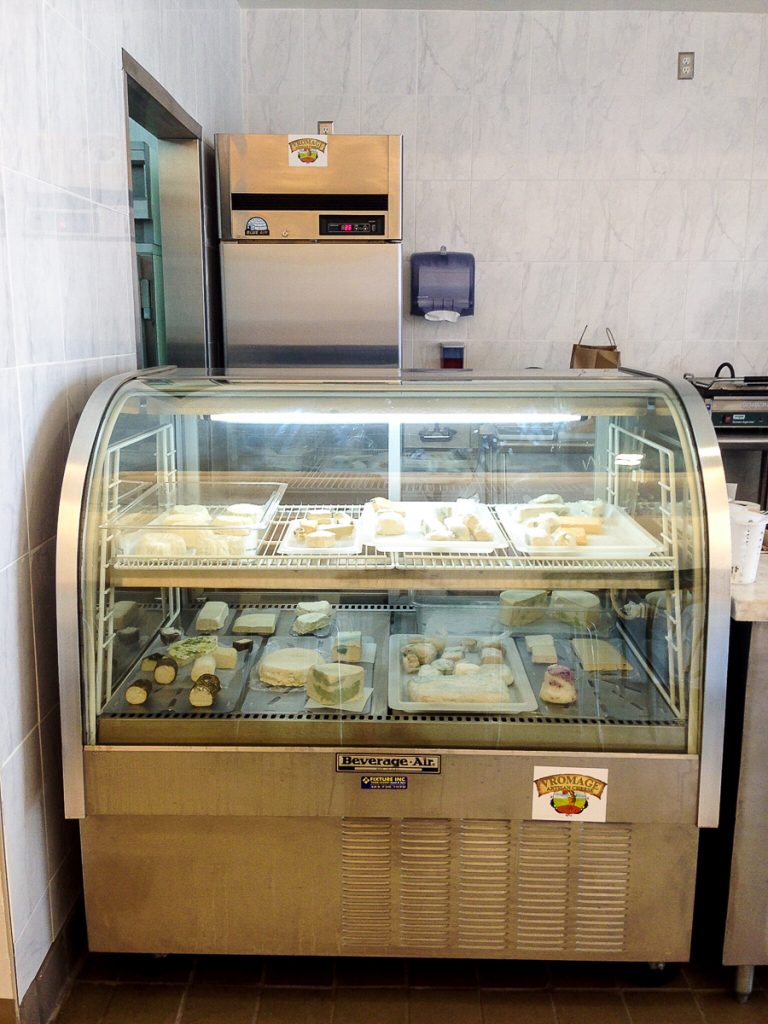 The Owner/Chief Cheesemaker, Youssef Fakhourri brings so much warmth and life to his little space. He spent about 30 minutes with us, telling us how he first started making cheeses, how far he's come, as well as information about all of the cheeses in the case.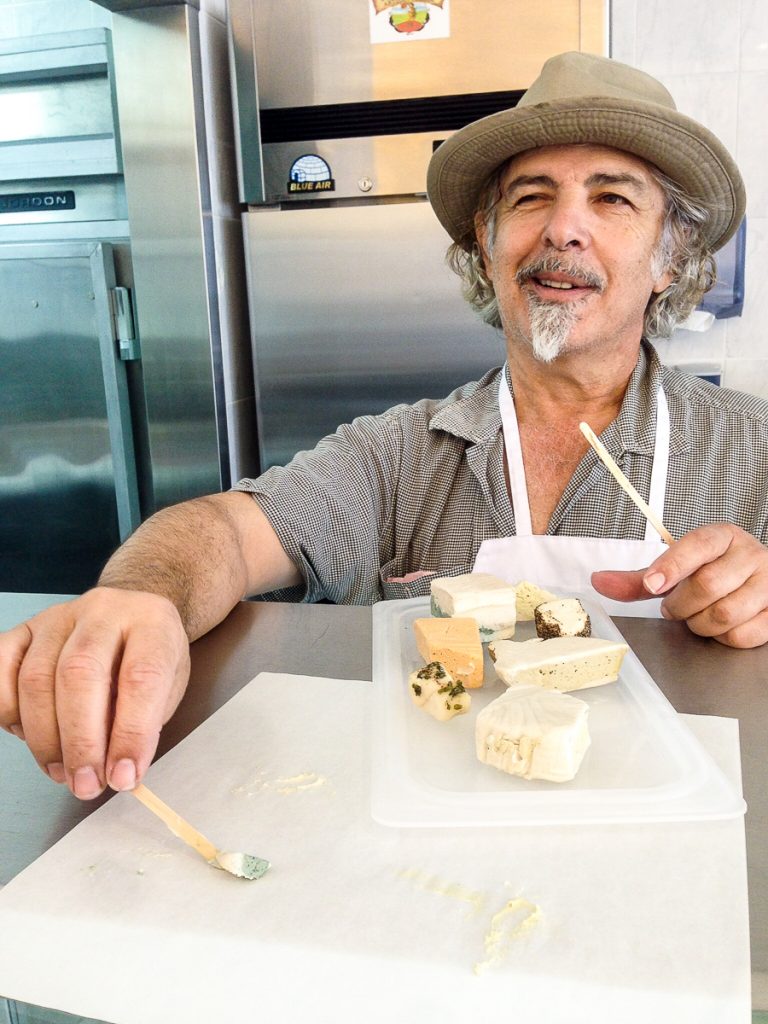 All of the cheeses are nut-based (either cashew, macadamia nut, or pistachio), cultured, and aged to perfection. There were a few types of "goat" cheeses, a brie, a camembert, a blue cheese, and even a gorganzola, or Veganzola, rather. The veganzola was his first creation and it's one of his most popular cheeses. It was definitely one of my favorites.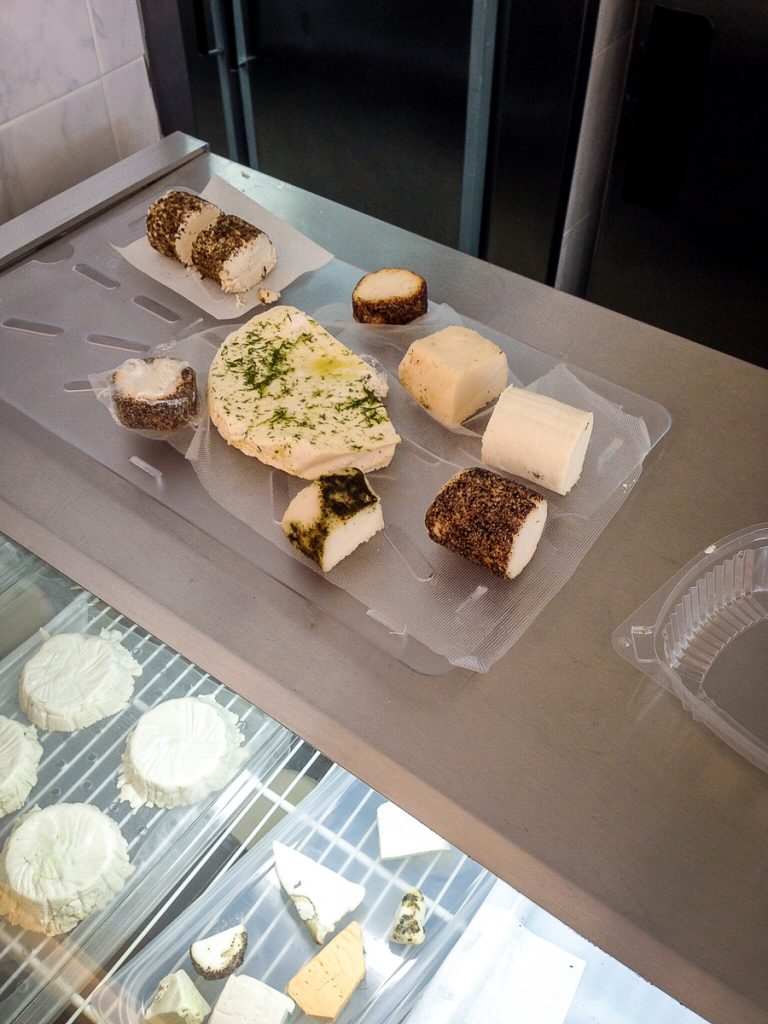 In addition to cheese, he also offers sandwiches and a few other food items on the menu.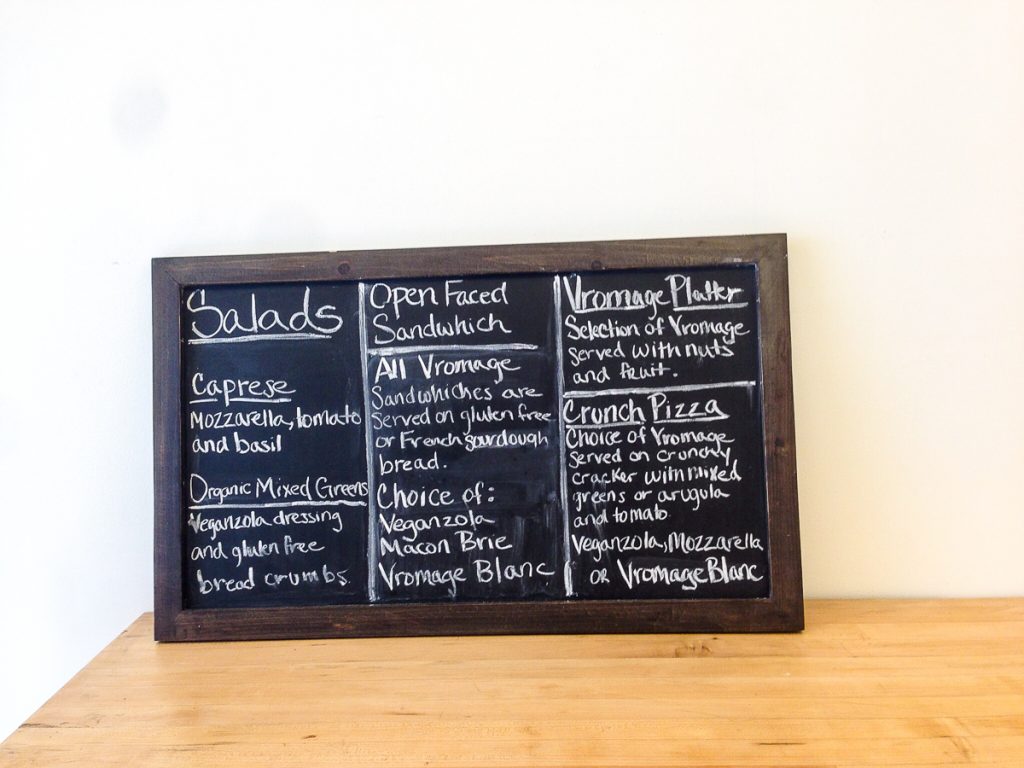 Chris and I were incredibly impressed with Vromage and had a hard time deciding which cheeses to bring home with us. We finally settled on the blue cheese, the veganzola, and an herb encrusted "goat" cheese. It took every ounce of will power we had to wait until we got home to eat them, let alone take any further pictures of them.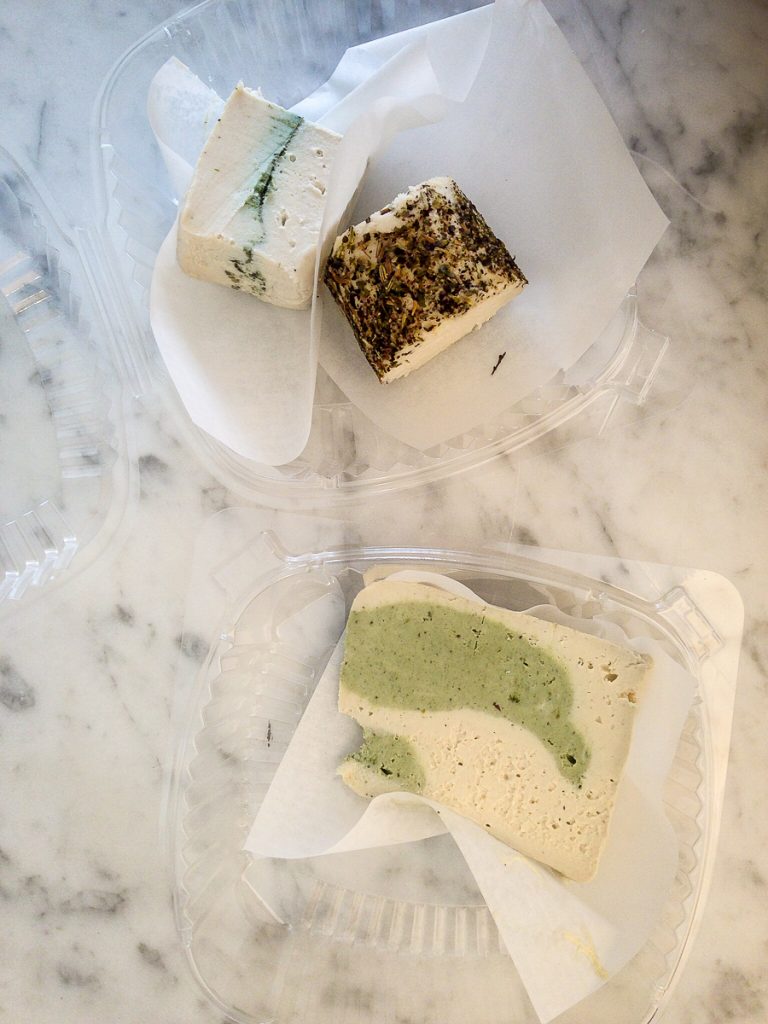 For New Years Eve, Chris and I wanted to have a fancy wine and cheese night (to nibble on during our James Bond marathon). We went back and were happy to see other customers making a big purchase and that Youssef had hired not one, but two employees to work behind the counter. They were a little less talkative about the cheeses, but they were very friendly and gave us samples of everything. Youssef was there as well, and though he was busy, he made a point to thank us for returning. We walked away with 5 different cheeses.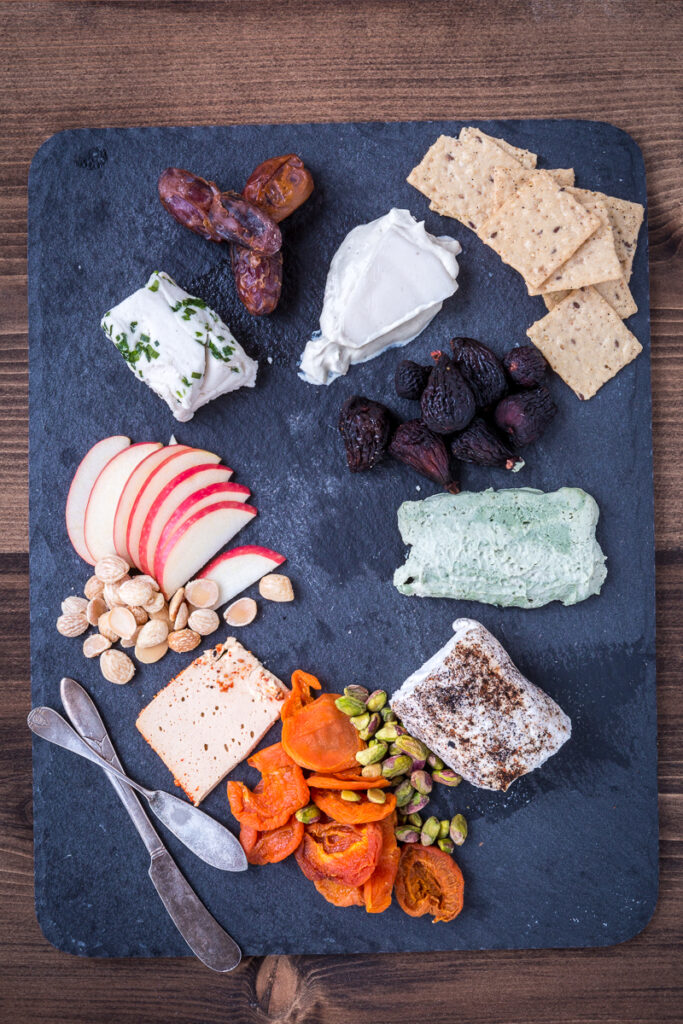 Starting from the top left, theres a Chive "Goat" Cheese, a Brie, the Veganzola, a Ash-Encrusted "Goat" Cheese (In my past, I loved cheeses with ash. It gives the cheese a smoky, rustic, earthy flavor. He makes his own ash from vegetables!), and finally a Pepperjack Cheese. With all the right accoutrements, it made for a wonderful, nibbly meal.
If you are in Los Angeles then you must go to Vromage and support this wonderful establishment (and drive your tastebuds wild in the process). If you are not vegan and think that vegan cheese could never compare to dairy cheese, then you really, really need to go here. You'll find that vegan cheeses are even more extraordinary and luscious than dairy cheese could ever dream of being.
Vromage   •   7988 W. Sunset Blvd., Los Angeles, CA 90046   •   917-450-o855