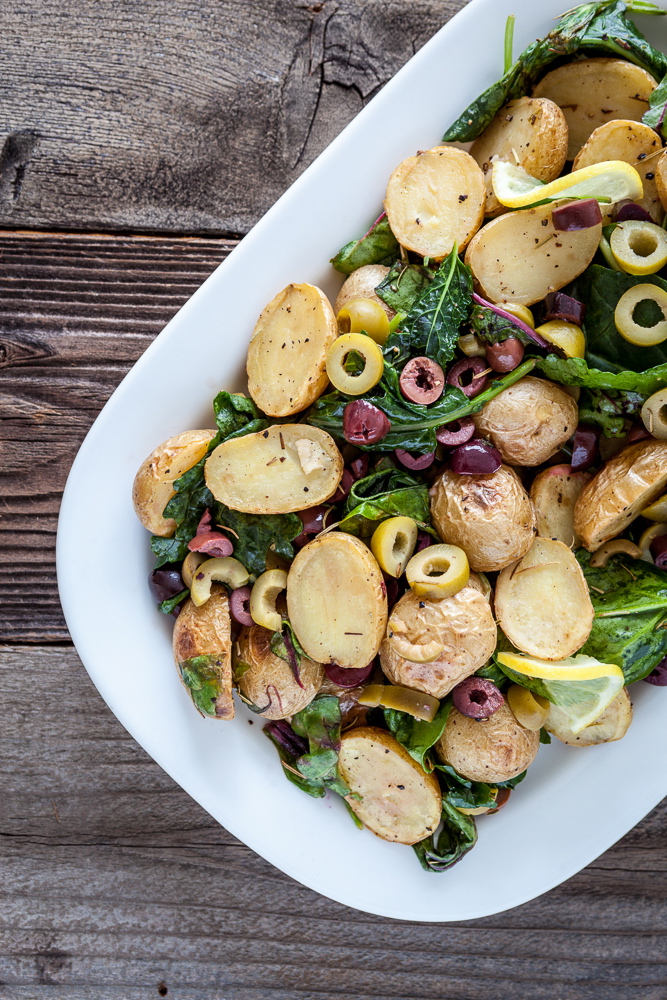 The job I was working when I decided to go vegan was as a nutritional advisor at a personal catering company, which was run by a celebrity nutritionist here in LA.  Daily, I would listen to people tell me about their food preferences and their goals regarding this new eating plan, whether it was for convenience, weight loss, or better health.  I would then design their meal program for them around this information.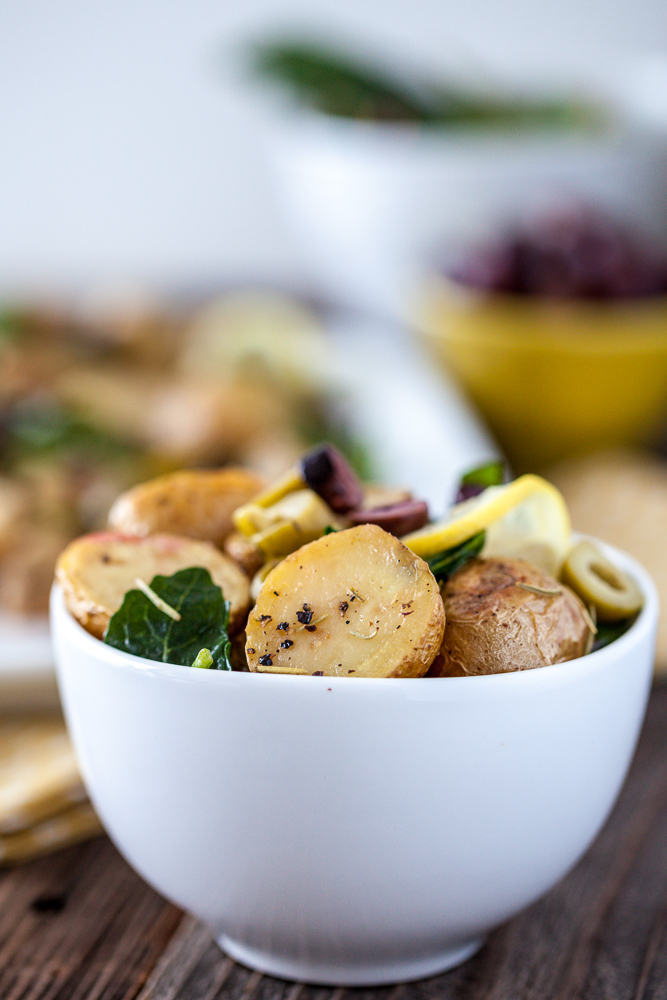 People would tell me how they liked cooked tomatoes but not raw.  How they didn't like anything too "ethnicy."  How cooked onions were not okay.  How the only fruit they liked to eat was either apples or grapes but never at the same time.  How they needed to have some form of animal protein with every meal.  How any vegetables served must be "hidden" in the meal, never as a side dish.  How they preferred zucchini to be peeled.  How they needed to have chicken breast daily but only at lunch time.  How they love peanut butter but hate nuts.  How they didn't like green-colored soups.  How they didn't eat anything with cumin in it.  How they didn't do fruit-based desserts.  How they only do fruit-based desserts.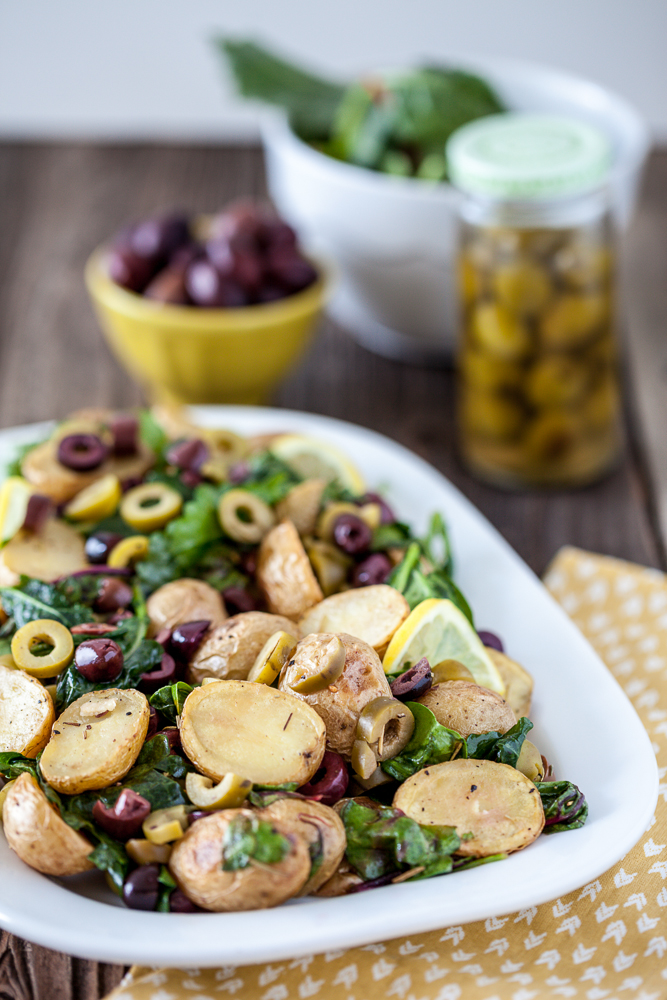 These were just a hint at the variety of requests I would receive daily.  The biggest request by far, however, was that they didn't want any carbs.  "I'm trying to lose weight, so I can't have any carbs.  No bread, no pasta, no potatoes.  Nothing starchy."  I would then have to explain to them how carbs do not cause one to gain weight.  Carbs will not prevent one from losing weight.  I would explain how our brains only function from energy obtained from carbohydrates.  I would explain to them how we only used whole grain breads and pastas and how the fiber would aid in their weight loss endeavors.  I would explain how we only prepared potatoes in a "healthy" (healthy by this company's standards, not by a vegan's standard) way and they are in fact, complex carbohydrates, filled with fiber, vitamins A, C and B-5 and when consumed in moderation, they are a great addition to a balanced diet.  Their response was almost always "Well, can I just not have any carbs?"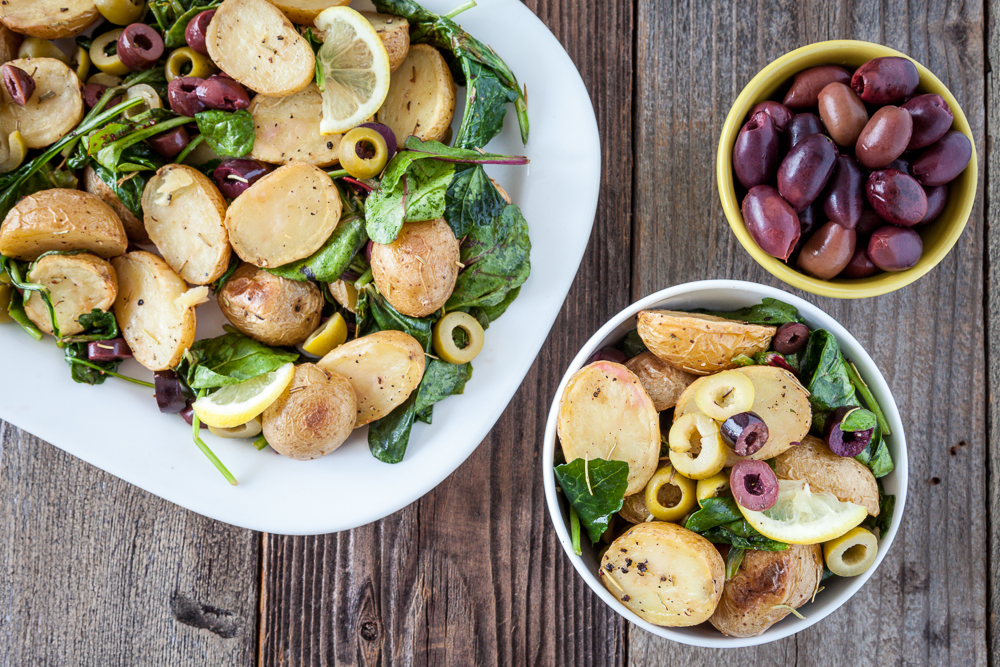 Everyone has little things they strongly dislike about their work.  Little things that make them crazy and makes them want to go home and write angrily in their diary or complain to their significant other about.  This little discussion was one of those things for me.  I loved all the little quirky likes and dislikes, but the carb thing would always get to me.  It was not, however, the reason I left this job.  I left because I went vegan.  I could no longer sell (for lack of a better word) animal products to people or in good conscience incorporate them into their meal plans without feeling miserable.  My office was also connected to the main kitchen so whenever I would walk to the bathroom, I would see pieces of animal carcasses being cooked up or the new shipment of ground turkey sitting on a pallet waiting to be put away.  My boss begged me to stay and even called me a few months ago to see if I would consider going back, but living in accordance with my ethics was and is more important to me than any paycheck.  And also, I don't think I could handle another "carb conversation."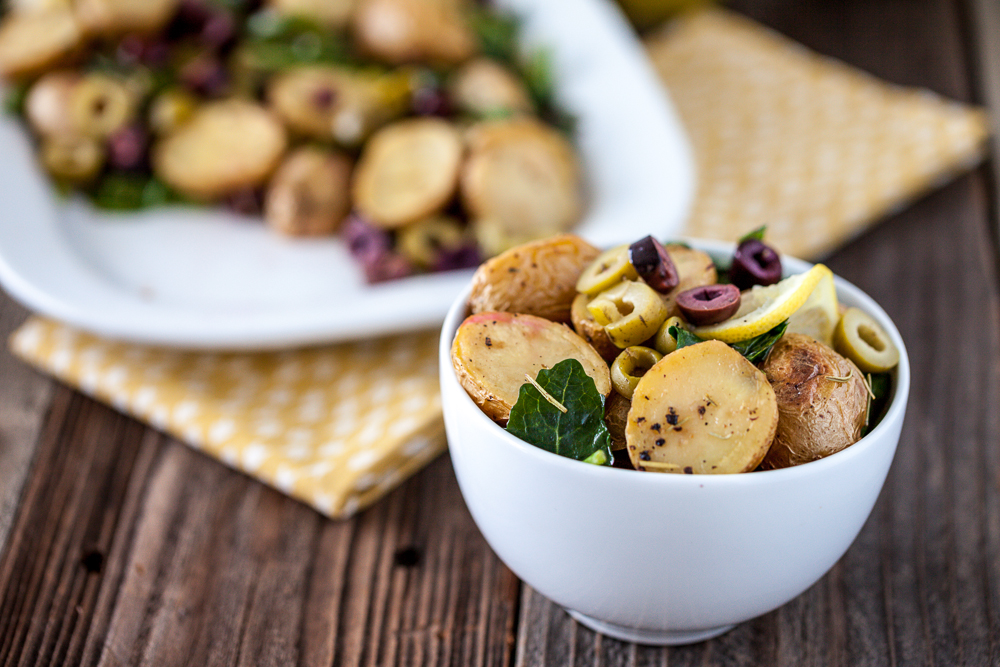 So, in celebration of the fact that I don't have to explain to people why potatoes are okay to eat any more, let's eat some potato salad!  And boy is this a potato salad for the record books (And yes, I have noticed that I've started the last three- well, four now, sentences with conjunctions.  I don't care.  I love it.)!  Rosemary roasted baby golden potatoes tossed with fresh baby greens, chopped olives and lemon juice.  Simple and perfect.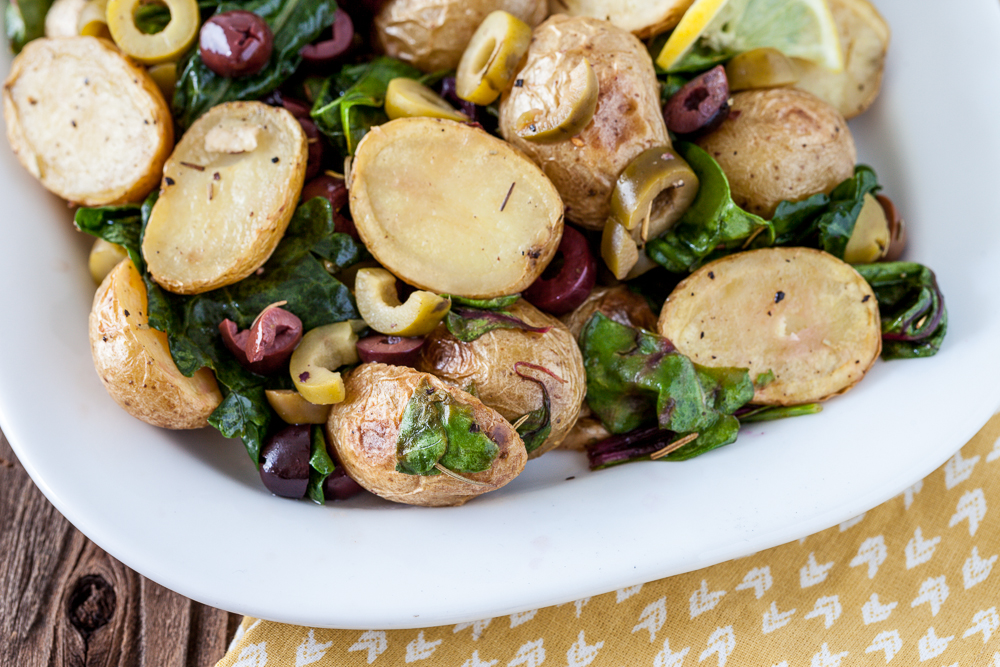 This salad is definitely going to be my summer potluck potato salad this year.  It's just so crazy-easy to make and even more ridiculously delicious that I can't not make it.  And I think that you can't not make it either.  Make it, share it, and if people whine about potatoes or carbs, trust me- just nicely tell them to stop talking and eat it.  The whole "carb conversation" is just so not fun.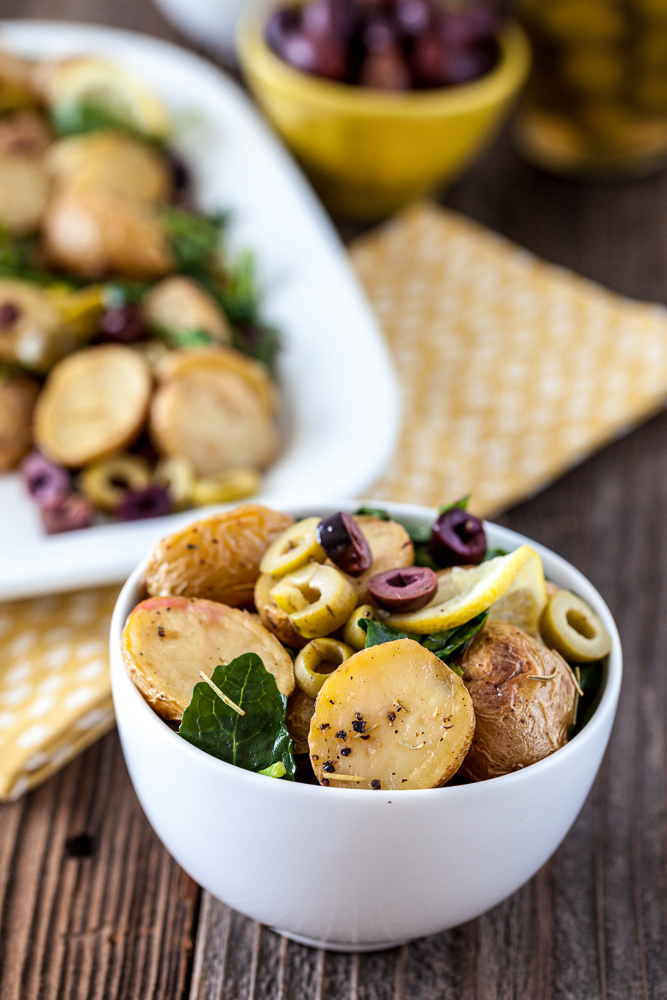 Warm Lemony Olive Potato Salad
Ingredients
about 20-24 tiny golden potatoes, halved
1 tablespoon olive oil
1-2 teaspoons dried rosemary
salt and pepper to taste
4-5 cups baby greens (I used a mixture of baby kale, spinach, and chard)
1 1/2 cups sliced olives (I used both black and green)
juice from 1 lemon
Instructions
Preheat oven to 400. Line a baking sheet with parchment paper. Spread the potato halves out on the sheet. Drizzle olive oil, then add rosemary, salt and pepper. Toss to fully coat each potato.
Roast the potatoes in a preheated oven for 20 minutes, flipping them once halfway through.
While the potatoes are in the oven, prepare the rest of your salad. Combine the greens and the olives in a large bowl.
As soon as the potatoes are done cooking, transfer them to the bowl with the rest of the salad. The potatoes will make the greens wilt a bit, which I like. If you want to keep the greens crisp, let the potatoes cool for a bit before adding them. Add the lemon juice and toss to fully combine. Serve immediately or chill until ready to serve. Enjoy!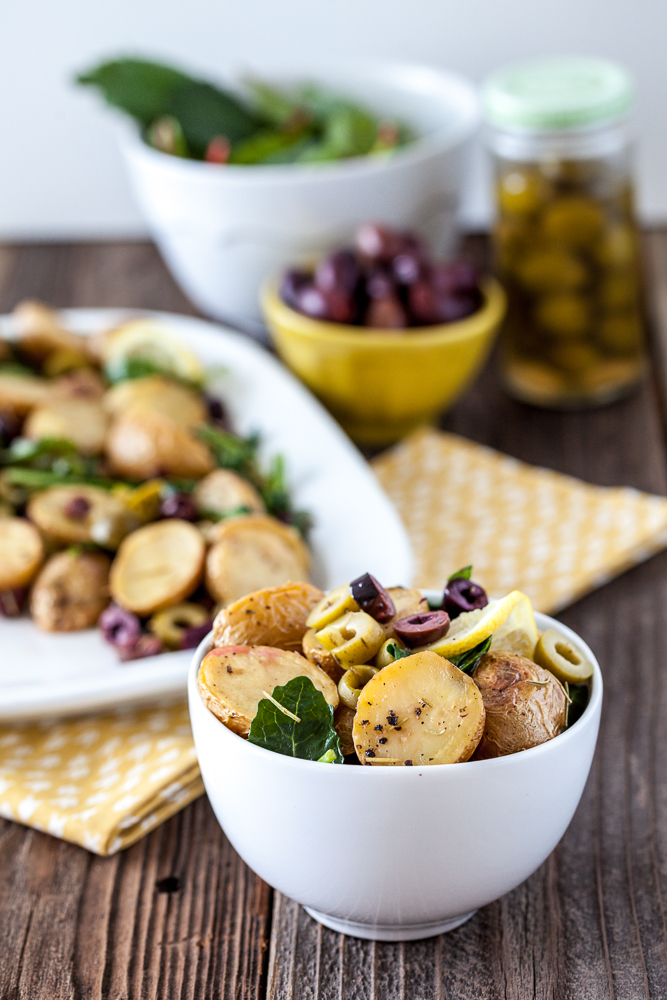 What's going to be your summer potluck dish?  Hint: It should totally be something with potatoes and olives in it...
 Photography by Chris Miller