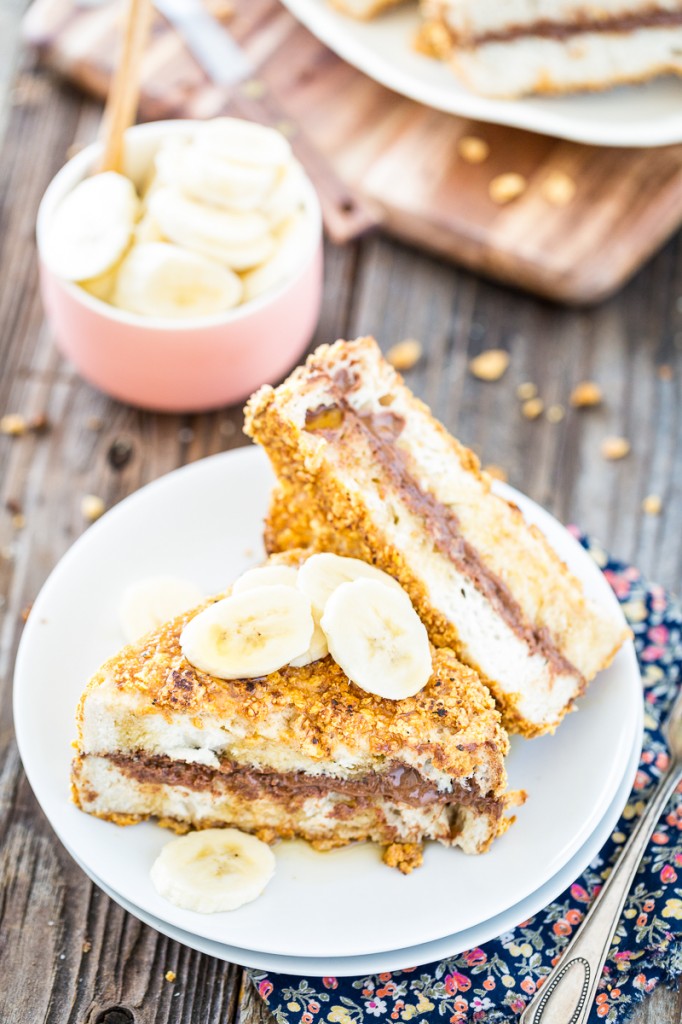 Boom. This happened.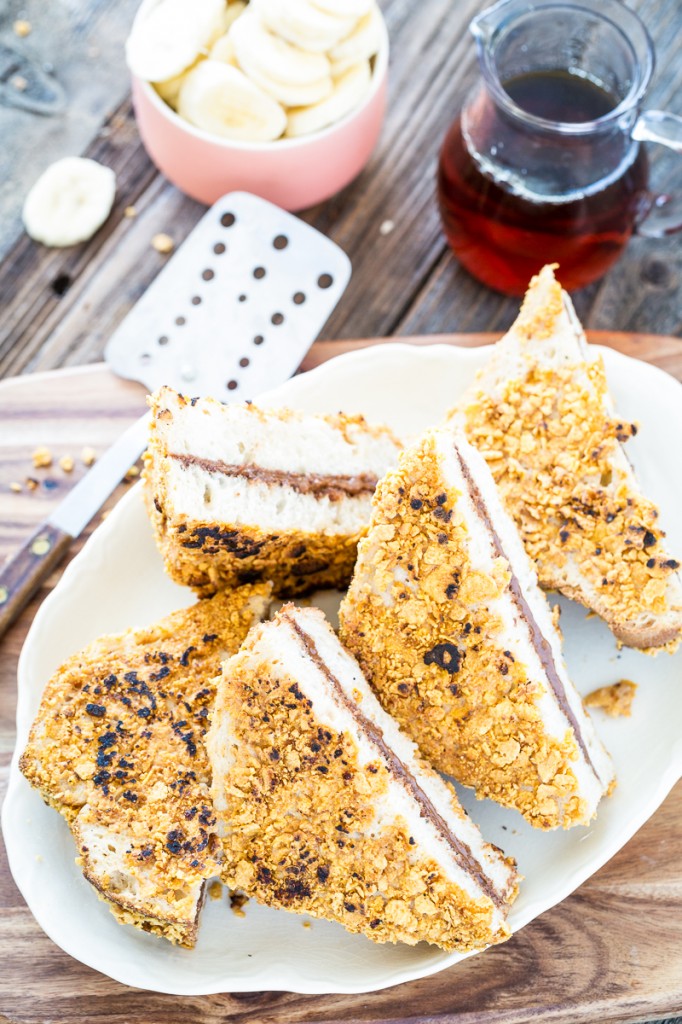 Do you have Mother's Day Brunch plans with your mom yet? If not, get on it. She's going to want some of this crispy, cornflake-crusted, chocolate peanut butter-stuffed french toast. Or, if you're a mom, maybe email this recipe to your children so they'll get the hint.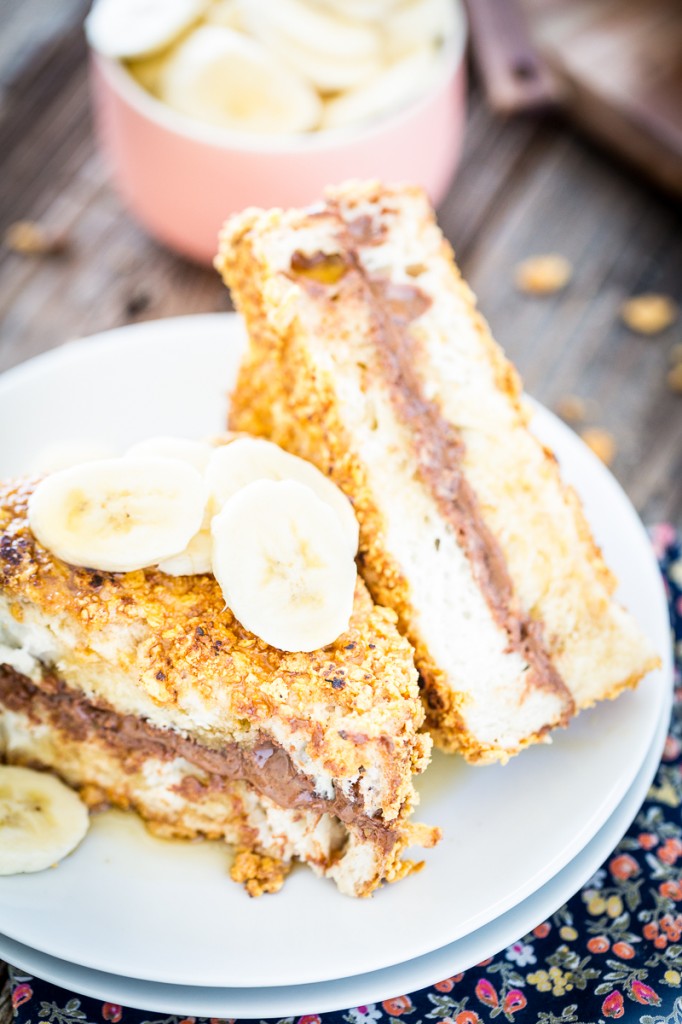 Imagine, if you will, a peanut butter sandwich made with fresh french bread. Only that peanut butter is actually chocolate peanut butter.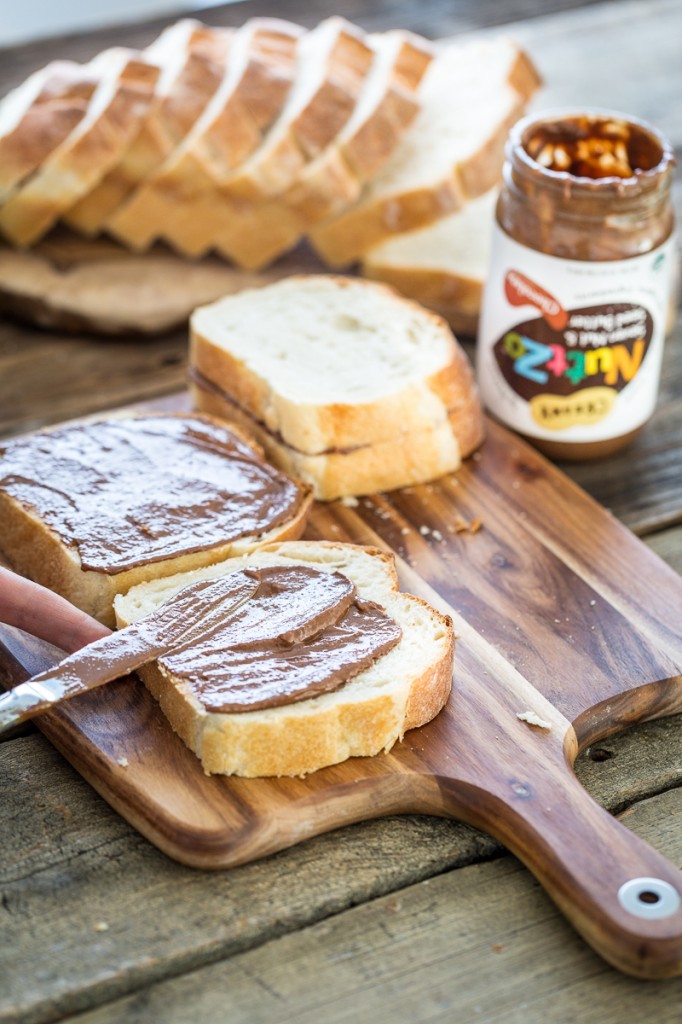 And that sandwich has actually been dipped in a vegan french toast batter, coated in cornflake crumbs, and pan-fried to perfection before being smothered in maple syrup and banana slices.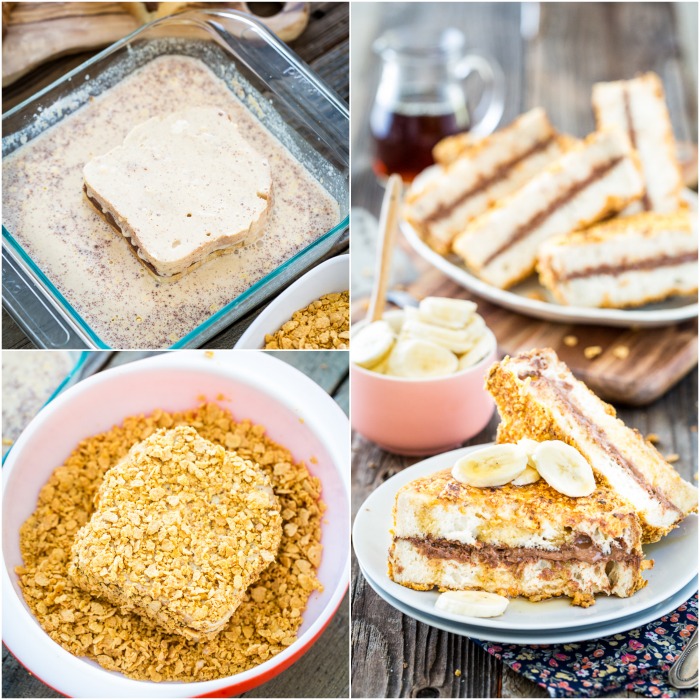 It's that good. Hungry yet?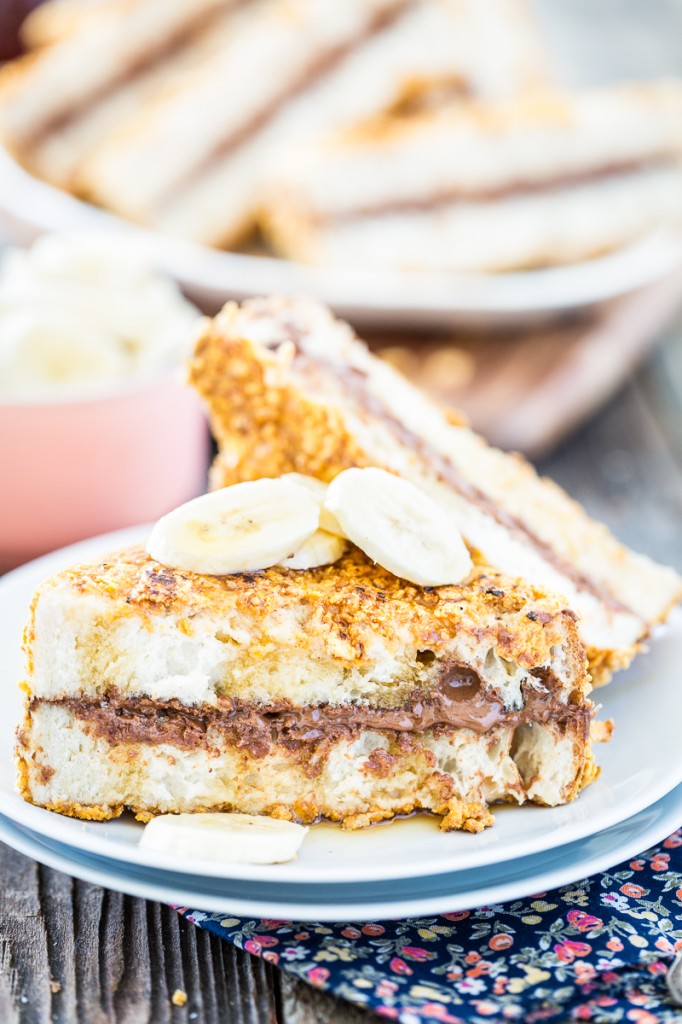 The folks at Nuttzo were kind enough to let me try a couple of their nut butters, all of which contain seven different nuts and seeds. They were all quite tasty and ridiculously creamy. I love that they're made with a variety of nuts and seeds so you get the nutritional benefits from several ingredients rather than just the typical one ingredient used in most nut/seed butters. The chocolate variety was a big hit in our house and was definitely the perfect choice for this chocolate peanut butter stuffed french toast.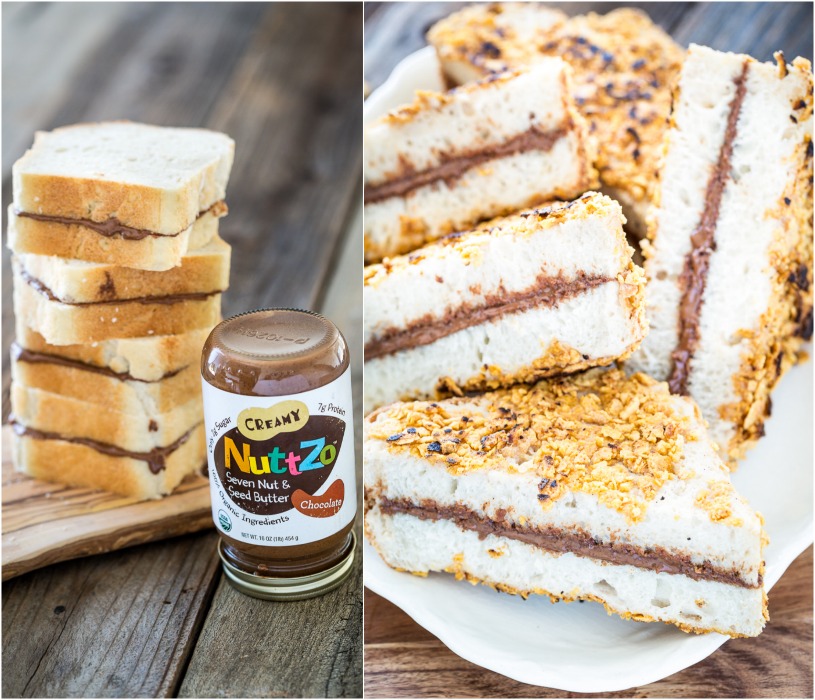 My favorite part about french toast is the contrast between the toast's crisp exterior and sweet, soft interior. Since these bad boys are coated in crispy cornflake crumbs before being cooked, that contrast just got more extreme. And more decadently delicious. And nothing says "Thank you, mom, for loving me even when I'm a stinky brat" like a decadently delicious brunch. Didn't I tell you it was perfect for Mom's Day ?
For more brunch ideas, check out the rest of my breakfast & brunch recipes!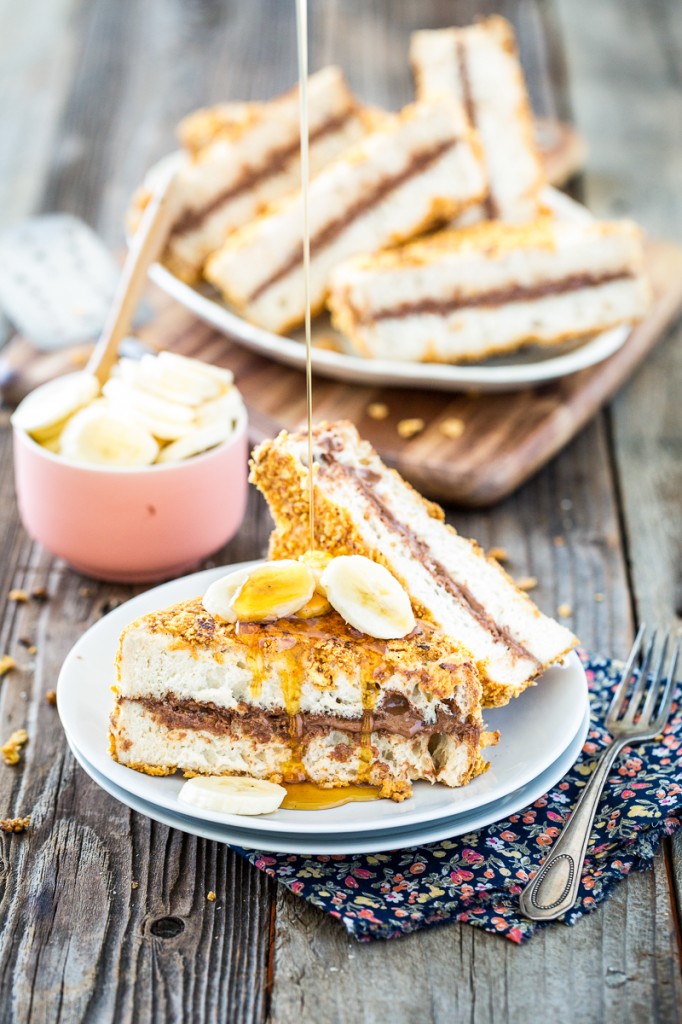 Crispy Chocolate Peanut Butter Stuffed French Toast
Ingredients
1 cup almond milk
1/2 cup vegan creamer or canned coconut milk (I used the latter)
1/2 cup chickpea flour
2 tablespoons maple syrup
1 1/2 tablespoons cornstarch
1 teaspoons vanilla extract
1/2 teaspoon cinnamon
dash of nutmeg
dash of salt
6 cups plain corn flakes
3 tablespoons coconut sugar
12 1-inch thick slices of french bread (or just 12 slices of regular sliced bread)
Nuttzo Smooth Chocolate 7 Nut & Seed Butter (or regular peanut butter)
cooking spray (for the frying pan)
sliced bananas, for serving
maple syrup, for serving
Instructions
Preheat the oven to its lowest heat. Place a cooling rack on a baking sheet and set aside.
In a shallow bowl or square baking dish, whisk together the almond milk, coconut creamer, chickpea flour, maple syrup, cornstarch, vanilla extract, cinnamon, nutmeg, and salt.
Combine the cornflakes and coconut sugar in a food processor and pulse until you have a super coarse flour with small chunks of flakes. Pour into a shallow bowl.
Set out 2 slices of french bread. Spread the chocolate Nuttzo (or peanut butter) on both halves and press them together (the the Nuttzo on the inside). Repeat with the remaining slices.
Heat a large frying pan or griddle over medium heat. Lightly spray with cooking spray.
Place one sandwich in the milk mixture and let soak for 30 seconds on each side. Before removing, dip each edge of the sandwich in the liquid. Place in the bowl of corn flakes and press flakes onto both sides and the edges.
Place the coated sandwich on the pan or griddle and let cook for about 2 minutes on each side. While it's cooking, you can start preparing the next sandwich. Once it's done cooking, place the sandwich on the prepared cooling rack/baking sheet and place in the oven to keep it warm until ready to serve. Repeat with the remaining sandwiches until all are cooked.
Slice each sandwich diagonally and serve immediately, topped with banana slices and maple syrup. Enjoy!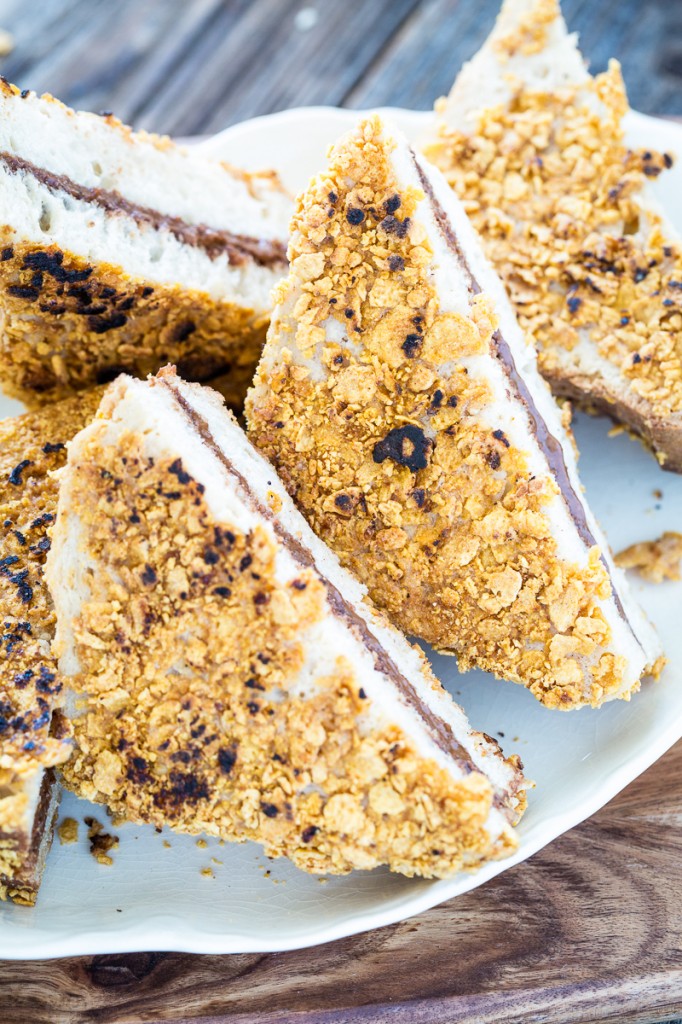 This Mother's Day, NuttZo is celebrating all of the amazing Super-Heros (aka MOMS!) out there by putting together an exciting gift basket filled with goodies from some of our favorite partners!
The Gift Basket Includes:
One lucky winner wins it all! Please visit Nuttzo's Facebook Page or Instagram Page for instructions on how to enter (If the info isn't up yet, follow them so you can get the info when it is posted)! The giveaway begins today and runs until this Sunday, May 11th. Nuttzo will announce the winners on Sunday as well. Good luck!
What do you have planned for Mother's Day?
Photography by Chris Miller