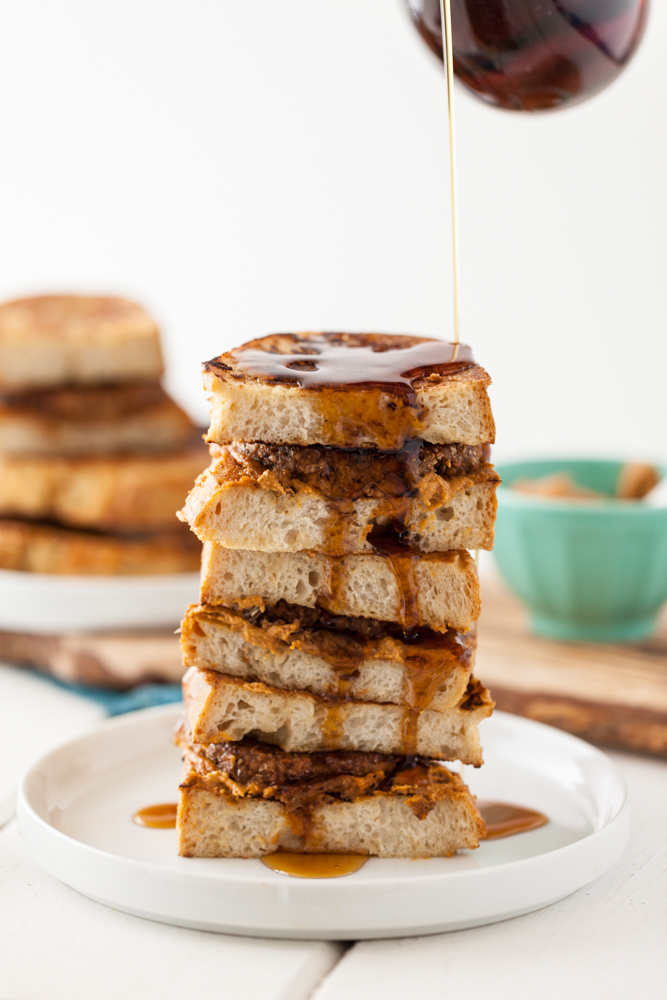 Many years ago, during one of the hundreds of breakfasts I've shared with my grandfather, he poured maple syrup over his sausage patty.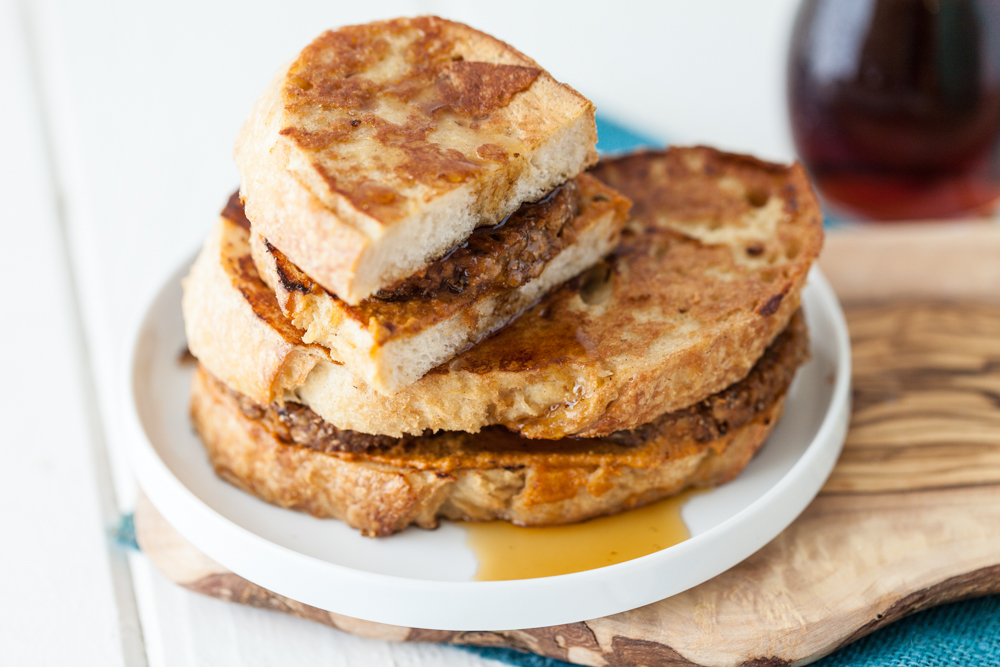 I should back up and explain that my grandfather has a history of trying to convince me to try different foods.  His usual explanation as to why I should try whatever it was that he wanted me to try was to tell me "It'll put hair on your chest."  It was always like "Try these here green beans- They'll put hair on your chest" or "Do you drink coffee, girl?  You should- it'll put hair on your chest."  Why, as a young girl, this explanation was all it took for my grandfather to convince me to do anything without questioning it, I have no idea.  It is the reason though, as a child, I began to eat green beans, eat untoasted bread with a thick coating of butter, add salt to my watermelon, and later become a raging coffee addict as a teenager.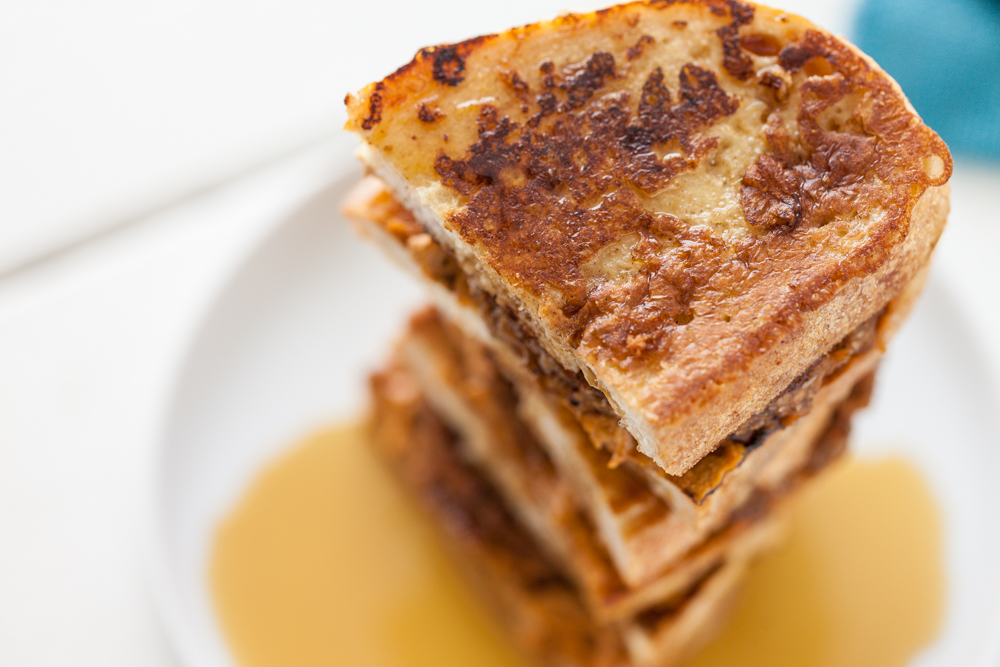 This time, however, as I watched him cut a piece of his sausage patty and swirl it around in the maple syrup on his plate, a look of great disgust spread across my face.  My grandfather looked at me and said "What's the matter, Herb?" (Herb is his nickname for all of his grandkids).  "Don't ya eat your sausage with syrup?"  I quickly shook my head and said disgustedly (as only a child of seven or eight can get away with) "No way!"  He shook his head and took another bite.  "You should- it'll put hair on your chest."  He pushed the maple syrup towards me and I pushed it right back.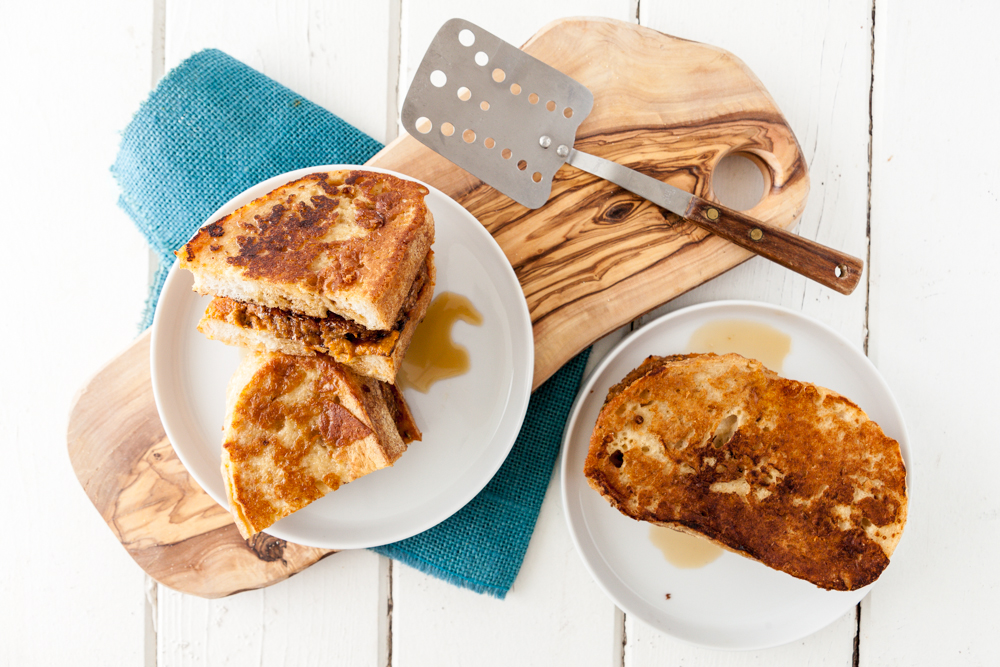 Many years later, soon after I became a vegetarian in my twenties, I microwaved a couple frozen vegetarian sausage patties to have with my breakfast (Of course I knew that I could pan fry them but what college kid wants one more thing to clean later?).  I sat down to breakfast and I cut into one of my sausage patties.  With that first bite, I was put off by the saltiness and the rubberiness it had taken on from being nuked.  It was alright, but I felt like it could've been better.  I remembered what my grandfather had said but, still slightly grossed out, I resisted.  I ate the other things on my plate until all that was left were the sausage patties.  Not wanting to throw the patties away, I decided to give it a try. I grabbed the syrup from the kitchen and poured just a couple drops on my plate.  I very gingerly dipped the sausage into the syrup and the rest is history.  I don't have any hair on my chest but I am now a definite believer of mixing your vegan meats with your sweets.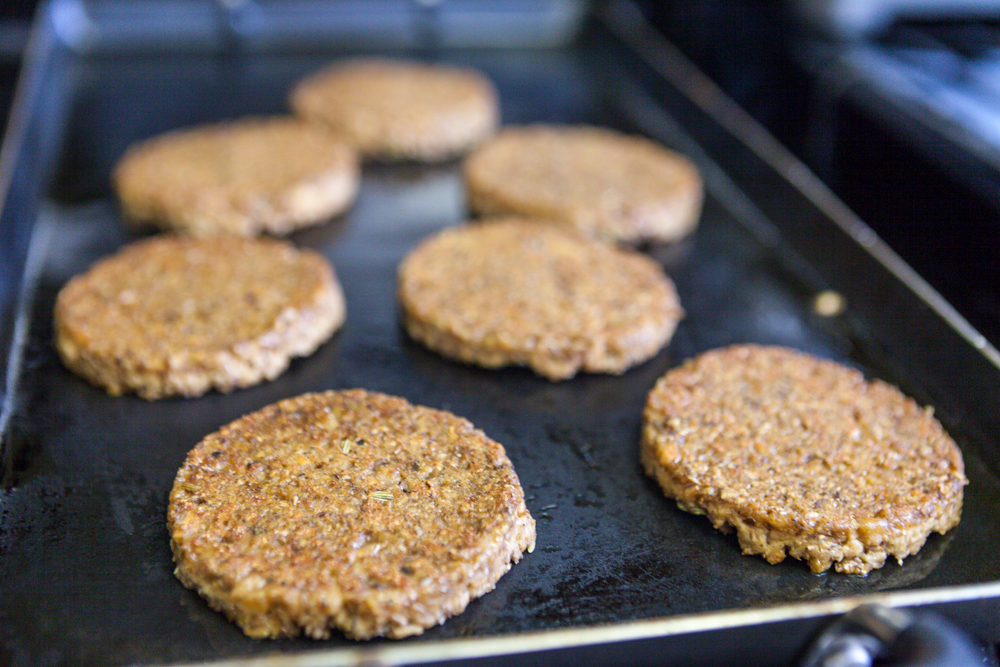 And that brings me to this breakfast.  Homemade vegan sausage patties (slightly adapted from Hell Yeah It's Vegan's awesome recipe) sandwiched, along with some spicy ancho chili cashew cheese and maple syrup, between two thick slices of french toast.  Mixing vegan meats with sweets doesn't get much better than this.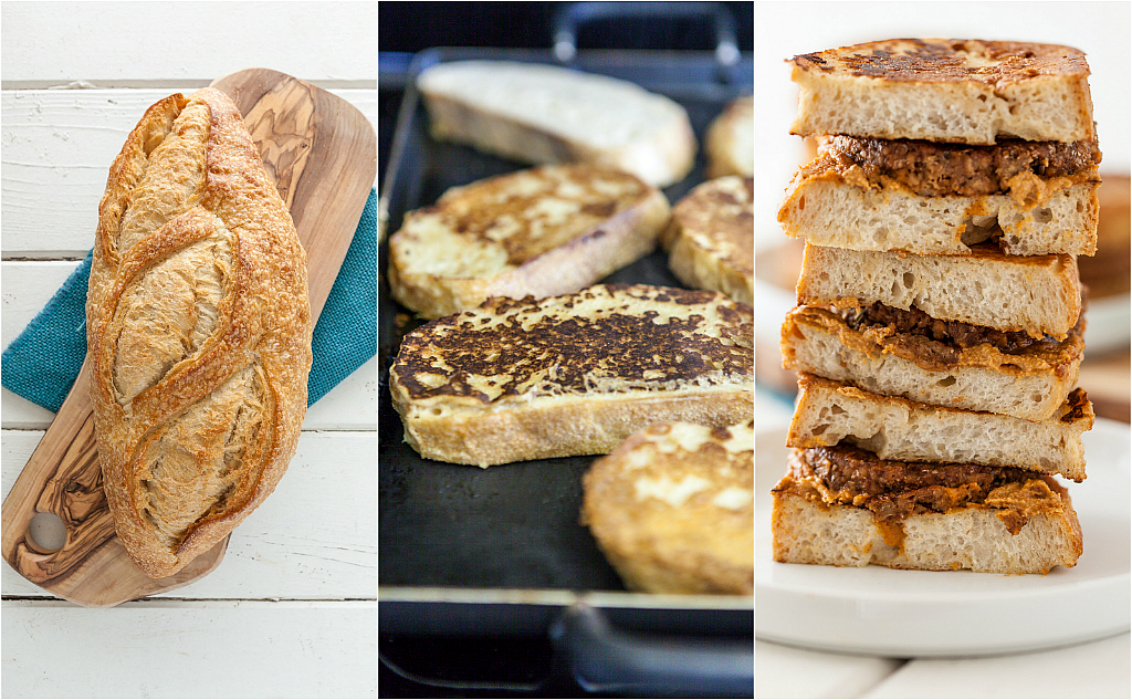 The great part about this sandwich, aside from how insanely delicious it is, is that you can just put it together and eat it as-is for a wonderfully filling and portable breakfast.  If you have some time to sit down for a meal, though, I highly recommend drizzling your sandwich with a little more maple syrup and going to town with a knife and fork.  That's where the magic happens.  The smoky cashew cheese, mixed with the savoriness of the sausage, explodes with umami flavor when combined with the maple syrup.  Pack all that between two slices of french toast and you have yourself a breakfast you will not soon forget.  You should totally try it- it'll put hair on your chest!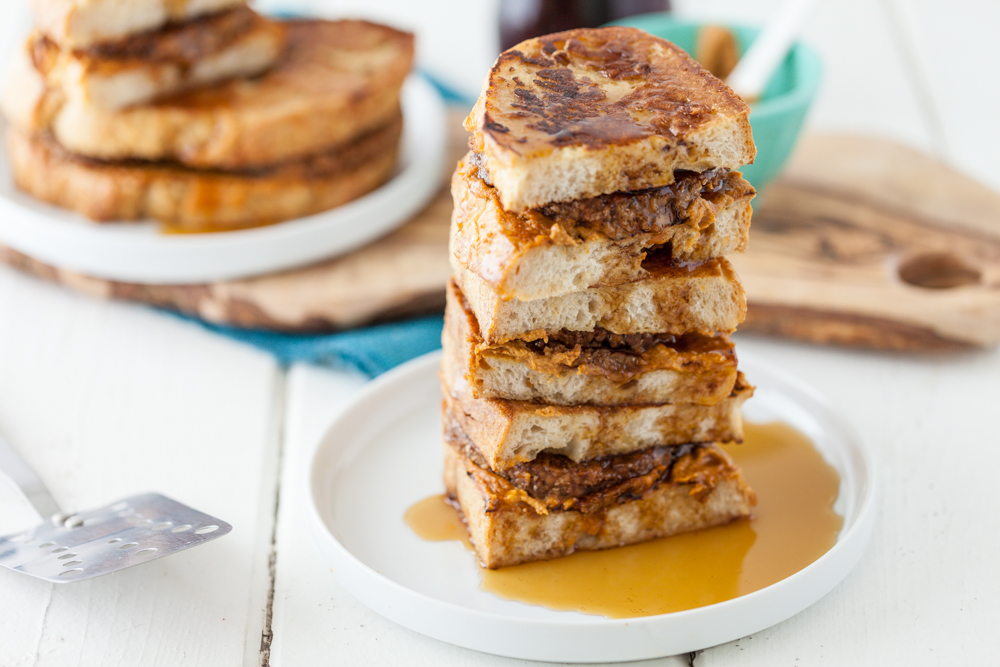 Vegan Sausage French Toast Breakfast Sandwich
Ingredients
½ cup tvp
½ cup boiling water
½ cup quinoa flour
¼ cup wheat or oat bran
1 tablespoon nutritional yeast
1 tablespoon ground flax seeds, optional
1 teaspoon garlic powder
1/2 teaspoon smoked paprika
½ teaspoon crushed sage
½ teaspoon fennel seeds
¼ teaspoon black pepper
¼ teaspoon smoked salt
a couple dashes of cayenne
¼ c water
½ tsp liquid smoke
3 tbsp soy sauce
1 tsp maple syrup
¼ tsp blackstrap molasses
olive oil spray
1 cup almond milk
1/2 cup vegan creamer or canned coconut milk (I used the latter)
1/2 cup chickpea flour
2 tablespoons maple syrup
1 1/2 tablespoons cornstarch
1 teaspoons vanilla extract
1/2 teaspoon cinnamon
dash of nutmeg
dash of salt
6-8 slices of sourdough bread (I cut mine from a wide loaf, at a diagonal to get larger slices)
cooking spray (for the frying pan)

for the ancho chili cashew cheese sauce

1/2 cup raw cashews, soaked for 1-2 hours (or overnight), reserve the water
5 tablespoons of reserved soaking water
2 tablespoons nutritional yeast
1 teaspoon white miso
1 1/2 teaspoons ancho chili powder
1 teaspoon smoked paprika
1/2 teaspoon ground cumin
1/2 teaspoon garlic powder
maple syrup
Instructions
About 30-60 minutes (or longer) before you want to make the sandwiches, prepare the sausage patties.
Soak the tvp in the boiling water for about five minutes. Add the quinoa flour, what/oat bran, flaxmeal, nutritional yeast, and spices and mix to combine.
In a medium bowl, whisk together the water with the liquid smoke, soy sauce, maple syrup, and molasses. Add the tvp mixture and mix until fully combined.
Form the mixture into 6-8 patties (2 for each sandwich you want to make), about 1/4 inch thick and place them on a baking sheet lined with parchment paper. Because I'm a perfectionist, I used a biscuit cutter to form round patties, but you could just as easily roll them into balls and flatten them. Your choice.
Place the baking sheet in the refrigerator and chill for 30-60 minutes. If you want them to chill longer (like overnight), I would cover them so they don't dry out.
Once they've chilled, heat your frying pan or griddle over medium heat. Spray with olive oil and cook the patties for about 2-3 minutes on each side. Set aside until ready to use. You could also make these a day or two in advance, if needed.
This can be done a day or two in advance, if needed. Blend all ingredients in a food processor until smooth. Add more water to thin out the sauce, if necessary. Chill until ready to use.
Combine all of the french toast ingredients, except for the bread and the cooking spray, in a shallow dish (I used a square baking dish). Mix until it is mostly clump-free.
Heat the frying pan or griddle over medium heat. Lightly spray the pan with cooking spray. Place a couple of the slices in the batter and let it soak for about 30 seconds on each side. Place on the griddle and cook for about 3-4 minutes on one side (until it is crisp and golden) and flip. Cook for 3-4 minutes more and then remove from heat. Set aside until ready to use. Repeat with the remaining bread slices.
Spread about 1 tablespoon of the cashew cheese on one slice of french toast. Top with two breakfast patties. On another slice of french toast, drizzle about 1 teaspoon of maple syrup on one side and use the spoon to slather it around. Place that piece on top of the sausage patties, maple syrup side down. Repeat with the remaining ingredients.
You can eat it as is or you can plate it and drizzle more maple syrup over the sandwich. Serve immediately. Enjoy!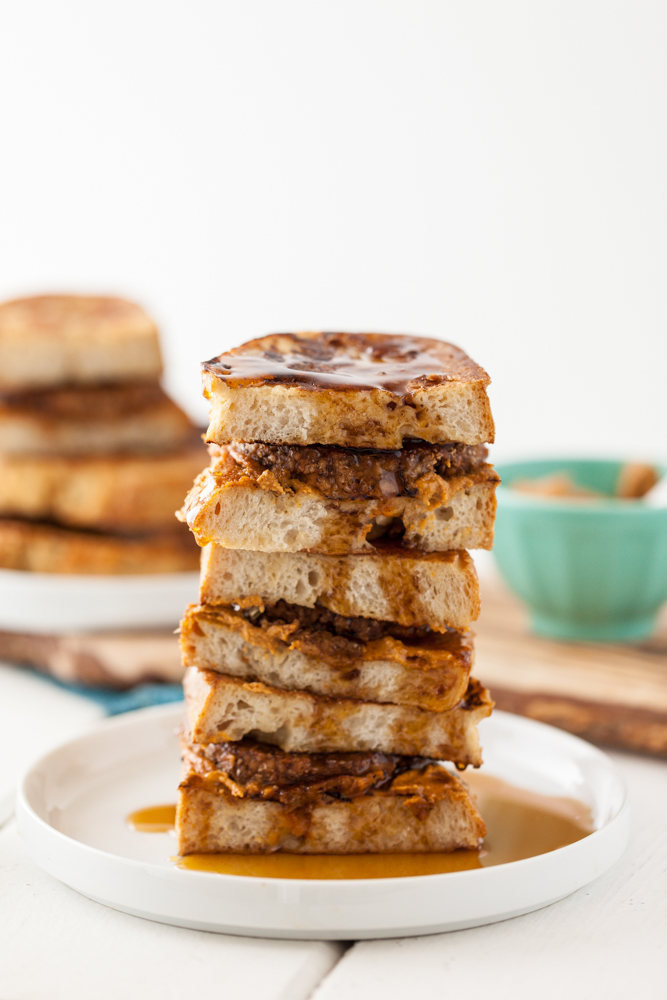 What things were you hesitant to try as a child?
Photography by Chris Miller