If ever you've gone searching the interwebs for drool-worthy vegan desserts and vegan meals you can lust after, I'm absolutely positive that you've come in contact with today's My Vegan Story guest. Sarah of My Darling Vegan (formerly The Sweet Life) is one of my most favorite bloggers not only because her recipes (and her photography of said recipes) are unforgettable, but because her honest, insightful writing has me never wanting to miss a post. Sometimes, when I'm reading one of Sarah's post, I can't stop thinking to myself "this lady just gets me!" And even though she shares with us the most awe-inspiring recipes, Sarah's not ashamed to admit that sometimes, even the most talented vegan food bloggers sometimes just eat a bowl of cereal for dinner (see what I mean about her getting me?) I'm so excited that Sarah has decided to extend her honesty and uplifting voice to us today to share her journey to veganism.
MY VEGAN STORY
WHAT FIRST INSPIRED YOU TO GO VEGAN?
For about a decade prior to becoming vegan I was what I now call a lazy vegetarian. I didn't eat meat - unless I left the house unprepared, was super hungry, or it looked really good. In 2005 I spent several months in Honduras and by the time I returned to the states I was compelled to eat a diet that was gentler on the earth and kinder to all the people sharing it. At that point I took my vegetarianism a little more seriously.
Less than a year later I started getting curious about veganism - curious in the sense that I didn't understand why anyone would do it. My reasons for vegetarianism began from "just not liking meat" and had evolved into environmental reasons but the idea of caring about animals made no sense to me. This lead me to watch the movie Earthlings. Because of the honest exposure to animal abuse, Earthlings is an extremely hard movie to watch - hard enough that it completely opened my eyes to what was going on behind the closed doors of factory farms and science labs and in so changed the course of my life forever.
That was over eight years ago, and I do not say it lightly when I say going vegan is among the best decisions that I have ever made.  
DESCRIBE YOUR TRANSITION TO VEGANISM
I knew pretty immediately that this was a rest-of-life kind of decision and so I took a couple of weeks to prepare for what I imagined to be an incredibly hard transition. If you know me at all, you know that this is very unlike me. I'm a jump-head-first-into-the-shallow-end-of-the-pool kind of person. In other words, I get an idea and make rapid decisions without any kind of preparation and that usually ends up, well, catastrophic. So the fact that I had some sense about me - the sense to know that I was in this for the long run - and, despite wanting to jump right into this new way of life, prepared slowly says something about the significance of this decision.
My plan was that once all the non-vegan food in my house had been eaten, I would then be fully transitioned. This took about a month. In that time I tried out new recipes, said goodbye to non-vegan favorites, and tested the vegan products available. Those few weeks were all I needed. By the time the dairy and eggs were eaten from my kitchen, I was ready, prepared, and practiced to embrace my new lifestyle.
Despite my preparedness, I do remember feeling some social tension early on. When people invited us over for dinner I struggled in finding ways to show gratitude for people's hospitality while keeping a vegan diet. I quickly learned to respond to this by offering to host dinner at our house, or suggesting a potluck meal. Overtime though his has gotten way easier.
Overall, I was surprised at how easily I transitioned. I think that when you're convicted and ready, it can be pretty easy to make even the most radical of life changes.
WHAT RESOURCES HELPED YOU IN YOUR TRANSITION?
Like I mentioned earlier, the movie Earthlings had a huge impact on me - I'm not sure you can watch that film and not be changed. After watching the movie I read Erik Marcus's, Vegan: The New Ethics of Eating, which filled in some of the missing pieces that Earthlings had missed. Once I made the decision to go vegan I began my slight obsession with vegan cookbooks. Cover to cover I would read those things and that is where I learned how to stock my pantry, get the right kind of nutrients, press tofu, make vegan macaroni and cheese, and so on.
In just 8 years, so much has changed. There are now so many more resources that have come out and many that continue to inspire me. Eating Animals by Jonathan Safran Foer was one of those because as an established writer, he brought the topic to the mainstream. The China Study is another influencial books because with it brought irrefutable evidence of the health benefits of a vegan diet. Every year people are making it harder and harder to deny the benefits of a vegan diet and lifestyle and with the progress I've already seen, I'm so excited to see how the next 10 years unfold.
WERE YOUR FRIENDS AND FAMILY SUPPORTIVE OF YOUR CHOICE TO GO VEGAN?
No one has ever expressed any concern for me or my decision. I do sometimes wonder if I have friends and family that disagree with my choice to raise two vegan children, but I have never been told so.
HOW LONG HAVE YOU BEEN VEGAN NOW?
October 1st was my 8 year anniversary!
WHAT DO YOU LOVE ABOUT BEING VEGAN?
I am so deeply convicted that the enslavement, abuse, and torture of animals is wrong. My stomach turns when I think about the physical and mental anguish that millions of animals experience daily not because we simply consume animals but because our demand for cheap & excessive consumption has completely commoditized these sentient beings. It breaks me to pieces when I think about baby calfs, not even a day old, stripped away from their mother to begin their own life of suffering.
I will spend my whole life fighting the systems that have made this happen - the systems that have made it so humans don't even blink an eye at what is going on. I may make some small impact, I may not. But what I can say is that I lived my life refusing to be part of it. I found a way to flourish and raise healthy children and have wonderful relationships while peacefully fighting to end this hellish nightmare.
Does that answer the question of what I love about being vegan? I'm not sure. I suppose I can say that I love believing in a higher purpose and dedicating my life to the cause.
But mostly I'm vegan because I could imagine no other way to live.
HOW DO YOU TRY TO MAKE THE WORLD BETTER FOR ANIMALS?
Well, I don't eat them. I think they appreciate that.
Actually, this is a great question. I have been asking myself this a lot recently. Because it's easier for me to think positively (most days I can't even let my mind go to the dark places of the meat industry) providing people with healthy and delicious plant-based alternatives as always been my approach to spreading veganism. But recently I've had the growing desire to become much more involved in animal activism. I have a voice where the animals don't and I have felt very compelled to find a way to use it. I want to be working on changing laws and educating the mainstream of what's really going on with our food.
But where do I jump into the activism world? That is my question. Like, non-rhetorically, how do I do it? Where do I begin?
WHAT IS YOUR FAVORITE VEGAN RECIPE?
That is a hard question, Kristy! And probably impossible for me to answer. I'm really into this Pumpkin Peanut Thai Curry right now.
But to my core I'm a sweets girl, a chocolate fanatic. And this (or any variety) quick and easy fudge always hits the spot.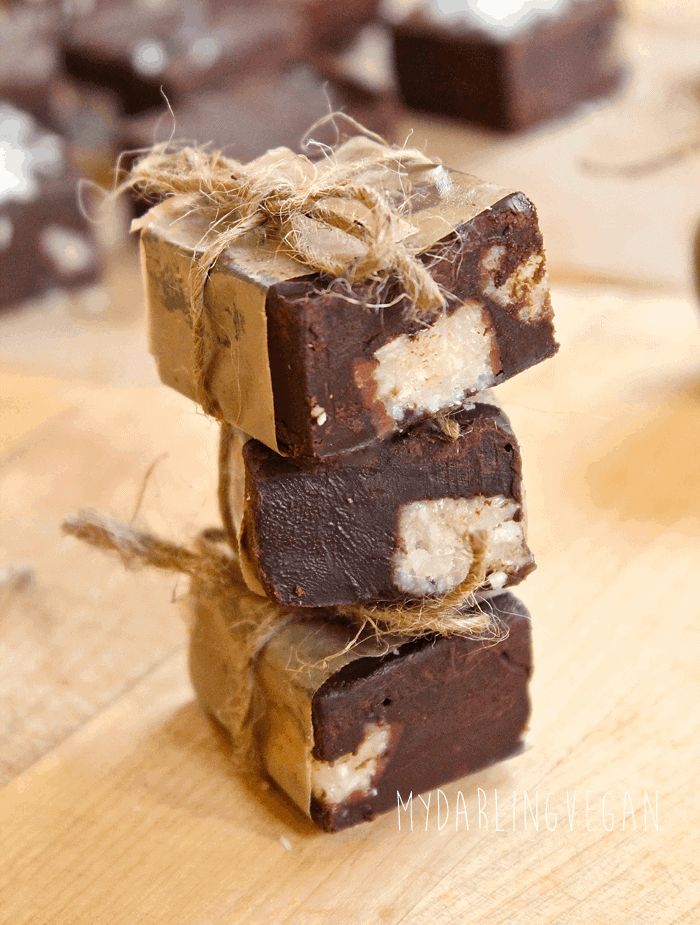 IF YOU COULD GIVE YOUR NEWLY VEGAN SELF ONE PIECE OF ADVICE, WHAT WOULD IT BE?
Don't get legalistic about things - everyone else will do that for you. Veganism is about living with compassion and love. It's about choosing life, respect, and freedom. Live with the spirit of compassion and freedom - not rules and restrictions - and it will be a whole lot easier.
LINK LOVE
website: www.mydarlingvegan.com
facebook: www.facebook.com/thesweetlifeonline
twitter: www.twitter.com/mydarlingvegan
instagram: www.instagram.com/mydarlingvegan
pinterest: www.pinterest.com/mydarlingvegan