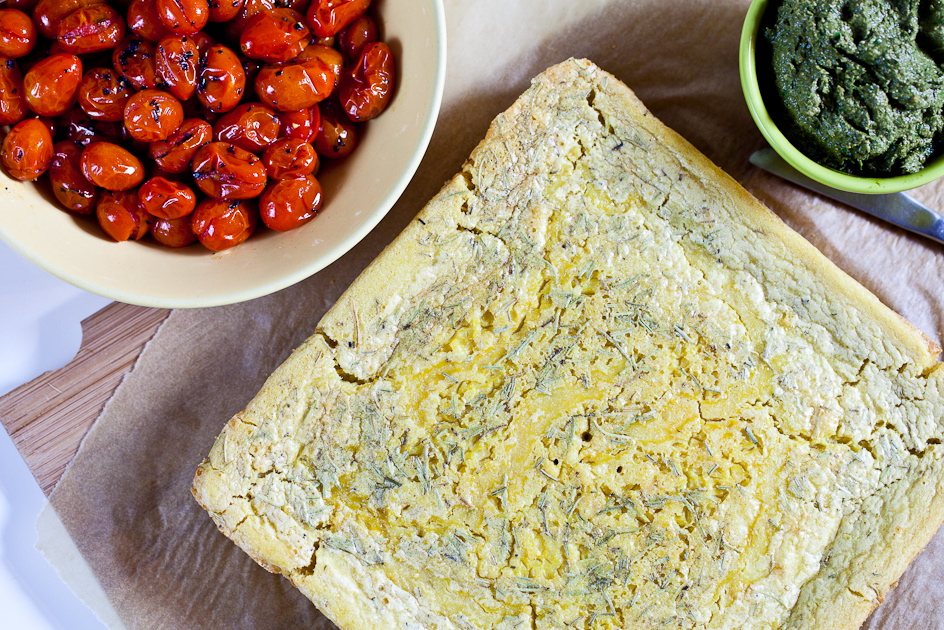 There is just something about the word "flatbread" that makes me drool.  It's very Pavlovian, actually.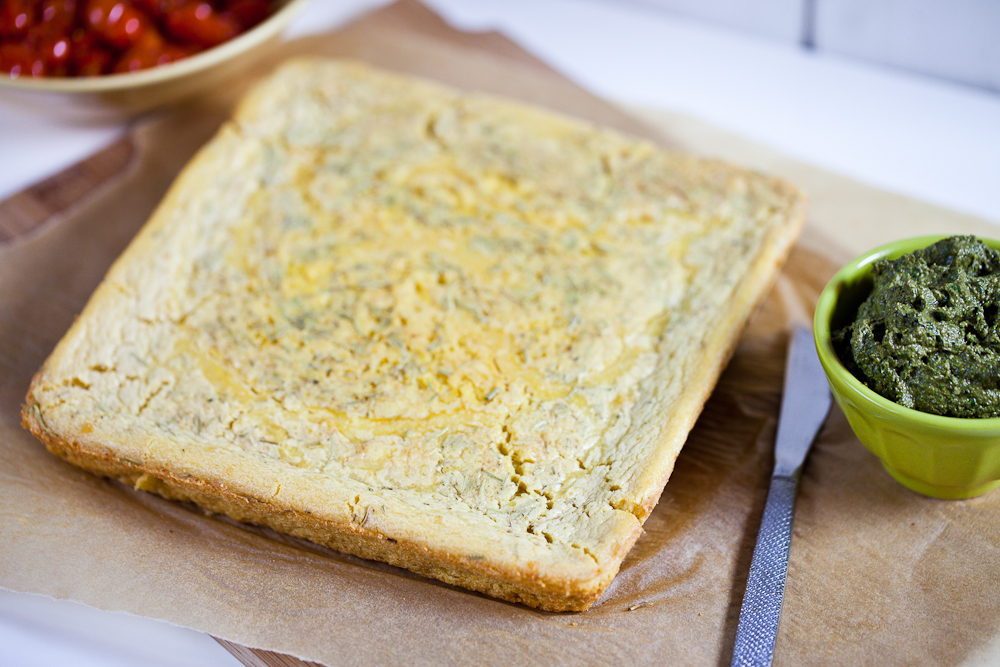 At the mere mention of the word, I am dreaming about warm, doughy bread, slathered with yummy things like hummus or tapenade.  When I read the lovely Shira's post on Chickpea Flatbread & Basil Pistou, I was mesmerized by her recipe.  Granted, it did not look like the flatbread I usually dream about, but the idea of having two of my loves, flatbread and The Chickpea, collide into one magical "bread" was too good to pass up.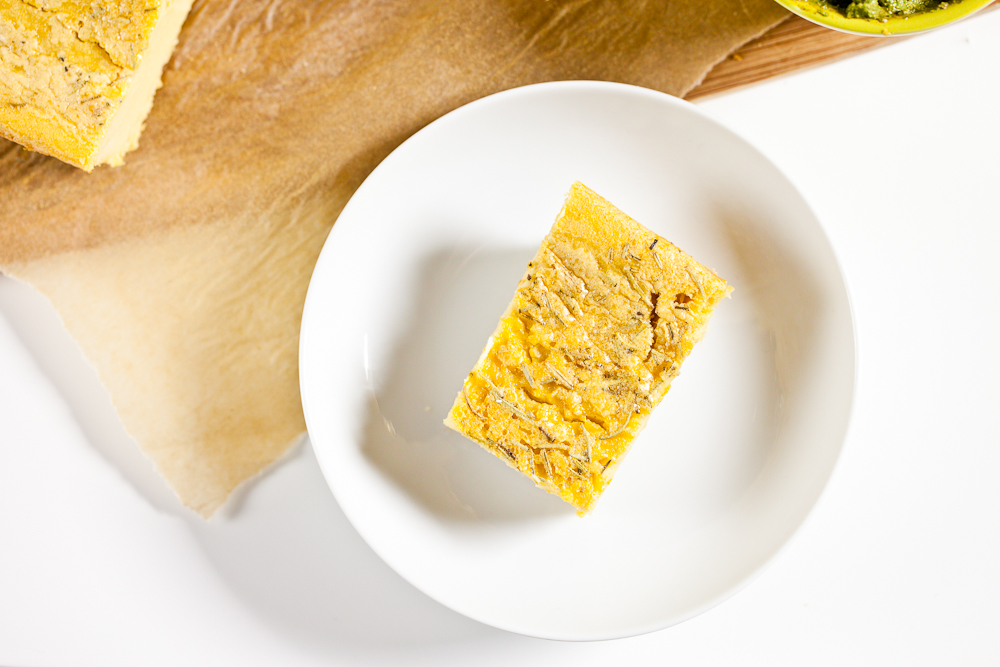 I can't decide what I like most about this recipe.  The fact that it's like both a thick, dense bread and a light quiche at the same time?  The fact that it highlights The Chickpea's natural subtly sweet, nutty flavor with bursts of rosemary?  The fact that it is so filling?  The fact that it makes incredible leftovers for lunch the next day?  The fact that is ridiculously easy and inexpensive to make?  It's a tough choice.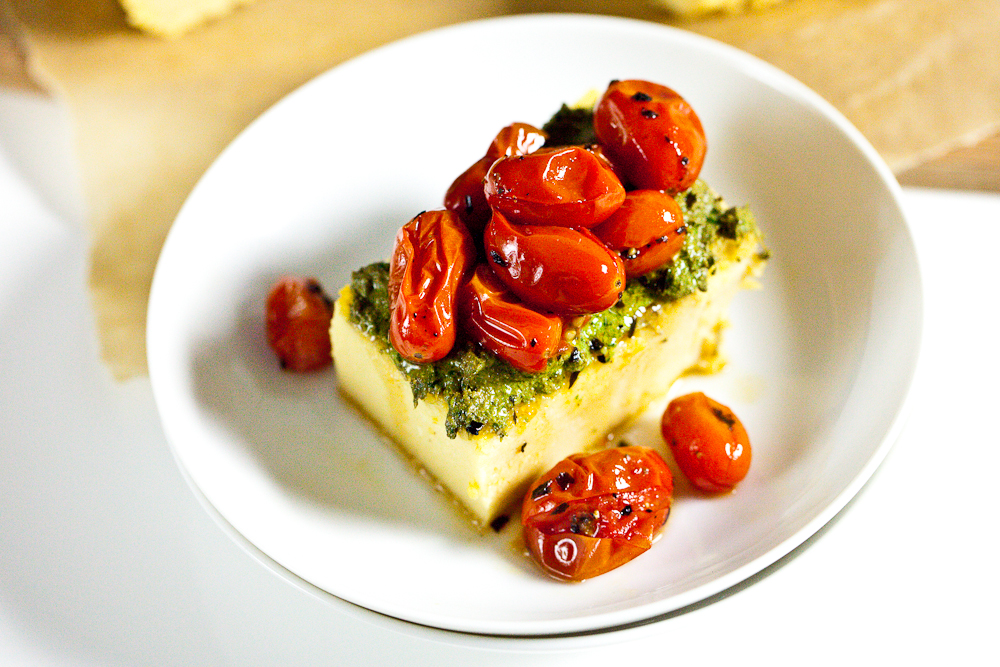 Since our CSA had sent us some beautiful cherry tomatoes that I had managed to not eat like candy within the first 24 hours of receiving them, I decided to roast them and pair them with my Oil-Free Pesto as toppings to our Chickpea Flatbread.  I can't stress enough to you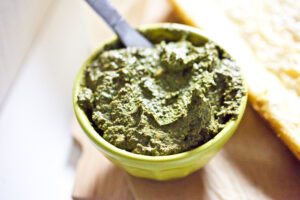 what an easy, weeknight meal this is.  It will take longer to preheat your oven than it will to put together the ingredients for the flatbread.  The pesto can be made and the cherry tomatoes prepped while the flatbread is in the oven.  As soon as the flatbread is out of the oven, the cherry tomatoes go in.  You set the table, and 15 minutes later, dinner is ready.  Badda bing, badda boom.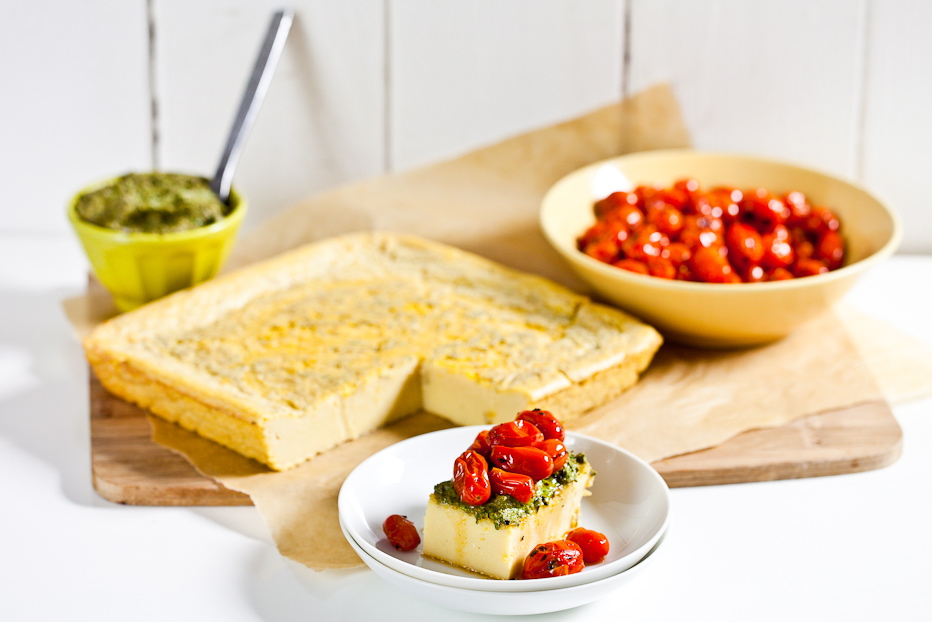 Now, head on over to Shira's to get the recipe for the Chickpea Flatbread, then come back here to make the toppings.  But wipe the drool off your keyboard first.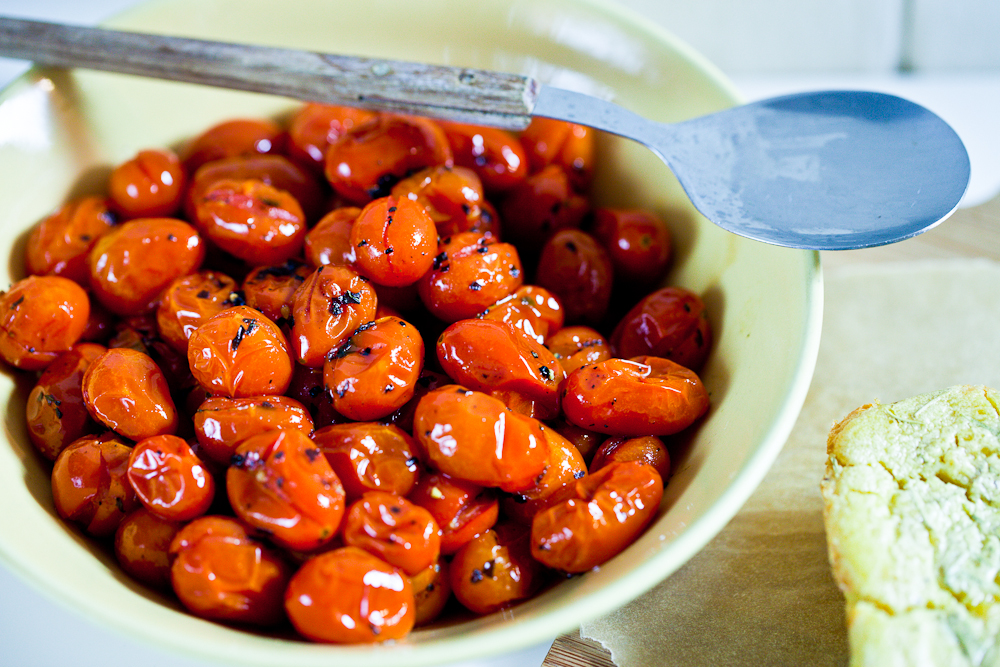 ROASTED CHERRY TOMATOES
Ingredients:
1 1/2 -2 cups cherry tomatoes
olive oil spray
salt and pepper to taste
Instructions:
Preheat the oven to 350.  Line a baking sheet with parchment paper.  Spread the tomatoes out on the baking sheet.  Lightly spray with the olive oil, and add salt and pepper to taste.  Bake in the oven for 15 minutes, tossing halfway through to ensure that they cook evenly.  Remove from oven and serve immediately or use them to top your Chickpea Flatbread.  Enjoy!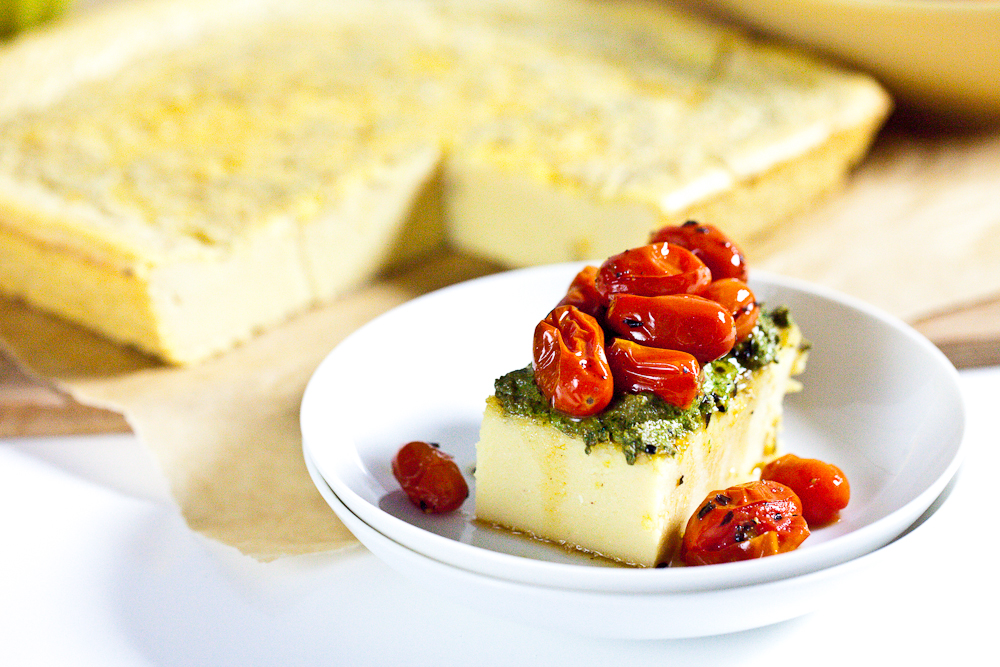 This recipe is being shared with Wellness Weekends and Healthy Vegan Fridays.
First time here?  Check out the rest of my Chickpea Love Affair Vegan MoFo Entries!
Keepin' It Kind is participating in the Walk for Farm Animals to give hope to millions of abused and neglected farm animals! Please support me by making a Donation today. Together we can make the world a more compassionate place for animals!  Learn more about Why I am Walking for Farm Animals and join our team!
All Photos taken by Chris Miller

© Kristy Turner and Keepin' It Kind, 2012. Unauthorized use and/or duplication of this material (content and images) without express and written permission from this blog's author and/or owner is strictly prohibited. Excerpts and links may be used, provided that full and clear credit is given to Kristy Turner and Keepin' It Kind with appropriate and specific direction to the original content.