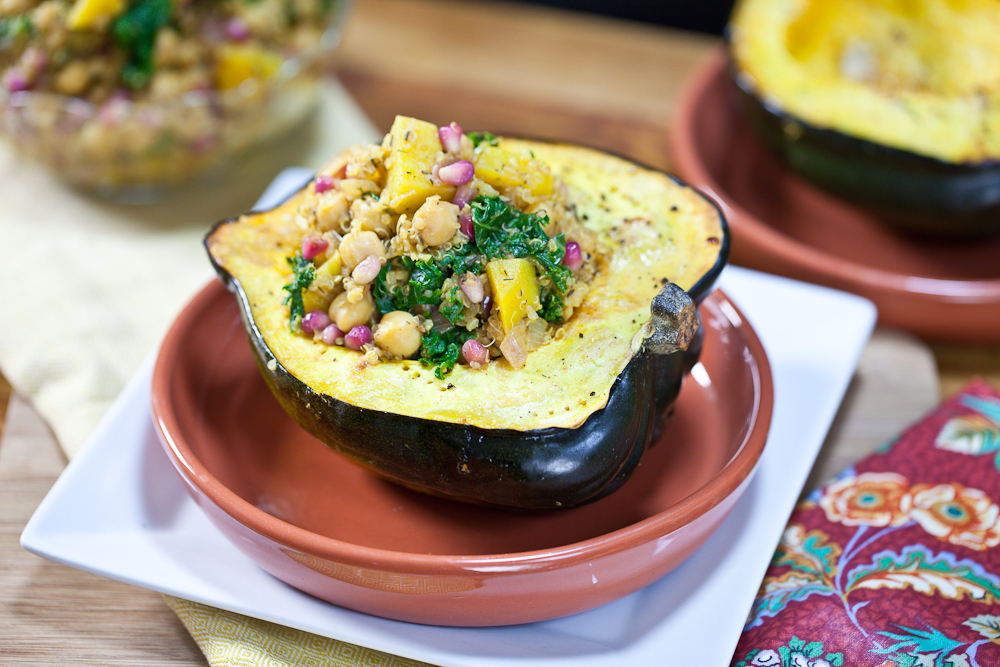 Always the romantic, The Chickpea surprised me with an extravagant gift.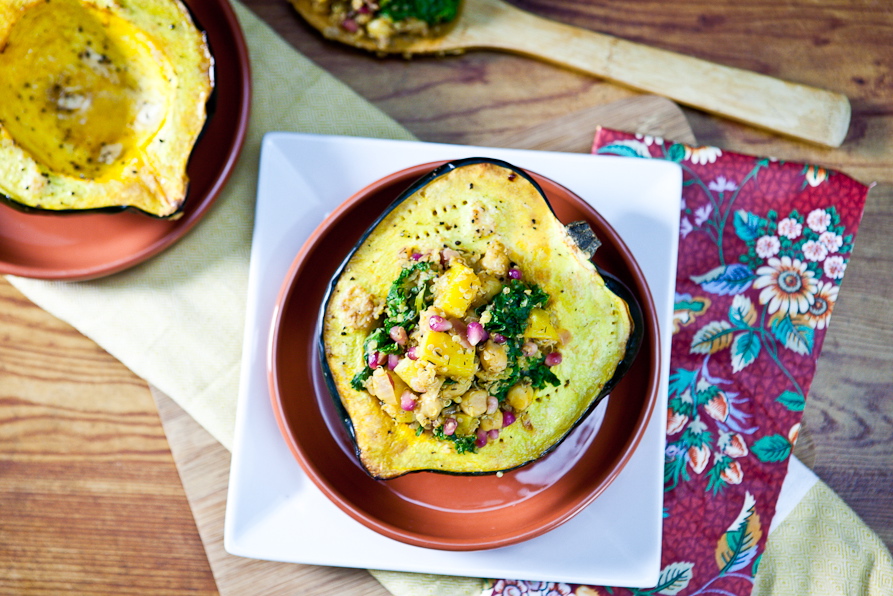 He had stuffed an acorn squash (winter squash being one of my most favorite things about fall and winter) with a mixture of golden beets, pearls of quinoa, emerald kale, and the most dazzling of jewels, pomegranate seeds!  I felt truly spoiled!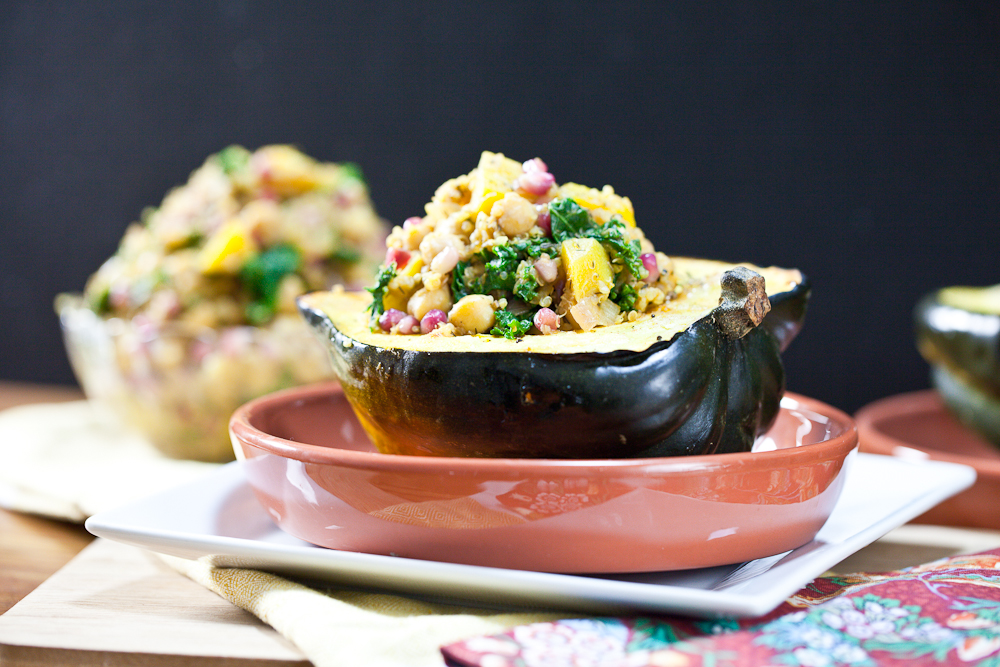 The best part about the gift was the light, tangy sauce the stuffing was cooked with.  It was orange juice based and had just enough miso and dijon mustard to brighten up the mix without overpowering it.  The chickpeas, though a great part of the mixture, stood down to let the other ingredients really shine.  The roasted golden beets were welcome caramelized nuggets throughout and harmonized well with the roasted acorn squash.  The pomegranate seeds (from the lovely pomegranate, courtesy of my CSA) provided each bite with a pop of tart berry flavor.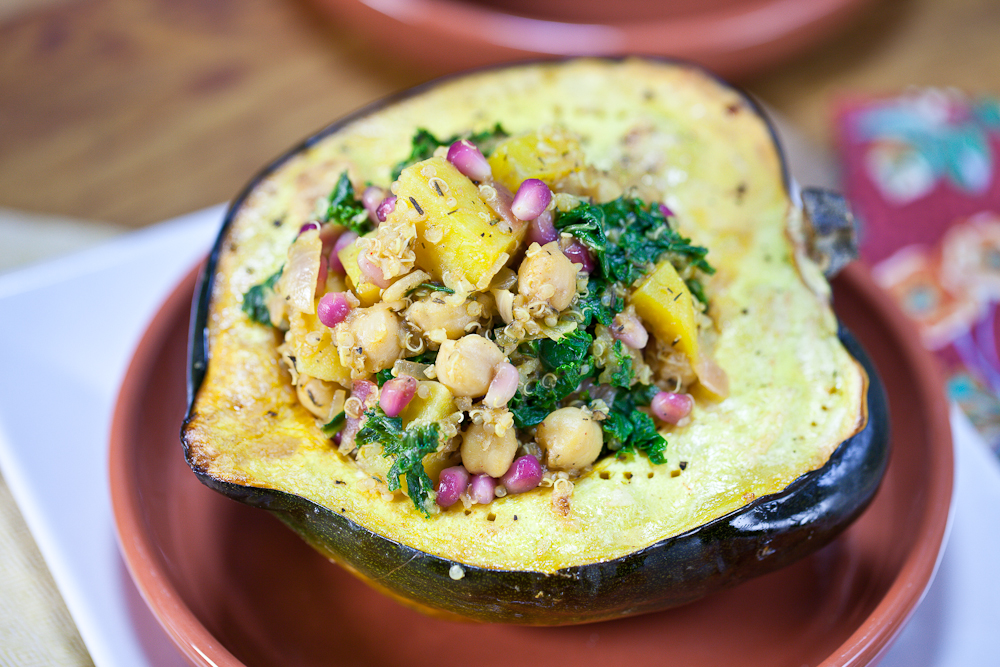 The next time you need to treat yourself, or maybe you just need a great autumn meal, make this dish.  That Garbanzo, he sure knows how to treat a lady (or guy) right!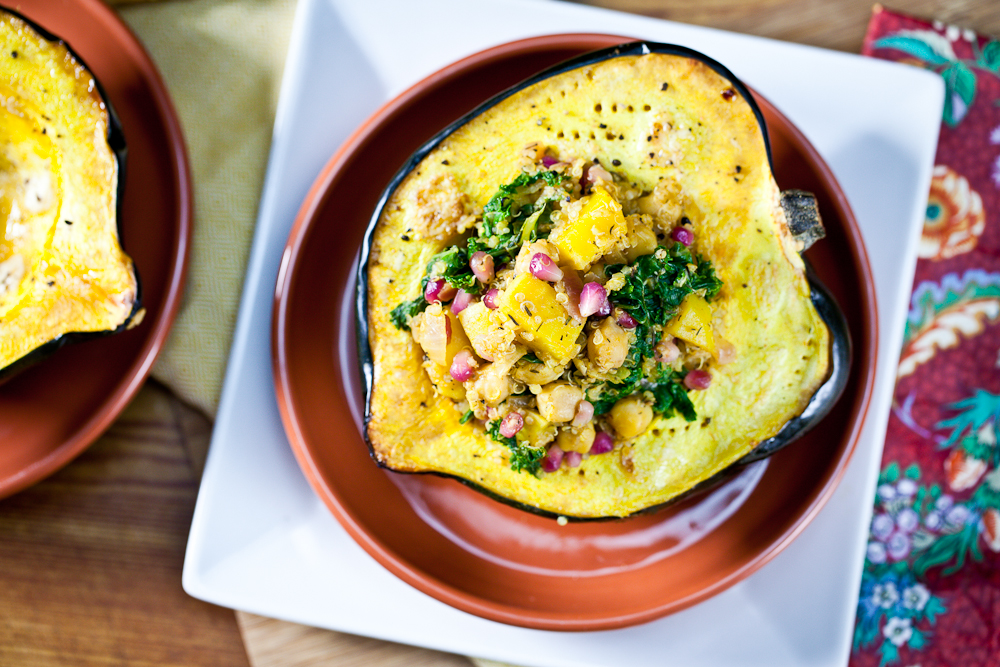 POMEGRANATE & CHICKPEA QUINOA STUFFED SQUASH
note: this recipe could easily fill two acorn squash (four halves), but I only did one.  Should you decide to cook 2 squash just double the squash ingredients.  The quinoa mixture can stay the same.
Ingredients:
for the squash:
1 large acorn squash, halved lengthwise and seeds removed
1/2 T vegan butter
1 tsp coconut sugar
a couple dashes of cinnamon
salt and pepper to taste
for the quinoa mixture:
½ cup quinoa, rinsed
1 cup vegetable broth
2-3 small/medium golden beets, peeled and diced
1 tsp + 1 tsp olive oil, separated
salt and pepper to taste
½ red onion, chopped
2 cloves garlic, minced
1 ½ cups cooked chickpeas or 1 15oz can, rinsed and drained
1 small bunch of kale, stems removed and roughly chopped
1 pomegranate, seeds removed and set aside (Here's a pretty good tutorial on how to do that, if you've never done it before)
for the sauce:
¼ cup orange juice
1 tsp Bragg Liquid Aminos
1 tsp white miso
½ Dijon mustard
2 tsp dried thyme
1 ½ tsp dried dill
Instructions:
Preheat the oven to 400.  Line a baking sheet with parchment paper.  Place the two squash halves on the baking sheet, cut side up.  Divide the butter between the two halves, spreading around the top flesh, and in the cavern where the seeds had been.  Sprinkle them with the sugar, cinnamon, salt and pepper.  Place in the oven and roast for 40-45 minutes, until the flesh is easily pierced by a fork.
Mix all the ingredients for your sauce in a cup or small bowl and set aside.
Cook your quinoa, according to these directions, but using the 1 cup of vegetable broth instead of the mixture of water and vegetable broth, and only cook for 10 minutes, rather than 15, before removing from heat.
Place your beet chunks on a piece of aluminum foil.  Drizzle 1 tsp olive oil on the beets and add salt and pepper to taste.  Toss the beets to fully coat each piece, fold the aluminum foil over the beets, forming a little packet.  Place the packet in the oven, on the shelf below the squash, and allow to cook for 20 minutes.  Remove from the oven, but keep the aluminum foil closed until you are ready to use the beets.
Heat 1 tsp of olive oil in a large shallow saucepan over medium heat for about 1 minute.  Add the onion and sauté until almost translucent, about 3-4 minutes.  Add the garlic and chickpeas and toss to combine.  Let the beans cook for about 2-3 minutes.  Add the roasted beets and half the sauce and turn the heat down to medium-low.  Let it cook for about 5-7 minutes, or until most of the liquid has dissolved.  Add the quinoa, kale, and the rest of the sauce, mix thoroughly, and cook until kale has just began to wilt and the sauce has pretty much absorbed.  Remove from heat.  Mix in the pomegranate seeds.
Scoop about 1 ½ -2 cups of quinoa mixture into each of the squash halves.  Serve immediately.  If you are not serving immediately, wait to add in the pomegranate seeds until right before you scoop it into the halves, otherwise their color will fade.  The leftover quinoa mixture can be kept for about 4-5 days, and makes a great lunch.  Enjoy!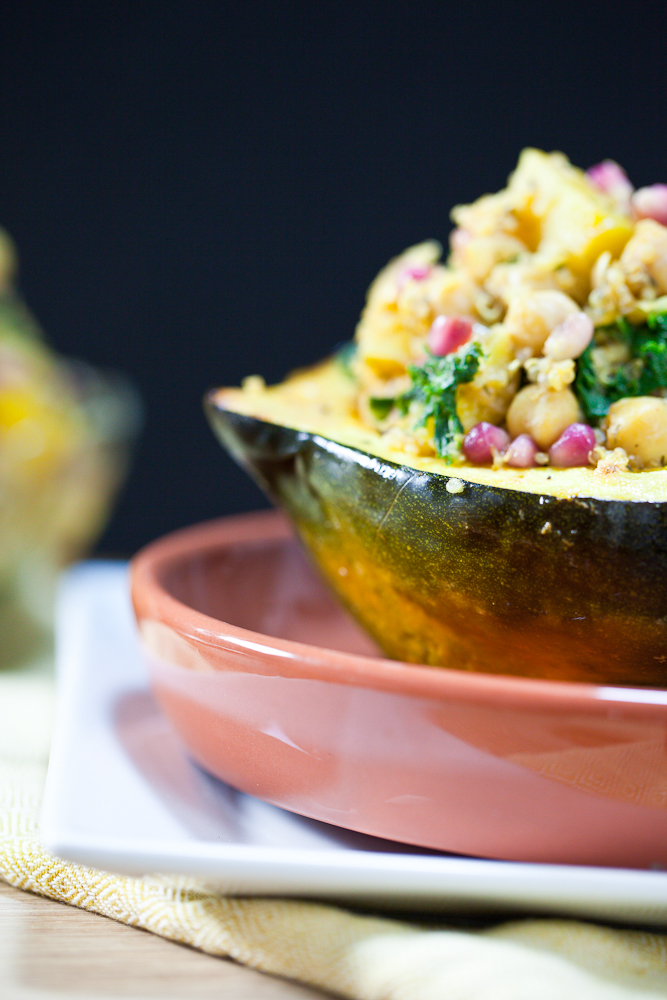 First time here?  Check out the rest of my Chickpea Love Affair Vegan MoFo Entries!
Love animals? Help support Farm Sanctuary's mission to protect farm animals from cruelty! Keepin' It Kind's goal is $500, but we can't do it alone! Together, we can make a real difference for farm animals everywhere. Donate today!  Learn more about Why I am Walking for Farm Animals and join our team!
All photos taken by Chris Miller
© Kristy Turner and Keepin' It Kind, 2012. Unauthorized use and/or duplication of this material (content and images) without express and written permission from this blog's author and/or owner is strictly prohibited. Excerpts and links may be used, provided that full and clear credit is given to Kristy Turner and Keepin' It Kind with appropriate and specific direction to the original content.