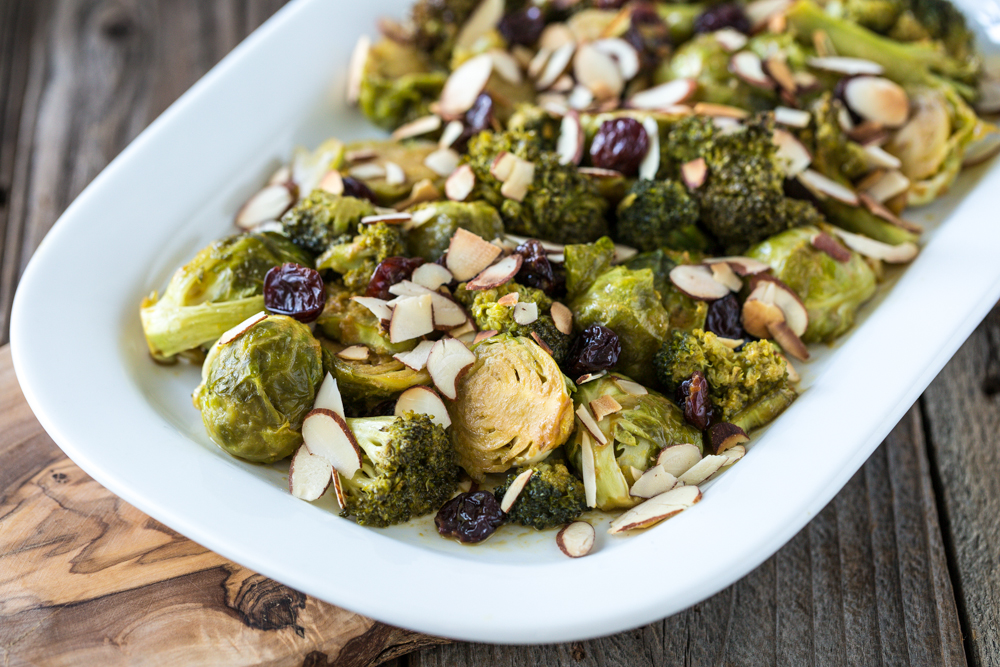 How about a new recipe?  It's about time, right?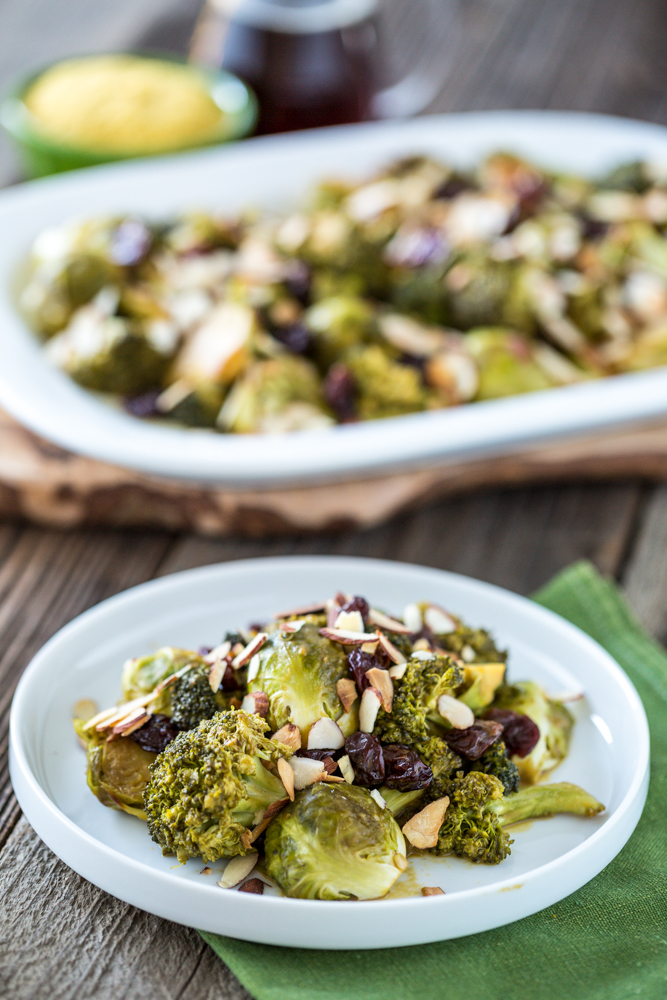 Chris and I just got back last week from an incredible adventure in Italy and Spain so I apologize for the lack of new recipes the last few weeks.  Aside from being super fun, this trip was rather transformational for both of us and I've returned feeling like a new person, but that's a story for another post.
I'm still trying to get back on the ball when it comes to developing new recipes, so it's a good thing that I created this recipe back before our trip.  I was trying to go through all of our produce before we left and I had a bunch of broccoli and a pound of brussels sprouts lingering in the crisper drawer.  Broccoli is not my favorite vegetable and brussels sprouts are far from Chris's favorite so it's understandable that these were the last two things to get eaten.  While this dish was in the oven and I was setting up the photo shoot, Chris came home.
"What's for dinner?" he asked.
"Brussels sprouts and broccoli," I replied.
Silence.
"And maybe some beans on the side," I continued.
Silence.
"I know you don't like Brussels sprouts, but this recipe will change your mind," I informed him.
"I highly doubt that," he muttered as he set up his camera.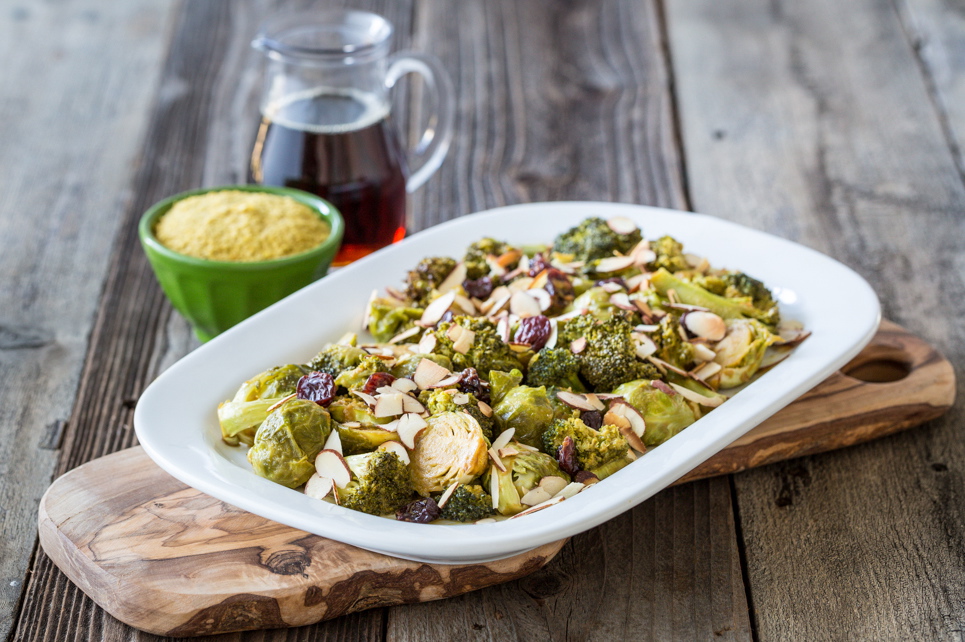 Fast forward to tons of swearing (Devotees may remember that Chris tends to swear a lot when he enjoys what he's eating).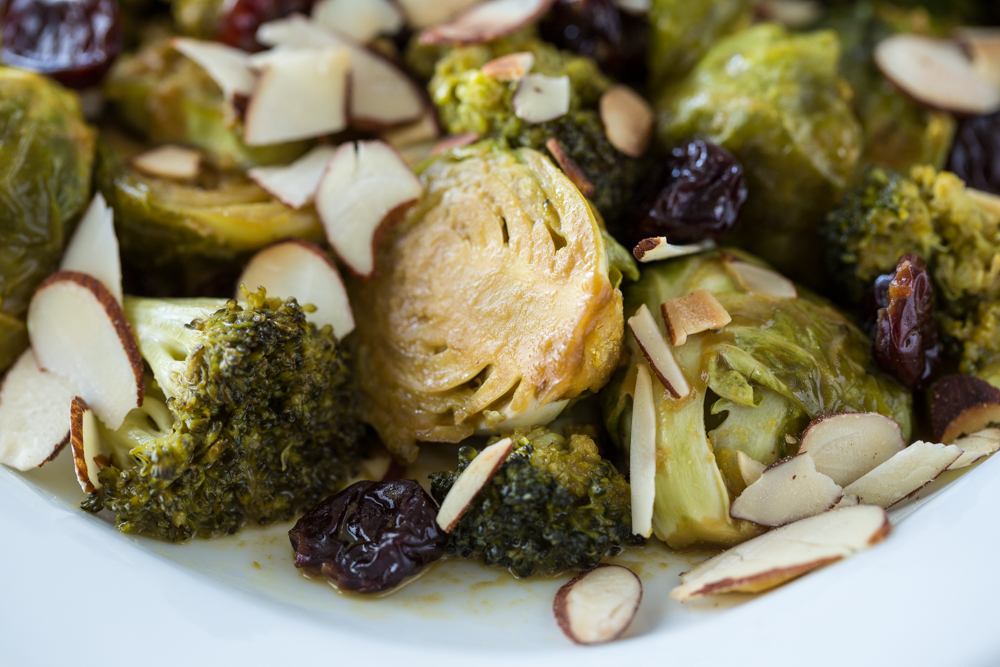 To put it mildly, Chris loved the maple roasted brussels sprouts in this dish and I loved the broccoli.  It's savory, it's sweet, it's cheesy.  There's dried cherries for a little bit of tang and almonds for a little bit of crunch.  It's the kind of side dish that people can't wait for seconds of, but it's filling enough to stand on it's own as a main course.  This dish pretty much has everything.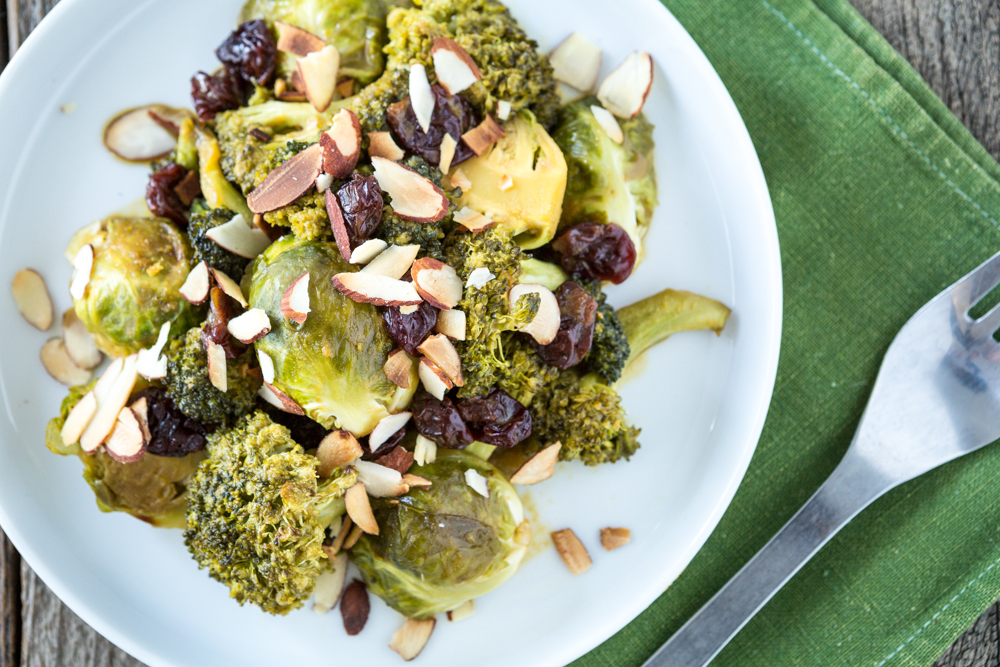 Since we've been back, I've been craving the foods we've been eating for the last few weeks: pizza, gelato, patatas bravas, and green olives.  As I write this, however, and pour over all of the photos, choosing which ones to use in this post, I'm craving this dish all over again and I'm starting to not mind so much that vegan gelato isn't just a five minute walk away.  Thank goodness Chris is on board with brussels sprouts now...
Cheesy Maple Roasted Brussels Sprouts & Broccoli with Dried Cherries & Almonds
Ingredients
1 small bunch of broccoli, broken into florets and stems thinly sliced
14-15 brussels sprouts
4 tablespoons Bragg Liquid Aminos
3 tablespoon maple syrup
2 tablespoons olive oil
1/3 cup + 1/3 cup nutritional yeast, separated
1/3 cup dried cherries
1/3 cup sliced almonds, toasted
Instructions
Preheat oven to 400. Lightly spray a 9x13 casserole baking dish with olive oil and set aside.
Mix the Bragg Liquid Aminos, maple syrup, and olive oil in a large bowl. Set aside.
Trim the brussels sprouts of any dirty/yellow/wilted outside leaves. Rinse them off. Trim the stem off and cut each one in half lengthwise. Add the brussels sprouts and the broccoli to the large bowl. Toss to coat every piece with the sauce.
Sprinkle 1/3 cup of nutritional yeast over the vegetables. Toss to coat. Pour the contents of the bowl into the prepared baking dish. Bake for 25 minutes, stirring once halfway through. Remove, pour the remaining 1/3 cup of nutritional yeast over the vegetables and mix to combine. Mix in the dried cherries. Sprinkle with the toasted almonds and serve. Enjoy!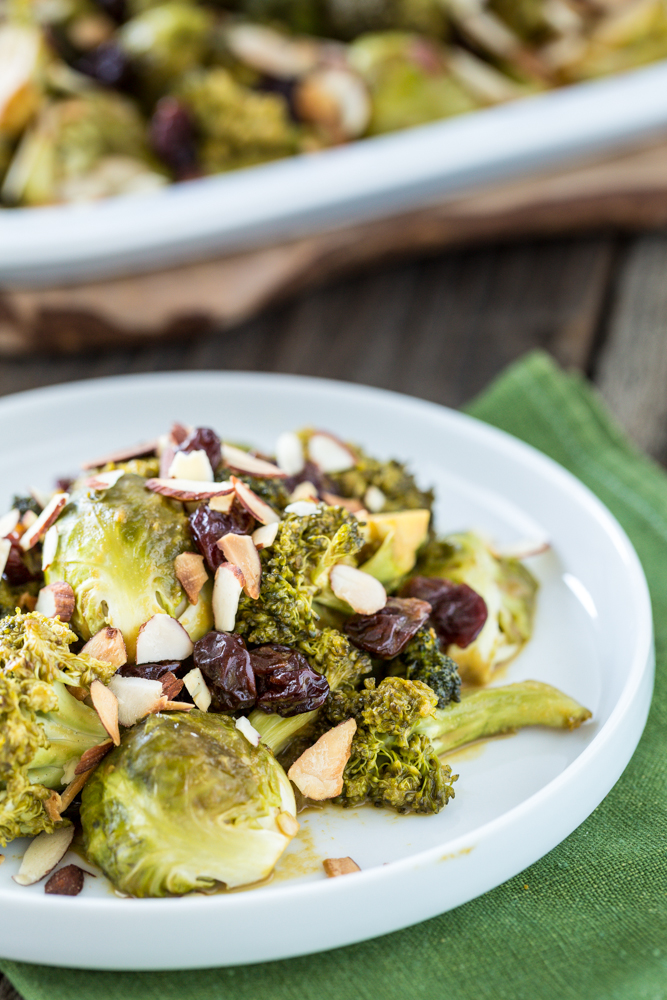 What is your least favorite vegetable?  Do you have a way of preparing it that makes it more appealing to you?
P.S. Remember how last week Cadry of Cadry's Kitchen was a guest here on Keepin' It Kind and shared her vegan story?  Well, today I'm a guest on her blog, on the newest episode of the V-List!  Go on and check it out!