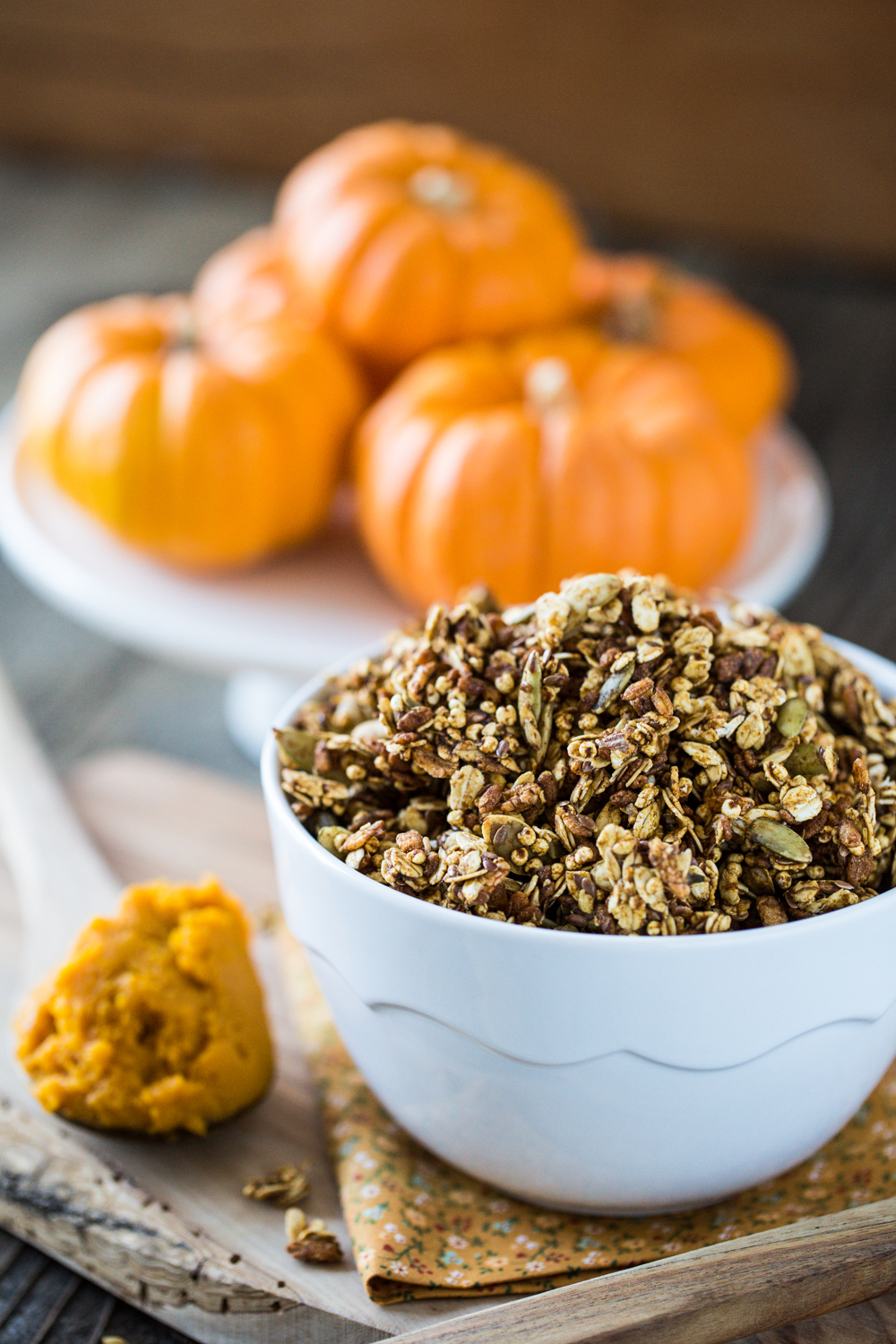 A funny thing happened.  I left the country for three weeks and when I came back summer was gone.  I'm totally in denial.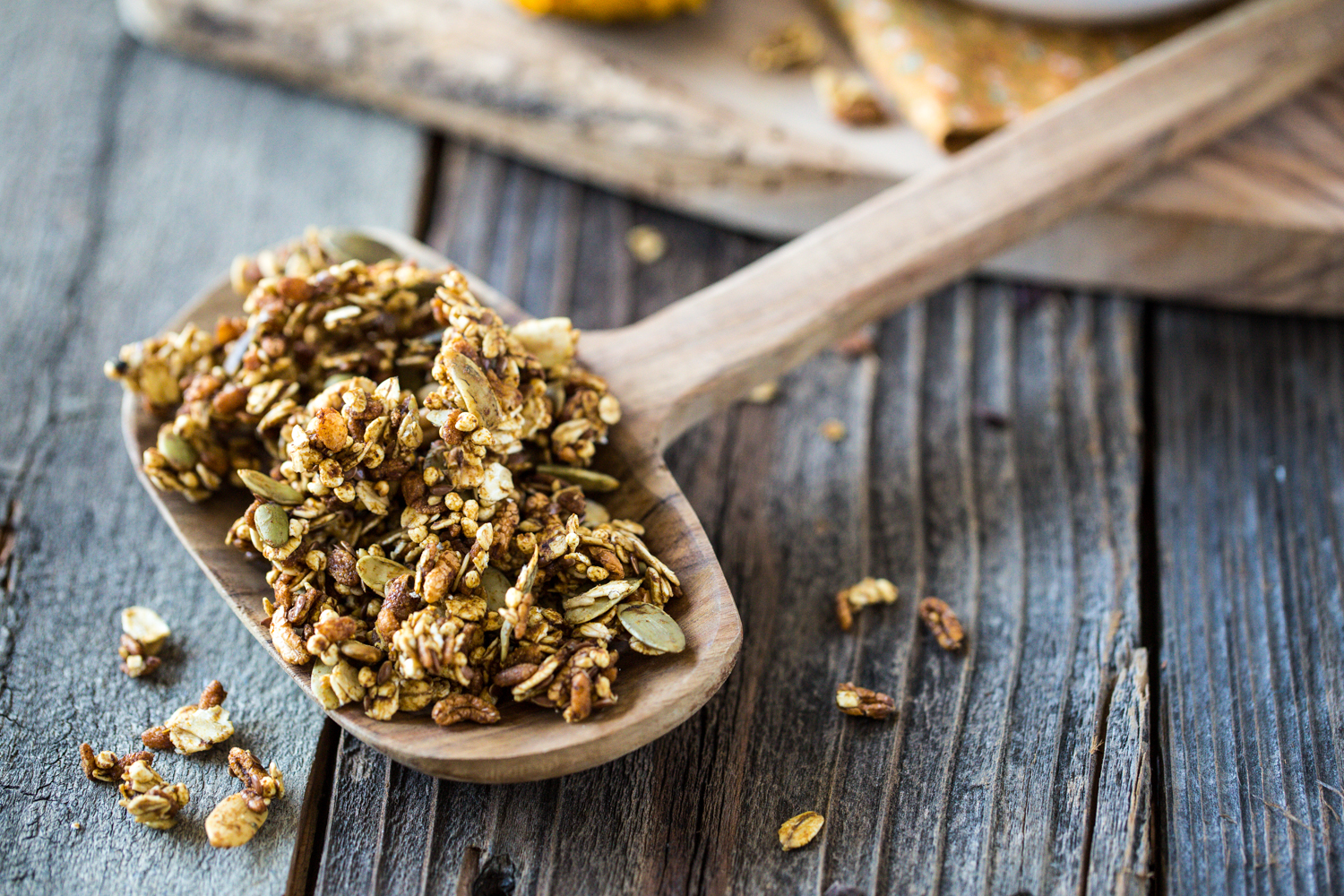 This time last year, I was done with summer and was all about trying to lure fall to southern California.  This year, I'm trying to get myself to let go of summer and get into the spirit of fall.  Go figure.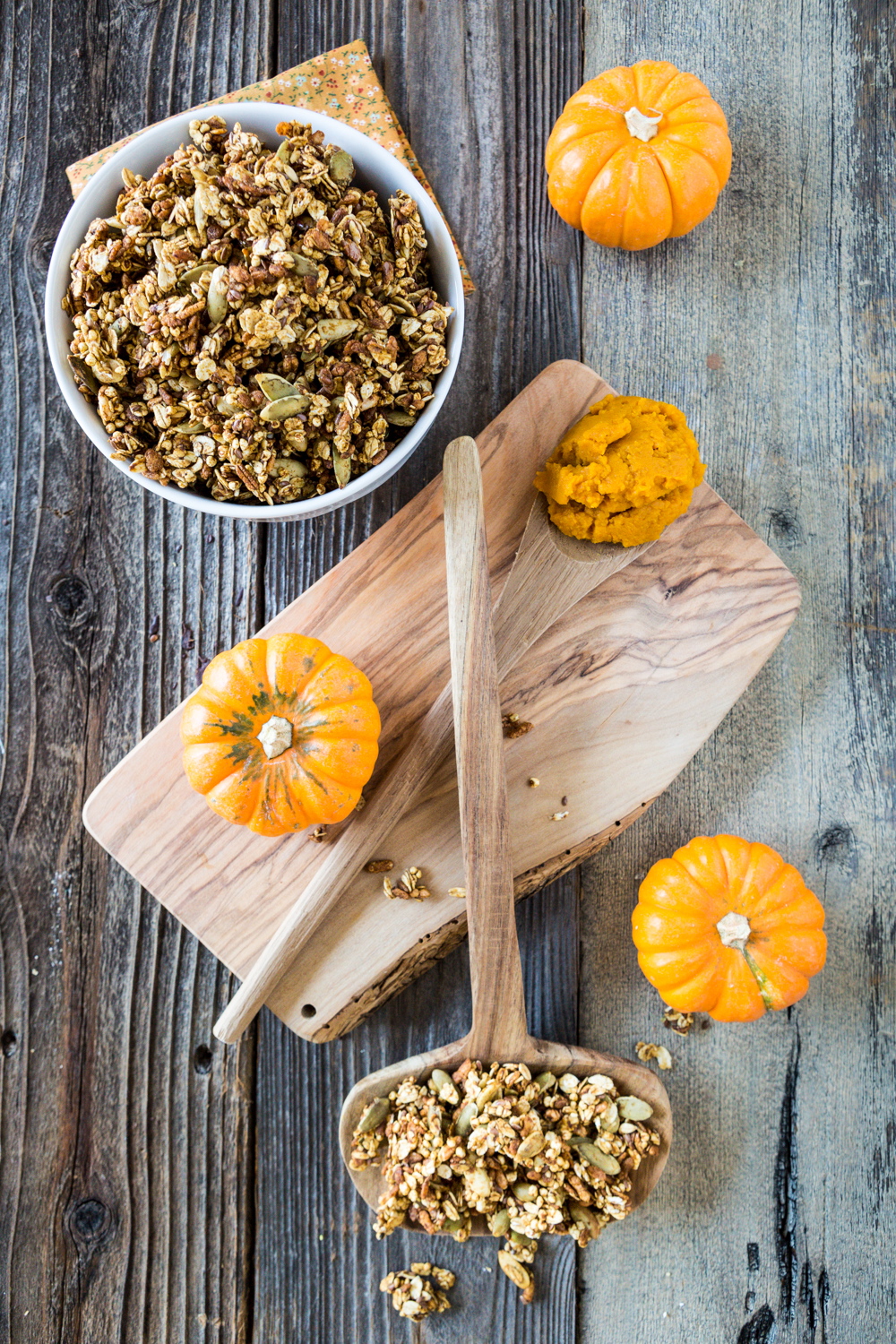 My first attempt into getting into the fall spirit was this Pumpkin Spice Granola.  You may have seen it on Friday, topping my Vanilla Pumpkin Protein Smoothie Bowl.  That was a big ol' bowl of Fall.
While we were away, we had a housesitter and naturally he and his girlfriend stored their own food in our cabinets.  When we got back, I was going through the cabinets, gathering their food, and I came face to face with a can of  pumpkin.  The can of pumpkin looked at me like "Hey, old friend!  Ready to party for the next few months?"  I was like "Uh, what do you mean?  It's still summ- Oh."  I reluctantly pulled the can of pumpkin out and set it on the counter so I wouldn't forget it was there (as I had for the past year) then went to the store and bought the last carton of Summer's strawberries I could find.  I was in denial.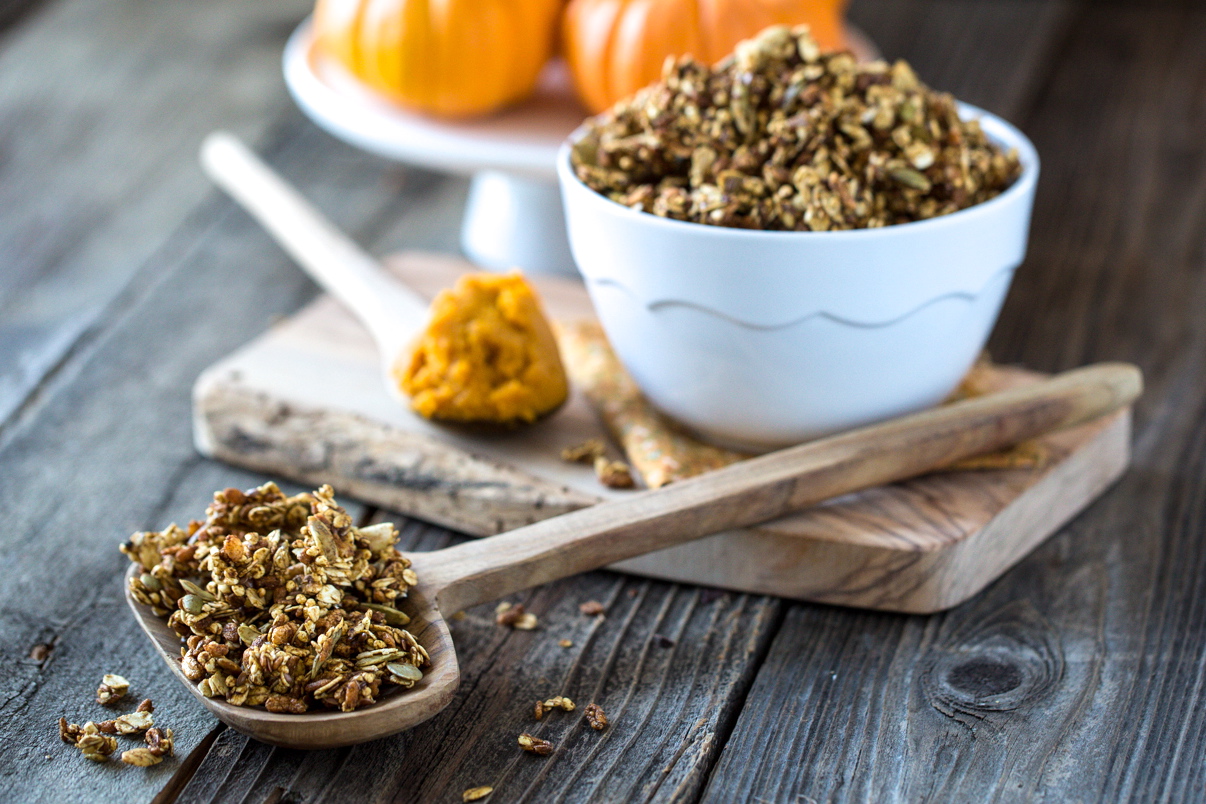 The Pumpkin Can sat there for about a week while I brainstormed pumpkin recipe ideas.  I remembered one idea I'd had last year but never got around to trying it- pumpkin granola.  A few shakes of cinnamon later, I had two baking sheets full of the tastiest pumpkin granola I've ever had and my house smelled AH-mazing.  Seriously- If you don't make this for the granola, make it for the way your house will smell afterwards.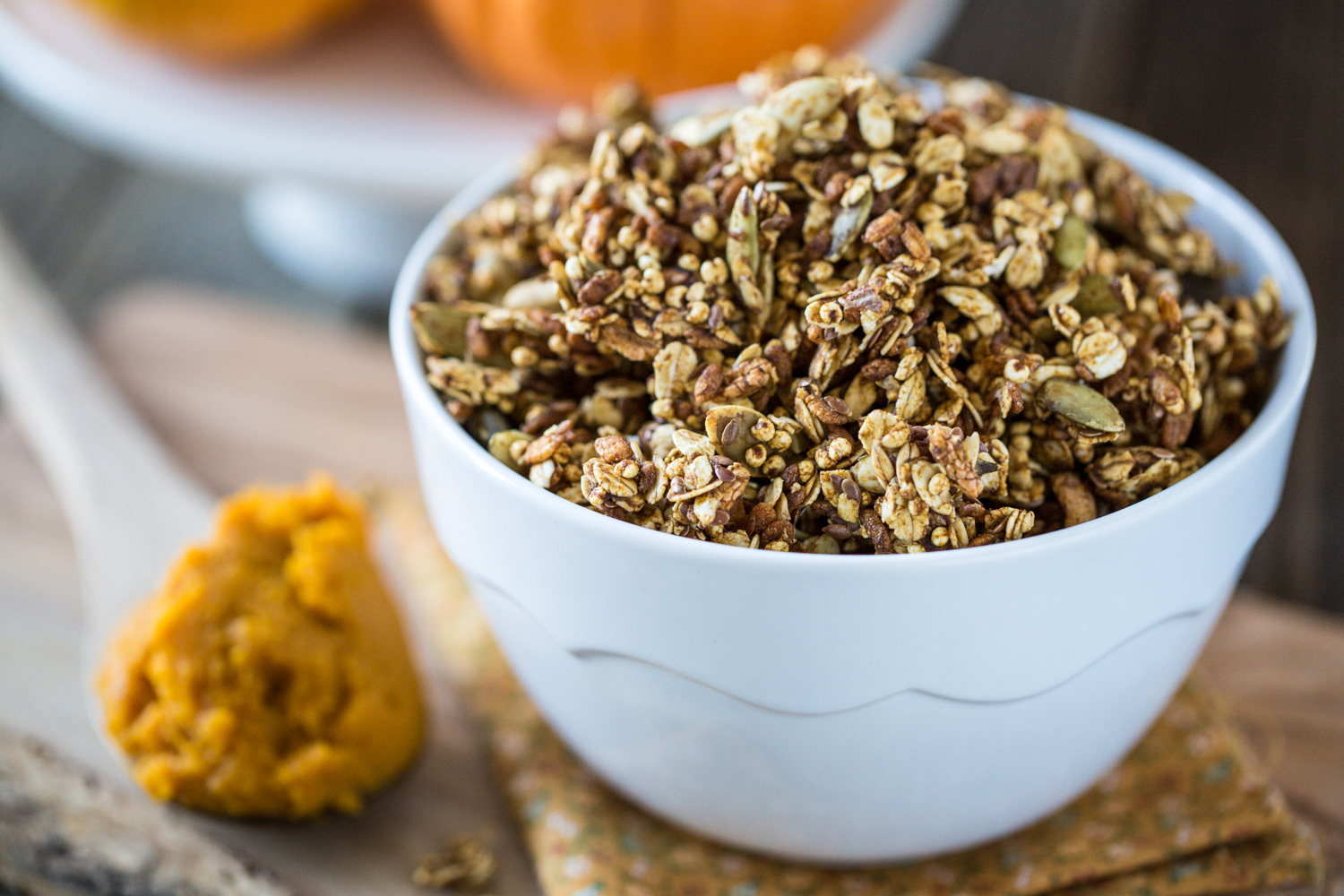 I dont' like overly sweet cereal, so this granola is only mildly sweet.  You could definitely up the maple syrup to 1/3 cup if you'd like, or add in some coconut sugar for a little extra sweetness.  It's crunchy, it's pumpkiny, it's spicy, but the little pumpkin seeds throughout are probably my favorite thing about it.  It's perfect on top of smoothies, yogurt or ice-cream (Note to self- try this on top of ice cream ASAP), and it's absolutely dreamy floating in a bowl of almond milk.  The almond milk gets a little cinnamony and sweet and makes for the perfect accompaniment to this pumpkin granola.
Ready for Fall?  Pour yourself a bowl.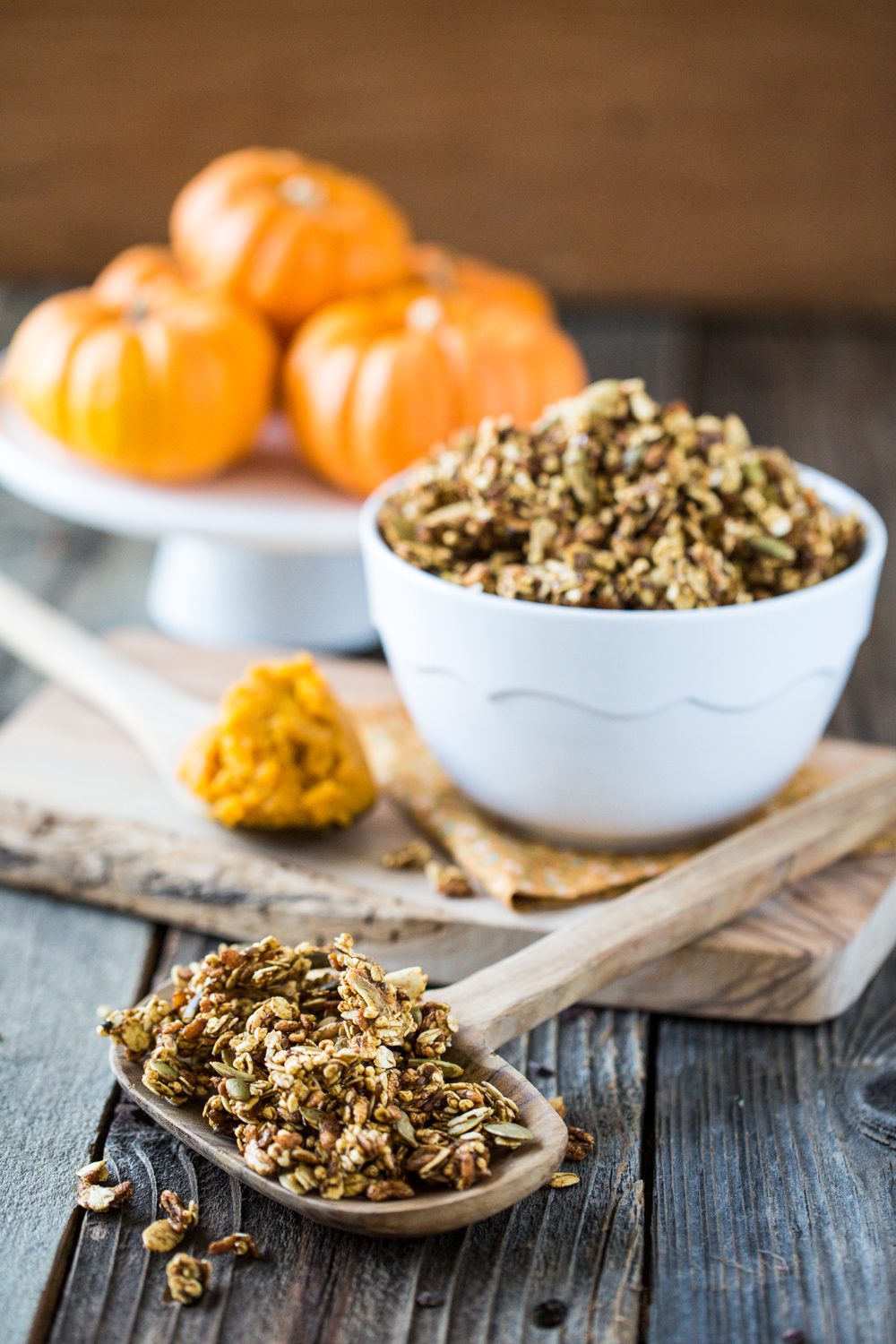 Ingredients
2 cups rolled oats (use gluten-free, if necessary)
2 cups crisp brown rice cereal
2 cups puffed kamut
2 cups puffed millet
2/3 cup toasted pumpkin seeds
1/4 cup flax seeds
1/2 cup pumpkin puree
1/4 cup maple syrup
1 tablespoon coconut oil
2 teaspoons vanilla extract
2 teaspoons ground cinnamon
1 teaspoon ground ginger
1/2 teaspoon ground cloves
1/2 teaspoon ground nutmeg
1/2 teaspoon sea salt
Instructions
Preheat the oven to 275. Line two baking sheets with parchment paper.
In a large bowl, combine the dry ingredients. In a small bowl, combine the wet ingredients.
Heat the wet ingredients in the microwave for about 1-2 minutes. Alternatively, you can heat the wet ingredients in a saucepan, until it just begins to bubble around the edges.
Add the wet ingredients to the dry and thoroughly combine. Divide the mixture between the two baking sheets and spread out evenly.
Bake the granola for 45 minutes, switching shelves for each sheet (i.e. placing the sheet from the top shelf on the lower shelf and vice versa). Once done, let cool completely before transferring to an air-tight container. Enjoy!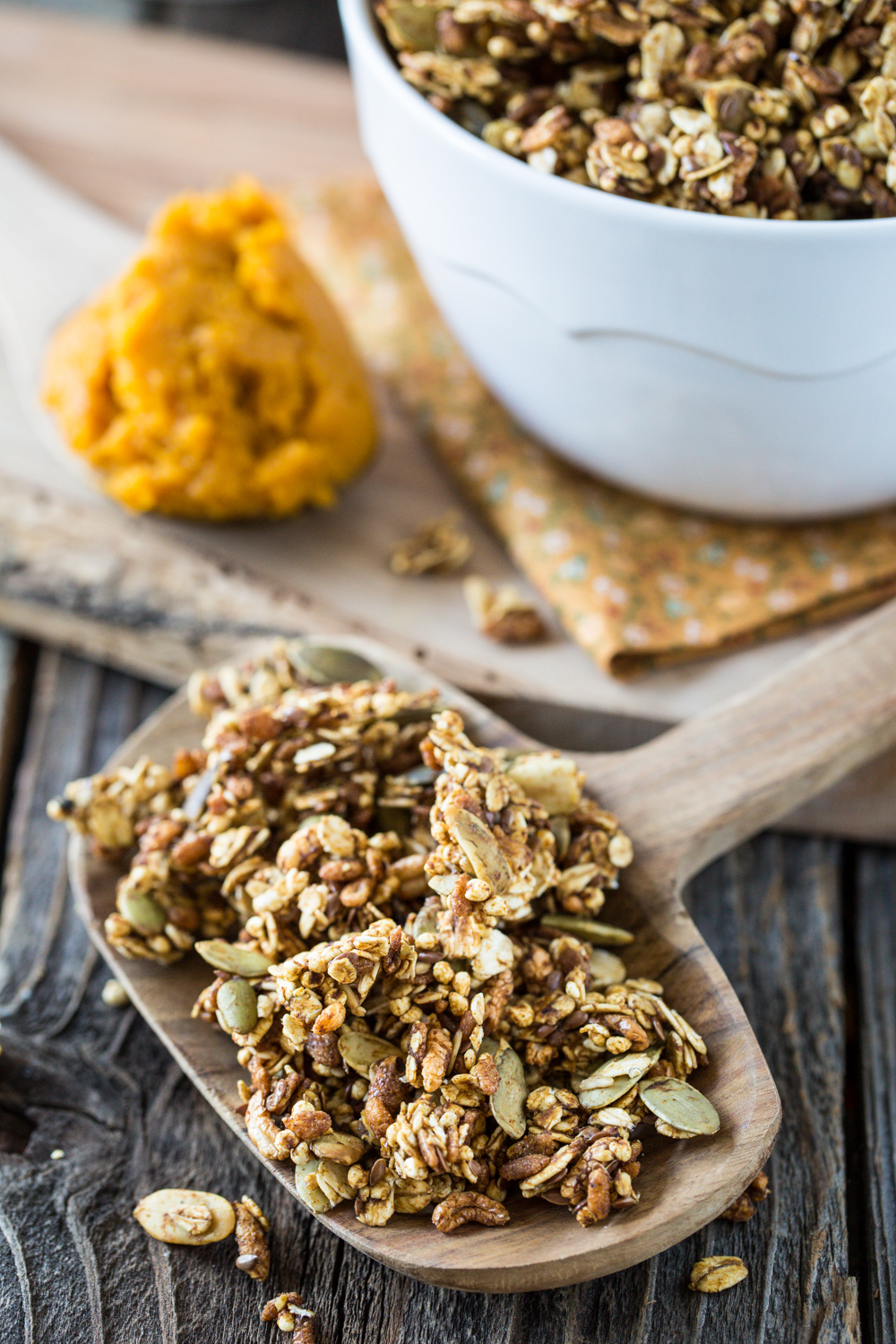 By the way, I have two giveaways going on- The Fork & Beans Halloween Special E-Book Giveaway and the Vega Starter Kit Giveaway.  Have you entered yet?
Are you getting into the spirit of Fall yet?
Photography by Chris Miller