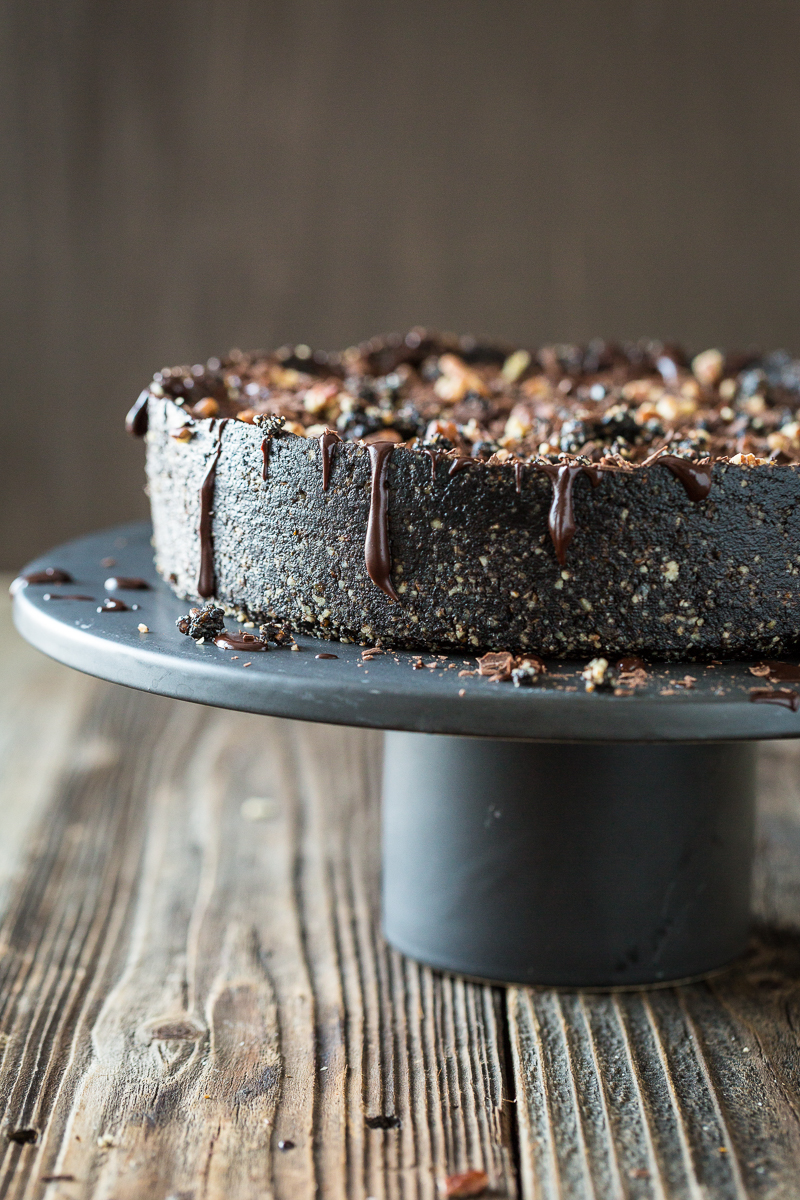 The first words that came out of my mouth when I took my first bite of this frozen Mississippi Mud Pie: Silence. There were no words. Then my poor little chocoholic heart was so overwhelmed with happiness (and probably chocolate) that I began to giggle. Uncontrollably.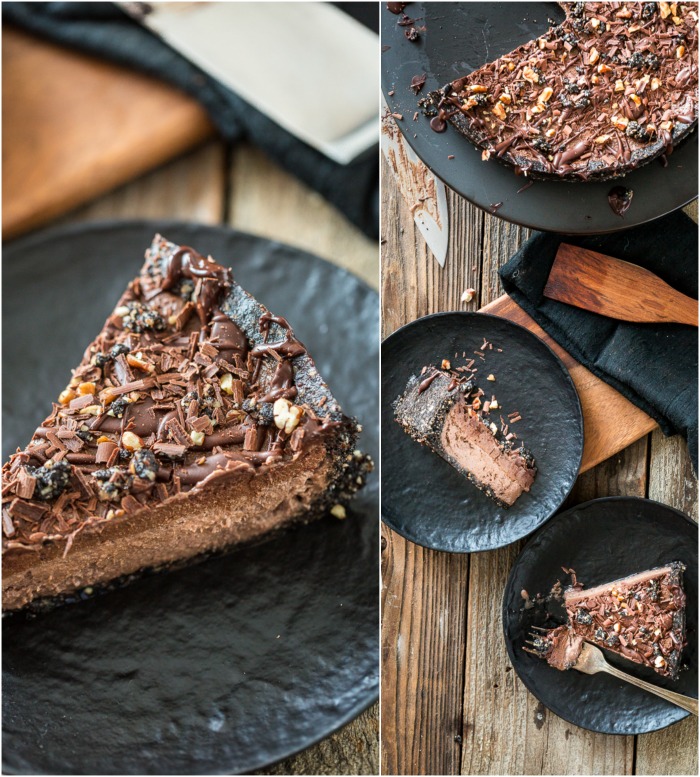 I considered calling this the "50 Shades of Chocolate Pie" but considering there are only (only???) 5 chocolate elements to this pie, I thought I might be overselling it a little. So, since my Mississippi Mud chocolate frozen yogurt makes up a pretty significant layer to the pie, I decided to go with the title you see at the top of the page. Note to self: Make a 50 Shades of Chocolate something.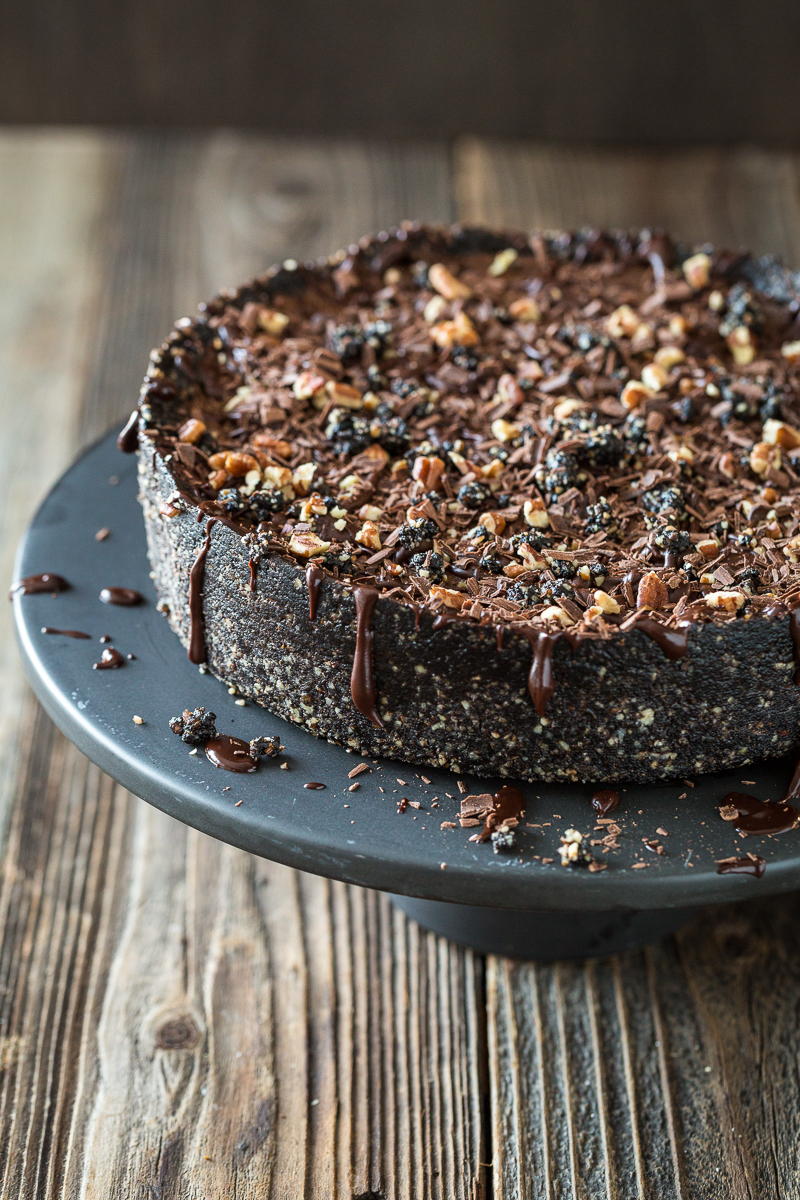 Chocolate Element #1: The faux-"Oreo," no-bake crust. This may very well be my favorite part of the whole dang pie. To achieve a no-bake crust akin to the Oreo cookie crust that I'm sure we're all familiar with, I combined dates, pecans, and black cocoa powder (the same kind of cocoa powder one would use to make Oreo-type cookies). It gives it that luxurious black chocolate look and it tastes like Oreo cookies. Need I say more?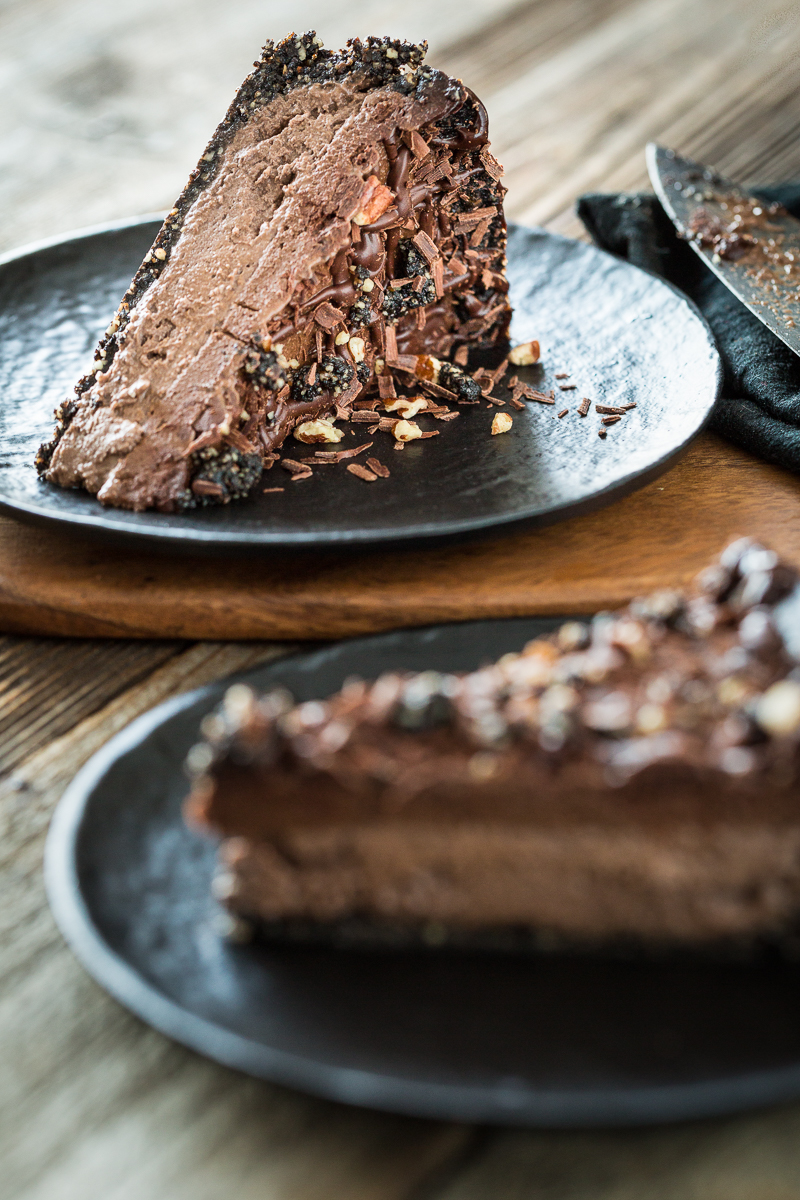 Chocolate Element #2: The Mississippi Mud Chocolate Frozen Yogurt. This would be the reason the pie is frozen. This choice of frozen yogurt seems completely appropriate here, given that it has the same name (see paragraph 2), but if you so desired, my Sugar-Free Snickers Ice Cream, my Marble Fudge Ice Cream, my Dark Chocolate Peanut Butter Ice Cream, or any store-bought vegan ice cream would work here as well. To keep with the Mississippi Mud theme, though, I would stick to something chocolatey.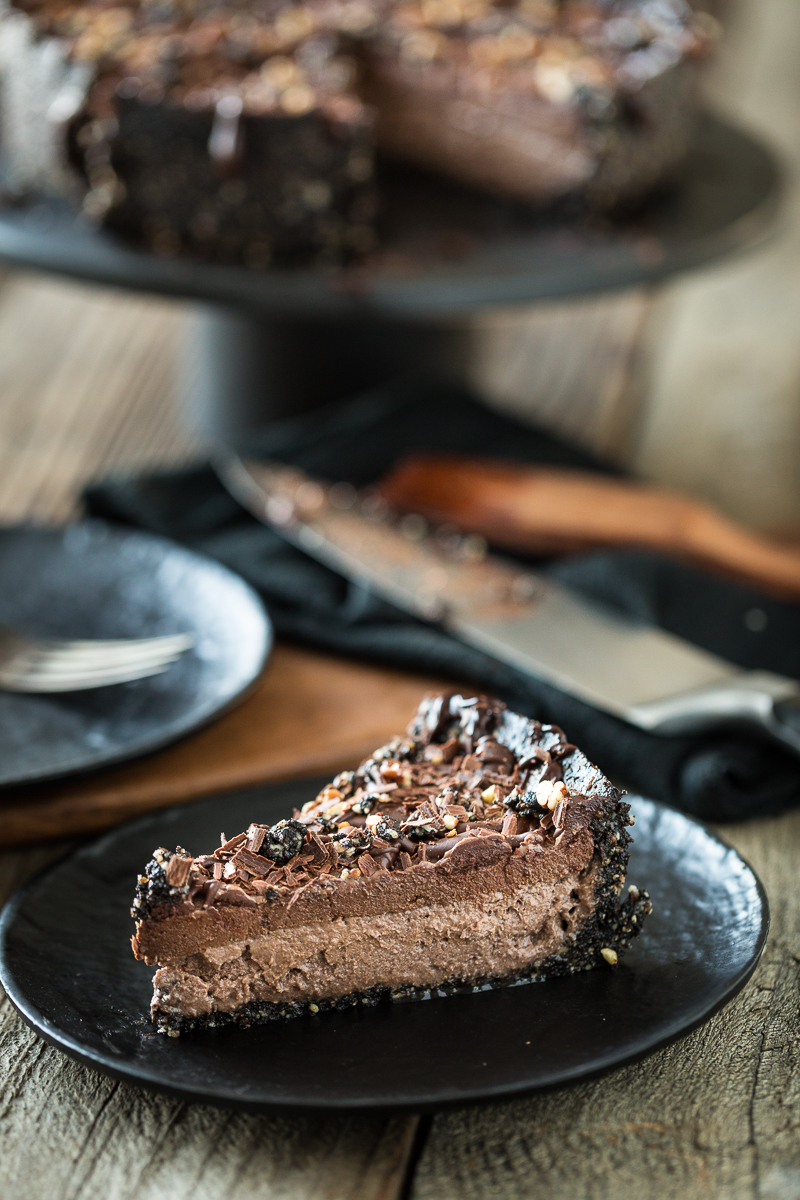 Chocolate Element #3: The luscious double chocolate mousse. This mousse gives the crust a run for its money in my favorite element category. It gets its richness from avocado, raw cashews, and dates and it gets its chocolate flavor from both cocoa powder and melted chocolate. Win and Win.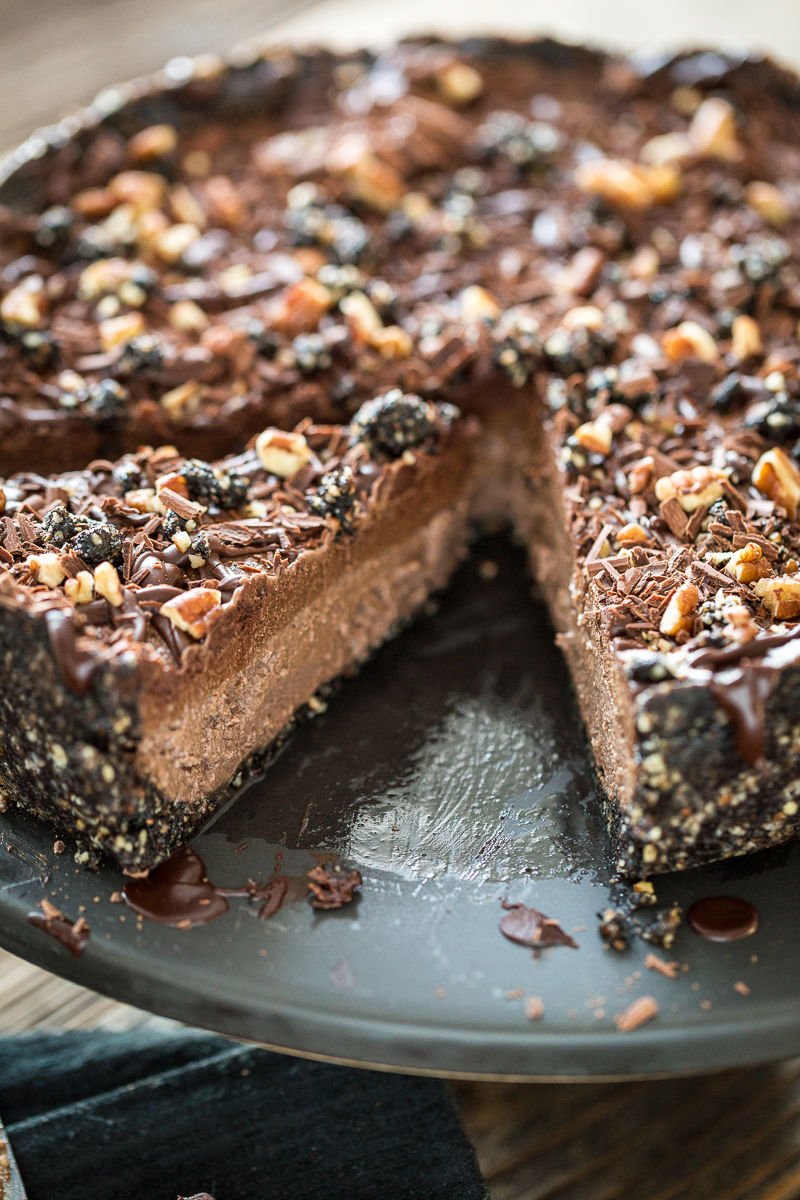 Chocolate Element #4: Once the pie is all put together and frozen, you get to drizzle more chocolate on top. Heck yes! This simple chocolate glaze was inspired by the chocolate glaze from Fran Costigan's chocolate, orange, and almond olive oil cake that I made recently. That glaze is crazy amazing and I love that when it firms up, it's still soft enough to bite into without it cracking or flaking. This glaze is just like that too and you can drizzle it carefully or go all splatter-paint style and make a big delicious mess on top of the pie. Your choice.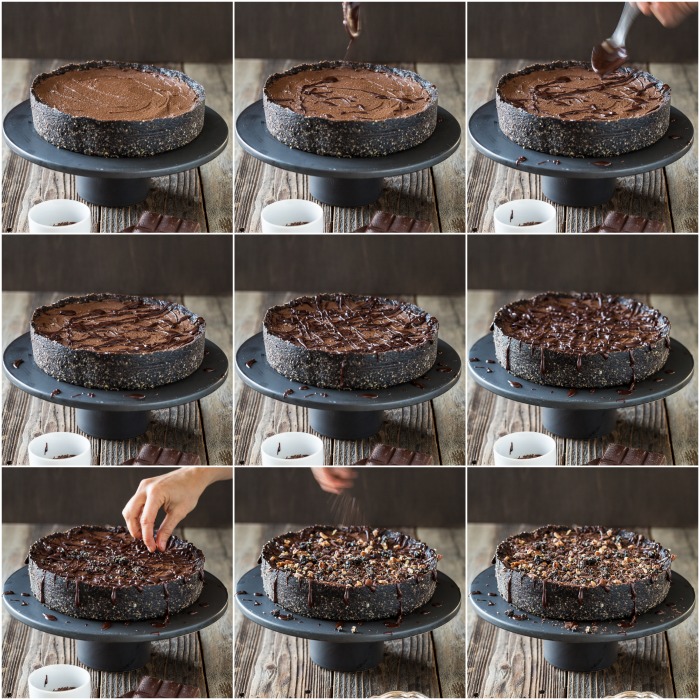 Chocolate Element #5: I figured that since the pie didn't have enough chocolate, I should sprinkle the top with chocolate shavings, along with pecans and a tiny bit of leftover crust pieces. It also makes the whole pie prettier (see the part in the last paragraph about "a big delicious mess.")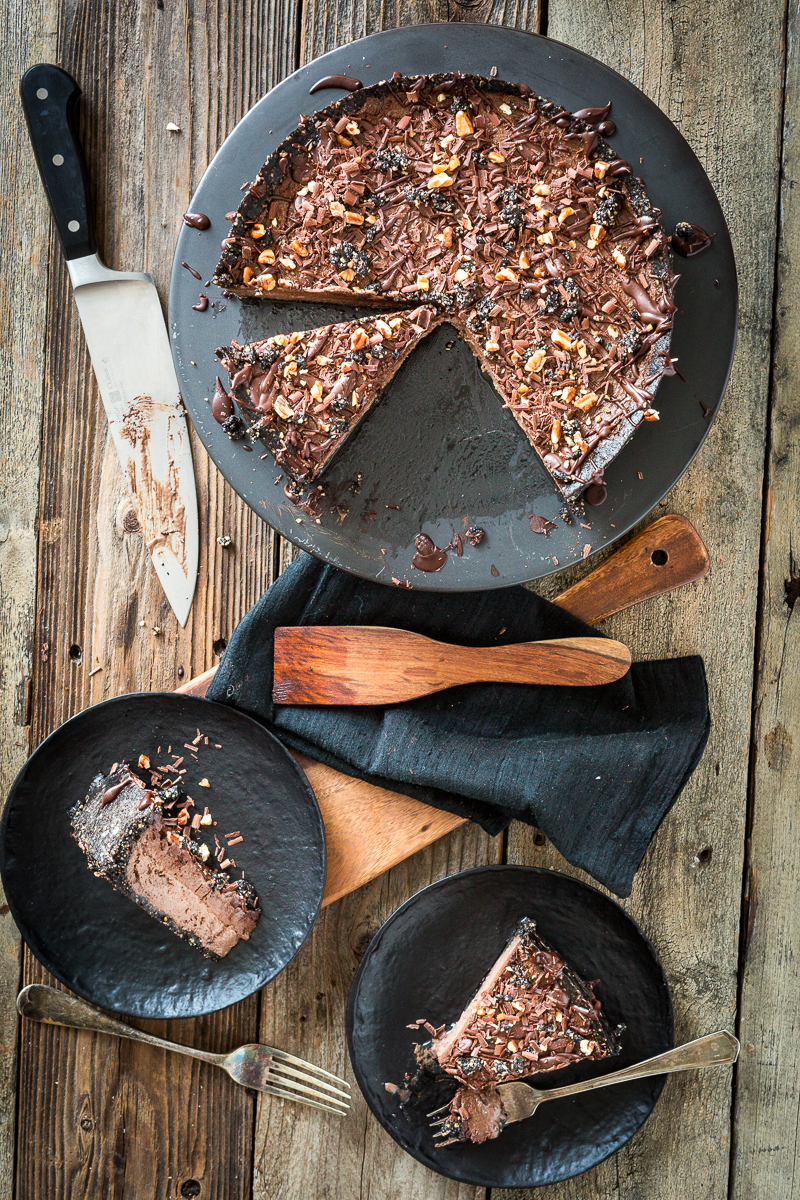 So there we have it: A Mississippi Mud Pie with a (faux) Oreo cookie crust, chocolate frozen yogurt, double chocolate mousse, dark chocolate glaze, and chocolate shavings. It is one tall, dark, and handsome pie and let me tell you, it is Rich with a capital R. Don't go into this thinking you can handle a slice that's 1/8th of the pie (like the slices shown in these pictures). It's not conquerable. If one bite put me into a fit of giggles, a slice that big will likely put you on the floor. It's intense, but in the best possible way. This pie can easily serve 12 to 16 people, so gather all of your biggest chocoholic friends and get ready for quite the giggle-fest.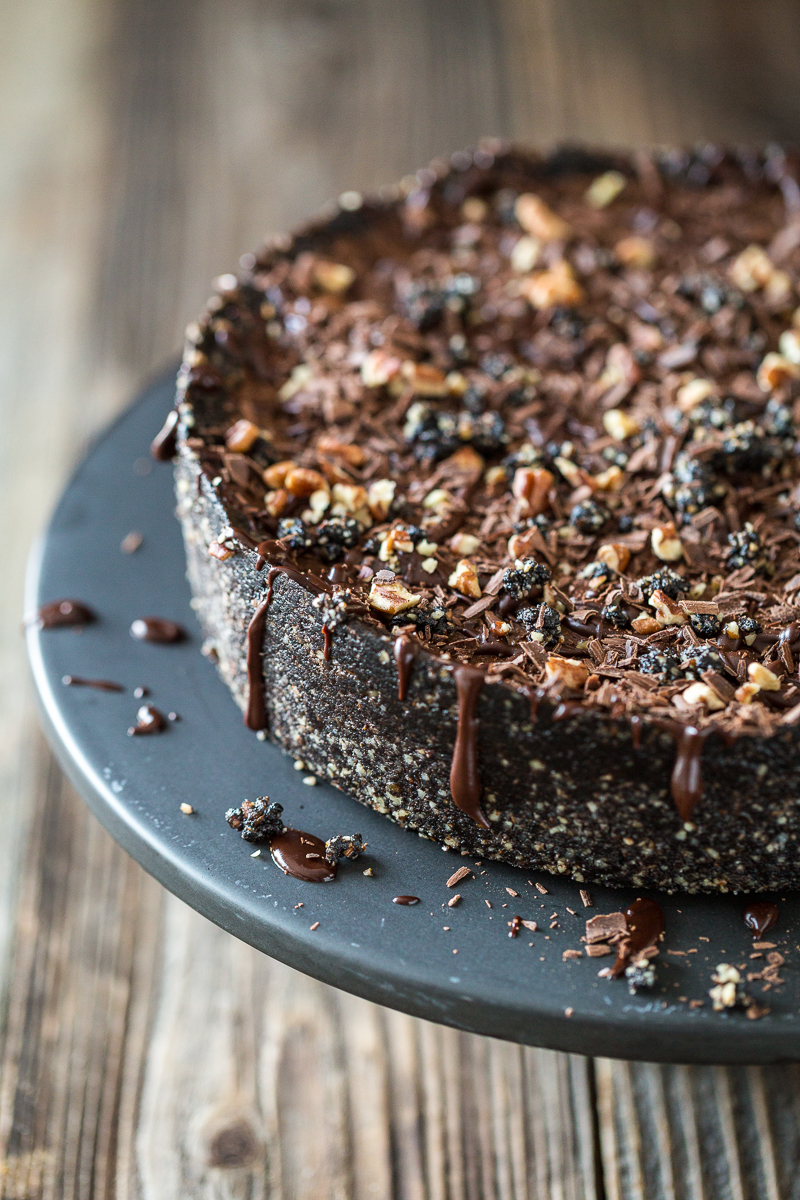 Frozen Mississippi Mud Pie
Ingredients
no-bake Oreo cookie crust

2 1/2 cups raw pecan pieces
16 medjool dates, pitted
3 tablespoons black cocoa powder (or sub regular cocoa/cacao powder, though it won't be as "oreo-ish")
1 teaspoon melted coconut oil
1/4 teaspoon salt
3 1/2 cups "Mississippi Mud" Chocolate Frozen Yogurt *see notes
1 ripe avocado, pitted
1/2 cup raw cashews (if you arenot using a high-speed blender, soak in warm water for an hour prior)
5 medjool dates, pitted
1/3 cup non-dairy milk
1 tablespoon coconut sugar
1/4 teaspoon salt
1/2 cup chopped dark chocolate or dark chocolate chips
1/8 cup water
3/8 cups/about 50 grams chopped dark chocolate
1 teaspoon melted coconut oil
1/8 teaspoon vanilla extract
pinch of salt
chopped pecans
chocolate shavings
Instructions
Lightly spray a springform pan with cooking spray. Place a parchment paper round in the bottom of the pan.
Combine the crust ingredients in a food processor and pulse until combined and just beginning to stick together. It should still be crumbly but if you pinch it between your fingers, it holds together. Transfer the crust crumbs to the prepared pan. If you want to use some crumbs to sprinkle on top, reserve about 1/8 cup, scrunch into clusters/clumps, and place in the freezer. Use your fingers to press the crumbs into the bottom of the pan and then about 2/3 the way up the sides of the pan. Once the crust is evenly spread out and pressed into place, place the pan in the freezer. Let freeze for 1 hour.
If you've not yet made your frozen yogurt (see notes), put it in the ice cream machine about 20 minutes before the crust has frozen fro 1 hour. Once the frozen yogurt is ready, spread 3 1/2 cups into the bottom of pan (on top of the crust, obviously). Return the pan to the freezer and let it freeze for at least 2 hours.
While the pie is freezing, you can make the mousse. Combine the avocado, cashews, dates, milk, coconut sugar, and salt in a food processor and process until fully combined and smooth.
Place the chocolate in a glass bowl and place the bowl over a small pot of boiling water. As the chocolate begins to melt, stir it until it is completely smooth and melted. Remove from the heat. Transfer the melted chocolate to the food processor with the mousse base. Process until fully combined and smooth. Remove the pie from the freezer and spread the mousse out over the frozen yogurt. Return the pie to the freezer for 1 more hour.
Once the pie has frozen, combine the water and chocolate for the glaze in a small sauce pan. Heat over low heat until the chocolate begins to melt. Remove from the heat and stir until fully melted and combined. Add the coconut oil, vanilla extract, and salt. Stir until combined.
Remove the pie from the freezer. Run a thin knife around the outer edge of the pan to loosen the crust from the edge. Remove the outer edge of the pan and gently slide the pie onto a plate or serving platter. Try to remove the parchment paper from the bottom of the pie before arranging it on the plate. Drizzle the glaze over the pie. Sprinkle with reserved crust crumbs, chocolate shavings, and chopped pecans. Slice and serve immediately. Leftovers can be kept, covered, in the freezer for 4 to 5 days. Enjoy!
Notes
You can use your frozen yogurt straight from the ice cream machine (this is probably the best way) or you can use pre-made, already frozen frozen yogurt. You'll just need to let it soften for about 20 to 30 minutes so it gets soft enough to scoop and spread, but don't let it get too melty!
The chocolate glaze recipe is adapted from the Chocolate Orange Glaze from Vegan Chocolate by Fran Costigan.
Do ever have odd reactions to really good food (like fits of giggles, for example)?
Photography by Chris Miller