We arrived in Florence by train on a very muggy and overcast afternoon.  The area immediately surrounding the train station is not the nicest part of town, but as soon as I stepped out of the station, it was like running into a dear old friend.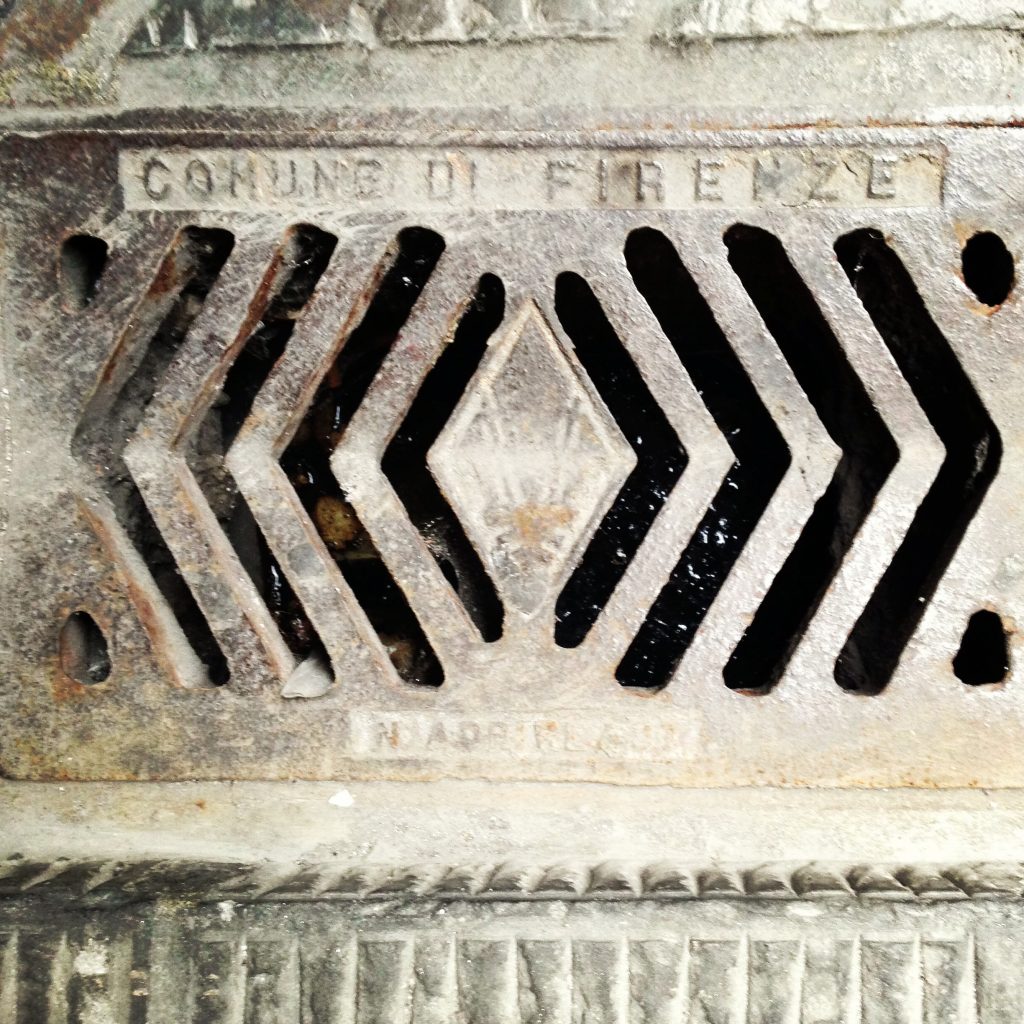 Without using a map, I was able to maneuver us to our hotel.  It was my third time visiting the city, the first since I had lived there.  For the most part, I remembered these streets (there were some I had forgotten).  Our hotel was located in Piazza Santa Maria Novella and when I lived in Florence, this area was under construction and was an area of town you did not want to walk alone.  I avoided it at all costs.  When I found the hotel online, I did my research and found that the piazza had reformed and construction was done.  I was still skeptical when I booked the hotel (for such a centrally located hotel, it was one of the most inexpensive I could find in this pricey town), but I was so happy to see that in fact, Piazza Santa Maria Novella was nothing like I remembered.  It was beautiful with open lawns, flowers, and benches where a full-blown construction site had once been.  I was also able to finally see how beautiful Cathedral Santa Maria Novella really is (I had always avoided it in the past) (And I apologize- for some reason, neither Chris nor I took pictures of the piazza!).
Piazza Santa Maria Novella 23, 50123 Florence • +39 055 277300
We really enjoyed our stay at Hotel Rosso.  Our room was small and quaint and felt like less of a hotel room and more like a guest room in someone's home.  Just like the rest of the hotel, it was beautifully decorated.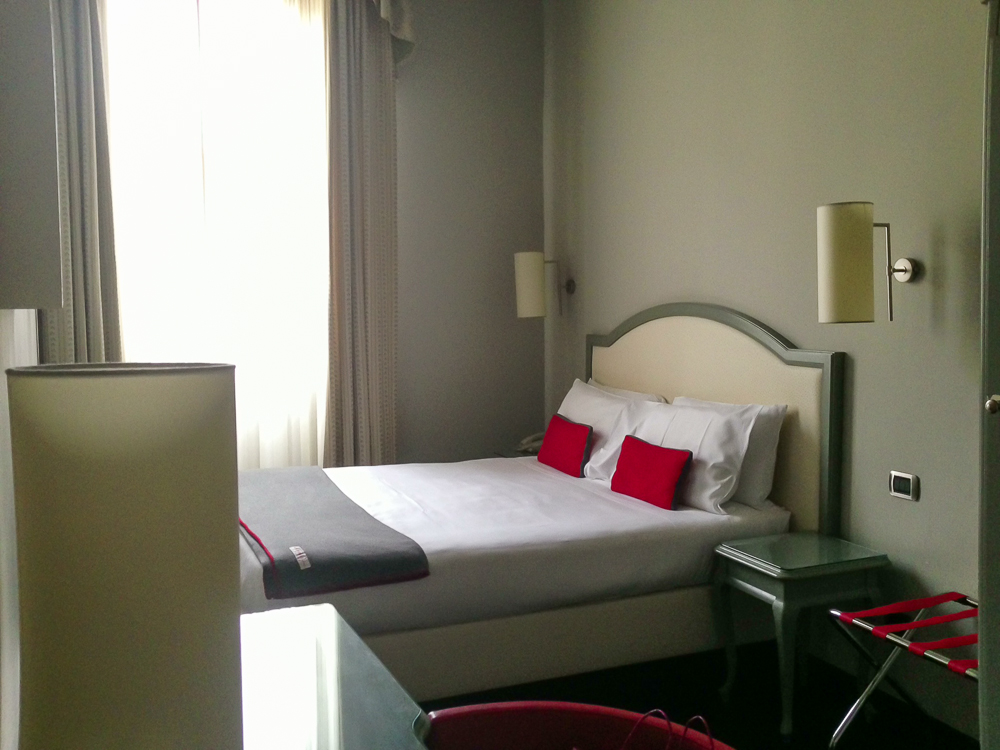 The window opened out onto a courtyard, or open space, between three or four different buildings.  We were facing a couple of apartment buildings and I loved seeing how different each occupant's balcony was.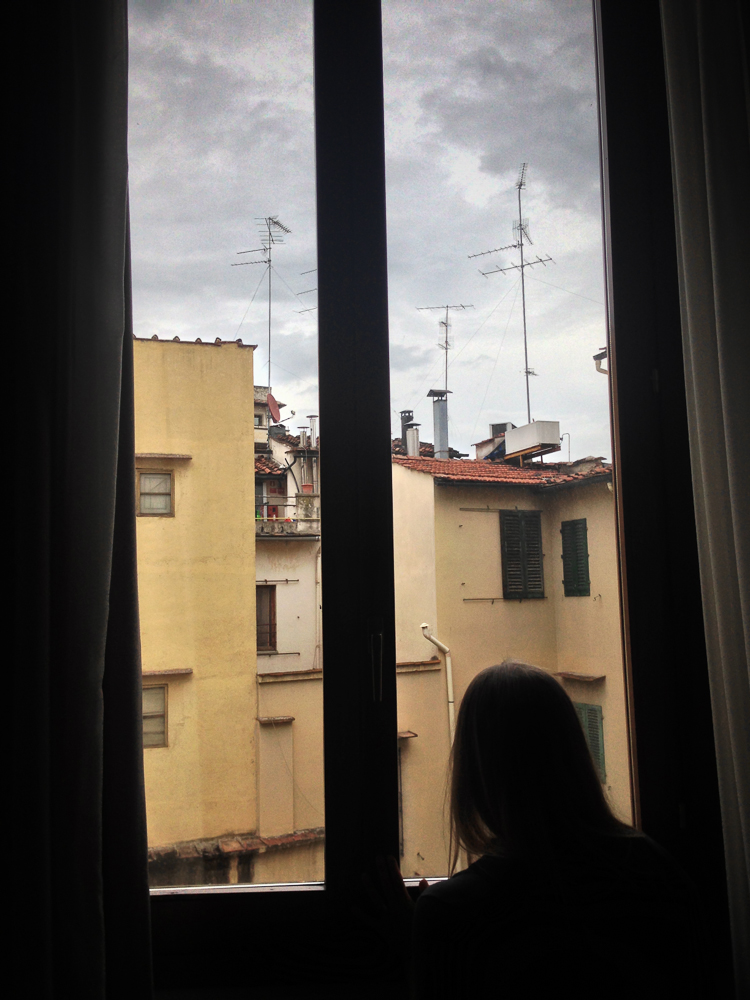 We had breakfast at the hotel each morning, in their outdoor courtyard seating area, and were happy to find fresh tomato and cucumber slices, fresh fruit and bread at the buffet.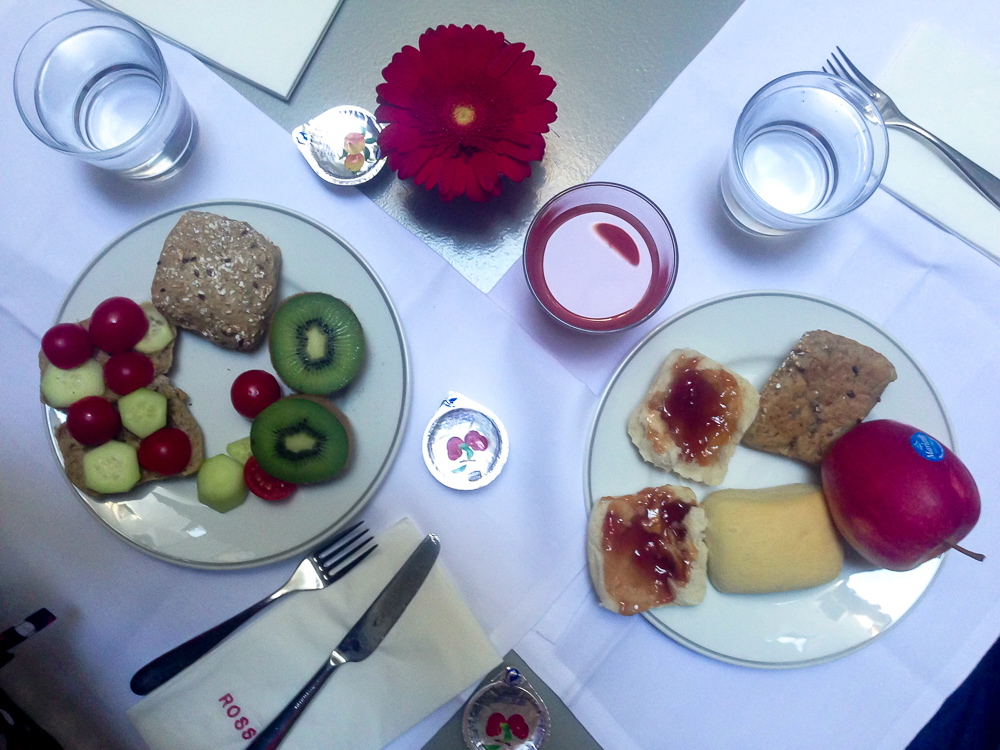 On the first morning, after I had eaten, I felt like having an espresso with a bit of soy milk (a little habit I'd picked up while in Rome) and asked one of the servers if they by chance had soy milk.  They did!  So for each of the following mornings, we were able to have a bit of cereal with soy milk and fruit as well as espresso with steamed soy milk.  It was wonderful.
As I mentioned before, the hotel is very centrally located.  Everywhere in Florence is pretty much walking distance in general, but Hotel Rosso serves as a great starting point for a day of sight-seeing.
After we checked in, the first place I needed to go was to my old favorite gelato shop to see if they had any soy gelato (I seemed to remember that they did but my memory was foggy).  We walked along the Arno River and Chris got to see the Ponte Vecchio for the first time.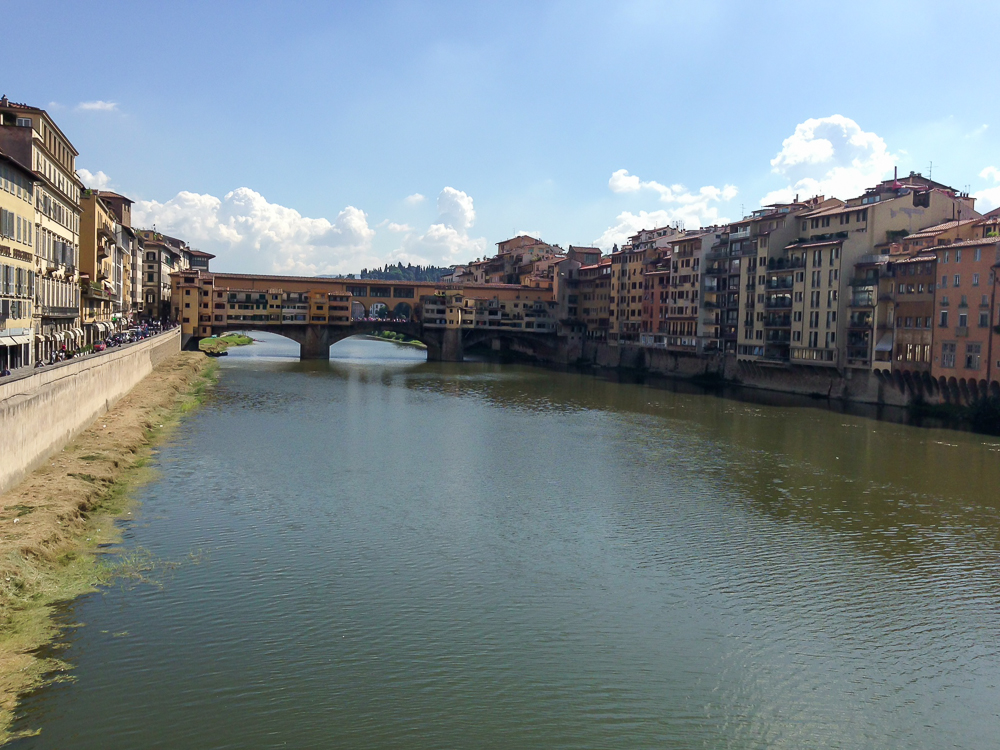 Via dei Neri 26R, 50122 Florence • Ph. +39 055 210034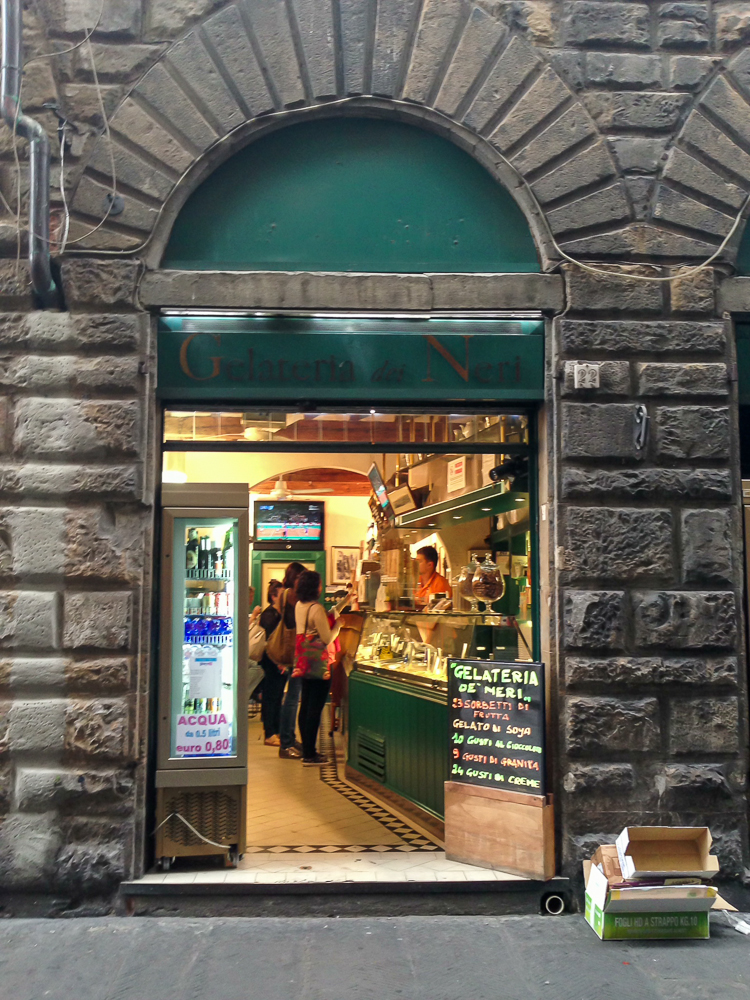 I used to come to this gelataria Every. Single. Day.  It truly has the best gelato in the city and I'm happy to share that it does have vegan gelato! They have hazelnut and vanilla as well as a dark chocolate sorbet that is dairy-free.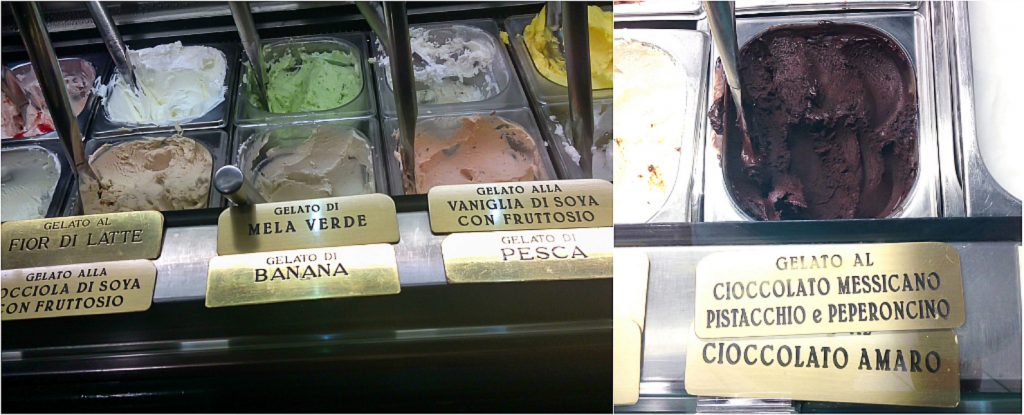 I was so happy when the gentleman behind the counter handed me my little cup of vegan gelato, I just wanted to sit down and cry.  It felt so good to be back in Florence and this gelato just put me over the top.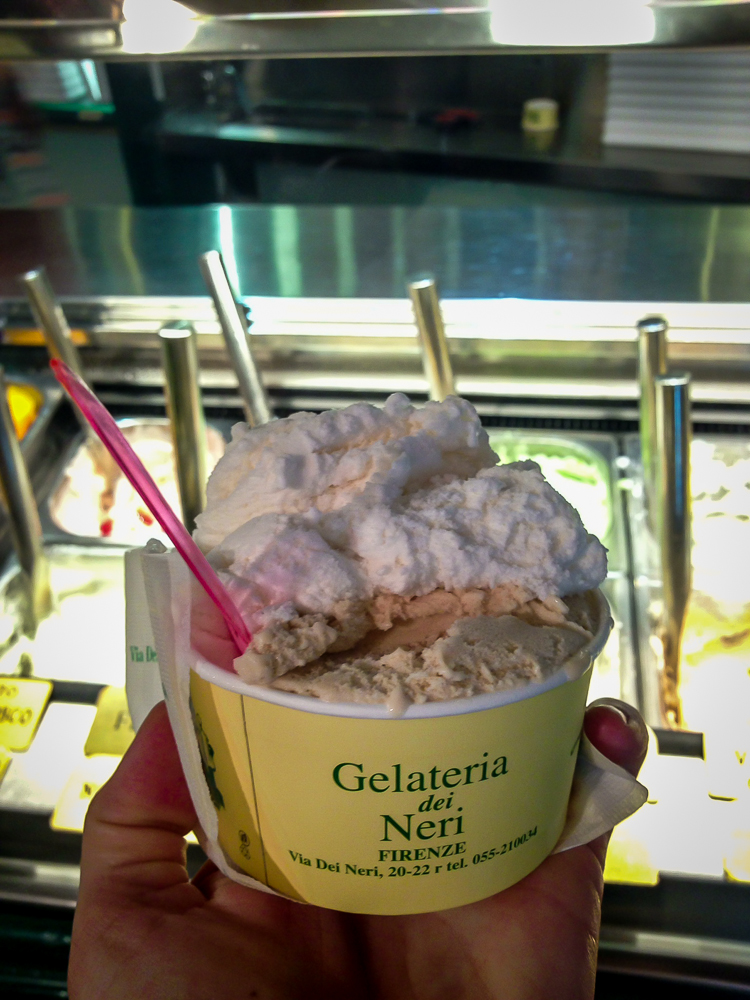 After gelato, we crossed the bridge and I showed Chris the house at which I used to nanny (or at least we quickly walked by the front door).  I showed him the nearby San Niccolo neighborhood that I loved.  There is a wine bar I used to go to for a glass of wine after a hard day's work and the area is also the gateway to Piazzelli Michelangelo and Fort Belvedere.  There's also a little bakery, 1974 Forno, that makes the best fresh baked bread in town.  As we were walking around, though, it began to drizzle.
We weren't about to let a little water dampen our fun so we continued to walk around until the drizzle became more of a heavy sprinkle.  We became very aware of the fact that we were California tourists wearing shorts (Chris)/skirt (me) and flip-flops and headed back over the bridge to find our way back to our hotel and change into something decent.  Except wait- I had only packed a small selection of sandals (because I expected it to be warm the whole time and thought by not packing an alternative, mother nature would have no choice but to stay warm for the duration of my trip) and by the time we crossed the bridge, it was pouring.  We ducked from overhang to overhang, trying our best to stay as dry as possible while stomping though puddles in our flip-flops.  We finally bought a €5 umbrella from one of several men who magically appeared with umbrellas for sale (the next day, they were selling something else since it was no longer raining) and tried to find a store that might possibly have a vegan pair of closed-toe shoes that were reasonably priced.
So we walked in the dark, with the rain being hurled at us, huddled together under a small, flimsy umbrella, looking for shoes that would keep my feet dry (and match with my clothes, of course).  We finally found a pair of non-leather black flats in the juniors department at ZARA that were most likely made in China, but fit and were under €20.  We then rushed back to our hotel, our rubber flip-flops slipping and sliding on the wet cobblestone streets.  When we got to our room, we looked like two drowned rats and we laughed at what Californians we were (or at least we laughed later).  We quickly got dressed in sensible clothing, bundled up (I didn't bring closed-toe shoes, yet I brought a heavy sweater?  Come on, Kristy!), and headed out for dinner.  We had looked over my list of vegetarian/vegan options for the city and picked one that was both walking distance and open.  As we were walking/running, huddled under our silly little umbrella, we went to quickly cross a street before the light turned and I stepped into a deep puddle, soaking my legs halfway up to my knees and filling my new little flats with water.  So then I was walking/running while sloshing around in shoes filled with water and I had finally had enough.  We hailed the next cab we saw and a short ride and a small fee later, we were standing in front of Il Vegetariano.
Via delle Ruote 30r, 50129 Florence • Ph. +39 055 475030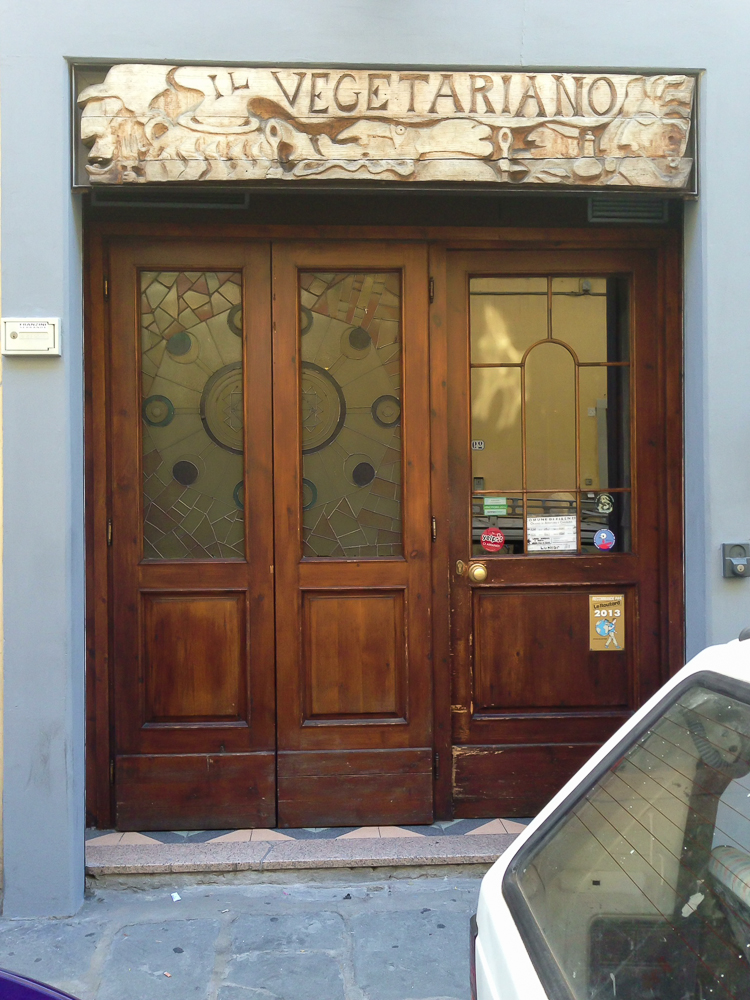 When we walked in we felt like we had just walked in to our imaginary Italian grandma's cabin in the woods and the aroma of home-cooked foods lured us to the back (where you order).  We were both ravenous and cold and tired and wet (my toes especially).  A big heaping plate of homestyle comfort food is what we craved and that is exactly what we got.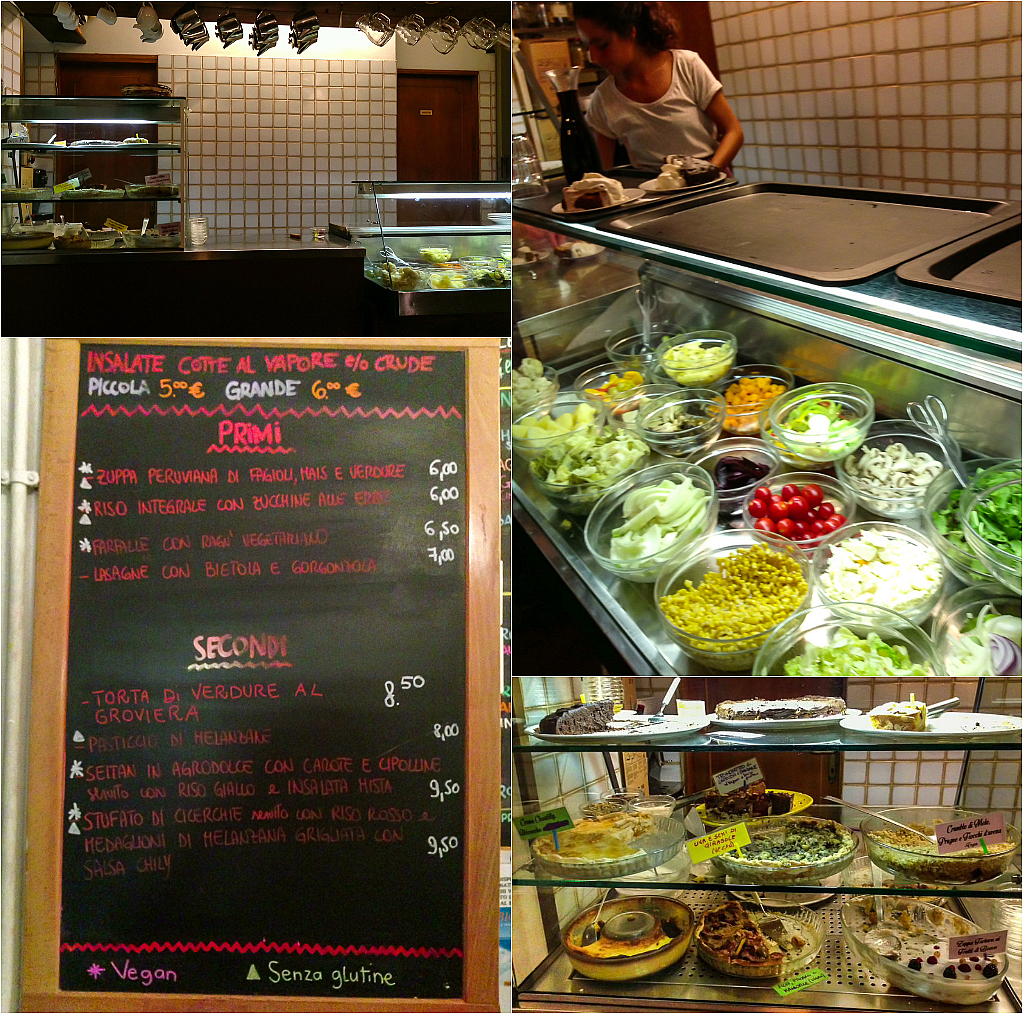 There is a menu on a chalkboard with the specials of the day (there is no set menu- it changes daily) and it is all in Italian.  Everything is vegetarian, but the vegan and gluten-free items are clearly labeled.  First you stand in line to order and pay.  Then you take your receipt and stand in another line, cafeteria-style.  You have to get your own tray, cutlery, glasses for water.  They take your receipt and bring you your order.  If you ordered a salad, you can choose your salad toppings here too.  Once you have all of your food, you then can go find a place to sit.  Once we got to the front of the line to place our order and pay, I had a questions about a couple of menu items.  Of all the places we went in Europe, this restaurant was the only place where we experienced a bit of a language barrier.  The man at the cashier did not speak any English and had to call a girl from the kitchen to translate for us.  It was very busy and a few of the people behind us were a little irritated.  We placed our order, then got in the other line to get our food.  By the time we found a table, nothing could've felt as good as it did to sit down to a plate of hot food.  The fact that the food was awesome made it all the better.  Chris ordered a seitan and rice dish, which was super rich and delicious.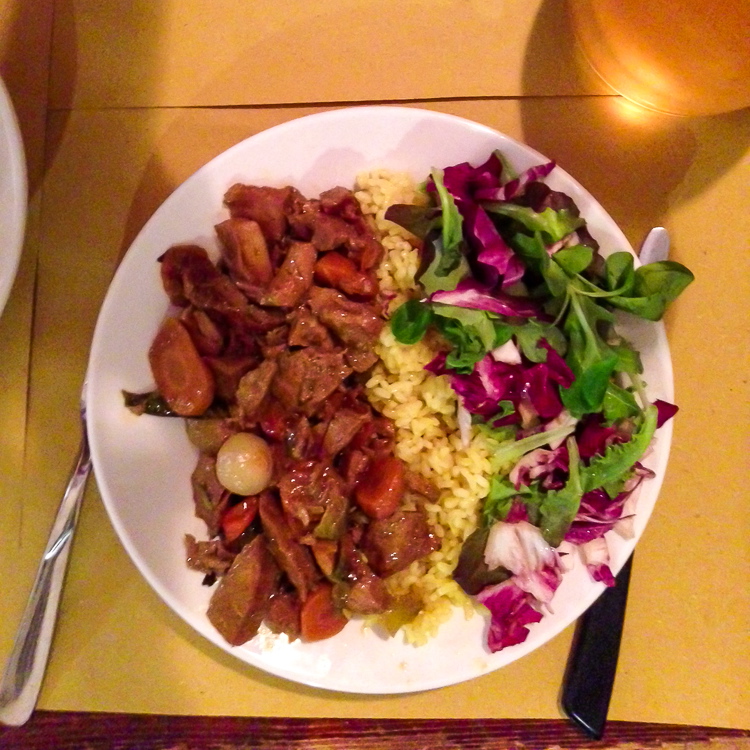 I ordered a chickpea stew with grilled eggplant covered in a spicy marinara sauce.  This hit the spot better than anything I could've possibly hoped for.  It was perfect cold, rainy night food.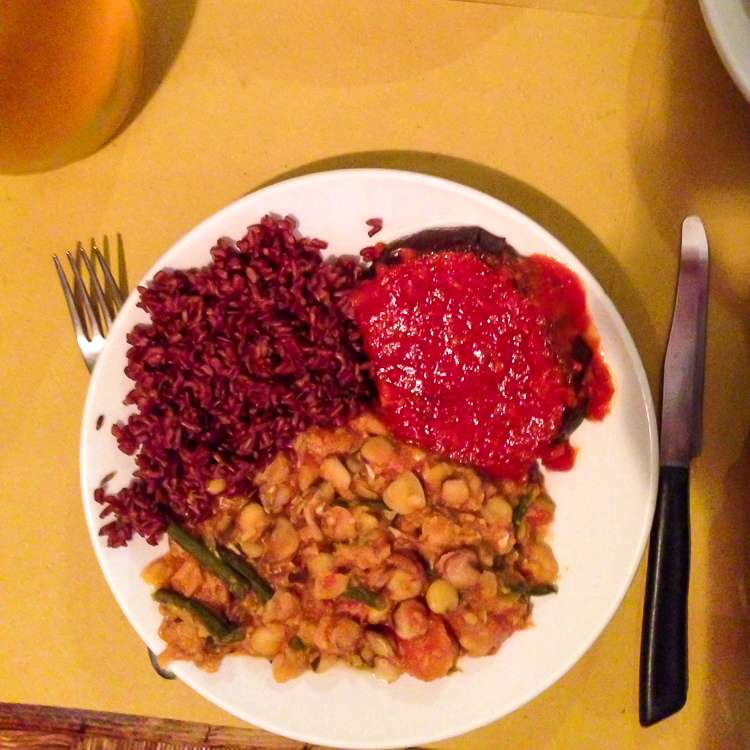 We also shared a salad (we were starving).  For a large salad, you get to choose seven toppings (do you see that roasted fennel???) before you are asked if you want salad dressing.  They have one dressing- a creamy mustard tofu dressing.  Don't be surprised if I share a replication for this dressing sometime in the near future.  It was divine!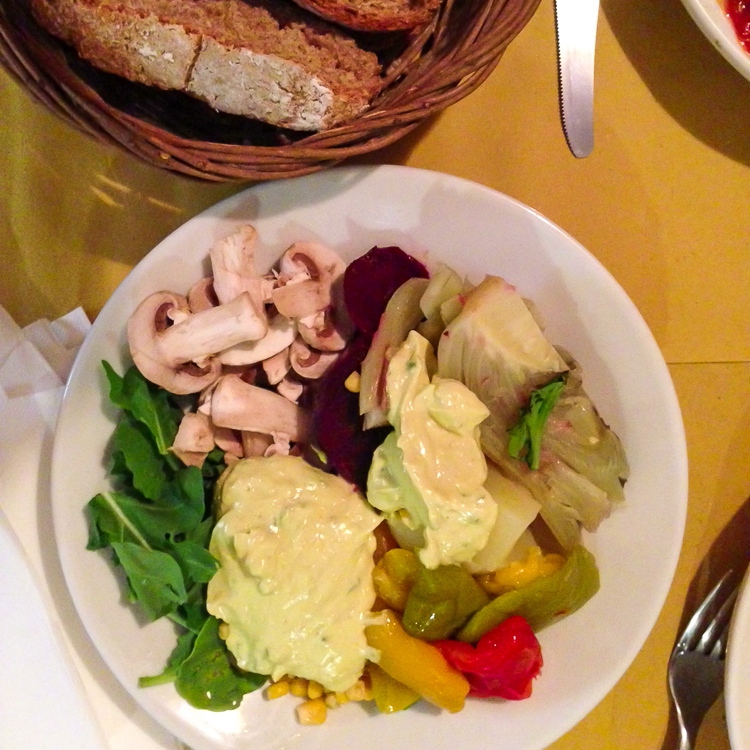 We also shared a decanter of organic house white wine (not pictured) because we felt the occasion (my wet socks inside my wet shoes) called for it.  I don't remember what we talked about but we talked and laughed until we shut the place down.  We actually ended up staying an hour past their closing time and we left while the staff was sharing their dinner at 11pm.  We actually ended up coming back for lunch a couple days later and had another great meal.  I had another large salad all to myself.  Chris had another seitan and rice dish (this one had roasted cauliflower in it too). Il Vegetariano is just one of the many places that make being vegan in Florence and absolute treat.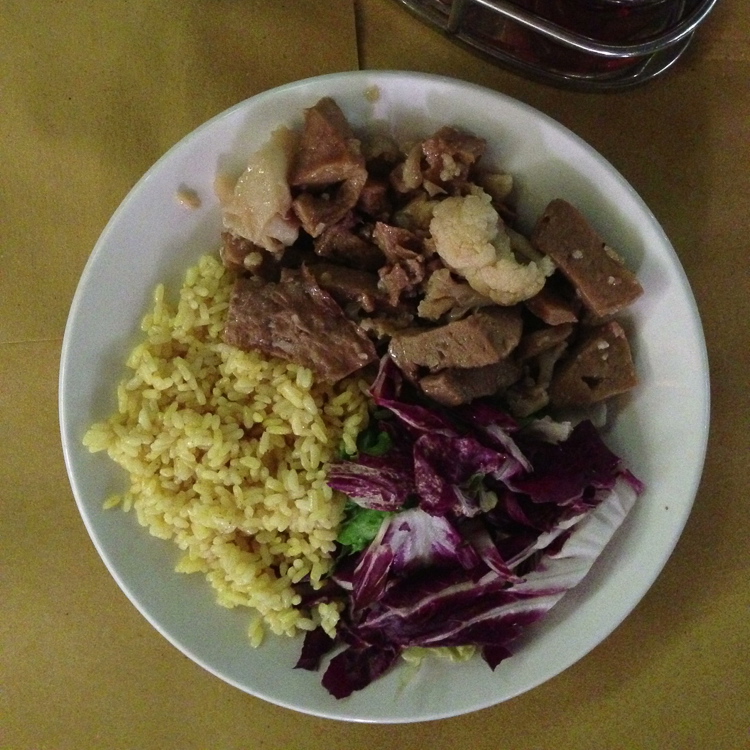 By the time we left that night, my feet were dry and the rain had let up so we were able to walk back to our hotel, stopping once to show Chris the building I lived in before I moved back to the states.  It felt good to be back.
The next morning, after breakfast, we went to a local laundromat and washed all of our clothes.  After laundry was done, we set off to walk around and explore Florence.  We headed back to my old neighborhood, where we had walked the night before and made a stop into the Mercato Centrale.
MERCATO CENTRALE
Piazza del Mercato Centrale • open Mon.-Sat. 7am-2pm and also on Sat., 4pm-7pm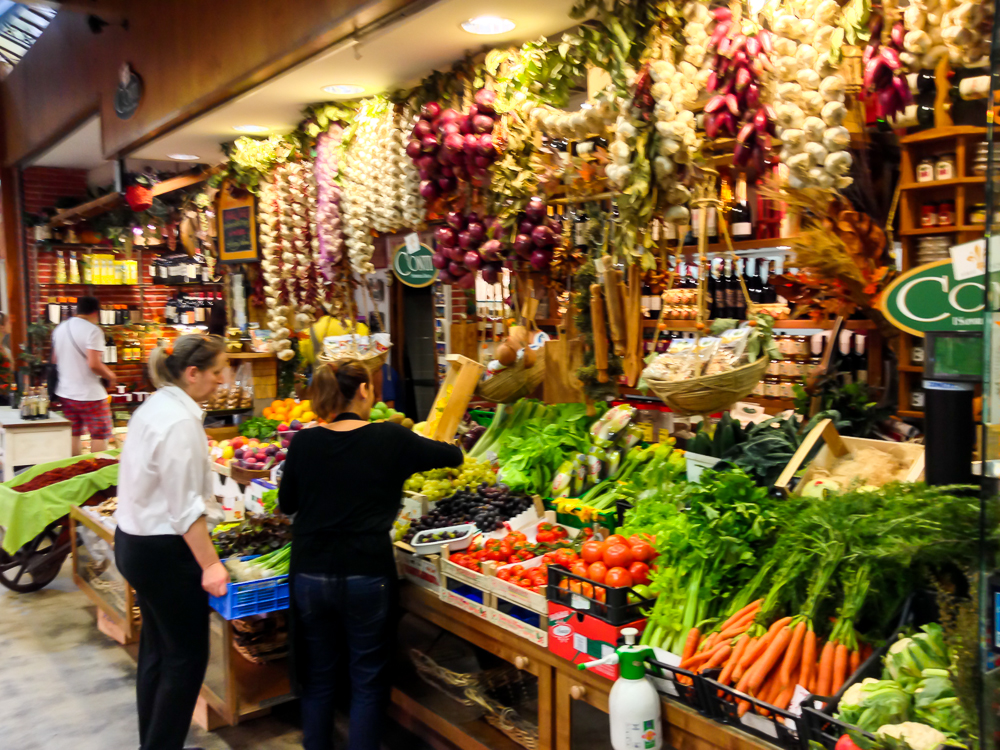 I used to go to Mercato Centrale every day (it was pretty much across the street from me!).  I would sometimes pick up a fresh vegetable or maybe two (I was poor), but I could never resist buying a bag of dried cherry tomatoes.  We walked through the market until I found my favorite stand.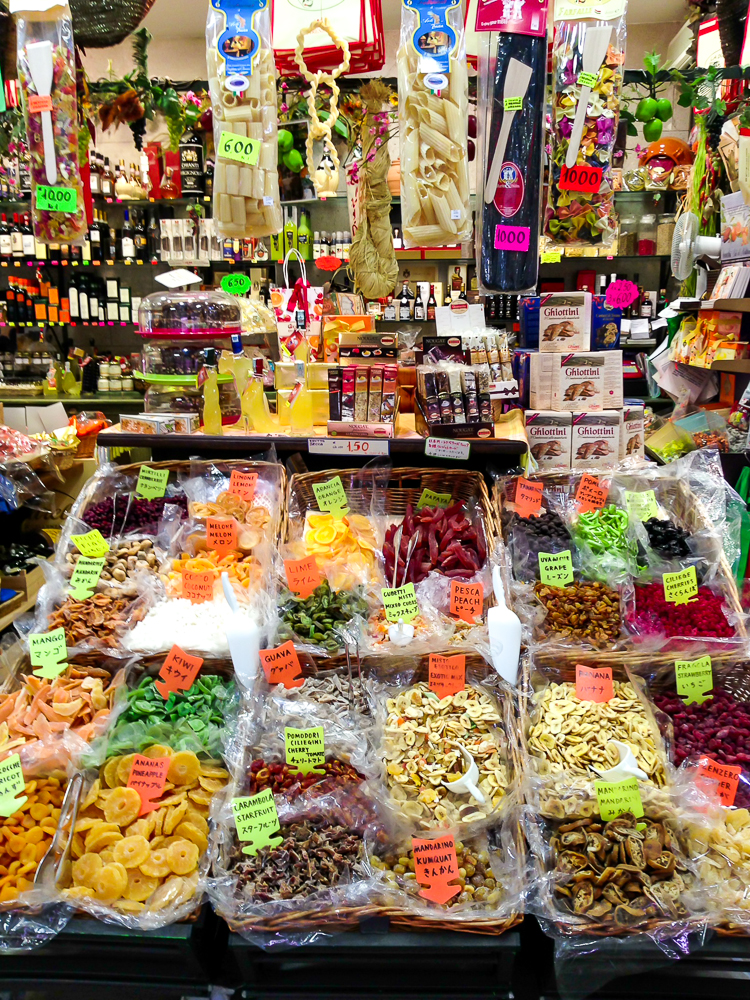 And I bought the aforementioned dried cherry tomatoes.  And I savored every last one (I did share some with Chris).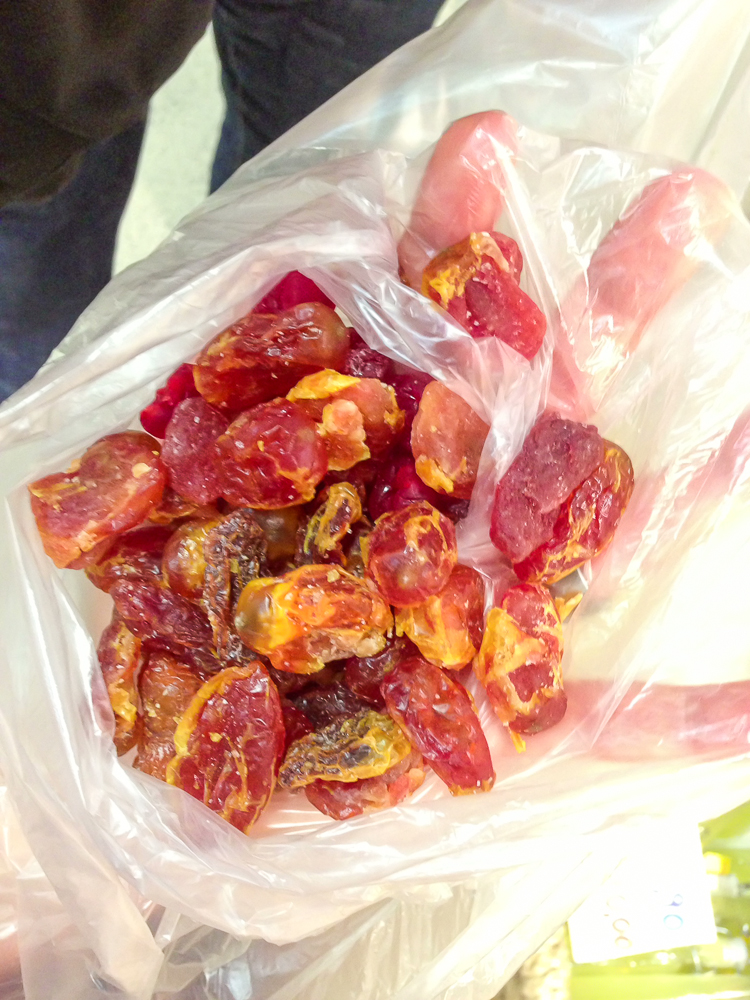 The fresh produce used to be on the second story but they moved it down to the first story.  Apparently, they are building an Eataly on the second story.  We perused the fresh produce for a bit.  If we were staying in a place with a kitchen, some of these squash blossoms would've been coming home with me!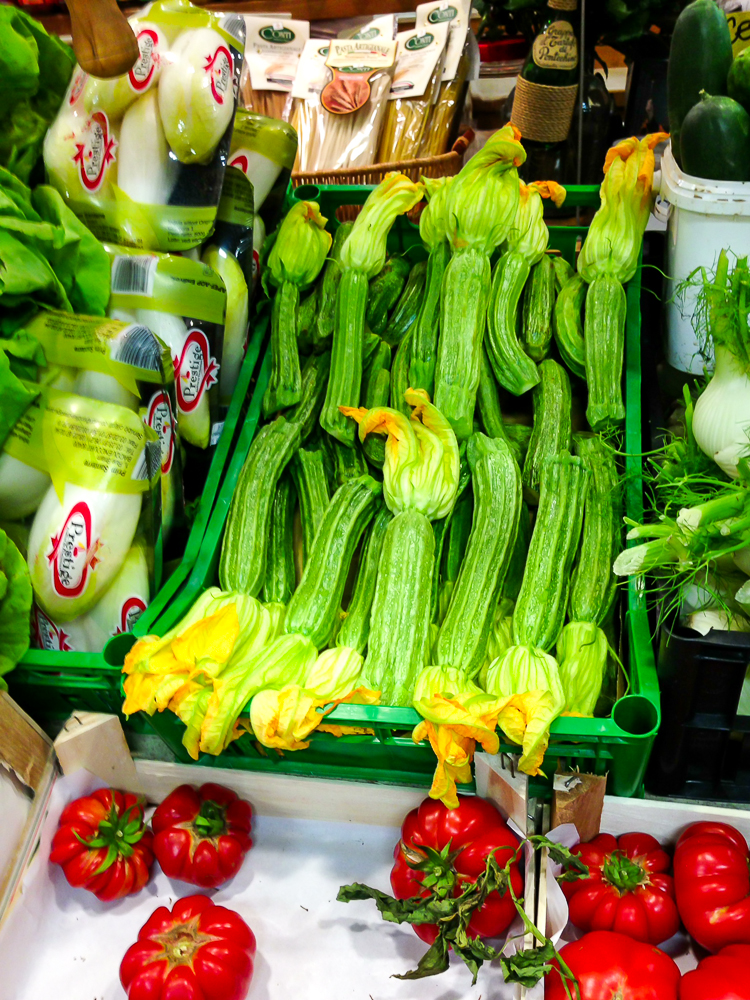 After the market, we walked around my old 'hood.  I showed Chris the supermarket I used to go to, and my favorite Forno shop (fresh  baked bread shop).  We walked the old streets and just took in how amazing this city is.  Eventually, we got a little hungry/thirsty, so when we came across a bar/cafe serving up fresh smoothies, we knew we had to get some.
Via dell'Oriuolo, 5 rosso, 50122 Florence • Ph. +39 055 240027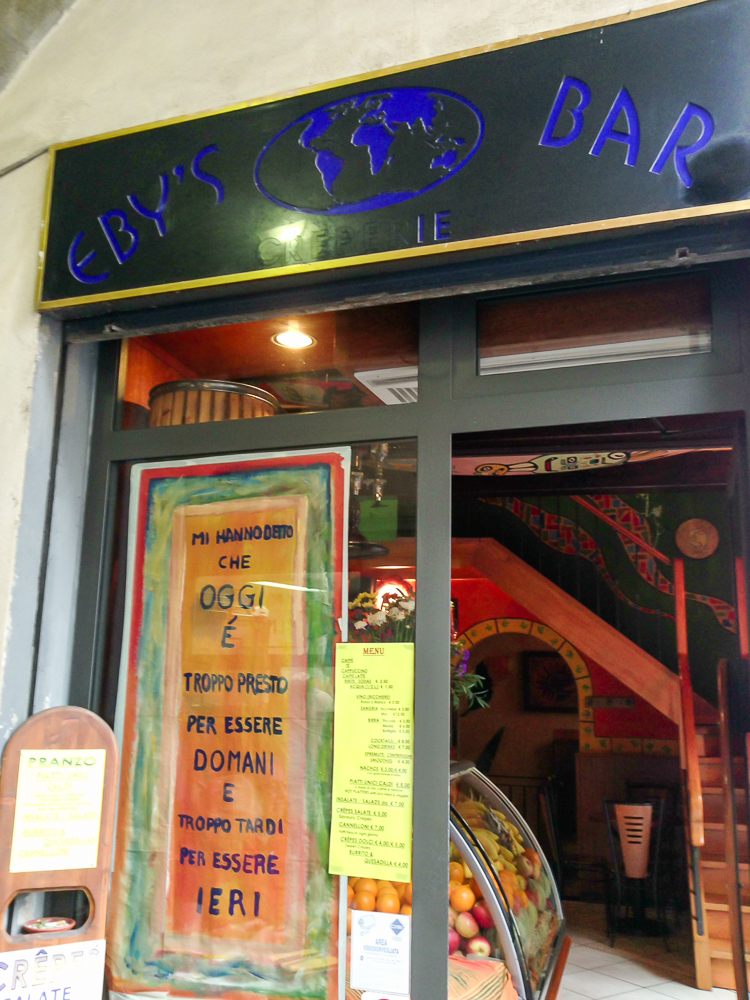 Ebby's is a nice, simple, little Latin bar, but in the front, near the entrance, they have a case full of different types of fruit.  You just choose your fruits and they make a smoothie.  Chris and I both ended up choosing the same thing: kiwi, mango, and peach with orange juice.  They even topped them with chia seeds.  So nice.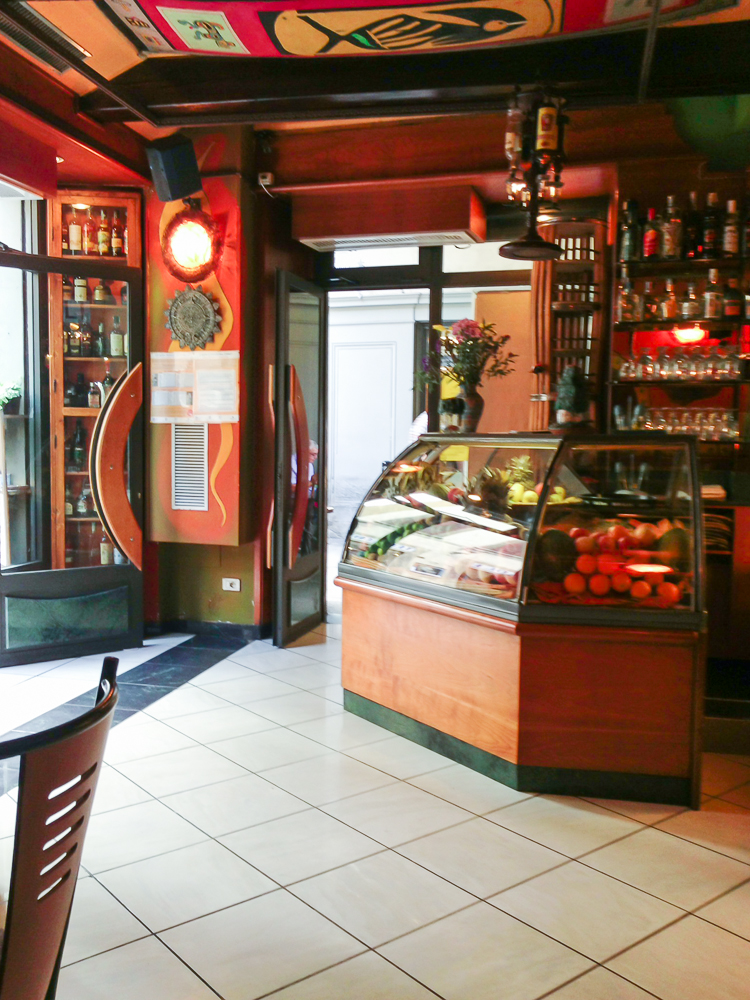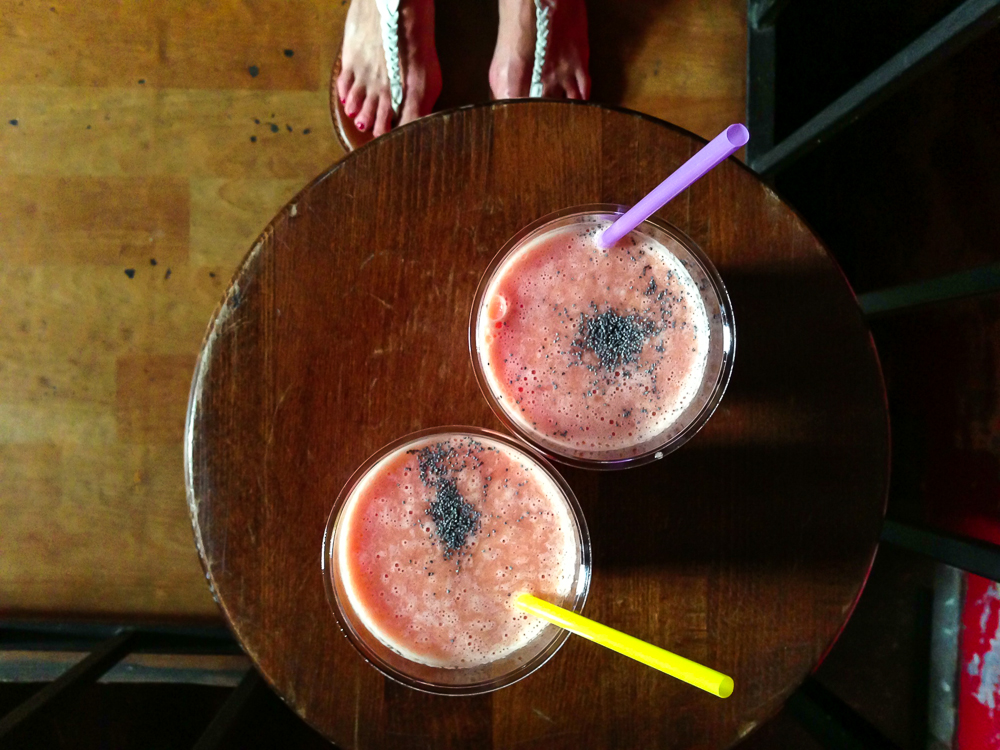 The smoothies were perfectly refreshing and just what we needed to tide us over until lunch.  Eby's serves food as well, though I didn't look at the menu and I do not know if there are vegan options. We decided to try out one of the other restaurants on my list so we walked back towards the river for our destination.
Via dei Vagellai 18r, 50122 Florence • Ph. +39 055 0944877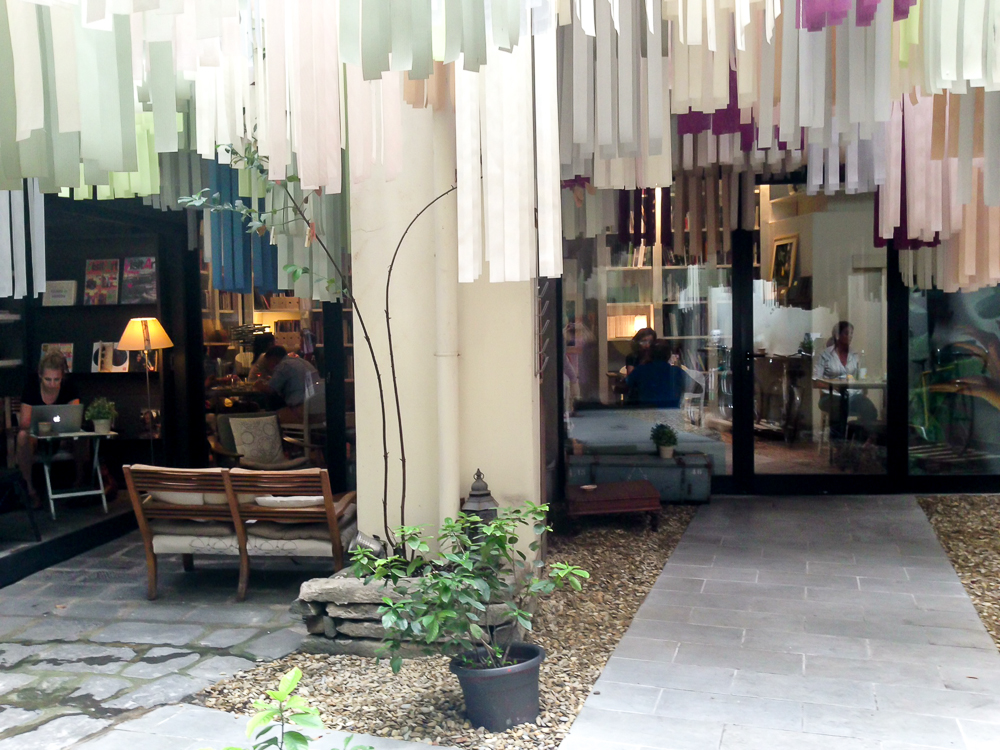 Brac is actually super close to Gelataria dei Neri, just one or two streets closer to the bridge. When you walk in, there is a bar and a tiny seating area.  If you wish to eat there (rather than just sit at the bar), you will be escorted through a beautiful courtyard into their library/dining area.  The walls are lined, floor to ceiling with bookshelves and you are welcome to read them while you eat.  It's a super peaceful atmosphere.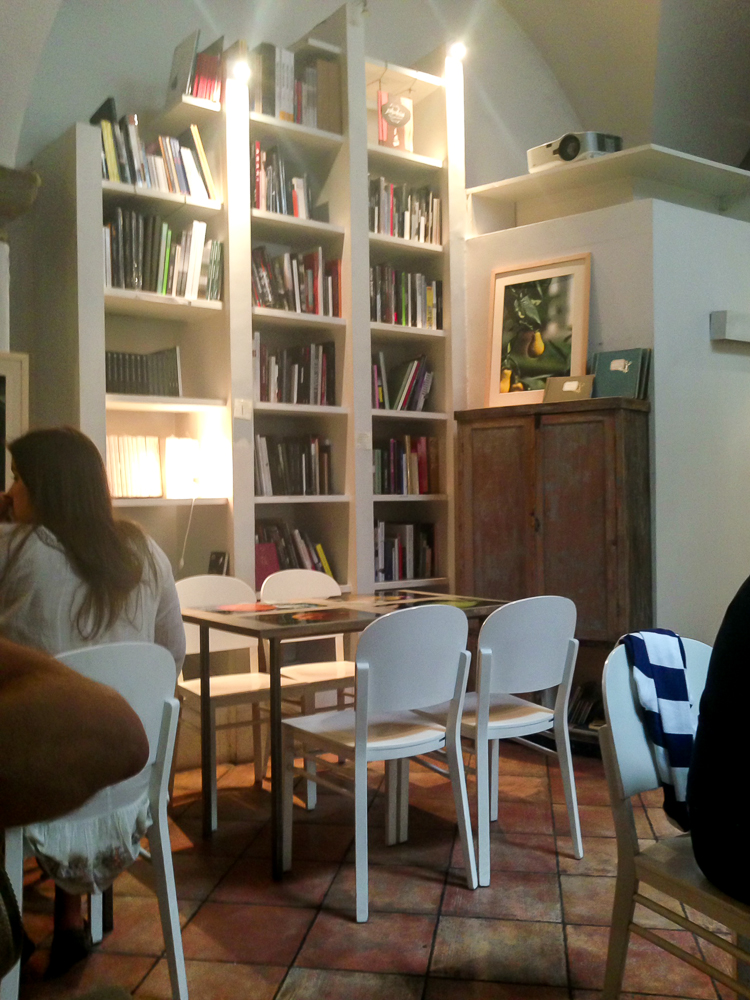 Brac is a vegetarian restaurant that has several vegan options (you just have to ask the server).  Knowing that we were meeting my old roommate for dinner that night, we wanted to eat something a little lighter.  After talking to our server, we each ordered the vegan version of Fagottini di Pane Carasau.  The best way I can describe this dish is as a calzone made out of a type of tortilla.  The fillings, seitan and assorted vegetables, were wrapped up in a tortilla-type bread and baked.  Chris loved it.  I thought it could've had a little more flavor, but it was okay.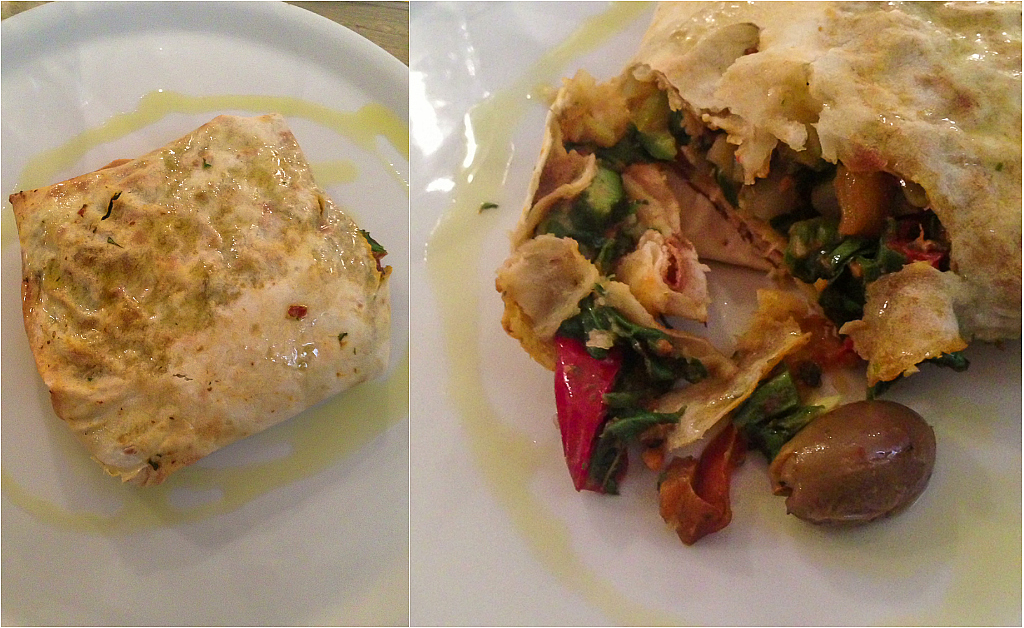 I would suggest visiting in the evening because many of the items on the menu were not available at lunch time.  We'd hoped to go back but we never had time.
After lunch, we met up with a dear friend of mine, Veronica.  Veronica is Bulgarian but has lived in Florence for many years.  She was a friend of my former roommate's but being two wild and single gals back in the day, we got on quite well. She was not going to be able to meet up with us for dinner that night.  Instead, we spent more time walking around the city, getting caught up with each other.  She also showed us hidden little things around Florence and told us the back stories behind other places.  There's too much for me to tell you but I can tell you this- find the main post office and go inside (it's stunning!).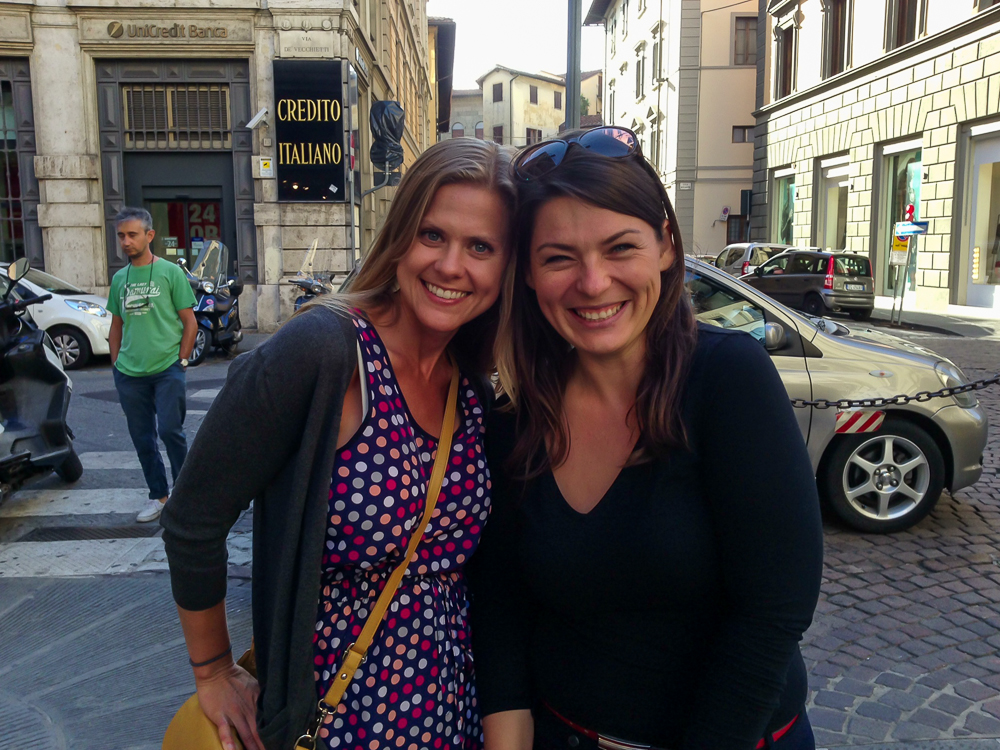 After awhile, Veronica had to leave and tend to some business at her work.  After we split up, Chris and I continued to explore the city...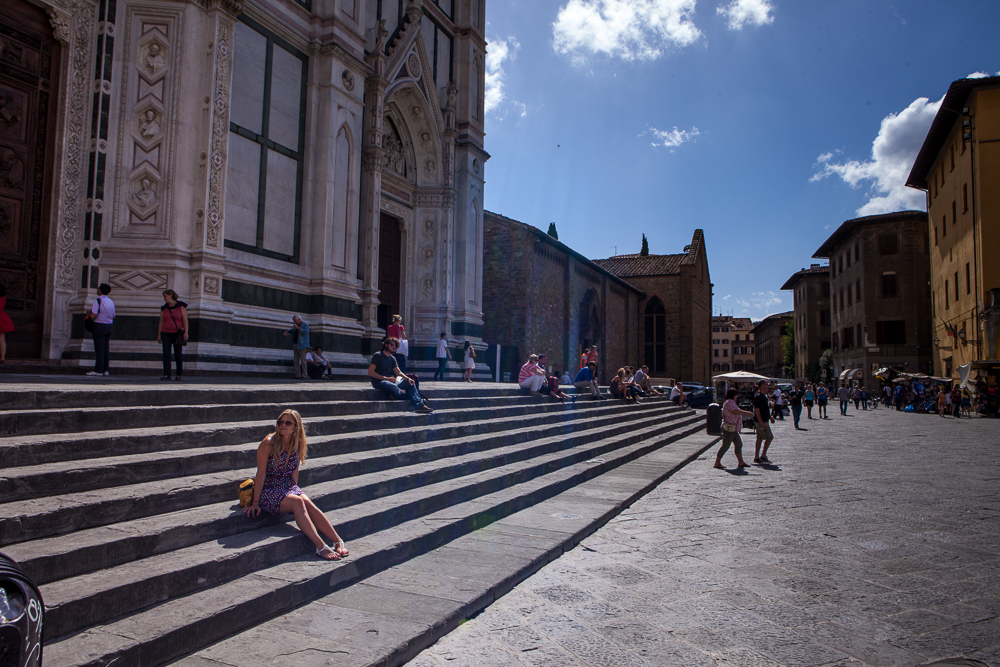 Come back next week for Part 2 of Vegan Travel: Florence. If you just tuned in, be sure to check out our vegan travels in Capri (Part 1 and 2), Positano, and Rome (Part 1 and 2) and don't miss my Top 10 Tips for Traveling Vegan in Italy!