This is part 2 of my Vegan Travel: Florence series. If you're just tuning in, be sure to check out part 1.
So Chris and I spent some more time wandering around town.  It was mostly me showing Chris everywhere I would go when I lived there. "I would walk down this street to go to this bookstore that had English books, " and "This is where I met my tutor to learn Italian," and "One time, Danielle and I were at this bar and…".  You get the idea. After awhile, we needed to take a gelato break.
Via dei Tavolini, 19R, 50122 Florence • Ph. +39 055 239 8969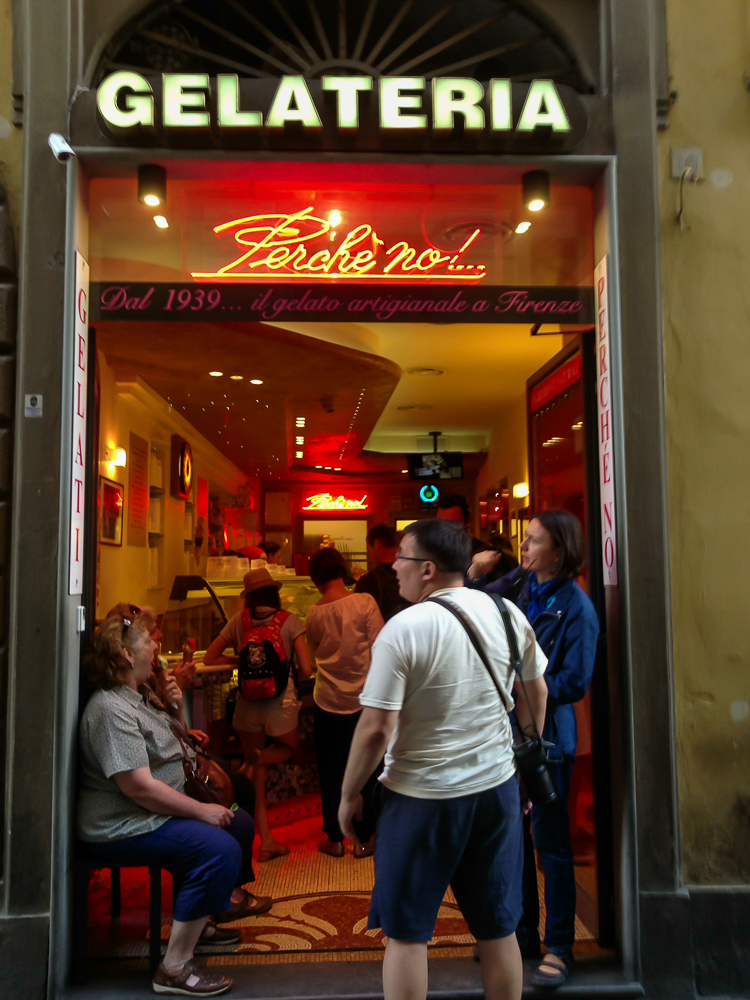 Sure, we could've gone back to my favorite gelateria, but since this one was near where we were and it was on my list of places with vegan options, we had to investigate. Sure enough, they had vegan flavors!  They had soy vanilla and hazelnut.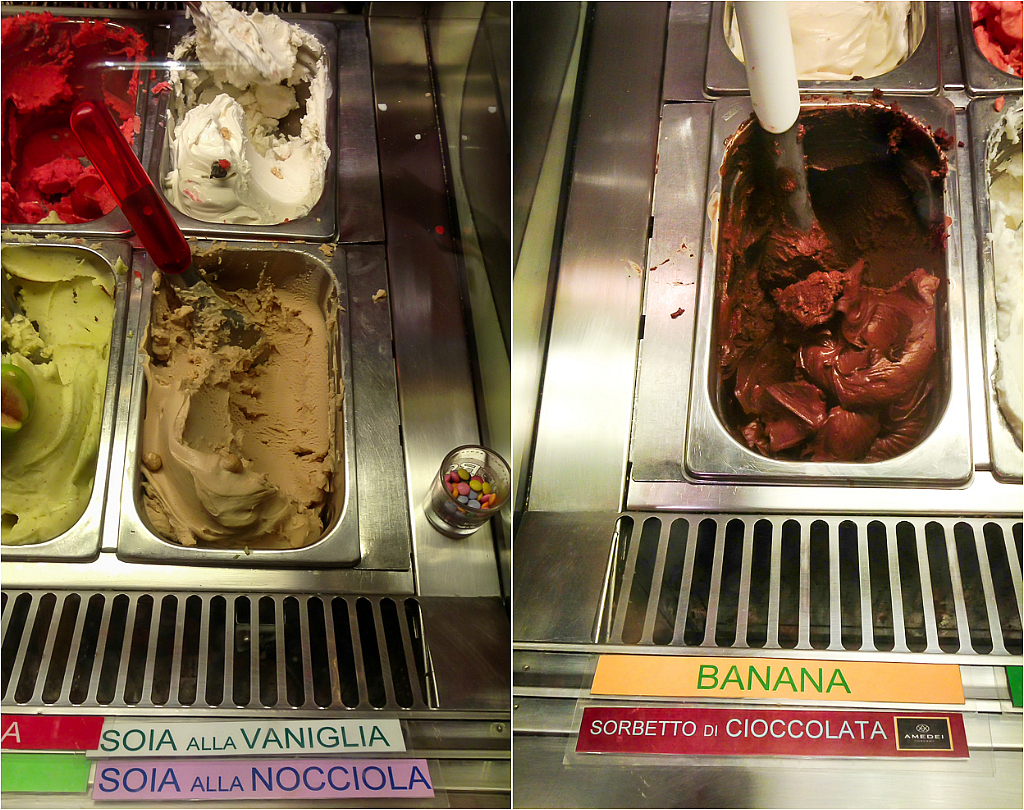 But they also had a chocolate sorbet. I needed no more convincing. Chris got straight chocolate sorbet and I got the sorbet and the soy hazelnut.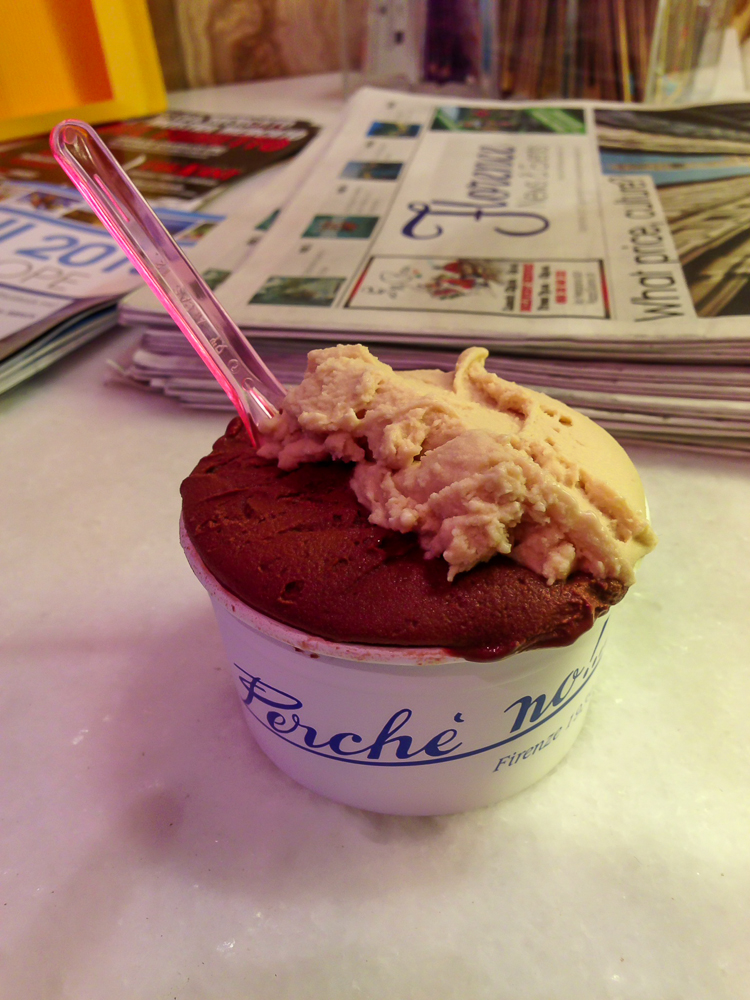 So dang great.
After gelato, we headed back to the hotel to power nap and then get ready for dinner with my old roommate, Danielle.  We decided that since it was nice out, we would walk all the way there, even though it looked pretty far on the map. We were surprised to find that it only took us about twenty minutes. That's the beauty of Florence- you can really walk everywhere all the time (unless it's pouring down rain).
Via San Gallo, 92, Florence • Ph. +39 055 019 5437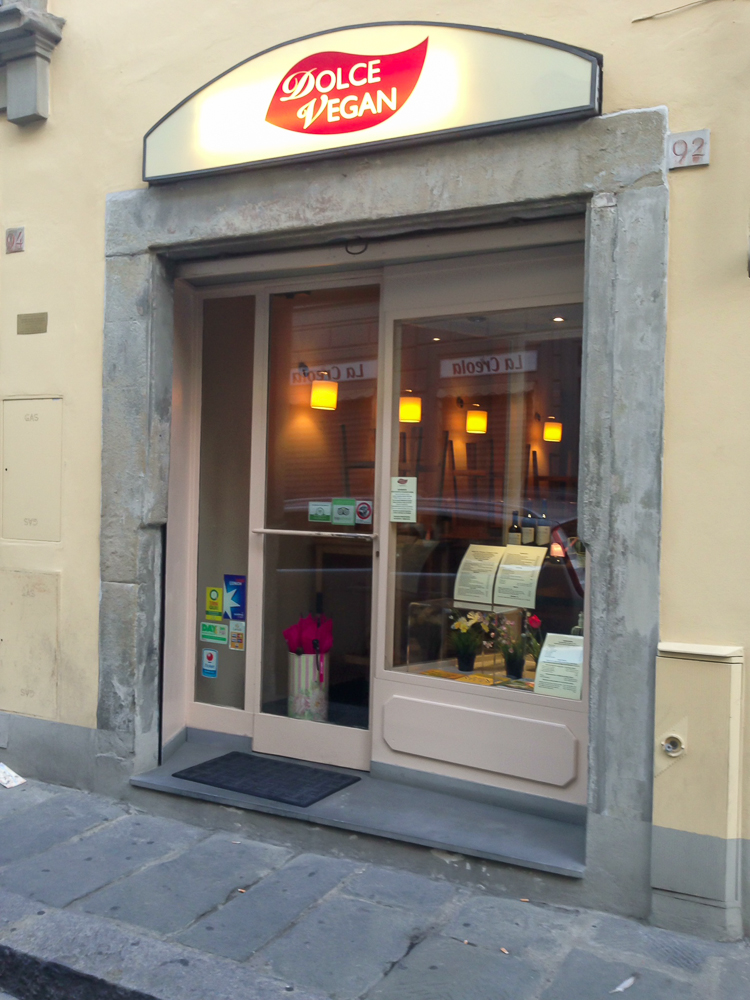 I was so excited that Danielle wanted to meet up at Dolce Vegan. It was on my list of places to try and I'd read great reviews. Dolce Vegan is a little restaurant that prepares traditional Italian food, as well as some other non-Italian items, and as the name suggests- it is all vegan. They also have a little shop attached with plenty of vegan literature, vegan products, and even vegan shoes! I loved the place even before I ate anything.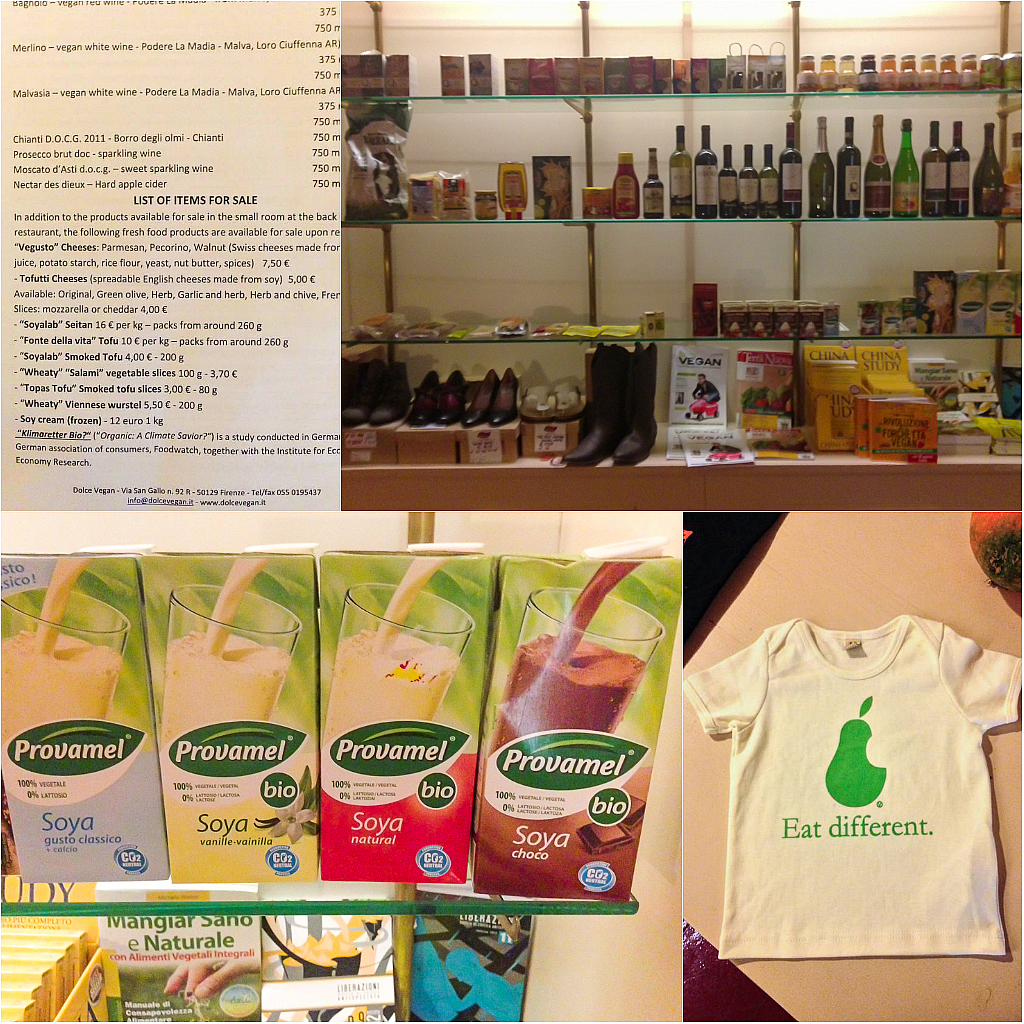 It was so good to see Danielle again- she was a part of my life when it was changing drastically, when I was changing drastically. As soon as she walked in, it was like seeing family I hadn't seen in ages. And she brought her little pup (which she got about a month after I moved away), Rosalita! What a sweet little soul! I had her face looking up at me the entire time we were there.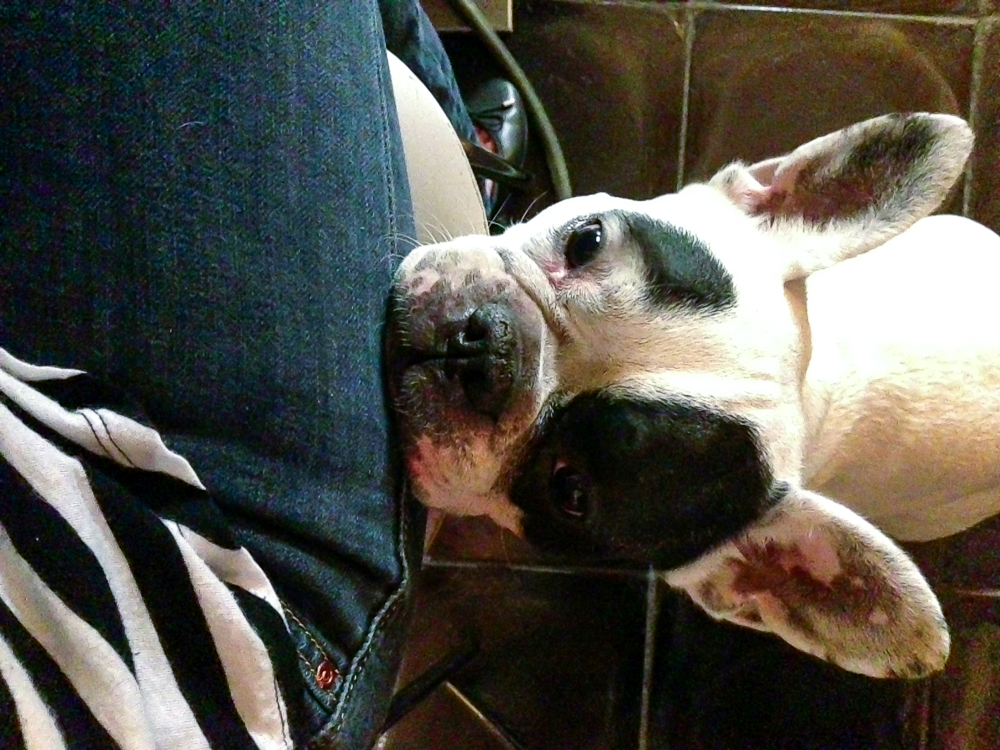 We spent a good two hours there, just talking and catching up. All of the food was exceptional. Every last thing. I didn't get pictures of Danielle's food because, honestly, I just felt like snapping pics of ours and getting back to talking.  She said she really liked all of her food too. Chris ordered the seitan scallopini.  As he always is with anything seitan-related, he was a happy camper.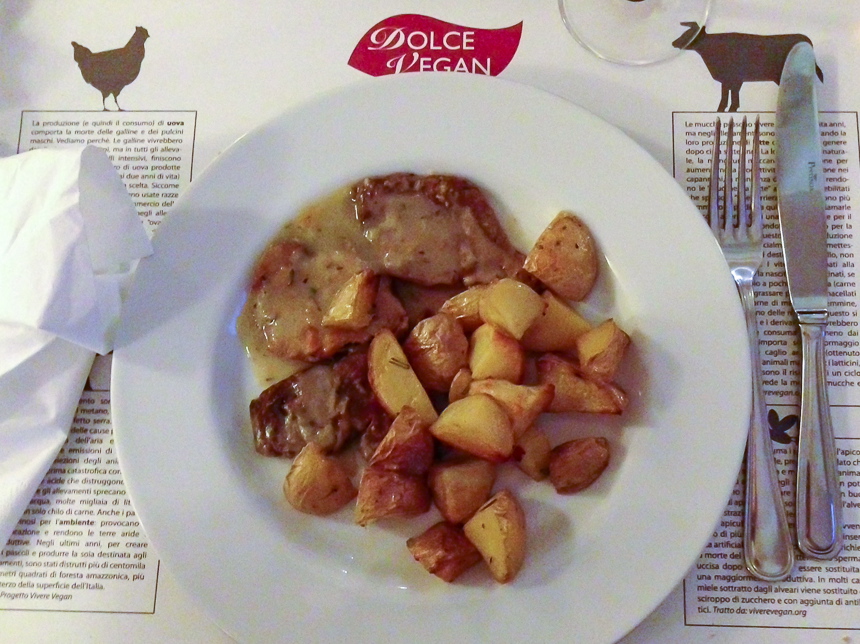 I ordered the vegan lasagna because I figured this would likely be the only time on this trip I would be able to have vegan lasagna. It was the best traditional lasagna I've ever had. They use Vegusto cheese in their dishes and let me tell you- this stuff is amazing. I just pray that someday we'll have it in the states!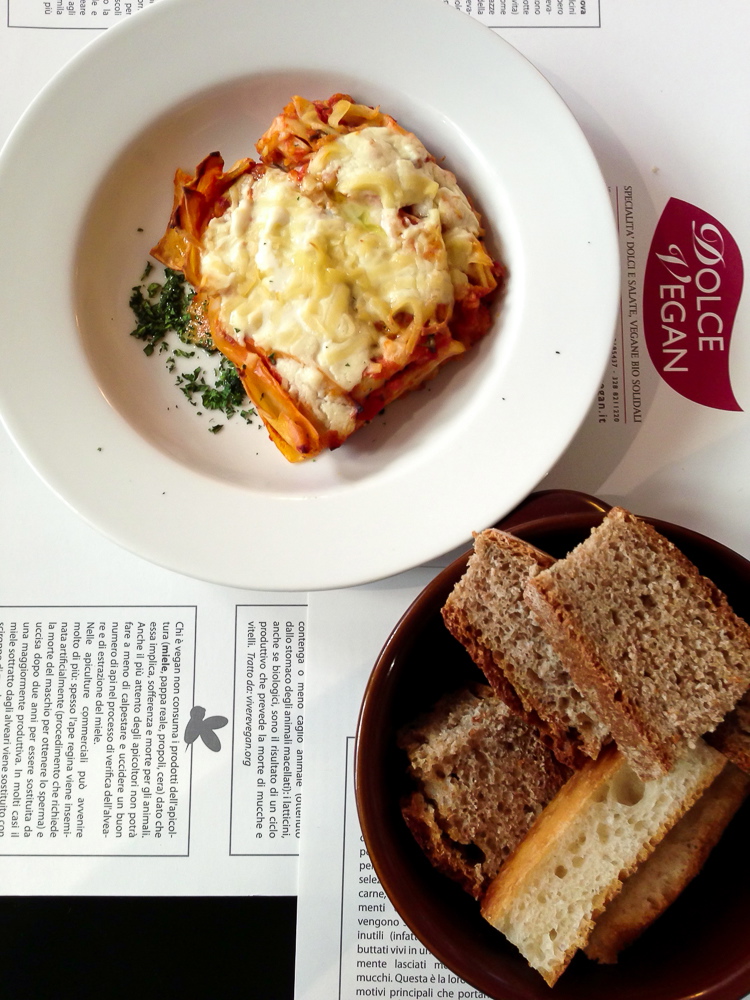 For dessert, Chris ordered the cheesecake. It was pretty good but not as good as my tiramisu. I don't even usually care for tiramisu. It's not my thing. But this tiramisu was out of this world. I can't even put into words how good this dessert was. You just have to try it for yourself.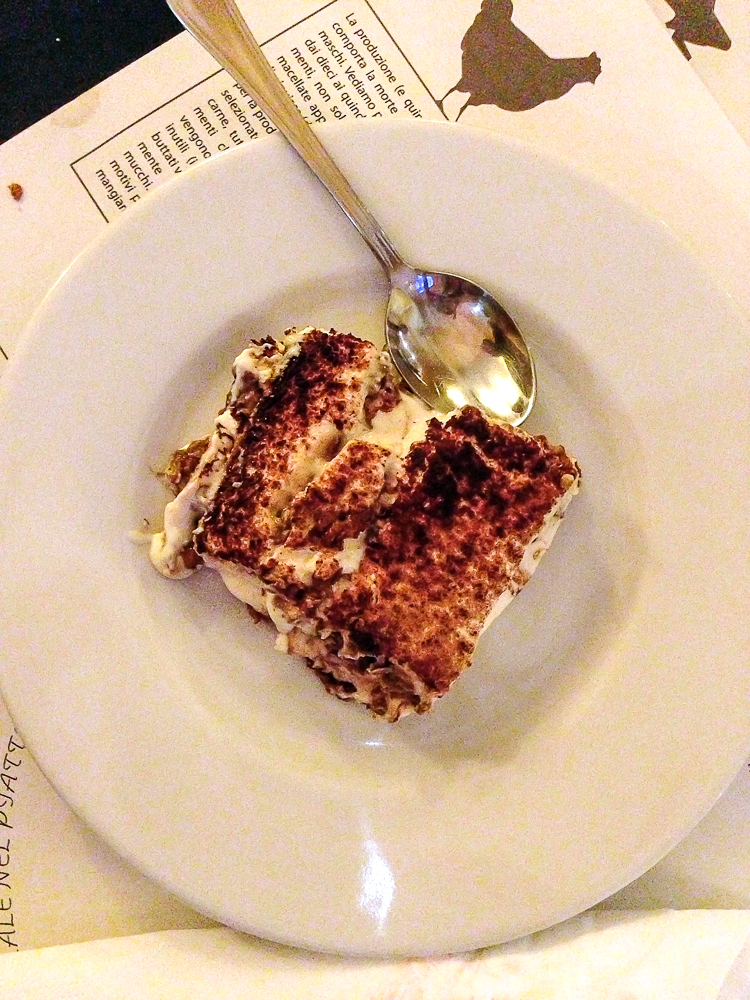 It was so good that we came back here on our last day in Florence for lunch.  Chris ordered the lasagna and I got the incredible pesto gnocchi.  Everything here is amazing. Dolce Vegan is a must for traveling vegan in Florence.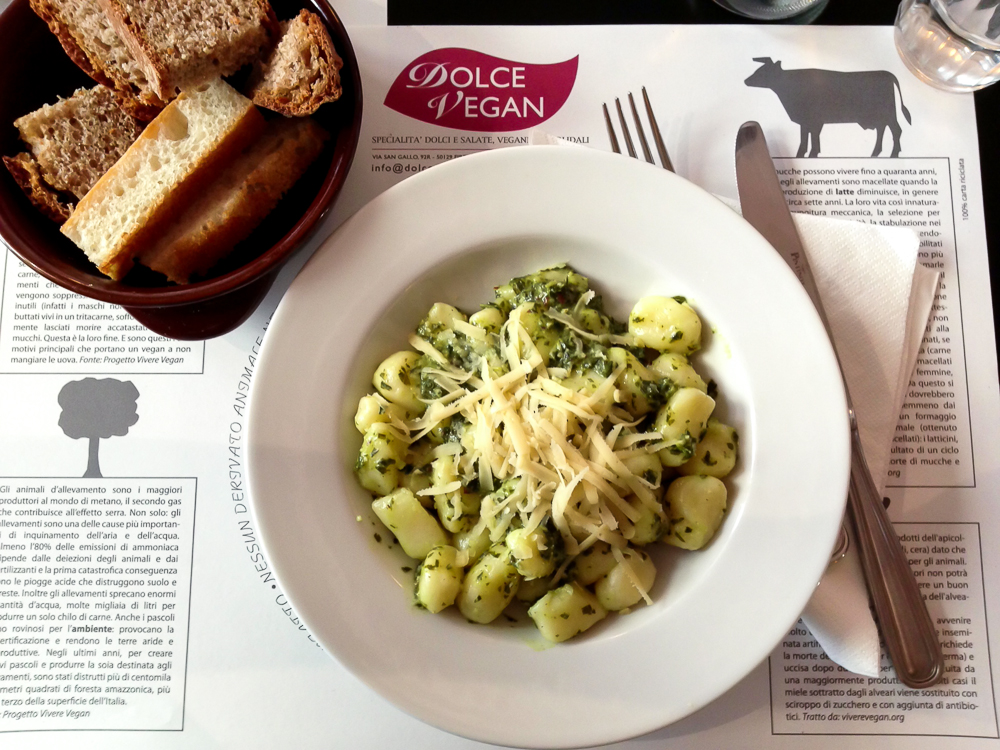 After dinner, we said our goodbyes but promised to meet up the next night at the Vogue Fashion Walk in Florence. I'm not a big fashionista or anything but I do love free stuff and Danielle said they would be giving away free prosecco (tip: most proseccos and other sparkling wines are vegan because they are generally, but not always, fermented in the bottle rather than going through the refining process that makes most wines not vegan. I still recommend cross-checking with Barnivore.com.) in all of the shops so we decided to join her.
After dinner, Chris and I made our way back to our hotel and crashed. The next morning, we got up and went for a run along the Arno river- one of my most favorite running paths in the world.  It was such a gift to be able to run it with my best friend. After breakfast at the hotel, we headed over the bridge to visit one of my most favorite areas in Florence: the Oltrarno quarter. On the way there, we stopped by a natural foods shop that I used to frequent when I lived there.
SUGAR BLUES
 Via dei Serragli, 57, 50124 Florence • Ph. +39 055 268378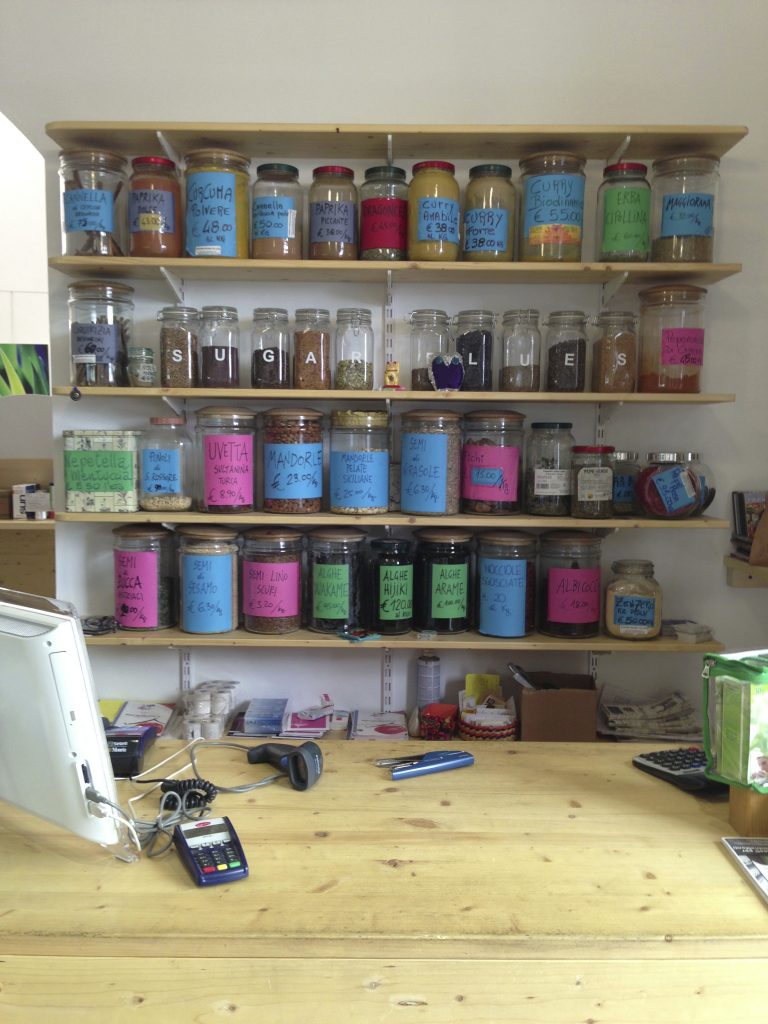 I came here a few times back in the day to buy some seitan (back before I was vegan and didn't know I could make my own).  The shop is not entirely vegan but they have many vegan options, as well as gluten-free options, and other allergy-free options.  Sugar Blues focus is on healthy, all-natural alternatives. Can we just take a moment to note that they carry FARRO MILK!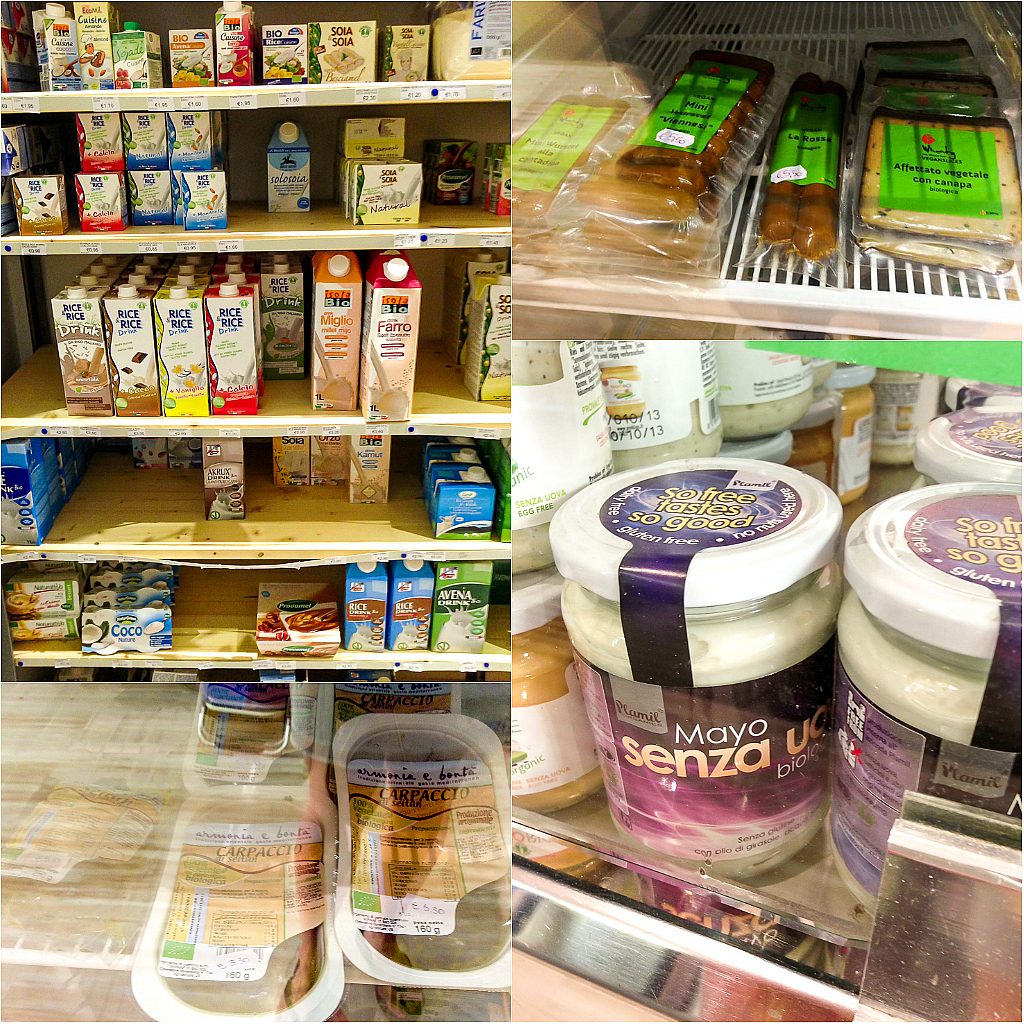 After Sugar Blues, we headed to my favorite square, Oltrarno square which sits in front of one of my most favorite cathedrals, Santo Spirito. On Thursdays, there is a market in the square selling fresh produce, hand-made items and second-hand goods.  I used to come here every Thursday (and during the winter, the had a guy selling fresh chestnuts roasted over an open fire. I always walked away with a bag and burnt my mouth on the first one. Every time.). It was not by coincidence that the day Chris and I visited was a Thursday.
The market was still there but seemed to be less produce and more second-hand goods. There was a lot of construction going on in the main street too so perhaps that drove a few of the booths away. We spent some time perusing the booths and then went in to Santo Spirito. I love this cathedral because it is so plain and nondescript on the outside (and in the early evenings, you can often find American students sitting on the steps drinking beer. Fact.) but the inside is very beautiful and ornate. If you get a moment, take a peek inside.
After Santo Spirito, Chris and I wandered over to Palazzo Pitti.  Palazzo Pitti (Pitti Palace) is a huge museum with many different rooms and sections. I've never been in the museum, but the gardens there are breathtaking (and for a symmetrical freak like me, it is heaven).
Piazza Pitti, 1, 50125 Florence • Ph. +39 055 229 8732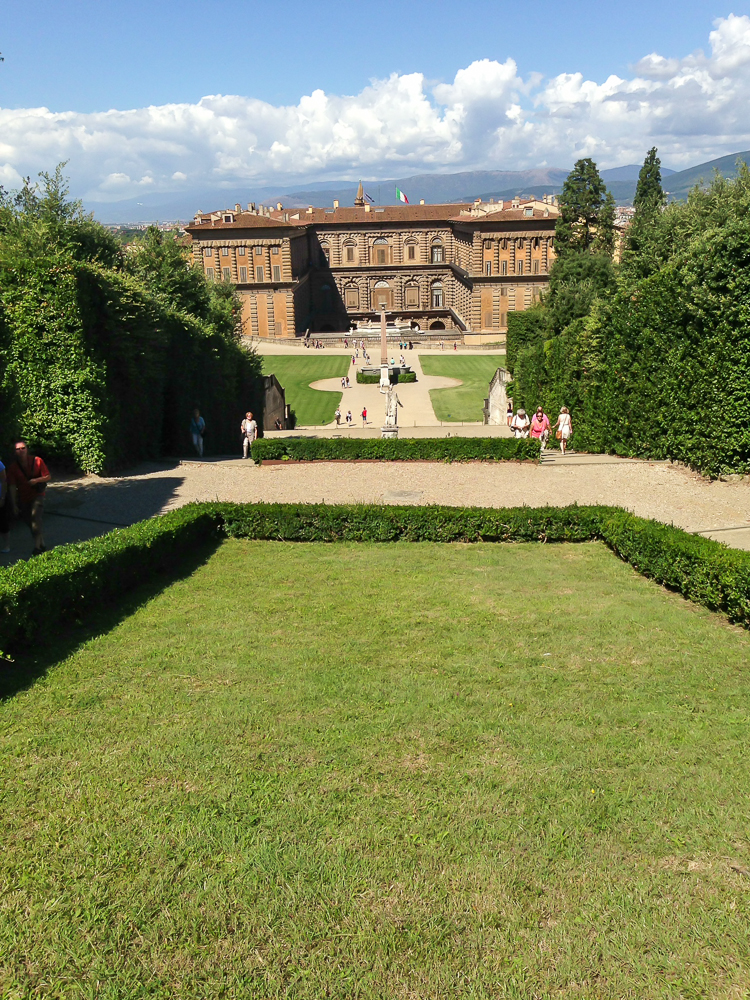 The gardens here are incredible.  You absolutely must set aside a few hours to go in and get lost.  Pictures will do more justice than my words ever will.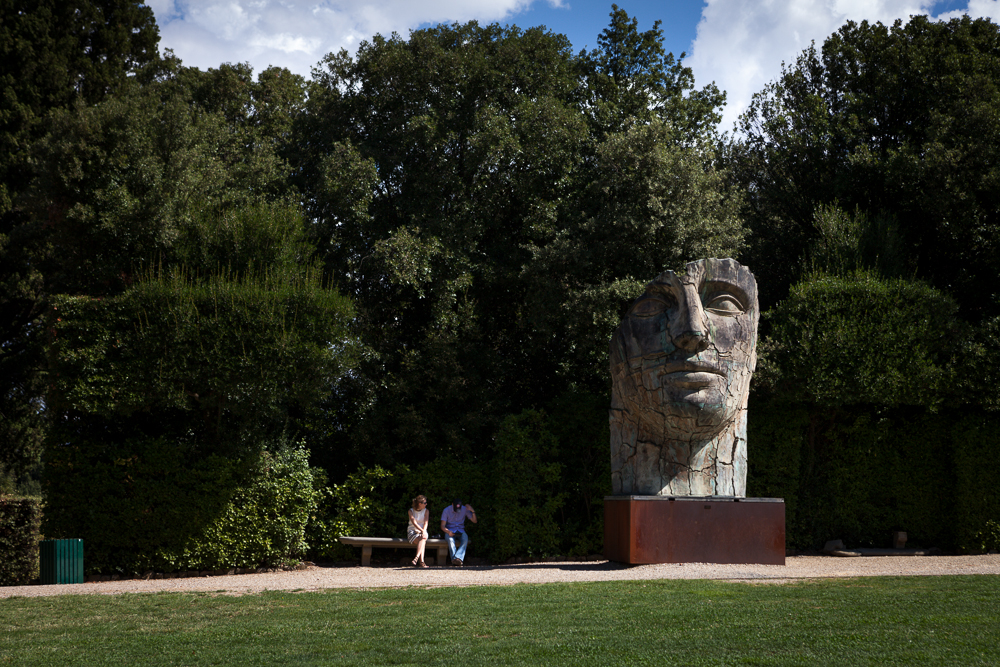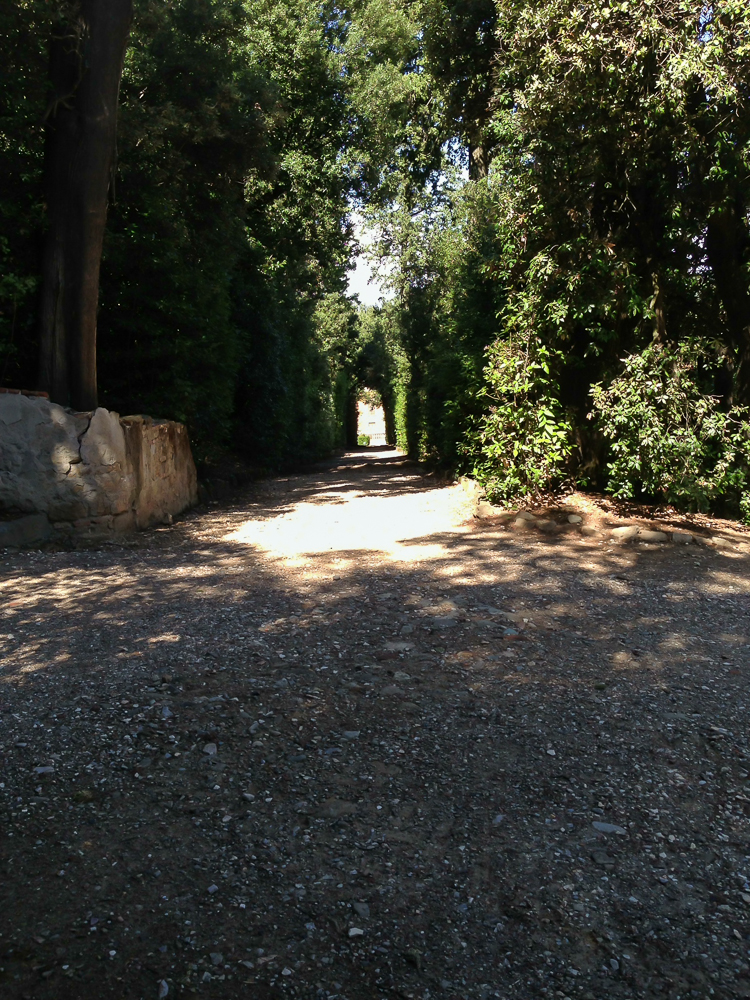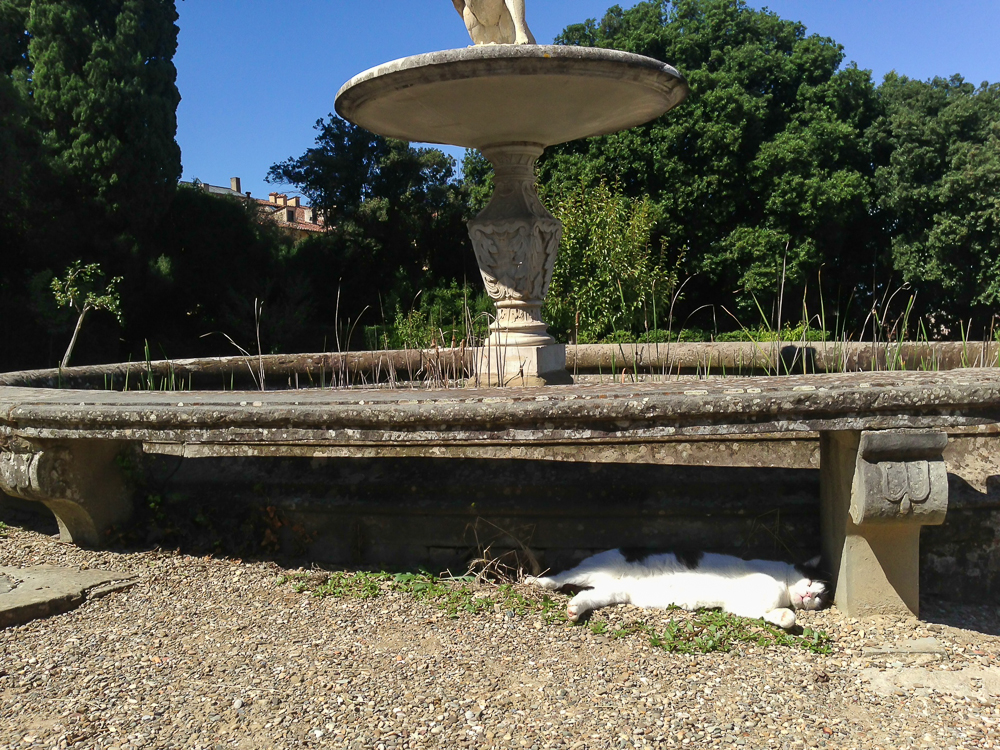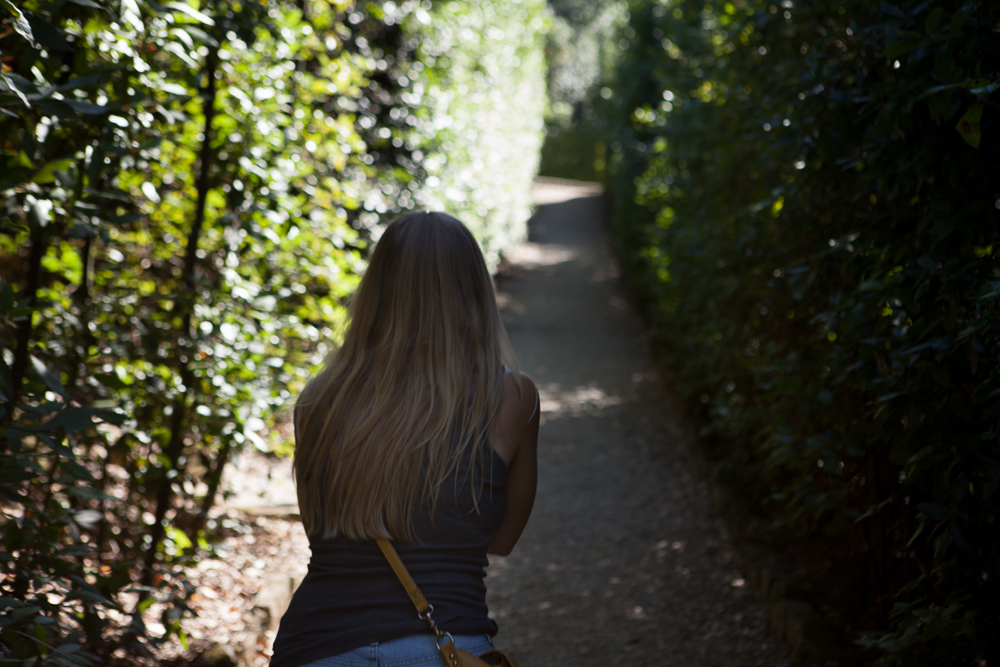 After a couple hours exploring the gardens, Chris and I decided to get lunch. We were pretty hungry and wanted a nice filling meal from Il Vegetariano so though it wasn't that close, we made the walk. On the way there, we did share a little bit of gelato at my friend Veronica's favorite place ("Because the chocolate, Kristy. The chocolate…") (and yes, gelato before lunch. Just because).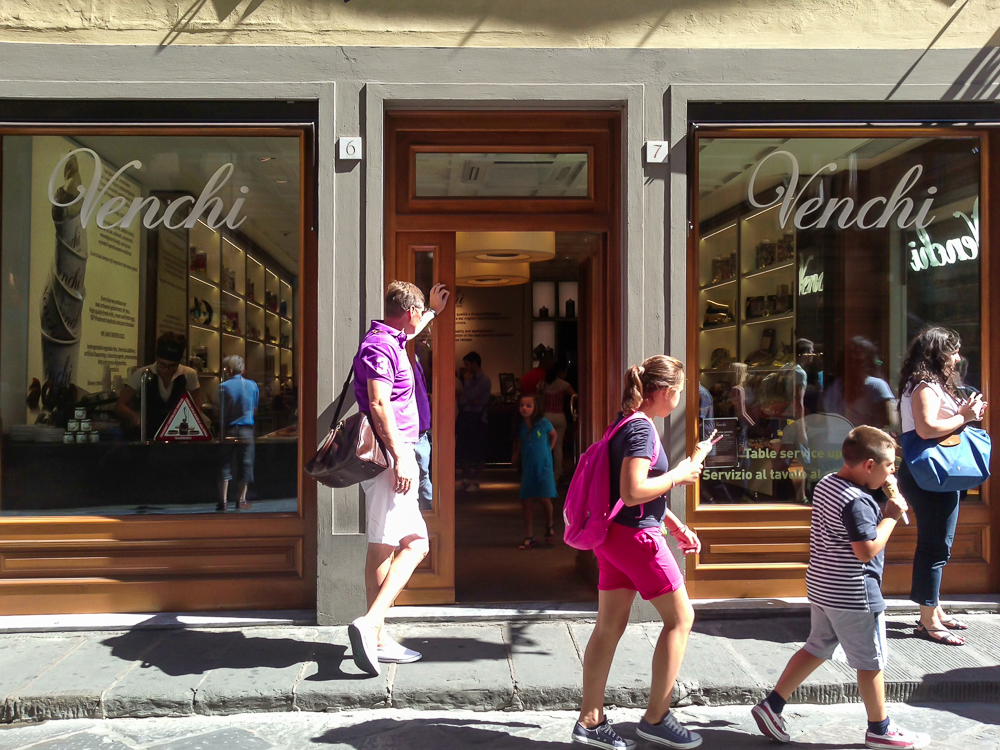 Vicolo Calimaruzza, 18 e P.zza del Mercato Nuovo 6/7 - 50123 Firenze • Ph. +39 055 288505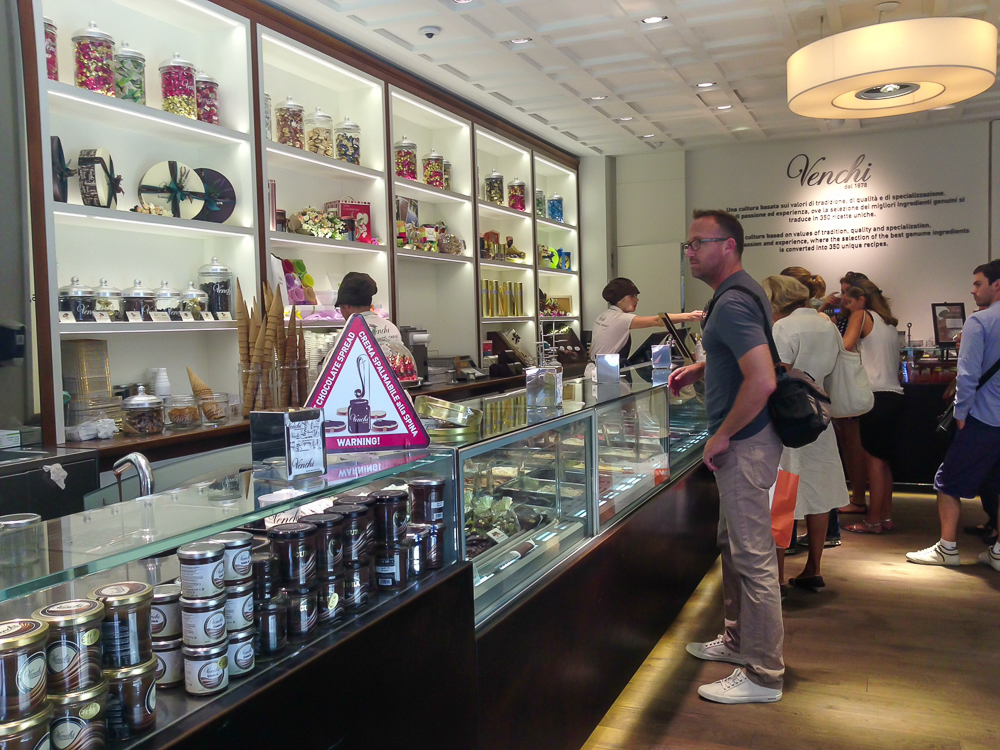 I don't know how I had ever missed this place while I lived there but it's probably a good thing I did because it is a little on the pricier side. We didn't think they would have vegan options but when we saw it and remembered Veronica mentioning it the day before, we had to stop in. Sure enough, they also had vegan options! They had a couple sorbets but what we got was the their Aztec Chocolate (or chocolate sorbet).  It was definitely the best chocolate sorbet either of us had ever had. Insane.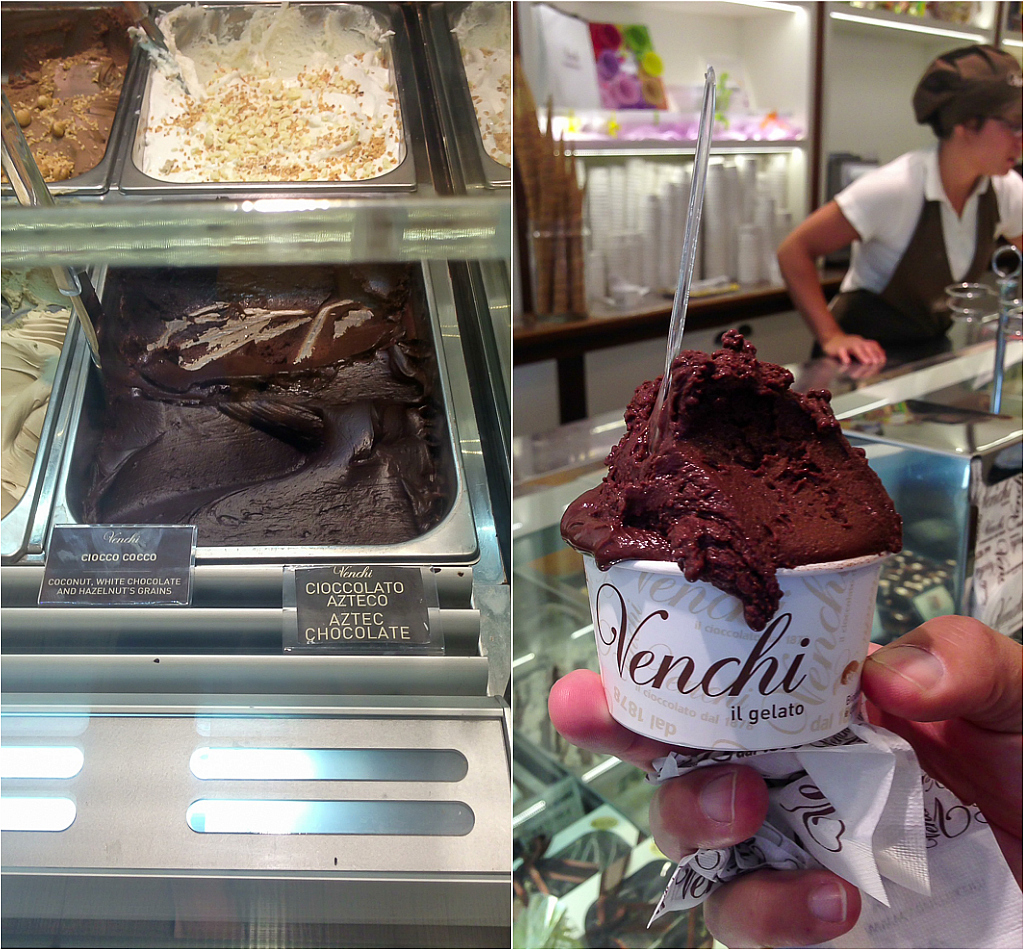 After lunch at Il Vegetariano, we decided to go visit The David at the Accademia Gallery. I recommend buying tickets in advance. We did not, though the first time I went, I had advance tickets. You basically just skip the line. We ended up waiting in line for about 20 minutes, but we were plenty entertained. There were a couple of ladies from New Jersey in line behind us (I mean, we're talking The Soprano's Jersey) and Chris and I could barely keep ourselves from cracking up from listening to them talk. It was very hot that day and at one point one of the ladies, while fanning herself with a folded up brochure, said in the thickest of Jersey accents "Ooooh, this David had better be somethin'." Chris and I still say this to each other about once a week.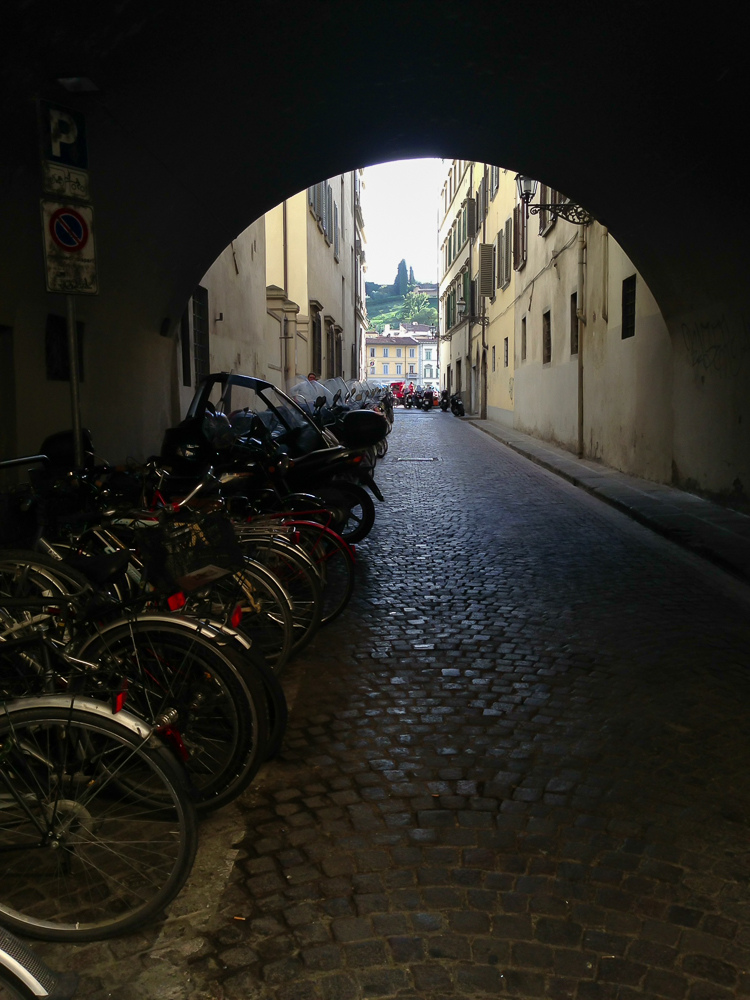 After the Accademia, we took a very long walk to the Duomo (we took the scenic route). We walked down the street where I was fired and walked through the most beautiful neighborhood by Piazza d'Azeglio. Chris said if he could live anywhere in Florence, it would be in this neighborhood. We found our way into central Florence again and stopped for a mid-afternoon espresso and a break for our feet.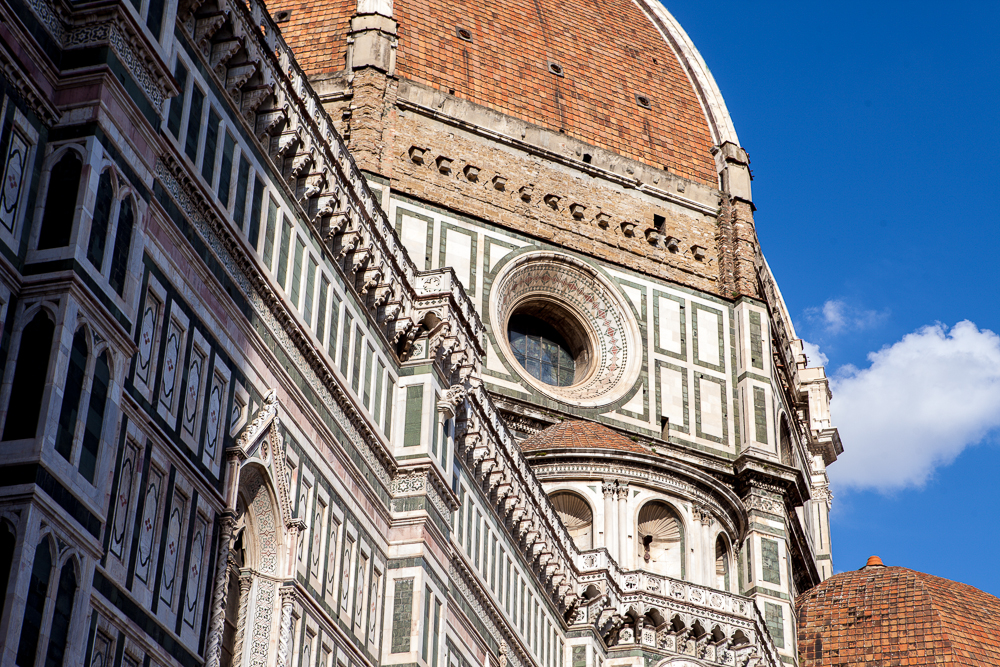 After our little break, we did some more sight-seeing and went inside the Duomo. On my second visit to Florence, I climbed to the very top of the Duomo with my cousins and it was pretty incredible. It's neat to see the inside of the dome from the same level as the dome (as opposed to standing underneath it and staring up), but it does cost a bit more and it takes a good hour or so. The view of Florence from the top is beautiful, but it's a bit like the view from the Empire State Building- it's beautiful but you don't get to see the most popular building in the skyline because you're in it. Chris and I were happy just staring up at it.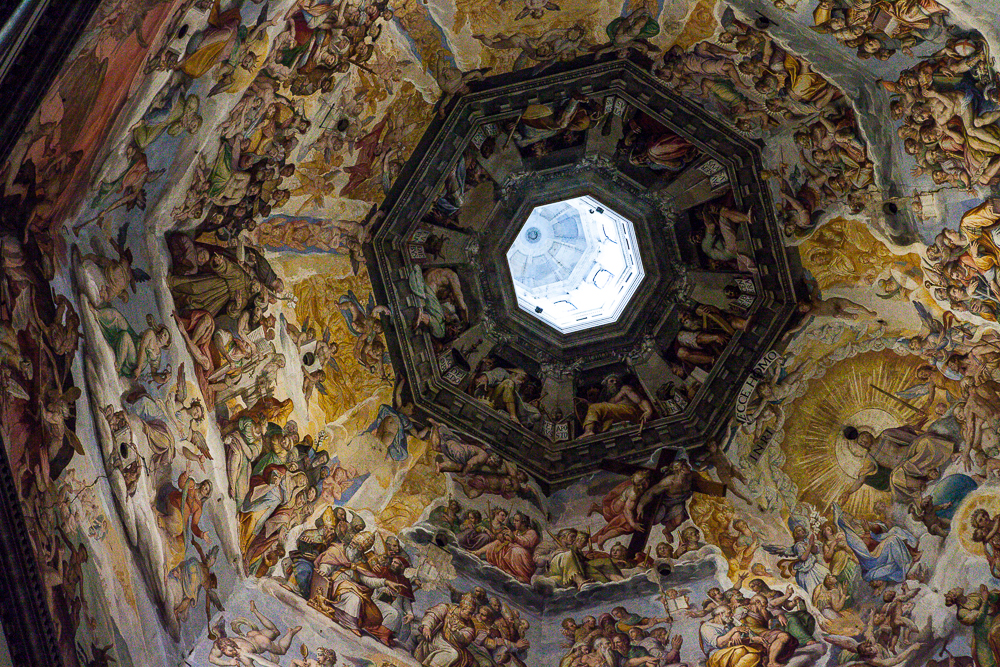 When we were done at the Duomo, we got gelato again at Gelateria Dei Neri then headed back to our hotel to rest up before the Florence Fashion Walk. A couple hours later, we got dolled up and headed out for an evening of fashion, friends, and prosecco.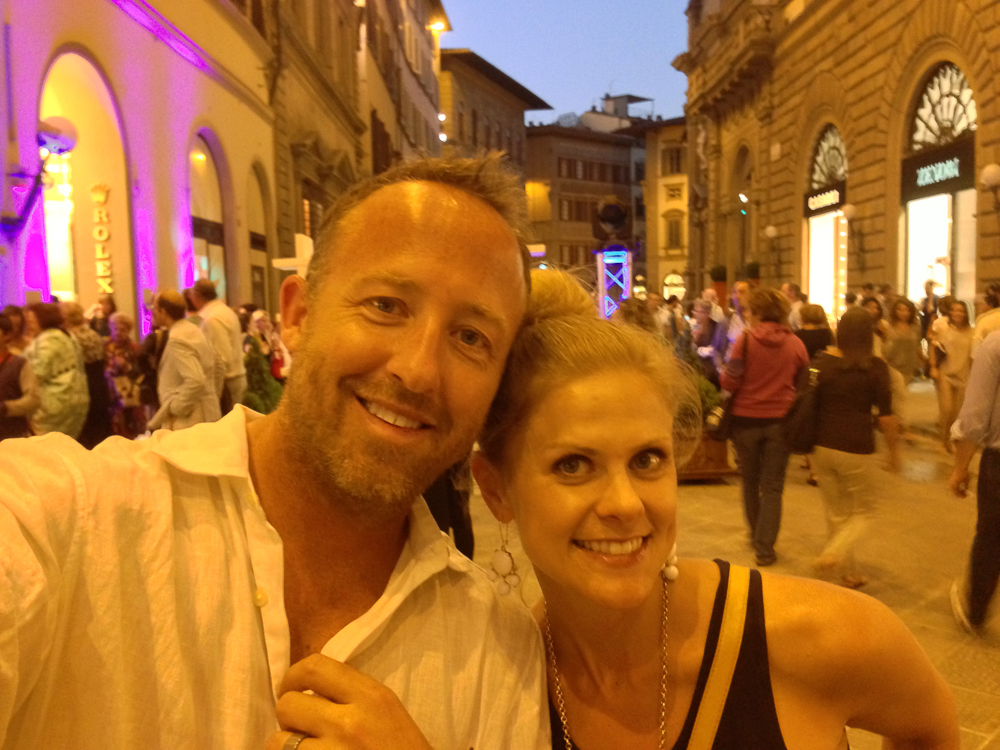 There were many reminders as to why fashion is not always friendly to animals but we still had fun and it was the last time I got to see Danielle on this trip.
LE COLONNINE
Via de Benci 6, 50122 Florence • Ph. +39 055 234 6417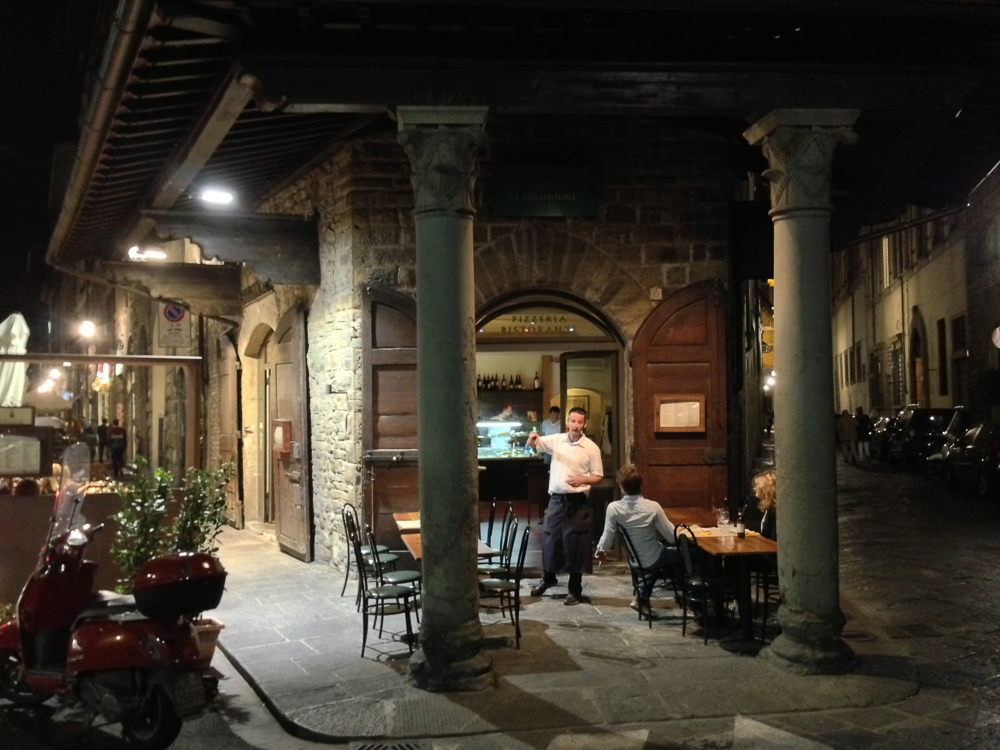 By the time we sat down to eat, we were tired and hungry. Chris took a picture of me while I was eating and I looks downright pissed. I was just tired. The food here was good from what I remember. I don't know that I would go out of my way to eat here, but it was alright. If you're in the area and you're hungry, stop in.  We ordered some polenta with mushrooms and a vegetarian pizza "senza latte."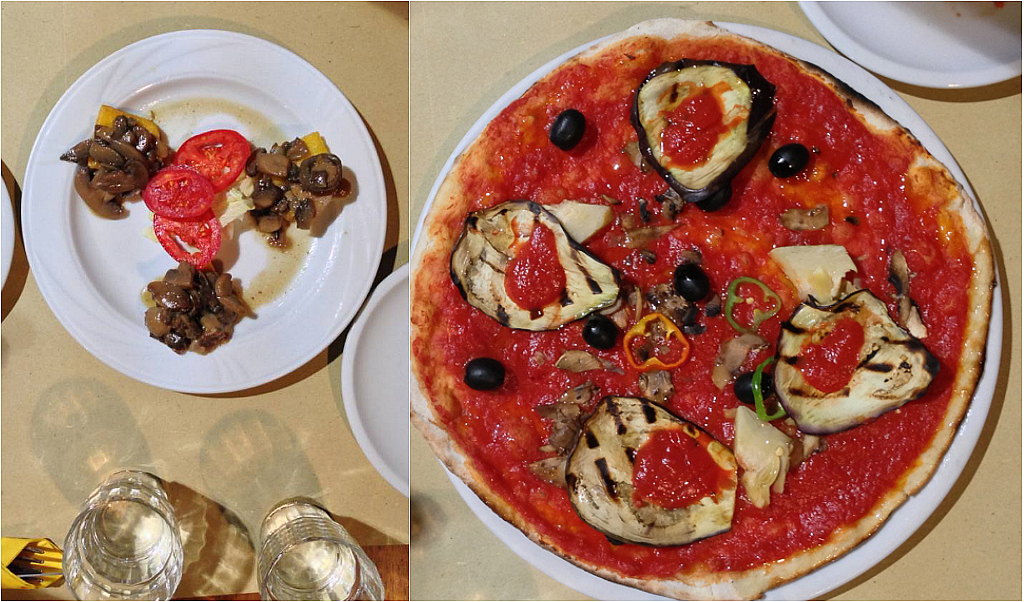 After dinner, we made our way back to the hotel and passed out. The next morning, we had to check out so after breakfast, we checked out but left our bags at the front desk since our flight wasn't until that evening. For our last day in Florence, our last day in Italy, actually, I took Chris to the Piazzale Michelangelo for the best view of Florence.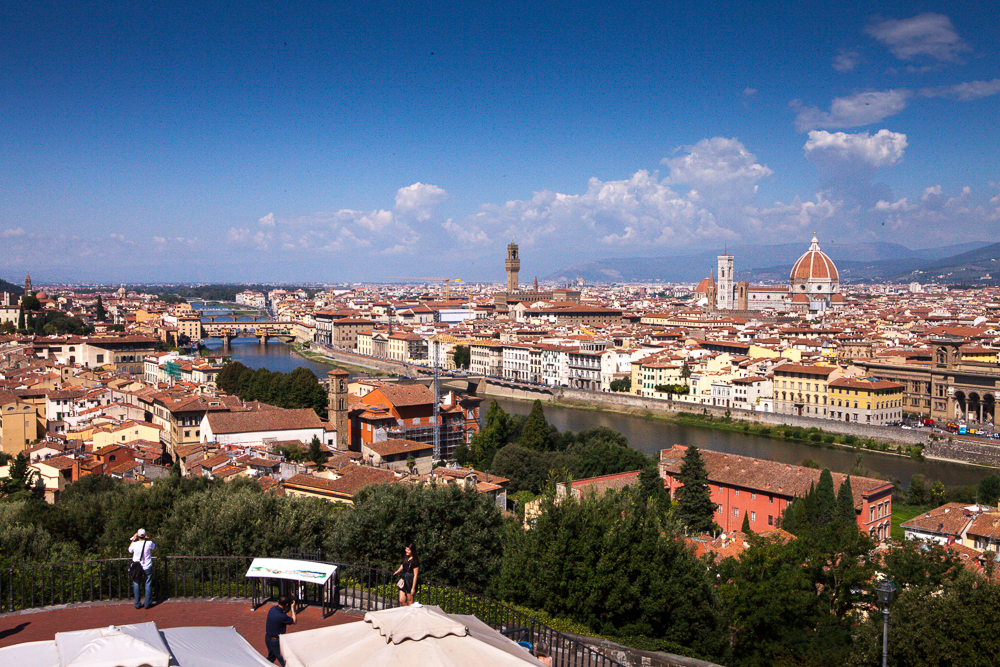 Afterwards, we wandered back through the San Niccolo neighborhood (one of my favorites).  Before we caught the bus to the airport, we had lunch at Dolce Vegan, got gelato at Gelateria Dei Neri one last time and spent some more time exploring the neighborhood behind Cathedral Sante Croce.  All too soon, it was time to get our bags and get to the bus station. And then we were off to enjoy the next leg of our journey in another country.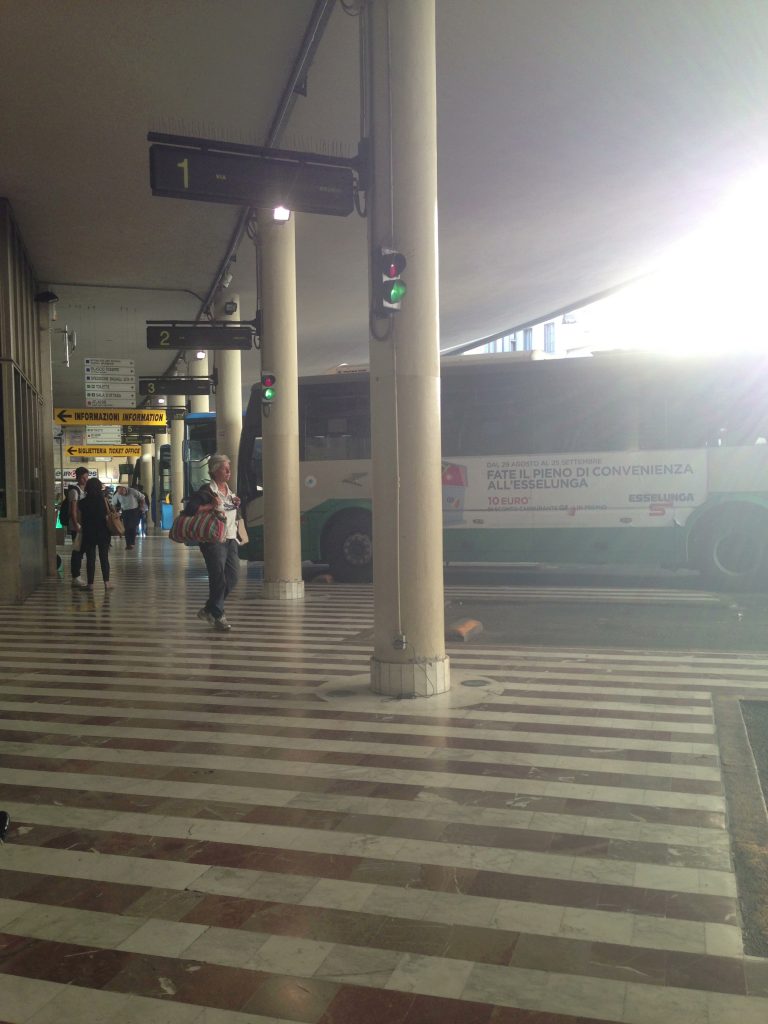 Just a few words about flying in and out of Florence: If you can avoid it, do so. Try to fly in to Rome then take a train to Florence. We took the bus to the airport (the bus was about twenty minutes late) so we got to the airport with very little time to get to our flight. When we got in line to go through security, we were told our bags were too big and had to be checked. So we were sent to check-in to check our bags. She couldn't accept payment at check-in so we had to go to a separate cashier's desk and wait in line to pay. This guy had to do everything written out, in triplicate- no computer or printer or anything. Then we had to go back to check-in to finish checking our bag, then go through security. Also, if you can avoid flying with Vueling, do so. They actually charge for you to drink water on the flight. €3 for a tiny little child-sized water bottle. True story.