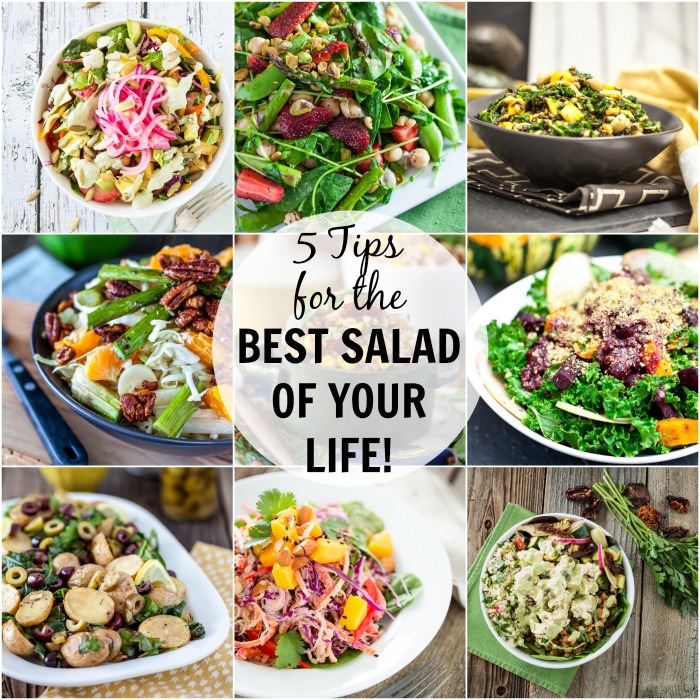 As you may remember from Monday's post, I love my salads. Like, LOVE them. Recently I asked all of you what you do to make your salads amazing and I got quite a bit of feedback! It appears that you guys love your salads too! According to that feedback (and my own semi-professional opinion), here are the top 5 ways you can make your next salad the Best Salad of Your Life!
TOP 5 TIPS FOR ACHIEVING THE PERFECT SALAD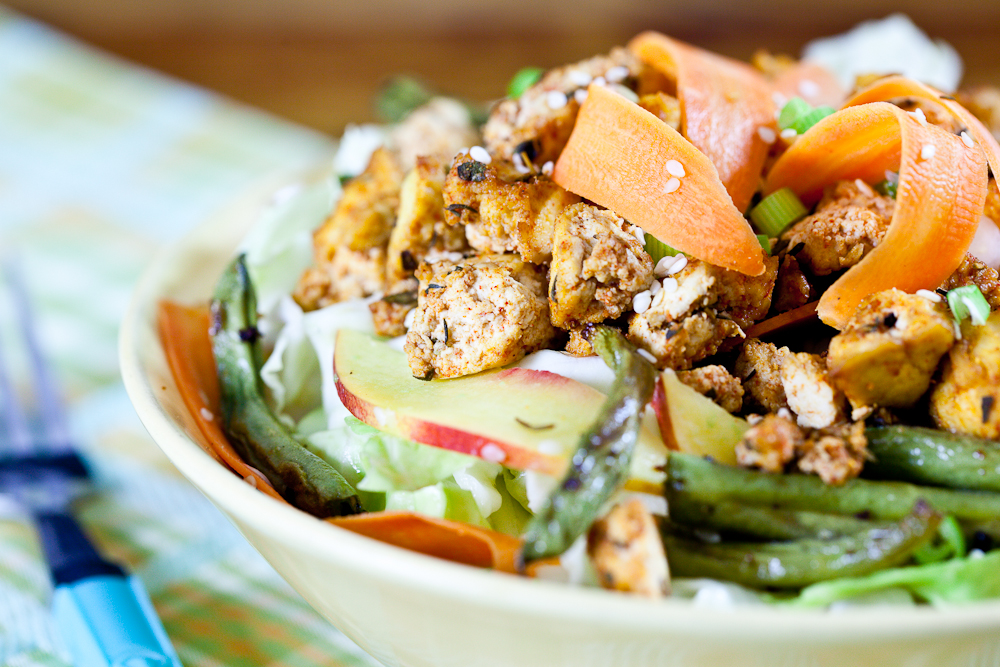 5. It's got to be hearty! Many of you expressed that your salads need to have some sort of protein source to make it more filling. Beans, lentils, nuts, tofu (you could do a tamari lemon tofu, BBQ tofu, chickenless tofu (shown above), a simple baked tofu or even a tofu feta or chèvre!), or tempeh (maybe mango peppercorn-glazed tempeh, sriracha tempeh, or rosemary molasses tempeh bits). Even a grain like quinoa, millet, farro, or wheatberries (or any other type of grain) makes for a much heartier salad.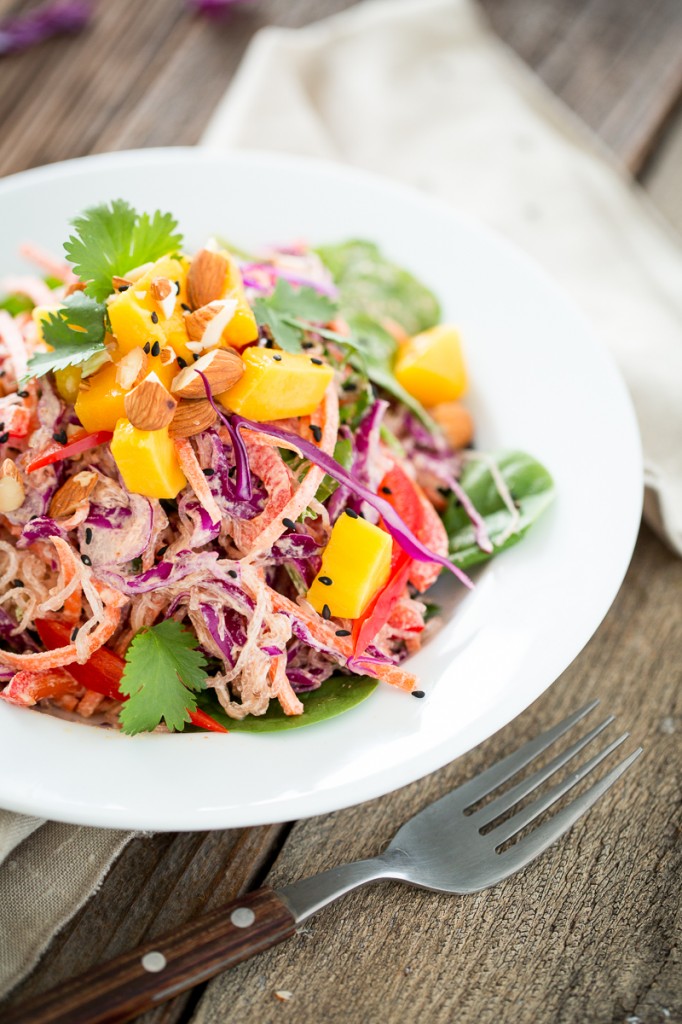 4. There needs to be a kaleidoscope of flavors! The best way to make sure you have a variety of flavors it to try to create a rainbow in your bowl. Bring on the color: red tomatoes, orange carrot shreds, yellow bell pepper, leafy greens, blueberries, purple cabbage, pink pluots, the list goes on. You also want to include ingredients that carry the various types of tastes: sweet (think fruit), salty (I love adding olives for a little saltiness), sour (pickled veggies are my favorite for bringing in the sour), bitter (maybe via bitter greens like mustard or dandelion greens), and most importantly (in my opinion) is umami, that savory, meaty flavor that leaves you craving another bite. Great sources of umami include nutritional yeast (maybe in the form of pecan parmesan?), an element containing miso (like tofu chèvre or feta), or perhaps beans cooked in liquid aminos. Another way to take level of flavor up a notch is to throw in some fresh herbs like basil, cilantro, or parsley!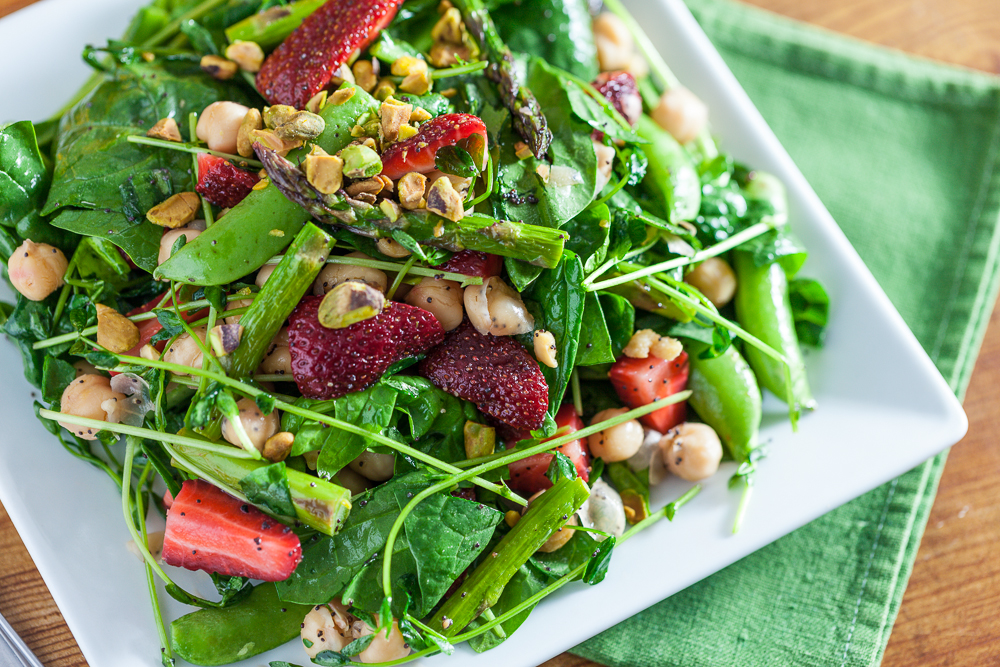 3. Use fresh, seasonal ingredients! Just because one can buy a type of produce year-round does not mean that they should. Have you tried putting strawberries in a salad in the late fall only to find that they're sour and otherwise flavorless? Take advantage of produce while it's in season to make sure it adds the richest, purest flavor. Try asparagus and fresh peas in spring, nectarines and zucchini in summer, roasted winter squash and persimmons in fall, and fresh kale, cabbage, and oranges in winter. I also can't stress enough, whenever possible, try to choose organic and locally grown produce. Make your local farmer's market your new BFF.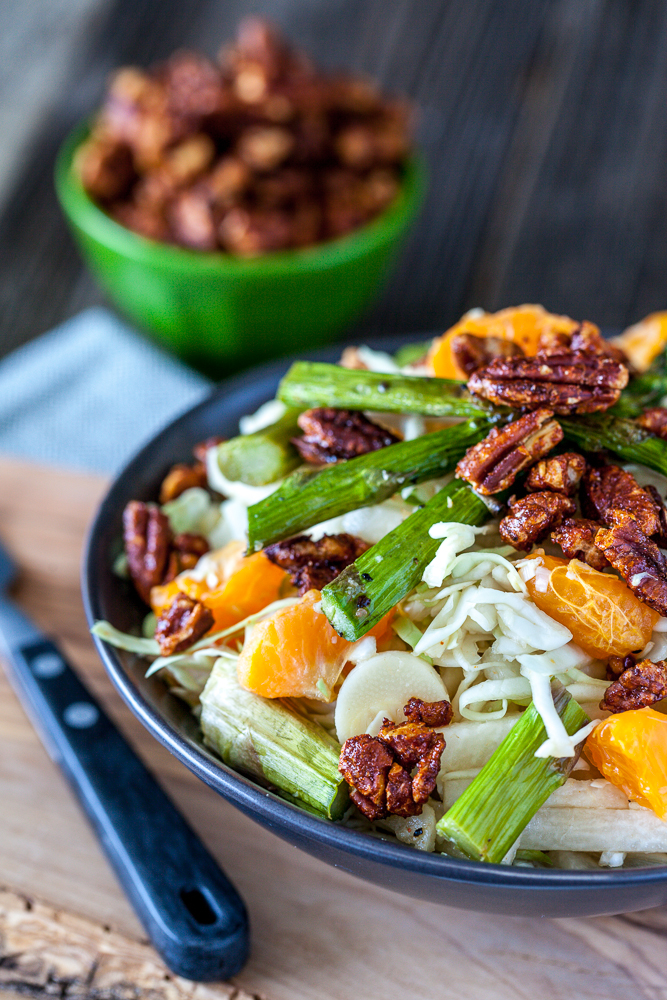 2. A variety of textures is paramount! Nothing will delight your mouth more than a bite filled with something cooked, something raw, something chewy, something fatty, and something with a whole lot of crunch. For me, adding some sort of roasted vegetable (like potato, asparagus, or beets), to a salad packed with raw veggies makes for great contrasting textures. Throw in some dried fruit or sun-dried tomatoes for a chewy bite and some avocado for some healthy, fatty creaminess. Top it off with a crunchy topping like nuts (like maple-sriracha pecans), seeds (pepitas or black sesame seeds, perhaps?), croutons, or even some coconut bacon (you can buy it or make your own).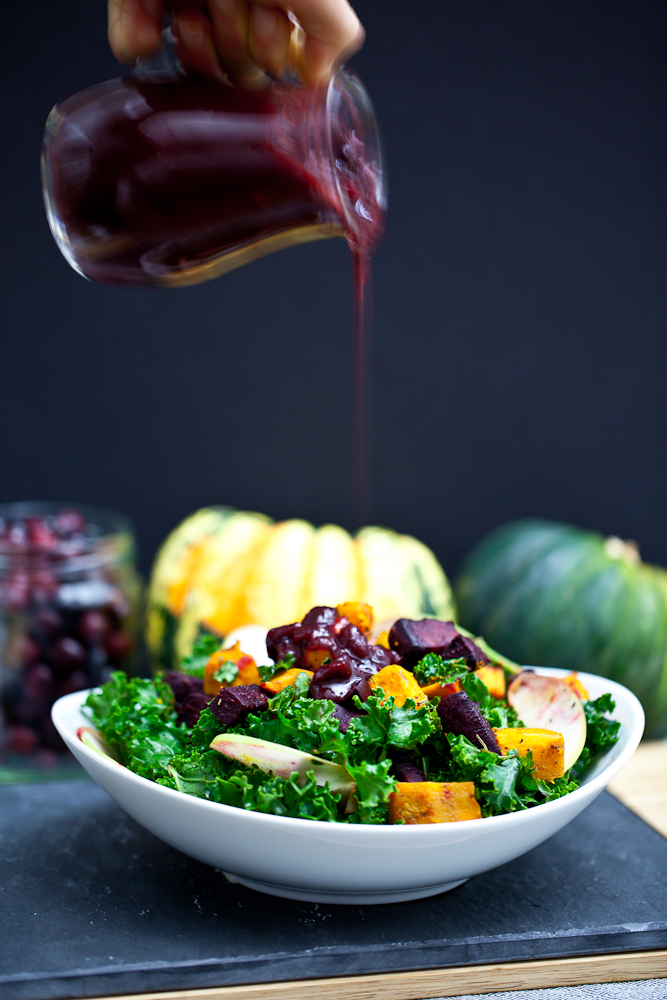 1. Dress yo salad up! The number 1 most important requirement when building your perfect salad, according to all of you, is the perfect dressing. Some of you prefer a lighter vinaigrette (like a saffron citronette or lemon caper dressing) while some of you prefer something a bit creamier (like a lemon almond ginger dressing or basil ranch dressing). Some of you liked just a simple drizzle of vinegar (sherry vinegar is one of my favorites for salads), a squeeze of lemon juice, and/or a bit of olive oil. Whatever the case, finishing your salad with a killer dressing will take your salad from good to RIDICULOUSLY AMAZING.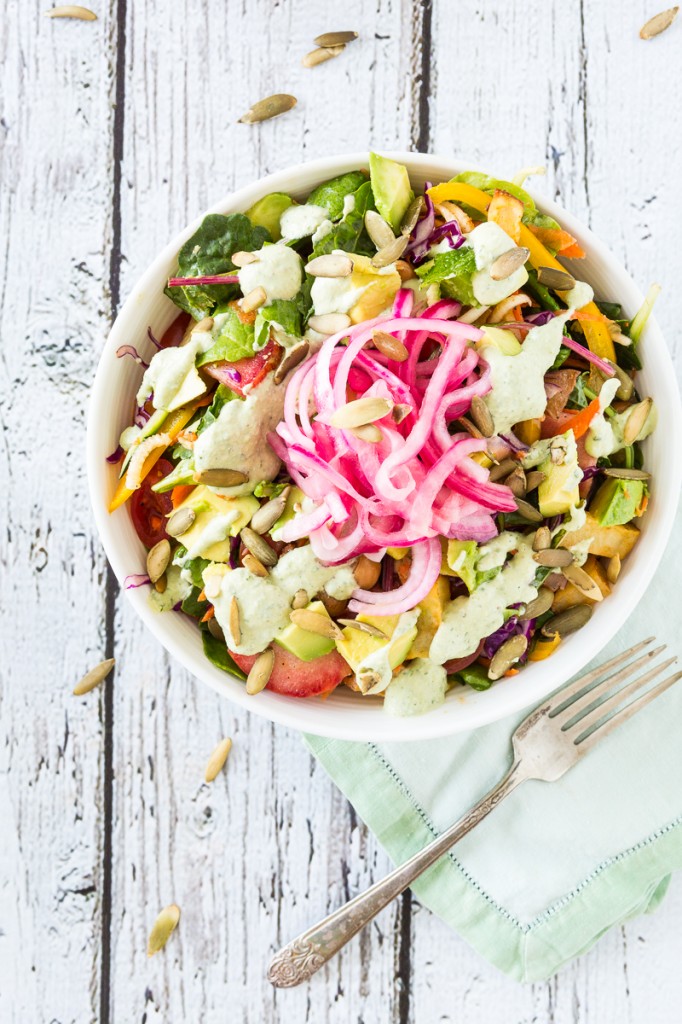 Tell me: What goes in your favorite salad?
Photography by Chris Miller