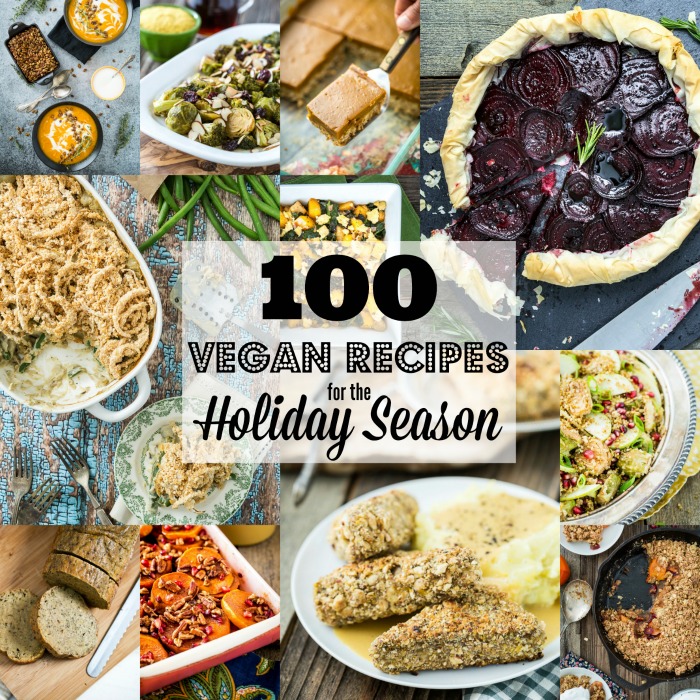 Thanksgiving is in a few days and Christmas and all the other holidays that happen this time of year are not far behind. Plus, there's all of those potlucks and get-togethers in between, not to mention all of the chilly fall and winter nights that demand heartier, comforting foods! Embrace the holiday season and all of its wonderful opportunities to enjoy its tasty bounty! Here's a bunch of my personal favorite vegan holiday recipes, plus some from some of my favorite bloggers!
100 VEGAN HOLIDAY RECIPES
Brunch
During the holidays, brunch can be anything from something very light on Thanksgiving morning, to an extravagant affair on Christmas morning. Here are some ideas for both as well as for all of those casual brunches to catch up with friends and family in from out of town.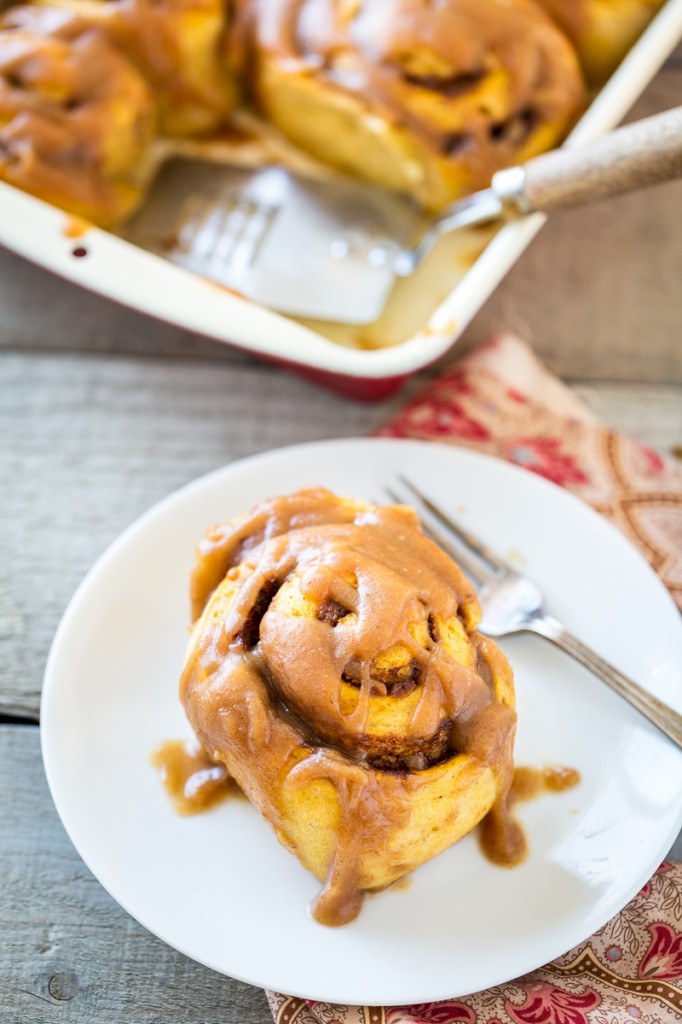 Pumpkin Cinnamon Rolls with Salted Caramel Glaze
Salted Caramel Pecan Waffles with Caramelized Apple Topping
Baked Apple Cinnamon French Toast Oatmeal
Triple Ginger Molasses Granola
Twice-Baked Oatmeal Stuffed Sweet Potatoes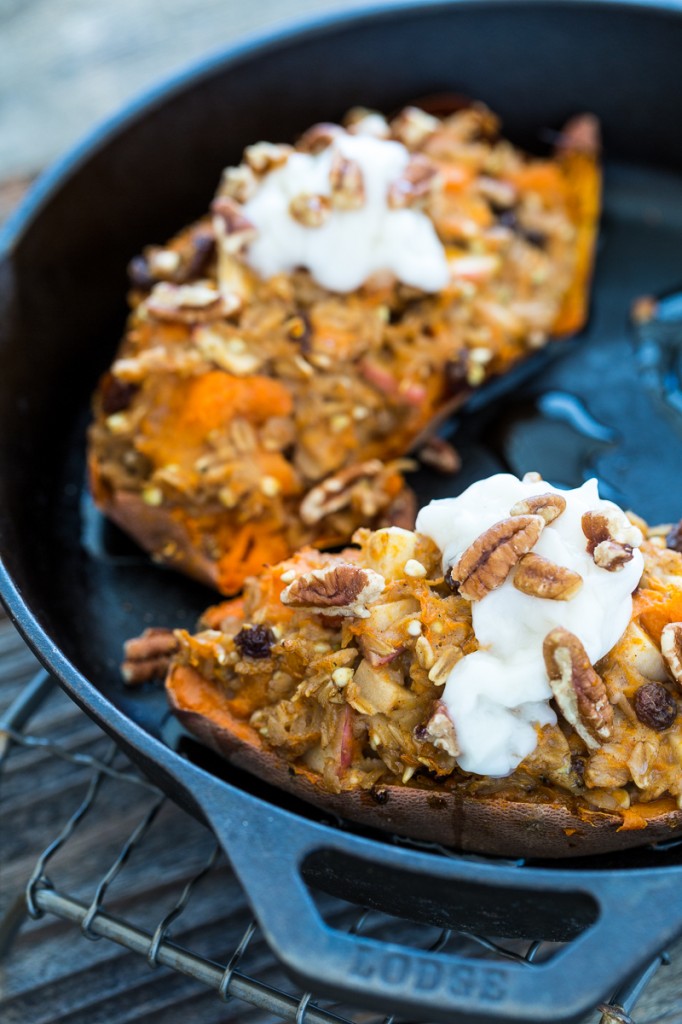 Baked Coffee Cake French Toast
Persimmon Cornmeal Pancakes with Maple Cranberry Sauce
Pumpkin Persimmon Overnight Oats
Spiced Orange Cacao Nib Waffles with Fig Compote
Appetizers & Snacks
Sometimes you need a quick nibble before you dash out to do some holiday shopping or perhaps you need something to serve your guests while the main course is in the oven. Either way, one of these options should cover your needs.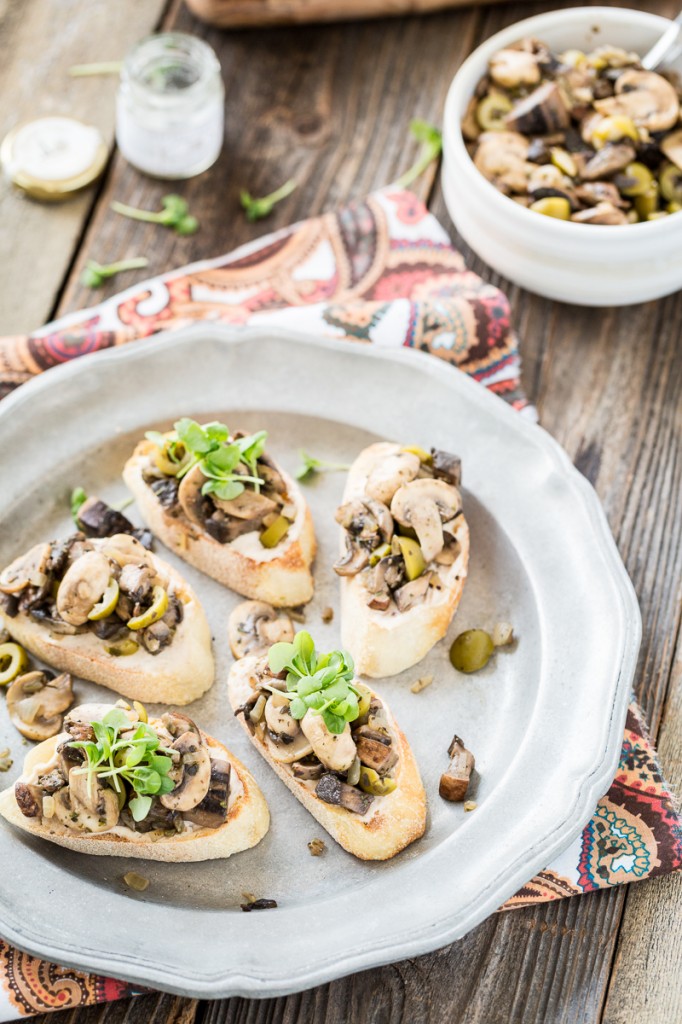 Portobello Mushroom Bruschetta with Truffled White Bean Hummus
Roasted Cauliflower Pumpkin Swirl Dip (Healthy. Happy. Life.)
Pumpkin Seed Cranberry Cheese Log with Thyme (Rawmazing)
Spreadable Baked Cashew Cheese (Happy. Healthy. Life.)
Maple-Glazed Cinnamon Roasted Chickpeas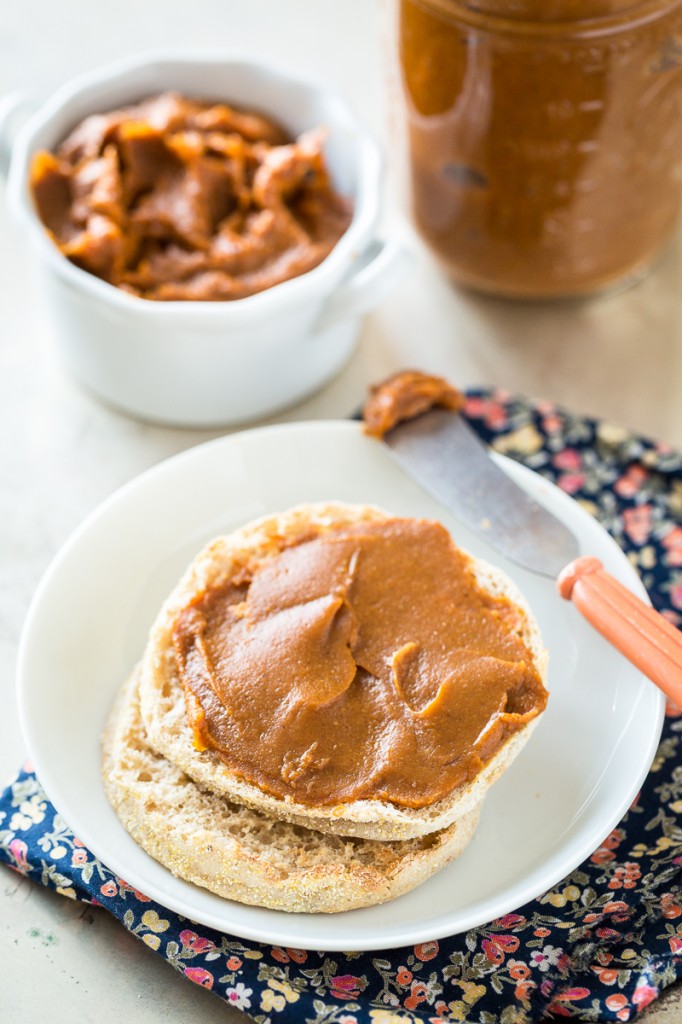 Salads
Whether you need a light meal as a break from all of the big holiday parties or perhaps you need a good starter or side dish for your menu, one of these should fit the bill.
Warm Roasted Brussels Sprouts & Quinoa Salad with Tempeh Bacon Bits
Roasted Delicata Squash & Persimmon Salad (Cadry's Kitchen)
Golden Beet Salad with Shallots, Parsley, and Orange Miso Dressing (Oh She Glows)
Winter Kale Salad with Orange Poppy Seed Dressing (My Darling Vegan)
Spaghetti Squash & Farro Salad
Roasted Carrot Quinoa Salad with Cranberry Chutney (Sunday Morning Banana Pancakes)
Sweet Potato & Beet Salad with Saffron Citronette
Butternut Bliss Fall Salad (Happy. Healthy. Life.)
Brussels Sprout & Sunchoke Salad (Love & Lemons)
Red Kuri & Beet Kale Salad with Cranberry Orange Balsamic Dressing & Pecan Parmesan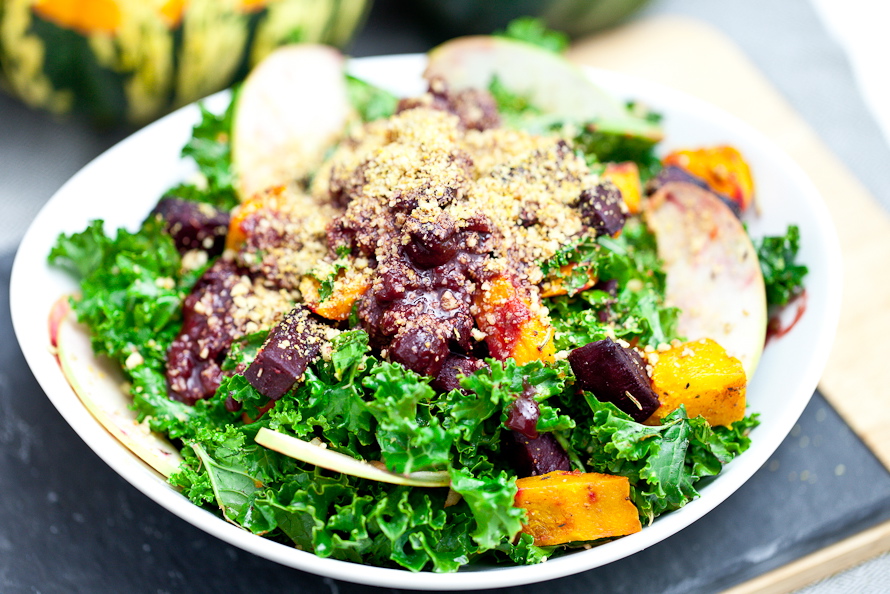 Soups
Soups make a fantastic meal for any chilly fall or winter night, but they can also serve as a way to impress guests at the beginning of your feast!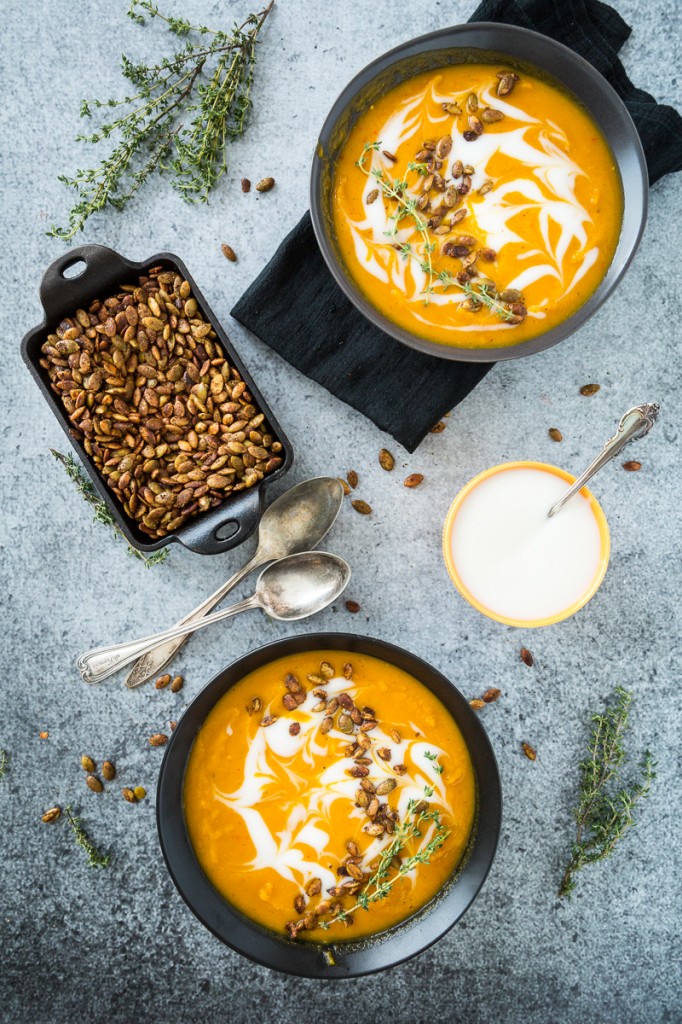 Harissa-Roasted Butternut Squash Soup with Spicy Roasted Pepitas
Creamy Celeriac & Apple Soup with Winter Greens Oil (Sunday Morning Banana Pancakes)
Cream of Asparagus Soup with Crispy Roasted Shallots
Spicy Pumpkin Soup with Lemongrass & Coconut (Olives for Dinner)
Smoky Sweet Potato Soup with Jalapeño Cornbread (Vegan Yack Attack)
Roasted Garlic & Delicata Squash Soup (The Vegan Crew)
Melted Snowman Soup (Cadry's Kitchen)
Sweet Potato Butternut Stew with White Beans & Chard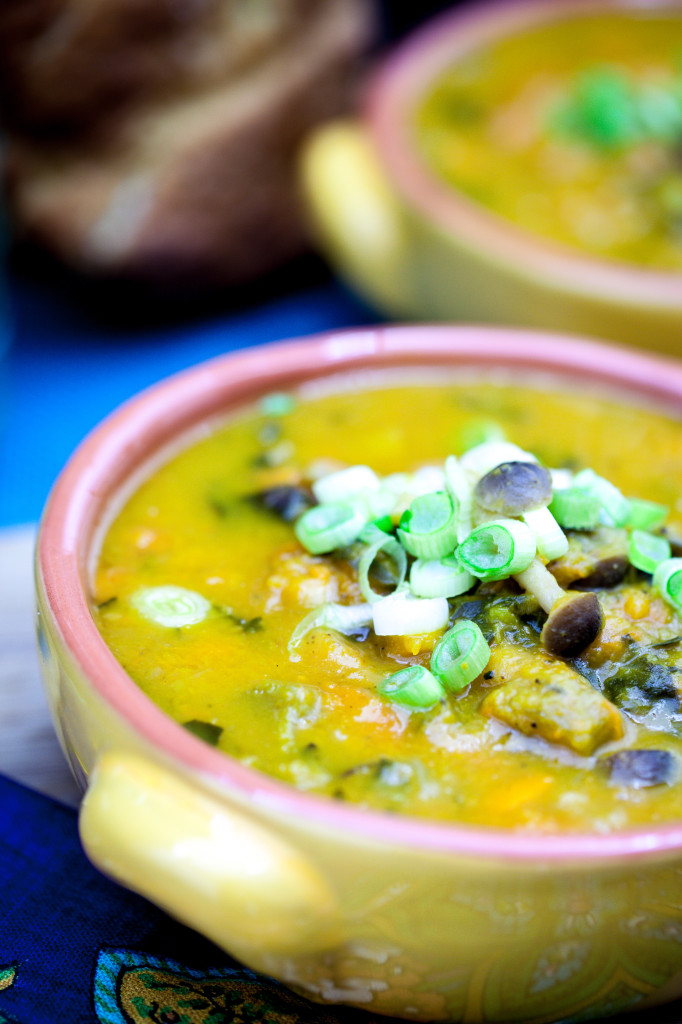 Side Dishes
Many vegans will tell you that the side dishes make the meal, and I would have to agree. If I can fill my plate up with a mixture of casserole servings, roasted veggies, mashed potatoes and gravy, and sweet potatoes in any ways, shape, or form, I can easily forget about the main entree!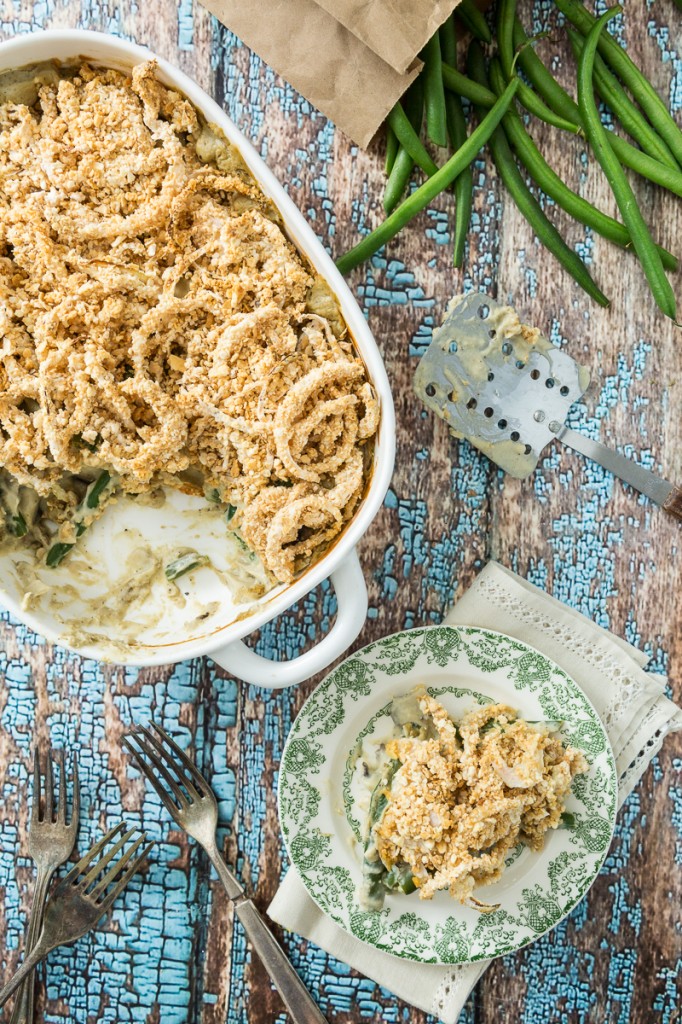 Green Bean Casserole with Onion Ring-Style Topping
Cheesy Broccoli Spaghetti Squash Casserole
Smoky Tempeh and Shiitake Farrotto Stuffing
Roasted Brussels Sprouts & Apples with Caramelized Onions and Pistachios (Cadry's Kitchen)
Saweet! Potato Casserole with Crunchy Nut Crumble (Oh She Glows)
Balsamic Roasted Beet & Rosemary Cashew Cheese Tart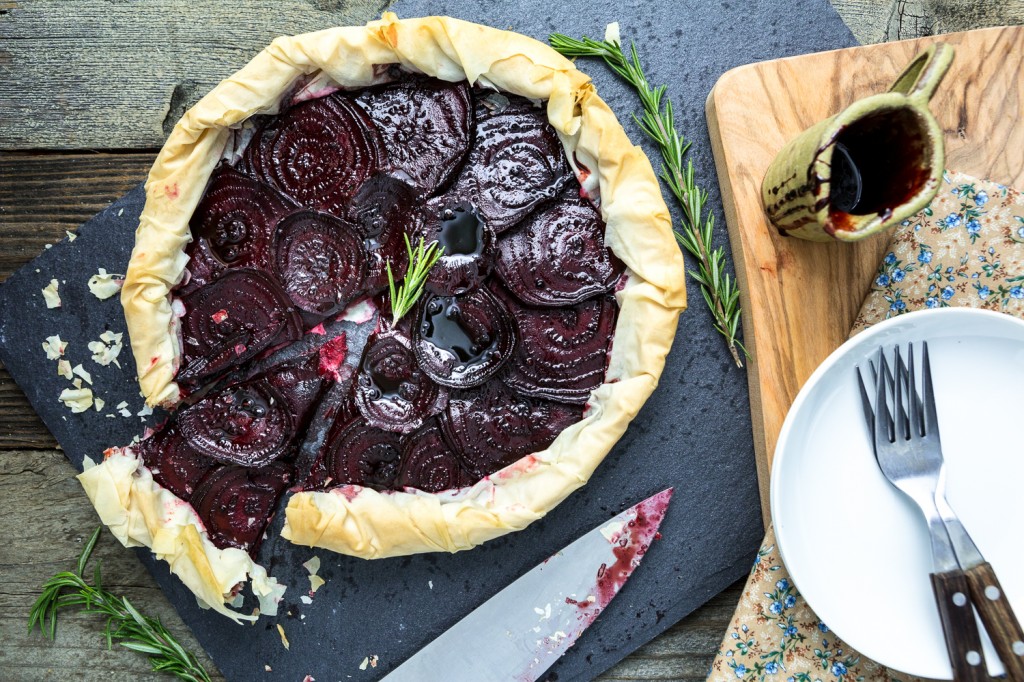 Chickpea Caulipots with Miso Mushroom Gravy
Butternut Squash, Brussels Sprouts, & Bread Stuffing with Apples (Choosing Raw/Food 52)
Scarlet Rosemary Chickpea Farrotto
Pumpkin Sage Biscuits (Minimalist Baker)
Homemade Cranberry Sauce (Happy. Healthy. Life.)
Vegan, Gluten-Free Skillet Cornbread
Cheesy Maple Roasted Broccoli & Brussels Sprouts with Dried Cherries & Almonds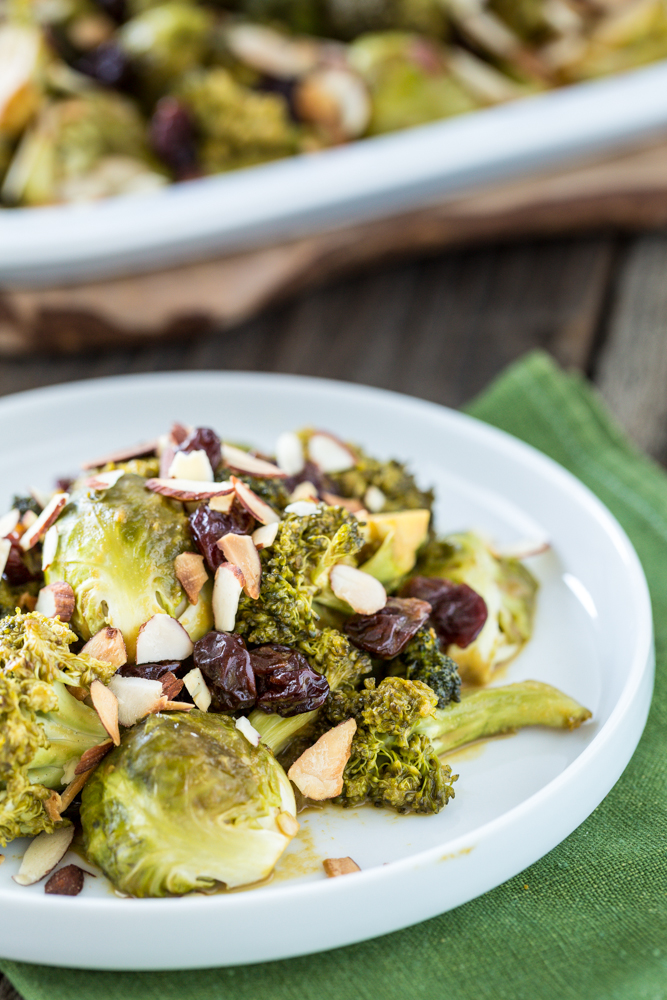 Gluten-Free Thanksgiving Stuffing (Fork and Beans)
Easy Gluten-Free Biscuits (Fork and Beans)
Roasted Cauliflower & Quinoa with Cheesy Pumpkin Tempeh Sauce
Fluffy Mashed Potatoes (Post Punk Kitchen)
Vegan Gravy (Choosing Raw/Food 52)
Pomegranate Orange Sweet Potato Bake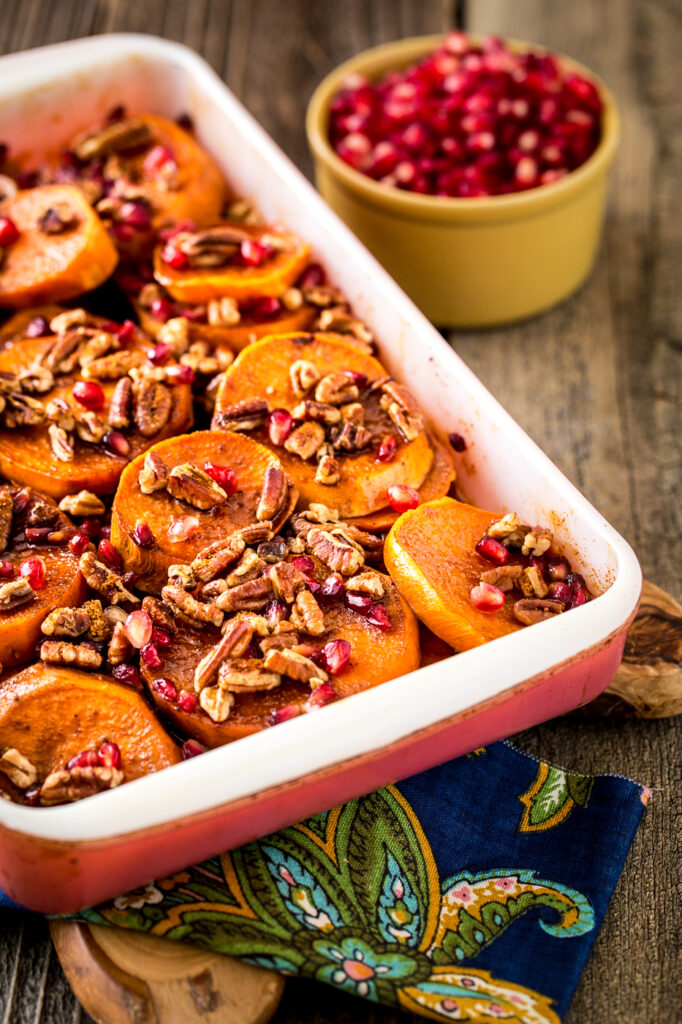 Main Courses
Preparing a vegan main course for your guests can be a little overwhelming, especially if it's your first vegan holiday dinner! Here's some of my favorite vegan main courses that are sure to please any crowd!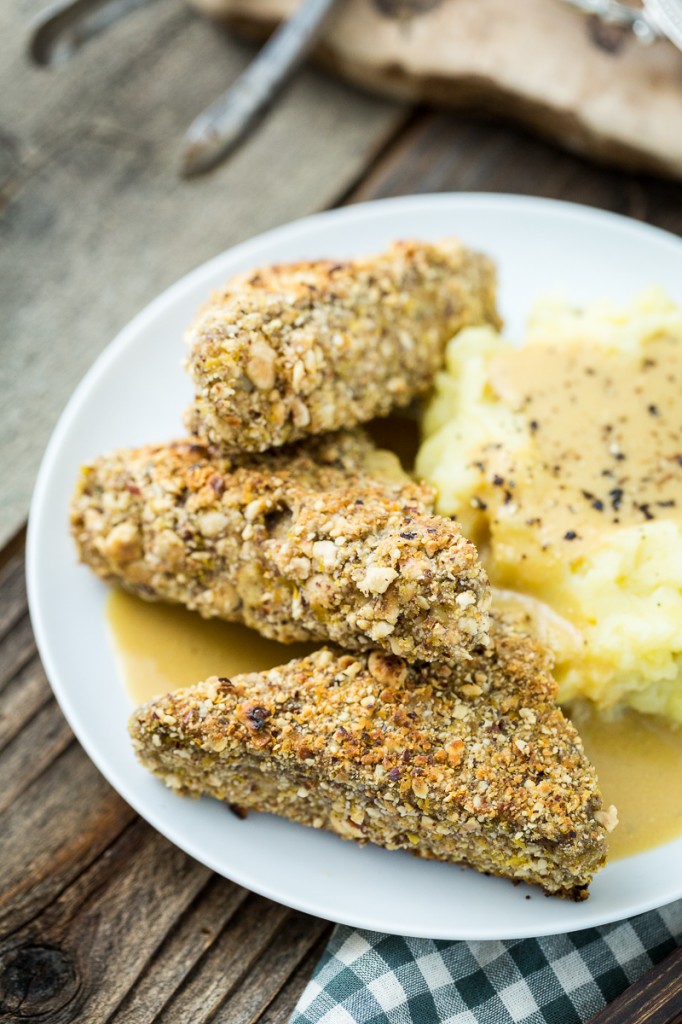 Maple Hazelnut-Crusted Tempeh Cutlets
Lentil Mushroom Walnut Balls with Cranberry Pear Sauce (Oh She Glows)
Winter Squash & Quinoa Rissoles (Sunday Morning Banana Pancakes)
Baked Pumpkin Ravioli with Rubbed Sage Cream Sauce (Olives for Dinner)
Festive Chickpea Tart (Plant-Powered Kitchen)
Butternut & Wild Mushroom Lasagna with Pecan Parmesan
1 Hour Vegan Shepherd's Pie (Minimalist Baker)
Stuffed Butternut Squash with Tempeh (Pickles & Honey)
Shallot & Shiitake Seitan Wellington (Olives for Dinner)
Mushroom & Stout Pot Pies with Sweet Potato Crusts (The First Mess)
Butternut Squash, Kale, Chèvre, & Gnocchi Casserole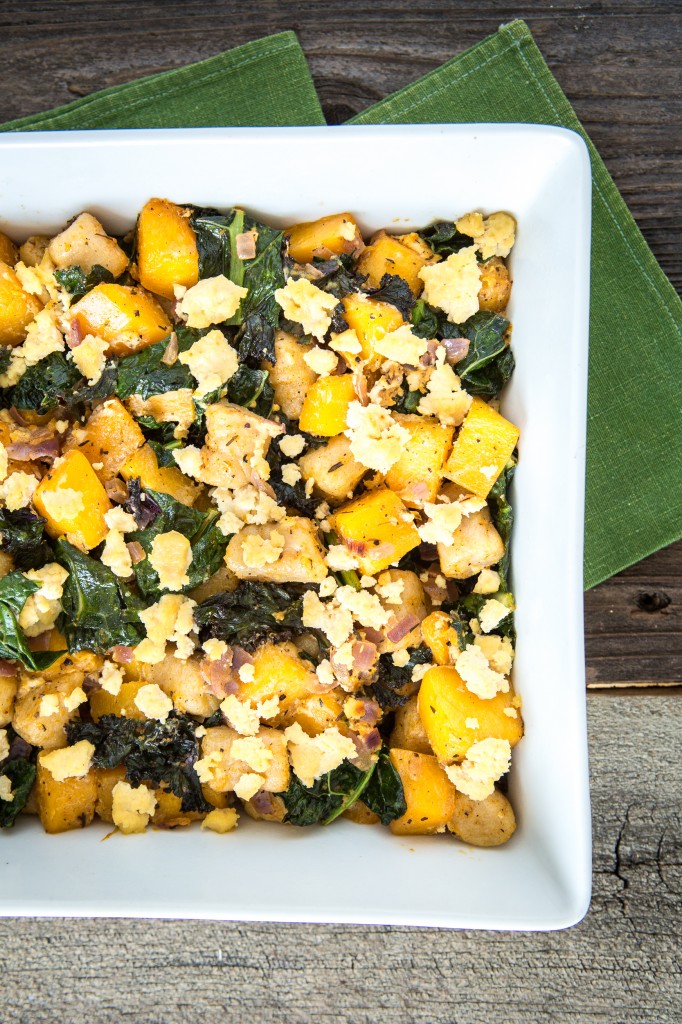 Pomegranate & Chickpea Quinoa Stuffed Squash
Farro & Sweet Dumpling Squash Tartlettes (Sunday Morning Banana Pancakes)
Homemade Tofurkey (Fettle Vegan)
Thanksgiving Meatless Loaf (Fat Free Vegan)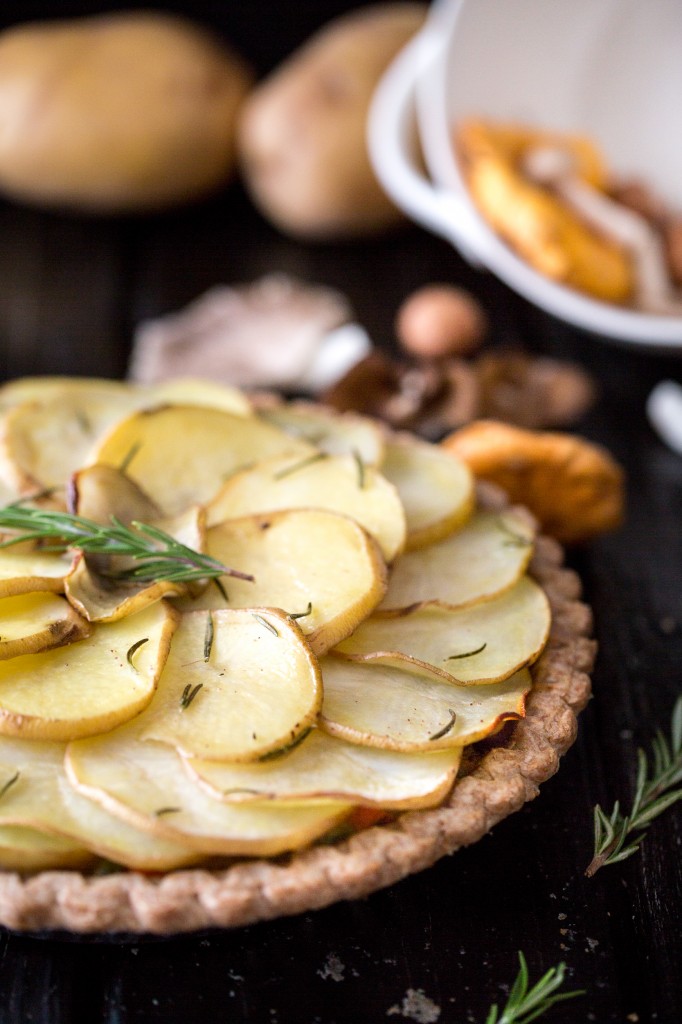 Desserts & Beverages
This round-up wouldn't be complete without a bevy of delectable desserts and seasonal beverages! Whatever your beautiful little vegan heart desires, be it pumpkin, apple, persimmon, peppermint, or chocolate- we've got you covered!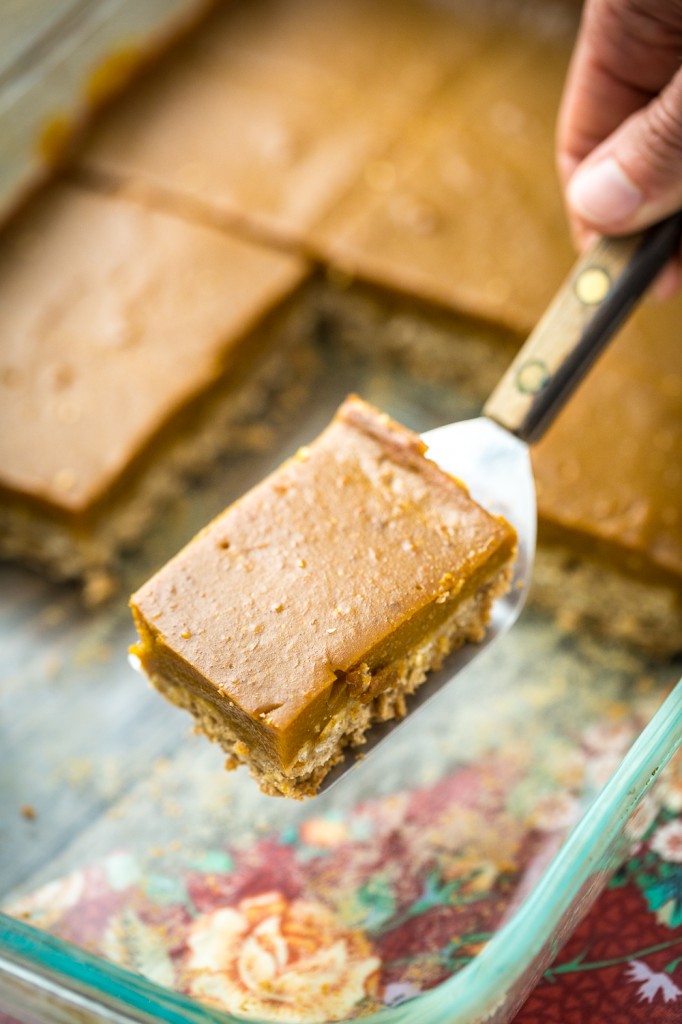 Vegan, Gluten-Free Pumpkin Pie (Minimalist Baker)
Spiced Apple Cider Spelt Cake with Vegan Caramel Sauce (Pickles & Honey)
Double Pumpkin Beer Float (Vegan Yack Attack)
White Chocolate Pumpkin Gingersnap Truffles
Flourless Pumpkin Chocolate Chip Cookies
Gluten-Free Pumpkin Swirl Brownies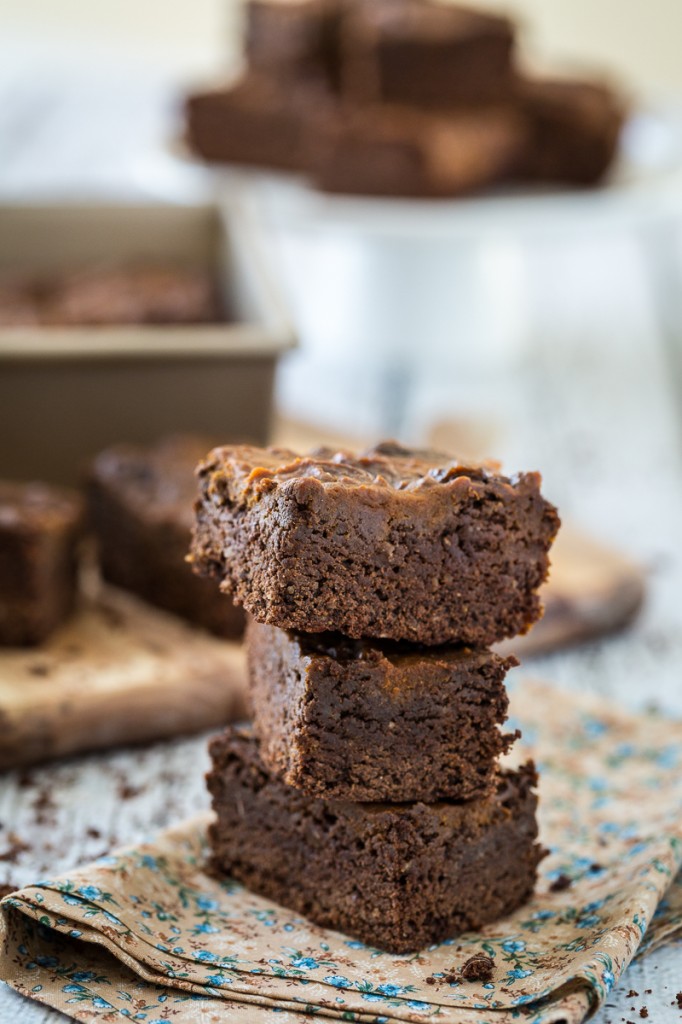 Raw, Vegan Pecan Pie (Choosing Raw/Food 52)
Raw, Vegan Pumpkin Pie (This Rawsome Vegan Life)
Vegan White Chocolate Bark (Fork and Beans)
The Best Vegan Eggnog (Produce On Parade)
Caramel Apple Butter Chocolate Chunk Cookies
Nut-Free Chocolate Pumpkin Butter Cups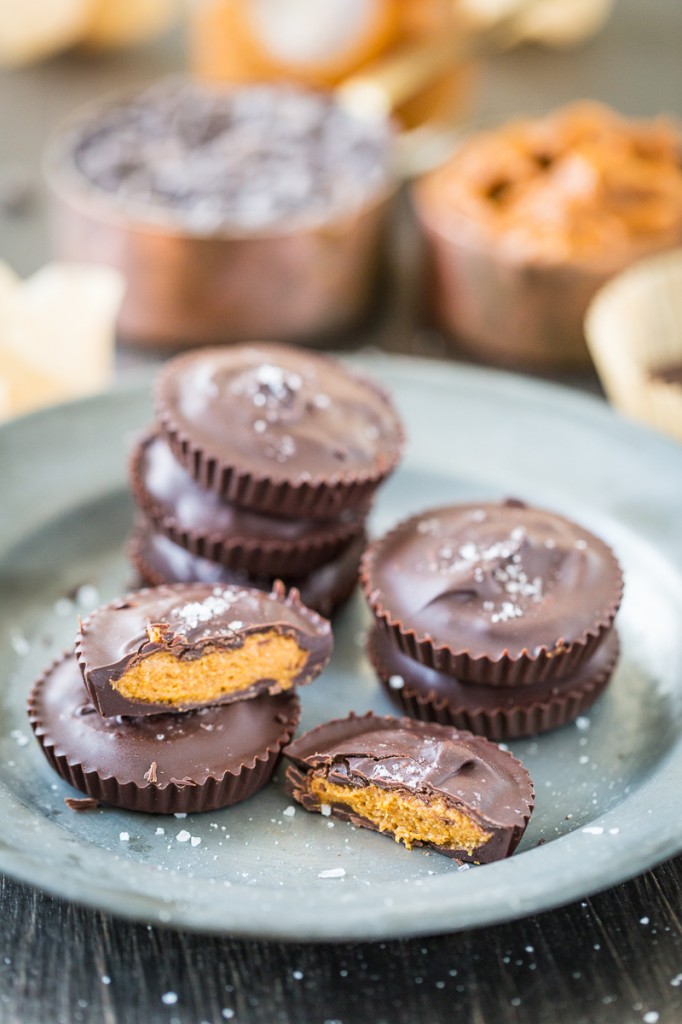 Flourless Double Chocolate Peanut Butter Cookies
Dark Chocolate Maple Bacon Bark 
Rustic Skillet Apple Pie (Pickles & Honey)
Peppermint Hot Chocolate (Fork and Beans)
Cranberry Persimmon Crisp with Vanilla Bean Topping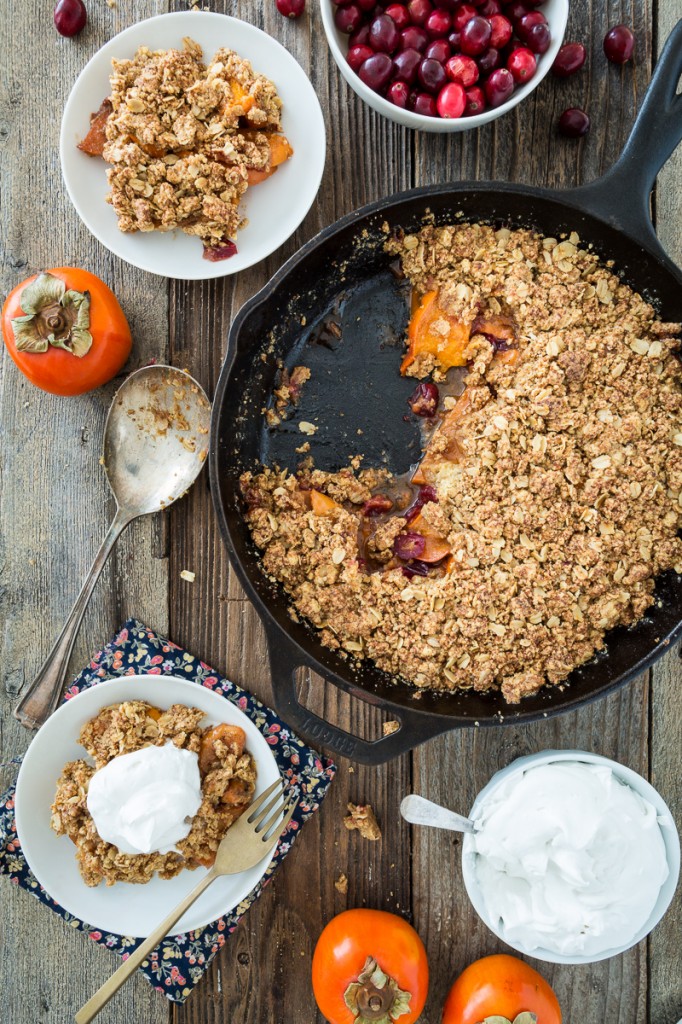 If you're in the mood for cookies, look no farther than the cookies from my Vegan Cookie Swap Party 2012 and the Vegan Cookie Swap Party 2013. A bunch of my favorite bloggers, sharing their fave holiday cookie recipes? Heck, yes! And spoiler alert: The 2014 Vegan Cookie Party will be starting this Friday!
If you're looking for a healthy, vegan holiday menu, might I suggest the Forks Over Knives Thanksgiving Menu? Chris and I have been doing some photography for them the last few months and we had the pleasure of shooting these recipes. All of them were really great, especially if you're trying to keep things light and healthy.
Cadry of Cadry's Kitchen always has such wise and relatable advice for vegans navigating their way through Thanksgiving and other food-heavy holidays, so her tips on Planning a Vegan Thanksgiving Menu are very helpful.
Happy Holidays, my friends!